Here's our cherry vs mahogany kitchen cabinets comparison with differences in wood grain, appearance, durability, maintenance, and if mahogany or cherry cabinets are best.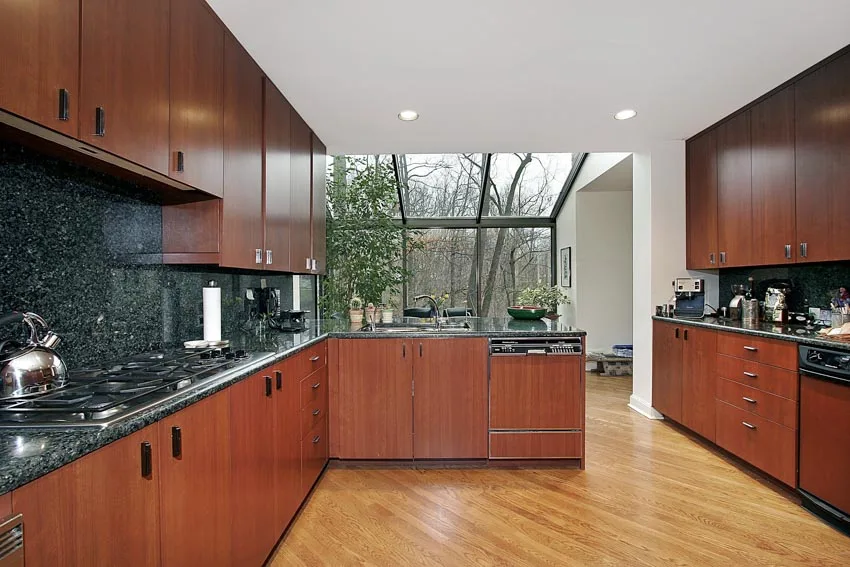 Kitchen cabinets are a prominent element in the majority of kitchens. As a householder, you must consider multiple factors, ranging from durability to design. Cherry and mahogany have both been popular choices for luxury furniture over the years.
Woods are now preferred for kitchen cabinetry due to their durability and natural wood hues. Appearance, design, as well as durability, are some of the main factors to consider while deciding between the two.
This article will discuss two premium-quality wood selections for kitchen cabinets: cherry and mahogany. We will also go through each of their appearances and features.
What Are Cherry Kitchen Cabinets?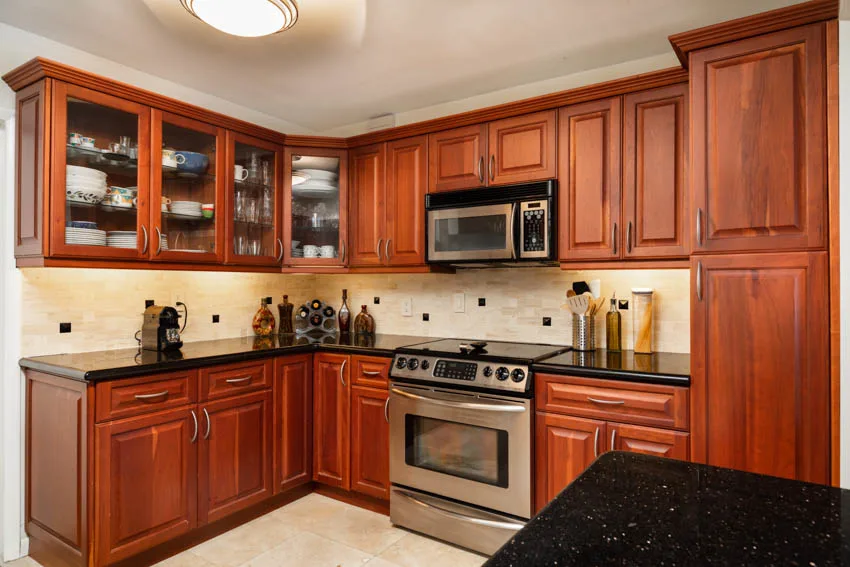 Cherry wood kitchen cabinets are now among the most widely known choices among homeowners. This well-known type of hardwood is derived from the American Black Cherry fruit tree and is recognized for its lovely warm color changes and peculiar maturation procedure.
Cherry wood is popular among woodworkers and carpenters because of its excellent caliber, relatively firm texture, strength, and stress resistance, making it an excellent selection for kitchen cabinets. Furthermore, cherry wood is produced in the United States as well as Canada, making it less costly than mahogany.
Grain & Appearance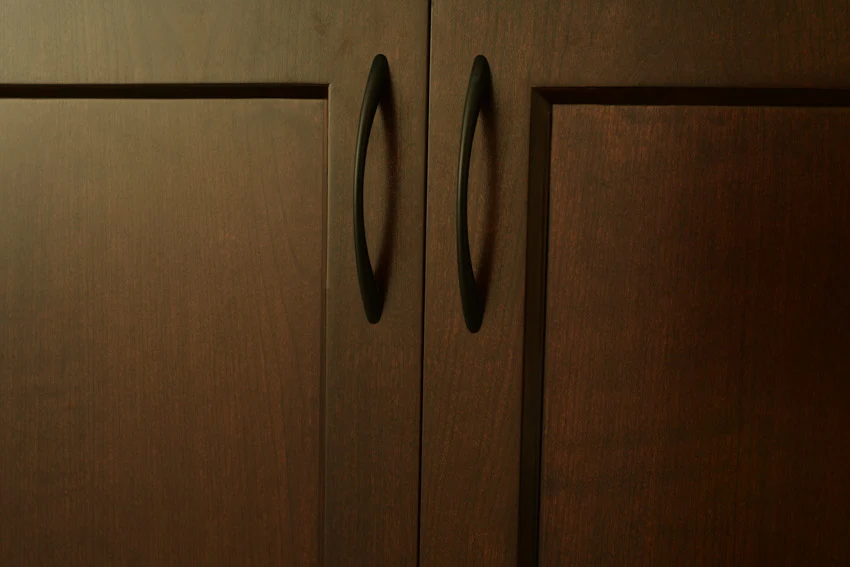 Cherry kitchen cabinets are popular due to their pleasant hues and rich design. Cherry has primarily red undertones, but it can vary in color from faint yellow to rich brown. Cherry wood has a seamless and satiny feel that allows it to absorb stain effectively.
When subjected to air, cherry wood grows warmer and richer, which is an attribute that many householders look for when selecting wooden cabinets for their kitchen. Cherry wood cabinets accept stains and treatments effectively and dry to a flawless finish.
Whether you begin with a lighter color selection and finish or opt for a classical, dark cherry glaze, cherry kitchen cabinets will indeed make your kitchen look more relaxed and welcoming.
Moreover, cherry wood has a gorgeous fine texture that adds character and originality to cabinets. Cherry's grain arrangement is sometimes round or straight, and once stained, it has an even-toned sheen. This cabinet wood is a closed-grain wood with colors that has pin knots, curls, irregular swirls, and gum lines, which are common in the wood grain.
Even though this wood has traditionally been used for classic types of furniture styles such as Shaker, Mission, or Country, its adaptability also renders itself to more streamlined and contemporary kitchen designs.
Hardness & Durability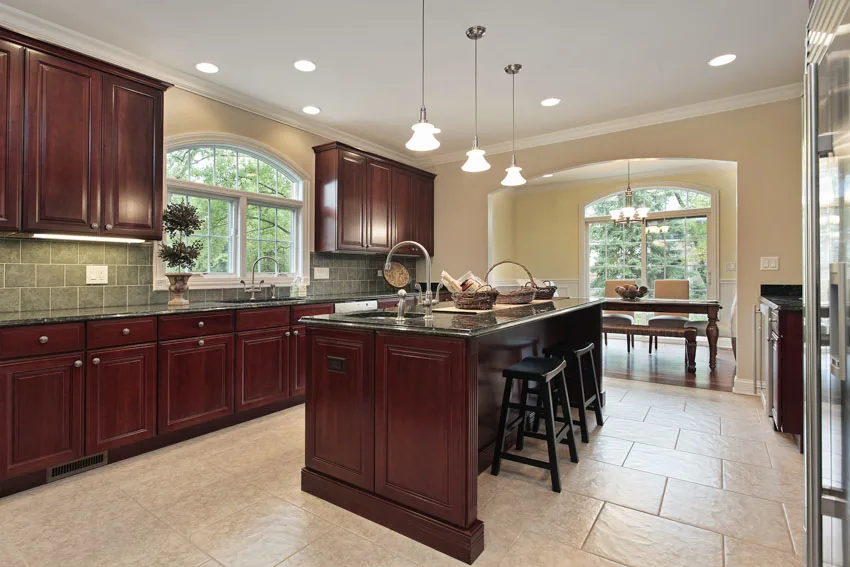 Cherry wood kitchen cabinets are relatively substantial and sturdy, making them long-lasting and capable of withstanding the stresses of daily cabinet use.
Carpenters prefer the different types of cherry wood as it is both versatile and durable. Plus, it has a smooth surface. It is a robust type of hardwood that can provide more protection against scratches and dents than other regularly used woods like cedar.
Additionally, cherry wood cabinets are highly resistant to decay and rotting. These cabinets are also generally structurally sound and have a modest shock load resistance.
Due to its flexibility, cherry wood can be easy to cut, carve, and shape and is utilized for a wide range of applications. It offers medium density, excellent bending capabilities, and low stiffness.
Maintenance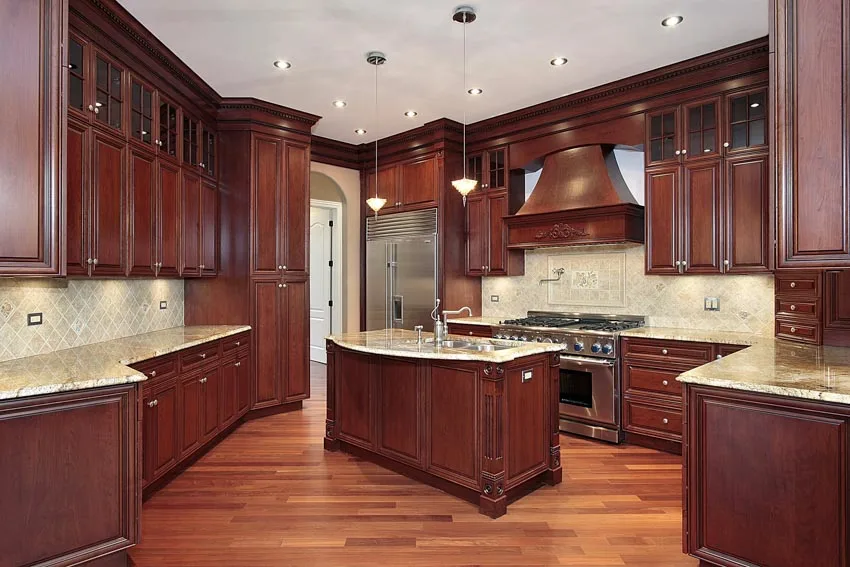 Aside from buying the best cherry wood cabinet maintenance, using the appropriate procedures will save you effort and time as well. Cherry wood cabinets must be maintained periodically. You can simply start by removing anything from the interior of the cherry kitchen cabinet.
Wipe off the interior with a tidy cloth bathed in warm soapy water, beginning at the top and working your way down to the bottom and out of the inside.
Allow the interior of the cabinet to dry before putting all of the wiped-down objects back into the cabinet. After that, you can scrub the outside of the cherry kitchen cabinet. Thoroughly clean it by wiping each cabinet one by one.
Oil soap is a good technique to use for cleaning cherry wood kitchen cabinets. Scuff marks can be removed with a dry microfiber cloth. Scuff marks and smudges those other cleansers failed to remove can be rapidly removed with quality oil soap.
Cherry wood kitchen cabinets can be cleaned and polished as well with the wood oil soap. This thorough maintenance also enables you to check for moisture and leakage, as well as keep odors at bay.
Removing and cleaning all things, as well as discarding outdated or leaking supplies, can help to preserve the interior of the cherry wood cabinets in great condition. Examine the cabinets for any signs of damage, such as scratches and cracks.
What Are Mahogany Kitchen Cabinets?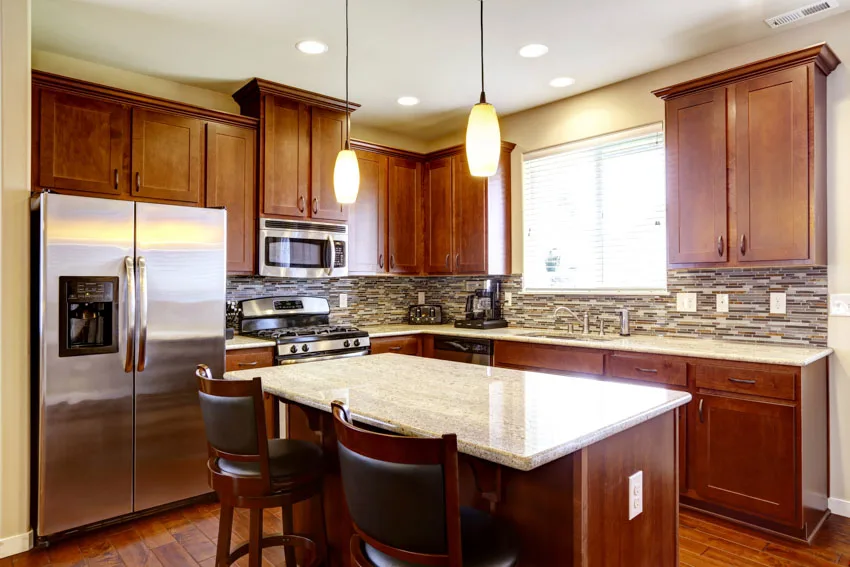 Mahogany became an extremely in-demand type of wood in the mid-1700s and 1800s, and it can still be found in many high-quality antiques nowadays. It was appreciated for its straight wood grain and the ability to manufacture exceptionally broad mahogany boards.
Even now, it is one of the costliest wood options, and only a few individuals have high-quality and genuine mahogany kitchen cabinets. Furthermore, mahogany cabinets are very popular, which is not unusual.
This wood is extremely durable and has a stunning aesthetic attractiveness. Because of its durability and seamless texture, mahogany is an ideal choice for kitchen cabinets.
Numerous homeowners admire how its linear grain gives a touch of elegance to the cabinets. Mahogany is a tropical hardwood from South and Central America, which makes it more expensive than cherry wood.
Grain & Appearance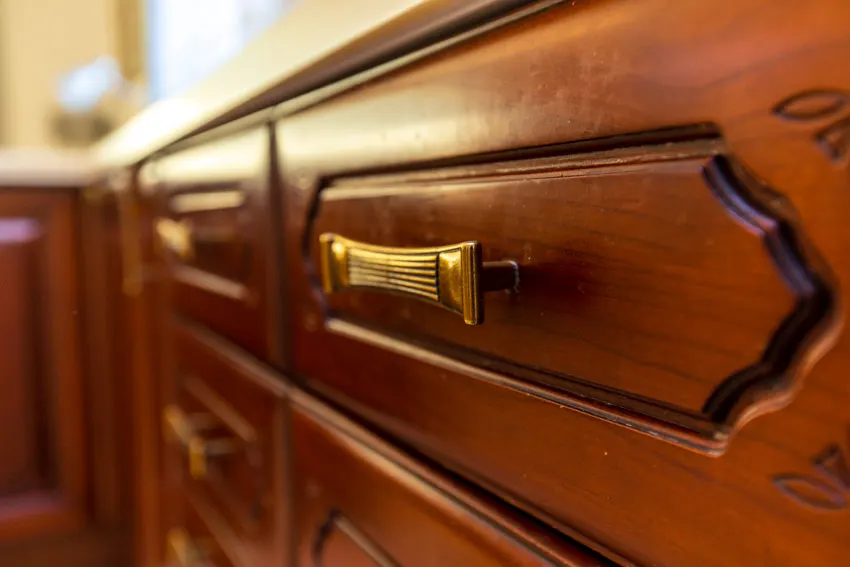 The magnificence and attractive appearance of mahogany are some of the key reasons why it is always used for cabinets nowadays. It is a deep crimson color that warmly sparkles when appropriately polished.
The wood does have a very straight grain structure and matures large and wide, making it ideal for high-quality cabinet boards. Mahogany, like cherry, has warm tones ranging from tan to reddish brown that darken with time and contact with light.
Some finishes may be applied to mahogany cabinets to assist them in achieving a darker appearance faster. Not like the other cabinets that require a great deal of waxing and attention to achieve a glossy surface, mahogany achieves it effortlessly and naturally by itself.
When properly cleaned and cared for, it achieves a brilliant shine that is impossible to overlook. When appropriately crafted, the intriguing wood takes on deep colors that wonderfully stand out in a kitchen.
Even though mahogany kitchen cabinets are pricey, they offer a massive deal of aesthetic impact. And it is because of this visual appeal that it is so attractive to customers who are willing to pay the price premium. Mahogany is frequently difficult to obtain. It is always in high demand due to its enormous popularity.
Hardness & Durability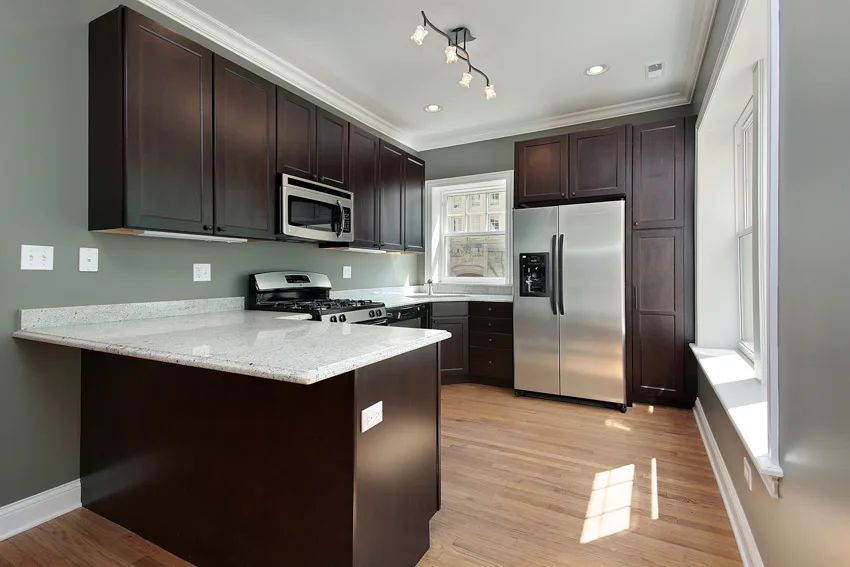 Mahogany is well-known for its durability and decay resistance, which makes it among the ideal types of kitchen cabinets. When correctly maintained, this type of hardwood will withstand frequent usage in your kitchen for decades, which cannot be said for some of the less expensive alternatives, such as particle-board cabinets.
Woodworkers enjoy working with mahogany cabinets since they cut nicely. They can sand them down to uncover the exquisite grain. Furthermore, mahogany boards can be carefully bonded and polished to a high sheen.
Mahogany can also be readily scrolled. Scrolling entails producing extremely fine incisions. This is utilized for a variety of ornamental applications as well. However, working with mahogany kitchen cabinets also has minor drawbacks.
This is an extremely tough wood that does not bend easily. Thus, when it comes to bending it into specific forms and curves, you must take caution and rely on steam. The wood's toughness makes it excellent for applications requiring horizontal or vertical rigidity.
Mahogany is a long-lasting wood. It is resistant to splitting and cracking. It also fades beautifully and retains its architectural charm for many years. In addition, mahogany kitchen cabinets are resistant to warping.
As a result, even if they are exposed to moisture or other environmental conditions, they will not sustain significant harm. Cleaning mahogany wood is rather simple, and the technique does not harm the wood.
Maintenance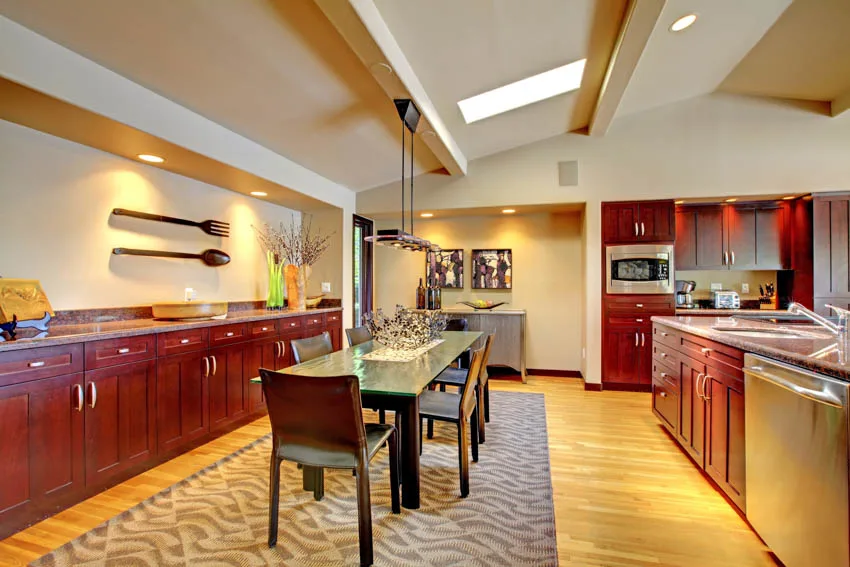 Maintaining mahogany kitchen cabinets is a straightforward process that requires little time and effort. They must be dusted routinely with a lint-free rag and no cleaning agents. Regular stains are easily removed with a moist rag. If the stains do not come out right away, you can use warm water with a small bit of mild soap mixed.
Furthermore, all splatters and inadvertent spills must be cleaned up as quickly as possible. If anything is left to settle for an extended period, it can cause long-term staining and other issues that detract from the aesthetic of the cabinets.
It is critical to minimize using aggressive cleaners on the cabinets since they might degrade the finish or produce discoloration of the mahogany kitchen cabinets. It is also imperative to prevent waxing the cabinets because it leads to wax buildup and the formation of a yellow gluey appearance over time.
What Is The Color Difference Between Cherry and Mahogany?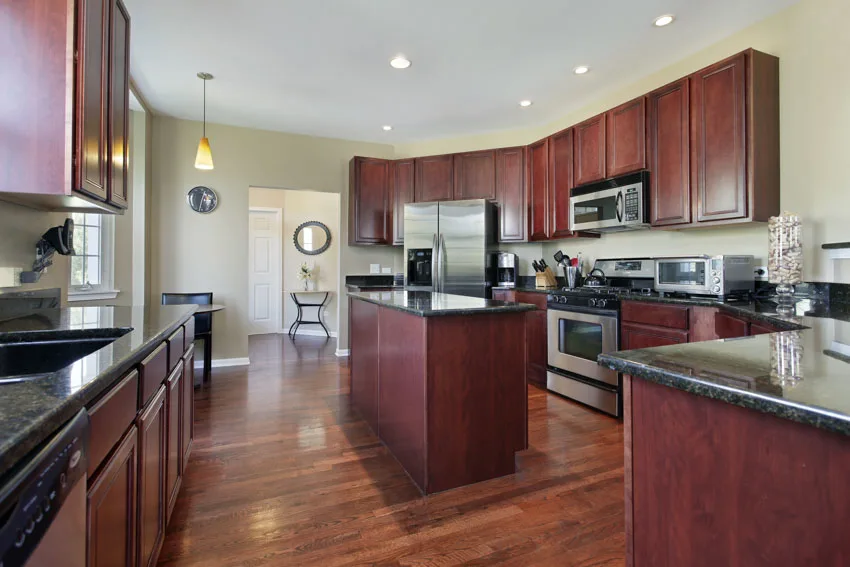 The colors of mahogany and cherry seem to be similar. Both are reddish, but mahogany contains orange undertones and can have brown lines. Cherry has a gentle pattern and leans toward purplish-brown tones.
Cherry is photosensitive and darkens significantly in the sunlight, even after only a few days. Mahogany will progressively darken with time, but to a lower extent than cherry. Mahogany has a rough grain, while the cherry wood grain is subtle.
Cherry has a red color, but it can be stained whichever color. Mahogany has a consistent grain that ranges from fine to rough. The grain is normally straight, but it can exhibit interlocking forms such as mottles
Mahogany grain is tightly packed and uniformly pigmented. The grain is distinguished by darker lines and purple color. Undertrained eyes may confuse cherry with mahogany woods, but they differ in color, texture, and growth method.
In addition, the wood grain patterns is often determined by the cut of the wood. It also is worth noting that any wood may be tinted to look like cherry or mahogany, so be wary of look-alike treatments.
Which is Darker: Mahogany Or Cherry?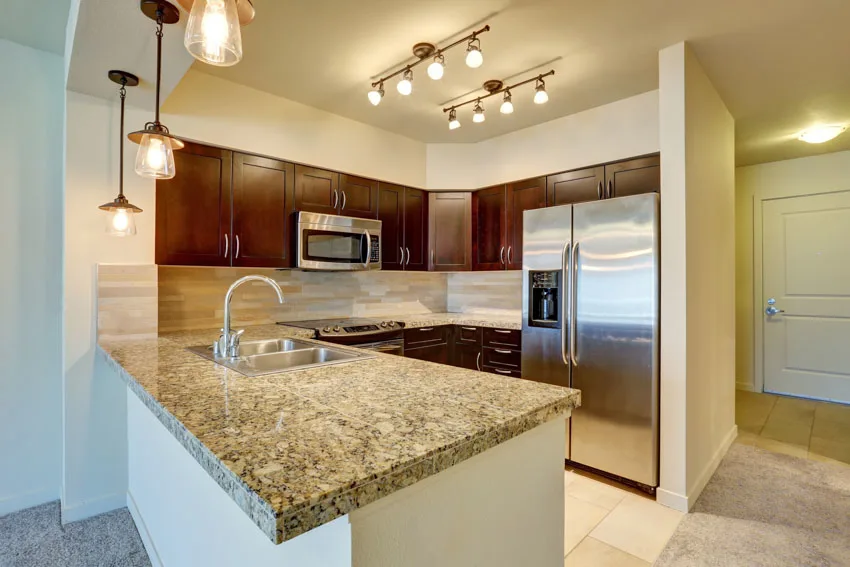 Mahogany is usually darker than cherry wood. Though they are sometimes confused by their colors and pattern, most mahogany boards are darker than most cherry boards.
Which is Better: Cherry Or Mahogany?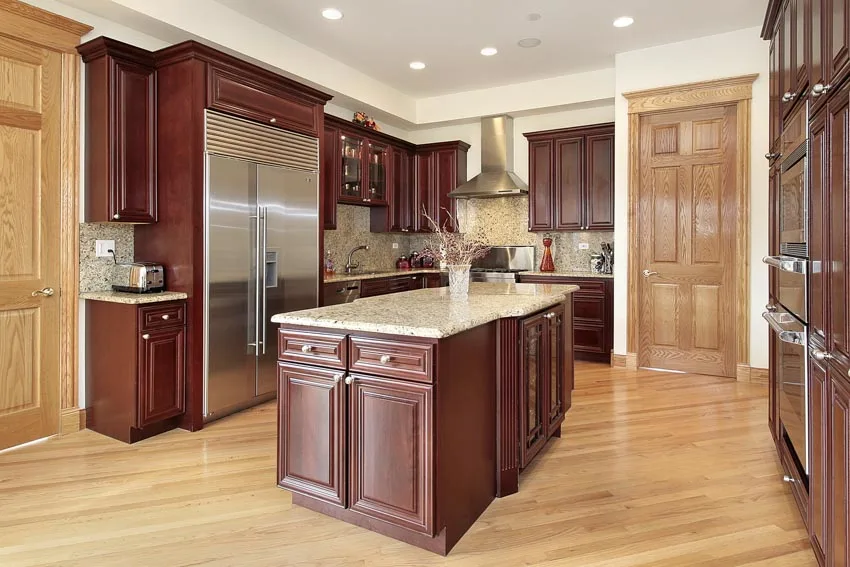 When it comes to the question of which is better, cherry vs mahogany kitchen cabinets, it would be safe to be neutral. Each of these types of cabinet woods has its unique advantages.
Talking about which one is better will mostly depend on our needs and preferences. We can best answer this question by just stating why you should choose either cherry or mahogany for your kitchen cabinets:
Why You Should Choose Cherry Kitchen Cabinets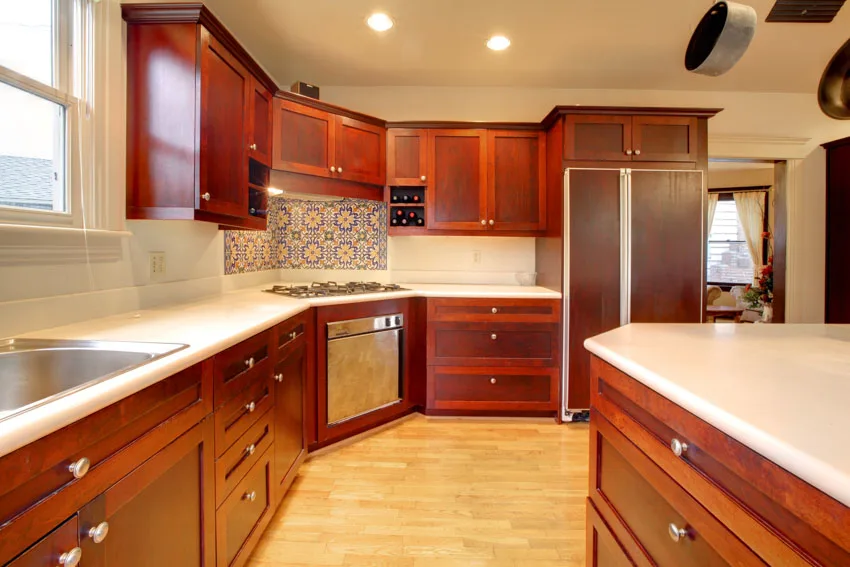 • Warm and Rich Color: Cherry wood is well-known in the carpentry and woodworking communities for its warm, rich colors. It has close wood grain with exquisite variations such as ripples, knots, and streaks that make it fascinating and appealing.
Cherry wood also stains well, giving the kitchen a darker, richer ambiance. For more on matching paint colors with cherry wood cabinets, check out this page.

• Durability & Longevity: Cherry kitchen cabinets last a long time since the wood is strong without being too thick. Cherry wood flooring is often used since it has exceptional shock absorption and bending capabilities, and its flexibility contributes to its durability. Although it is prone to scratching, it can typically be colored with an extra layer of staining.
• Affordability: Cherry is not the lowest-priced cabinet wood available, but it is also not the priciest. It is a terrific investment in a long-lasting material that will adorn the kitchen for decades without being flamboyant.
Why You Should Choose Mahogany Kitchen Cabinets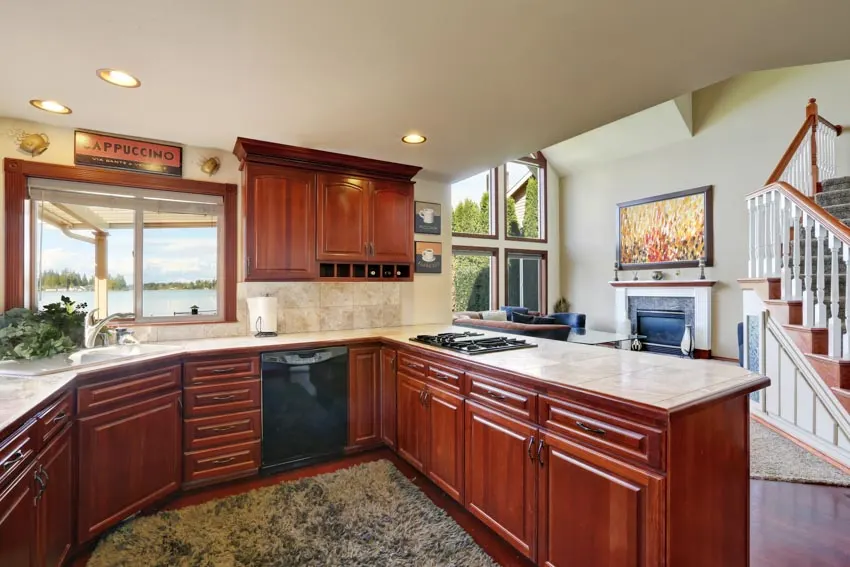 • Extremely Sturdy Hardwood: The wood has an inherent attraction for modern treatments, which adds to its resilience to moisture and temperature fluctuations.
Mahogany is less prone to warping, shrinking, bulging, and distorting, compared to other wood types. This is because of its exceptional resilience to moisture and climatic fluctuations. Mahogany does not move and retains its shape.
• Gorgeous Aesthetic Appeal: Mahogany kitchen cabinets have a distinct appearance that is difficult to reproduce. As the mahogany cabinets mature, they develop a deeper and darker color, giving them a richer appearance that many customers prefer. That is why mahogany classics are highly sought-after.
• Easy to Work With: Mahogany is a high-quality wood that can be cut with both power and hand tools. It is very machinable and easily polished. Maintaining mahogany will be simple and will not demand complicated maintenance procedures.
See more related content in our article about dark wood kitchen cabinets on this page.