Here you'll find different types of birch kitchen cabinets including their wood grain characteristics, finishes & stains, pros and cons, and kitchen paint colors to match your birch cabinets.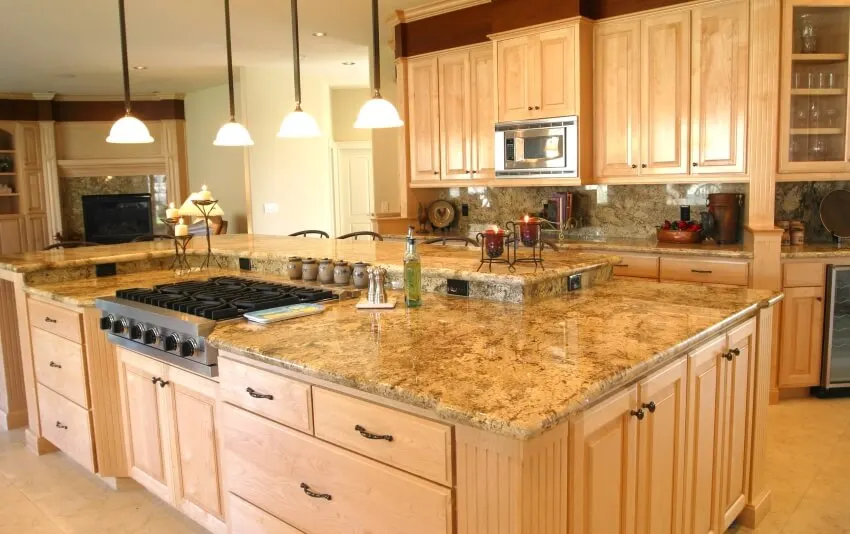 Kitchens can only be efficient if all the components in the space can contribute to that efficiency. And kitchen cabinets are part of these components that can help spruce up your kitchen to be both highly efficient and well-designed.
Well-designed kitchen cabinets need to equally have excellent quality and aesthetics. These can both be covered by choosing the right material to use. And birch is one of the most common and most popular materials you can consider for your cabinets.
Birch trees, abundant in North America, feature nine primary species, and most of them feature thin white bark that is full of resin. But is this feature enough to call birth an ideal material for your kitchen cabinets?
Characteristics Of Birch Kitchen Cabinets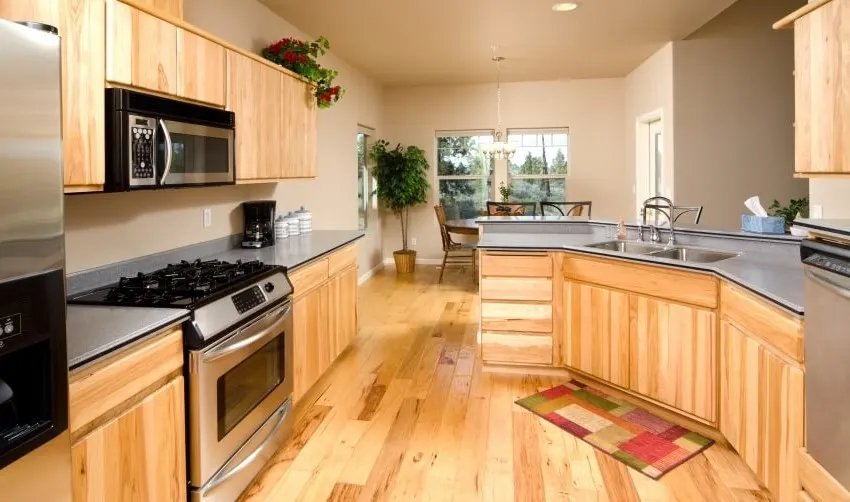 Popular in the 1960s, birch kitchen cabinet designs have become a favorite of homeowners due to their durability and ability to always look as if they're new.
Here are some of the notable characteristics of birch kitchen cabinets that make them a good option for your home.
1. Extremely durable – Since the kitchen is an area that is exposed to daily wear and tear, birch kitchen cabinets are able to withstand that daily challenge. These cabinets are resistant to outdoor elements that can negatively affect the furniture.
2. Visually appealing and colorful – With birch wood ranging from nearly white to a light golden brown, a birch kitchen cabinet has stunning aesthetics, along with its varied porosity and fine grains.
3. Excellent workability – Birchwood can easily be turned into a cabinet, especially since the wood holds screws and nails well and can even be drilled with guide holes when assembling the cabinet in a clean and seamless way.
Birch Kitchen Cabinets Finishes & Stains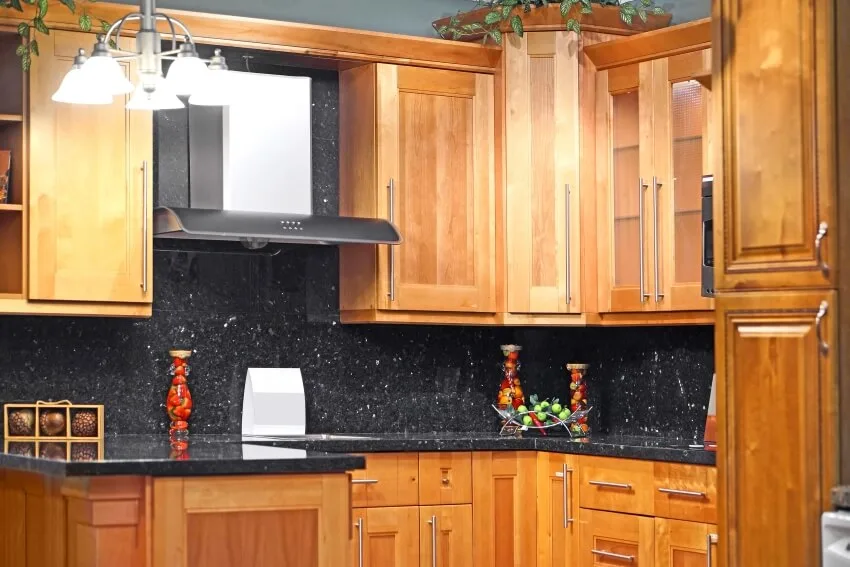 Birch kitchen cabinets are popular for homeowners and DIY enthusiasts because they can easily be cut, sanded, glued, and stained.
You can also choose a particular species to create the effect and vibe you're going for, like the following:
• Natural birch cabinets – Features a rough texture with a mirror-like surface that's perfect for rustic aesthetics.
• Red birch cabinets – Provides a richer look when sanded to a smooth finish and applied with a reddish stain.
• Slightly porous birth cabinets – Can be turned into shabby chic or distressed kitchen cabinets with just a bit of sanding and a coat of paint.
Considering how birch stains and finishes well, you would also need to consider the kind that will help you create the look you want your kitchen cabinets to have.
If you are not happy and content with the natural color, the best step to take is to apply the stain that will add the color you want to pursue. Here are some of the options for staining you can explore.
• Pre-stain wood conditioners – This should be applied on raw wood in preparation for the staining and help prevent blotches and streaks.
• Water-based stain – This type of stain enhances the cabinet's wood grain in an environmentally friendly way. If you want the color to be a bit lighter, this is the best option but you can choose a darker stain by applying more layers.
• Oil-based stain – The most popular stain option, this penetrates the wood better and so can last longer but it would also take 2 to 3 hours to completely dry.
Natural Birch Kitchen Cabinets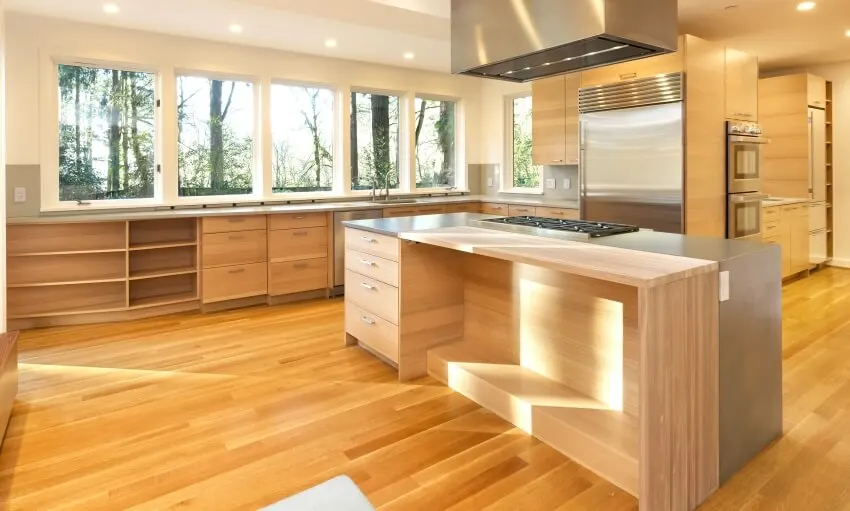 Going for natural birch kitchen cabinets means that you're choosing to have light-colored cabinets that will consist of both the sapwood and hardwood of the tree.
The grain patterns won't be boring and you will be left with pin knots, small closed knots, and mineral streaks. Color variation may also be seen and realized.
Popular in the 1960s and 1970s, natural birch kitchen cabinets became a favorite of homeowners due to their durability, light color, and a brand-new look.
With natural birch kitchen cabinets, you will need to either just polish the wood without any stain or apply a light-colored stain on the wood to maintain its "natural" look.
Red Birch Kitchen Cabinets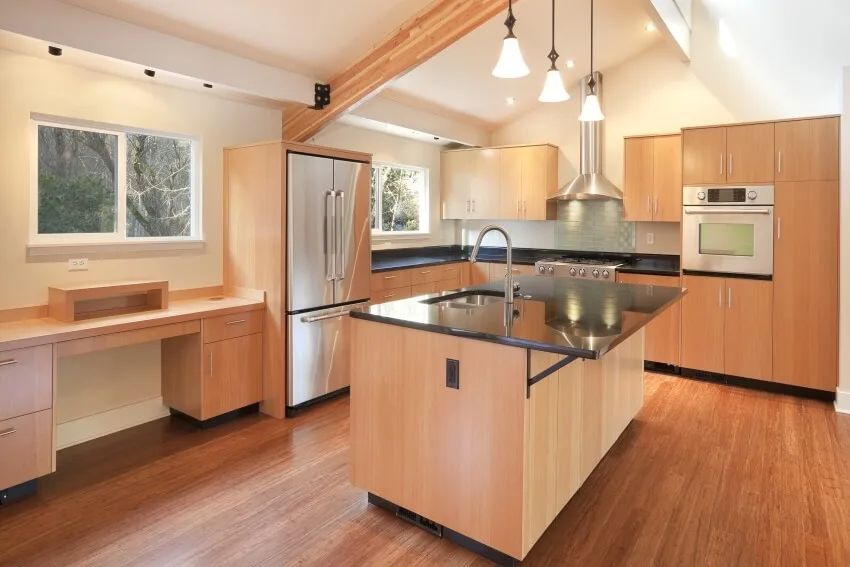 If you're looking for rich-looking furniture, red birch kitchen cabinets are perfect for you. This birch kitchen cabinet usually only makes use of the yellow birch tree's heartwood, which is where its unique color and aesthetics are.
There are also even and very close graining patterns that are popular with carpenters and woodworkers. This and its stunning finish also contribute to the reason why they are more expensive.
Red birch kitchen cabinets have a similar appearance to cherry wood cabinets but the major difference is that, unlike cherry cabinets, they won't darken and change color when exposed to sunlight.
But it has a distinguishable pale yellow color, which comes from the sapwood of the birch tree. With a range of colors to consider (medium brown to dark and reddish brown because of the heartwood), you can also consider wavy or curly patterns on the wood for more aesthetic value.
The major downside with red birch cabinets is that they tend to easily warp and that if they got wet, it will take a considerable amount of time for them to completely dry.
White Birch Kitchen Cabinets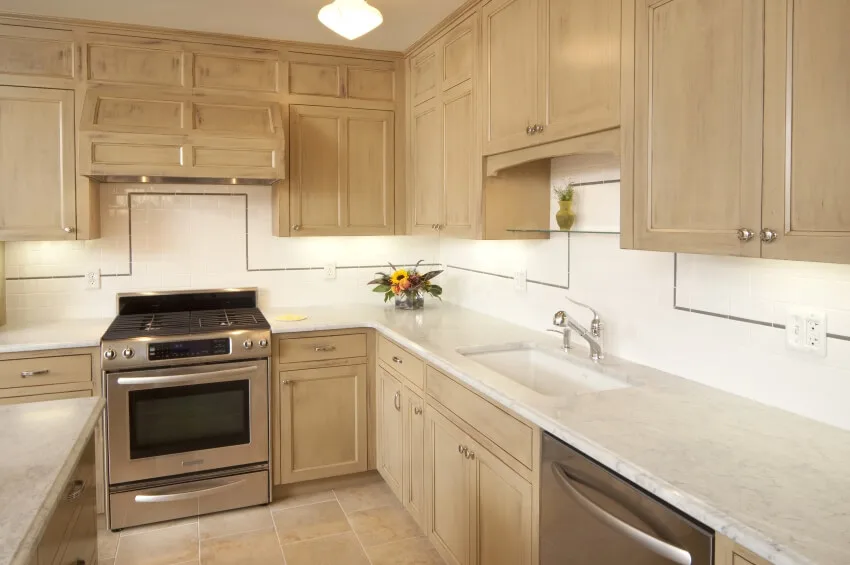 If the red birch kitchen cabinet is solely made from the birch tree's heartwood, the white birch kitchen cabinet is a product of the sapwood of the yellow birch tree.
This means that you have a light-colored cabinet that can range from white to light yellow. The cabinets will feature minimal natural characteristics, from mineral streaks to pin knots, as well as minimal color variation.
Generally, these white birch kitchen cabinets are characterized by a plain, straight-grained, and more uniform texture. But you can also go for curly and wavy patterns if you want.
Baltic Birch Kitchen Cabinets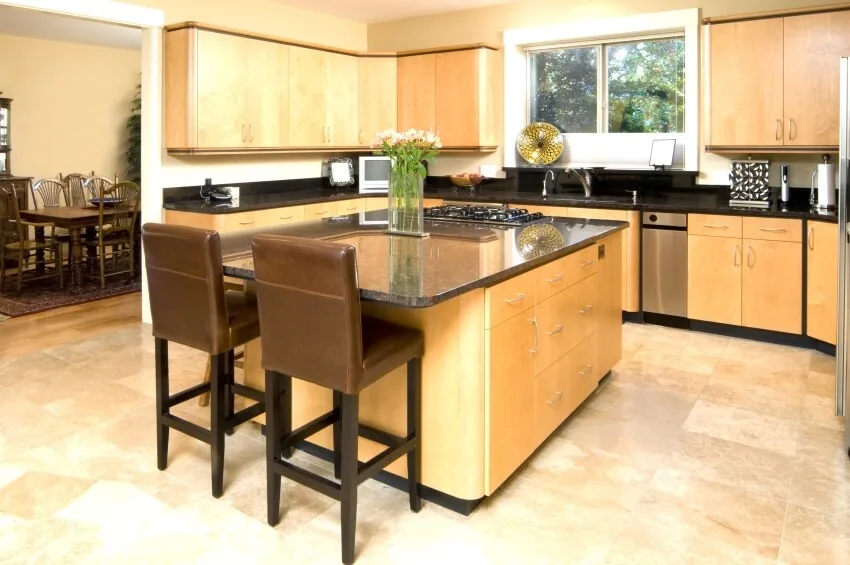 A popular type of plywood, baltic birch is a material known for its high durability and strength in nature. While the uniform look depends on the grade of the wood, baltic birch is an excellent choice for furniture and cabinetry. When it comes to aesthetics, they are notably pleasing to the eye due to their uniform look.
Baltic birch is harvested from the Eastern European Baltic sea region where it got its name in the first place. Baltic birch kitchen cabinets are more stable and consistently void-free. The wood is also easily workable and can hold nails and screws excellently. This will hold your cabinet nicely together.
Modern Birch Kitchen Cabinets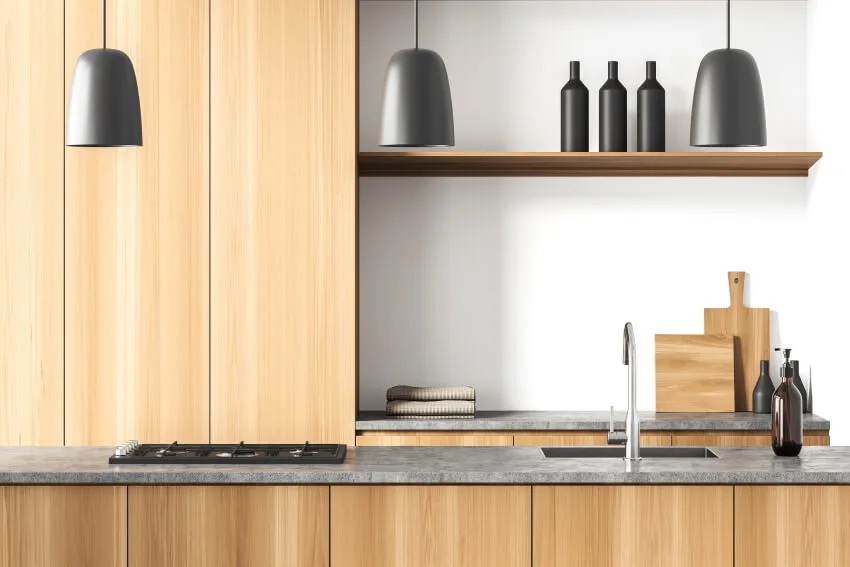 If you want a modern addition to your kitchen, birch cabinets can still be considered. While the birch kitchen cabinets became a trend a few decades ago, you can add a modern touch to the cabinets to turn their style around.
Many of the modern birch kitchen cabinets are made from either one of the following materials:
• High-density fiberboards
• Aluminum composite panels
• Stainless steel
These materials add a flair that will make the cabinets more modern-looking. They usually have flat panel doors, which are popular in minimalist kitchens and homes. Going for modern birch kitchen cabinets with clean and seamless lines will be ideal for a busy kitchen to soften the entire vibe.
Shaker Birch Kitchen Cabinets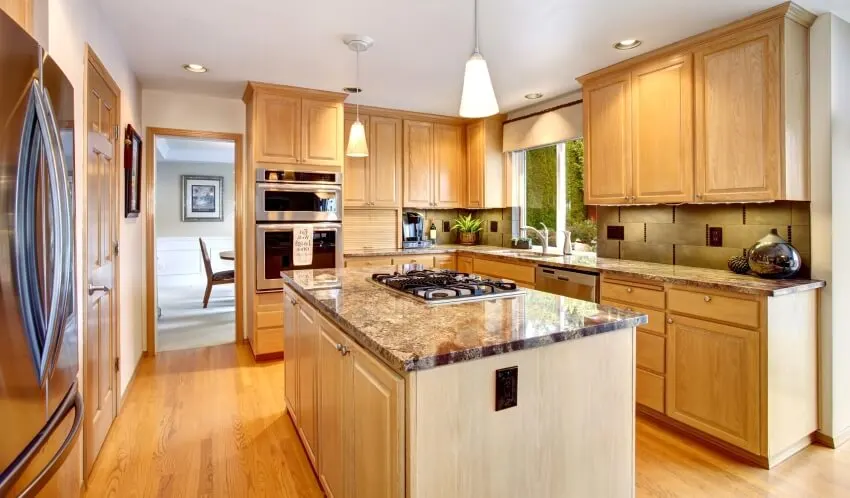 The shaker style came from the 18th-century US religious movement called "shakers", which came from the group's robust dancing movement.
Shakers became popular for selling cabinetry and furniture, which have this minimalist design and clean lines. And this is where the shaker kitchen cabinets got their popularity.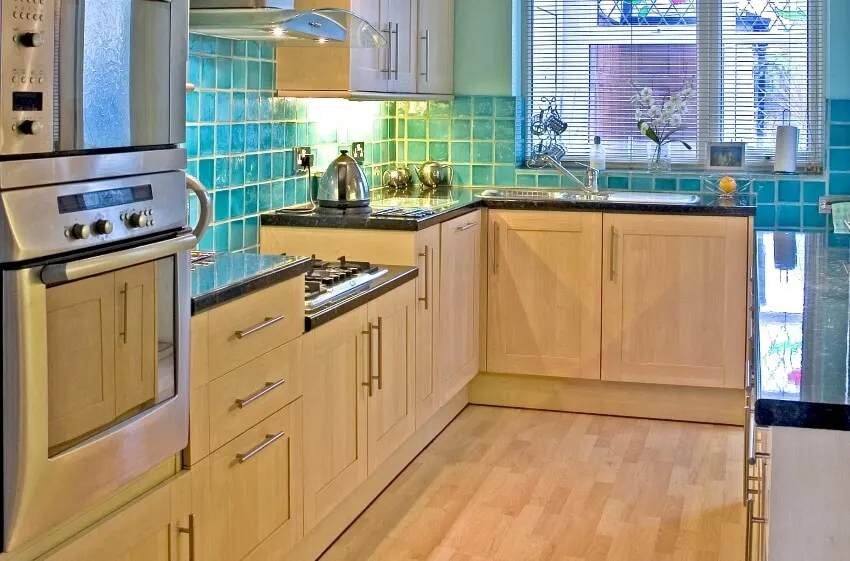 Shaker birch kitchen cabinets have the seamless look similar to modern style but the components are also more timeless, especially since the design styles are pretty much versatile.
You can go for the minimalist white shaker birch kitchen cabinet to add brightness and airiness to the space or you can add drama by choosing a two-tone shaker birch cabinet, where the base is darker in color and the upper cabinets are lighter colored.
Rustic Birch Kitchen Cabinets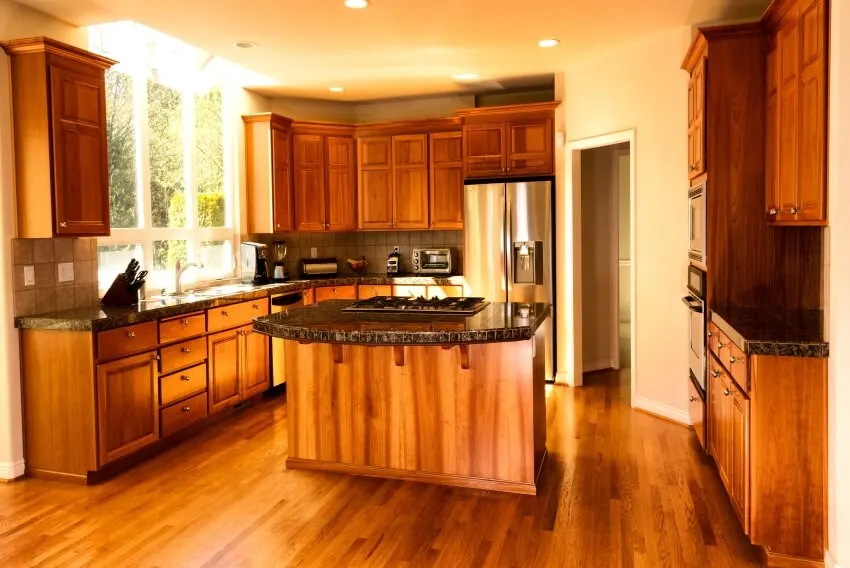 If you want to add a welcoming ambiance to your kitchen, rustic birch kitchen cabinets may be considered. These cabinets will give you the nostalgia of your summer vacation in your grandparent's country cottage.
Rustic birch kitchen cabinets are timeless and familiar, which are made possible by using weathered, raw, or softly distressed wood for the cabinets.
The wood grain patterns are exposed more rather than concealed with a stain. And these cabinets are integrated with natural materials for a rustic feel. You can consider iron, heavy copper, and even carved wood.
The important thing is to make use of embellishments and textures with rustic style elements. Pair your rustic kitchen cabinets with a stone backsplash to complete the natural look you're going for.
Some of the rustic elements you can consider are the following:
• Rough and faded paint
• Worn and antique looks through collectibles and pottery
• Weathered and textured patterns
Birch Kitchen Cabinets Costs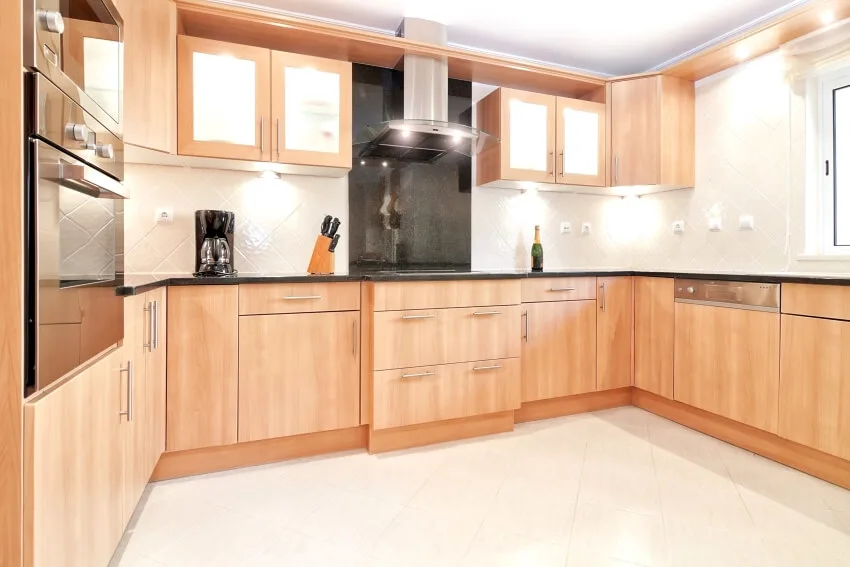 Another factor to look into before you settle on the birch kitchen cabinets is the budget you're allocated for this new addition to your kitchen. The cost of the cabinets you've chosen needs to match the budget you have.
Birch kitchen cabinets are more affordable compared to other cabinets made from finer wood like cherry, which actually costs 75% more than birch.
To give you an estimate, you will have to pay around $2,000 to $4,000 for a 10×12 feet RTA cabinets.
Birch Kitchen Cabinets Pros And Cons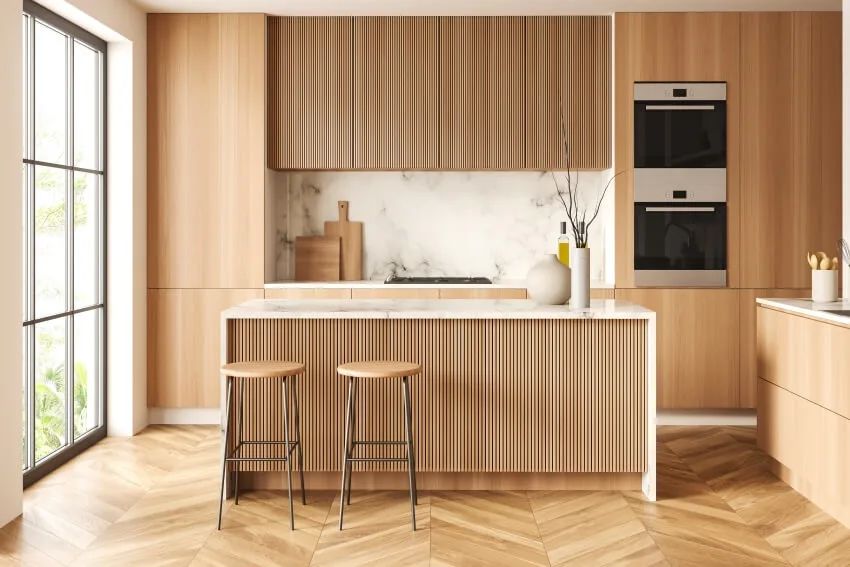 Using hardwood for your kitchen cabinet is not just an investment but also a long-term commitment so you need to be sure that whatever you choose, you won't regret it. To reinforce the decision you make, learning all about the pros and cons of a birch kitchen cabinet is a good move.
Pros of Birch Cabinets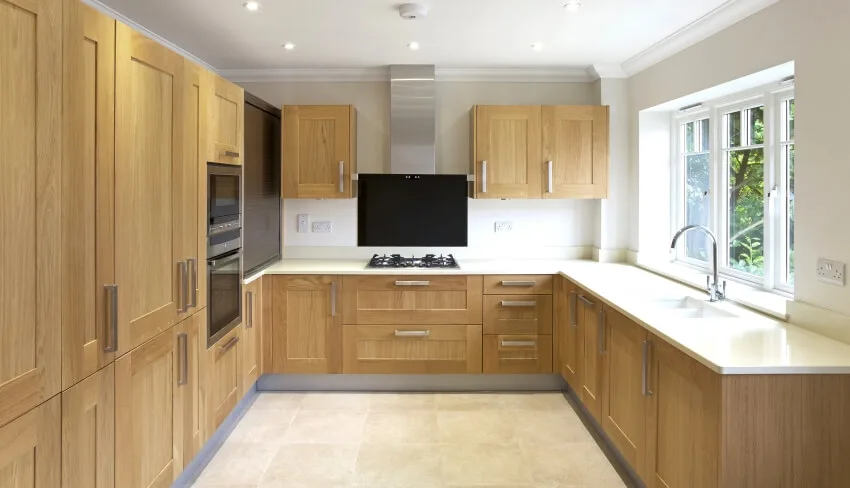 • More affordable – Birch kitchen cabinets are the least expensive option you have when you're focusing on hardwood and solid wood materials. It will also be more affordable in terms of updating the cabinets after some time.
• Natural color and aesthetics – Naturally light-colored, you can customize your cabinets to mimic the aesthetics of cherry, maple, or walnut.
• Good durability – These cabinets can be used in the kitchen without the danger of getting worn down from too much use. This strong wood can last for a long time with proper cleaning and maintenance.
• Stains well – Birchwood can easily be stained where the wood reacts more naturally towards the stains unlike other types of wood.
• Easy to work with – More than its ability to stain well, birch is also easy to work with since the wood accepts nails and screws easily. It won't turn your machine tools into blunt ones.
• Versatile – Birch wood can be used in a lot of ways, from sturdy material for building homes to a strong and durable kitchen cabinet.
Cons of Birch Cabinets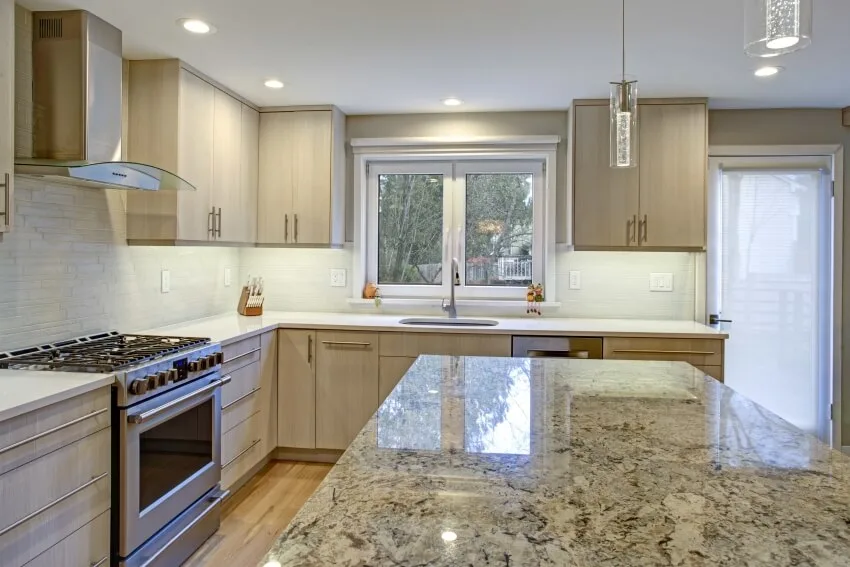 • Uneven texture – Birchwood feels rough so would require thorough sanding if you choose a glossy finish to top your cabinet off.
• Susceptible to wear and tear – While durable in its own right, birch kitchens still can be subjected to daily wear and tear that when exposed to weather elements and not maintained properly can totally wear the wood down and rot.
• Easily gets cracked – Birch is hygroscopic by nature, which makes it sensitive to high humidity levels that can cause the wood to warp and break.
• Not compatible with shiny polish – Because of its rough and coarse texture, the surface is a bit irregular to touch and so won't look good with a glossy finish.
• Not compatible with dark stain – If you choose dark stain, you can expect irregular and blotchy results.
Is Birch Good for Kitchen Cabinets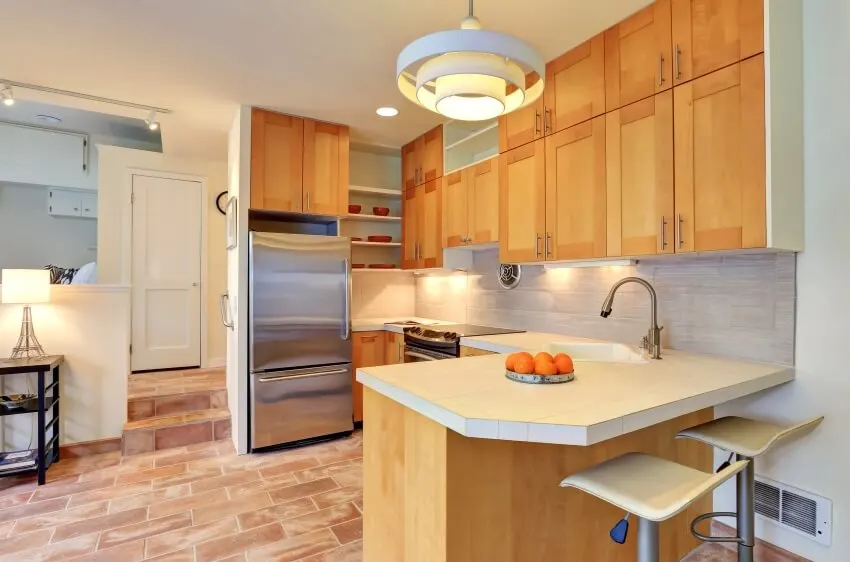 Birch is a popular top option for cabinetry for a reason and that's because it works. It is a medium-density hardwood that is durable enough but not so hard that you won't want to work on it.
However, the wood is strong enough that it's resistant to dents and scratches. In addition to that, it is also an affordable option compared to other hardwood options offered in the market.
This wood type is also widely available so you won't have a hard time looking for them for your cabinets. All of these factors point towards one thing, which is that birch is a good choice for kitchen cabinets.
Birch Kitchen Cabinets Vs Maple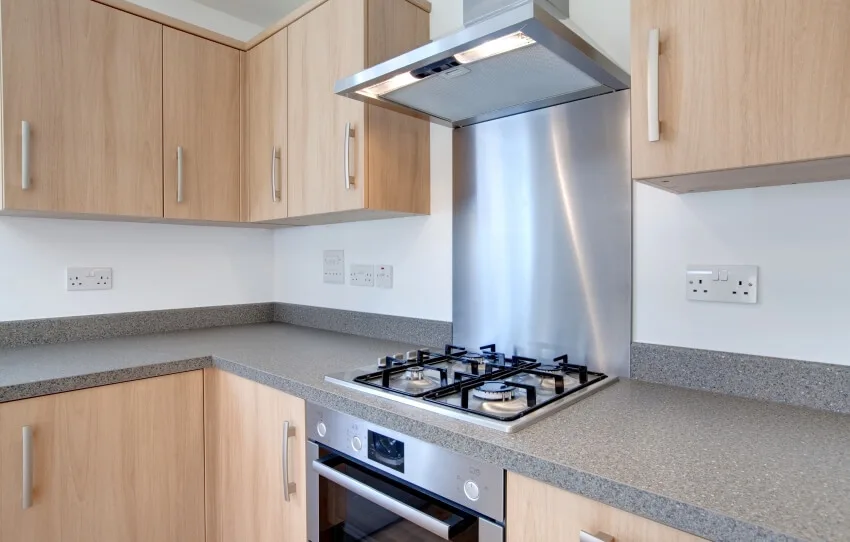 Choosing a hardwood kitchen cabinet that can elevate the value of your home so it's important to choose the right wood for this long-term investment.
Birch and maple are two popular hardwood options you can use for your kitchen cabinet. Truth be told, maple kitchen cabinets are more popular but it doesn't mean they're better.
Here is a glance at the differences between birch kitchen cabinets and maple kitchen cabinets.
Aspects/Components
Birch
Maple

Color

Range from almost white to light brown hue and reddish brown

Naturally reddish-brown

Common Finish

Natural and rustic finish

Classic and glossy finish

Durability

High durability and ideal for cabinetry

Versatile and high resistance to damage

Scratch Resistance

Resistant to scratches

Slightly more resistant to scratches

Cost

More affordable (RTA costs $2,000 to $4,000)

More expensive (RTA costs $2,500 to $5,000)

Maintenance

Both low maintenance

Staining

Easy to stain but darker stains can lead to discoloration

Finish may discolor over time (Especially when exposed to the sun)

Environmental Impact

Minimal impact since birch tree grows quickly

Maple trees grow at a slower rate compared to birch trees
Maple kitchen cabinets are popular because of its naturally reddish brown color that darkens in time, which is quite appealing for many homeowners. Birch is not that far off though and if you're looking for a similar color to maple, red birch kitchen cabinets can be considered.
These red birch kitchen cabinets also showcase a reddish brown hue but it does not darken in time so if you want to maintain that color, bitch might be a better choice for you.
Birch is a popular option for traditional and rustic styles, which is why these cabinets usually come with a natural and rustic finish. Maple is quite different and has become popular with its classic and glossy finish.
When it comes to durability, maple is more durable in the sense that it is more resistant to scratches. Both hardwood options though are highly durable for kitchen cabinets and can be exposed to moisture.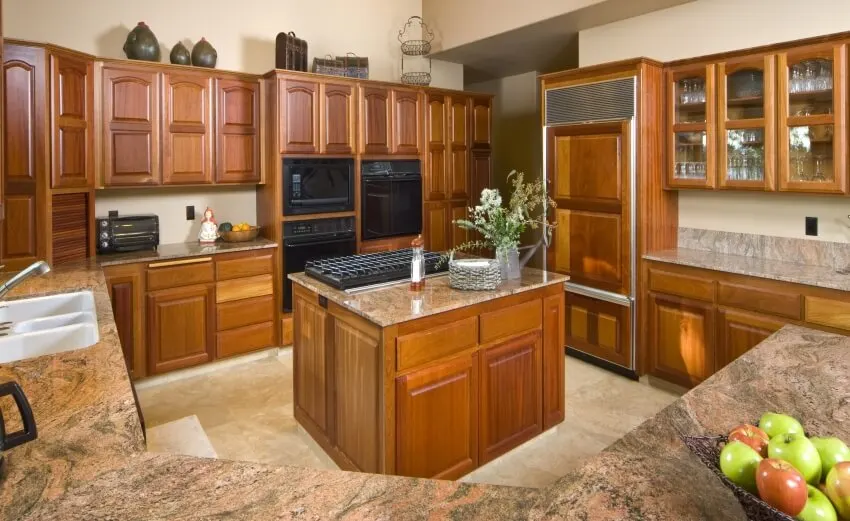 Maple kitchen cabinets are considerably more expensive compared to birch because maple trees grow at a slower rate while birch trees grow quickly and have a minimal environmental effect.
And while both require low maintenance, you need to consider the fact that maple kitchen cabinets darken in time, and if you don't want that, you may need to reinforce the stain and polish the cabinets.
Kitchen Paint Colors With Birch Cabinets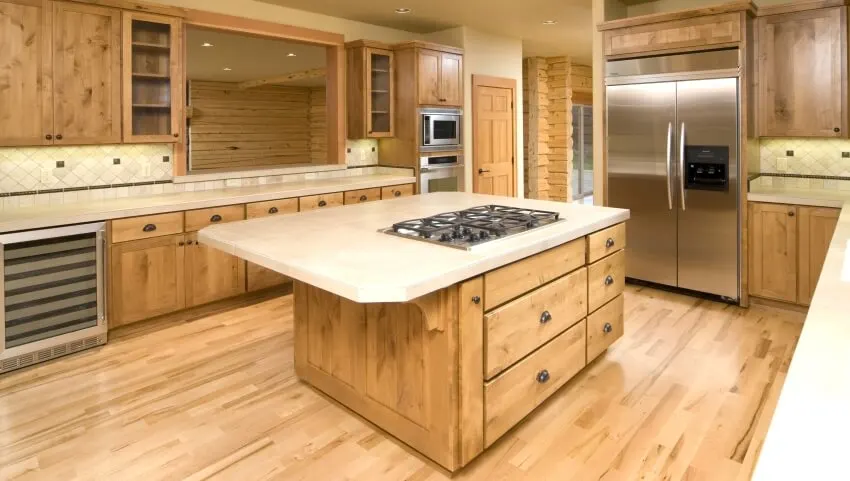 In choosing birch kitchen cabinets, you will need to settle on colors you can match them with. Most birch cabinets are a bit rustic and traditional so you can pair them with neutral colors to have a classic and clean look or cool colors to add a refreshing and welcoming vibe to the mix.
For neutral colors, off-white, beige, and tan work wonderfully with birch cabinets. For cool colors, blue, green, and gray are the preferred shades.
Neutral Colors – Off-White, Beige, and Tan Behr River Veil (MQ3-50)

Valspar Sparkling Sage (5005-3B)
Farrow & Ball Ammonite (No.274)

Sherwin-Williams Sandbar (SW 7547)

Benjamin Moore Richmond Gray (HC-96)
Light cool colors – Blue, Green, and Gray

Benjamin Moore Smoke (2122-40)

Behr Tequila (PPH-52)

Farrow& Ball Light Blue (No.22)

Sherwin-Williams Sleepy Blue (SW 6225)

Benjamin Moore Palladian Blue (HC 144)
Visit our gallery featuring beautiful traditional kitchen cabinets for more related content.