How to clean cherry wood cabinets guide including several kitchen cleaning tips and cleaner product recommendations to keep your cabinets in beautiful condition.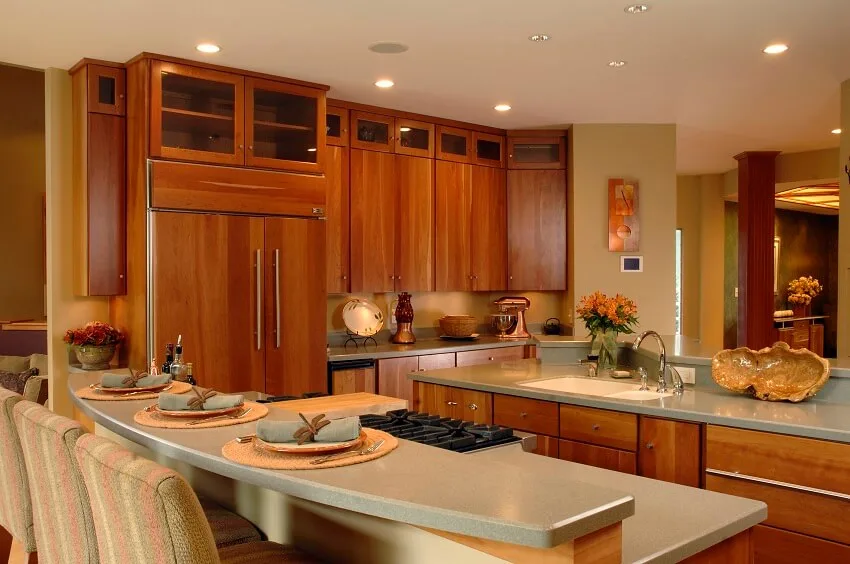 Cherry wood cabinets have this beautiful and rich color and installing them in your kitchen brings a certain elegance and homey vibe to it. These cabinets are a great addition to your kitchen but they are vulnerable to oil spills and splatters.
If you want to maintain that beautiful honey color of cherry wood cabinets, learning how to clean them properly and keep them in good condition is important.
Cleaners For Cherry Wood Cabinets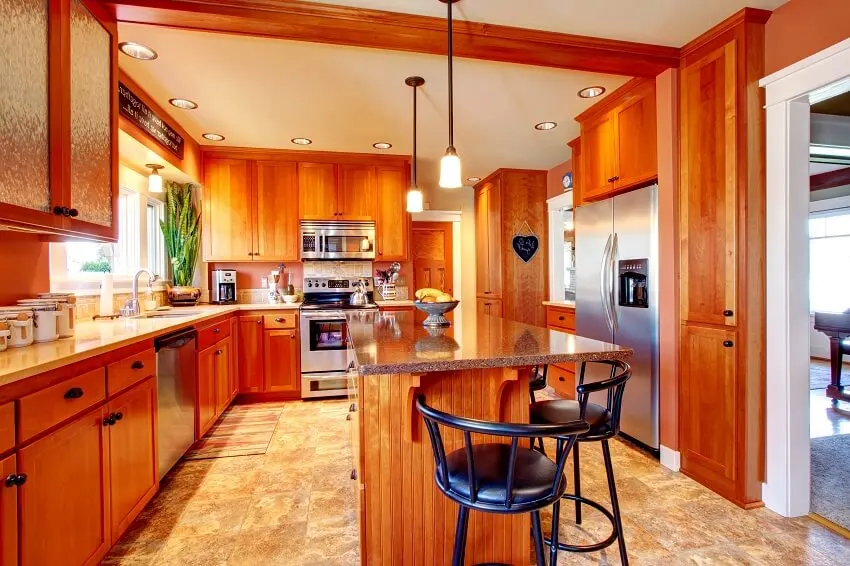 The kitchen is an important part of your home and keeping every element in that room is necessary. Being the venue for food preparation, it is absolutely important for the area to always be clean.
Being part of that kitchen, your cherry wood cabinets are also one of these elements. Besides that, you also get to maintain its shine and gorgeous honey color.
In cleaning your cherry wood cabinets though, what are the cleaners you can use that would not damage the wood in any way? Here are some of the cleaners you can use that would not damage the cherry wood.
Learn how to fix worn spots on kitchen cabinets for an additional kitchen cabinet maintenance guide.
Vinegar
Vinegar is one of the most natural cleaners you can use in anything, and this goes the same for your cherry wood cabinets. Besides being non-toxic, vinegar is also guaranteed to be very effective because of its antibacterial and antiviral properties. You can use vinegar in two ways:
Vinegar Wash
A vinegar wash is made from the following:
1 cup of warm water

1 cup of white vinegar
The solution is thoroughly mixed together and transferred to a spray bottle. To use this vinegar wash, you should shake the spray bottle first then spray a generous amount of the solution on your cherry wood cabinets. Use a microfiber cloth to wipe down the cabinets.
Vinegar Scrub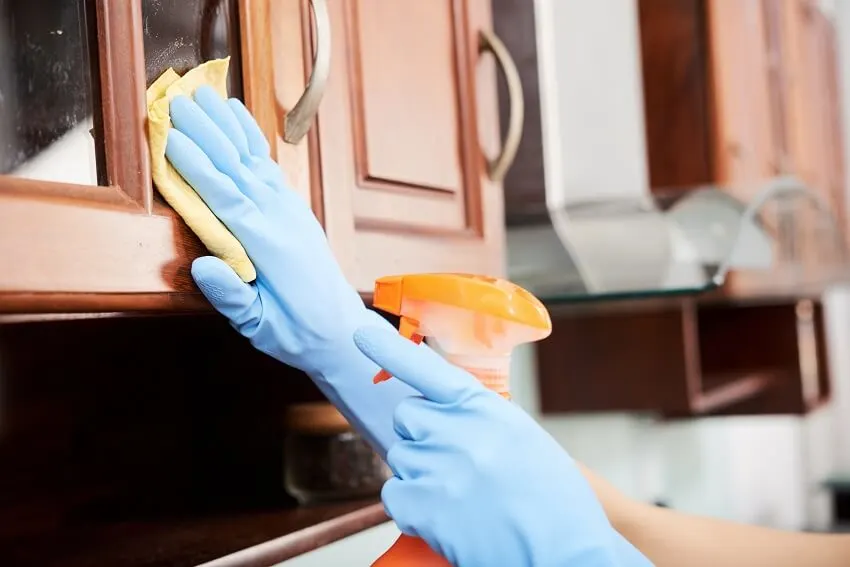 If the vinegar wash did not do the job for you, try out the vinegar scrub. With the vinegar scrub, the solution is made from the following:
1 cup of white vinegar

1 tablespoon of traditional table salt
Mix these two well and transfer the solution to a spray bottle. Like using a vinegar hash, shake the solution first and then allow it to sit on the wood cabinets.
Get a microfiber cloth and wash it off. In case the dirt is harder to remove, take out a scouring pad or a scrubbing sponge. Be reminded though that using these scrubbers may damage your cherry wood cabinets' smooth surface and finish.
Ice Cubes
Another way you could clean your cherry wood cabinets is by using ice cubes. You can remove the buildup of sticky dirt through these cubes.
Simply place a few ice cubes in a plastic bag and hold this plastic bag over the residue for a few minutes. Hopefully, this will help harden the sticky residue, making it easier to remove. Use either a flat spatula or a scraping tool to remove it.
Baking Soda Paste
You can also use a baking soda paste if the buildup is more intense. Apply the baking soda paste on the area of built up dirt and let it sit there for a few minutes for the dirt to soak the paste in.
Wipe the paste and dirt away using a damp microfiber cloth. And finally, dry the surface of your cherry wood cabinets with a dry microfiber cloth.
Oil Soap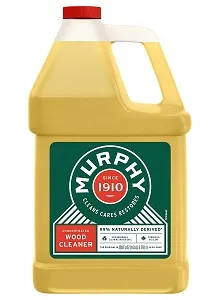 See this Murphy oil soap wood cleaner at Amazon [sponsored link]
Another way to clean your cherry wood cabinets is by using oil soap. Oil soap is a solution that can clean your cabinets and at the same time polish them. By thoroughly cleaning your cherry wood cabinets, you will be able to do the following:
Check them out for leaks and moisture

Prevent accumulation of odors
Traditional All-purpose Household Cleaner
The traditional all-purpose household cleaner is a non-toxic solution you can use for your cherry wood cabinets. These cleaners are not harmful to you, your family, and the environment.
They can easily remove the grease on the cabinets without harming the cabinet's smooth surface. The chemicals in the cleaner will help eat away the dirt buildup. And you can use this cleaner together with steel wool or dish detergent.
This is a good option if you don't want to bother yourself with mixing a solution you have never tried before. You can just buy the household cleaner and be assured of its reputation.
Whether you use DIY homemade natural cleaners or all-purpose household cleaners, it is important to polish the wood. You can easily accomplish this by applying olive oil in a microfiber cloth and running it across the surface of your cherry wood cabinets.
Don't forget to run it across inside the cabinets too! And finally, apply a second coat to it for a more long-lasting shine. Make sure to continue doing this at least once a year.
Tips To Follow In Cleaning Cherry Wood Cabinets
More than just identifying materials you can use to effectively clean your cherry wood cabinets without damaging them, there are other things you can do to protect the cabinets. Here are some tips you can follow:
1. Always use distilled water to avoid mineral deposits
2. When cleaning the cabinets, make sure the cloth you're using is damp and not soaking
3. Use a soft and lint-free cloth like a microfiber cloth, which is ideal for cleaning the wood without damaging it
4. Choose oil-based cleaners more than alcohol-based cleaners
5. Never forget to include the interior of the cabinets in cleaning them
6. Always purchase a non-toxic wood cleaner
7. Wear rubber gloves when you're cleaning your cherry wood cabinets
8. Avoid putting items that can cause damage on the surface when spilled, including orange juice and lemon juice
9. Avoid putting items with a strong odor, which can be difficult to remove (an example of this is a bottle of vinegar)
10. Make sure that your cherry wood cabinet is not too full that it can overexert your furniture
11. Don't forget to empty your cabinets first before starting your cleanup process
12. Clean your cherry wood cabinets at least once a year
Cherry wood cabinets are durable and resilient. And regular scrubbing won't scratch their surface. Make sure though that you use materials and cleaners that are friendly to your cherry wood. See the types of cherry wood here.
Visit our gallery on custom solid wood kitchen cabinets for more related content.