Here we cover kitchen skylight designs including popular types, standard sizes, their cost and pros & cons.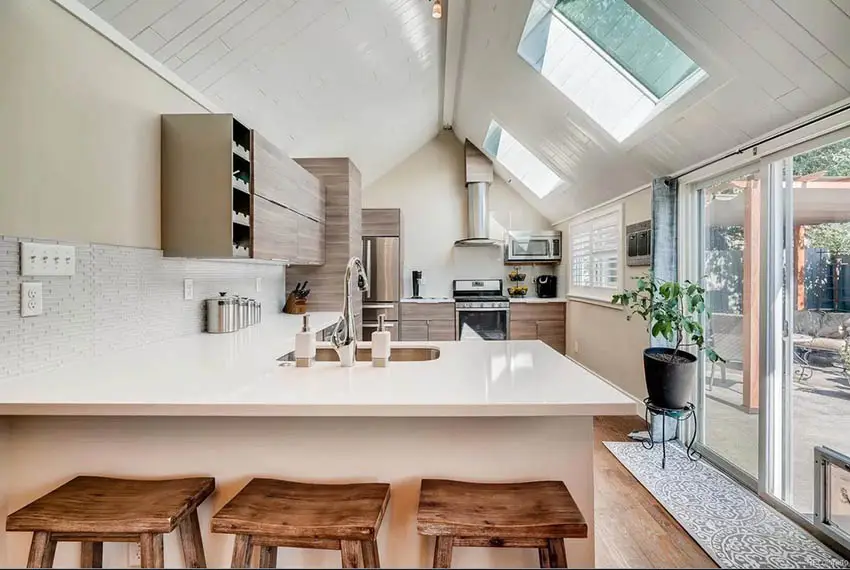 The kitchen skylight is an aesthetic and practical solution for your home. We all know how important the kitchen is within the home. It's at the heart of where we socialize, cook and create lasting memories. With more and more time now being spent in the kitchen, we want even more from this space, whether that's extra storage, improved natural light or better ventilation. The kitchen skylight not only offers a solution to all of these problems, it can also help keep your energy bills down. Let's take a look at kitchen skylights in more detail.
Types of Skylights
There are three different types of skylights to consider for your kitchen: ventilating, fixed and tubular.
Ventilating Skylight
As the name suggests, this type of skylight provides ventilation to a space – a rather useful quality when you consider how hot and uncomfortable a kitchen can be. They are designed to open and remove any moisture, ensuring the free flow of fresh air into a space. Think of them as an additional kitchen window, placed on the ceiling that provides not only views of the sky but a more comfortable cooking environment.
Fixed Skylight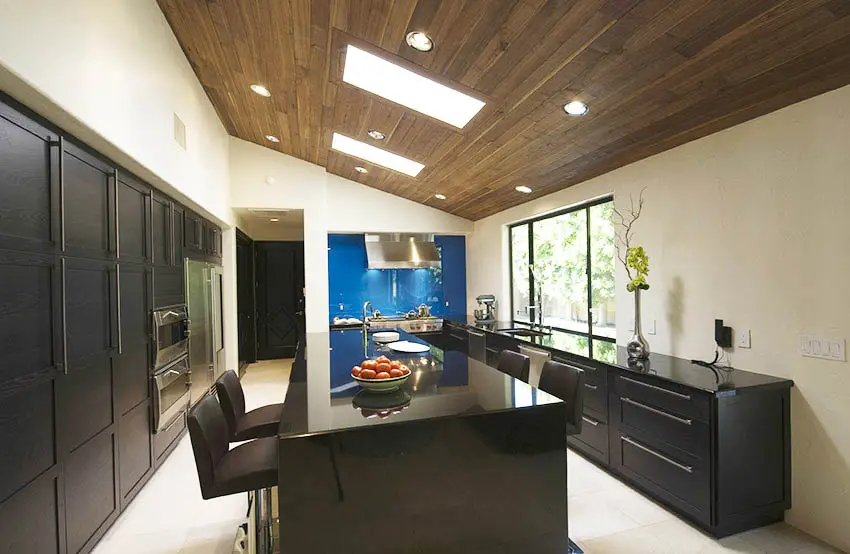 Unlike the ventilating option, a fixed skylight does not open to allow the exchange of air. It is sealed onto the roof. If you already have a ventilator for the kitchen, or the space doesn't require it, then the fixed skylight could be a good choice. This option takes up minimal space, can look stunning and is easy to install.
Tubular Skylight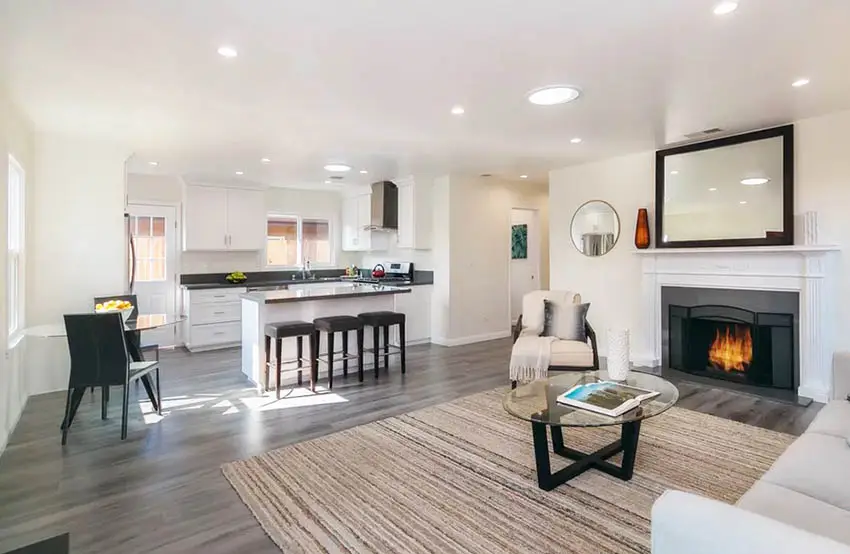 This option is ideal if you have little ceiling space to work with. A small tube is installed which runs from the outside of your roof, into the interior below. Using optical techniques, natural light is directed down the tube into the room. Due to the relatively small size of the tube, purchase and installation costs are significantly lower than the other two options mentioned. However, if you're after the stunning views – this solution won't be quite as appealing.
What are the Standard Skylight Sizes?
There isn't a standard size as such for a skylight. They will vary in size according to each manufacturer so it's worth checking their website for specific details.
Generally, though, you'll find that the length of a ventilating skylight will be 16″ to 96″, and the width can range from 14″ to 72″. For the fixed skylight – lengths range from 19″ – 40″ and widths from 19″ – 119″. The average tubular skylight is 14 1/2″ in diameter to more easily fit between ceiling joists. They often do not exceed 22″ in diameter.
Best Skylights for Kitchen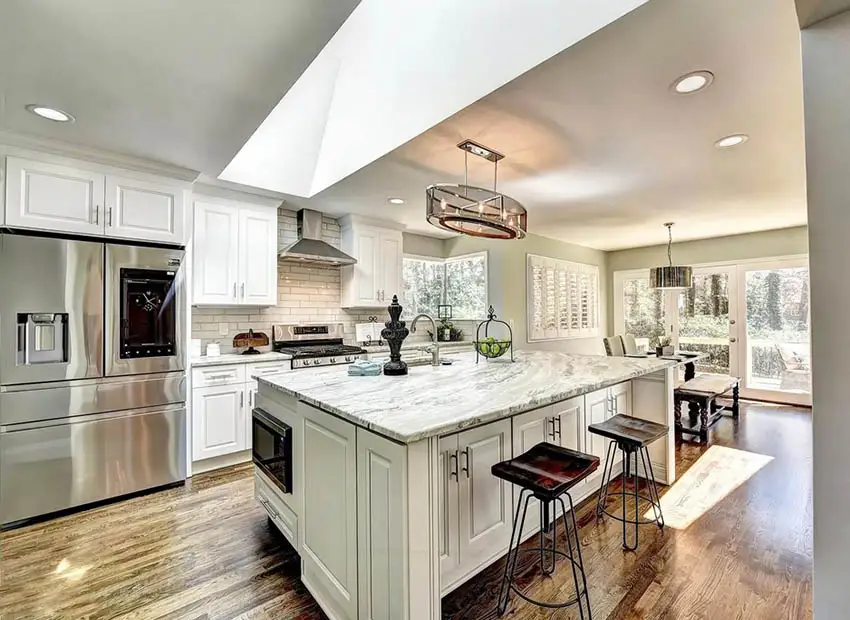 What would be the best skylight for my kitchen? Firstly, how big is your kitchen? If your kitchen is tiny, and lacks any natural light, then a tubular skylight might be the best option. This solution will take up minimal space yet offer the influx of natural daylight your kitchen needs. Some manufacturers claim that the tubular skylight reflects up to 95% of full midday sunshine. It also helps that it's a rather cost effective solution too…
Maybe you have a medium to large sized kitchen? The appearance of which would be enhanced with improved natural daylight. Not forgetting the bonus of those stunning sky views. Your kitchen is already well ventilated but you just want it to feel lighter, brighter and more luxurious. Why not try out the fixed skylight option?
Is your kitchen suffering from condensation? Does the room feel stifling when cooking due to insufficient ventilation? You know where this is going. The ventilated skylight will provide you with the practical benefits you need to stay cool, calm and collected whilst you cook. And they look pretty good too.
Kitchen Skylights Cost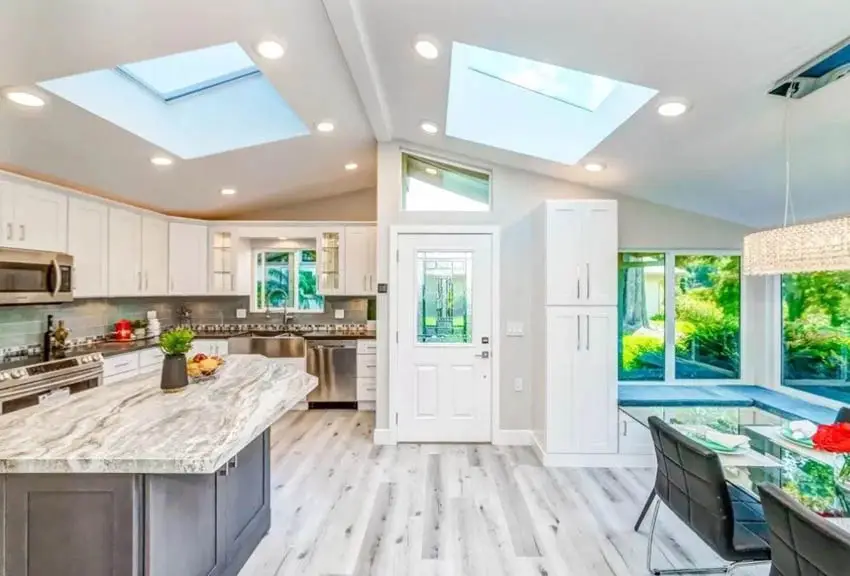 Kitchen with vaulted ceiling and skylights
For the most basic skylight options, you'll be looking at a cost of $500, and that's not including installation. However, prices can vary hugely depending on the quality of glass you're looking at, how the skylight will operate, the finish of the interior and so on.
The big factor is the size of the skylight you're going for. The larger the skylight, the more glass will be used, naturally increasing the price. Make sure you get a few quotes before you part with any cash.
Does a Skylight Add Value?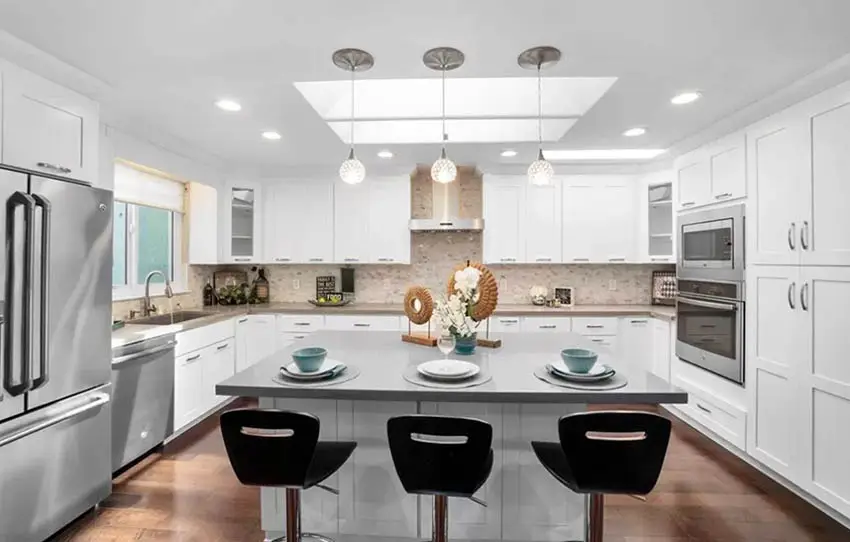 As you make your decision on whether a skylight is for you, you're going to want to know if it'll be worth it. To answer this question though, it really depends on what it is you value.
Do skylight provide cheaper energy bills? The NRFC Energy Performance Label on the skylight will provide a good indicator of the efficiency of the product itself. However, you also need to consider some other factors too. The installation quality, size of skylight, energy rating and placement all influence how efficient your skylight will be at keeping cool during summer, and warm in winter. IF all of these factors work together correctly, your heating and lighting bills should drop.
Or how the skylight makes you (and potentially future buyers) feel. There's no doubt that installing skylights within your kitchen is a bold yet rewarding move. If you're keen to improve the appearance of your kitchen design, and bring a brighter, more luxurious feel to this interior – a skylight won't disappoint. Not only can you enjoy this desirable space, but a skylight could also boost your equity and should you sell, make it easier to get your house off the market.
Perhaps it's a boost to your mood? Increased exposure to natural light has great health benefits. Sunlight is a mood booster and helps to increase the level of serotonin released in the brain, making you happier and more productive. So, if you're thinking of value in terms of your health and happiness – a skylight should do the job.
Is a Skylight a Bad Idea?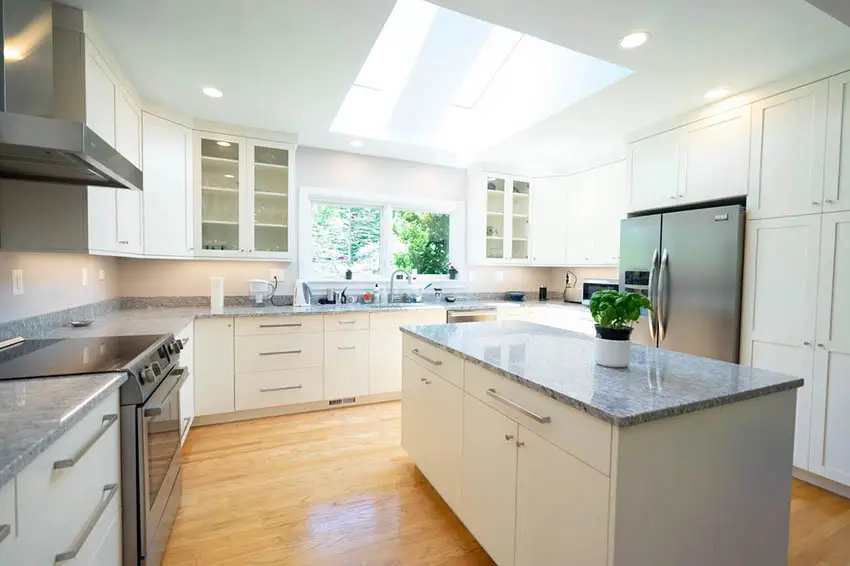 So you're aware of the benefits of kitchen skylights, but what about the negative issues? There are a few things you may need to consider:
Levels of light on the brightest days. Whilst the natural daylight is welcome, in excessive quantities it will make your kitchen feel like one big glare. If you're planning on using your kitchen during the brightest times of the day, you should consider where to position the skylight and install blinds.
Loss of heat in winter, and too much heat in summer. Let's take it back to point 1 under the 'Does a skylight add value?' section. If these factors don't work together, then you've got a problem.
Leakage and condensation issues could be an issue. Regardless of how well a skylight has been installed, it can still be susceptible to leakage. The accumulation of debris on top of the skylight can block usual drainage patterns, leading to increased pressure and leakage around the skylight itself. Rainwater, snow runoff and temperature changes throughout the year contribute to this too.
For more related designs check out our gallery of kitchen bay window ideas.