Here we share redwood countertops design guide including their pros and cons, kitchen ideas, texture, and if redwood is a good option to use for a butcher block.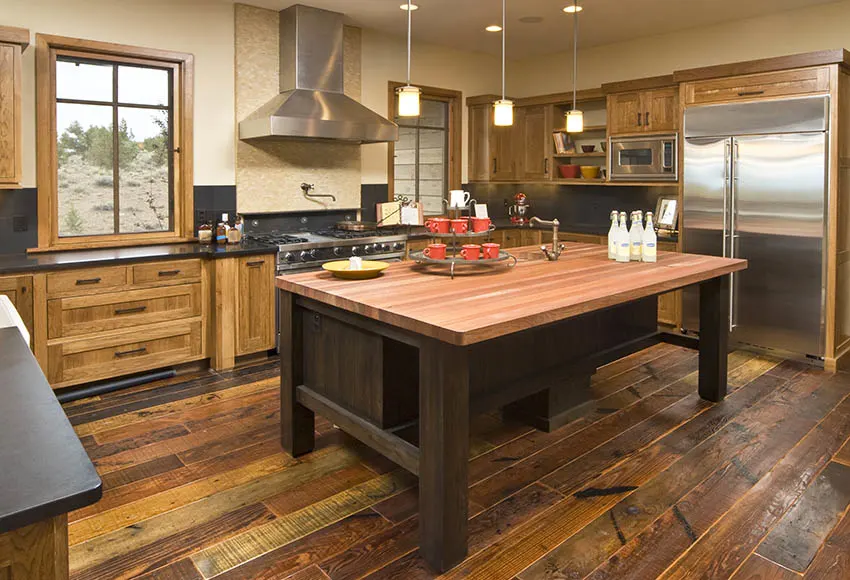 Wood is a popular material used for countertops and even other applications, from flooring to cabinets and other storage spaces. Most prefer using hardwood because of its durability, its popularity, and that it's a well established and sought-after material.
However, do you know you can also use a softwood like redwood for kitchen countertops? If you are in search of something unique and different to consider for your countertops, this might be the right time to explore and know more about redwood countertops.
Can You Use Redwood For A Countertop?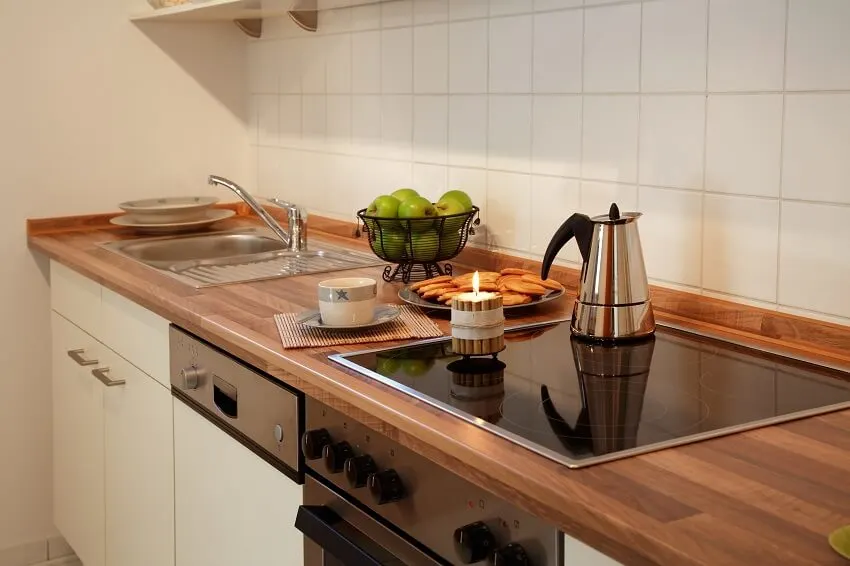 Redwood is a softwood considered to be a high-quality building wood. Can you use it for a countertop? Yes, definitely. Redwood is a softwood material that can last longer than other wood primarily due to the chemical in its pores, making it resistant to weather and rotting.
While not that high on the Janka Scale, redwood is still an option you might want to consider for your countertops. It is unique but also has rustic and cozy aesthetics that make you feel comfortable inside the kitchen when doing meal preparation.
Pros And Cons Of Redwood Countertops
If you are into natural wood aesthetics, considering redwood for your countertops is a good move. But don't go out and buy the material without considering all the factors and elements that might affect your choice to avoid any regret.
Weigh these advantages and disadvantages to make an informed decision whether this type of wood is best for your kitchen countertops.

Pros of Redwood Countertops
Redwood is an incredible species of wood that you can use for furniture and other construction work you may have at home.
Durable – Despite not being a hardwood, redwood is a durable wood that can deal with daily wear and tear. It is a strong material that can resist splitting and warping. See the most durable kitchen countertops here.
Natural Material – Redwood is a natural material and the only synthetic material you will use for your countertops is the adhesive to connect the boards together.
Elegant Looks – Wood in itself is elegant when installed in home elements, from flooring to furniture. Redwood has this incredible wood grain texture that gives character to your countertops, backing up a kitchen's warm and rustic ambiance.
Long Lifespan – Redwood is a softwood that may be subjected to dents and scratches. The good thing about redwood countertops though is that like every other wooden countertop, you can easily overhaul them by sanding, resurfacing, and coating them.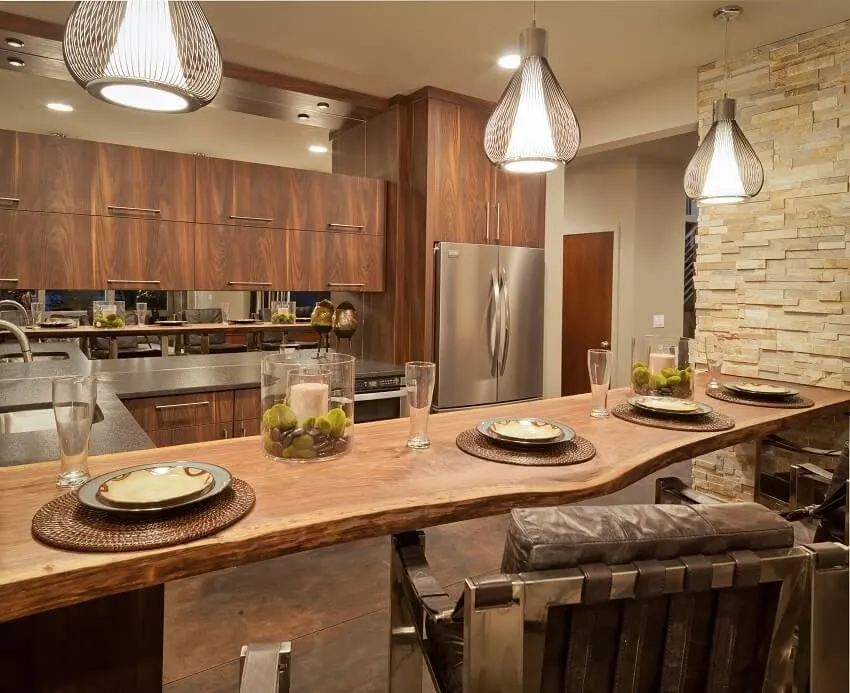 Eco-friendly – Redwood countertops are considered eco-friendly due to their low carbon footprint, which means that it needs little energy for their production and manufacture. And if ever you plan to replace them, wood is biodegradable so you don't need to worry about waste.
Antibacterial – These types of kitchen countertops are antibacterial, making them a good option for the kitchen since the area needs to be hygienic with all the food preparation and cooking that happen inside it. Keeping the wood untreated will maintain these antibacterial properties.
Easy-to-clean – Redwood countertops are easy-to-clean since you only need a water and vinegar mixture. Spray the mixture on the surface and wipe it down to keep them clean. You can also add lemon essential oil to give them a shine.
Easy-to-install – Installing redwood countertops only requires the right tools (like a standard circular saw) and information to DIY it. If you don't have the time and energy for this little project, you can always hire someone to do it for you.
Warm-to-touch – Redwood countertops are warm to touch, especially when compared to cold stone countertops (marble, granite, quartz countertops etc.)
Leaning on the countertops is more comfortable with wood than with stone. The warmth of natural wood is also more inviting for the room's ambiance.

Cons of Redwood Countertops
After the advantages, you should also take a close look at the extra disadvantages that come with choosing redwood countertops.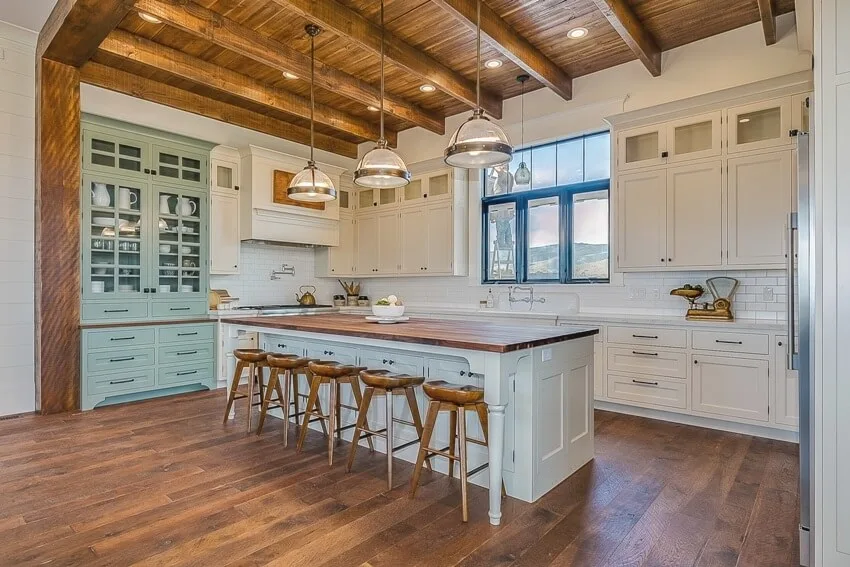 High Maintenance – Redwood countertops require regular cleaning and varnishing to keep them functional and aesthetically pleasing.
Oiling and sealing are also important to follow through every six months since they protect the countertops from stains and moisture damage and get rid of the possibility of the wood drying out.
Soft: Prone to Dents and Scratches – Redwood countertops are made from wali softwood, which can be prone to denting and scratching. This means you should be careful when handling heavy skillets and knives when near the countertops.
Sensitive to Temperature & Extreme Climates – Wood is sensitive to both hot and cold temperatures and can cause damage. A hot pan placed on the redwood countertop can quickly burn its surface. With climates, dryness results in the wood cracking while moisture can cause rotting.
Not Compatible with Household Cleaners – Considered porous, redwood countertops can be damaged when subjected to harsh chemical cleaners leading to discoloration.
High Price and Maintenance Cost – While timber is hugely more expensive, the redwood countertop is fairly expensive just the same way and can have a higher cost due to transport fees. Maintenance is also something you have to pay for in its lifetime since the countertop requires oiling and resealing every 6 months.
Bacteria or Mold Buildup – Despite having antibacterial properties, redwood countertops can still harbor mold and bacteria buildup through scratches and dents on the surface, especially if the countertops have not been sealed properly.
Redwood Countertop Hardness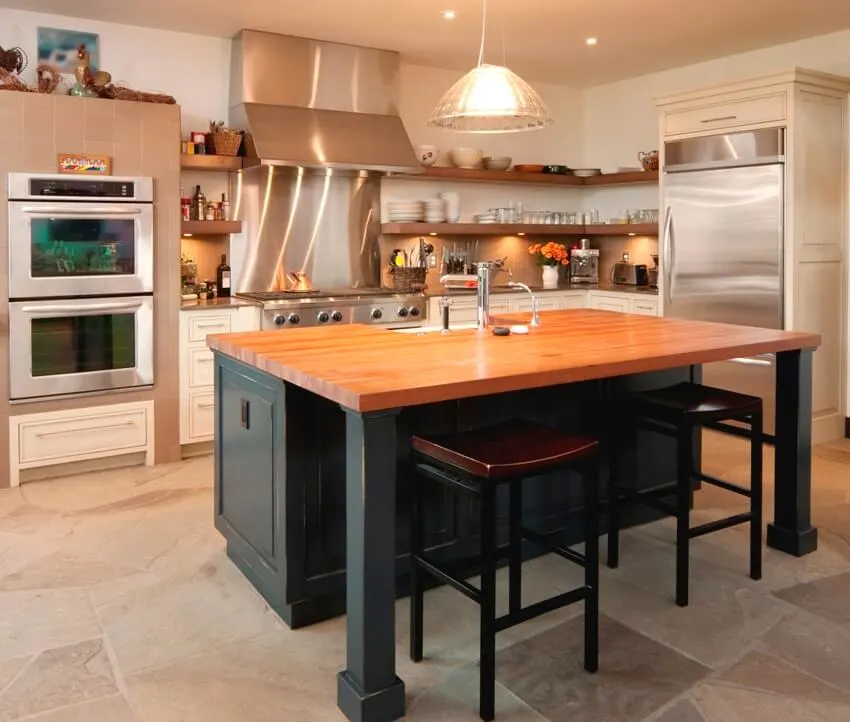 Redwood countertops are softwood and so they are understandably less durable than hardwood countertops. They would also need frequent refinishing and replacement (if absolutely necessary).
Redwood has the Janka hardness of 450 lb and while there is a possibility of scratching, the surface is able to take dents and knife marks, especially when properly sealed.
Can You Get Live Edge Redwood Countertops?
Yes, you can get live edge redwood countertops and benefit from their rustic aesthetics that seem to hold a hidden history.
Live edge redwood countertops have more character in them and when installed in the kitchen adds a unique accent you won't find in other wooden countertops. See some examples of live edge kitchen countertops here.

Is Redwood Good For Butcher Block?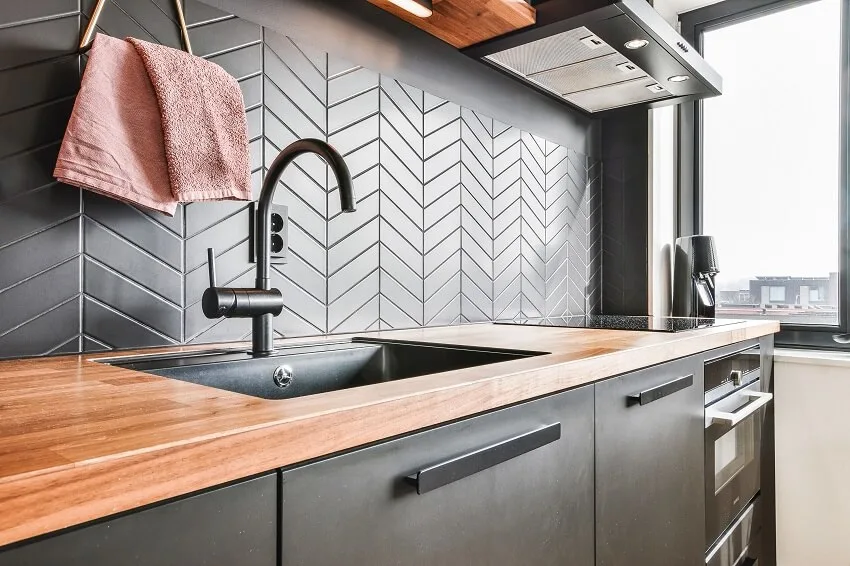 Redwood can be used for a butcher block but you might want to check out hardwood options first instead as it is a softer wood.
Butcher blocks are meant to be durable and since redwood is a softwood, it may be a bit of a mismatch to use it for a butcher block. If you don't have a choice though, yes you can use it but it's not as good as using hardwood instead.
For more related articles, visit our reclaimed wood countertops guide.