Here's our butcher block countertops pros and cons including popular types of wood, cost and whether they are best for your kitchen design.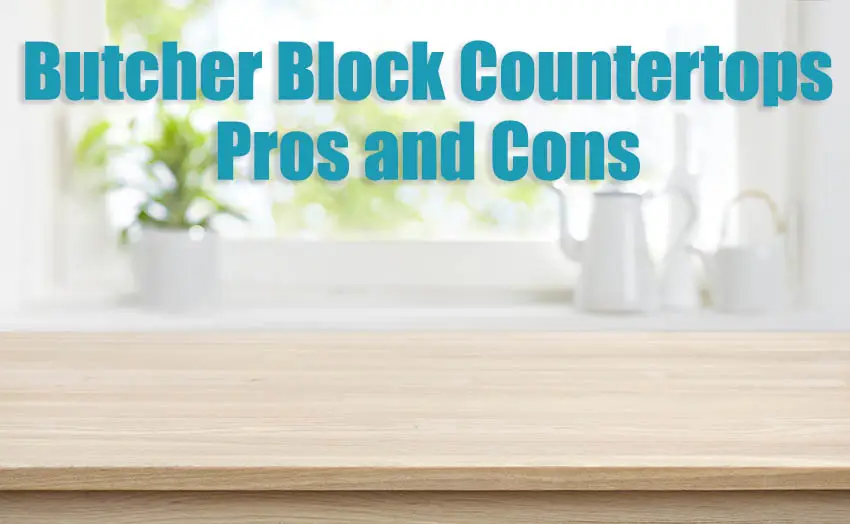 The most important aspect of kitchen and bathroom design is the countertop. More often, it is the homeowner's sense of style, and their lifestyle is what determines the right countertop for them.
Countertops are an investment, and it is a choice that homeowners would want to last for years to come. In choosing countertops, consider the overall design of the room – what will work seamlessly with cabinets, flooring, and other design elements.
What are Butcher Block Countertops
Back in the 1880s, butchers worked on using thick rounds of sycamore; but these types of wood were prone to splitting. It was in the early 1900s when butchers started using maple – a hard wood which when straight cuts of this wood were glued together into a thick slab, it provided a sturdy, stable and durable work surface that better stood up to meatcutters' cleavers.
Today, the butcher block is the only type of countertop surface that allows for direct cutting and slicing. Also known as wood countertops, the butcher block countertop is a warm alternative to cool stone countertops.
Butcher block countertops thickness generally ranges from two to twelve inches and has different grain types.
Edge Grain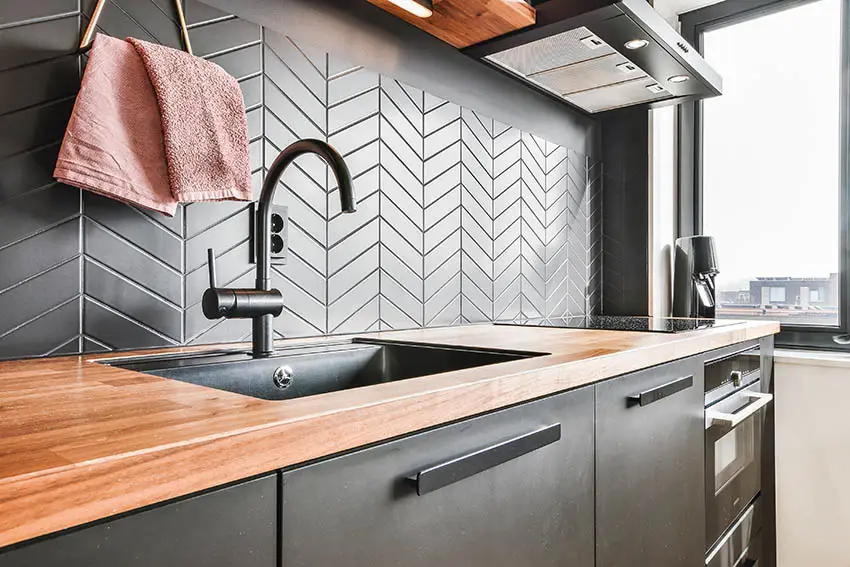 For edge grain construction the edges of this board are assembled by placing long boards on their sides and joining them showing their long narrow edges to form a light work surface. The boards are finger-jointed at random length or can be continuous lengths of wood with no joints.
This type of wood countertop is the most commonly used and appears to be less interfering than the squares of a butcher block.
Face Grain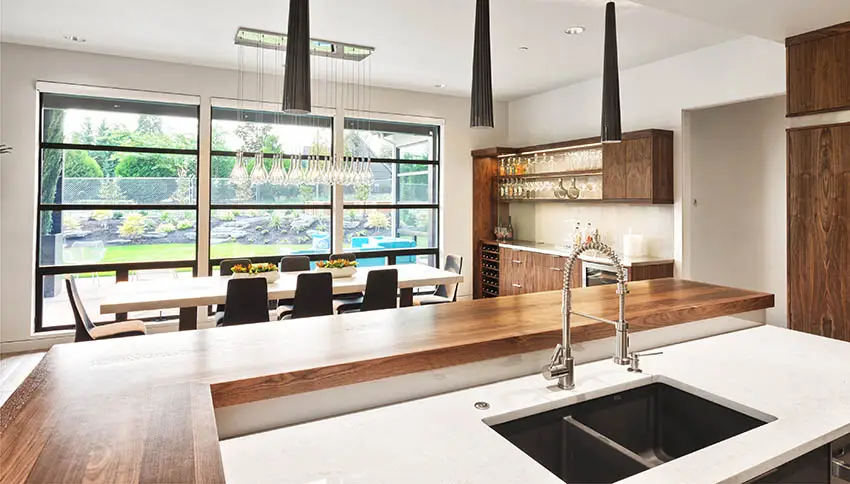 This type of wood countertop is also called plank grain which contains wood planks kept together with the wide surface vertically positioned. By this orientation, this type of countertop features the beauty of the wood grain.
End Grain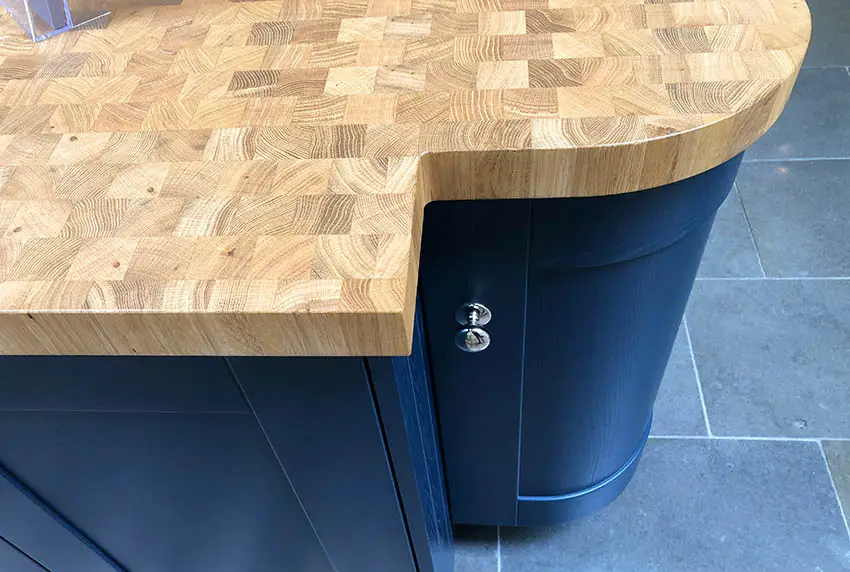 This type of wood countertop assembly is considered a true butcher block countertop for small preparation areas since it provides a heavy-duty work surface that can withstand heavy chopping.
The ends of this boards are positioned upward forming a unique checkerboard appearance. This is the strongest and most expensive type of butcher block.
For an eco-friendlier option, butcher block countertops can be made out of reclaimed wood from solid wood from old homes and barns.
You can even opt to use domestic wood from managed forests. Bamboo countertops are also a popular alternative option since it is a renewable grass but with a surface that is extremely hard and sturdy.
Now we'll discuss the butcher block countertops pros and cons starting with the pros.
Butcher Block Countertop Pros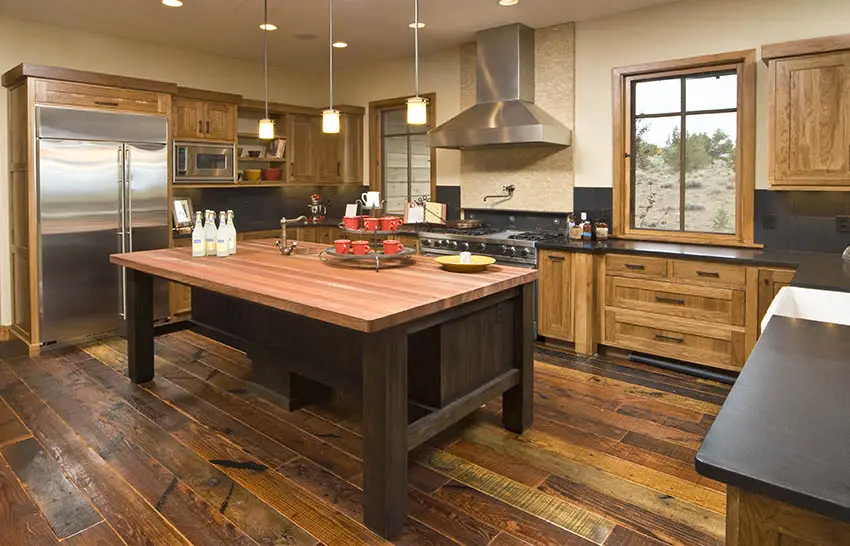 Naturally anti-bacterial countertop – Since it is made out of wood, butcher block countertops have natural anti-bacterial and anti-microbial properties.
Attractive appearance – Butcher block countertops develops a lovely patina over time.
Warm look – Butcher block countertops adds warmth and natural coloring to the kitchen.
Can be refinished – Wood countertops can be refinished and easily restored. Knife scratches, deep gouges and burn marks can be lightly sanded and the surface reoiled with food-safe mineral oil.
Low cost – Butcher block countertops can be budget-friendly since it cost less than half the starter price for natural stone or engineered materials.
Durable – Wood countertops are a long lasting and durable choice especially if maintained properly.
Think green. Most butcher block countertop manufacturer offer sustainably grown certified woods and butcher block wood counters can be recycled.
Can muffle the sound of appliances – Butcher block countertops are a soft material that is easy on glassware and dishes which when dropped on this type of counter are less likely to break. Wood also quiets the whir of appliances unlike stone countertops which amplify such noise.
Easy to install – Installation of butcher block countertops can be easy and finishing wood is straightforward.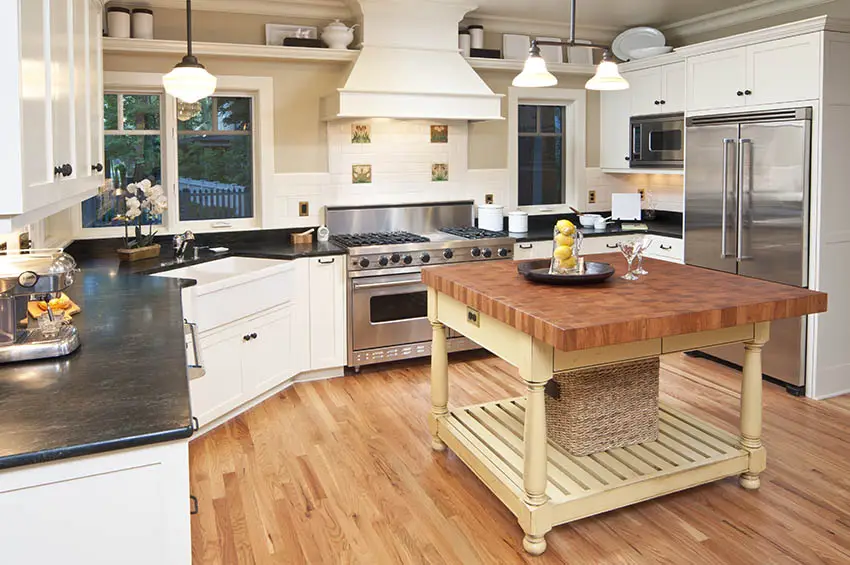 Butcher Block Countertop Cons
Not resistant to heat & staining – Butcher block countertops are not heat or stain resistant. Liquids such as vinegar can seep into the wood which can actually dissolve the glue and trigger joint separation. Liquids penetrating the wood can also cause stains and cracks.
Need to take care with hot pans – Hot pans need a pad or trivet before setting it down on the counter. Butcher block countertops are not fireproof either.
Moisture can damage the surface – Excessive wetness and exposure to moisture makes the butcher block countertops susceptible to rot and discoloration.
Can warp or bend under certain conditions – Due to extreme dryness or humidity, butcher block countertops can swell or make the wood shrink which may cause cracking. All wood expands and contracts with changes in atmospheric conditions making it prone to cup, warp and create gaps.
High maintenance – Unfinished butcher block countertops require monthly oiling and refinishing at least every five years.
Are Butcher Block Countertops Durable?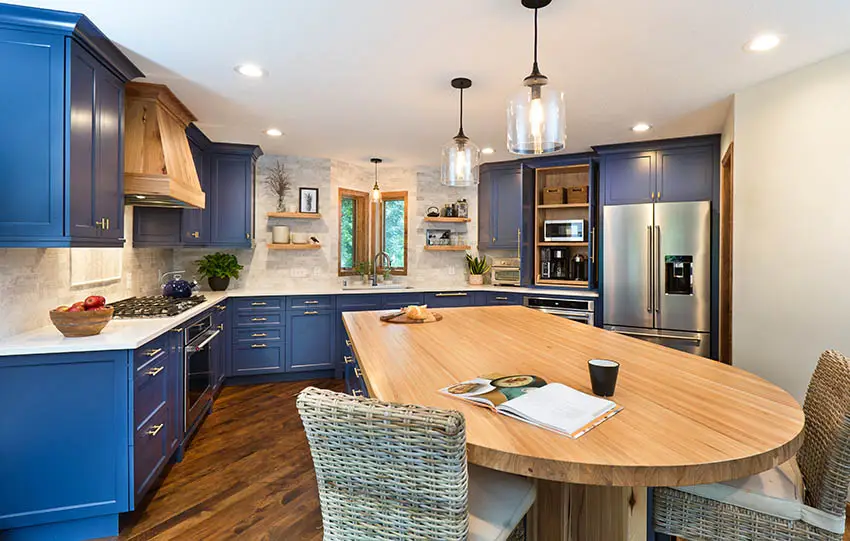 High level of durability is one of the biggest benefits of having a butcher block for your kitchen countertop.
With proper care and maintenance, butcher block countertops are known to have a lifespan of twenty years.
While most materials would be damaged by blades and knives, butcher block countertops can protect both cutlery and its wood surface due to its end grain fibers which has the ability to naturally separate, bend back and mend themselves.
Are Butcher Block Countertops Sanitary?
According to the studies made, wood countertops are safer when it comes to harboring microbes such as E-Coli, listeria, and salmonella due to having natural anti-bacterial and anti-microbial properties.
One study reported that more than 99% of the disease-causing bacteria applied to wood countertop died within three minutes.
It is very important that you keep your butcher block countertop clean by regularly applying food-safe butcher block oil to your butcher block countertop surface to help prevent the wood from drying and cracking; do this at least monthly.
Occasionally disinfecting your butcher block countertop with a mixture of salt and lemon will help kill bacteria and brighten the surface of your countertop.
Are Butcher Block Countertops Expensive?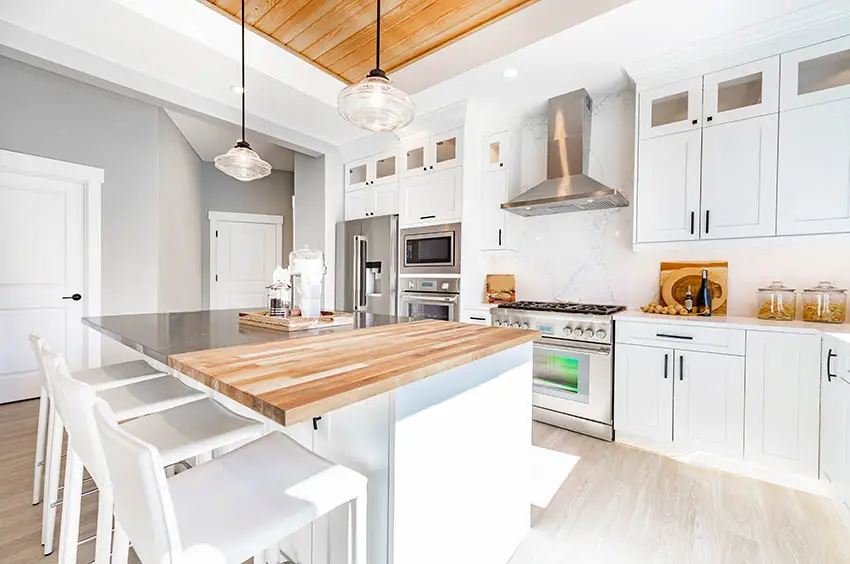 Prices of butcher block countertop vary depending on the type of wood, grain construction, finish, and thickness.
The average custom-made quality butcher block countertop ranges from $12 to more than $200 per square foot; add 5% to 10% more for most factory finishes.
Butcher block countertop is more expensive than the mid-range quality granite, but it does cost less than the top-of-the-line natural stones.
Types of Butcher Block Countertops & Cost
Here are some ideas of the cost of butcher block, uninstalled and with a 1 ¼ inch thickness:
Birch – approximately $12 per square foot
White Oak – approximately $12 per square foot
Hard Maple – approximately $40 per square foot
American Walnut – approximately $60 per square foot
Bamboo – approximately $90 per square foot
Brazilian Cherry – approximately $115 per square foot
Iroko – approximately $115 per square foot
Saxon Wood – approximately $150 per square foot
Mesquite – approximately $151 per square foot
Bolivian Rosewood – approximately $200 per square foot
Best Wood For Butcher Block Kitchen Countertops
Most butcher block countertops are made from maple, one of the best and most popular butcher block countertops due to its hardness and having a clear grain.
Red oak and cherry offer a rich color, while walnut, teak and nowadays, bamboo is gaining popularity. A more exotic choice of wood used are wenge, zebrawood and iroko.
This type of countertop material is often used for lower-traffic applications or smaller work surface such as kitchen islands wherein it doubles as dining areas.
Birch –t his is a fine grain wood, neutral and light colored.
White Oak – showy grains on brown strips.
Hard Maple – a classic butcher block material, strong wood with straight and uniform grains.
American Walnut – has rich chocolate colors with prominent black grain and is an excellent accent piece countertop recommended for an island.
Bamboo – imported grass now becoming a popular material for countertop, heat-treating can give bamboo a caramel hue.
Brazilian Cherry – this fine-grain exotic wood is tough to scratch or dent.
Iroko – this is an imported African wood has bright gold boards which mellows in time to a teak-like brown color.
Saxon Wood – this New South American is yellow-brown color wood with gray and black streaks.
Mesquite – it is the hardest wood, the mineral streaks in them adds character to its reddish-brown strips.
Bolivian Rosewood – heavy wood with black stripes on a rich brown background.
Is Butcher Block A Good Countertop?
A well-finished chunky, thick butcher block is a good choice for a countertop because it adds more warmth and pop against cold, single-hued countertop. It has in itself an organic and sophisticated aesthetic.
Butcher block countertops have such versatility in them, each type of wood has its own unique characteristics that adds beauty to your kitchen.
Butcher block countertops are a good choice since there is an option to use wood that do not require staining such as the walnut wood.
Staining of the butcher block with different colors and glosses can change the look of any wood that would fit perfectly to the design scheme and practical for different settings.
A common concern is cleaning and maintenance of the butcher block countertop – but actually, it is not much of a problem at all. Having the wood countertop treated or sealed by a professional before use, can be a good investment as it will prolong wear and tear of the countertop.
There are plenty of products available and DIY cleaning stuff which can help keep the surface clean and germ-free.
You can use food safe protective coating such as FDA-approved mineral oil; this gives the butcher block countertop a matte look and seeps in to make wood resistant to moisture, heat, and stain.
Another option is to use a nonpetroleum based walnut oil or pure tung oil; once applied, this oil hardens to form a film that will not peel and will protect your wood countertop.
Oil-wax blend made from mineral oil and beeswax, or paraffin wax will add another layer of protection against moisture.
It also helps seal the oil into the wood by applying it with a clean cloth, let it sit for 20 minutes then remove excess and buff to a satiny finish.
One more food-safe finish which can provide butcher block countertops superior protection against water, stains, and wear are fully cured urethane, acrylic, or resin-curing oil.
What do you think of these butcher block countertops pros and cons? If there is any we've missed please let us know in the comments below. For another gallery like this visit our page about live edge wood countertops.