Here's how to match wood stain colors including different staining tips, best stain matching apps, and mixing two stain colors together.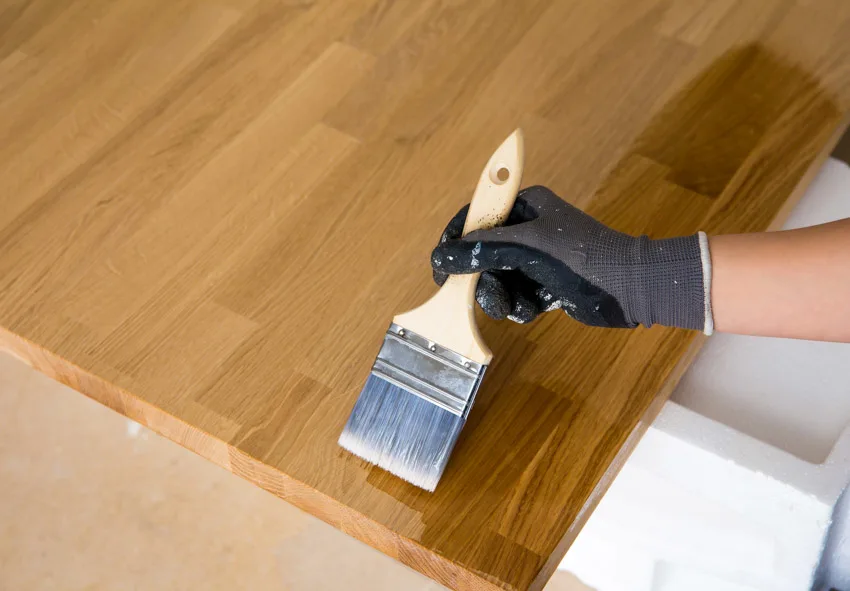 Wood is unpredictable when it comes to staining because wood is made up of millions of cells that absorb pigments and dyes. These factors affect the absorption rate and capacity of wood when using stains.
Oftentimes, though the two boards are of the same type, the same stain does not turn out to be the same stain. This is because the inherent color of the cells which form the pores is going to affect the final color after we have applied our stain.
Another factor that can complicate the stain matching process is the grain pattern. The grain pattern within each species of wood, can vary. The grain pattern can also be affected by the way of slicing the log into boards.
The differences in grain pattern become even more obvious when a stain is applied, since the dyes and pigments magnifying the grain pattern of each board, make it difficult to match two same boards if each has a different grain pattern.
Humidity levels in wood are also one of the factors that influence the final stain color. If the wood is extremely dry, it is naturally going to be able to absorb more dyes and pigments than those which has a higher percentage of moisture.
Most furniture-grade woods are kiln-dried until the moisture level is stabilized at 6%-8%, but that percentage of moisture can change due to the direct proportion to the conditions in which it is stored. The age of the wood is also another element you must consider.
It is important to examine all these factors when matching wood stain colors. When you can remove or reduce these differences in natural color, grain pattern, moisture, and age between two boards can you achieve a near-perfect stain match.
How To Match Stain On Kitchen Cabinets?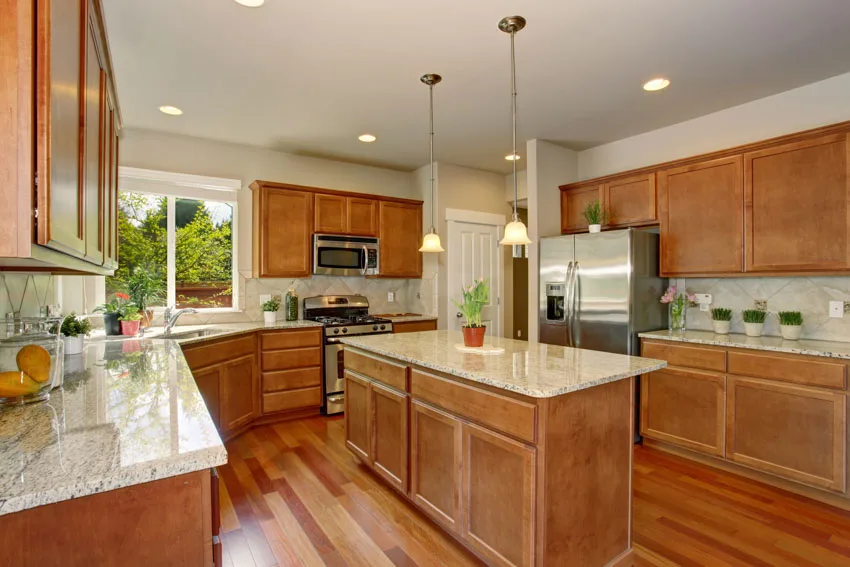 Once you have taken all these into consideration, you can take these steps to ensure a close match.
The first step is to test your stain on an identical piece of wood on your kitchen cabinets. You can apply the stain color on either scrap of the same wood or in a concealed spot of the kitchen cabinet.
Keep in mind that you need to know what finish you are trying to match on the types of kitchen cabinet materials you're using prior to using any new stain. Never mix oil-based stains with water-based stains.
Oil-based polyurethanes add a warm amber color to your wood whereas water-based polyacrylics are perfectly clear and can make the finish seem cooler.
Tip: Measure your ingredients precisely and write down your exact formula so that you can duplicate it when you need to refinish your kitchen cabinets in the future.
The next step is about controlling the stain's intensity. The final stain color of the wood will be affected by how long you allow the stain to be absorbed by the pores.
Tip: Test your stain by applying it with time various samples and compare the color of the wood you leave on for one minute versus the wood stain that was left on for three or five minutes.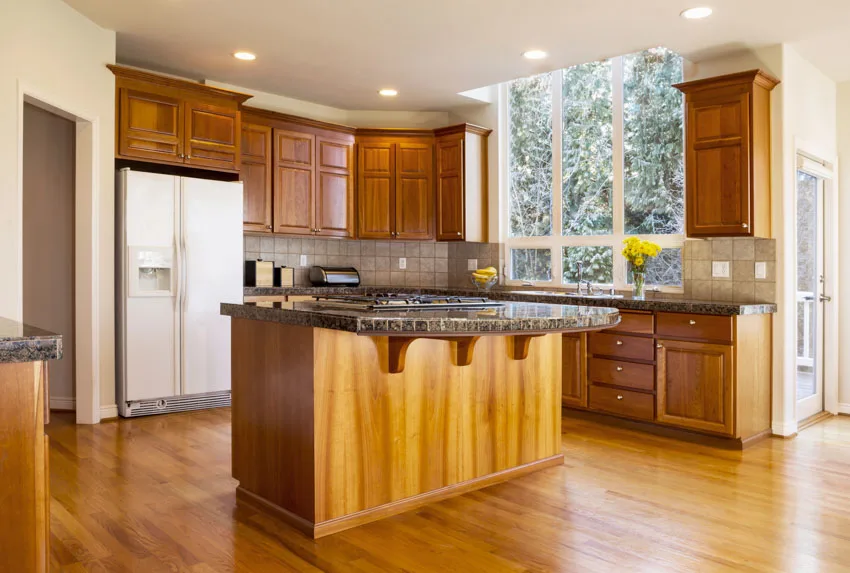 In matching stain on your kitchen cabinets, bear in mind that the lighting conditions under which you are working are also an essential factor to consider.
A color viewed under natural sunlight and certain types of ceiling lights, such as incandescent bulbs and fluorescent tubes, can have three different color tones.
Tip: Apply your wood stain under the same lighting conditions as in your kitchen where the piece will be.
Is There An App To Match Wood Stain?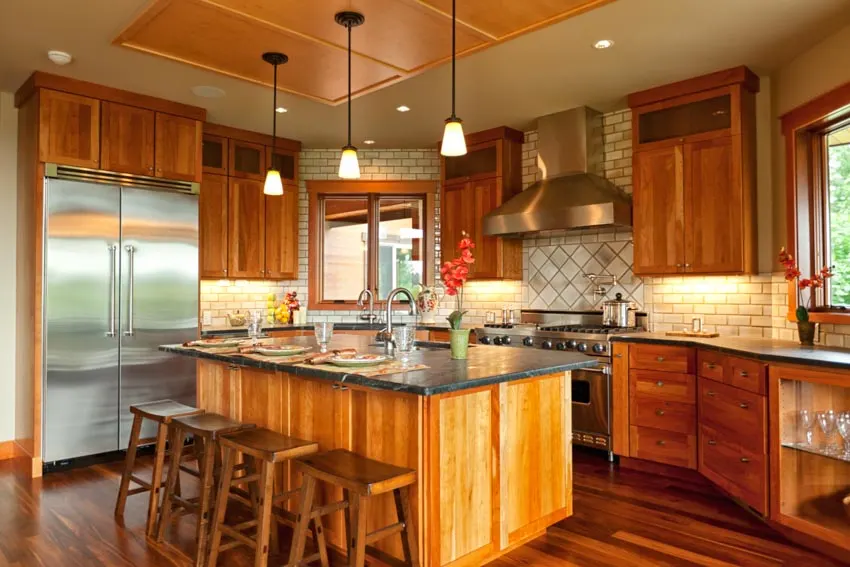 There is an online stain detection system available that can be used at any time from any browser, desktop, or mobile device for your next staining project.
Below are some of the online apps that can be downloaded for free through the iTunes or Google Play stores and is available for iPhone, iPad, and Android mobile devices.
While the app is great for ideas, remember that computer screens vary, so the color you see on your phone or laptop; but it'll be close enough to help you start planning.
Project color: this is an online app that allows you to match a favorite color from a photo on your mobile device, or a photo you've just taken. You tap on a particular color in the photo and the app provides the closest paint or stain colors available at The Home Depot.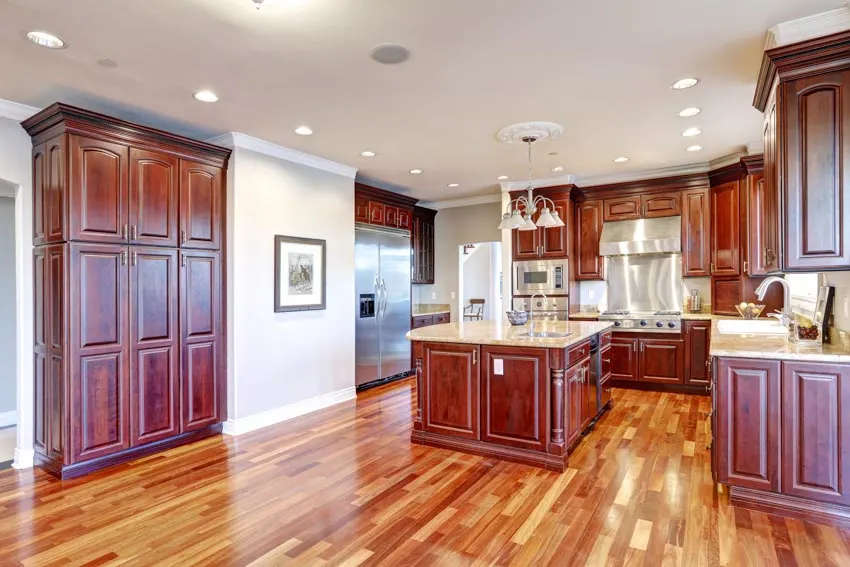 The app allows you to save your favorite and timeless kitchen cabinet colors for your future reference.
If you have some paint chips that like and want to see what they'd look like, the app, will also allow you to search and find that particular color name or number code by using the "Find It" function in the app.
See the project color at here – https://www.homedepot.com/c/projectcolor

• Sherwin Williams ColorSnap: is a free app visualizer for iPhone and Android. It makes matching an existing color and finding good complementary colors easy.
This app allows you to take a smartphone or tablet photo and the app will do the rest.
See the ColorSnap app here – https://www.sherwin-williams.com/visualizer#/active/default

• Online Stain Visualizer from Olympic.com: simply launch the ProjectPro online tool in any browser, from your desktop or right from your phone, and answer a few quick questions about the condition of your wood to see how your chosen color will look. You will then be given a product recommendation for your next outdoor wood staining project.
See the Online Stain Visualizer at – https://projectpro.olympic.com/en-us/welcome

• American Hardwoods Species Guide Mobile App: The application allows users the ability to compare species of wood being considered for a project.
The app also has a stain simulator that displays the species in clear, light, medium, and dark finishes to help visualize stain combinations. This app has Species profiles that include images featuring the wood in finished applications.
See this hardwood identification app at – https://www.hardwoodinfo.com/specifying-professionals/resource-guide/mobile-app/

Can You Mix Two Stain Colors Together?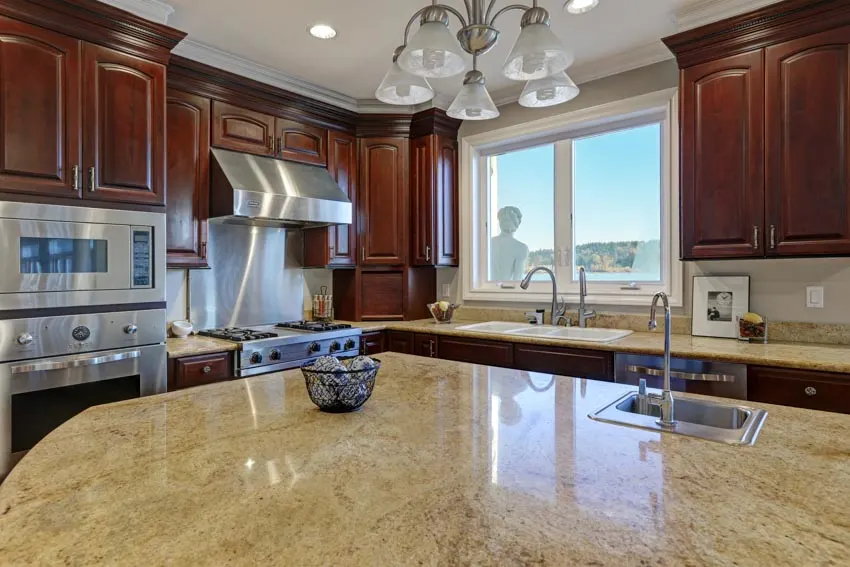 Matching wood stain colors can be quite challenging, sometimes you just can't find the wood stain color that you want. Then, you wonder if you can mix wood stains, or would mixing stain colors would just make a big mess?
The answer is yes, you can mix wood stains to create custom colors and achieve the hue you're looking for. However, you shouldn't mix different types of stains – avoid mixing oil-based and water-based finishes as they don't bind well. It's always better and safer to stick to mixing one type of stain.
To get started, consider the specific look and color you want on your wood, it's great to use multiple stains to achieve the right color for your project.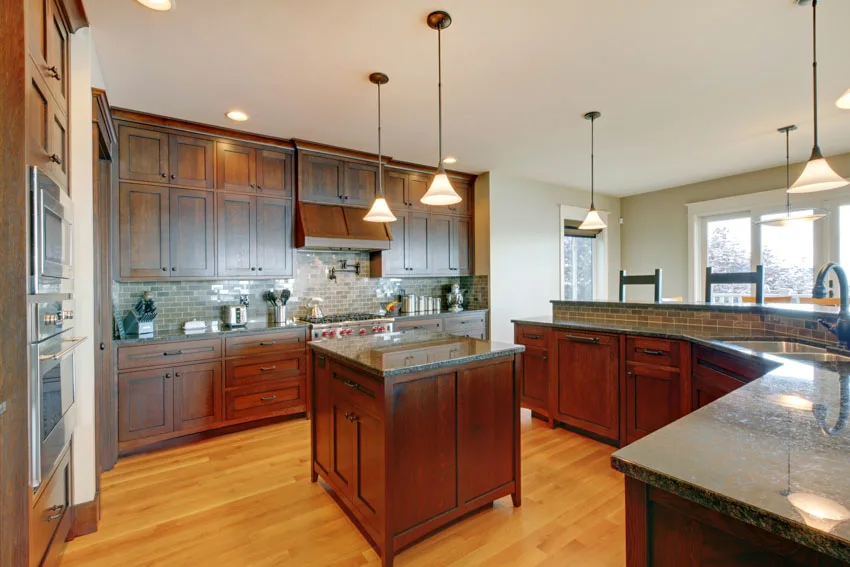 Buy a base stain color that is as close as possible to your desired finish. Then, pick a second stain that will make the base color closer to the color that you want.
If you prefer wood stains with warm undertones, choose orange, yellow, or red. For a calm wood stains, gray is the popular choice and if your wood stain is beige, then it will have a neutral undertone.
Neutral undertones are versatile, they blend well with calm or warm wood stains. Keep in mind that the undertone you choose will affect the choice of your wood stains, paint color, and furnishings.
Make sure that you mix everything in one go, to avoid taking the risk of deviations in the color. You can use a stain calculator to find out how much stain you'll need. As long as you stick to one type of stain, you can easily mix stains to achieve the finish you're looking for.
See more related content in our article about paint or stain kitchen cabinets on this page.