In this guide to hickory kitchen cabinets you'll find the different types, pros and cons, paint & countertops that go with hickory cabinets, and tips on how to update them.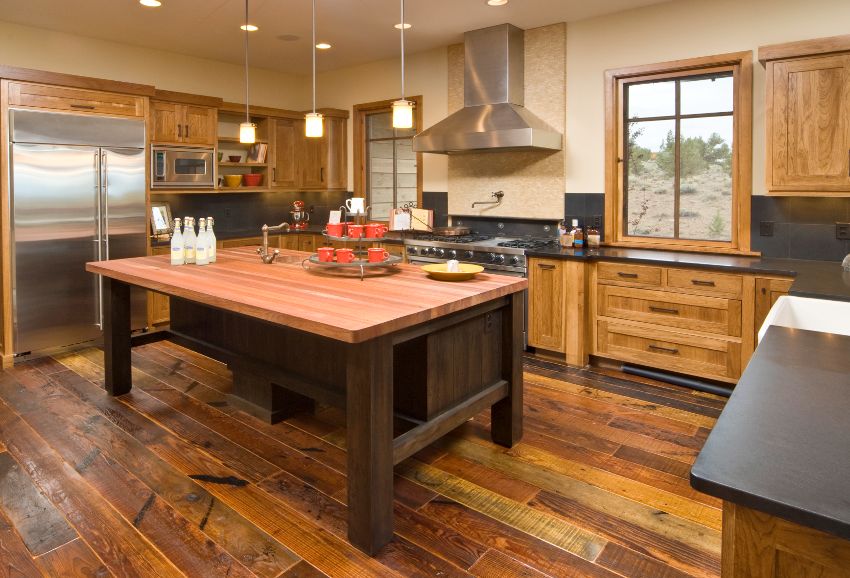 Wooden kitchen cabinets are known to uplift a home's interior and give it a cozier and more welcoming vibe, taking you to a warm comfy log cabin. The dilemma though is that there are endless choices you will need to consider based on different factors, including designs, materials, and styles.
Kitchen cabinets serve both functionally and aesthetically. They function as excellent storage in the kitchen for pans and pots, small appliances, and other kitchen tools and utensils. But they also need to aesthetically complement your kitchen so you need to consider these two basic aspects in choosing a wooden kitchen cabinet to install.
If you're looking for somewhere to start, hickory kitchen cabinets are a good place to check out. You can focus on this option first and then explore the different benefits and drawbacks you might experience once this becomes your final choice.
What Are Hickory Kitchen Cabinets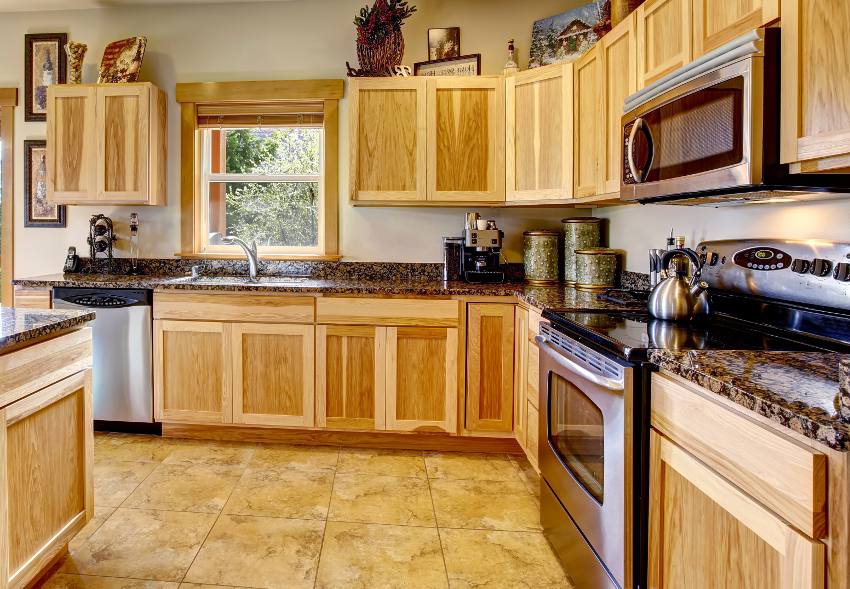 Learning about hickory kitchen cabinets means exploring the benefits and drawbacks of using hickory as a material for this piece of furniture. It is one of the hardwood options you can use for your kitchen cabinets and it is popular for its dramatic knots and mineral streaks, as well as burls and pitch pockets. These features give the cabinet a bold personality that stands out.
Hickory kitchen cabinets have a wide variety of colors to consider, made possible by its sapwood and heartwood. It is also notable for its smooth and close-grained wood, complete with the heavy flor of the grain pattern.
And its grain is also unpredictable since while mostly straight, there are irregular lines and waves sometimes, which is responsible for its rough texture and rugged look. To help you decide, here are the pros and cons you can weigh in.
Pros and Cons of Hickory Cabinets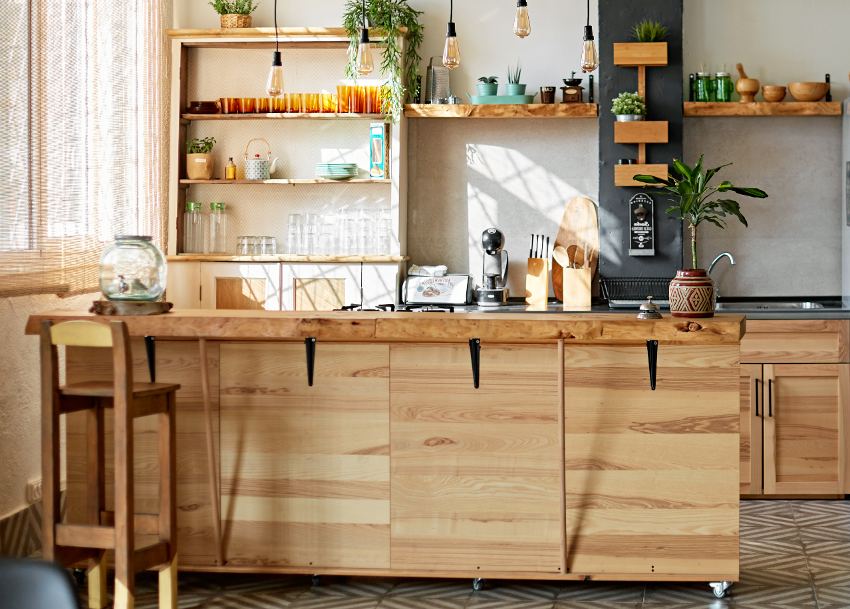 Pros of Hickory Wood Cabinets
Hickory kitchen cabinets are not a common choice and they may be worth a shot considering them before of the following benefits:
• Cozy and warm vibe – Hickory is a warm hardwood and if you feel like your kitchen is too cold and needs more warmth, hickory cabinets can look magnificently cozy, comfortable, and welcoming. The wood also has this natural and authentic look that whether you stain it or not, what you have will be stunning to look at.
• Safe to use – This hardwood option is considered a safe material and won't cause any allergic reaction or other health problems.
• Easily restored and repaired – If you want to upgrade the current look of your hickory kitchen cabinets, you can easily do that.
• Incredibly strong and durable – Hickory is considered one of the hardest and strongest hardwood options you can use as kitchen cabinets. It is even stronger than oak and maple and can last for a lifetime.
• Easy maintenance – You only need to wipe your hickory kitchen cabinets with a sponge dipped in water and soap solution to clean any dirt on them. And for spills, wiping the surface with a dry cloth is all you need. Make sure to avoid abrasive detergents that can damage your cabinets.
Cons of Hickory Wood Cabinets

Besides the advantages you will enjoy when you choose hickory kitchen cabinets, these are the drawbacks you need to prepare for: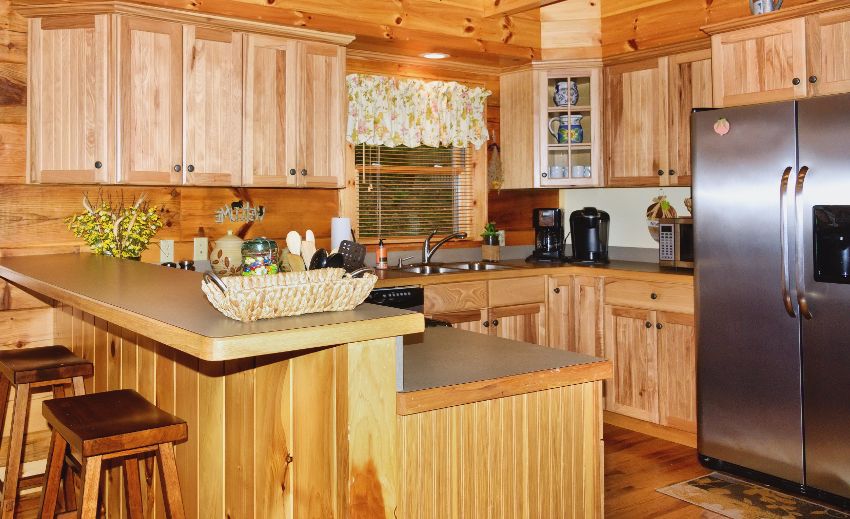 • Expensive – Hickory kitchen cabinets are costly and on the high end when it comes to price points, which is around $233 for the standard kitchen cabinet with two doors and a drawer.
• Weak with humidity – This wood can't handle humidity so make sure you pay attention to this little info.
• Prone to scratches – Hickory can easily be scratched so it's best to avoid situations that might cause them like cross-grain sanding when updating the cabinets.
Types of Hickory Cabinets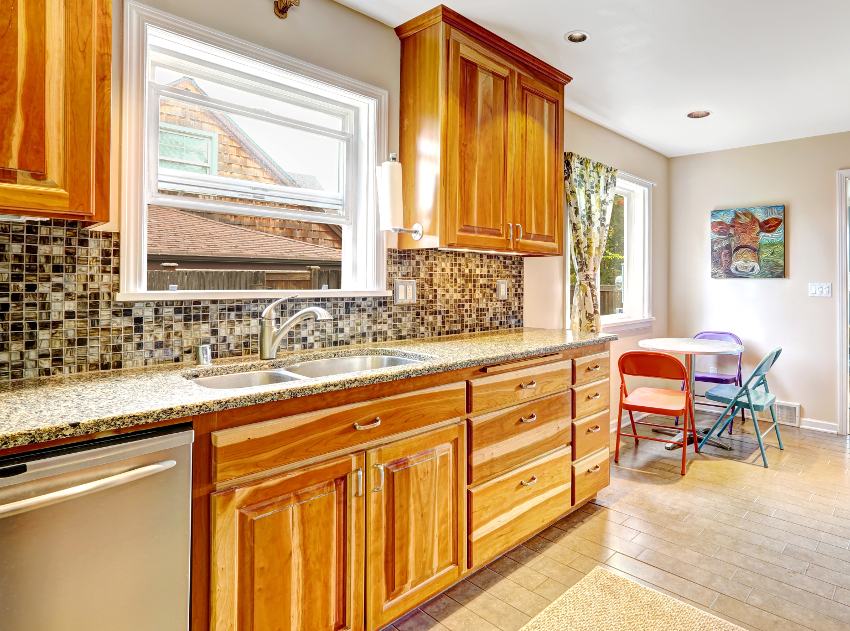 There are many different finishes and styles when it comes to hickory wood cabinets. Here are some of the popular variations available for kitchen designs.
Natural Hickory Cabinets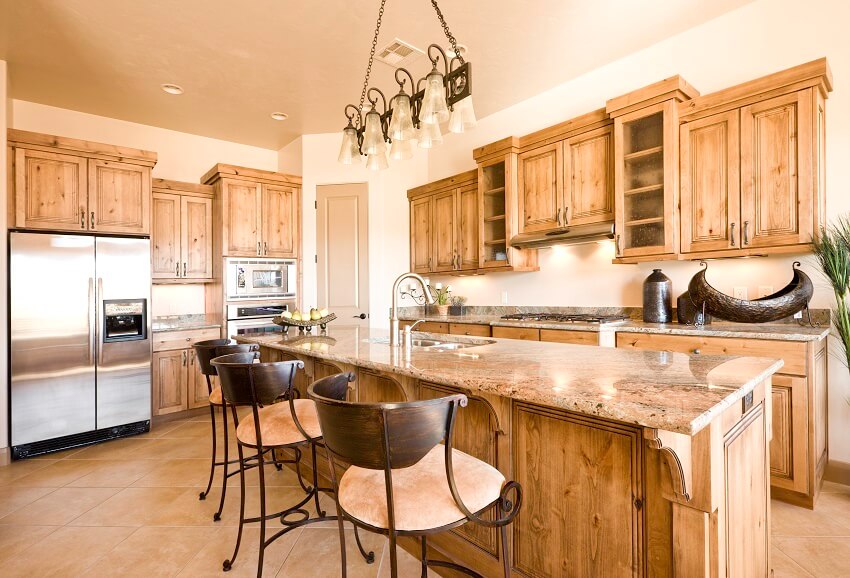 Natural hickory cabinets are known for their authenticity. Having this natural look is not difficult to achieve for hickory cabinets because of their wood graining and striations. More than that though, the aesthetics of the cabinets make the entire room feel busy.
If you want the natural beauty and aesthetics of this hardwood cabinet to shine, you don't need any addition to the furniture, from paint to darker stains since the appearance of the wood itself is dramatic enough.
Rustic Hickory Cabinets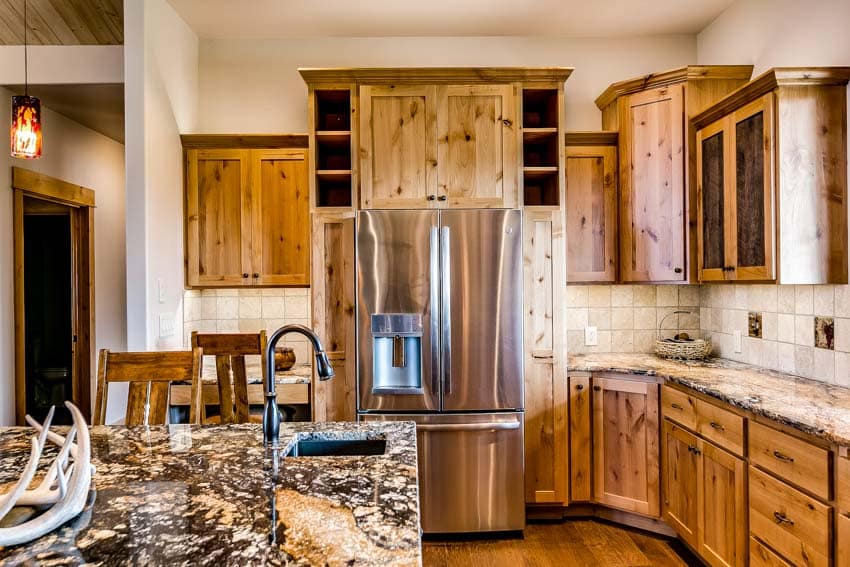 Rustic hickory cabinets are aesthetically dramatic with an appeal of antiquity. The combination of light and dark colors swirling in one panel gives the cabinet a bold vibe. And the colors can vary from creamy-white to midnight black in wavy and irregular patterns.
The rustic appearance of these hickory kitchen cabinets is improved by random knots, wormholes, burls, and mineral streaks. Check our gallery featuring rustic kitchen cabinets here.
Knotty Hickory Cabinets
Knotty hickory kitchen cabinets usually come in two contrasting colors, specifically dark heartwood and lightwood sapwood, creating a stunning effect presented in medium-textured wood.
These specific hickory kitchen cabinets are filled with natural grain anomalies, fine knots, and little worm tracks scattered all over the moderately porous and medium-coarse textured panel. These irregularities coupled with contrasting hues give a knotty hickory kitchen cabinet a bold effect that stands out.
Farmhouse Hickory Kitchen Cabinets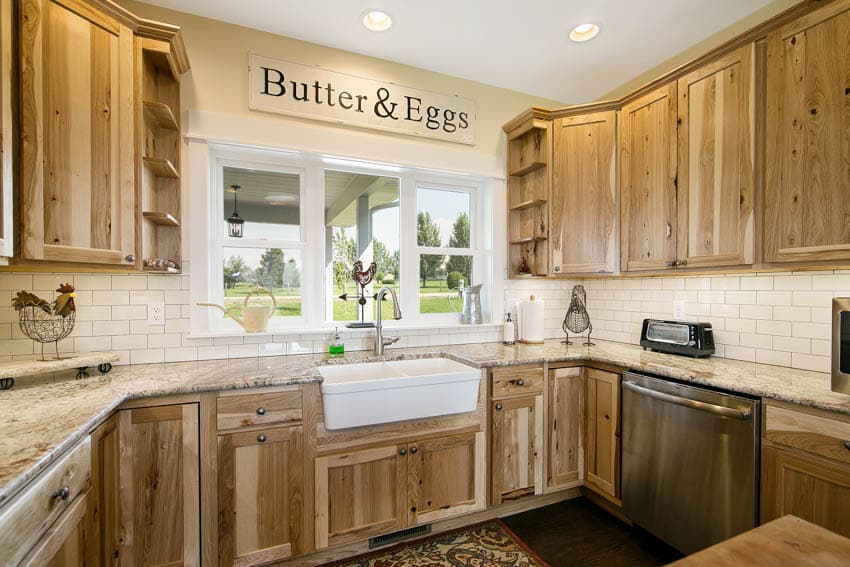 A farmhouse vibe involves practical and simple style and when it comes to hickory kitchen cabinets, it's all about natural and clear-coated pieces of furniture.
Farmhouse hickory kitchen cabinets often have neutral colors mixed with light and dark knots, holes, and streaks. Since the farmhouse design style is all about simplicity and a country vibe, you need to choose panels that have fewer irregularities and wavy patterns.
Stained Hickory Cabinets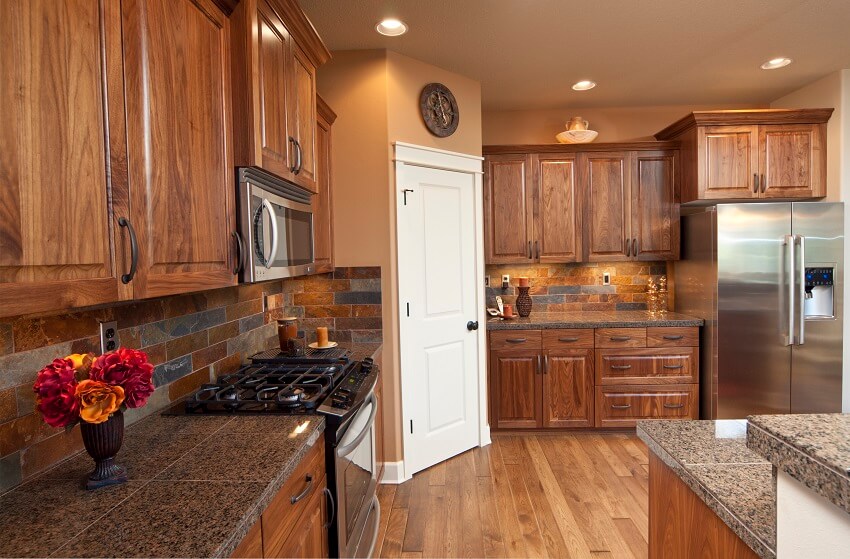 The right kind of stain, coupled with an excellent sealant, can help your hickory kitchen cabinets to last longer than when you just keep them bare. Stained hickory kitchen cabinets can easily last for years. The great thing about these cabinets is that there is a variety of stains to choose from, with different colors to consider.
You can go for lighter-colored stains if you want to preserve all the knots, holes, crevices, and grain patterns on the wood and see them clearly. If you want to lessen them and think they're too dramatic, you can go for a darker-stained hickory cabinet instead.
RTA Hickory Cabinets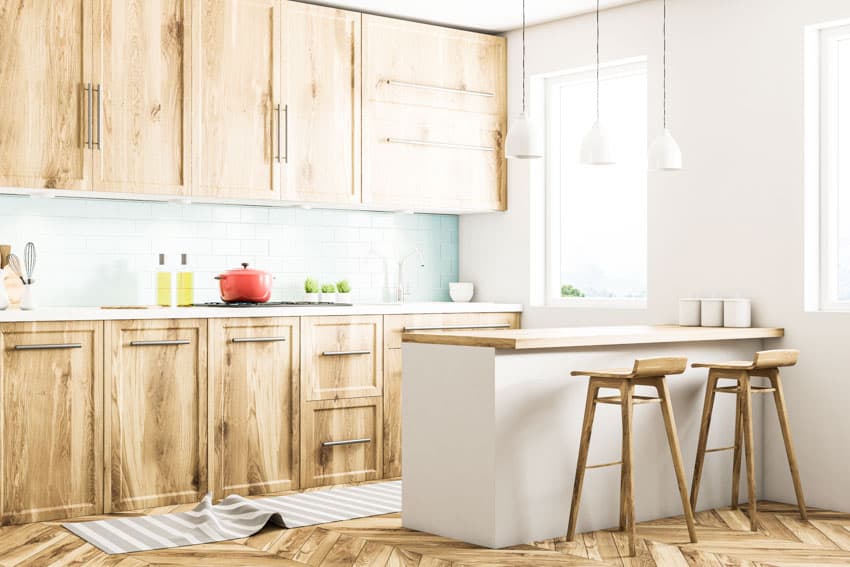 RTA (Ready To Assemble) hickory kitchen cabinets offer a more affordable and convenient approach to the usual hardwood cabinets. RTA hickory cabinets are mass-produced and getting them in the market is easier.
Since they are pre-made, they can easily be installed and even have different styles and configurations you can choose to customize the cabinets when you assemble them.
The downside with hickory kitchen cabinets is that they come with a high price tag and some may not have enough budget for them. With RTA hickory cabinets though, they are more affordable. And instead of spending at least $500 per linear foot, you can lower your expenses to at least $175 per linear foot for RTA cabinets.
Can You Paint Over Hickory Cabinets
Yes, you can paint over your hickory kitchen cabinets. If you have a dark-stained hickory cabinet, you can lighten it by painting it white. Of course, you need to follow the right process to successfully paint over the cabinets without them looking like a messed-up job.
Preparing the surface of the cabinets is vital to painting over the cabinets. Sand over the surface of the cabinets but make sure not to sand against the grain since scratches may be on.
After that, follow these simple steps:
1. Apply to brush putty and fill the grains of the wood and then apply the surface with standard oil-based primers.
2. Flatten the putty by sanding the surface with a rough grit and remove any dust by wiping the surface.
3. Get a roller or brush and apply a primer.
4. Once the primer dries, get another brush to paint the cabinet, starting from the inside panel and center of the door, and then work towards the outside of the cabinets.
After the paint dries, apply polish if you prefer to do so.
How To Update Hickory Cabinets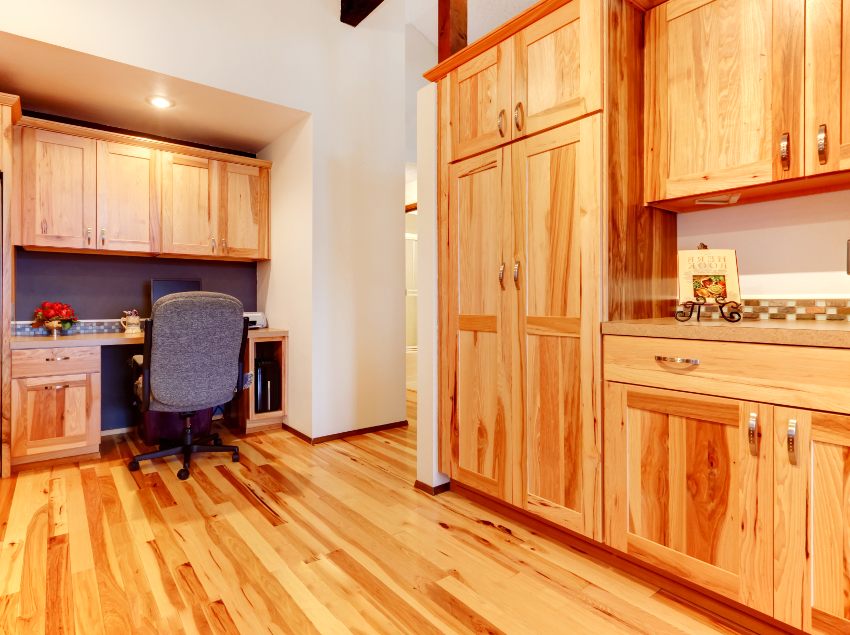 Hickory cabinets are durable and can last for a long time and let's face it, there will be a time when you want to see something different. And you can do so by updating the look of the hickory cabinet and changing how it looks.
There are two ways to update your hickory cabinets without changing their main structure. One is to paint over the hickory cabinets and the two is to change the stain, whether to go lighter or darker depending on your current preference.
A classic white paint can turn your rustic hickory kitchen cabinets into a modern minimalist ensemble. With stains though, you can go for something in between like a gray stain to change the natural color of the wood while retaining the stunning grain patterns that hickory is famous for.
What Countertop Would Look Good With Hickory Cabinets
Hickory kitchen cabinets have warm colors and usually come in farmhouse or rustic style. You can pair these mid-tone hardwood cabinets with the same hardwood countertops, especially if you're going for a full-on cozy, and rustic vibe.
If you want to balance your traditional hickory kitchen cabinets, you can add a modern element to the twist like copper-veined marble countertops.
Besides the running style of your kitchen, you also need to consider its size. Small and compact kitchens can benefit from warm-colored hickory kitchen cabinets since the color helps the space look brighter, more open, and bigger.
Pair it with a light-colored countertop too so as to keep this effect. Integrating a darker countertop might negate this illusion and actually make the space feel and look smaller than it actually is. Read more about what backsplash goes with hickory cabinets on this page.
What Color Paint Goes With Hickory Cabinets
If you're thinking about sprucing up your kitchen with new paint color, you need to match it with your hickory cabinets. Hickory is a hardwood option popular for its warm hue and two-toned aesthetics.
If you're looking for recommendations, here are some options worth checking out:
Neutral Colors
• Cream
• Warm gray
• Soft sage
Warm Colors (Avoid bright orange and yellow)
• Dark red
• Rust
• Burgundy
Cool Colors
• Navy blue
• Hunter green
• Turquoise
• Grey-purple
• Sky blue
The option on which color is compatible with your hickory kitchen cabinets can refer to the room's walls, ceiling, and even pieces of furniture. It can also include other home indoor elements like curtains and interior decor.
Balance the warmth of your hickory kitchen cabinets by using cool colors, complement them by using warm colors, and let them stand out by using neutral colors.
See our guide to colors for kitchens with hickory cabinets for more stunning and modern design ideas.