Beautiful wood kitchen countertops bring a rich rustic look to your design. Instead of going for the tried and true granite, or laminate material many homeowners are turning back to traditional materials such as wood finishes.
Wood counters can be added to your main kitchen surfaces or just used for the island with impressive results. Below you'll find an assortment of kitchen designs with custom wood counters for ideas and inspiration.
Natural stones, stainless steel and solid surface are some of the most common materials used on kitchen countertops and are favored for their durability and ease of maintenance.
However, wood can also be used as kitchen countertops, and can add a different look and feel to your kitchen. Unlike other materials, wood countertops give a warmer feel and a very natural look.
There is also a wide variety of wood types, species, stains, wood grain, textures and finishes to choose from, to be able to achieve any look.
Placed right at the center of an all-white design, the kitchen island in the picture above acts as a nice accent, adding a warm pop of color to the otherwise somber color scheme of the kitchen.
The island has turned legs and a Mahogany wood base, giving it an Antique Spanish kitchen style look. It has a solid wood countertop, using the face grain of slid cherry wood, and given an light oil finish on top for protection. As it is a face grain countertop, it is not ideal to use as a cutting block, but it does add more beauty to the space.
Best Wood for Kitchen Countertops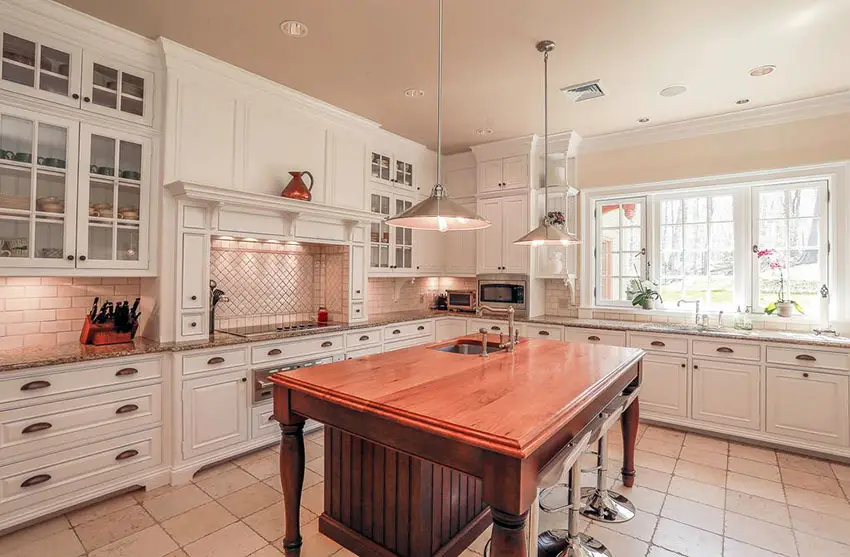 When it comes to choosing the best wood countertop for your kitchen, the most important factor to consider would be its function in your design.
Are you going to use it as a work surface (where you cut food, eat meals etc)? Or is it going to be more of an accent piece in your kitchen? Do consider these questions when deciding what type of wood countertop to use.
There are tons of wood species and combinations of stains, finishes and colors you can choose from. But here are some of the most popular wood used on countertops.
Maple – typically pale/light in color with a straight grain. They are usually favored for its durability & abrasion resistance.Excellent to use as butcher's block or a cutting surface.
Teak – this wood is know for its rich warm orange color, giving it an exotic look. Aside from its durability, it also has a high oil-content, making it more moisture resistant.
Tigerwood – know for its striped wood grain & is very durable, making it an ideal countertop material which will last you for years.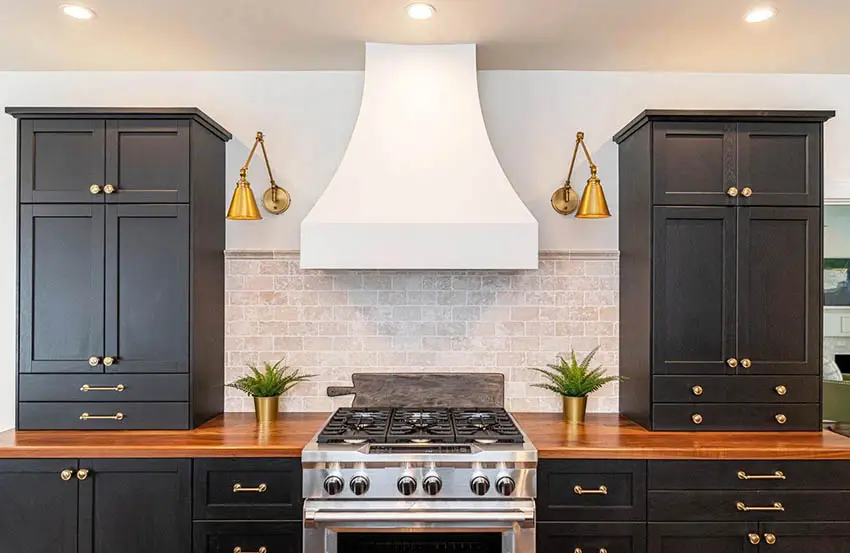 Walnut – this wood is know for its toughness and its wide color variety (depending on which part of the wood you are getting). See our walnut kitchen countertop gallery here.
Cherry – commonly used in furniture, Cherry is popular for its smooth, even finish and its red hue.
Zebrawood – this wood is know for its striking stripes/patterns which is reminiscent of its namesake. Aside from the very exotic appeal it gives, Zebrawood is also known to be very durable.
Bamboo – being rapidly renewable, this material is a very eco-friendly choice. Bamboo is known to be very resilient, and it gives a clean, modern appeal with its very subtle grain pattern and light color. It's interesting to note that bamboo countertops which are not really a wood but a grass, are more durable than many types of hardwoods.
Reclaimed Lumber – these are reclaimed with with prominent knots and texture which gives a very rustic and country look to your kitchen, but are typically softer than other species, so they are mostly used as accents only.
Wengue – another durable hardwood, wengue is sought for its naturally-dark color and clean, straight grain.
Beech – a fairly affordable wood specie which is also very durable and tough. It has a nice light orange/pink hue and takes wood stains well.
Hickory – this is the strongest American wood species, so using it on your countertop can ensure you a long-lasting work surface.
Mahogany – there are many different species of Mahogany, but they are typically known for its red color and elegant wood grains. This is a softer wood, so they are not recommended as cutting blocks
Aside from a large variety of wood species to choose from, there are also different wood grain orientations and finishes you can use depending on the intended function.
Choosing the right combination of wood + grain orientation + finish will ensure that your wood countertop lasts for a longer time. Always remember that due to wood's nature, it can be very susceptible to water damage if you do not adequately coated with protection (temporary or permanent finishes). As such, proper care and maintenance should be observed when using wood countertops in your kitchen.
How to Care for Wood Countertops
Different finishes requires different maintenance, so it is important to know what kind of finish was used on your countertop to determine its need for retouching as well as the proper cleaning agents appropriate.
Waterlox Finish – this is a highly waterproof, heat and stain-resistant finish. This finish is easily cleaned with mild soap & water, and can be disinfected with a weak vinegar solution. Minor scratches & nicks can be fixed by lightly sanding the area and reapplying Waterlox.

AVOID: Bleach and ammonia, direct excessive heat, cold or moisture, cutting directly on its surface
Drilling & cutting the countertop would require refinishing on all its exposed surfaces

Tung Oil/Citrus Finish – this is a water and stain-resistant finish which requires to be reapplied every 3 to 6 months. This is also cleaned using mild soap & water and can be disinfected with a water & vinegar solution, making sure it is wiped thoroughly after cleaning.

AVOID: chemicals or harsh detergents, direct excessive heat, cold or moisture, cutting directly on its surface
Drilling & cutting the countertop would require refinishing on all its exposed surfaces
To check if the finish is still good, simply dribble a few drops of water on the top. If its beads up, the finish is still good, but if it absorbs, it already require re-application
With proper care and selection, a wood countertop can add not only an additional aesthetic value to a kitchen, but can also provide functionality and style.
Cost is another concern when considering the installation of wood kitchen countertops. As of this writing wood countertops cost on average around $40 a square foot in 2018 for basic materials.
However, installation costs can increase the average cost to around $75 a square foot. The type of wood you select will also have an impact of cost figures.
For instance natural wood materials such as maple or walnut will be less expensive compared to more exotic hardwoods such as teak or many forms of cherry. It is also true that custom wood with edging and/or stained wood will generally be more expensive to buy.
Wood Countertop Ideas
Below are a few examples of wood kitchen countertops.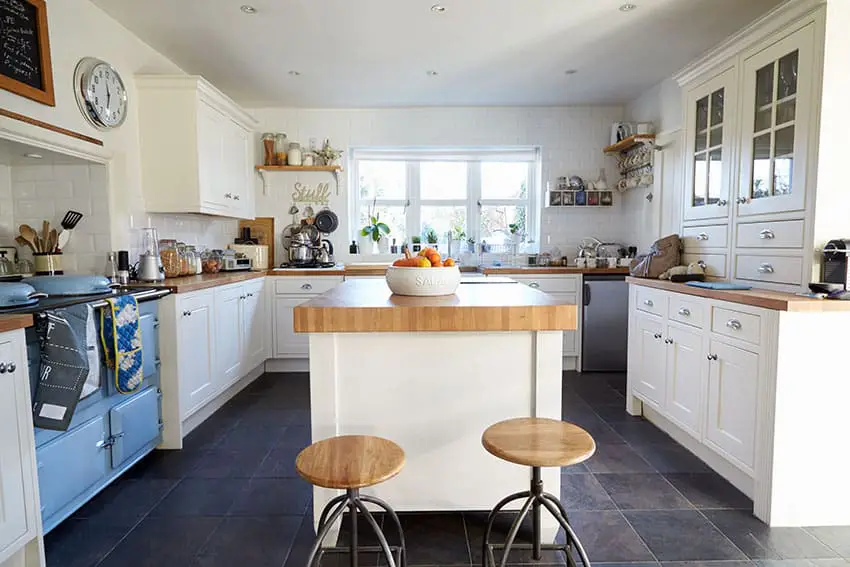 A small mid-century modern inspired kitchen which has a very simple color scheme. All cabinets are painted white, making it stand out from the dark chocolate brown ceramic flooring, and all surfaces uses a sidegrain maple countertop, adding a touch of subtly warm color to the space.
The kitchen island especially uses a thicker wood block for its countertop to create a tougher cutting surface.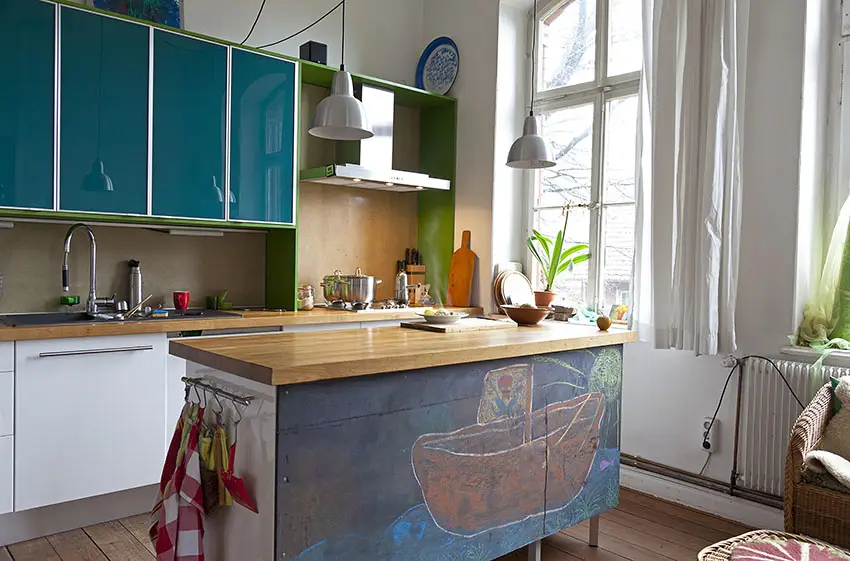 This kitchen might be small, but it has very innovative ideas integrated into the whole concept. The kitchen uses modular cabinets – white base cabinets paired with apple green-laminated overhead cabinets with aluminum-framed teal glass doors.
All counters uses solid Hickory for a nice touch of natural finish. The kitchen also has a small free-standing kitchen island with a very interesting front-side. Instead of using the same laminate finish as the rest of the base cabinet, the front board has a chalkboard paint finish, making it a multi-functional surface.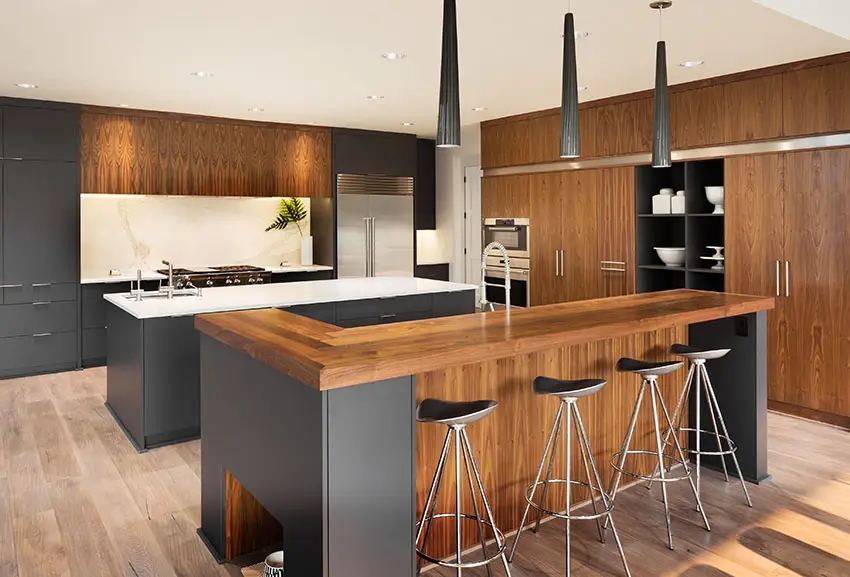 This kitchen is definitely a dream kitchen come true. It combines the sleekness and simplicity of modern kitchen designs with the added warm touch that wood finishes gives.
All cabinetry are modular, most of which were laminated in gunmetal gray, while the rest uses Teak wood veneers in a variety of wood grain layout, creating very interesting patterns and creating an illusion of more texture.
The large kitchen has 2 kitchen islands, the bar kitchen island uses a thick slab of solid Teak for its countertop to match the wood veneers. The wood definitely softens the overall look, making the space look more inviting and homey.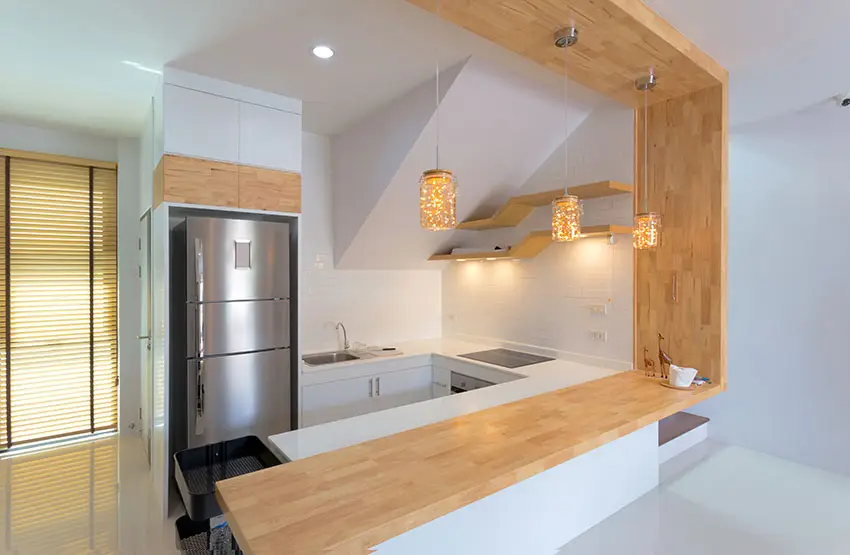 A petite kitchen corner which boasts of style and functionality. The small kitchen with peninsula design was efficiently planned with a breakfast bar and countertop to create a very functional space.
Most of the cabinets uses plain white laminates to match with the minimalist white finishes of the house, but it does add an accent ledge and cantilever shelves which were made from bamboo lumber wood. This adds a nice touch of warmth to the area, while still providing that sleek look & the added benefit of being an eco-friendly material.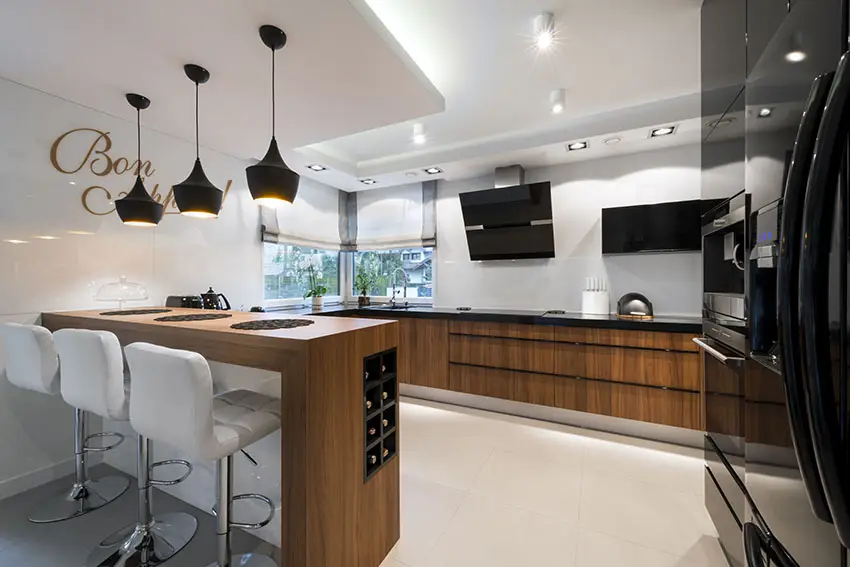 The use of walnut in this modern kitchen adds an elegant appeal to the space, while still keeping the sleek modern look. The warm color of the wood complements the black solid surface countertop and appliances, and helps give the space a warmer, more homey feel.
A small bar counter separates the kitchen from the rest of the house and it uses solid walnut for its side and its countertop. It is finished with Waterlox to make it safe from spills and moisture.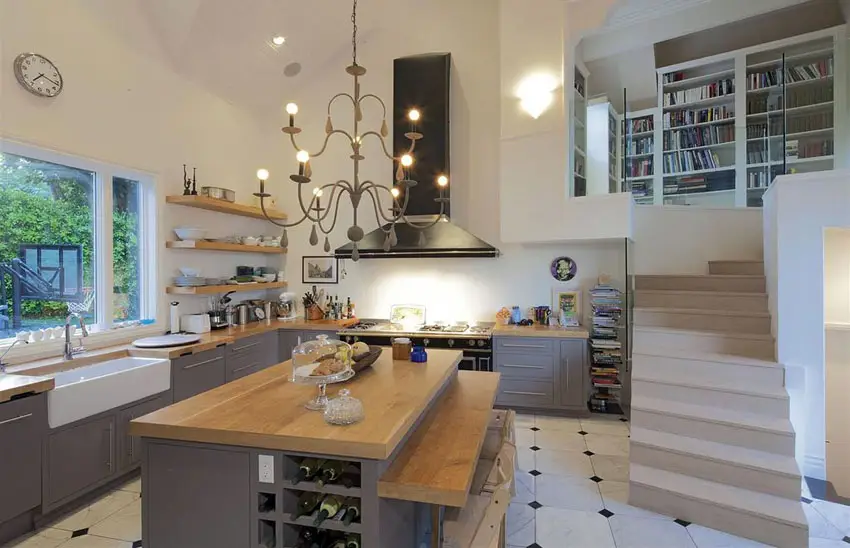 Featuring a dynamic layout, this kitchen adds a touch of rustic country look to this modern home, while maintaining the minimalist color scheme of the house.
The kitchen features an all white wall paired with white marble flooring, and kitchen cabinets painted in a matte warm gray color. To give it a more rustic feel, it uses solid wood for all its coutnertops, which also helps add a warmer tone to the space. It uses solid colonial maple and lightly coated with waterlox to keep it safe from water and moisture.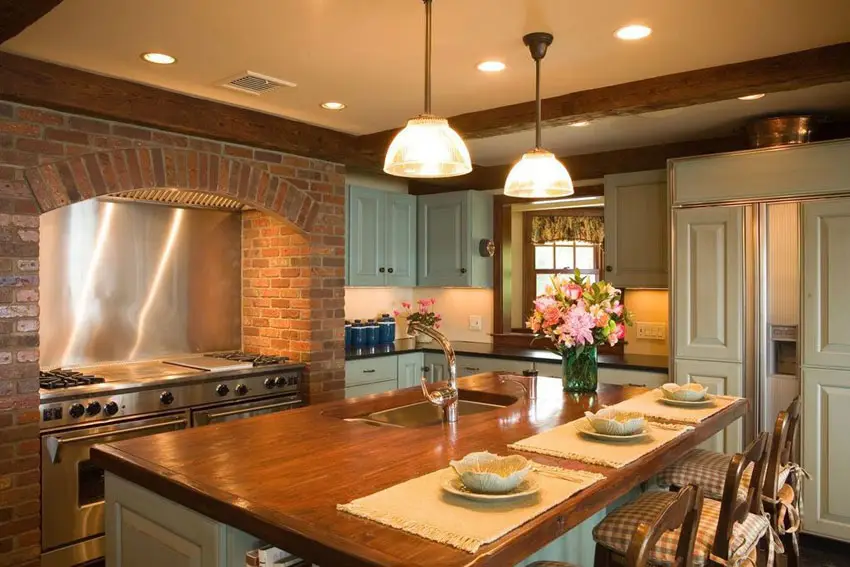 This small kitchen island topped with solid mahogany helps enhance and complete the country style look that this modern kitchen is trying to achieve.
Paneled cabinets were painted in a light mint color for a refreshing look, while the cooking area was clad in terracotta bricks to add texture and further emphasize the country look of the space. For accents, you will see the use of reclaimed wooden trusses on the ceiling, and checkered fabric seats for the barstools.
This kitchen has a very prominent cabin style look, mainly due to its use of Pine wood on the floors, doors & windows and even the ceiling boards. The prominent dark knots of the wood adds more personality to the space and gives it a more natural appeal.
The kitchen cabinets uses a combination of Natural Pearwood base and a mint-painted base for the kitchen island. It's large kitchen island definitely stands out the most because of its mint-painted cabinet base and the solid Pine countertop as it contrasts with the finish of the floor and stands-out really well.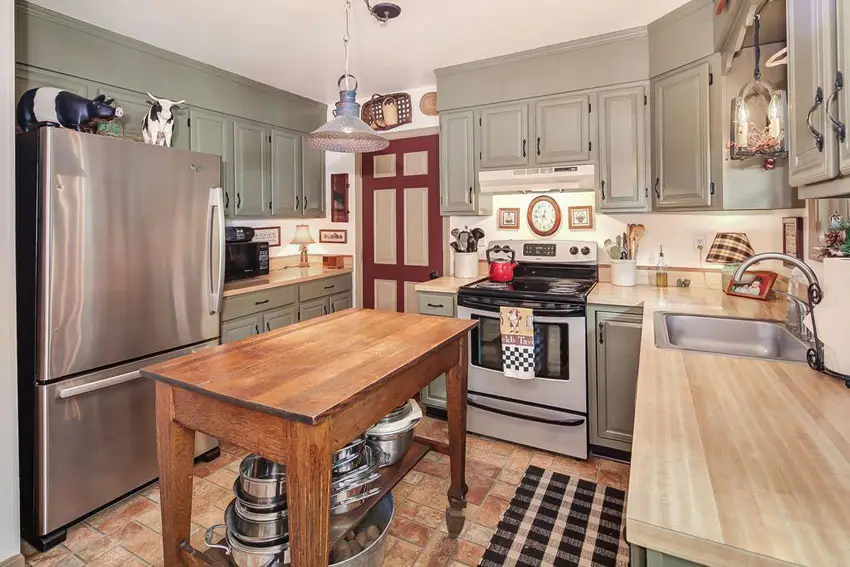 Pale sage green pain is a popular choice for cabinet paint when it comes to achieving a country or rustic style kitchen. This is a great example of such, as all cabinets were painted in sage green. To further enhance the rustic appeal of the quaint kitchen space, terracotta tiles were used for the flooring, and a free-standing wooden kitchen island was placed in the middle.
This kitchen island is made from solid Mahogany, and keeps a rustic, aged finish. This table serves more as an additional preparation area, and it would not be ideal to expose it to too much moisture.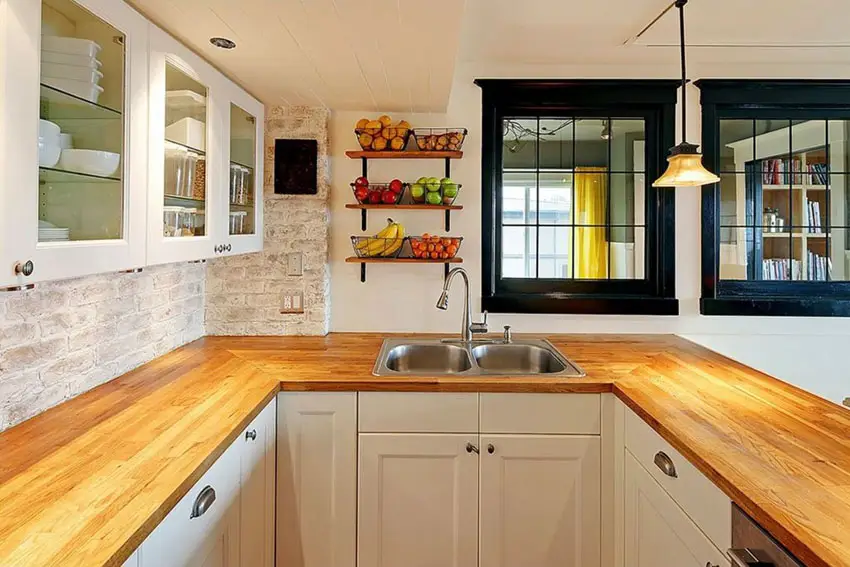 This small kitchen space packs in personality as it boldly combines colors and textures to achieve this modern kitchen with rustic touches.
You will see that all cabinets are modular and has a matte white finish & paneled design to give it a more vintage appeal. Instead of using ceramic tiles or glass, it uses white-painted bricks for the backsplash to add a rough texture to the surface.
The countertop uses solid maple wood with waterlox coating to add a lively orange tone to the black and white scheme of the interiors.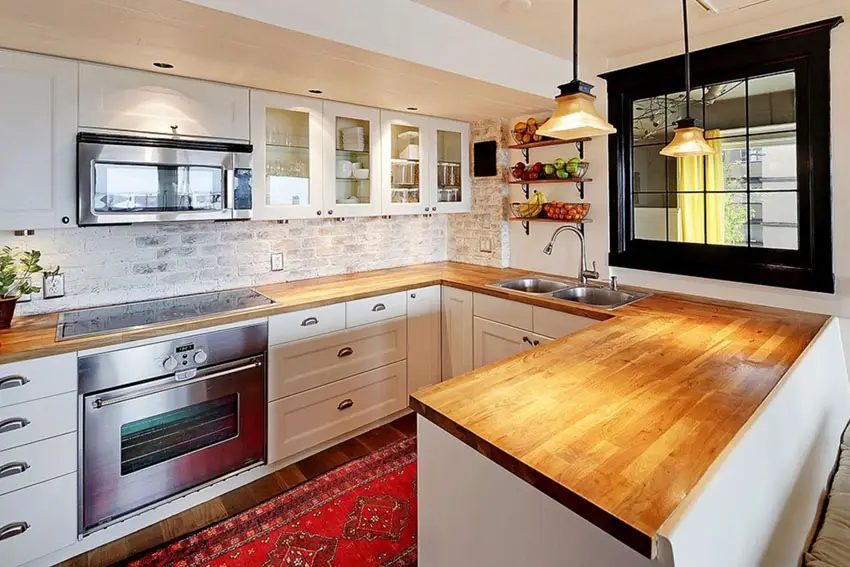 The small, limited floor area makes these open kitchen cabinets ideal as you would not need to allocate space for door swing.
This kitchen has a very French country look to it. It uses off-white painted cabinet carcass with vertical wood planks as backing of the whole kitchen units. For the countertop, it goes for a more casual solid maple wood to give it a light yellow tone which looks great with the French details in the cabinets.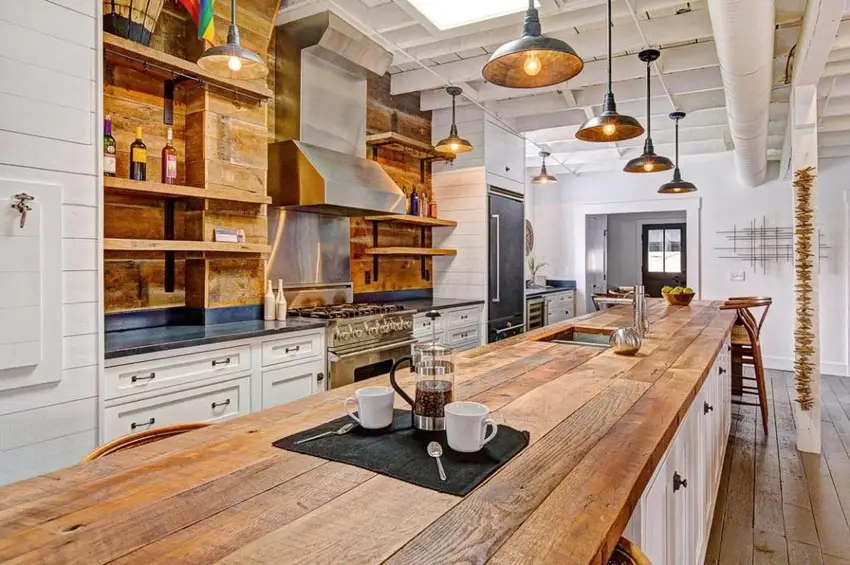 This kitchen is another great example of rustic designs which combines classic rustic materials with modern aesthetics and finishing techniques.
All cabinetry in this kitchen are in white and has a simple paneled profile to give it a modern feel, yet still posses a vintage look. To give it a rustic touch, you will see the use of solid teak wood for its very long kitchen island. It uses thick planks of teak wood glued together side by side, keeping it minimally sanded to showcase the natural grains and texture of the wood.
This table serves mostly as additional preparation area and is more on the ornamental side, as this countertop configuration will not be ideal to use as a cutting block & cannot be spilled at since the wood will easily absorb it. It still does, however, provide a very durable countertop that will last you for years.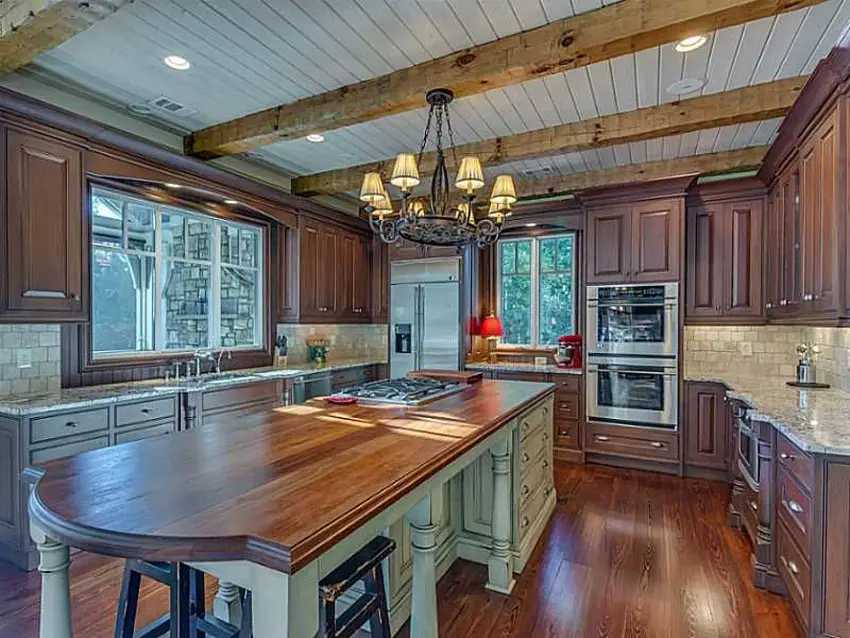 Most of the previous examples have shown more casual and rustic style kitchens, but this example shows a very elegant European style kitchen with dark Mahogany cabinets oiled to perfection and topped with white marble for a luxurious feel. It has a large kitchen island with sage green-painted base which tones down the formal look of the rest of the kitchen and gives it a more relaxed ambiance.
The kitchen island uses solid Teak wood countertop, sanded smoothly and coated with tung oil to protect it from moisture and other elements, making it more durable and resilient.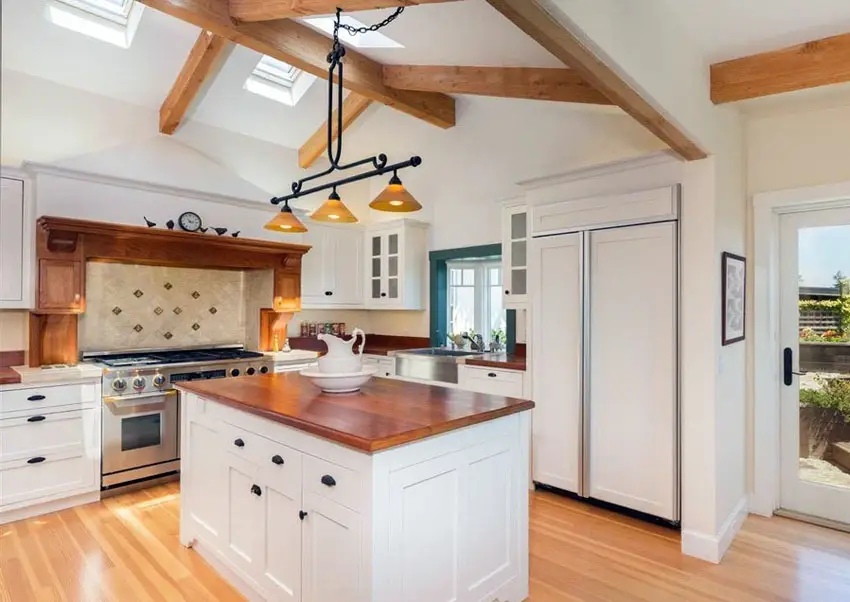 This modern kitchen has a very relaxed and casual appeal. It has light pine engineered wood flooring, creating a light and warm background base.
The kitchen cabinets are all in white and uses black pulls which gives it a more vintage look. For its kitchen island however, solid Teak wood was the countertop material of choice, giving it a more relaxed, tropical feel.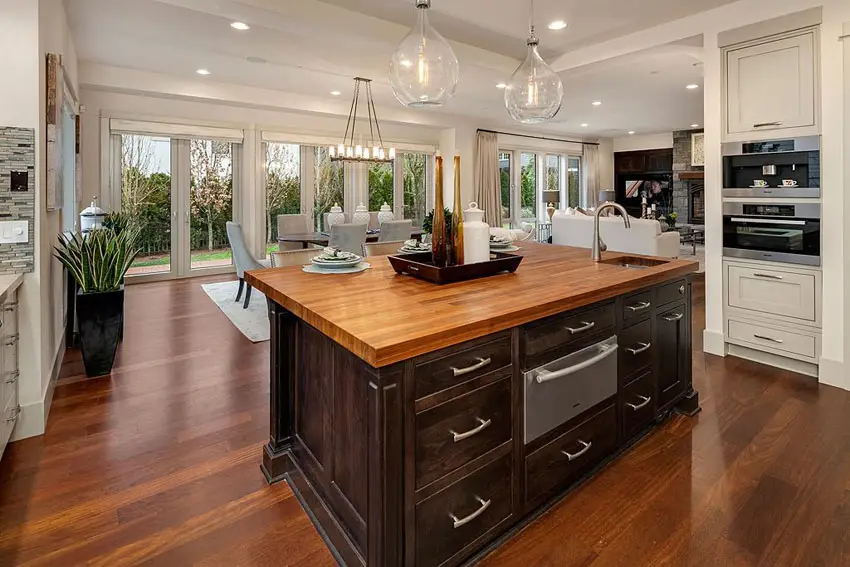 This elegant European style home is definitely not afraid of mixing different wood finishes and colors. While the interiors in general uses a very light, neutral color scheme made up of mostly taupes, grays and whites, the kitchen adds a more exciting element in it by adding a wooden kitchen island.
The flooring of the while area is solid mahogany, giving a very warm and elegant-looking base for the interiors. The kitchen island uses an aged oak base with strong neo-classic details and a thick teak wood countertop, creating a bright surface which definitely stands out in the neutral palette of the interiors.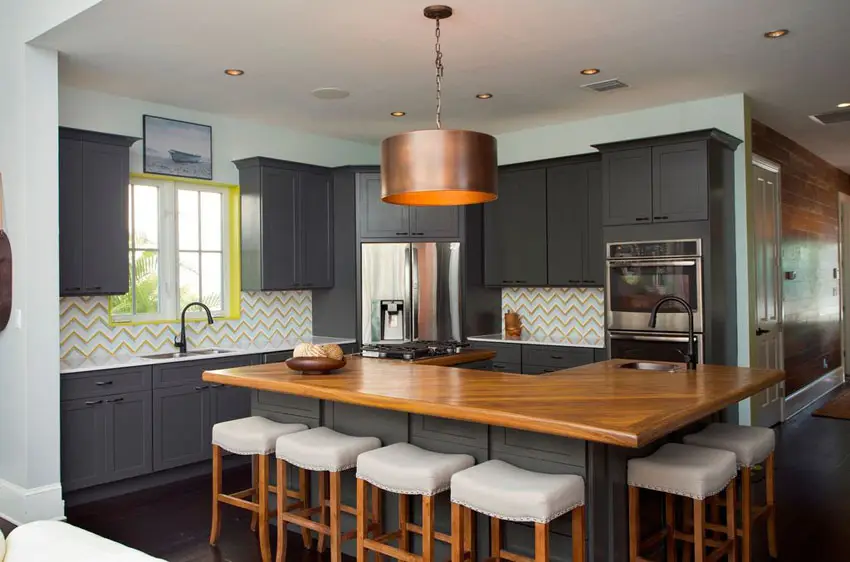 A modern kitchen design which uses modular kitchen cabinets in gunmental gray finish gives its kitchen a little twist by combining different style elements into the space. It has a unique chevron backsplash tiles with streaks of blue and yellow, creating a very fun and modern pattern.
For its U-shaped kitchen island, it uses solid teak wood countertop, placing the grain direction diagonally to give it a dynamic appeal similar to the backsplash tiles. The natural orange undertone of the teak wood also matches the orange in the backsplash as well as the lamp's.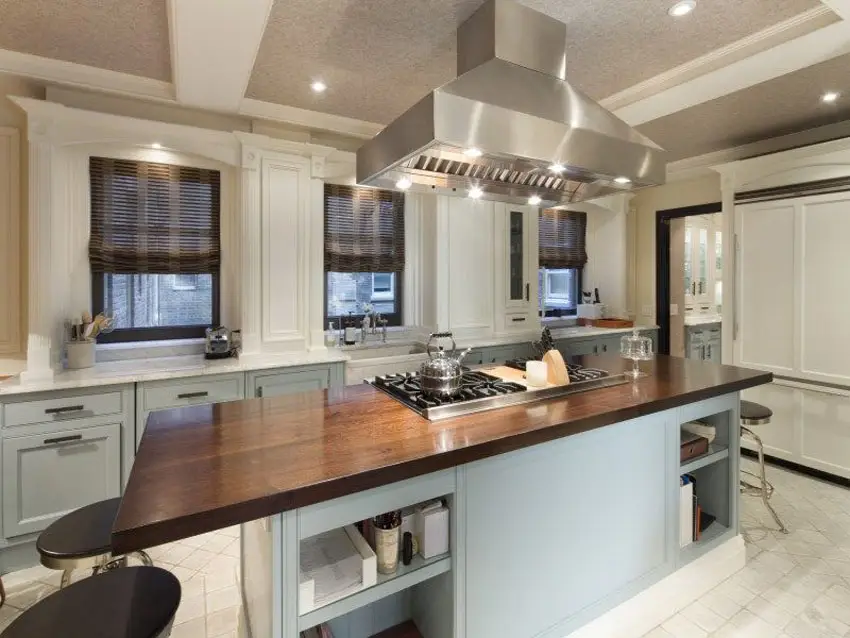 Wood countertops usually add a more laid-back casual feel to kitchens, but this example gives the opposite effect, as it adds more elegance to this very casual kitchen design.
Powder blue kitchen cabinets look very refreshing and gives this kitchen a very youthful vibe. The kitchen island's solid American cherry countertop which was sanded and polished to perfection adds a more formal and elegant element to the space, but does not overwhelm the other light finishes in the kitchen.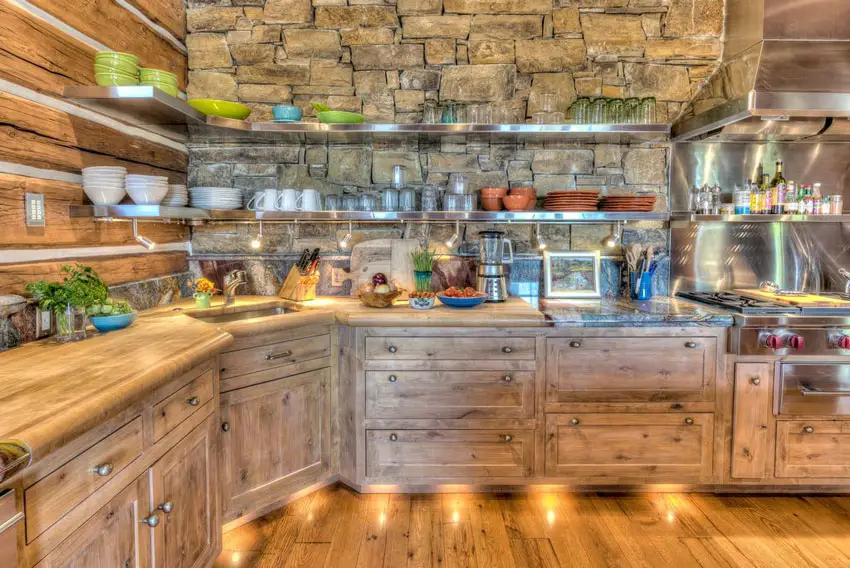 This gorgeous modern kitchen combines rustic materials with modern construction and finishing techniques. Kitchen cabinets uses rustic oak wood with prominent knots for that very rustic look.
They are, however, well polished, creating that smooth and shiny surface typical of more modern kitchens. The countertop of this kitchen is very unique as it combines travertine with solid wood, creating a very solid division between the two materials, which creates a very amazing contrast.
The deep emerald green tone of the travertine countertop complements the smooth natural oak countertop.
White Kitchens with Wood Countertops
White cabinets pair beautifully with wood counters. Below you'll find an assortment of ktichen designs to give you ideas for your space.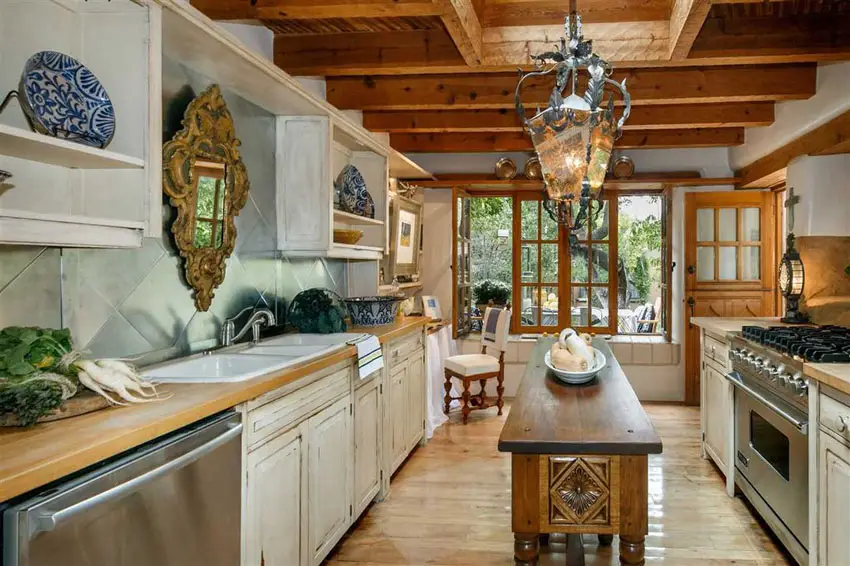 A vintage-style kitchen which has an eclectic mix of furniture and accessories giving it lots of personality and a very "lived-in" feel. Kitchen cabinets have an antiqued white paint finish, giving it the appearance of weathered cabinets.
The kitchen countertop material used is solid maple for a light yellow tone which complements the strong orange undertone of the chestnut doors and windows.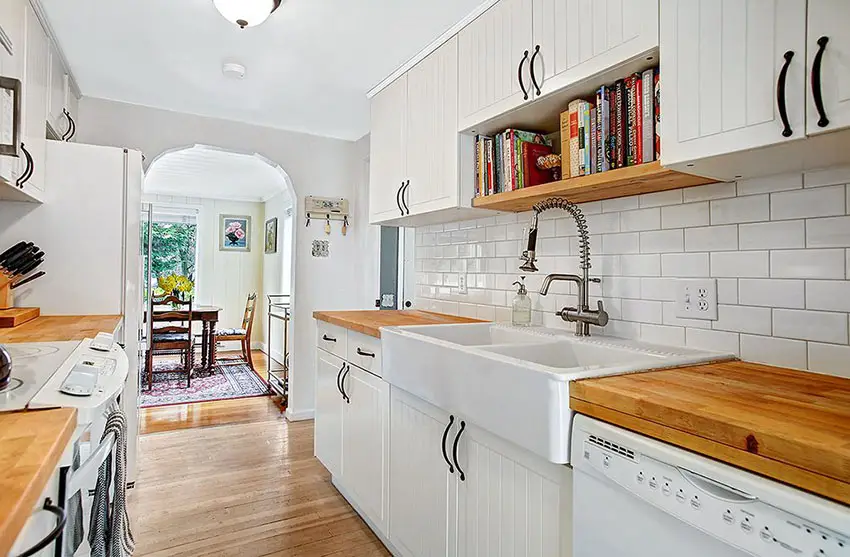 This galley style kitchen looks attractive with its white cabinets with contrasting oak wood countertops. The design provide a distinctive country vibe with its beadboard cabinets and open shelving and large double basin farmhouse sink.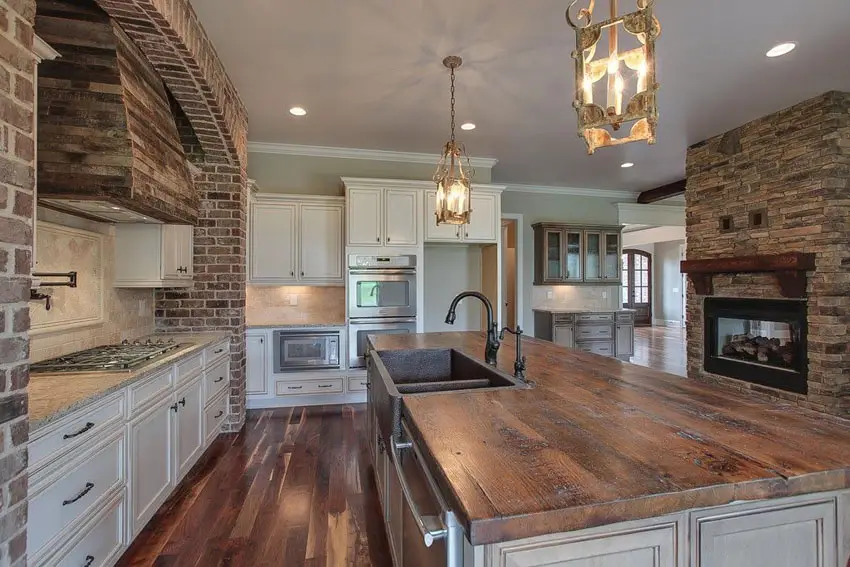 Another great example of traditional style kitchen, this kitchen has classic French style cabinets painted in off-white for a more vintage feel.
The white base also stands out from the redwood flooring and complements the brick tiles on the wall and the limestone backsplash. It has a large kitchen island with solid Mahogany countertop. To give it a more rustic, vintage look, the natural knots and holes of the wood were not filled, and the natural texture was maintained. The surface is given a light tungsten oil coating to protect it from moisture and decay.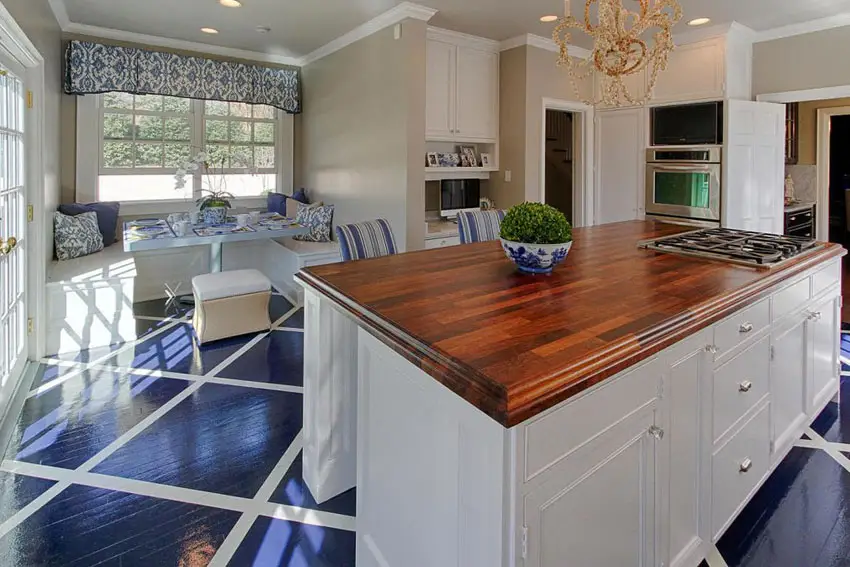 Lovely nautical-inspired kitchen space which has a very fun blue and white color scheme. Solid wood flooring was painted over to create square patterns of blue and white, matching the fabrics used in the pillows and furniture pieces.
The large kitchen island stands out on the blue floors as it has a solid white base and gorgeous Cherry wood countertop, adding a pop of warm color to the space.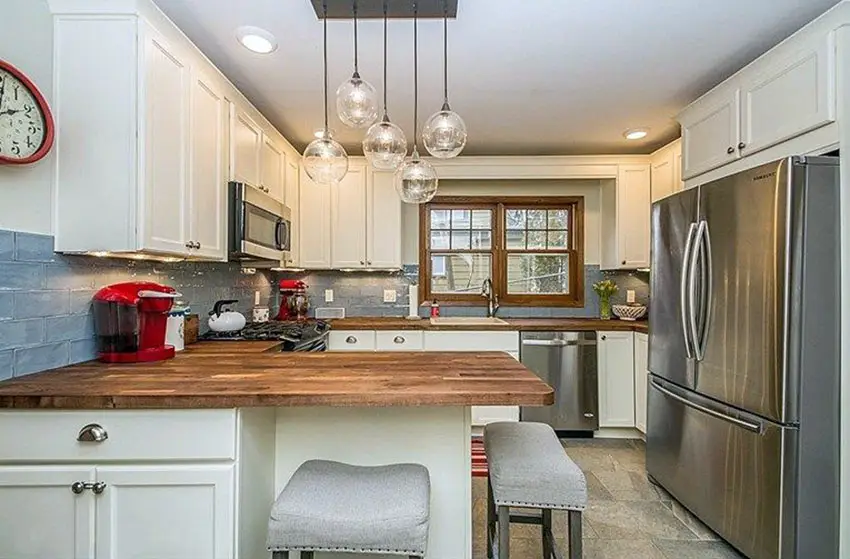 This small kitchen has a very casual, rustic feel. The look it creates would look great in mid-century modern space, and even period style interiors as it combines modern & classic elements in the design.
Off-white modular cabinets are paired with slate gray ceramic tile backsplash, while the countertop used is solid walnut to match the frames of the doors and windows.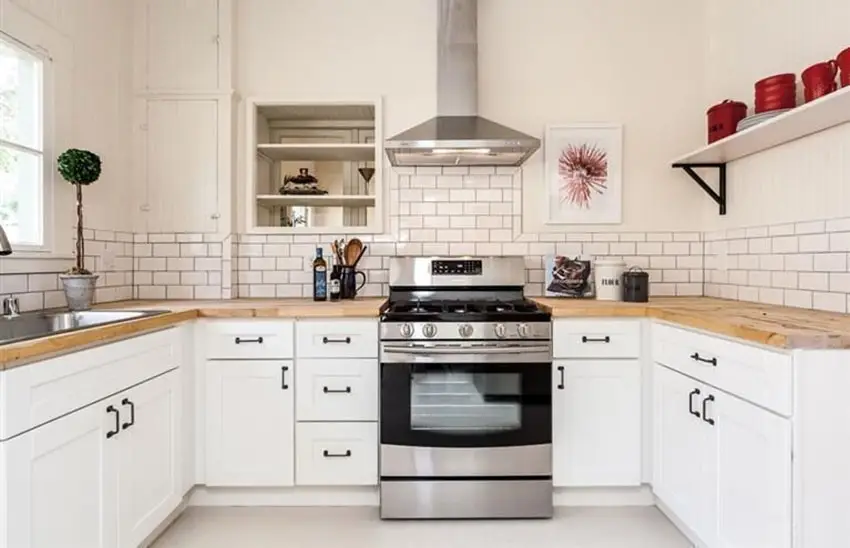 Wood kitchen countertops look gorgeous in this mid-century modern inspired kitchen. The space features the typical all-white colors scheme of mid-century style kitchens, and injects a touch of warm color through natural wood finishes.
In this case, the wood element would be the counter, which uses solid natural oak. Traditional white subway tile, open shelving, beadboard paneling, and dark hardware pulls bring the design together with attractive results.
Related Kitchen Design Galleries You May Like:
Country Kitchen Designs – Craftsman Kitchens – Farmhouse Kitchen Ideas – Rustic Kitchen Designs – Reclaimed Wood Kitchen Islands