Here we share kitchen island trim ideas with different materials and styles. See different types of kitchen island trim for a new and upgraded design.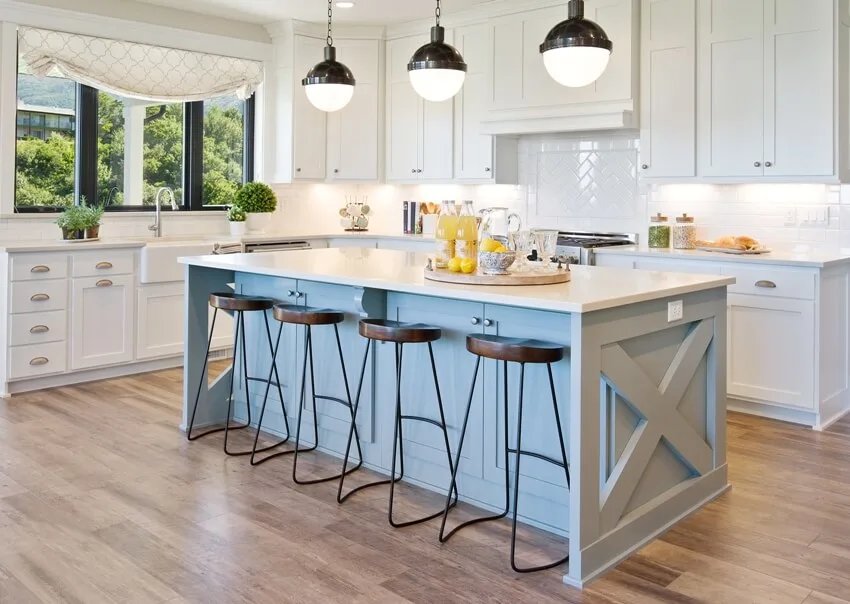 The kitchen is an important area in every home. It is where food preparation takes place and it serves as a storage space for utensils, appliances and ingredients. Having all cooking ware, appliances, and cookbooks in this area is convenient.

In homes where the space in the kitchen is not enough, having a kitchen island is beneficial. They can serve as tables or workspaces. Placing stools or chairs around kitchen islands expands their function.
Some family members prefer to eat, have a drink, read a book, or do some work on kitchen islands. The warm atmosphere and the closeness provide great bonding moments.
Kitchen islands that match the color scheme and style of the kitchen create a cohesive design that adds elegance to your space.
If you want to give your kitchen a new look, you can place trim on your kitchen islands. The job is simple and fun. With the right materials and tools, you can update your kitchen look with great results.
What Is Kitchen Island Trim?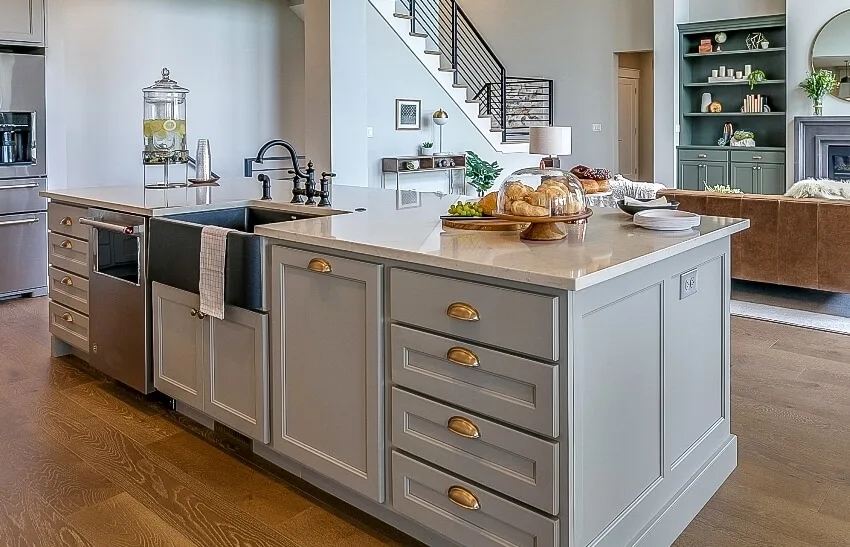 Do you want to enhance the appearance of your kitchen island? One way to do this is to use kitchen island trim. Trim can be a molding, beadboard, wood, panel, or decorative materials.
People use trim to conceal holes and gaps in surfaces. Trim serves as a decoration to a plain kitchen island. It adds visual interest to storage cabinets and pantry spaces.

Some cabinets that serve as center islands may be old already. The countertop might have damaged surfaces, a gap, or a hole.
You can make the countertop look new with a trim. Use a panel to cover the top of moldings to make a decorative design. See our gallery of luxury kitchen island designs here.
You can also paint the countertop. This will lend it a different and new look. Read more about types of kitchen countertops here.
Others use cabinet molding to give the kitchen islands a personal look. Install them on cabinets to make them look finished.
Adding trim to your kitchen islands will enhance the look and layout of the area. The place can look nice and the atmosphere pleasant.
Types Of Trim
Putting a trim on your kitchen island can improve its looks. Here are some types of kitchen island trim that you can use.
Boards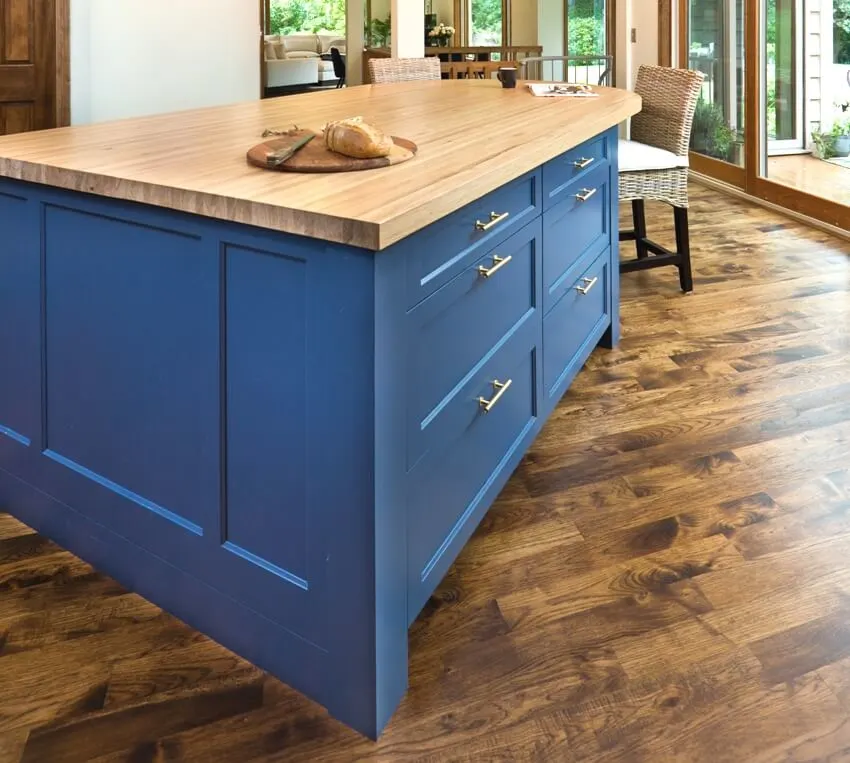 Use strips of the board to make the trim. You can arrange them on the front surface of the kitchen island. Nail the strips at regular intervals. Paint them to match the color scheme of the kitchen.
Screen molding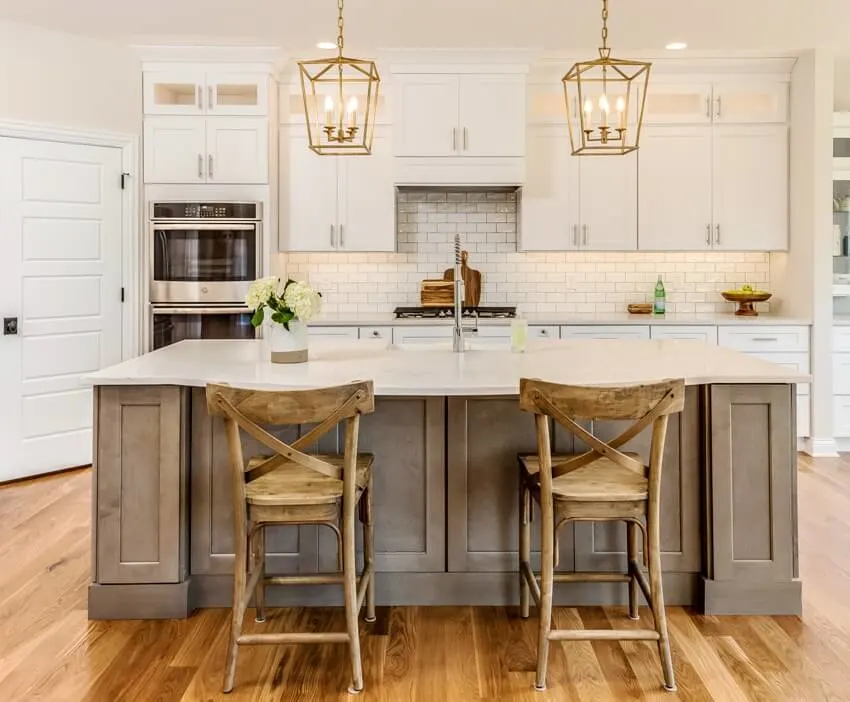 Add trim to your kitchen island using screen molding. You can create any geometric pattern you want. The result is a kitchen island that catches attention.
Baseboard and furniture leg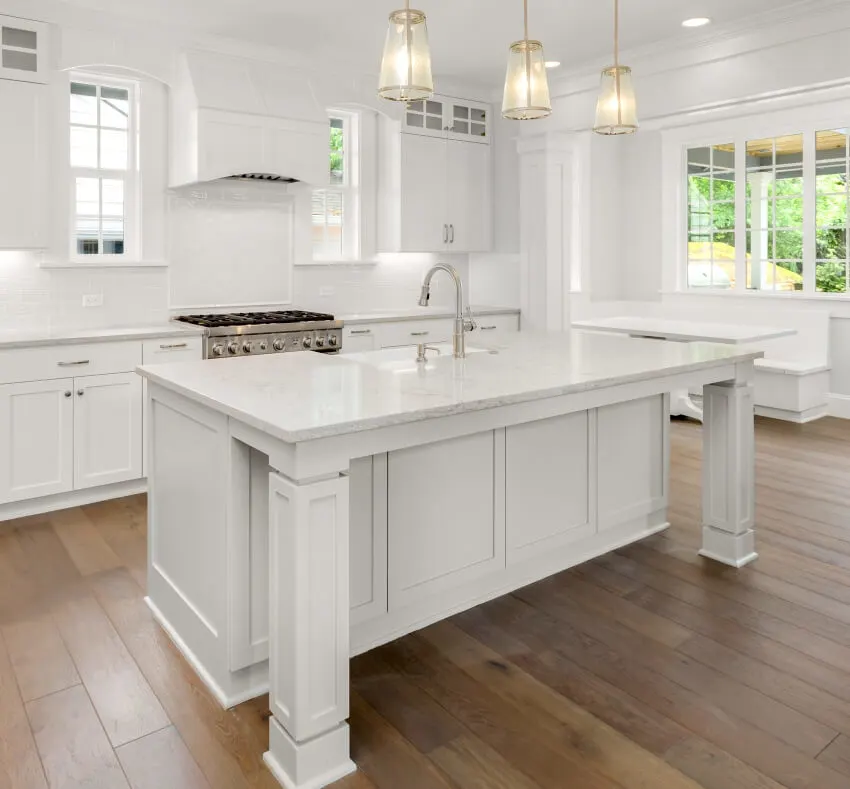 If you are not good at cutting things, use a baseboard. Add the baseboard and place a furniture leg. This changes the look of your kitchen island.
With the leg, it resembles a piece of furniture. Paint it with a color that matches the color scheme of your kitchen. Check out the best kitchen paint colors for more ideas.
Baseboard molding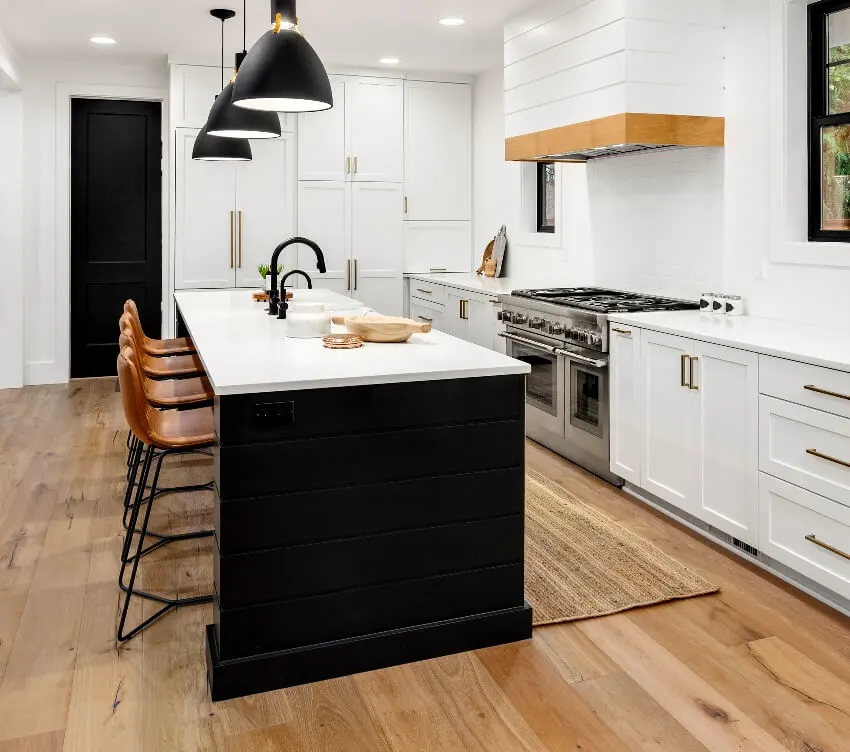 Add a wider baseboard to cover the whole surface. You can have several layers. Paint with a matching color to your kitchen. It gives the finished product a customized look.
Bead board
A beadboard refers to horizontal planks of wood, plastic, or metal. It can be used as trim to wide surfaces. Molding can be used below the board to give it a smooth look.
Craftsman style baseboard and corbels
Use the craftsman style baseboard for the kitchen island surfaces. Add a corbel to give it a different look. Paint with the desired color, considering factors such as lighting, access to appliances and kitchen design to create a cohesive look.
Thin poplar boards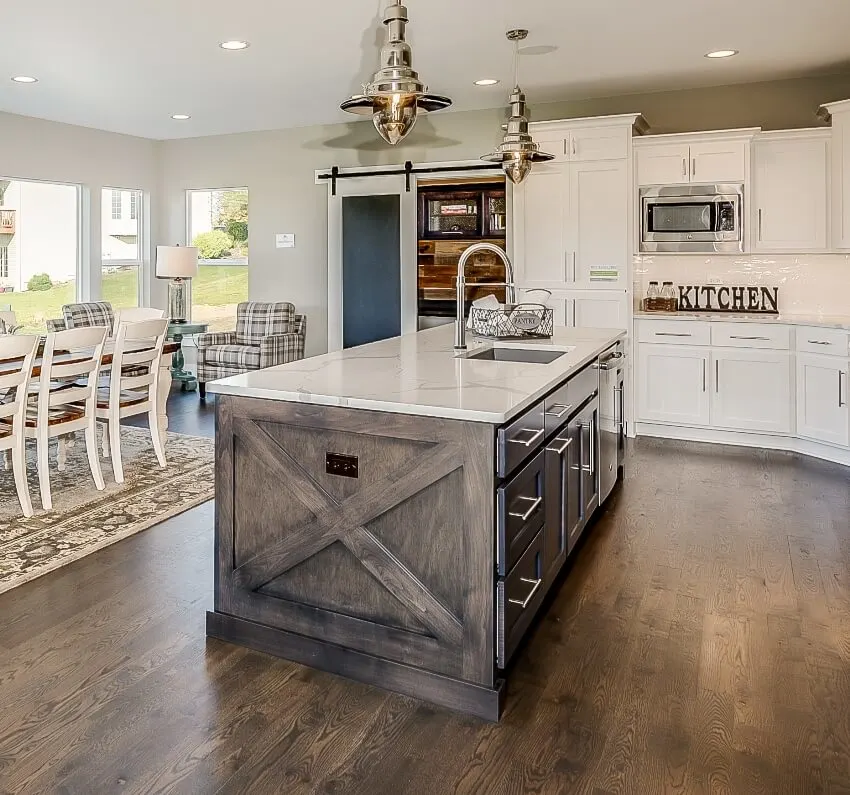 Thin poplar board trim gives a nice effect. You can use them to put trims that depict figures or letters of the alphabet.
Board and batten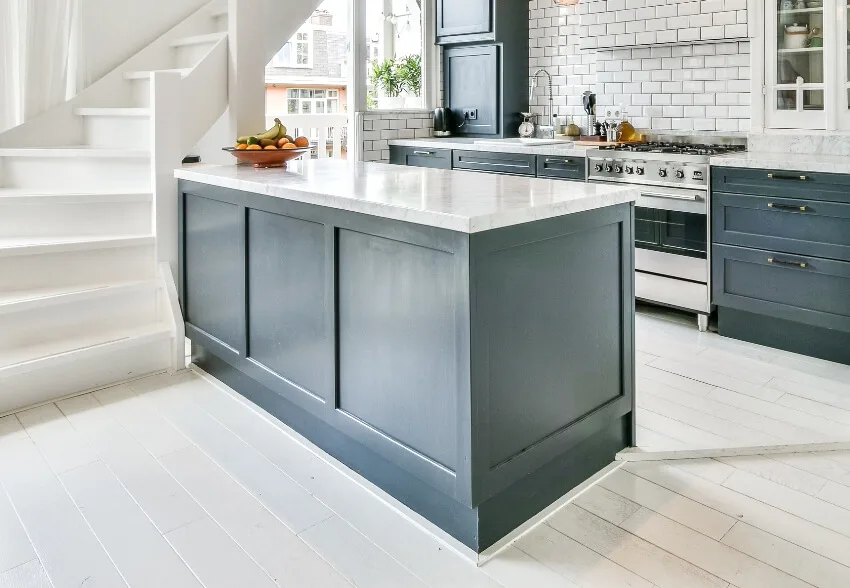 Batten is a strip of solid material such as wood, plastic, metal, or fiberglass. You place them on top of each other to make a trim for the top surface of a kitchen island.
How Do You Trim A Kitchen Island?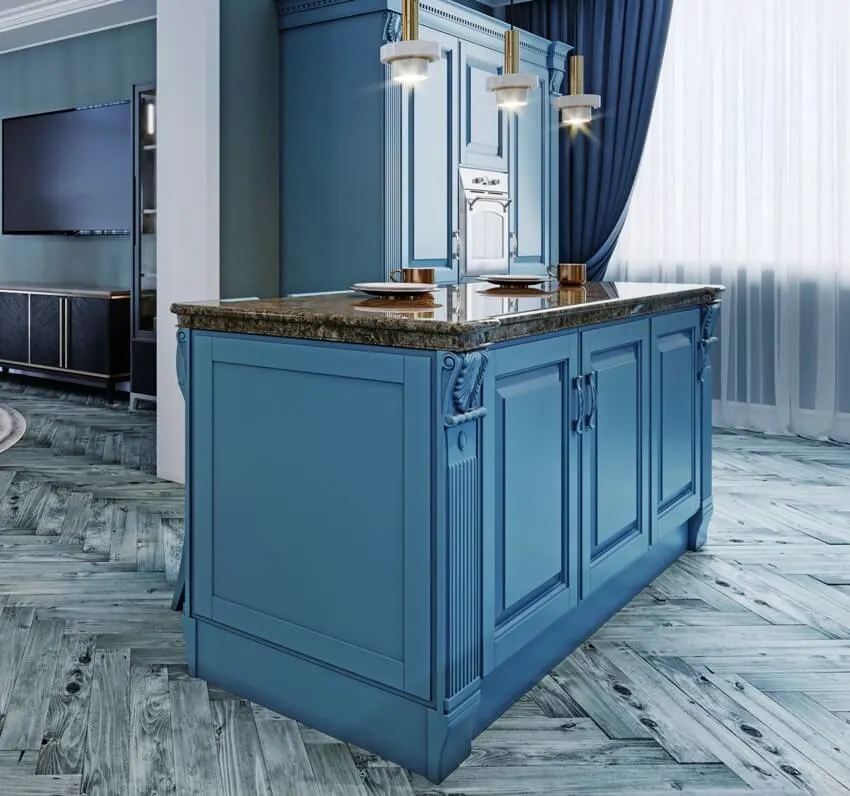 Trimming a kitchen island to give it a facelift is easy. It is a favorite do-it-yourself project for many. With the right materials and tools, you can do it.
Here are the steps in trimming your kitchen island.
1. Remove existing trim
Your purpose in placing a trim on your kitchen island is to give it a new look. The existing trim might be old with faded paint. Strip off the peeling paint.
Remove the old trim using a small crowbar. You will also need a nail remover for the task.
Make sure to remove the trim on the corners and on the lower portions. Look for gaps and insert the crowbar. Apply force to remove the old trim.
Check for remaining nails. Make sure to pull them out. Nails on trims do not have heads. Sometimes they got stuck on the kitchen island.
Remove all nails to prevent stepping on them. It will be safe for you when cleaning the kitchen island.
2. Clean the kitchen island using a sander.
Use a mouse sander to smoothen surfaces. A grit of 150 and 220 is enough. You can also use sandpaper to smoothen the surface. Make sure that you clean all surfaces and crevices.
Finish by wiping all surfaces three times using a rag. Wipe off all the sanding dust. The remaining dust and dirt can affect the outcome of your labor.
3. Cut the molding for a perfect fit.
Make the necessary measurements. Cut the materials based on your measurement. Separate each material for each trim that you want to place. Make sure to carefully get the size to avoid many trips to the home improvement store. You need accurate measurements for a perfect fit.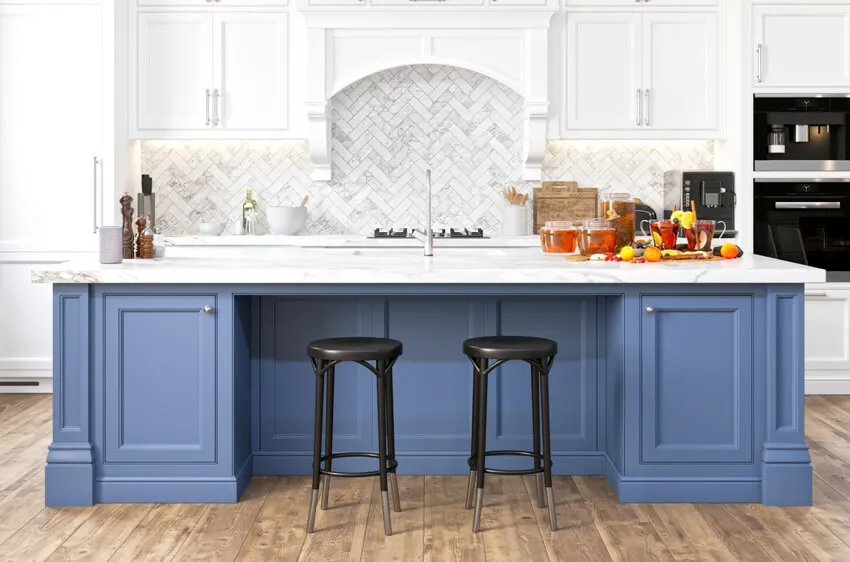 Wrapping It Up
If you think your kitchen needs an upgrade, start with the kitchen islands. They add character to your kitchen, and customizing them can make them look elegant.
Your family members will be happy to stay in your lovely kitchen. You can enjoy a meal while you trade exciting stories. Give them happy memories of your kitchen.
For more kitchen island trim ideas visit our gallery of the most popular types of kitchen islands.