Here's our guide on how to choose the best living room carpet colors including decorating your living room ideas with colorful and neutral color carpets.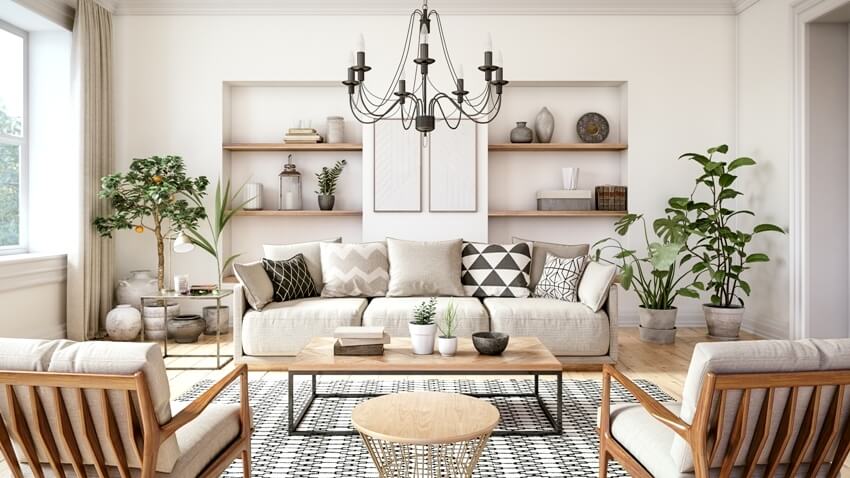 Carpeting is one of the most challenging parts of house decorating since carpets are available in so many different fiber types, patterns, and especially colors.
Choosing the perfect color for your carpet can be difficult. Aside from the walls, carpet floors are the next largest component of a room. It is also much harder to replace than wallpaper or furniture.
So a particular color choice can bring dramatic and long-term effects to both small and large spaces.
If you're deciding on a carpet color, it is best to educate yourself on some basic guidelines before you head out to the store. This way, you can be better informed in your quest to find the best carpet color.
How To Choose Carpet Color For Living Room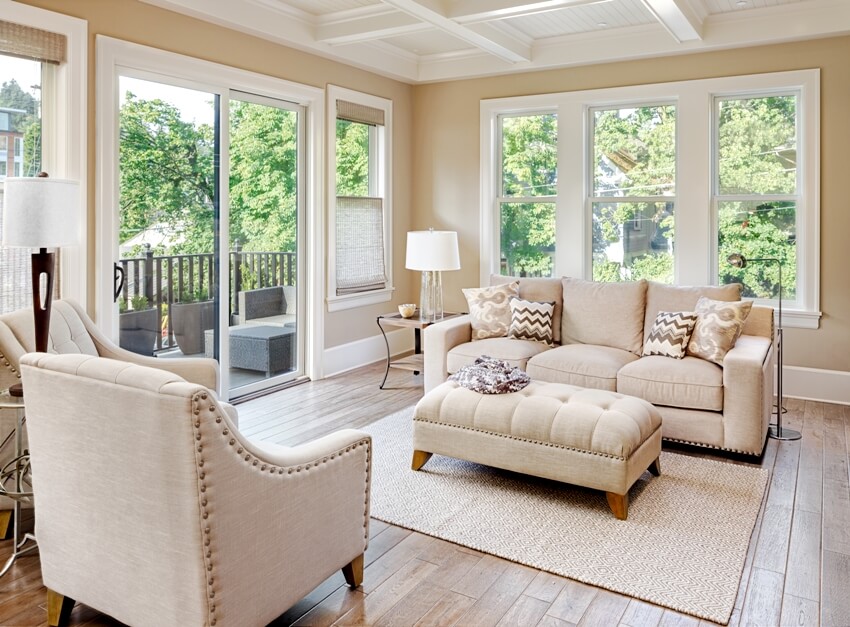 There are several factors you need to consider when choosing a color for your carpet – beginning from a room's size down to the color of your sofa.
You should visualize what you expect your living room to be or to have, as this mental image can greatly help you narrow down your choices.
When you visit carpet dealers, you'll probably encounter these questions:
How large (or small) is your room?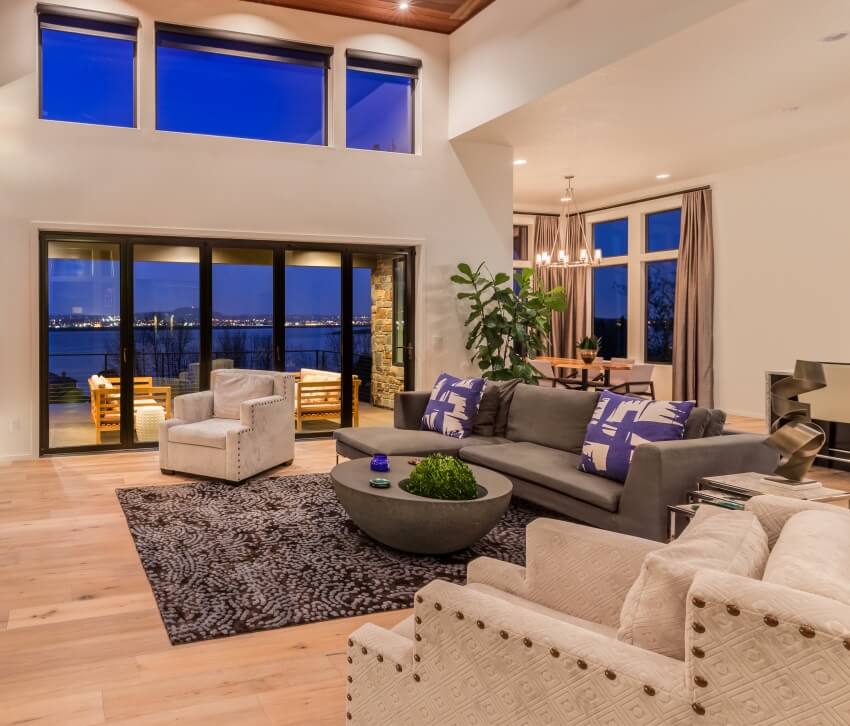 Light-colored carpets can make small rooms appear larger. They reflect more light which contributes to a feeling of openness.
On the other hand, mid to darker-colored carpets can reduce the feeling of space and make larger rooms feel cozier and warmer.
Is it going to be a busy room?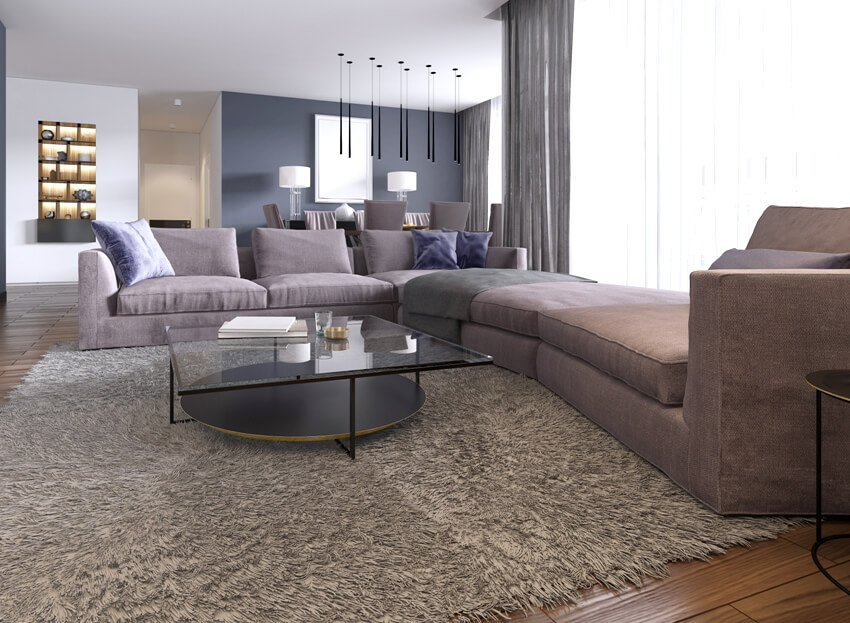 Some living rooms are designed to be receiving areas only, while other living rooms are the center of entertainment and go through a variety of activities. If you have kids and/or pets that play down on the floor, they may introduce more maintenance work on your carpets, too.
Heavily used living rooms may not be ideal to have white or lighter colored carpets. Instead, opt for darker tones or select patterned carpets.
Does the room have enough lighting?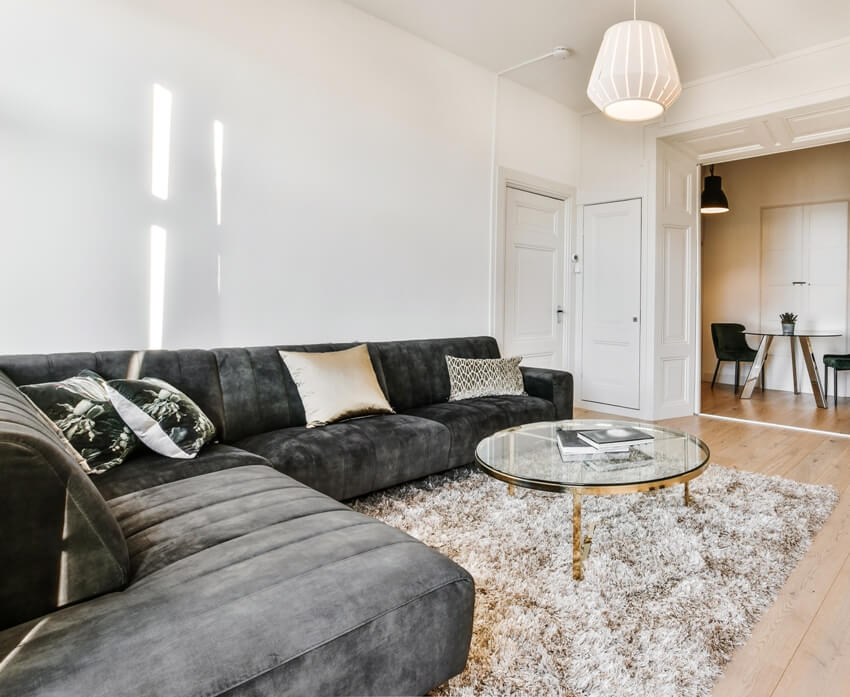 Natural light brings out the true color of things, including carpets. Mid- to darker shades of carpets met with natural light can add vibrancy and personality to your room.
However, when used in non-well-lit spaces, they will just appear darker than usual and give off an entirely different vibe.
Another tip is to ask for swatches you can bring home. Shops have different lighting conditions compared to your place, so you should test out the swatches at home and see how well it reacts to light.
What color are your living room walls?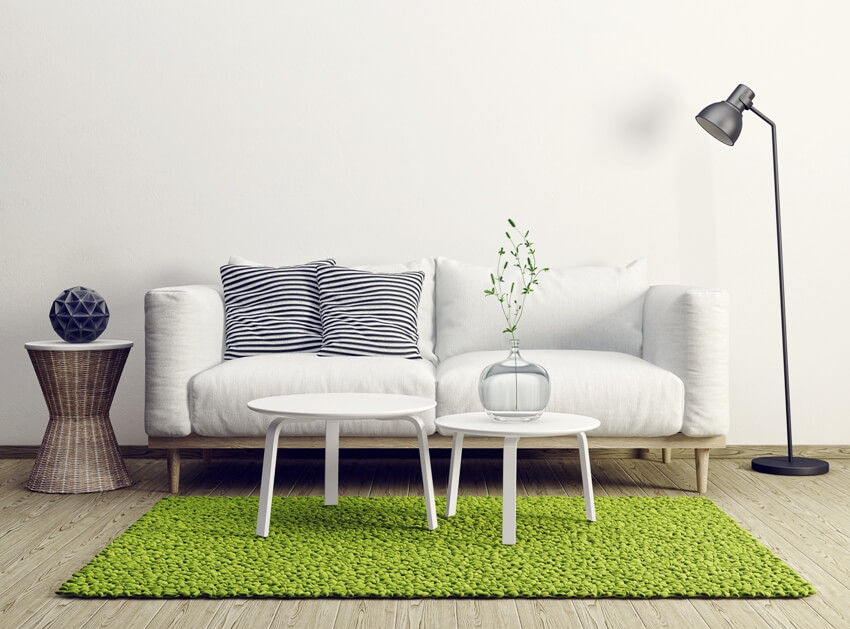 Of course, you'll want a carpet color that coordinates with the rest of your house. In this case, a little bit of contrast is a good thing.
Interior designers often suggest picking a carpet color within the same color family as your walls.
Earth-toned carpets work best with warm color walls, while cool or grey walls pair well with equally cool tones. See our gallery of beautiful earth tone living room designs here.
Usually, walls should at least be two shades lighter than the carpet. If the walls are already dark, two tones lighter would be a good carpet color.
However, if you're doing a total renovation or starting a home from scratch, it is advisable to choose a carpet color before a wall color.
Wall colors are easier to paint over or cover with wallpaper, but carpets are expected to last five to ten years at least. Check the best living room paint colors here.
With these helpful suggestions, hopefully, you've narrowed down your selection of carpet colors.
And don't forget! – also consider quality, hypoallergenic properties, and a fair cost when you start shopping.
Living Room Carpet Color Ideas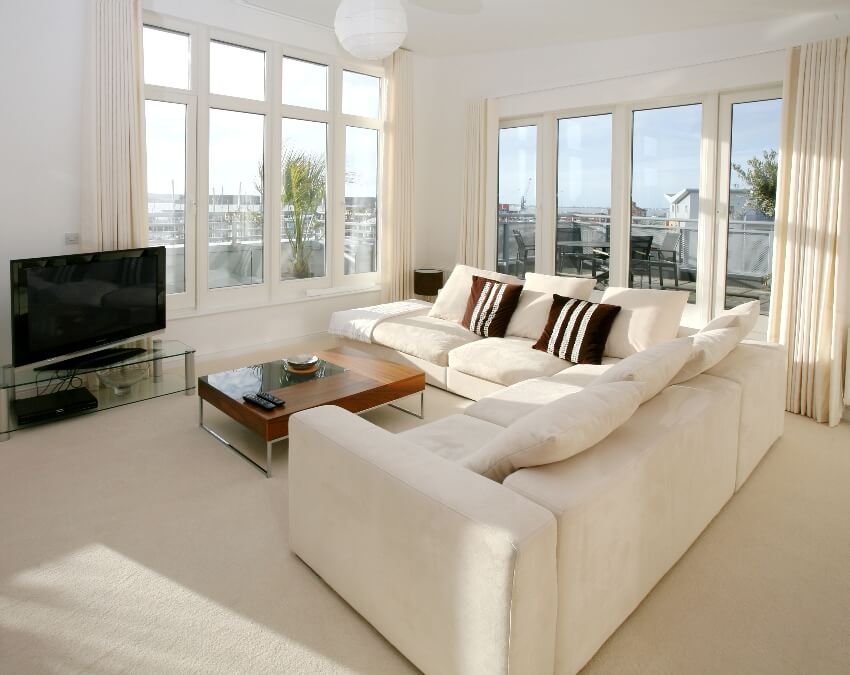 Aside from the eight hours of sleep in the bedroom, the living room is the space where we mostly spend our daily lives.
Therefore, you should decorate your living room with colors that bring about positive vibes – and a great carpet color contributes to this.
Since we're talking about living rooms here, let's not forget the other star of the room – the sofa.
Colors for sofas are more limited than your options for carpet, and your chosen sofa style may come only in a couple of shades. Read more about modern living room ideas here.
Hence, designers suggest you pick a carpet color that works around the sofa of your choice. You don't want to have selected a particular carpet color and find no sofa color that blends well with it.
Since most popular colors for sofas are blue, brown (or leather), and gray, appropriate carpet colors include beige, sage, ivory, dark gray, or a blue-grey shade.
Colorful Carpets For Living Room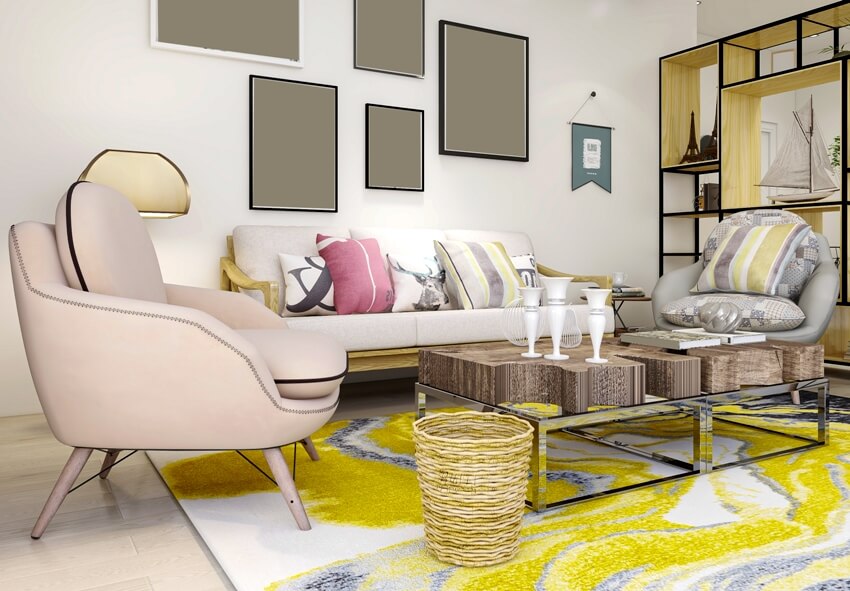 Multicolor carpet trends became popular in corporate offices and hotels because their pattern and color combinations perform well in a busy workplace. If you're thinking – will this trend work in my living room, too? The answer is yes.
As long as colorful carpets blend the right colors, they tend to make interesting parts of a room. If you're not yet sure of a full wall-to-wall application, you can try specifying colorful carpets on the perimeter or as room divisions.
Living Room Colors With Brown Carpet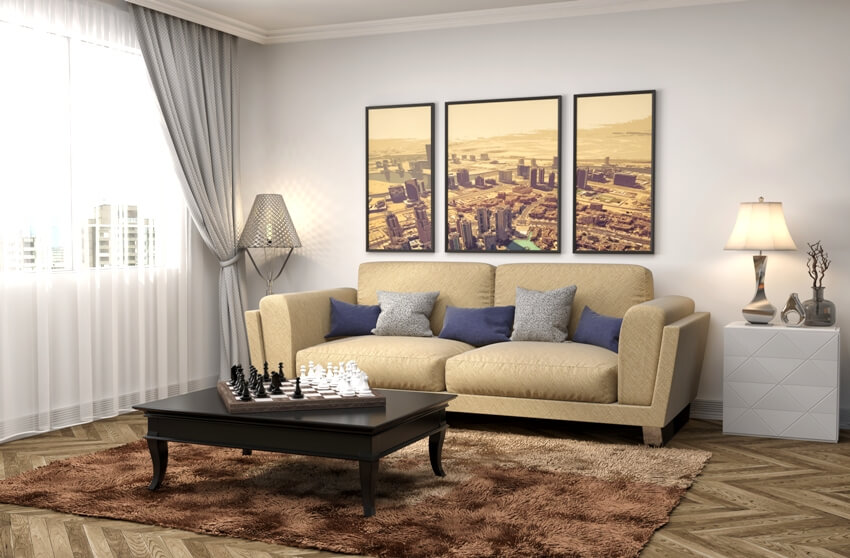 Have you ever heard of the saying – when in doubt, go neutral? While we're unsure of who coined the phrase, it definitely applies to many designs and decorating projects.
Brown is the ultimate neutral color known for its timelessness and sophistication. Shades of brown bring attention to your sofa, center table, and other prized room decors.
These tones are versatile enough to receive brightly colored rugs that add more character to a room.
A brown carpet with a monochromatic palette creates an elegant space. Just make sure to have a balanced color palette so it won't look muddy and dark.
Brown carpets work well with lighter-toned furniture and curtains, as well, so it's the perfect opportunity for bright decors and accessories in orange, pink, and other "pop" colors.
What Is The Most Popular Living Room Carpet Color?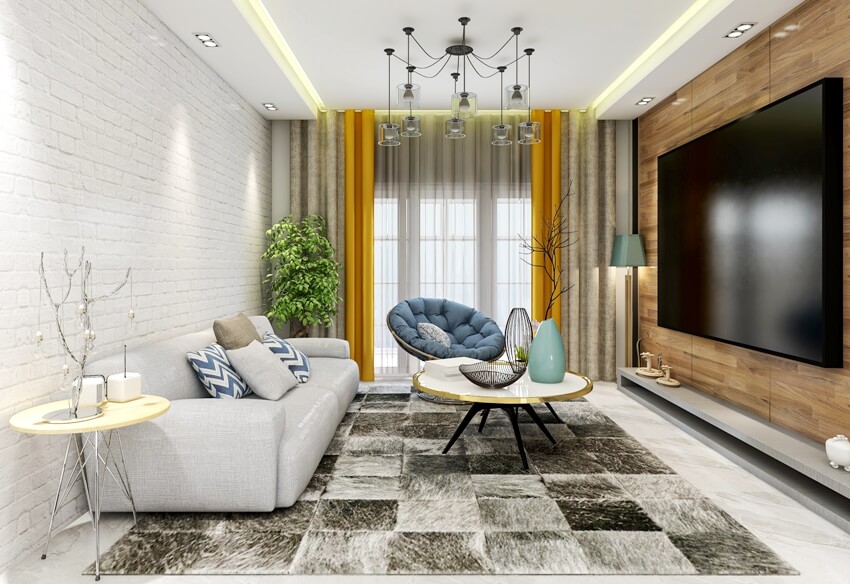 Current design trends include gray, tan, and greige as the best carpet color for living rooms. Gray, beige, and taupe carpets provide a neutral backdrop that accepts changing themes and decors today's homeowners do to their living room.
Greige, or sometimes called Taupe, especially works best with both cool-toned and warm-toned walls. It is an excellent mediator of different wall colors and contrasting furniture and home decor.
For more related ideas see our types of carpet ultimate guide.