Welcome to our chef's kitchen design guide including what it is, and the best dream ideas to create the look and feel in your own home.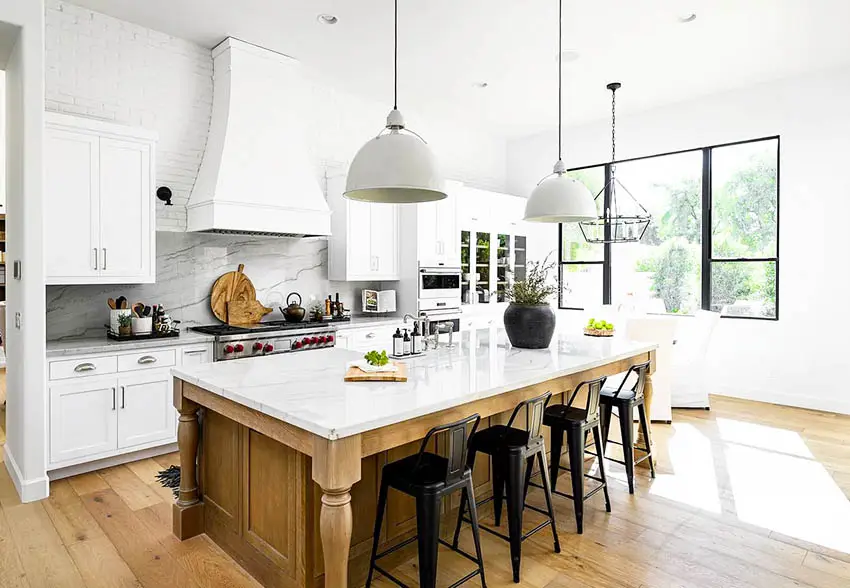 If you like to cook and want to expand what you can do in your home kitchen, it might actually be time to consider a different type of kitchen! While a standard kitchen is great for most home cooks, a chef's kitchen can take your home kitchen skills up to the next level. These types of kitchens are larger and more well-equipped to suit the needs of a talented or even professional chef and they aren't limited to industrial situations either. With the right information and some work, you can have a private chef's kitchen of your very own.
To do this, though, you need to know everything there is to know about installing a chef's kitchen into your own home. That's why, here, we're going to break down the basics about what a chef's kitchen is, what it can do for you, and the best ways to implement one in your very own home.
What is a Chef's Kitchen?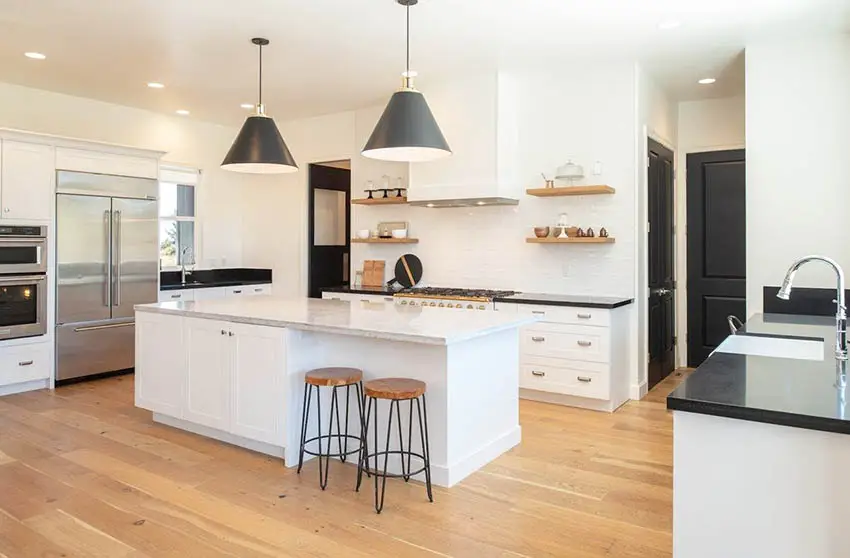 A chef's kitchen is designed to go beyond the regular essentials of a standard home kitchen. Not only does it fit the average home chef's needs, but it's also more largely aimed at meeting the needs that a professional chef would have. It's a common choice in industrial kitchens such as at restaurants and hotels. However, these can also be a great addition for any professional chef who wants all the trappings to work with at their own place.
A chef's kitchen usually includes a few key features. For one, there are usually multiple stove tops to accommodate multiple cooks. This is often accomplished through the use of islands and additional counter space. It's a design that works well with an open-concept kitchen.
These stoves are also typically gas stoves with a British thermal unit (BTU) higher than the average home stove. Whereas a standard stove reaches approximately 7,000 BTU, a chef's kitchen stove usually reaches up to 23,000 BTU. Chefs' kitchens usually accommodate multiple stove types as well to allow for different types of cooking as well as warming drawers for keeping food toasty until its served.
The sinks in a chef's kitchen are also deeper than a standard sink. This allows you to wash dishes, rinsing food, or even fill deep pots. To the extent of filling pots, an additional faucet in the form of a pasta arm to fill pots on the stove.
Homeowners also often opt for a dishwasher in a private chef's kitchen. After all, you probably don't have a full kitchen staff to help you keep up with dishes while you cook. This means an automatic tool to help you out will go a long way!
These kitchens include a variety of gadgets as well. This can include your favorite and most used appliances or even gadgets simply made to help you stay organized so that everything is where you need it, exactly when you need it most.
Difference Between a Chef's Kitchen and a Gourmet Kitchen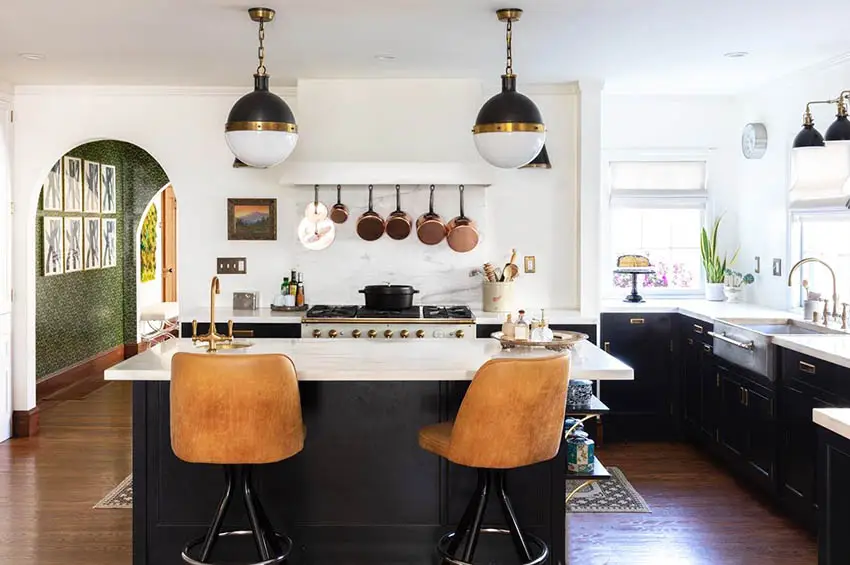 Home chefs may be interested in either a chef's kitchen or a gourmet kitchen to accommodate their needs the way a standard home kitchen wouldn't. However, these two terms aren't interchangeable. They actually represent entirely different concepts that cater to different culinary needs.
First, it's important to take note of their similarities. Both types of kitchens are made to go beyond what a standard kitchen has to offer. On top of that, each of these options are usually filled with high-end appliances and design concepts such as additional counter space.
That being said, the primary difference is that gourmet kitchens are typically far more personalized. A chef's kitchen will cater to the needs of any talented chef while gourmet kitchens are designed to a particular chef's – in this case, the homeowner's – culinary needs.
For example, we've already covered the common features of a chef's kitchen. On the other hand, a gourmet kitchen might have features atypical to a standard chef's kitchen that you might otherwise miss out on like tools to cater to your practice of pickling your homegrown veggies!
Similarly, a gourmet kitchen may exclude tools that are typical to a standard chef's kitchen. If you aren't likely to use a common appliance, you can cater a gourmet kitchen design to replace that appliance with something you're more likely to use. Yet, a chef's kitchen design is meant to have the common essentials that any cook would need.
Chef's Kitchen Ideas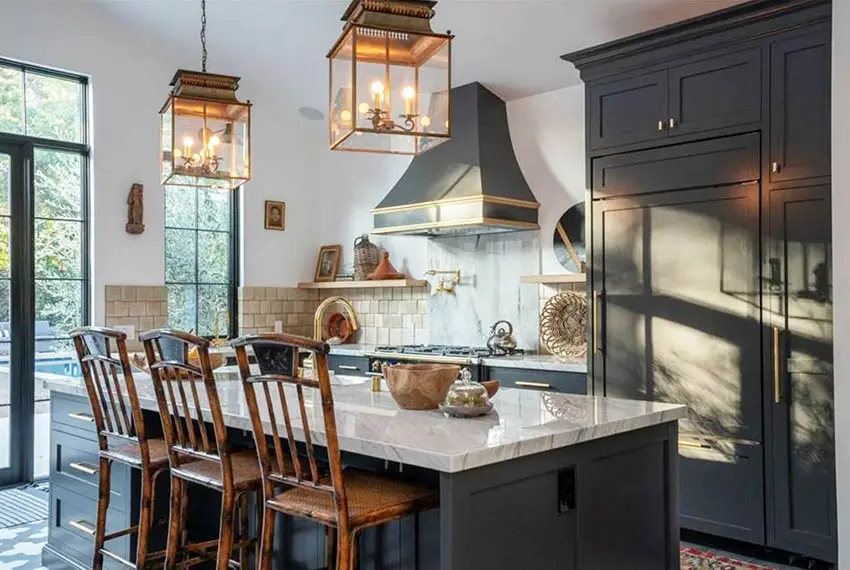 There are a few different ways that you can make the most out of transforming your home kitchen into a chef's kitchen. As discussed earlier, one of the best ways to do this is to use an open kitchen design. Tools like islands are a great way to add a little extra counter space to any home.
You should also carefully consider your theme. Do you want the modern look of many industrial kitchens or would you prefer to keep your chef's kitchen design a little more cozy? If the latter is true, you can opt to replace metals and neutral colors with more rustic design choices while keeping all the amenities intact.
Open Kitchen Design with Large Island
Space for multiple people to cook at the same time is a must for any chef's kitchen. A large island is one of the best places to congregate in the kitchen and create and sample delicious food. Islands with an effective kitchen work triangle allow one to prepare food more easily and have the necessities within a short reach away.
Chefs Kitchen with Large Refrigerator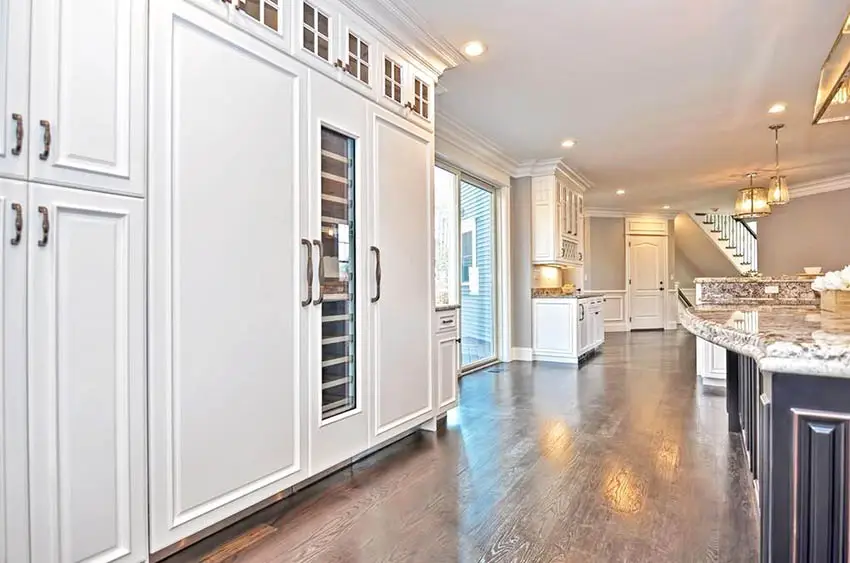 Since a refrigerator is one of the most often used appliances in the kitchen it makes sense that a proper chefs kitchen design will have one that can accommodate a large amount of storage space. Since a fridge is what keeps your ingredients fresh and safe to eat its important that it is large enough to be able to store what you need in an organized way.
High-End Appliances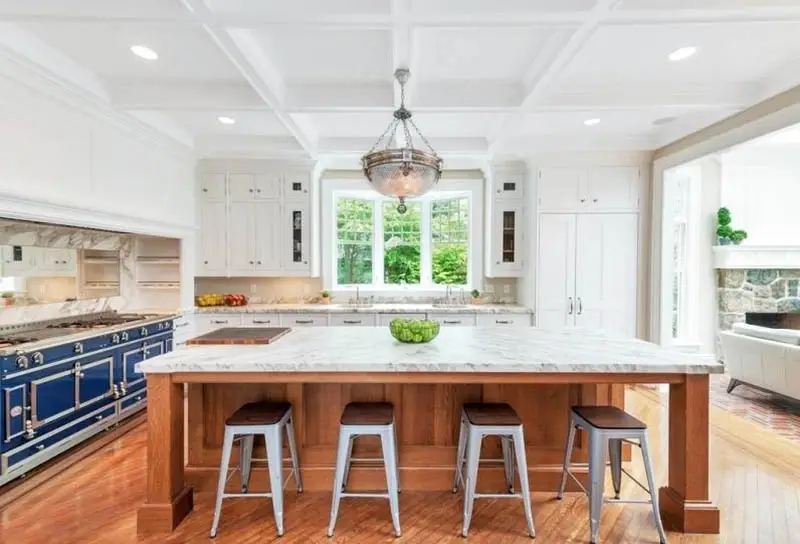 High end brands of appliances such as Sub-Zero and Wolf, La Cornue, Viking, Miele, Gaggenau and Thermador are frequently sought after additions for any chef's kitchen design.
Kitchen Island with Refrigerator Drawers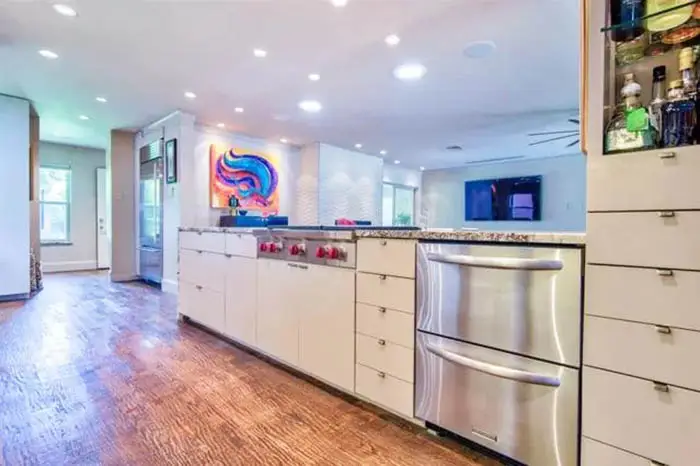 Refrigerator drawers in a kitchen island allows one to quickly access needed ingredients during meal prep which is essential for a busy chef.
Wine Fridge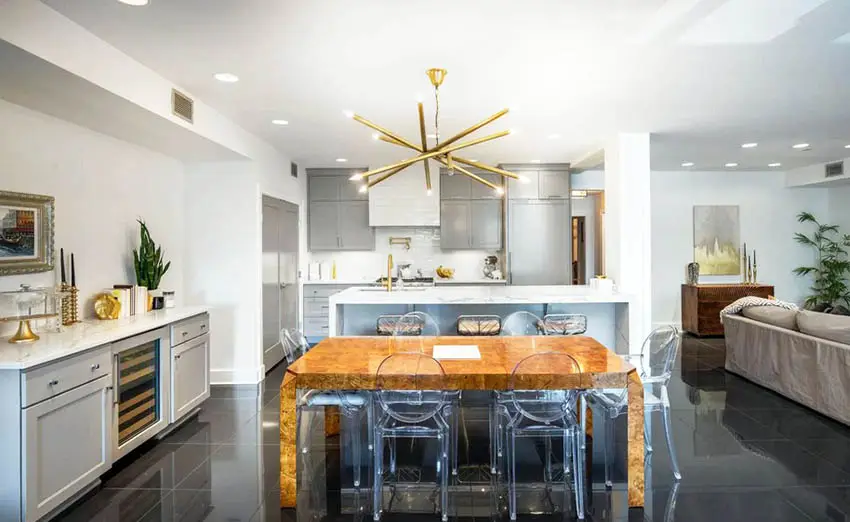 A wine fridge is a great amenity to have in a chef's kitchen design, as pairing wine with food is often considered a critical part of culinary enjoyment. Having your wine ready at the proper temperature is especially necessary while entertaining guests.
Warming Drawers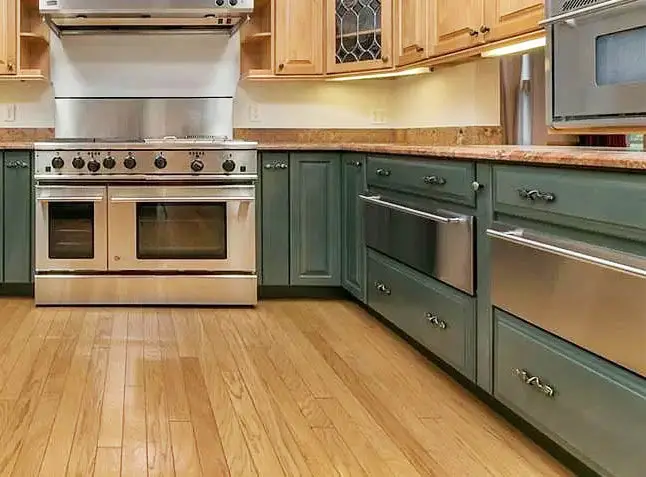 Warming drawers are a great addition for keeping food hot while preparing meals.
Walk-in Pantry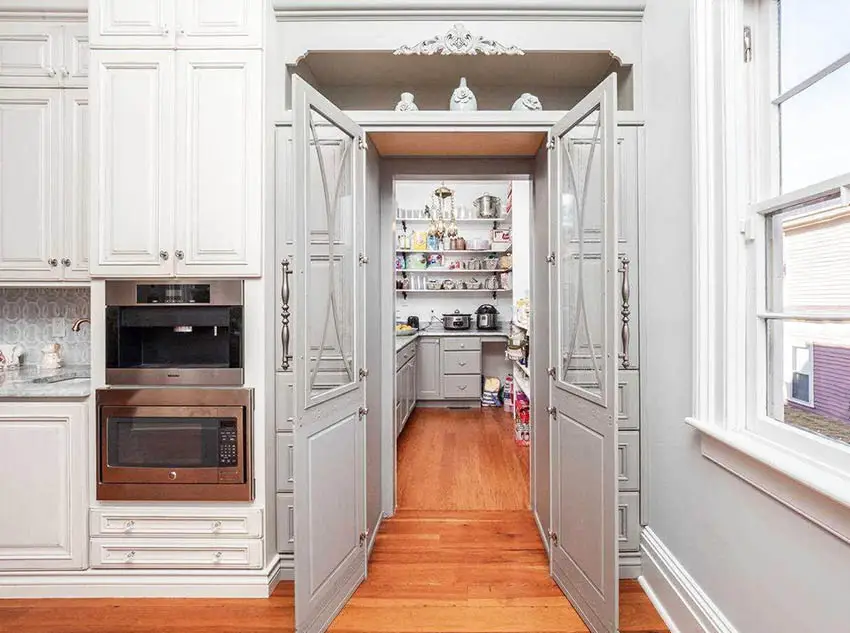 Traditional kitchen with a decorative pantry door.
A well stocked pantry is a necessity for any chef. A pantry is convenient, viewable and accessible. Convenient meaning everything is in close proximity to where its needed. Viewable, as items can be found and viewed at a glance. It's accessible, meaning things do not need to be rearranged to find what you need when you need it.
Kitchen with Open Shelving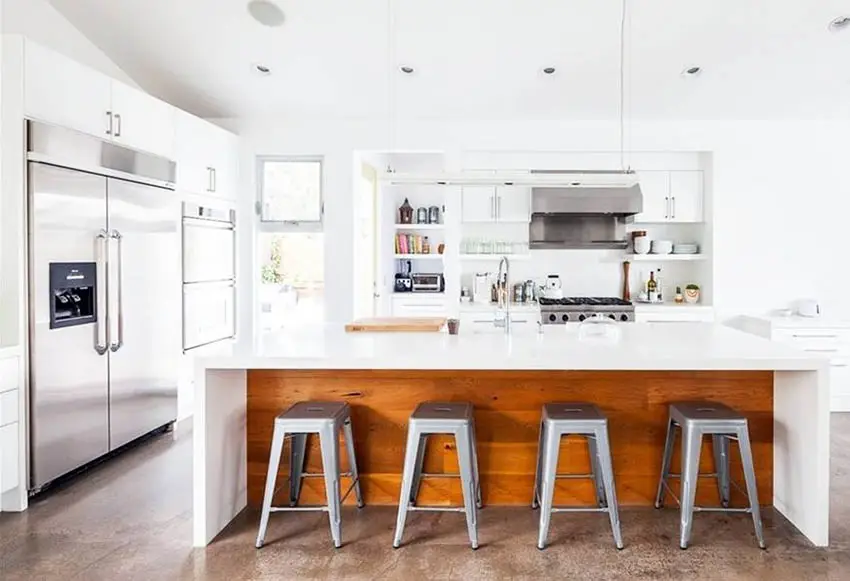 A kitchen with open shelving allows for accessibility and function. Having plate wear within easy reach similar to a real industrial style kitchen makes for faster meal prep.
Multiple Sinks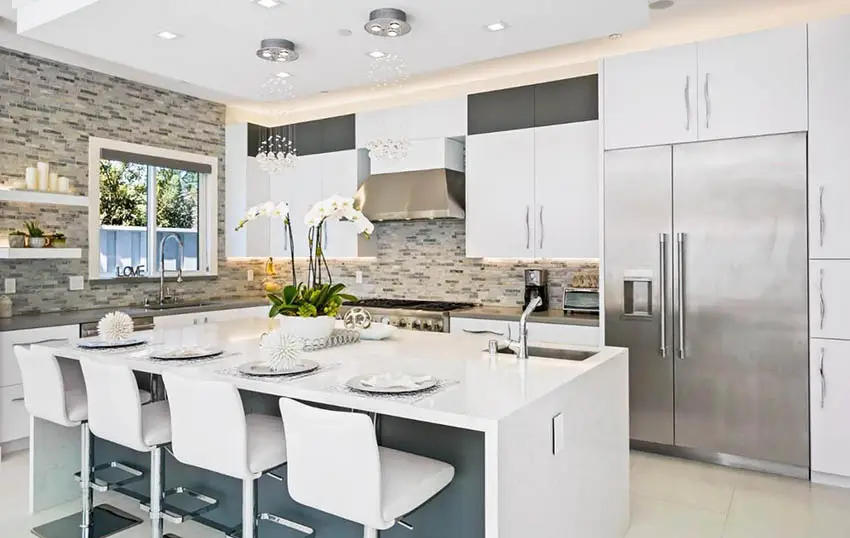 Having more than one sink is useful for food preparation and washing dishes. At least one deep sink is advisable for washing vegetables or dirty dishes. A deep sink also allows one to fill a pot full of water when needed. An alternative to this is to install a custom pot filling faucet that telescopes out for convenience.
Cutlery Organizer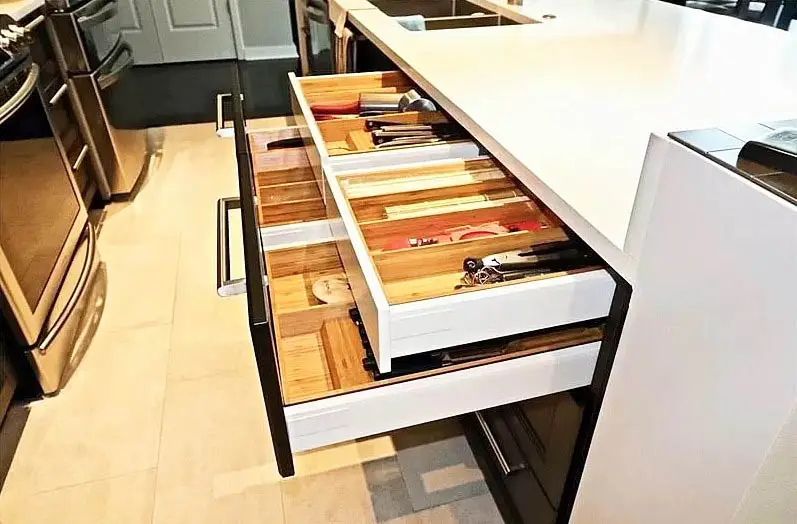 When preparing multiple dishes a kitchen cabinet or island equipped with a large cutlery organizer can be a needed addition to help one quickly get the exact tool need for the job. a proper cutlery organizer can separate utensils in to separate compartments to help keep everything in its place where it's easy to locate.
Multiple Ovens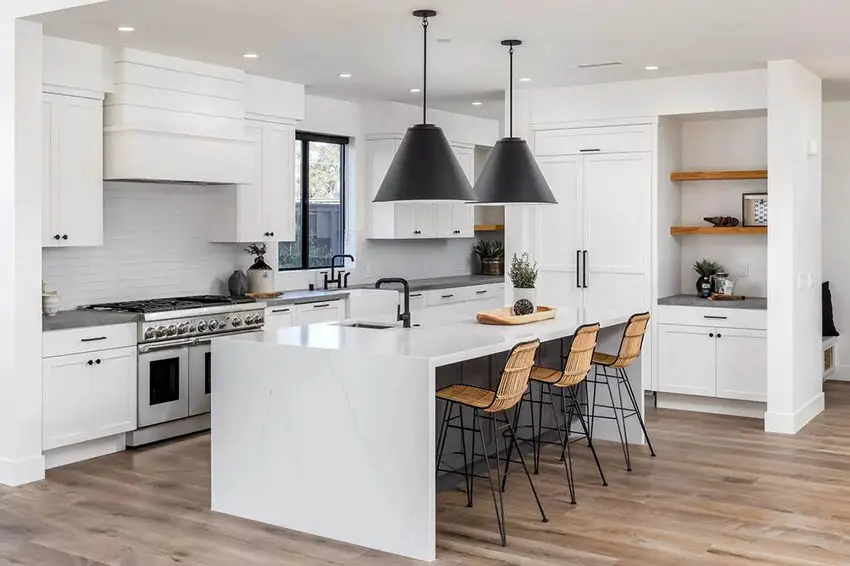 Kitchen island with seating and multiple ovens.
A kitchen with double ovens or those with an additional convection or steam oven can help when preparing multiple courses. Multiple ovens will allow one to prepare food more quickly and allows one to bake, steam, roast, grill or broil more than one thing at a time.
How to Set Up a Chef's Kitchen
There are a few basic ways that you can start to transform your kitchen into a chef's kitchen design. These are some of the tips you can handle right away even before you take on a time-consuming renovation.
First, clear off your kitchen countertops. While there are plenty of ways that you can use decorative items on your countertops, a chef generally wants as much work space as possible. So, keep additional decorations to a minimum.
Another thing you can do is to reorganize your kitchen so that the items and tools that you need the most are easy to access. One great way to do this is to hang your pots and pans on a rack above your workspace. This way, you only need to grab them when you need them rather than rifle through drawers and cabinets.
By keeping your drawers well organized without overcrowding you can easily find the utensil you need for the job at hand. Remove everything you don't need to use so that things are easy to spot when you need them. Try going for quality over quantity when determining which utensils and gadgets to keep. Only keep the things you use on a regular basis and remove the rest.
Unpacking your dry goods and storing them in containers can help you know what you have available. This makes it easier when its time to use them. In addition seeing what you have available makes it more effective before you go shopping and helps to avoid opening extra bags of items by mistake.
Keeping your ingredients handy whether in containers, a spice rack or jars can help you create a well organized space. While you're at it, organizing your refrigerator by category can be an effective time saver as well.
There are plenty of ways that you can transform your home kitchen into a kitchen worthy of a chef so that you can expand your skills and output. To help you visualize your own ideas there are many different kitchen cabinet design programs you can use to bring your designs to life.