In this fantasy brown granite guide we share what it is, if it's marble or not, the pros and cons, and the best types of fantasy brown granite finishes available.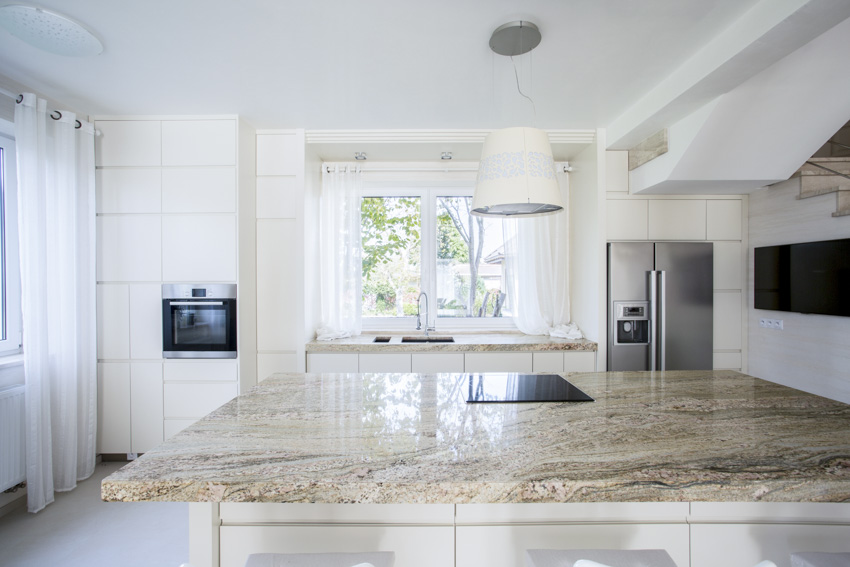 You have probably seen Fantasy Brown if you have gone to a large stone slab yard. Fantasy Brown is often recognized as the natural stone world's most stunning and widely known stone. It is becoming more popular due to its remarkable capability to combine both warm and cool tones.
Numerous slab yards will offer both dark and light Fantasy Brown variants, with the hue ranging from cold, sparkly veins to magnificent rivers of dark brown. Nevertheless, one question that clients who are looking for Fantasy Brown frequently ask is, "Is it really granite?"
In this in-depth guide about Fantasy Brown granite we will go over its descriptions, advantages, drawbacks, clarifications, and other important details so you can decide whether it is the right option for your home or not.
What Is Fantasy Brown Granite?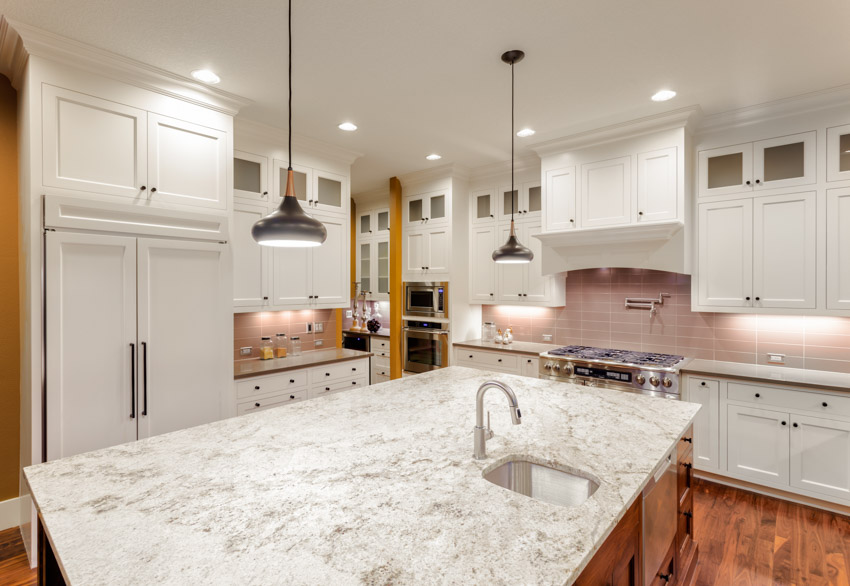 Fantasy Brown has always been in high demand around the world. It offers the exquisite appearance of brown marble yet the incredible longevity of granite. So there is no denying that it has decent resistance to chipping, scratching, and staining in comparison to traditional marble in most cases.
Moreover, Fantasy Brown is a quarried natural stone, which has been chopped into slabs. Fantasy Brown has the appearance and texture of a standard marble but with brown and sandy tones rather than just gray.
Fantasy Brown is available from various slab yards and manufacturers such as marble, granite, or quartzite. Nonetheless, this might be daunting for a homeowner attempting to do their homework and make a well-informed decision. Occasionally, the difficulty with Fantasy Brown is the persistent argument over what type of stone it really is.
Although it is uncommon for some strains of marble and quartzite to be confused with the naked human eye because of their similarities in patterns and colors, marble and granite are often considerably easier to identify.
In fact, Fantasy Brown is considered to fall under the marble category, not granite. We will expand on this answer below.
Is Fantasy Brown Marble Or Granite?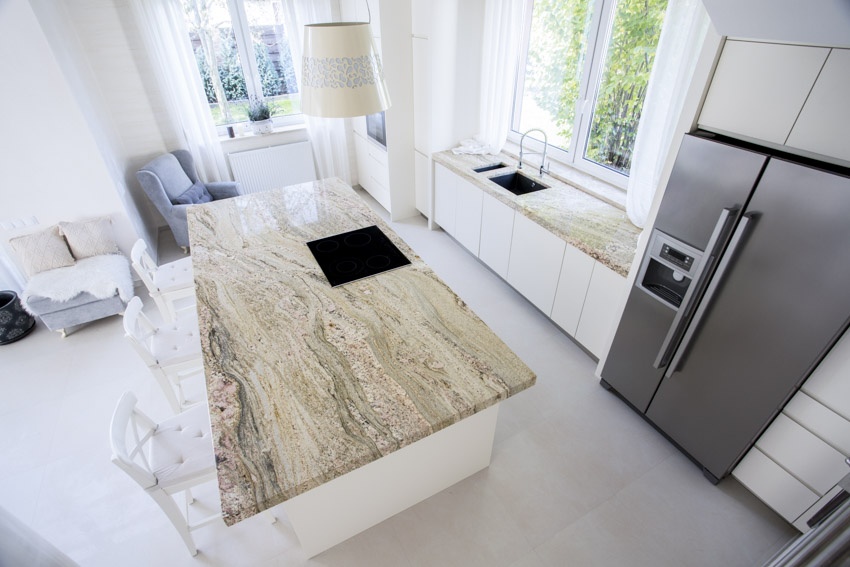 Fantasy Brown is neither granite nor solid quartzite. Fantasy Brown is a type of marble, but it is indeed much more than that. Because of the dolomitization procedure, Fantasy Brown is tougher than traditional marble.
To be more accurate, it should be called "dolomite" or "dolomitic marble." To keep things simple, it's also acceptable to call it "hard marble." Dolomite, the other name for Fantasy Brown as aforementioned, is a sedimentary natural stone created throughout time by magnesium-rich water. It holds several aesthetic qualities that are the same as marble including subtle, smooth veins and light tints.
Dolomite or Fantasy Brown slabs, on the other hand, are more long-lasting than pure marble in most situations and, if appropriately sealed and treated, will not stain or scratch as rapidly as marble surfaces.
Fantasy Brown is also sometimes labeled as "soft quartzite." But in actuality, "soft quartzite" or "hard quartzite" are not the ideal words to describe Fantasy Brown. Quartzite is merely quartzite, and it is constantly hard. Some slab yards developed the name "soft quartzite" to indicate that Fantasy Brown is tougher than traditional marble.
Fantasy Brown Marble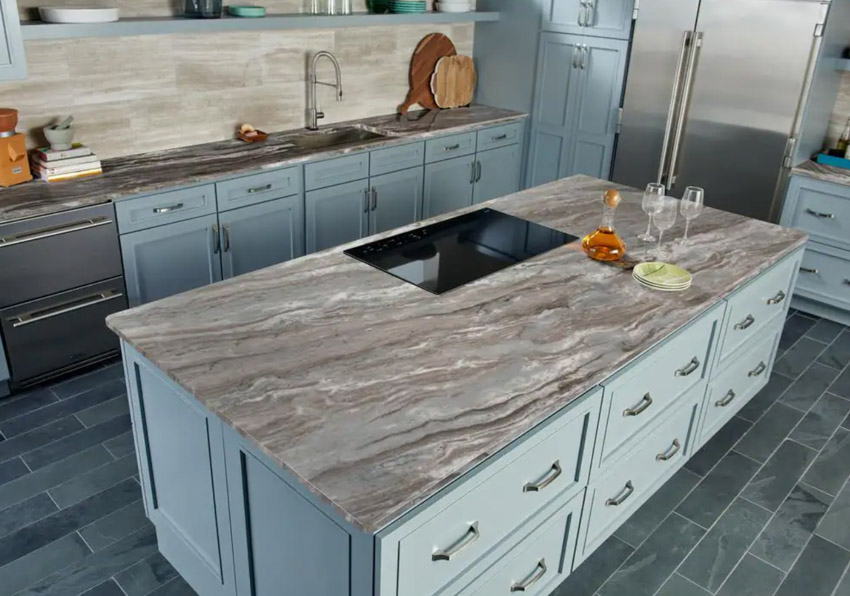 See this fantasy brown marble countertop at Home Depot [sponsored link]
Fantasy Brown Marble has a beautiful flowing pattern in silvery, peach, and chocolate tones. This sophisticated tile is made of beautiful natural marble that went through dolomitization, which gives it a distinct and attractive look.
Indeed, you can create gorgeous accent walls, floors, baths, and other architectural features with this material. Moreover, Fantasy Brown marble is among the most popular countertop materials right now, despite the fact that numerous homeowners choose quartzite or granite due to marble's tendency to stain or scratch.
However, Fantasy Brown marble is not a typical stone, and it is significantly harder than the traditional white marble employed in kitchens such as white Carrara marble.
Aside from that, Fantasy Brown marble includes smooth, diagonal lines of transparent gray and white with ripples of faint colors, making it an excellent option for homeowners seeking the appearance of marble but the longevity of quartzite.
The hue and design of Fantasy Brown marble may vary from source to source. Homeowners must make their ultimate decision only after inspecting the entire Fantasy Brown marble slab.
Fantasy Brown Stone Pros And Cons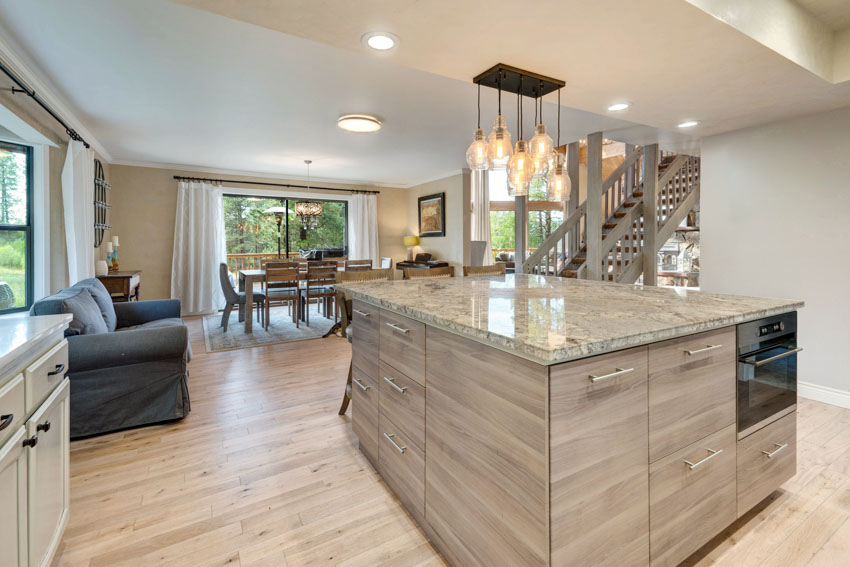 Here we share the advantages and disadvantages of fantasy brown stone.
Pros Of Fantasy Brown Stone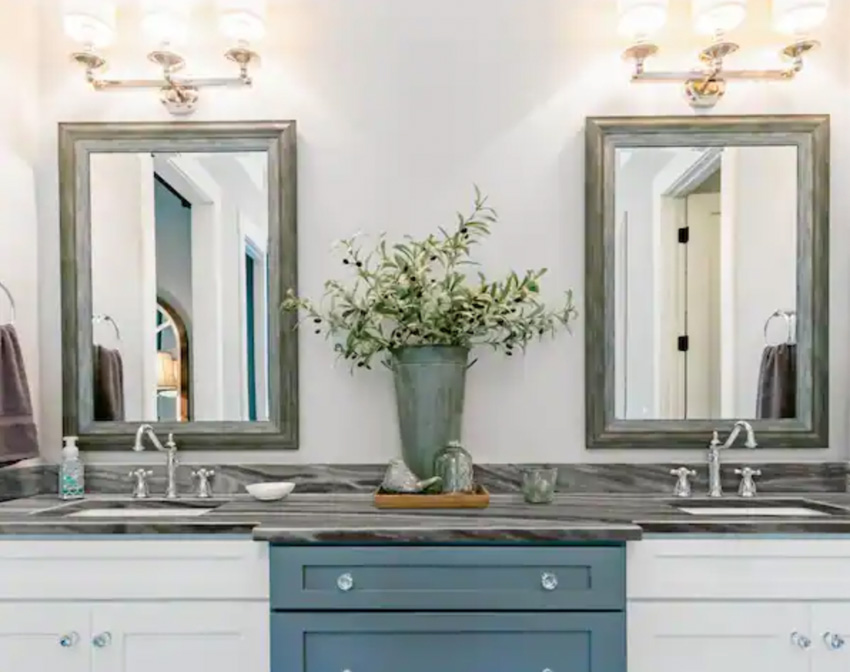 See this fantasy brown stone countertop at Home Depot [sponsored link]
Incredible Durability: In terms of kitchen durability, Fantasy Brown Marble is similar to quartzite. Many sellers describe it as quartzite so that purchasers could expect the stone's toughness and longevity.
Because of its durability, Fantasy Brown can be used in the kitchen without fear of being etched or stained. A Fantasy Brown slab will look brand new for many years if properly sealed.
Fantasy Brown is more resistant to wear than standard marble. That is presumably why many are amazed by this stone. However, customers must perform some research to determine whether the slab they are purchasing is genuine Fantasy Brown and originated from one of the levels of marble-like rock or stone similar to quartzite.
Luxurious and Versatile Appearance: Fantasy Brown's popularity is primarily due to its appearance. Other than Fantasy Brown, there are hardly any stones that give the flowing motion of marble in pleasant, neutral hues like ivory, sand, and brown.
Fantasy Brown has a color that complements a wide spectrum of décor, from modern to traditional. The delicate designs complement the natural appearance of light oak cabinets, deep mahogany-stained wood, along with a crisp white modern cabinet design.
Cost-Effective and Widely Available Stone Option: You do not have to be concerned about Fantasy Brown's stone classification as a buyer. Let the geologists deal with that. It is a well-known product for a cause.
It is long-lasting, appealing, and reasonably priced. For the vast majority, that will suffice for most types of kitchen countertops or bathroom counters. The availability of Fantasy Brown is impacted by its low cost.
Additionally, Fantasy Brown is produced in Northern India, where it is plentiful and straightforward to retrieve. There are practically hundreds of various types of natural stone on the market at the moment, and Fantasy Brown is constantly in high demand because of its numerous appealing qualities that will not degrade for many years to come.
Resistant to Heat and Can Retain Cool Temperature: Fantasy Brown stone is heat-resistant and retains cold temperature, making it impervious to cracking when a hot pan contacts it and ideal for spreading out heat-sensitive bread dough.
Cons Of Fantasy Brown Stone
Cannot Withstand Acidic Elements: Fantasy Brown stone can be damaged by acidic substances. Hence, as a general guideline for any genuine stone surface, you must simply avoid acids on the material's surface for any prolonged period.
If you spill wine, lime juice, vodka, vinegar, tomato sauce, or any other acidic substance, you should wipe it up immediately and you will have no issues. Granite, while tougher than marble, may also etch. Fantasy Brown should be cared for in the same way that you would with marble or granite countertops.
Can be Stained if Not Properly Maintained: Stains that are not immediately cleaned can permanently affect the appearance of Fantasy Brown stone. Thus, for instance, if your Fantasy Brown countertop gets stained, you should be able to wipe it down right away and not let the stain remain for many hours.
Will Not Remain Scratch-Resistant for a Long Time: Fantasy Brown stone can turn into a scratch-prone stone. On a positive note, it does not scratch as easily as traditional marble.
However, unlike granite counters, they will not stay scratch-resistant after several years. To hide any potential scratches, we suggest purchasing Fantasy Brown stone with a honed or leathered finish.
Fantasy Brown Countertops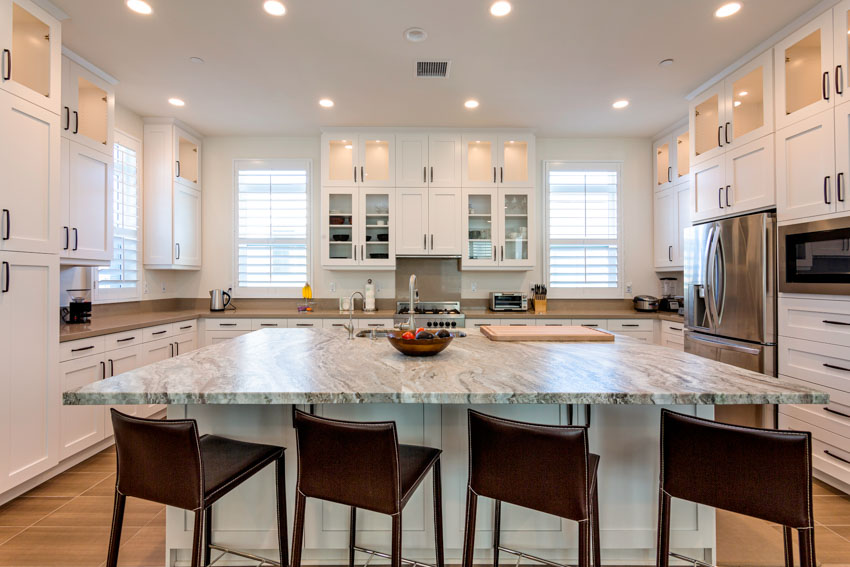 Fantasy Brown countertops are a great choice for busy kitchens since they are quite enduring stone that is also fairly affordable. It is one of the best natural soft quartzite materials for kitchen counters.
They are the toughest marble types in the marketplace, making them very desirable for people who desire a marble appearance but do not want the mild etching properties of most white marble materials.
Aside from that, fantasy Brown is a relatively flexible countertop that goes well with white cabinets, wooden cabinets, as well as a range of natural wood hues. Its attractive stone colors provides countertops with a distinct attraction that no other stone in the marketplace today can replicate. When polished, this countertop takes on a stunning brilliance and luster that cannot be rivaled.
Furthermore, this countertop material has spectacular patterns and characteristics that end up leaving many individuals in amazement. Fantasy Brown granite countertops are ideal for many kitchen renovations and home remodeling developments because no other stone on the planet offers such unique qualities.
Fantasy Brown Granite is normally a Level 1 or Level 2 natural stone, and the cost differs greatly depending on color, source, and durability. Usually, Fantasy Brown countertops will cost between $65 and $80 per square foot to set up.
This pricing will also vary based on where you live in the country, the quality of that specific set of slabs, as well as the distribution network at the time you purchase your countertops.
Fantasy Brown Finishes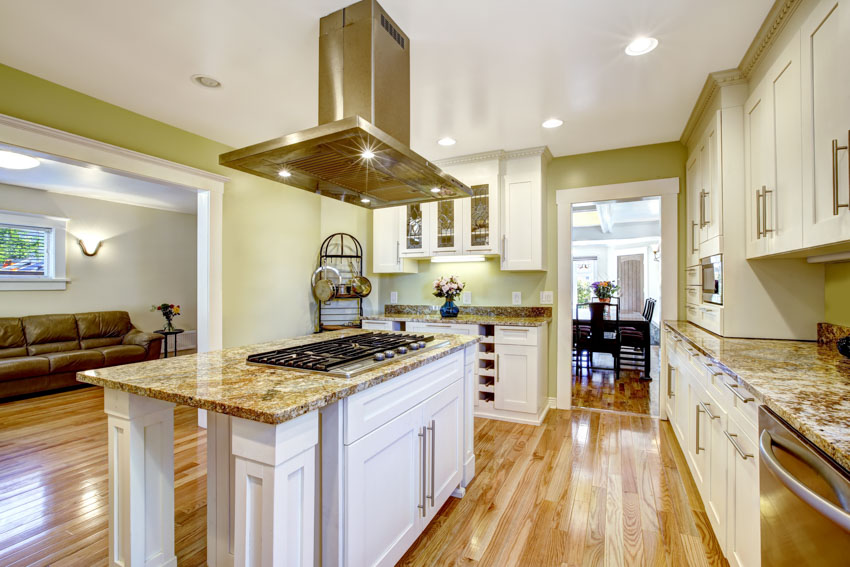 Polished Fantasy Brown: For Fantasy Brown countertops, polished is the most typical finish. The polished finish renders the Fantasy Brown stone countertop surface shiny and seemingly reflective. The qualities of the stone are accentuated with a polished finish. The tones and textures will be brighter.
The polished finish is indeed the simplest to clean; it is also simple to maintain polished finish countertops from appearing fresh and tidy. Furthermore, the polished surface seals the pores of the stone, keeping moisture and water out. Aside from keeping the Fantasy Brown stone pristine, polished Fantasy Brown requires resealing and refinishing.
Honed Fantasy Brown: A honed finish, also known as a matte or buffed stone finish, produces a very flat surface with no shine or reflection. To achieve this finish, the standard polish-finishing process is completed before the stone is sanded to provide a flat finish, also known as a satin finish.
Honed Fantasy Brown finishes are most common on floors to protect individuals from slipping on polished stone's slick surface. This treatment can be used on Fantasy Brown countertops as well, although it makes the material more vulnerable to stains.
Because honed Fantasy Brown is less slippery and stain-resistant than polished ones, it may need to be resealed more regularly. Nevertheless, you will not need to re-polish the stone.
Fantasy Brown Leathered Granite: Fantasy Brown Leathered Granite is a superb way to enjoy Fantasy Brown's in-depth elegance. It is a relatively recent style with plenty of marble layers. It is made by brushing diamond-tipped strokes over a honed surface to give roughness and minor grooves. Leathered finishes appear more classy.
Fantasy Brown leathered granite frequently retains the majority of the natural stone's appearance. It is also more stain-resistant than honed Fantasy Brown granite. The surface conceals watermarks, fingerprints, and smudges.
Fantasy Brown Kitchen Ideas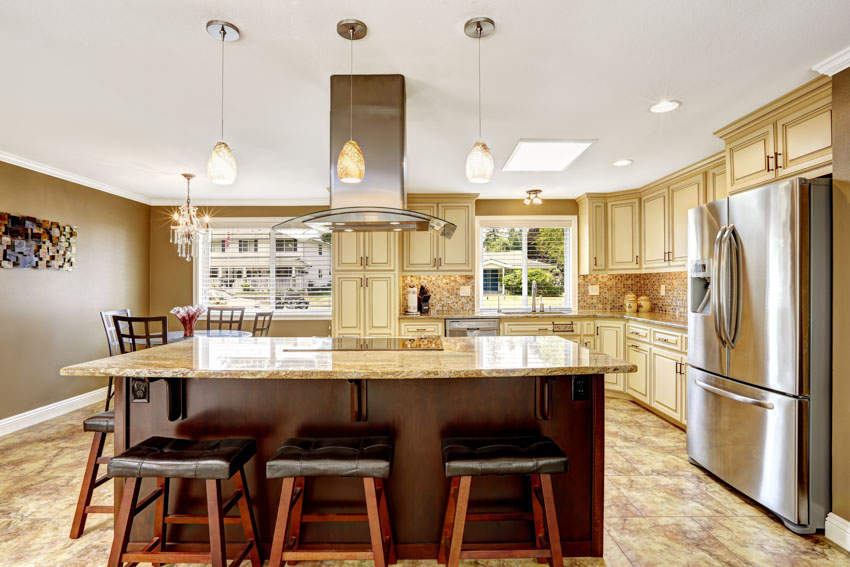 • Fantasy Brown granite usually has gray to brown swirls and subtle shading and therefore is predominantly white. It is indeed contemporary and ideal for modern-styled high-end kitchen designs. Use eased, double eased or straight countertop edges to achieve the modern look.

• Fantasy Brown can be combined with white cabinets and brickwork or mosaic tile. This kitchen design concept incorporates rustic interiors that complement the soft color palette and inviting décor.
• A modern look is achieved by combining Fantasy Brown with white cabinets and white marble tile. The white marble tile and cabinets give the kitchen area a bright and clean appearance. Fantasy Brown countertops are also a terrific way to integrate all of the design components together while adding a sense of warmth.
What Color Cabinets Go with Fantasy Brown Granite?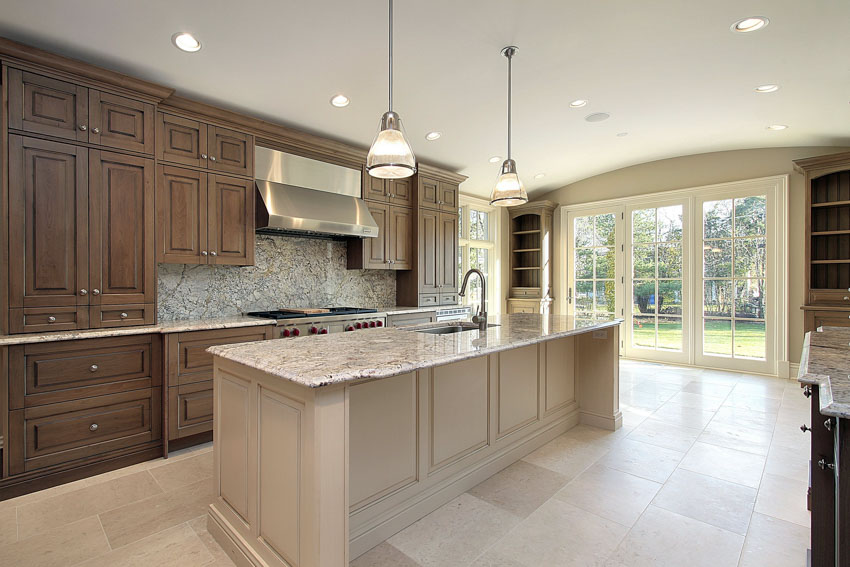 • Beige: Beige is an excellent hue to use in decorating because it adds a sense of comfort to the space. If you have a dark-toned countertop, this option would be fantastic. When paired with a light-colored cabinet, the beige cabinet will help highlight your Fantasy Brown countertop.
• Pale Green: If you are an admirer of green, you will never go wrong choosing your favorite hue as your cabinet color because green is a component of Fantasy Brown granite. Although all shades of green look amazing with Fantasy Brown, pale green is indeed a tremendous selection that looks exceptionally awesome with Fantasy Brown.
• Dark Brown: Another cabinet color to coordinate with your Fantasy Brown granite countertop includes dark brown. Although dark brown cabinets combine nicely with Fantasy Brown, you should aim to use a darker shade of brown to produce a contrasting impact in your kitchen with a lighter shade of Fantasy Brown.
Because your countertop is equally brown, matching it with a dark brown cabinet assists in integrating the two pieces together. This also aids in the selection of colors for other objects in the kitchen.
• Black: Black cabinets are widely known in modern-style kitchens and complement any countertop color, particularly Fantasy Brown granite selections. The deep, neutral tone is ideal for the kitchen because it obscures dirt effectively.
• Gray: Gray kitchen cabinets complement Fantasy Brown granite countertops beautifully. The two colors are neutrals that go nicely alongside any other color scheme. Nonetheless, charcoal, a darker shade of gray, is an excellent choice for kitchen cabinets to complement brown fantasy countertops elegantly.
Fantasy Brown Granite With White Cabinets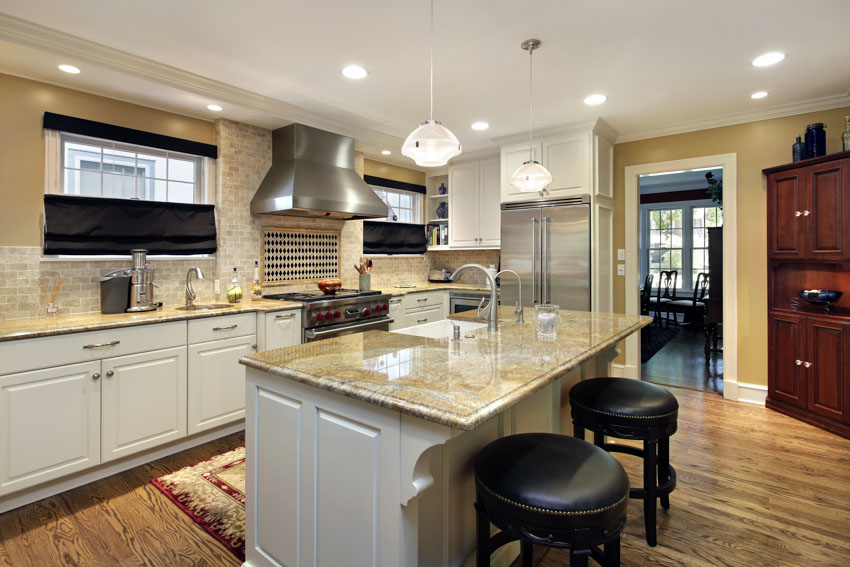 When selecting a cabinet color to accentuate Fantasy Brown granite countertops, white is always a safe bet. One of the most traditional kitchen color schemes is white and brown. Furthermore, because Fantasy Brown is a blend of white and a few other hues, white and Fantasy Brown go well together.
White is a good option since it makes the kitchen appear lighter, which is another factor. White makes a room appear brighter and larger. White is connected with cleanliness, purity, and serenity, which adds a lot of sophistication to your Fantasy Brown kitchen design.
Fantasy Brown Granite Coordinating Colors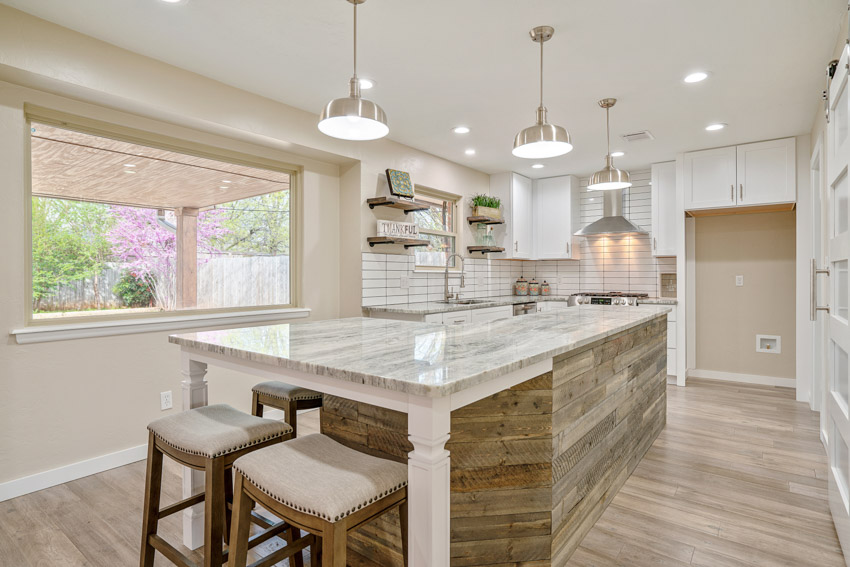 Soft neutrals such as white, beige, cream, tan, and light gray coordinate well with Fantasy Brown granite. If you want to deviate from neutrals, emerald and pale blue can be used as paint colors for kitchens with Fantasy Brown granite. Moreover, pastels are also an ideal choice, while dark green can work in some cases.
Backsplash Ideas For Fantasy Brown Granite Countertops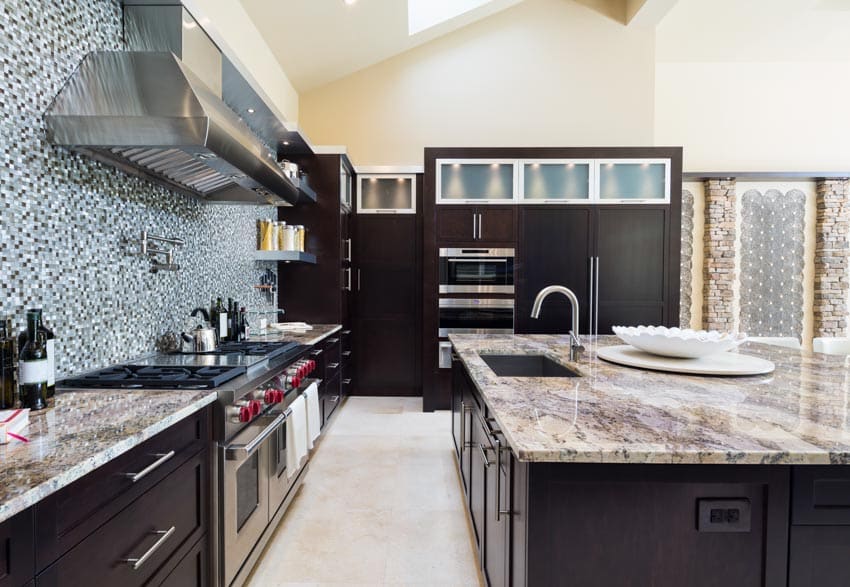 • You can keep your backsplash minimalistic and allow your Fantasy Brown to be the focal point of your kitchen. You can take into account installing an uncomplicatedly designed subway tile backsplash that complements one of your Fantasy Brown countertop's hues. However, the Fantasy Brown granite itself can also be used as a backsplash.
• Fantasy Brown is a fantastic complement for a simple earth-toned backsplash, with brown, gray, beige, and white tones, as well as peach hues.
• Fantasy Brown countertops look great with a brick or herringbone tile backsplash, and they look even greater with white kitchen cabinets.
• Hand-painted custom backsplash tiles or mosaic panels are also excellent choices for adding a sense of luxury when matched with Fantasy Brown.
• Fantasy Brown can also work very well with glass subway tile as it exudes a highly sophisticated and modern kitchen design. It will result in a stunning and big modern farmhouse-style kitchen.
See more related content in our article about the different ways to update your granite countertops on this page.