See our guide to kitchen island with range designs including different types of ranges such as gas, slide-in, cook tops, range with oven and a comparison between range and cooktops.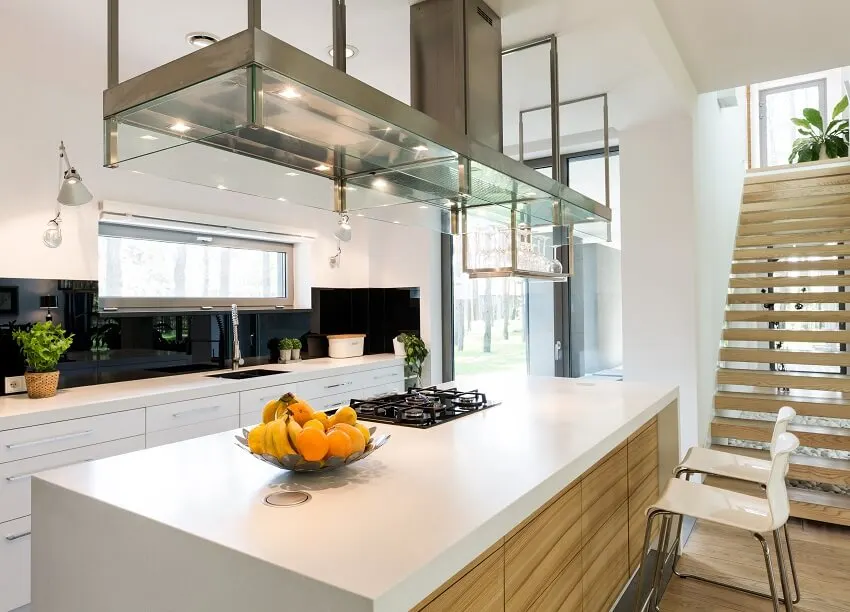 If you've been feeling banished to the stove, excluded from the hubbub of life moving around you as you cook, you've probably dreamed about moving your range to a kitchen island.
A range placed in a kitchen island creates a convenient prep station and cooking space. No longer will you have to turn your back on the day-to-day happenings and special moments that are happening while you cook.
This idea is popular for a reason, and it can be carried off successfully if you keep a few things in mind.
Island with Range Designs
If the kitchen island is a new addition to your home, make sure there is enough room to navigate around it while carrying a hot tray or casserole dish. Less than 36 inches of space between the island and other kitchen areas, and you'll feel the squeeze.
You will need appropriate ventilation and light to make the island usable as a food preparation space. Kitchen islands are a magnet for junk mail and other clutter. If it piles up or gets too close to the burners, this can easily become a fire hazard.
Designate another spot as the household drop-zone and clear that kitchen island countertop. Read more about guidelines for proper kitchen island sizes here.
Kitchen Island With Gas Range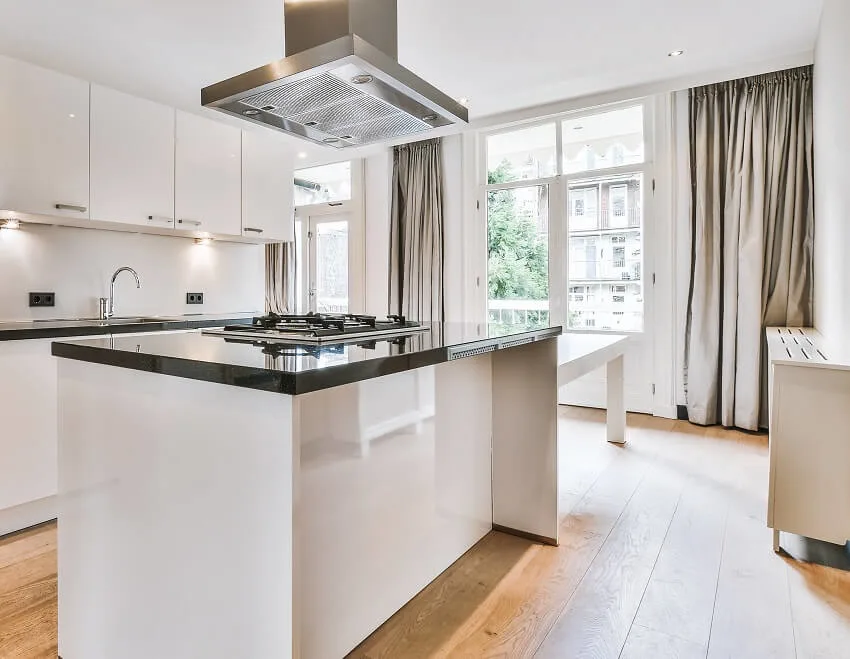 Gas ranges are popular among home cooking enthusiasts thanks to your precise and immediate control over your cooking heat.
When a gas range is installed against the wall, connecting it to the gas pipeline is easy. When you install a gas range in a kitchen island, you have to get more creative.
The supply of gas will need to be routed under the floor and up through the island, so installing a gas range in your kitchen island is a major renovation.
There are also safety considerations. You need appropriate clearance around the rangetop to ensure flames don't leap from the burners. You'll also need to install an appropriate ventilation hood, to carry away the fumes.
Kitchen Island With Slide-in Range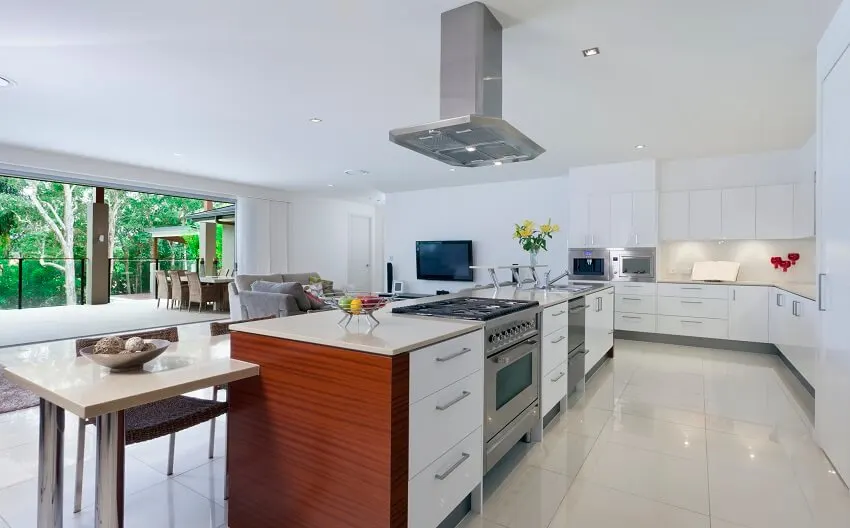 A slide-in or drop-in range integrates seamlessly into your kitchen countertop. There is no built-in backsplash, and the sides of the range extend slightly to rest on top of the counter.
Slide-in ranges are unobtrusive and blend into the area around them, making them perfect for inclusion in your kitchen island, thanks to their simple, well-integrated design
A slide-in range is preferable to a standalone range for two reasons. First, with a standalone range, there's always a small gap between the range top and the countertop. This creates a black hole where food can accumulate, and it's difficult to clean.
Second, your kitchen island looks best when it's all one continuous piece. A stand-alone stove interrupts the design by breaking up the countertop and covering the backsplash.
Kitchen Island With Range Top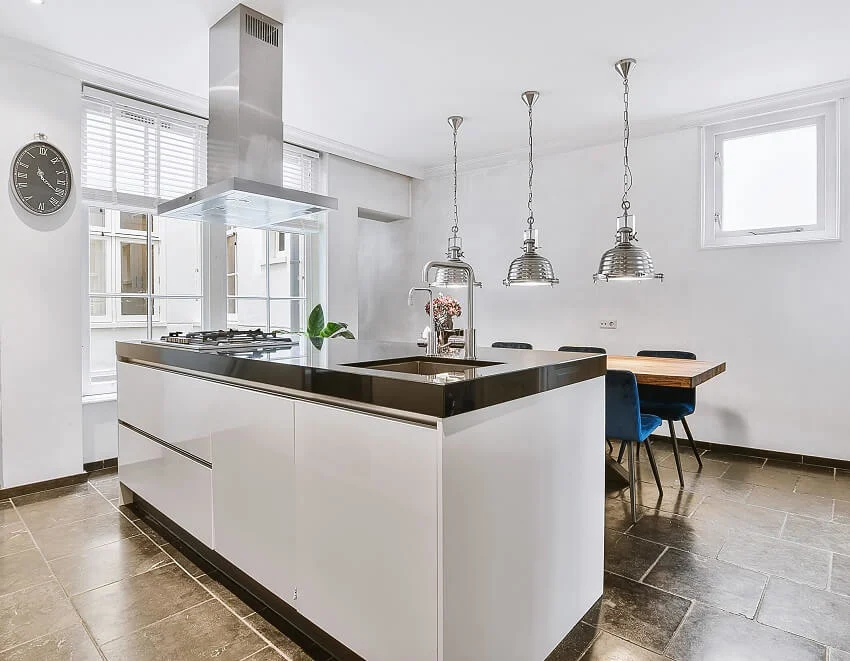 A range top, also called a cooktop or cooking surface, can be installed as a standalone cooking element. In this arrangement, a wall or floor-mounted oven is usually installed elsewhere in the room.
Standalone kitchen stoves or cooktops generate less heat than units that contain an oven, so their ventilation requirements are easier to meet.
Usually, cooking on a burner requires a lot more attention and active participation than using the oven. Placing your range in the island allows you to divide that attention more easily between your cooking and what's going on around you. Read more about types of cooktops here.
Kitchen Island With Range And Oven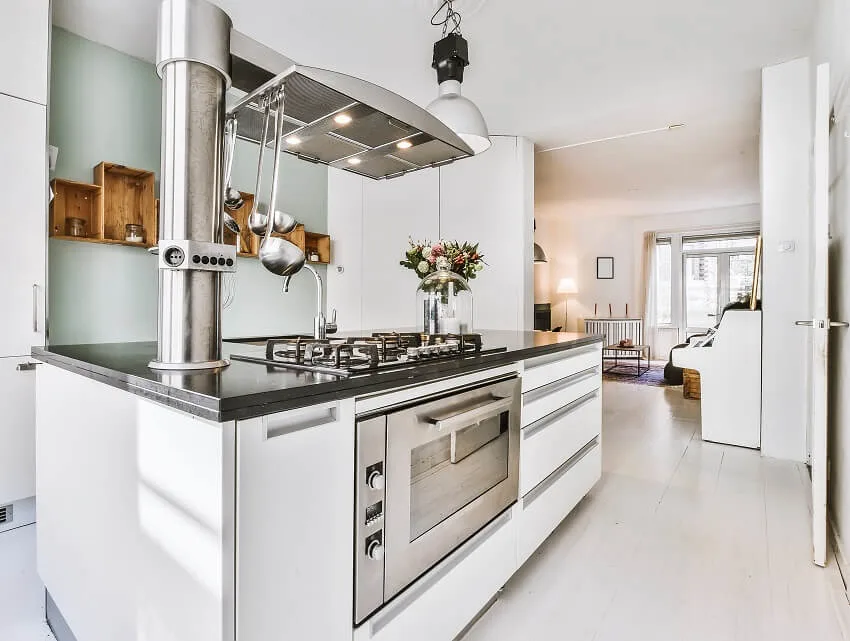 A range, by default, includes one oven. If you're a serious baker or want to cook big meals efficiently, you might have considered installing a second oven in your kitchen island.
To avoid overwhelming the island with appliances, make sure about two-thirds of the island is still usable as storage or extra seating.
Work with your contractor and electrician to ensure each oven is powered appropriately and safely. A kitchen island stove and oven can operate with a slide-in unit.
An important consideration is how you will collect smoke without a range hood. One option is to explore the installation of downward venting next to the cooktop.

Range vs Cooktop For A Kitchen Island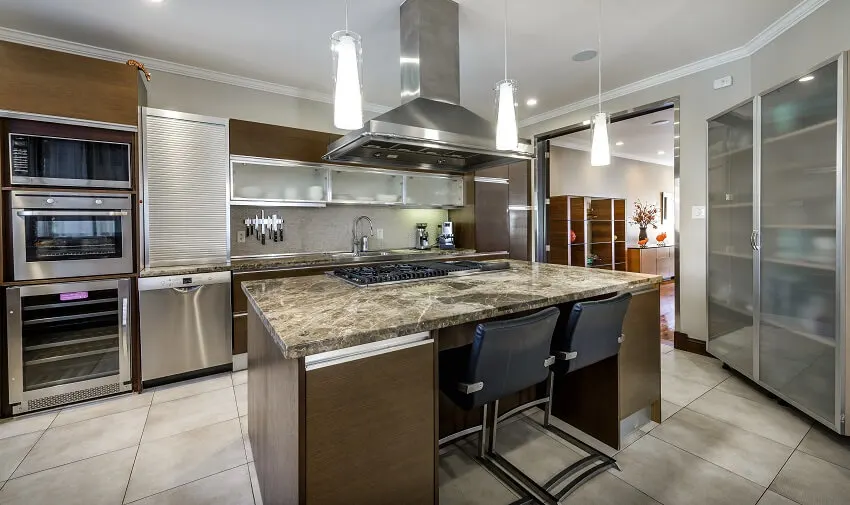 A range includes a cabinet-level oven, topped by a number of hobs or burners at the level of the countertop.
A cooktop does not include an oven.
If you install a range in your kitchen island, you will be able to access the oven and the stove simultaneously, eliminating unnecessary trips across the kitchen. See the types of kitchen islands here.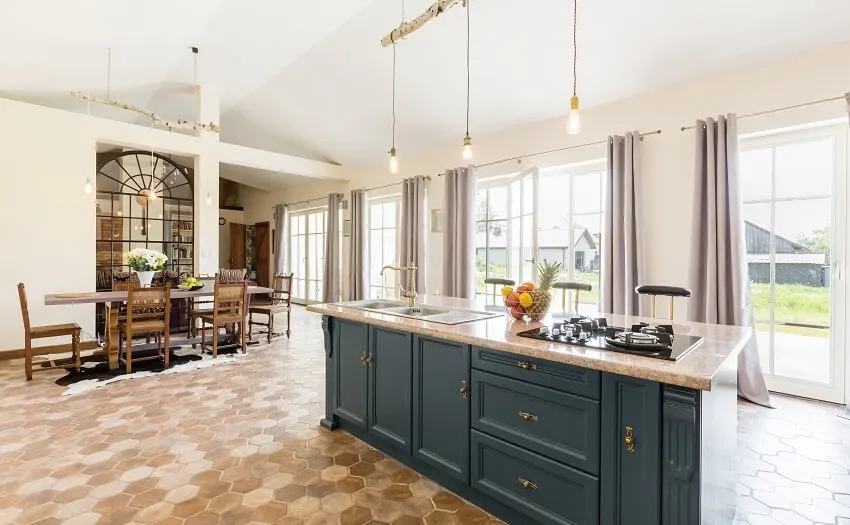 With a cooktop, you are able to use the space under the burners for cabinetry, retaining valuable storage space in your island.
Whether you opt for a range or a cooktop for your kitchen island really depends on how much you use the oven when you cook, and whether there are other viable places in your kitchen to insert a standalone oven.
Is It Better To Have A Sink Or Range In Island?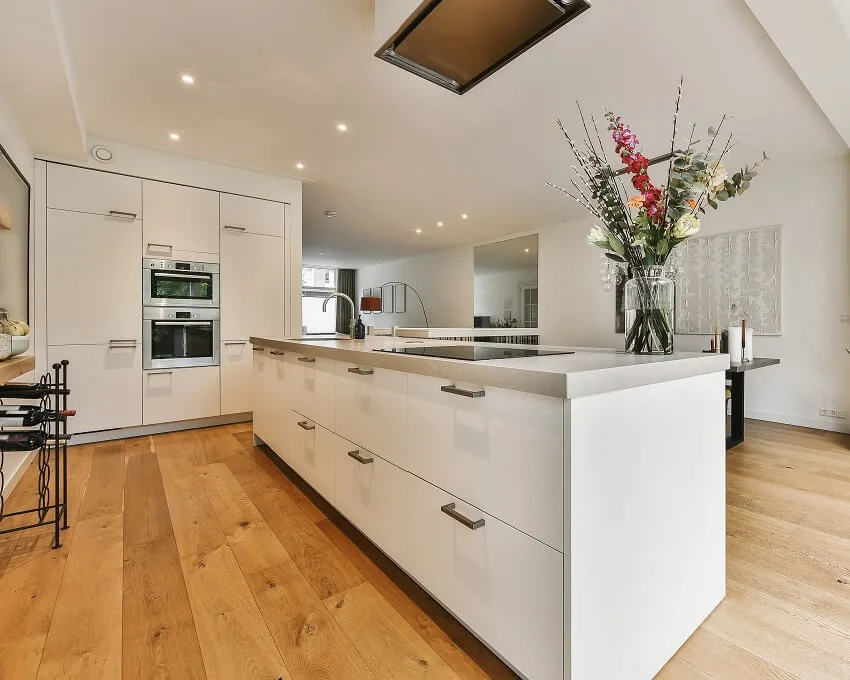 Whether to have a sink or a range installed in your kitchen is a matter of personal preference.
If your primary goal in installing a sink or range in your kitchen island is to improve your workflow in the kitchen, then by all means, choose a sink. Whatever works best for you.
But opt for the range if you're trying to make a more inclusive kitchen, where the person cooking can interact with guests and family members.
It's hard to hold a conversation over the sound of rushing water in the kitchen sink. And, a source of heat like a range needs to be watched over while it's in use.
Turning the range to face the room instead of the wall makes it easier for the meal preparer to see what's going on, interject in the conversation, and catch someone's eye to rope them into chopping potatoes.
Do I Need A Range Hood Over A Kitchen Island?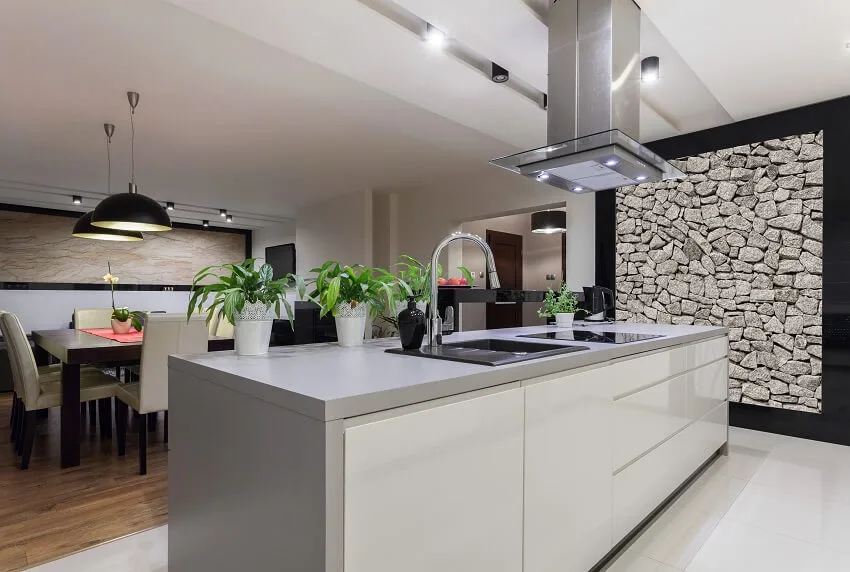 If you have a range in your kitchen island, you need a source of ventilation — in other words, a range hood.
It must draw in air at an appropriate height to catch the heat, steam, smoke, grease, and odors from your cooking and whisk them away. In other words, an extra vent in the floor or wall isn't a reasonable substitute.
If visibility is a concern, check out retractable range hoods. These useful devices are stored in the countertop, behind the range. They are raised only when needed. At less than a foot high, they are unlikely to impede your view.
Visit our guide to the differences between a stove vs oven for more related content.