Here's our microwave sizes guide, including over-the-range, built-in, different dimensions, and measurement tips to decide which is best for your needs.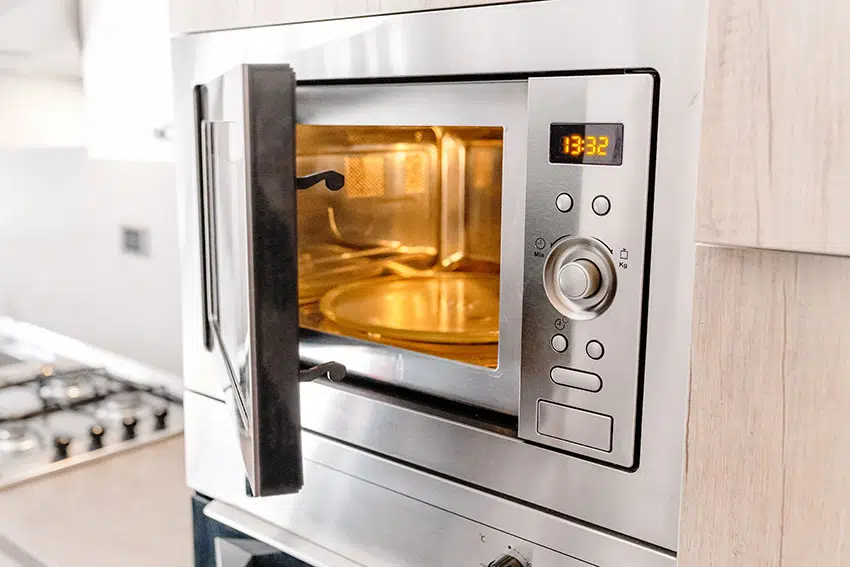 Microwaves are a quick way to heat and cook food using electromagnetic radiation. They are helpful and efficient, especially for people on the go.
Here, we talk about the different sizes and dimensions microwaves come in to guide you in deciding what appliance you need for your home. Ready? Keep reading.
Standard Microwave Size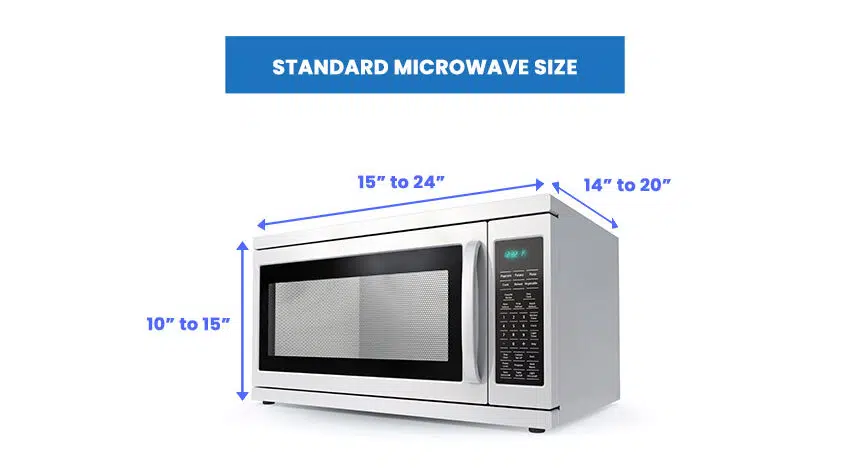 When choosing your next standard countertop microwave, there are two measurements you need to consider.
First is the external measurement; these dimensions will give you a general idea of how much countertop space your future appliance will cover. This measurement will also be helpful, especially if you're looking for a product with a specific dimension to fit your available space.
The second measurement is the internal space or how much your device can take in. This is measured in cubic feet.
Countertop microwave sizes are conveniently the same across the boards. The standard microwave size brands usually offer has an internal measurement ranging from 0.5 cubic feet to 2.0 cubic feet and over.
The exterior measurements could vary between 15 to 24 inches or 38.1 to 60.96 centimeters in width. The depth of your microwave is also vital because knowing it will assure you that you will have enough space for when it is opened.
Depths for standard microwaves fall between 14 to 20 inches or 35.56 to 50.8 centimeters when the door is closed and a depth of 27 to 39 inches or 68.58 to 99.06 for a full swing-out.
Different Microwave Dimensions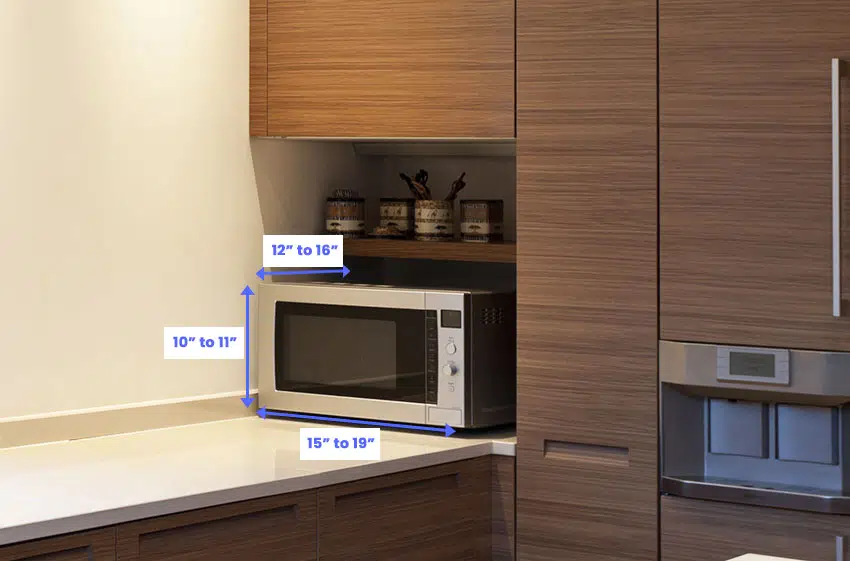 There are different countertop microwave sizes, and some fit in smaller kitchens, while there are also models with bigger internal capacity.
Smaller microwaves for compact kitchen needs are perfect for college dormitories or apartments with limited kitchen counter space; the internal capacity ranges from 0.5 to 0.9 cu ft.
The external dimensions can have a width of 15 to 19 inches or 38.1 to 48.26 centimeters, a height from top to bottom of 10 to 11 inches or 25.4 to 27.94 centimeters, and a depth of 12 to 16 inches or 30.48 to 40.64 centimeters when closed while 23 to 30 inches or 58.42 to 76.2 centimeters when opened.
There are also larger microwaves with an internal capacity of 1.0 cu ft. to 2.2 cu ft. for larger ones. Larger microwave width can range from 21 to 25 inches or 53.34 to 63.5 centimeters, and a height of 12 to 15 inches, or 30.48 to 38.1 centimeters.
They can have closed-door depths of 16 to 20 inches or 40.64 to 50.8 centimeters and an open-door depth that ranges from 34 to 39 inches or 86.36 to 99.06 centimeters.
Over the Range Microwave Sizes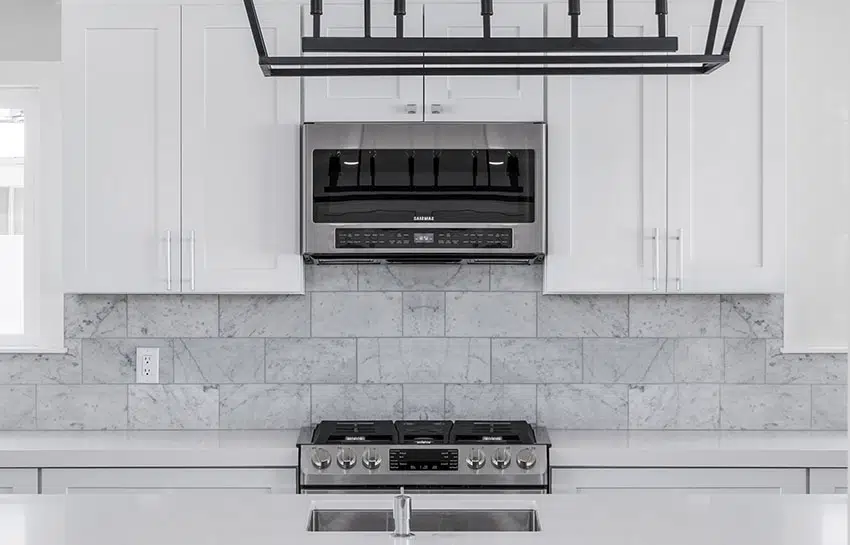 An over-the-range microwave can be affixed over your stove and installed as a part of your kitchen cupboards. Over-the-range microwaves will make your kitchen look clean and stationary, especially if you go for a matching stovetop and over-the-range combo.
They have a higher price tag overall, but they also come with exhaust fans that will help get rid of smoke or steam from the stovetop below.
Wall-mounted microwave ovens should be installed at least 14″ to 16″ above the range cooktop to ensure adequate clearance for cooking items below.
If you have a pot filler faucet, you must carefully consider the pot size you'll be filling and plan to add several inches to make it easier to add and remove.
Are All Over The Range Microwaves The Same Size?
Over-the-range microwaves come in a variety of sizes and dimensions, but the usual interior capacity ranges from 0.8 to 2.1 cubic feet.
Low profile over-the-range microwaves have a shorter height from top to bottom and usually have an internal capacity of 1 cu ft. Over-the-range microwaves can have a width to match the oven range below, usually 30 inches or 76.2 centimeters.
There are also smaller over-the-range microwaves with widths of 24 inches or 60.96 centimeters, although rare.
Over-the-range microwave's height usually stands from top to bottom of about 17 inches or 43.18 centimeters, and low profile over-the-range devices come in the height of about 10 inches or 25.4 centimeters.
Over-the-range models have a closed-door depth of about 15 to 18 inches or 38.1 to 45.72 centimeters. When opened, over-the-range appliances have a depth of 42 to 45 inches or 106.68 to 114.3 centimeters.
Standard Microwave Size Over Range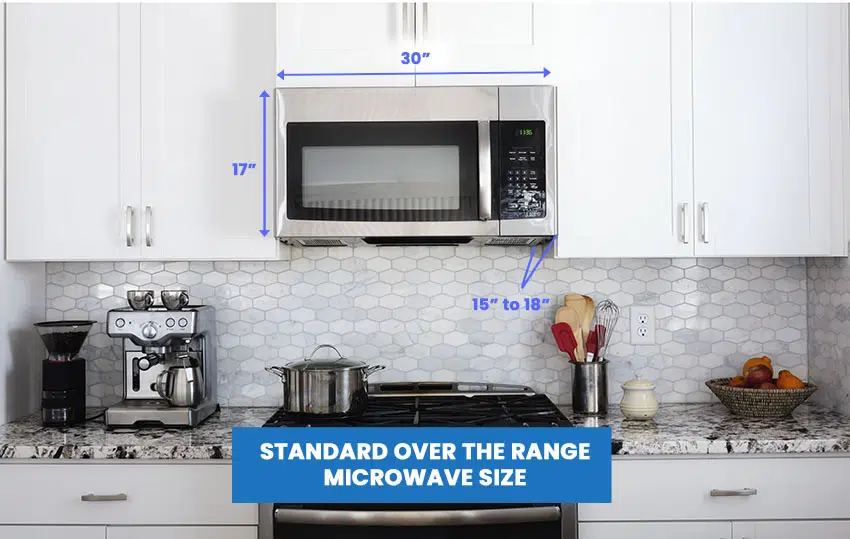 Standard Over-the-range microwaves have dimensions of 30 inches or 76.2 centimeters in width, a height from top to bottom of 17 inches or 43.18 centimeters, and a depth of 15 to 18 inches or 38.1 to 45.72 centimeters.
Built-in Microwave Sizes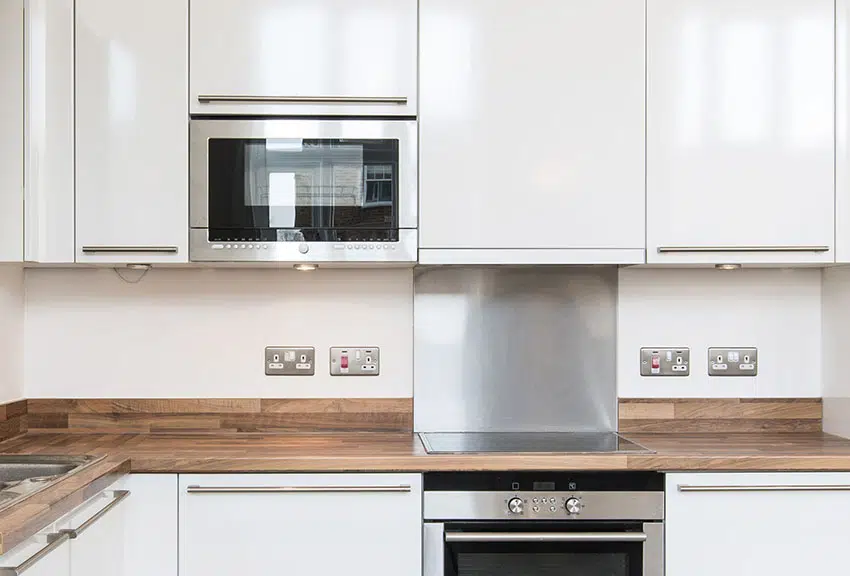 Built-in microwaves are constructed to fit in the wall or surrounded by overhead cabinetry. This will allow for more counter space and add to the overall aesthetics of your kitchen. Built-in appliances can open from the side, but they can also be pulled down like an oven.
The internal capacity of the built-in microwave ranges anywhere from 1.0 to 2.2 cu ft. It can have widths of 24, 27 to 30 inches or 60.96, 68.58 to 76.2 centimeters, and a height extending from 17 to 22 inches or 43.18 to 55.88.
The depths for closed-door and open-door built-in appliances range from 20 to 25 inches or 50.8 to 63.5 centimeters and 30 to 35 inches or 76.2 to 88.9 centimeters, respectively.
Microwave Cabinet Size
You need to take note of a few specific measurements, especially if you are looking to install an over-the-range or a built-in microwave for your kitchen.
First the minimum distance between the stovetop and the bottom of your microwave should be at least 30 inches; this will allow a variety of pots for you to utilize in cooking.
The cabinet width is 30 inches, no more or less. The depth of the cabinet should be enough for you to open and close your microwave easily; this could range from 12 to 16 inches.
The height of your cabinet is 17 inches on average; you can adjust depending on how tall your oven is. Go to our kitchen cabinet dimensions for more in-depth guide.
What Size Microwave Do I Need?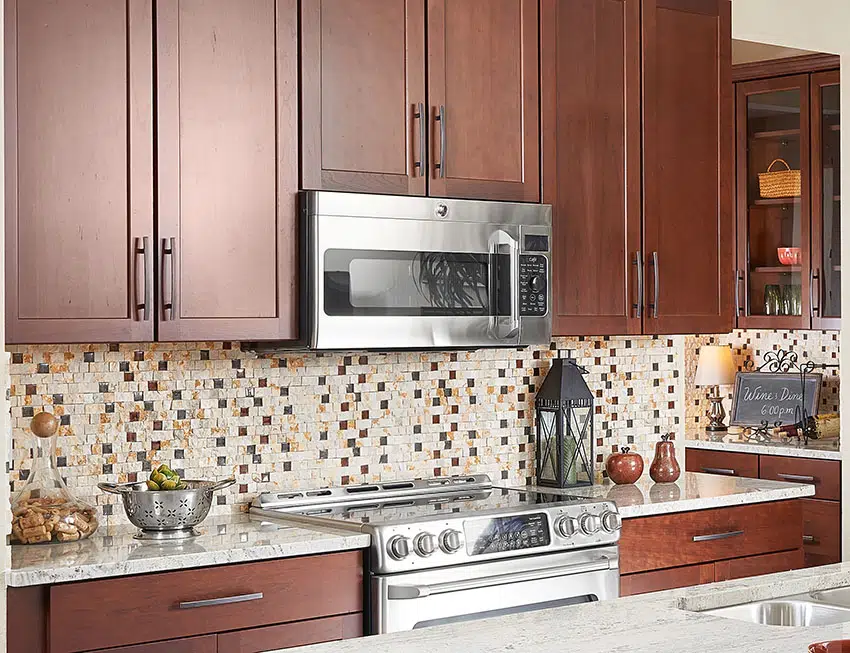 You can have any microwave appliances you want just as long as you have the counter space or the cabinet space for it. Luckily, there are varieties available to fit your needs, whether you are buying one for your apartment or buying one to help with meal preparation for a big family.
A microwave is often selected based on the number of people in the household. For instance, if you use it to prepare food for 2 to 3 people, a small device should do the trick (18 to 20 liters). Keep in mind that smaller appliances often do not have room on their turntables for large dinner plates.
Larger families with 4 to 6 people will require a larger model capacities (such as a 25- 30-liter unit.) Another consideration is wattage. Most microwaves have a wattage of 600 to 1200.
Select a larger wattage appliance if you will be cooking larger quantities of food at a time to cut down on cook times.
Visit our steam oven vs microwave comparison guide for more related content.