Below we share our types of microwaves buying guide including popular models, design features, sizes, wattage, cooking benefits, and microwave venting.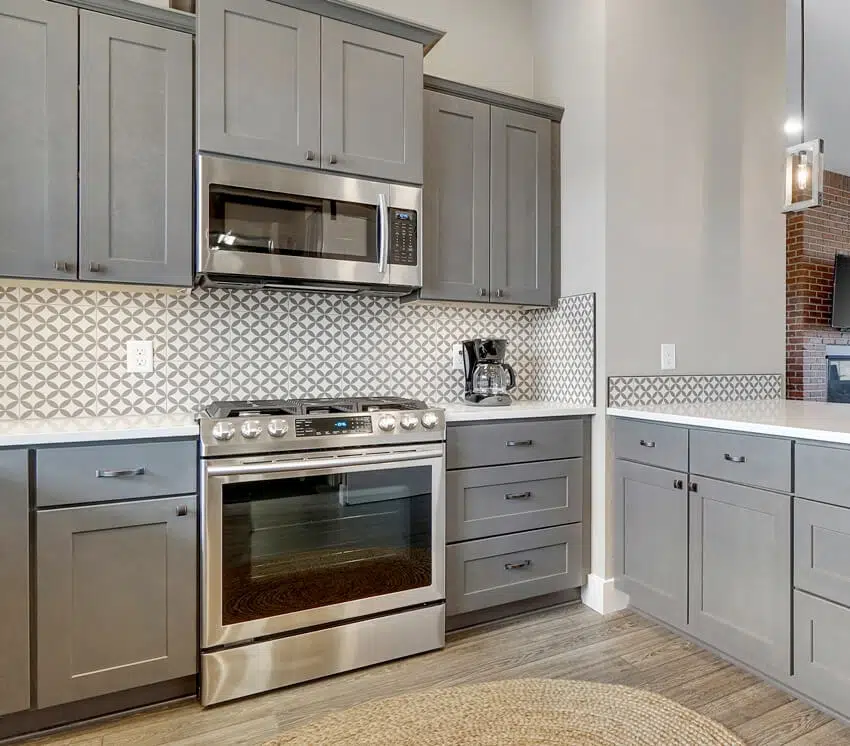 Ever since the days of first reheating meals, making mac and cheese, or warming hot chocolate, the microwave has evolved significantly. Indeed, your microwave to this day is a reliable appliance for these daily kitchen activities.
However, this relatively compact appliance has been developed to provide much more, such as thawing frozen meat, cooking popcorn, and many others. Furthermore, microwaves are a common kitchen appliance but with numerous key purposes.

Microwaves focus on providing immediate heat through an electromagnetic radiation system in which the unit controls heat energy directly to the substances within your food. Choosing the appropriate one can open new cooking possibilities and even offer increased oven space.
In this article, you will see the types of microwaves, their advantages, and what to look for when selecting the microwave that is best for your kitchen needs as well as your preferred cooking manner.
Over The Range Microwave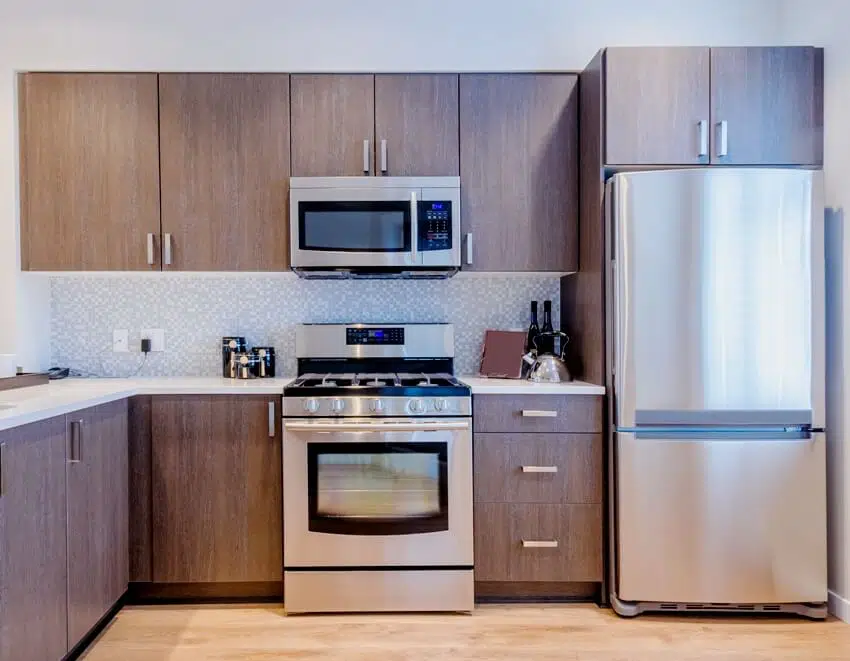 Over-the-range types of microwave, also known as microwave-hood configurations, take your microwave off of your countertop, otherwise positioning it above the range. Microwaves positioned above the range also function as a vent hood that helps in clearing smoke and stink from the airspace.
These over-the-range microwaves save the countertop area by neatly installing between the cabinets over the range or stovetop, allowing you to perform all of your meal preparation in one area.
These microwaves frequently have ventilation and come in types that either blow air outside of your house or purify and recirculate air back into your kitchen. These microwave types often have two forms of filters: a charcoal filter that eliminates smells and a grease filter that aids in air purification. Furthermore, these microwaves are available in a variety of sizes.
In addition, because over-the-range microwaves are installed above the cooktop, they are at eye height. Hence, you will not have to bend over to heat meals or drinks in your microwave.
Unfortunately, children and shorter grownups might have difficulty accessing them and might end up spilling their hot meal or drink. However, if you are taller or suffer from back problems, an over-the-range microwave that rests properly at eye height may be preferred.
Lastly, when selecting an over-the-range microwave, you have to be certain that the color or finish complements your oven. This is to ensure a visually appealing kitchen décor.
Built In Microwave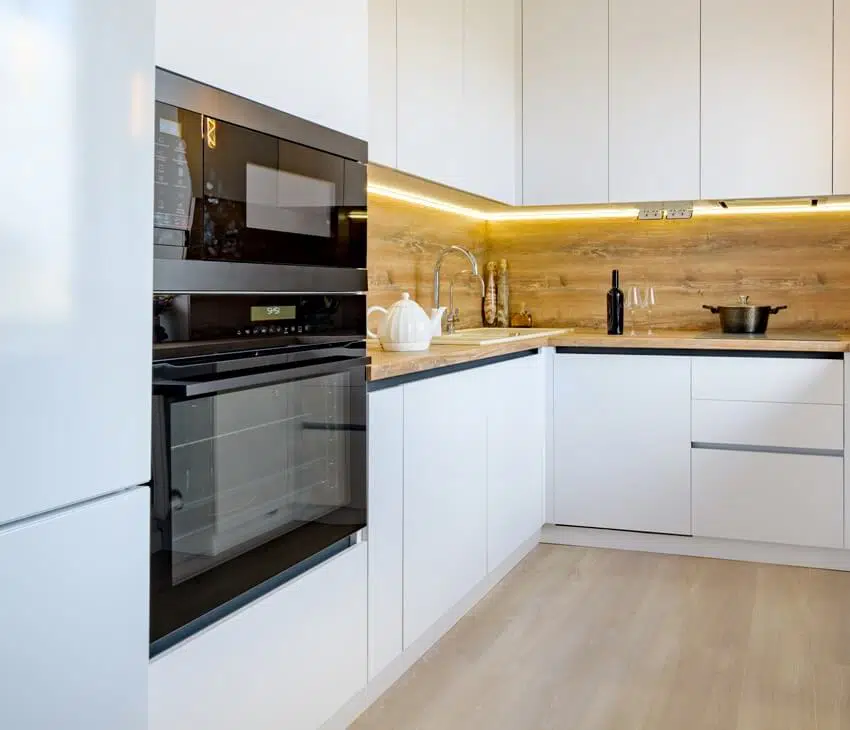 Built-in microwave ovens are constructed neatly into pre-existing storage cabinets for a unique appearance that blends in with your kitchen's décor. They can be positioned in a multitude of positions across the kitchen, but are most found over a wall oven, allowing seamless transitioning between your microwave and oven.
A built-in microwave can also be a standardized hybrid of a wall oven and a microwave that can help you create multi-course meals while also integrating with your kitchen workflow. For easy access, built-in microwaves have doors you can open from their front just like an oven, instead of the side.
Moreover, built-in microwaves frequently include high-end options that complete a luxurious aesthetic appeal. These microwaves save room in the kitchen and come in a variety of sizes and wattage outputs, making it simpler to find the appropriate match for your family's preferred recipes.
Built-in microwaves can also be placed efficiently in other areas of the kitchen, such as beneath the countertop in a drawer configuration.
The most significant perk of a built-in microwave is the amount of counter space it frees up. Numerous homeowners complain that there is no sufficient counter space, especially if they have a small kitchen. Fortunately, this type of microwave can help you maximize your kitchen space.
Microwave Drawer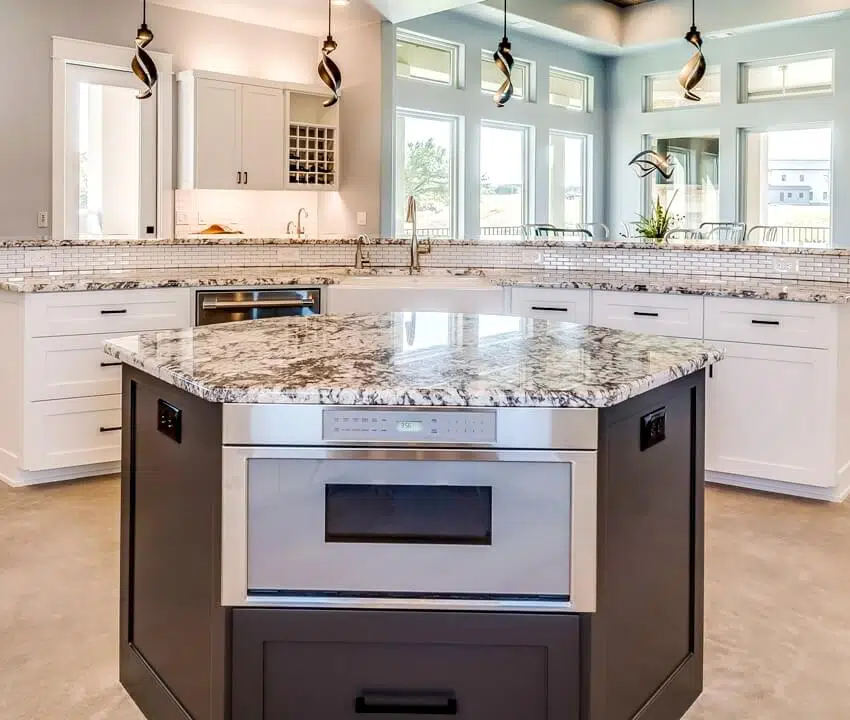 Microwave drawers are great for open kitchen layouts as well as islands. Mounting solutions such as under-counter and in-wall save counter space for kitchen supplies and meal assembly. Furthermore, its top access allows you to manage and mix ingredients without having to remove the dish from the microwave.
In addition, microwave drawers are typically, but not all the time, mounted at waist height because they are easily reachable and, if you do not want a lot of direct focus on your microwave, you will not have any problems as they are very inconspicuous.
Not like a standard microwave door that opens to the side, a drawer microwave can normally be opened by simply sliding the microwave out.
The waist-height form of these devices makes them more accessible, and most models incorporate reliable locking mechanisms. They have a more luxurious feel, but they are often more expensive than the countertop and built-in versions.
Countertop Microwave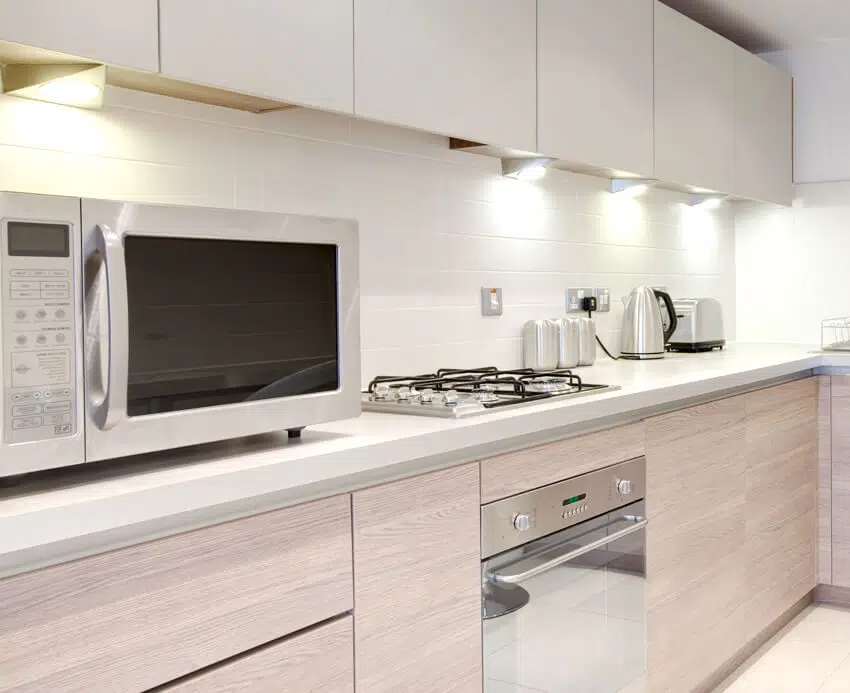 A countertop microwave can offer convenient access to exactly where most of the cooking takes place—the countertop. Its setup is as simple as it can get as all they require is an outlet as well as a firm and flat surface.
You can even bring them with you if you wish to relocate. With an extra trim package, countertop microwaves can also be fitted in cabinets, similar to built-in microwave types. These standalone microwaves are extremely easy to configure and use, as they merely sit on your kitchen countertop.
Although they may thrive for counter space with some of your other kitchen equipment, countertop microwaves can provide the most versatility and are simple to move around the kitchen as needed. Plus, you can find low-cost but high-quality countertop microwaves on the market.
Convection Microwave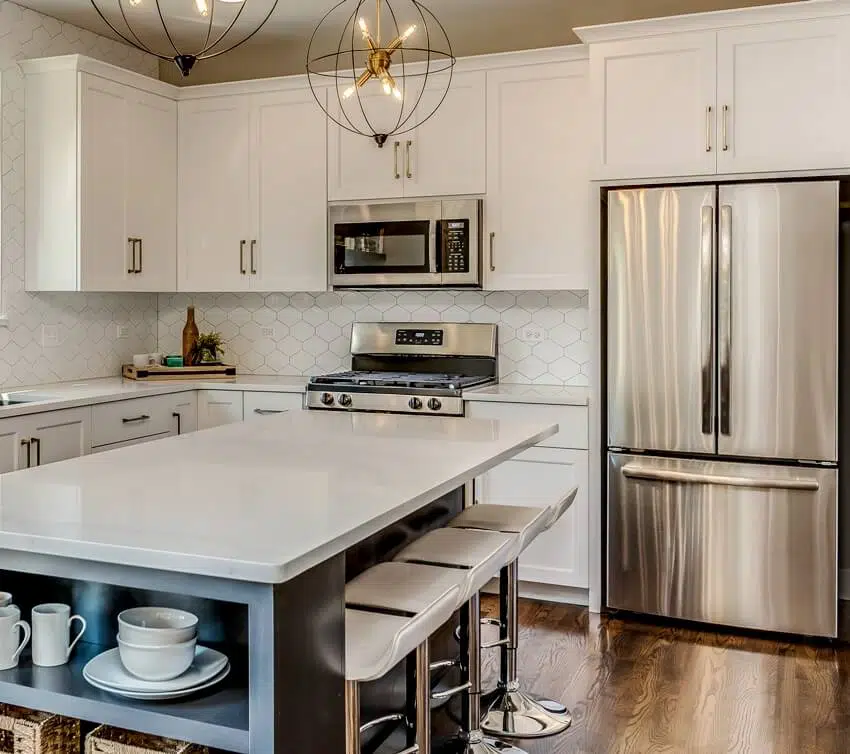 Convection microwaves combine the functions of a microwave and a convection oven, giving you the perfect balance and ideal meal-prepping experience for your household's culinary preferences.
A convection microwave oven, like a convection oven, has an oven-like heat source with a blower that disperses heat all across the machine, making roasting as well as baking possible to be done in your microwave.
Such microwaves provide quick cooking periods, consistent cooking with convection modes, and a range of other essential applications. Convection microwaves freely allow you to bake, broil, and roast in the same way that a full-sized convection oven could.
Convection heating is available in all types of microwaves, including built-in, countertop, under-counter, and over-the-range microwave models.
Moreover, convection microwaves are often small in size, rendering them an excellent complement to your studio apartment and kitchenettes. Lots of cooking enthusiasts love using this type of microwave as it helps them avert circumstances that might result in portions of the meal being overcooked or undercooked.
Microwave Oven Combo
Microwave oven combo types are indeed cost-efficient and modernized, integrating the dependability of classic convection cooking with the exceptional expediency of the microwave.
Such appliances, which significantly decrease cooking times without losing quality outcomes, are ideal for fulfilling the fast-paced necessities of modern cooking methods.
Furthermore, these microwave oven combos employ microwave energy in the same way as standard microwaves do, yet with the extra advantage of blown heated air, making baking, broiling, grilling, as well as roasting simpler and faster than ever before, with convection heated air providing the ideal browned finishing.
You can also add the steaming feature to the package, and you have unrivaled adaptability in a single device that is a quarter of the size of a full-size gas- or electric-powered oven.
Mini Microwave
See this mini digital microwave at Amazon [sponsored post]
These mini microwaves are a delight for homeowners and renters with limited space because they are a fraction of the size while preserving all of the functions that render a microwave a must-have kitchen appliance after the refrigerator.
If you are preparing meals in a small kitchen or dormitory bedroom, or simply want to save some space, a mini microwave would be the ideal option. Although most mini microwave ovens are roughly 16 inches wide, there are others that are significantly smaller.
Mini microwaves contain all of the amazing features of full-sized devices but in a smaller, more handy form. Check out more essential small kitchen appliances here.
Low Profile Microwave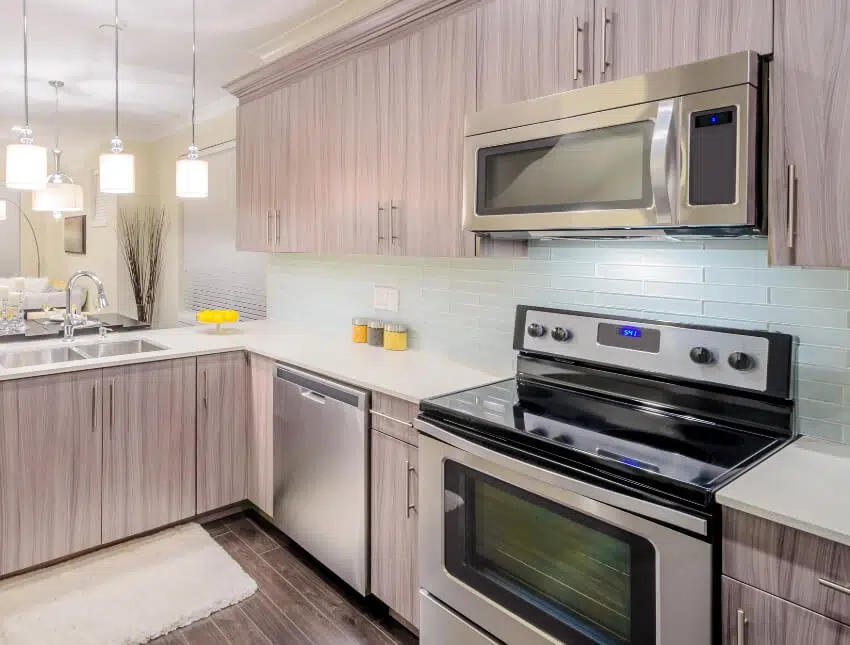 A low-profile microwave is a type of microwave that has a low-profile construction. This essential kitchen appliance is low-maintenance and is around 10 to 10 inches tall, which is 6 to 7 inches shorter than a standard over-the-range microwave.
Because of the 90-degree hinge, this type of microwave is simple to construct and mount close to a wall. It also usually features a scratch-resistant covering that resists markings and smudges while also being simple to maintain.
One of the most significant advantages of a low-profile microwave is its practicality. These microwaves provide a variety of useful functions. Because of their ergonomic form, they can be a very ideal solution for your food preparation style.
They also come in a variety of sizes and capacities. Countertops, over-the-range versions, and built-in versions are among the obtainable options.
Low-profile microwaves are normally shorter yet wider than conventional microwaves. They are also suitable with under-cabinet range hoods due to this functionality.
The height of the installation should be at least 24 inches. Tall plates and dishes, as well as wine glasses, can also be stored in these.
Microwave Air Fryer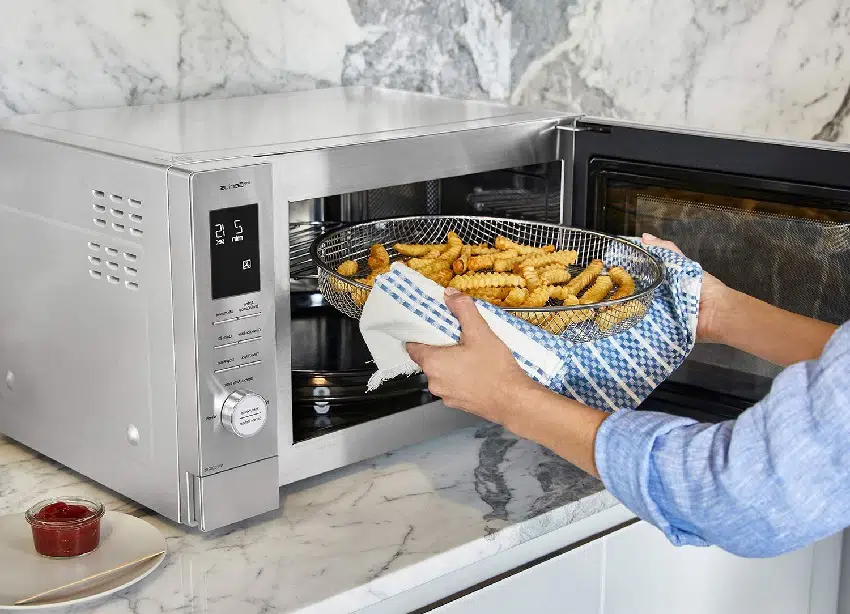 See this microwave oven with air fryer at Amazon [sponsored post]
A microwave air fryer is a compact kitchen appliance that prepares food by circling it with heated air. This method warms the meal and eliminates extra oil without using a lot of energy. It is a healthy culinary choice because it uses minimal to zero oil.
A complete meal, like chicken wings, steaks, or veggies, takes roughly 15 to 20 minutes to cook inside the microwave air fryer. This takes less time than a conventional fryer or oven. There is no need for preheating and the food browns and cooks faster than in the majority of ovens.
The exterior part of an air fryer microwave is somewhat different from a regular microwave in that the door can be opened from the side instead of the top. It also appears sleeker due to its odd design; however, it is roughly the same height as a standard microwave and moderately smaller.
There are numerous brands that manufacture microwave air fryers with various features on the marketplace. Costs vary based on the manufacturer and type you choose, thus do some research and comparative shopping.
Microwave Design Features
Here's the different features of a microwave that can enhance its use and provide value depending on your cooking needs.
Carousel
Many individuals overlook the necessity of a high-quality carousel when selecting a microwave oven. This relatively insignificant element can turn out to be significant. Is it glass, plastic, or ceramic? That is a matter of personal choice.
Several individuals like a style that matches the remainder of their kitchen appliances, whereas others prefer which would be the simplest to maintain. In any case, a carousel is one of the major functionalities you must look for in a new microwave.
Cooking Sensor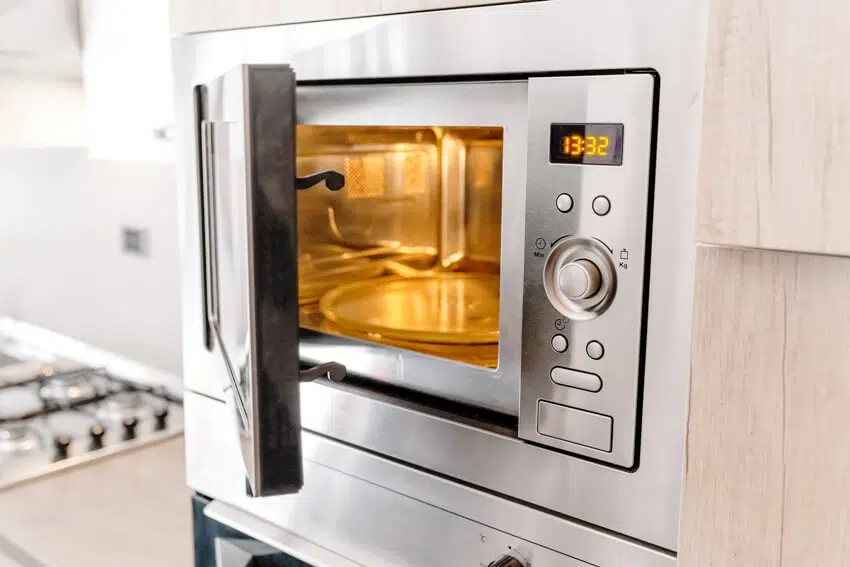 Microwave sensor cooking detects the vapor released by food as it cooks. This sensor enables microwaves to measure the water content of foods and constantly change cooking periods and power ratings to achieve the best outcomes for your meal. This is essentially a smart automatic cooking setting.
Although it is not a function included in all types of microwave ovens, numerous countertop microwaves and other types do have it, and understanding how it operates will help you determine whether it is a functionality to hunt for when purchasing the ideal microwave for your preferences.
Moreover, a microwave cooking sensor helps you to accurately cook your favorite meals, reducing the possibility of cold areas, dried-out or chewy food due to overcooking, and other heating faults. Several versions have over 20 auto-settings. They can adjust the heating cycle to the meal, but you must still know the serving quantity.
Cooking Preset Times
Preset operation settings for microwave cooking are an important feature. Normally, there are three preset cooking settings and two preset heating settings that allow for the automated preparation of a wide variety of foods.
To set the heating time, you can go to your panel and select the timer button. Configure the most ideal time, depending on the food you wish to heat. When the time is up and your food is already cooked, the microwave oven will notify you with a bell sound indication.
Defrost Preset Times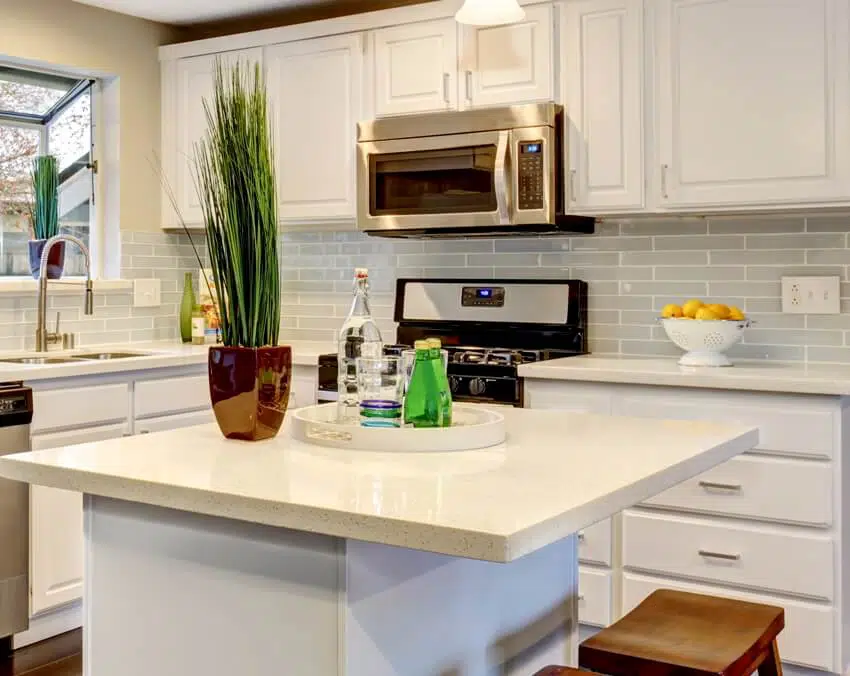 This option is often available in the microwave oven, which aim, as the name of the setting implies, is to defrost frozen food.
This function will help in quickly thawing the food inside the microwave. When you press the defrost button on the microwave, the presets are immediately changed to the appropriate defrosting program.
Cooking Racks
The rack that comes with modern microwaves may be used securely to cook numerous foods at once. Since it warms up the food from all sides, this rack would be also great for more proper cooking as well as defrosting.
The rack is great for providing additional room for heating two or more containers simultaneously. They are attached to the oven's sides with silicone or rubber clips.
You may prepare your meal while heating your breakfast tea or coffee with the rack in place. The wave movement that flows up, over, and all around the rack uniformly heats all the content inside.
Radiant Heat Grilling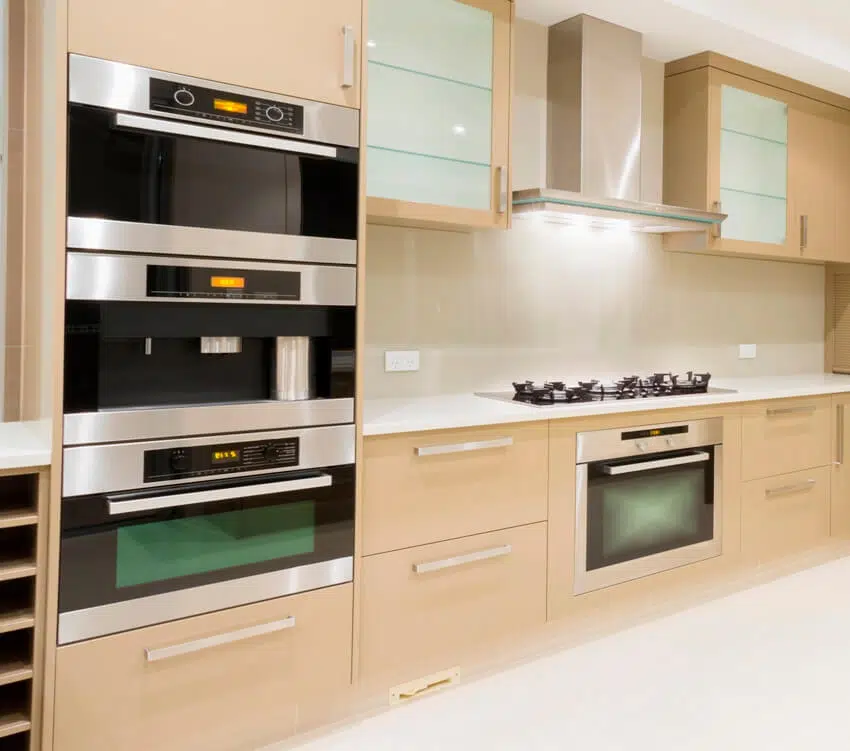 A microwave with a radiant heat grilling feature saves time when preparing meats and sandwiches. The microwave radiant grill function enables you to crisp up and grill meat simultaneously without losing taste or tearing down the appealing pattern of the meat, crust, or the bread's layers.
Foods that are normally cooked on the cook top or baked in the baking oven can be grilled in a microwave with radiant heat grilling capability.
Browning, searing, and properly grilling foods are all possible with microwaves that have this function. Certain grill microwaves include a convection oven capability, allowing you to bake pastries without using the microwave.
Steam Cooking Option
The name of this feature itself suggests that it helps the food to get steamed and cooked as well. It is necessary to store the food, such as vegetables, in the rack and to preset the microwave to steam.
If your microwave offers a steam cooking option, you are free to steam frozen veggies, fresh vegetables, uncooked meat, and other foods with decreased cooking times for nutritious meals.
Instant Cooking Buttons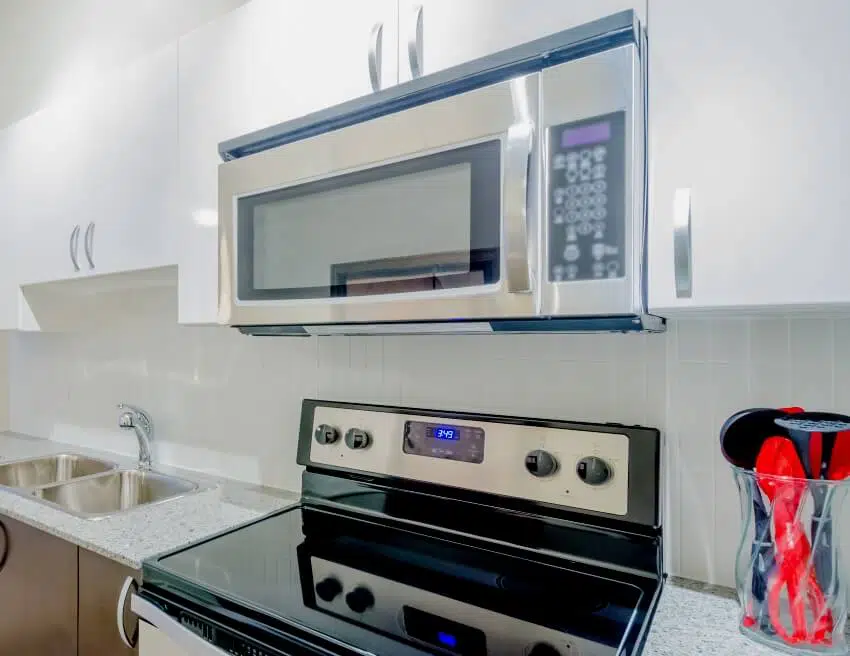 The instant cooking button allows you to cook your favorite items at the precise cooking time only with the press of a button. The majority of microwaves include six one-touch controls for cooking popcorn, beverages, pizza, potatoes, frozen meals, and reheating.
Maximum Cooking Time
Most microwaves nowadays have a maximum cooking time of 99 minutes. This design feature is important to help you maximize your meal-prepping activities.
Inversion Cooking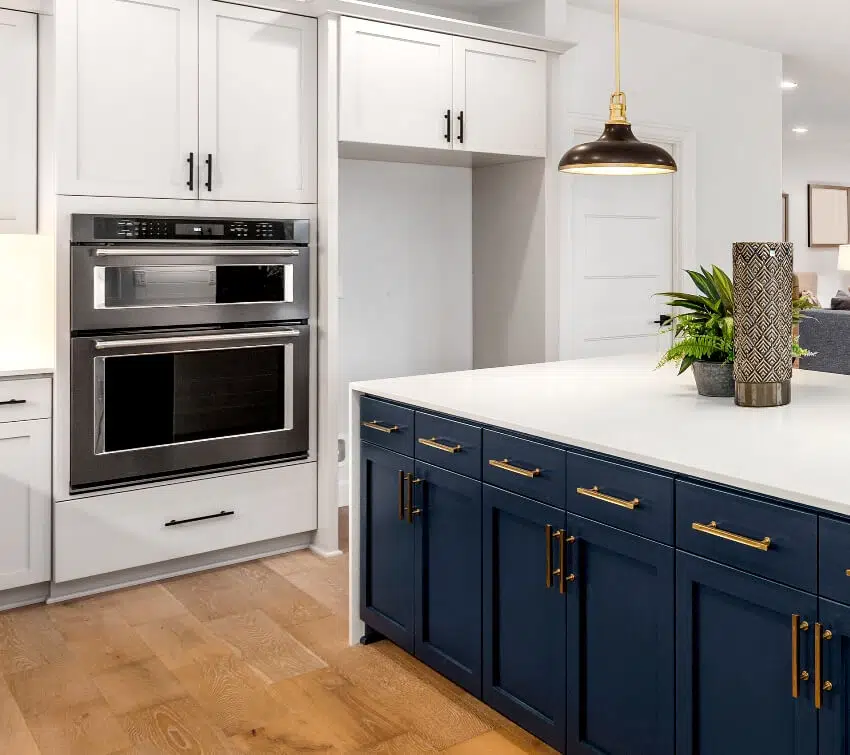 A microwave with inversion cooking capability heats, reheats, or defrosts food at a consistent power level throughout the cooking period.
The goal of inversion technology is to create a regulated and optimized power supply that operates continually at the same power level to prevent overheating, flavor degradation, and food composition damage.
Button Operated Door Opening
In modern microwaves, an electronic microwave oven with a button-operated door opening is often used. All you have to do is push the button and the door will open right away, allowing for easy opening. Since the door is the one that is often operated, you want your door systems to be reliable.
Digital & Dial Functionality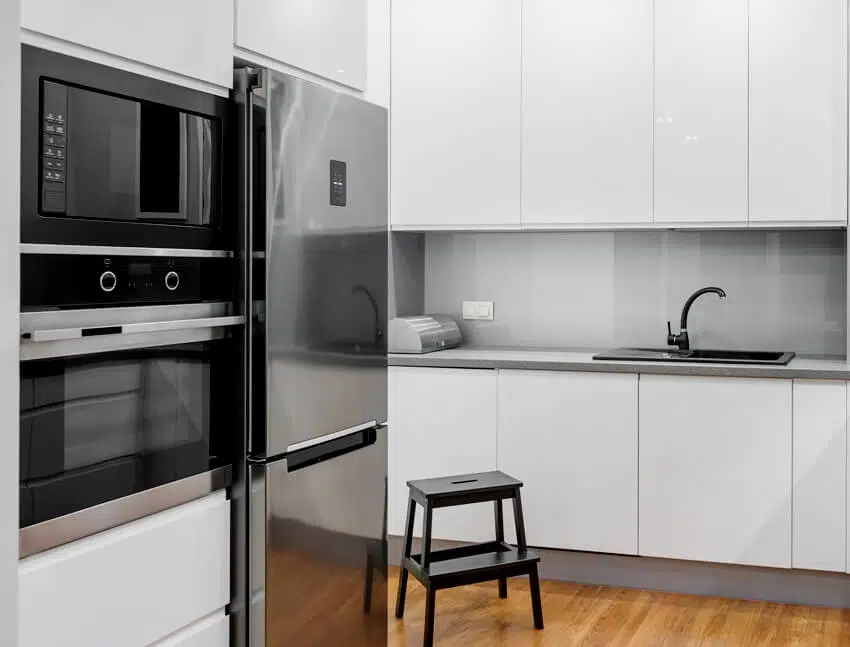 Mechanical controls are suitable for heavy or demanding use. They are also the simplest to fix, although they might seem outdated and unattractive. You can, nevertheless, choose one with digital and dial functionality that can be effortlessly and precisely adjusted to the desired temperature or time.
This feature has the advantage of allowing you to change the options without disturbing the cooking process. Accurate timings, on the other hand, can be best established by light touch and digital panels, albeit these must be handled with caution.
Easy Clean Interior
Microwaves with ceramic interiors and removable accessories are frequently regarded as easy to clean. The majority of microwaves that rank first in terms of easier cleaning are medium-sized and have medium to high wattage.
Microwave Sizes
Exterior Dimensions
For over-the-range microwaves, the widths will be around 30 inches to fit the usual width of the kitchen range underneath and the regular kitchen cabinet width where the microwave will be installed. Over-the-range microwaves that are small are less frequent; however, they are generally roughly 24 inches in width.
Their height is typically around 17 inches. If you have a shorter opening, you can consider low-profile microwaves, which are slightly more than 10 inches high to provide you with more space over the range.
The width of small countertop microwaves normally runs around 15 to 19 inches. The height, on the other hand, is usually between 10 and 11 inches.
For large countertop microwaves, the widths can range between 21 and 25 inches. When fitting in cabinets, a trimming kit will normally increase the width to 27 or 30 inches, whereas the height will generally be between 12 and 15 inches.
The widths of built-in microwaves correspond to conventional cabinet dimensions, which are typically 24, 27, or 30 inches. The average height spans from 17 to 22 inches.
Interior Dimensions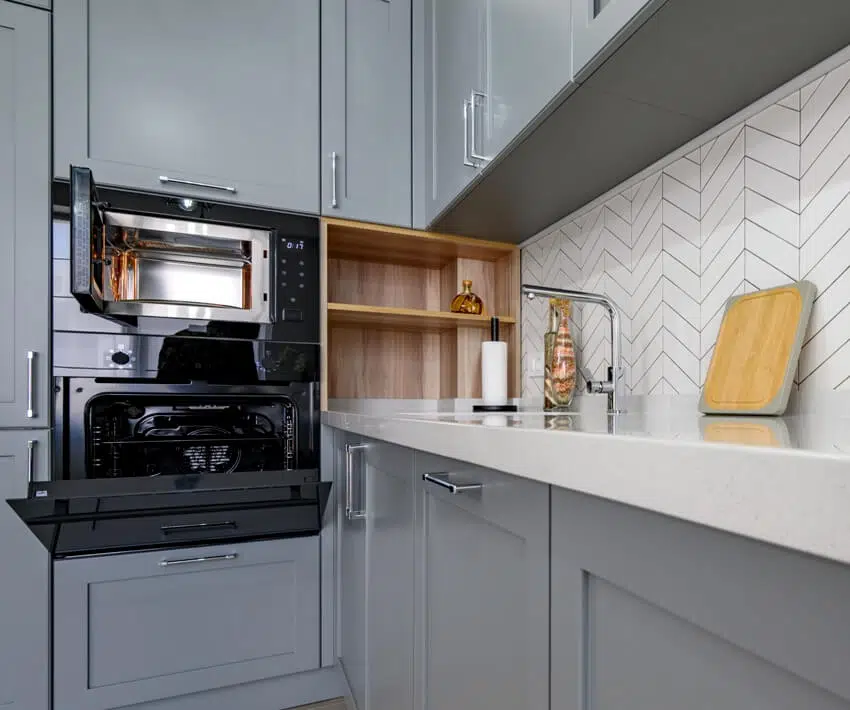 Compact countertop microwaves typically have an interior size ranging from 0.5 to 0.9 cubic feet. The capacity of large versions typically ranges from slightly over 1.0 cubic feet to roughly 2.2 cubic feet on the bigger end.
Over-the-range microwaves have interior spaces ranging from 0.8 cubic feet for more compact units to 2.1 cubic feet for full-sized ones. Low-profile variants typically have a volume of slightly more than 1 cubic foot.
Nevertheless, the interior size of built-in microwaves can vary from 1.0 to 2.2 cubic feet, with the majority falling around 1.2 to 1.6 cubic feet.
Microwave Cubic Feet
• Compact-Sized Countertop Microwave – 0.5 cubic feet – 0.9 cubic feet
• Standard to Large-Sized Countertop Microwave – 1.0 cubic feet – 2.2 cubic feet
• Over-the-Range Microwave- 0.8 cubic feet – 2.1 cubic feet
• Built-In Microwave – 1.0 cubic feet – 2.2 cubic feet
Turntable Diameter Sizes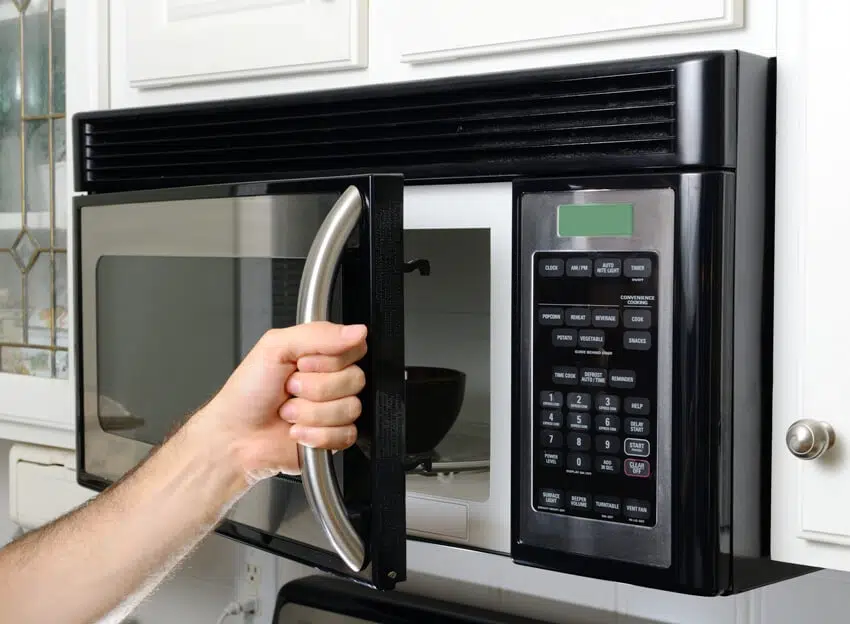 When measuring a microwave, you can try to check the turntable. A few of those compact microwaves feature turntables with a diameter of 9.8 inches, which is rather small to fit a standard dinner plate, which has a diameter of at least 10.6 inches.
Larger models include turntables that measure up to 14 inches in diameter, making them ideal for preparing a turkey. The most ideal microwave turntable size, on the other hand, measures 16 inches in diameter. See our microwave sizes article for an in-depth guide.
How To Measure For A Microwave
When Measuring for a Countertop Microwave:
You have to measure the width, height, as well as depth of your existing microwave or the area on your countertop or shelves that you want it to inhabit when determining the size of your countertop microwave.
Consider the following when measuring:
• At least 1 inch of gap between the microwave oven and the wall behind it for proper ventilation.
• To prevent tipping, you must leave at least 3 inches between the edge of the countertop and the open microwave door.
• There should be at least 2 feet of space between the microwave oven and your kitchen range.
When Measuring for an Over-the-Range or Built-In Microwave:
When it comes to measuring for over-the-range and built-in microwaves, determining the width, height, as well as depth of your current microwave housing is more essential than measuring the dimensions of your current appliance. You need to measure cabinet-to-cabinet while taking the following into account:
• Leave a 30-inch opening for over-the-range microwaves from the top of the stove top to the peak of the cabinet.
• Leave 6 inches of space between any kitchen walls and the microwave to allow the microwave door to open wide.
• You have to review and follow the manufacturer's directions to make sure you have enough venting space around the microwave. Professional installation is normally required for built-in microwaves.
Microwave Power
Wattage
Extra powerful microwaves (those with higher wattages) can cook and heat food a lot faster than those microwaves with lower wattages.
If you frequently prepare meals and treats that might profit from more consistent cooking and quicker preparation times, it might be more beneficial for you to start investing a little extra for a microwave that can handle your family's favorites, which is the one with higher wattage.
Small countertop microwaves include wattages ranging from 600 to 1100 watts, with most selections averaging from 700 to 1000 watts. Although cooking at such a low wattage is a lot slower and more inconsistent, it does help keep your electricity costs minimal.
What is the Best Wattage for a Microwave?
In the realm of microwaves, wattage represents power. A 1,000-watt microwave cooks rapidly and properly, thus that is a good starting point. Microwaves with 700 watts or less cook more slowly and unevenly. On average, the quicker the cooking time, the greater the wattage.
Take into account that microwaves with greater wattages often have higher prices and can result in higher electricity bills, so take that into consideration if you are hoping to cut back on spending.
Therefore, to sum it up, a 1,000-watt or 1,200-watt option would be the best option for most people's cooking and meal-prepping requirements. Microwaves with these wattages have adequate power levels to properly heat or defrost anything in the freezer compartment.
Microwave Venting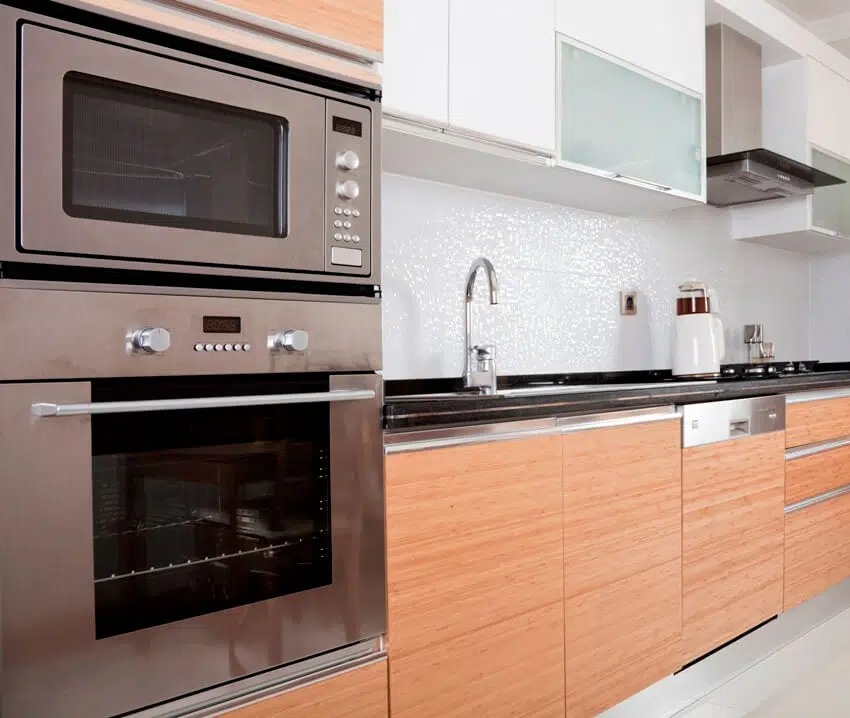 A microwave oven meant to be positioned above a kitchen cooktop typically includes ventilation technology to deal with cooking smells, smoke, and humidity that arise from the cooking area. The ventilation system may connect to an external vent or just recirculate air.
However, there are two types of microwave venting: recirculating and external venting.
An external-vented microwave employs a blower fan to pull air through the vents of the microwave and into an outflow duct connecting to the home's exterior, which implies that the majority of the humidity, heat, smell, and particulates produced by cooking are expelled immediately outside.
A ductless recirculating vent, on the other hand, draws air through a filtration system and vents it back into the kitchen. Certain microwave units with recirculating vents have a charcoal filter that catches some particulates and smells, but the majority of the heat and humidity, as well as some kinds of particles, remain in the home.
Some models make use of aluminum filters, which capture grease but not anything else. Recirculating vents, nonetheless, do not exhaust cooled air to the outside, thus they can contribute to making a kitchen a lot more energy-efficient.
What Are The Benefits Of Microwaves?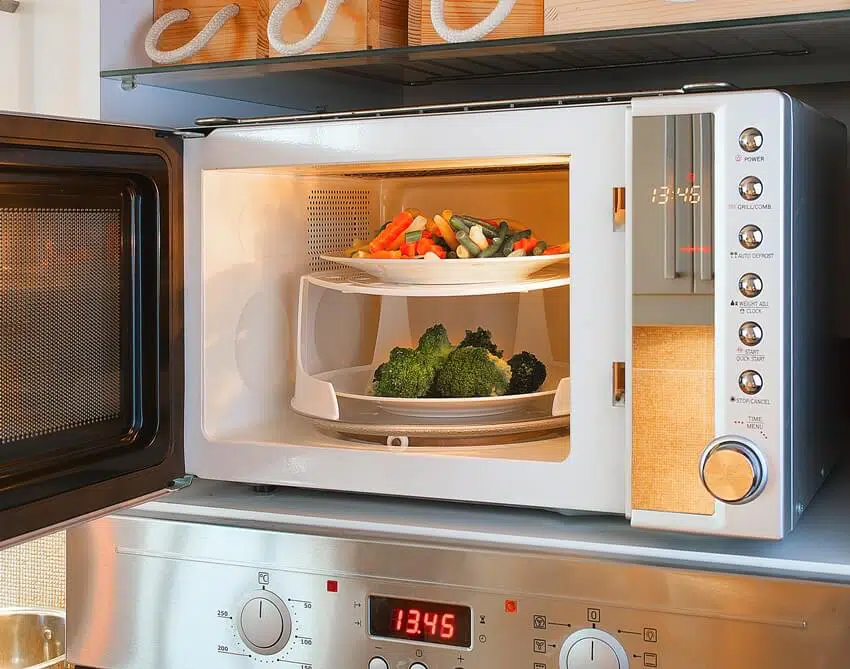 • When used, microwave ovens do not risk getting burnt. Unlike other forms of heating systems, microwaves heat the meal while remaining cool.
• Cooking with a microwave oven, as opposed to baking or frying, prevents the creation of carcinogenic tars and char due to its reduced cooking temperature.
• Certain types of kitchen appliances' direct heat can cook the surface while keeping the inside cool. Microwave radiation goes further than that, allowing for more consistent and equal heating of the meal.
• Since microwave ovens require less preparation duration, the food can retain more nutrients as they are not damaged by excessively long cooking periods.
• Microwave ovens take up significantly less space in the kitchen and are ideal for individuals who have small living space.
• Because the microwave does not emit any flames, even youngsters can use it with fewer worries.
• Microwave ovens do not require preheating, making them more efficient than typical electric ovens. As soon as the power is switched on, the microwave will begin cooking right away.
• The temperature of the microwave oven may be accurately regulated, giving you more control over food preparation.
• Microwave ovens may heat meals on plates rather than traditional cookware, reducing the necessity for using too much cooking equipment.
What Size Microwave Do I Need?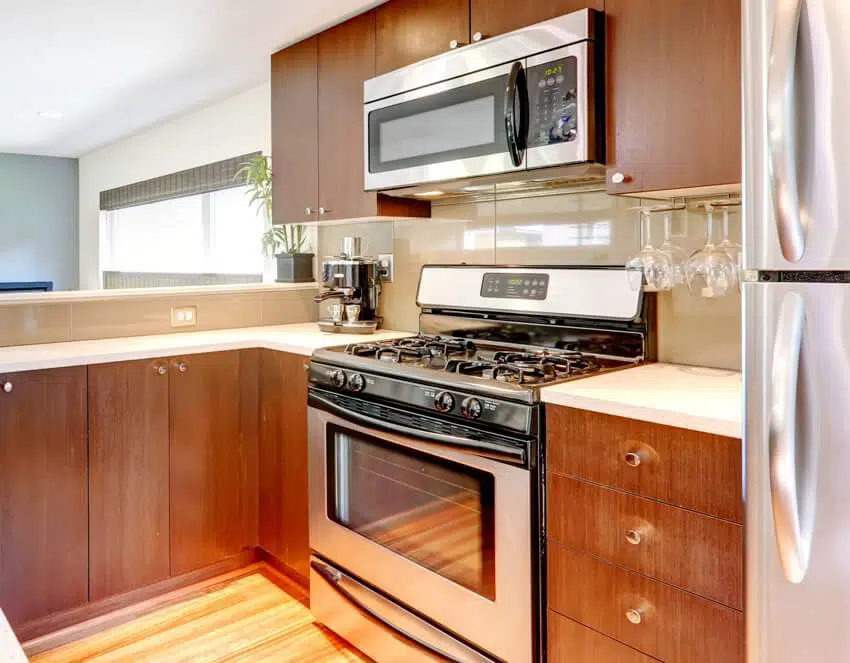 Well, it will depend on your cooking needs and preferences. The number of household numbers may also affect your decision when thinking about the size of microwave you need.
When selecting the size of your microwave, you must measure the height, width, and depth of your present microwave as well as the area on your countertop, cabinet, or wall that you want it to fill in.
If you have limited space, go for small-sized microwaves. (0.5 to 1 cubic feet). If you have an extra space in your kitchen, then you can opt for medium to large-sized microwaves. (1.5 to 2 cubic feet).
However, if you think you have abundant space in your kitchen and want to heat and cook large foods like turkey, go for extra-large microwaves, which are normally above 2.5 cubic feet.
For more related content, visit our steam oven vs. microwave comparison guide.