Here you'll find kitchen without backsplash designs with pros and cons, why you need a backsplash in the kitchen and countertop ideas to match a no-backsplash kitchen.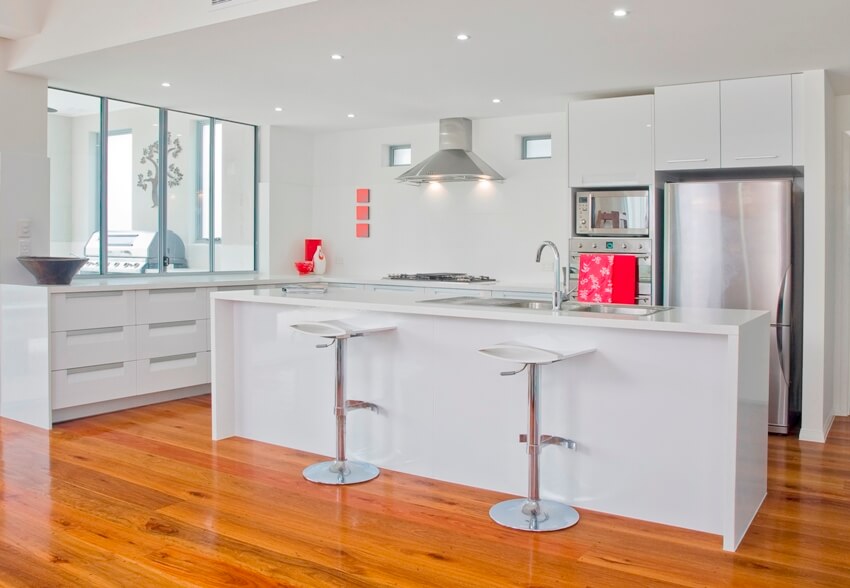 The kitchen is a space at home that will always feel like a battlefield, especially with all the grease and water splatter that's normal when cooking. And these splatters can serve as a major problem, especially since in the long run they can cause damage to your walls.
One of the defenses you can do for your kitchen walls against these splatter issues is to install a backsplash, specifically behind the areas most at risk from these issues which are the walls behind the sink and stove.
Most homes install a backsplash in these areas to avoid the risk of staining and permanent wall damage. This protective surface can be made of different materials from wood to concrete and natural stone.
The choice depends on the homeowners and what they believe will be the ideal option. But the best factors to consider in the decision are durability and difficulty to clean and maintain.
Since a backsplash is a functional element in the kitchen, it is a vital consideration to take into account. While notoriously overlooked, it is an element worth investing in.
And more than just being functional, it can also be a stunning aesthetic element. Turning the backsplash into a durable accent wall is an incredible option to consider.
While tile is the traditional backsplash material, you can consider others. If you're somehow going for something more affordable, wallpaper and paint can help you with it. But can you actually not bother with it at all?
Do You Need A Backsplash In The Kitchen?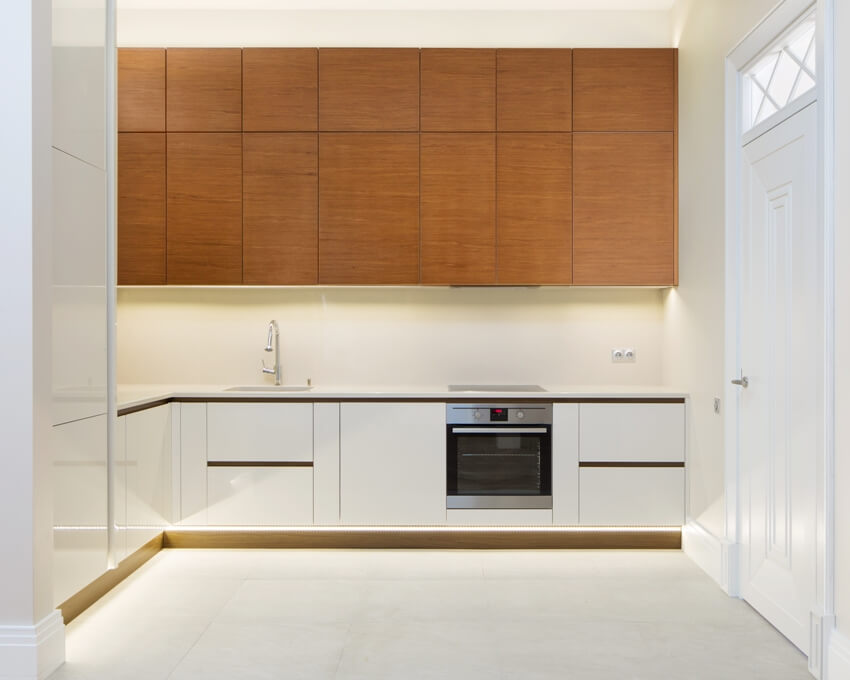 So, can you go ahead without having a backsplash in the kitchen? Of course, you can but you need to make sure that you are prepared for the consequences that come with this decision.
Without a backsplash, you will need to seal the edges of the wall to protect it from water dripping down the backside of the countertop.
And you need to brace yourself for possible grease and food splatters on your walls, as well as the need to clean up as often as needed to take out the dirt on the wall that may cause permanent damage.
While not necessarily a major requirement, a backsplash is recommended to be installed in the kitchen. But you always have the option of going without the backsplash if that's what you desire.
There are several factors to consider that will help you decide whether a backsplash is necessary.
Protection For Your Kitchen Walls – If you value your kitchen walls and are very particular with their design, and style, you would definitely need to install a backsplash.
Protecting them from possible permanent damage is the best way to go and is possible with the help of a backsplash. This might be less of an issue if you have painted walls or wallpapered walls that are easily replaceable and repainted.
The Layout Of Your Kitchen – Is your countertop connected to your kitchen wall or do you have a freestanding countertop that stands on its own?
If it's the former, you will need a backsplash to protect the kitchen wall from splashes as you prepare meals on the countertop. If it's the latter though, going without a backsplash can be done.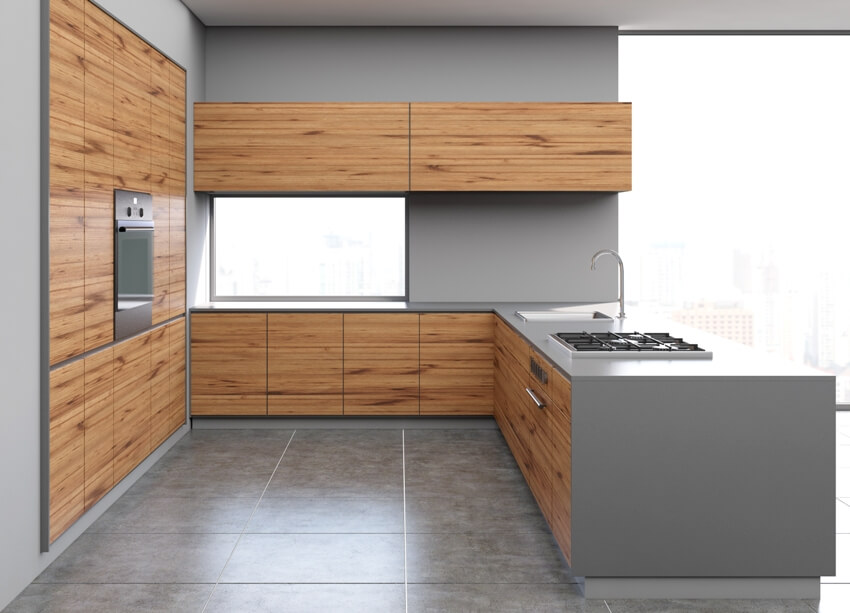 The Location Of Your Stove/Cooktop – There are situations where you won't need to install a backsplash. One of which is when you use a stove or cooktop on the kitchen island.
This way, the meal preparation and cooking will happen on the kitchen island and possible grease and food splatters are minimized or simply won't affect your kitchen walls. It is recommended to have one though behind the stove to protect the wall directly on the path of cooking splatter.
No Backsplash In Kitchen Pros And Cons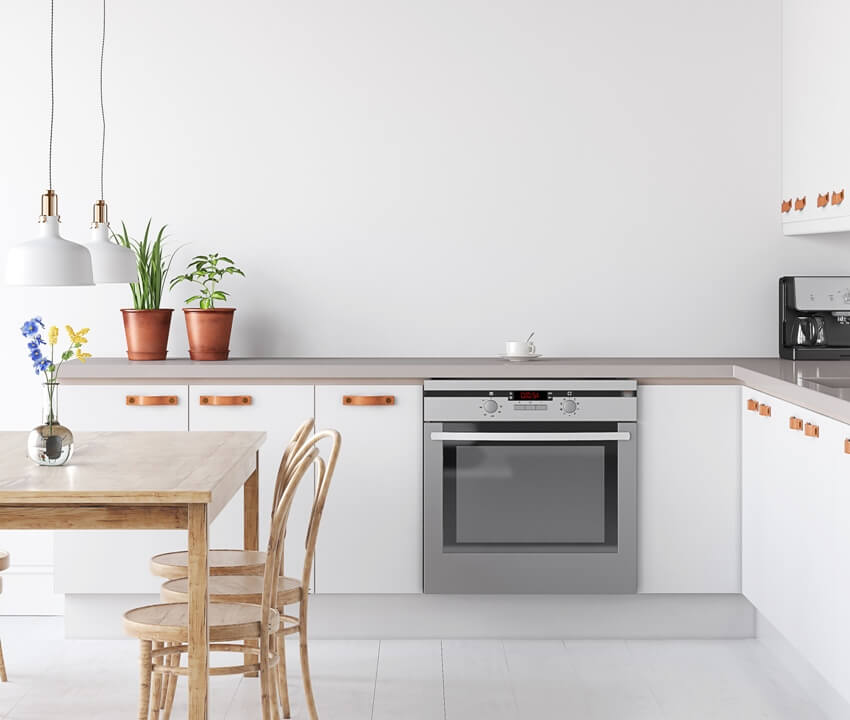 In deciding if having no backsplash in your kitchen is beneficial and ideal for you, weigh its pros and cons and decide on your own.
While a backsplash is highly recommended by designers and builders alike, it may be an element that you don't want to be part of your home. And that's fine too as long as you are fully aware of the implications of this decision.
These pros and cons of having no backsplash in the kitchen can help you come to a decision on whether to have a backsplash or not in your home.
Pros of Having No Backsplash In Kitchen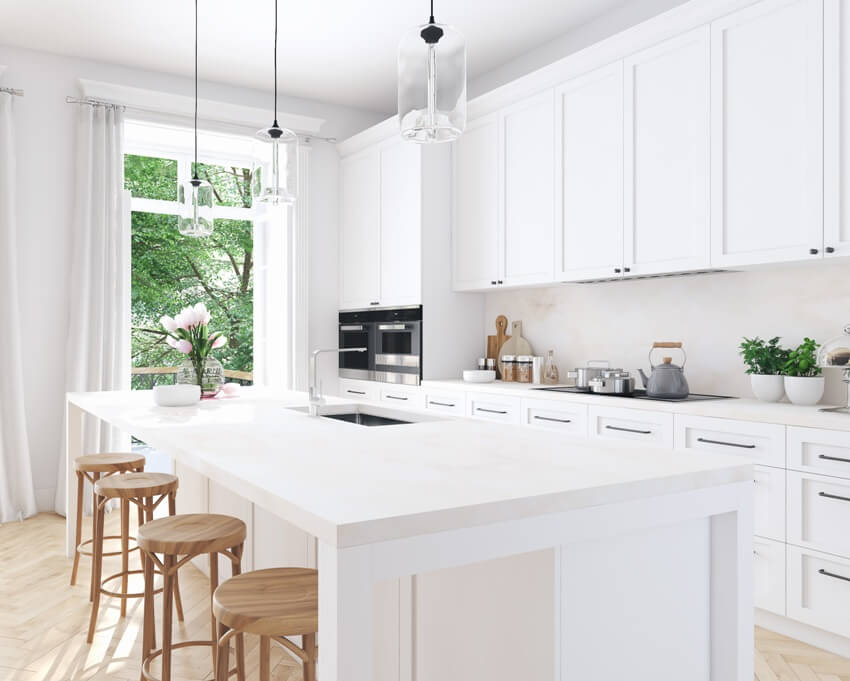 When choosing not to install a backsplash in your kitchen, there will definitely be effects and results. And these are the notable positive consequences of the said decision.
• More free wall space – If you're planning on maximizing the entirety of the space in the home and do something different about it like a floating shelf/cabinet or a wall decor can be hung.
• Less elements to clean and maintain – Without a backsplash, you won't have to worry about its cleaning and maintenance, as well as the possible replacement and renovation needed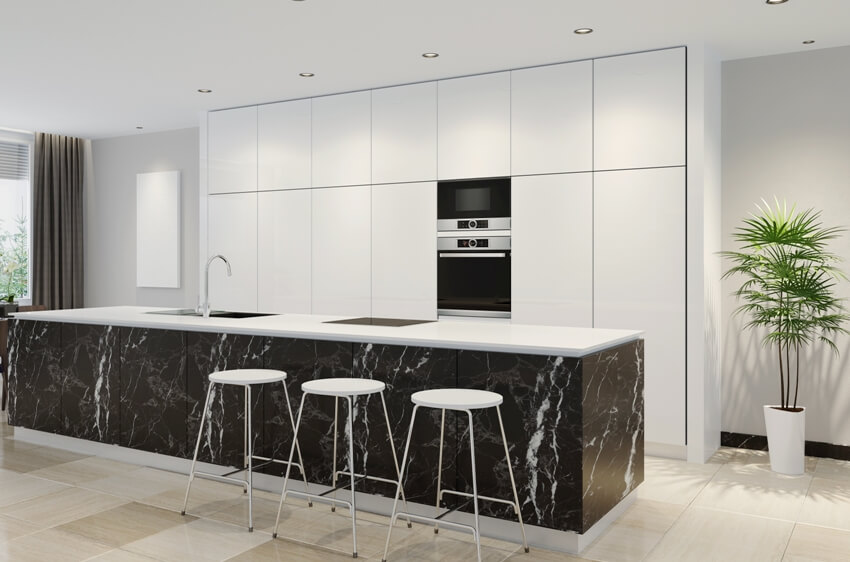 • Not worrying about designing, styling, and matching – When sprucing up your kitchen, you won't have to worry or consider the style, color, and backsplash design when adding or renovating a specific part of the kitchen.
• Fewer expenses – If you choose to go without a backsplash, this means you don't need to pay for the purchase of the backsplash and its installation.
• More hassle to renovate – Compared to ordinary kitchen walls, a backsplash will be difficult to deal with once you considered getting rid of it to renovate your kitchen, especially since most backsplash materials are incredibly durable.
Cons of Having No Backsplash In Kitchen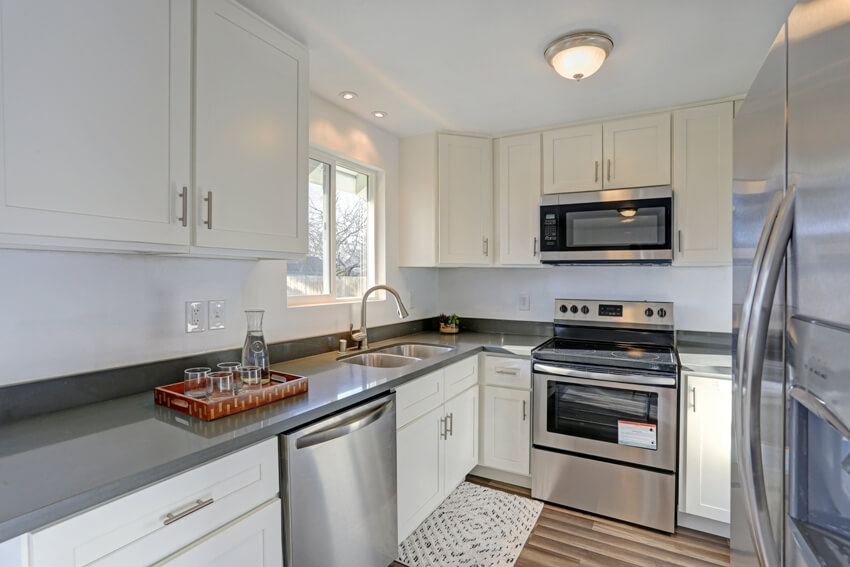 Looking at the other side of the coin, these are the disadvantages of choosing to not have a backsplash in your kitchen. You have to be aware of this matter before deciding on having a backsplash or not.
• Less protection in your kitchen walls – Without a backsplash, you need to be prepared for the possibility of grease and food splatters on your wall and the fact that they can cause ugly staining and permanent damage.
• More often and regular wall cleaning – If you will be foregoing the use of a backsplash, this means that you need to compensate for the consequences that will happen. Since there will be less protection on your kitchen wall, grease and food splatters will be constant and in order to avoid permanent staining and irreparable damages, you will need to clean the walls more regularly and thoroughly.
• The missed opportunity of additional value in your home – A backsplash can add value to your home if you ever thought of reselling it so choosing not to install a backsplash in your kitchen means that you're saying no to the opportunity to raise the value of your home.
• Could have been a good addition to your kitchen's aesthetics – Just like all other elements in your kitchen and home, a backsplash can add to the area's aesthetics, whether you plan on matching the colors and design of the backsplash to your kitchen flooring or you plan to use it as an accent backsplash wall and stand out.
To install a backsplash or not is up to you but make sure to consider these pros and cons to avoid regrets. And take into account other possible options that you can explore besides not having a backsplash in your kitchen.
If you're creating or thinking about renovating a kitchen layout you can visualize it using kitchen design software to see how a backsplash would compliment your space.

Kitchen Countertops Without Backsplash Alternatives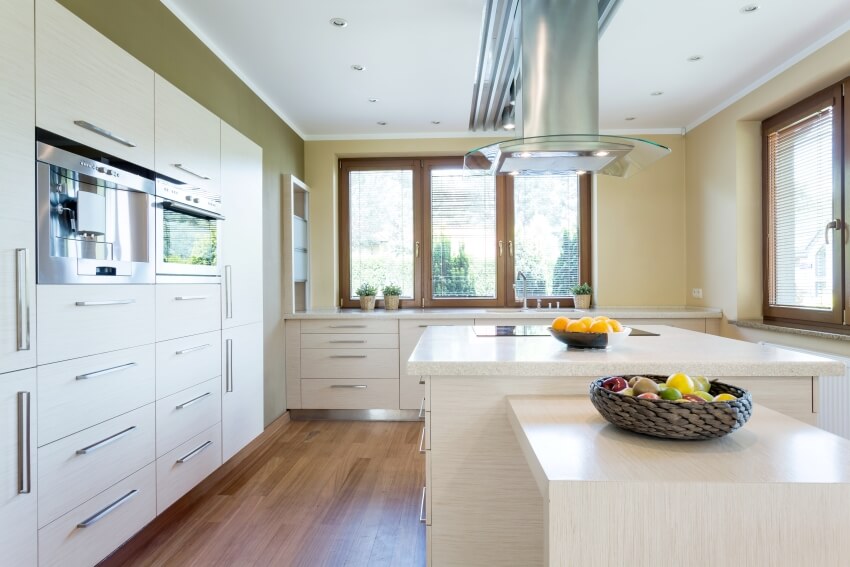 If you're really set on not installing a backsplash in your kitchen, you will need a corresponding countertop that can support this choice. A countertop is typically connected to the wall, which is why there is a need to install a backsplash to protect this wall.
Meal preparation and cooking on the countertop may result in food splashes and grease on the wall. Installing a backsplash can prevent that from happening and protect the fall from possible permanent damage.
Given that you're choosing to forgo a backsplash, you will need to be creative in choosing kitchen countertops that can support this choice. Here are some countertop ideas to match your no-backsplash decision.
Freestanding Countertop or Kitchen Island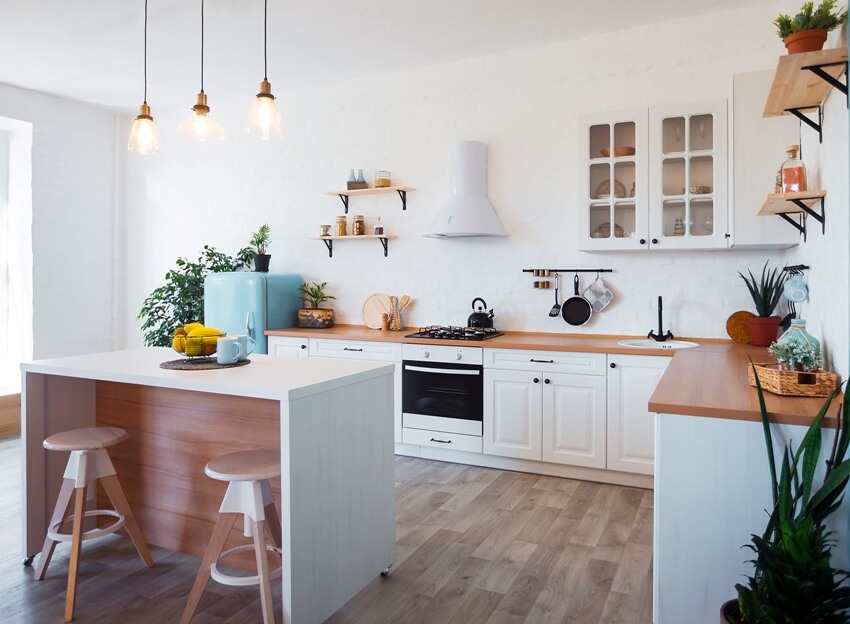 One of the best kitchen countertops to match your no-backsplash choice is to go for a kitchen island instead. In choosing a kitchen island or a freestanding countertop, you won't be connecting the countertop to a wall and so there's no wall to protect in the first place using a backsplash.
Meal preparation and cooking on this particular countertop won't result in food splatters and grease on the wall. The downside though is that there is a possibility that these splatters will end up on the floor instead so be prepared to clean the floor just in case.
Large and Spacious Countertop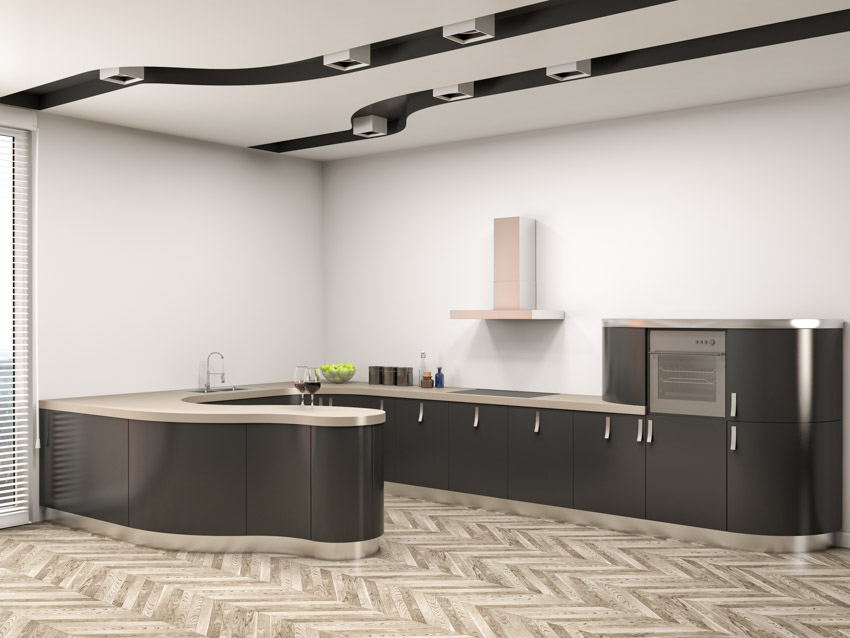 Another option is to choose a bigger and more spacious countertop. Despite being connected to a wall, splatters will be lessened since there is a considerable distance between you and the wall.
The major downside of this option is that you will need to have a spacious kitchen (which won't be suitable for small kitchens) and that you won't be able to maximize the space.
In case you may want to add a kitchen backsplash, visit our guide to different types of kitchen backsplash here.