This gallery of wood kitchen backsplash ideas shares the pros and cons, popular pallet, plank, panel, slat & reclaimed wood backsplash designs, and tips on how to protect them.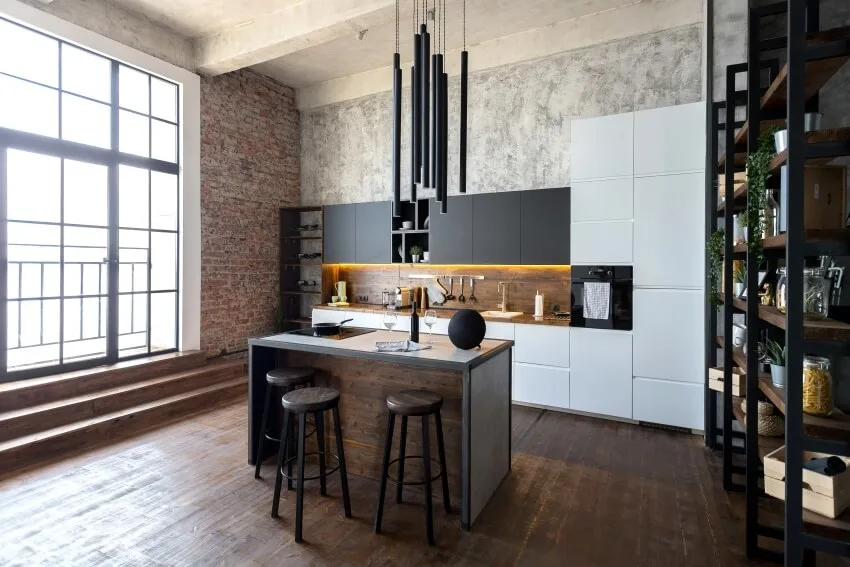 A natural material that elicits an overall positive visual perception, natural wood can be a stunning kitchen backsplash, an alternative to your typical wall cladding of tiles and bricks.
The variety of wood's graining, coloring, and surface finish makes it a versatile and easily sourced kitchen backsplash material. Moreover, the positive cognitive effects of a wood backdrop can also help lower stress, restore the nervous system, and increase physical activity and creativity.
Wood kitchen backsplash also does a great DIY project by using simple woodworking tools and use of standard-sized panels or reclaimed wood. It is a cheaper alternative to your standard backlash materials and can be a long-lasting wall material when sealed off properly and well-maintained.
Wood can be readily reused and recycled with its visual and cognitive effects. The material can only be reused for a wood kitchen backsplash as the surface is typically stained or painted.
Wood Kitchen Backsplash Pros And Cons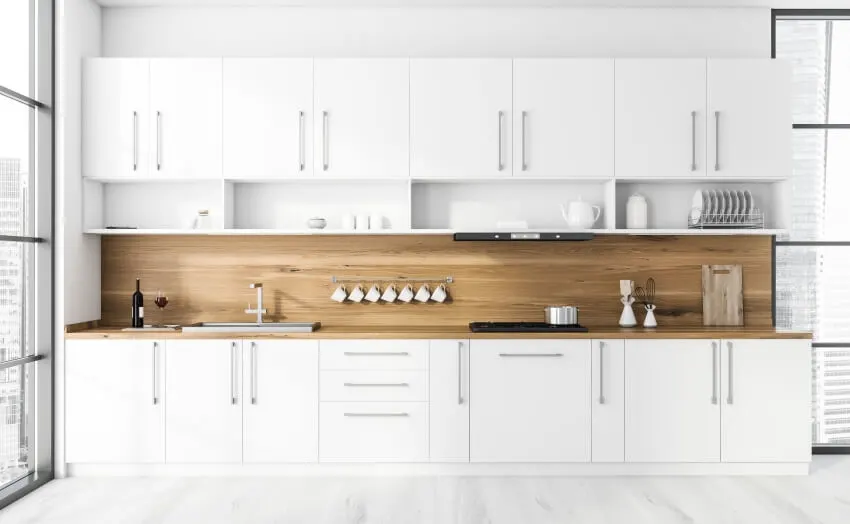 Like any other construction and interior finish, a wood kitchen backsplash offers unique features and challenges. Knowing the pros and cons of wood backsplash will help you decide whether the organic material is the best option for your next kitchen renovation or the newly built one.
Pros of Wood Backsplash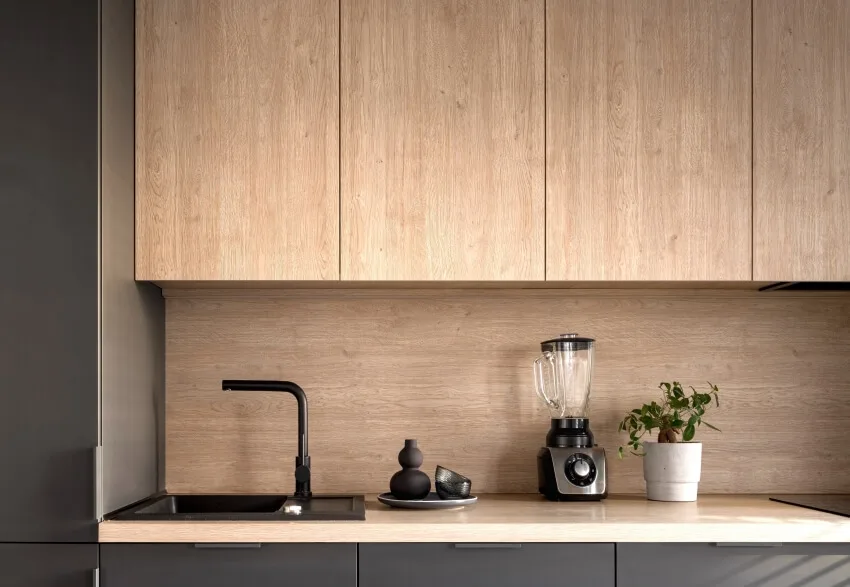 1. Better Workability and Lightweight. Compared to stone, a wood backsplash is easier to cut into size and intricate shapes when desired. The workability of wood means installing around sockets and other wall insets are relatively easier than your stone material.
On top of your hanging cabinets, installing a backsplash can put a lot of pressure on your backing material, especially for drywall installations. Wood is lighter than stone making it possible to have an expansive backsplash without worrying about the pressure your material has on your backing material.
2. Durable. While most homeowners will be reluctant to choose wood material in a space exposed to water, wood is durable when properly treated. Seasoned wood where moisture has been dried, making it stronger and stiff.
Surface treatment is also needed to prevent water or moisture from being absorbed by the organic material. Of course, the degree of strength of the material will depend on the wood specie.
3. Works with any Theme or Kitchen Design. From rustic panels to triangular mosaic tiles, the design possibilities to make your kitchen space stand out are endless with a wood kitchen backsplash.
This is due to the wide range of graining and coloring of wood. The shades alone of wood, can create different moods and visual impact in your kitchen.
4. A Source of Design Inspiration. Working around your chosen wood kitchen backsplash design helps you choose other space elements. From soft and light colors that evoke a sense of calm to the deep and moody dark colors of wood, the organic material makes it the perfect design inspiration for your kitchen interior.
5. Available for a Wide Range of Budgets. With so many styles and wood species to choose from, the wood kitchen backsplash can accommodate any budget without compromising the look of your space.
Wood cladding comes in planks, tiles, and slab forms, giving you options to choose from to accommodate your other needs, such as concerns on transportation and installation.
Wood kitchen backsplash is also a great DIY project and can be easily installed with basic carpentry skills. The stick-and-peel wood panels are probably the cheapest option for a wood kitchen backsplash which is installed by simply sticking the sticky backing on your wall kitchen.
6. They are easily Replaced. Unlike tiles and other heavy materials such as quarried stone, the wood kitchen backsplash is easily removed, especially with self-adhesive panels, as they are easily peeled off from your wall. There are removable peel-and-place faux wood panels as well.
Cons of Wood Backsplash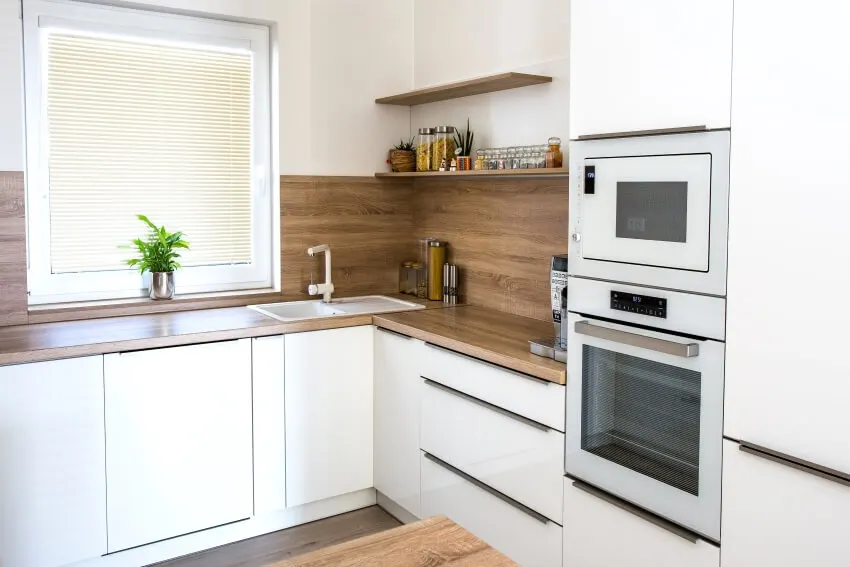 1. Prone to Fire Hazards. Naturally combustible, a wood backsplash can be a fire hazard, particularly when installed behind a stove. It is recommended to use a fire-retardant coating and paint to prevent the surface from being
2. Fire retardant coating and paints are the special materials that are crucial for protecting wood from heat and fire. These paints are widely used in the wooden industry to protect wood-finished homes. You can easily get them from any home depot store.
3. Vulnerable to Scratches and Dents. Wood is generally durable, but when exposed to extreme heat or moisture can weaken the porous material. The surface, including the sides and backing, should be treated with a protected layer to prevent water from seeping through the wood.
4. Prone to Buckling and Warping. Natural wood that has not been kiln-dried will tend to buckle over time, especially when the surface has not been treated with a protected layer. The ends of the wood panel or tile should be treated as well to prevent water or moisture from seeping through.
5. Wears Overtime. Like any material, a wood backsplash can show some wear over time. Depending on the type of lumber and finish, a wooden kitchen backsplash may need resurfacing around 10 to 20 years. The exposure to fluctuating temperatures and if located behind a sink or cooking area will increase the blemishes and damages.
Design Ideas for Wood Backsplashes
There are endless possibilities when it comes to your wood backsplash and getting to know more of the popular options can help you narrow down the best style for your kitchen.
Use Pallet Wood As Backsplash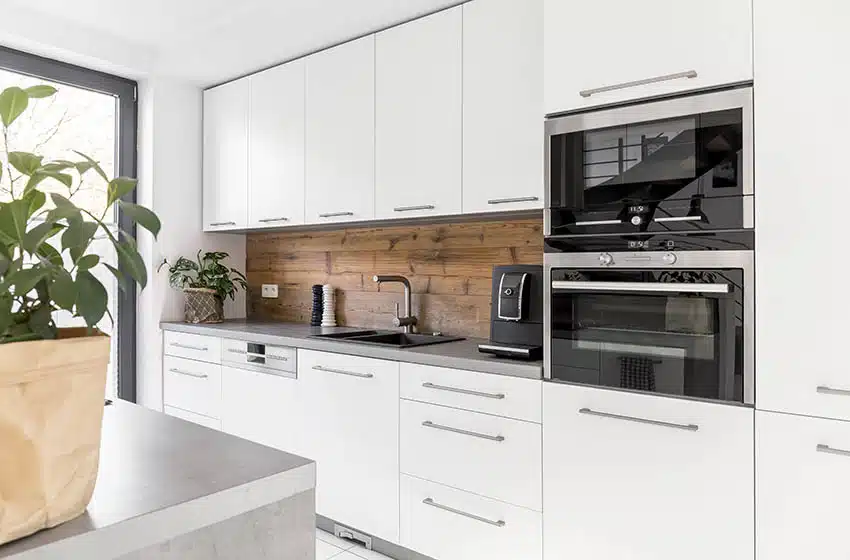 A pallet wood backsplash creates a rustic appeal that suits a lot of traditional themed kitchens. However, even contemporary homes love the juxtaposing organic material as it is an effective way to cozy up the kitchen amidst the sleek finishes.
The different kitchen layouts also give you other options for the pallet backsplash, such as a shiplap, beadboard, or Barnwood, which will give that traditional look. Lay your pallet wood in a vertical or stacked pattern instead of your running bond to create a more modern look.
Another great thing about using the pallet wood backsplash is the availability of materials that can be easily sourced from salvaged wood or purchasing lumber and cutting them to your desired design. The standard pallet 48″ x 40″ with each 3 ½" wide 5/16″ thick board is a perfect source for your repurposed pallet wood.
Try Reclaimed Wood for Kitchen Backsplash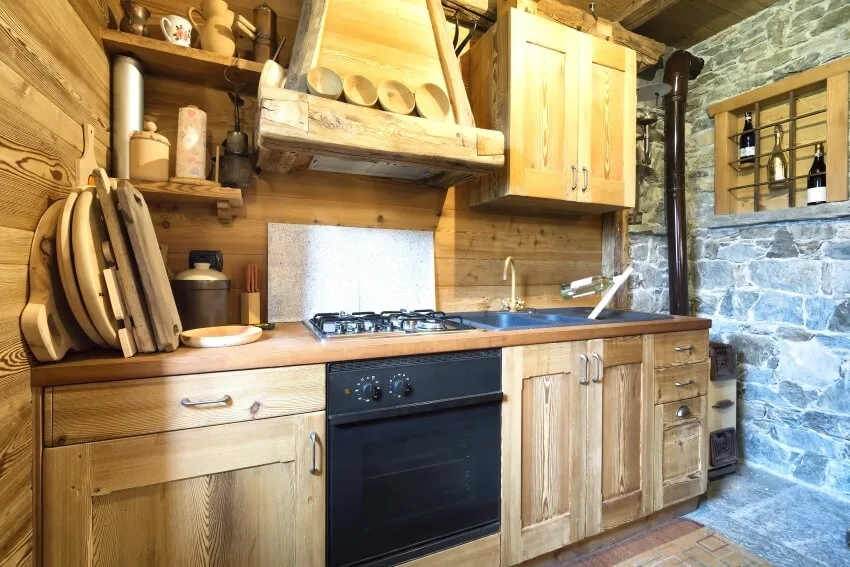 With a relatively easy installation, a reclaimed wood backsplash is the perfect DIY project for any homeowner. Moreover, there are good quality reclaimed wood being sold which are milled, kiln dried, and even carefully selected, which are affordable. Salvage mills in your area may also have some stock wood that can offer the lumber at a more affordable price if needed.
Wood Panel Backsplash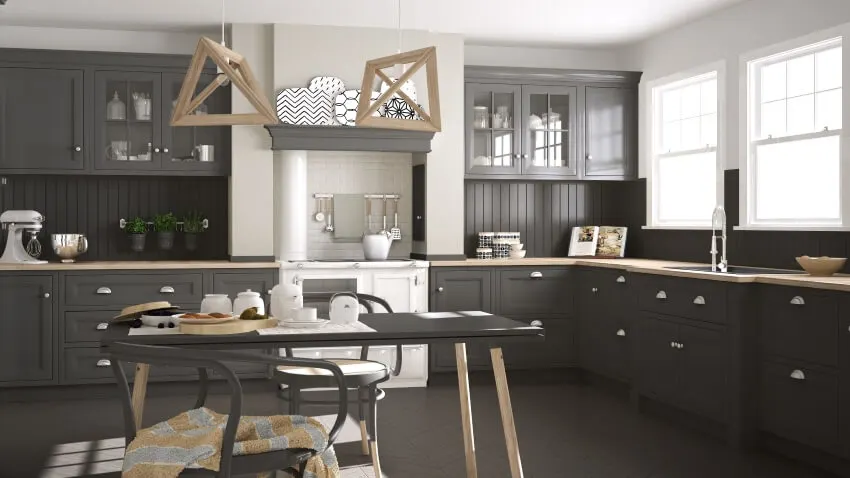 Wood paneling is a practical design for your kitchen backsplash for faster installation and workability and is perfect for creating a horizontal or vertical element in your space. There are ready-made wood panels with different layouts; one example is wainscoting.
These are very affordable options but often need additional surface protection. Common wood planks are made from musky wood boards with a thickness of 2″ x 10″ x 20 cm, which is often used as wood panels in furniture.
Wood Plank Backsplash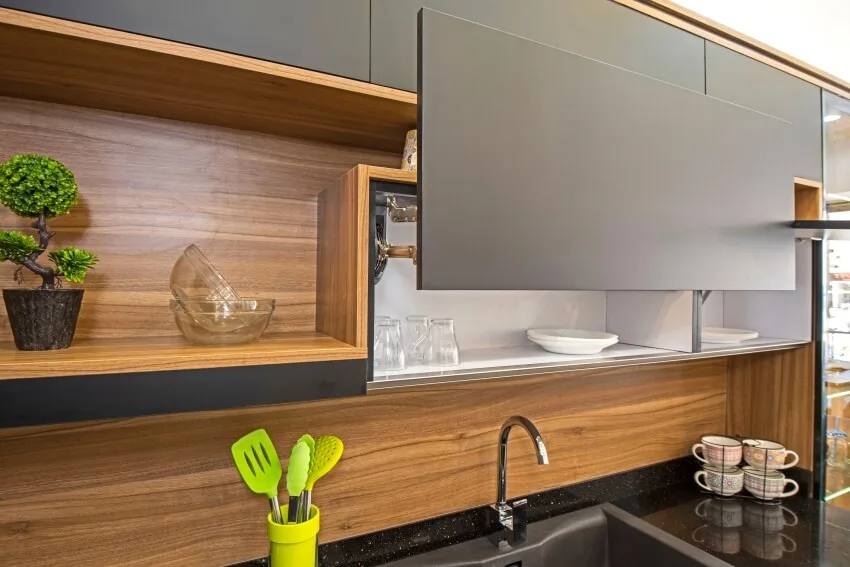 Wood planks like your pallet wood are easily sourced from both the lumber yard and reclaimed lumber dealers. They are laid out to create different patterns just like your panel wood, such as the traditional herringbone, chevron, or basketweave.
Horizontal and vertical wood planks are also popular as most wood planks can be dense, and laying out heavy planks in simple patterns can be more practical and economical.
Aside from plywood, birch planks are popular for wood plank cladding. The birch is known to resist dents and cracks as it is naturally shock-resistant. However, the durable wood can rot and be prone to insect attack. Be sure to apply a surface coating to protect the wood.
Wood Slat Backsplash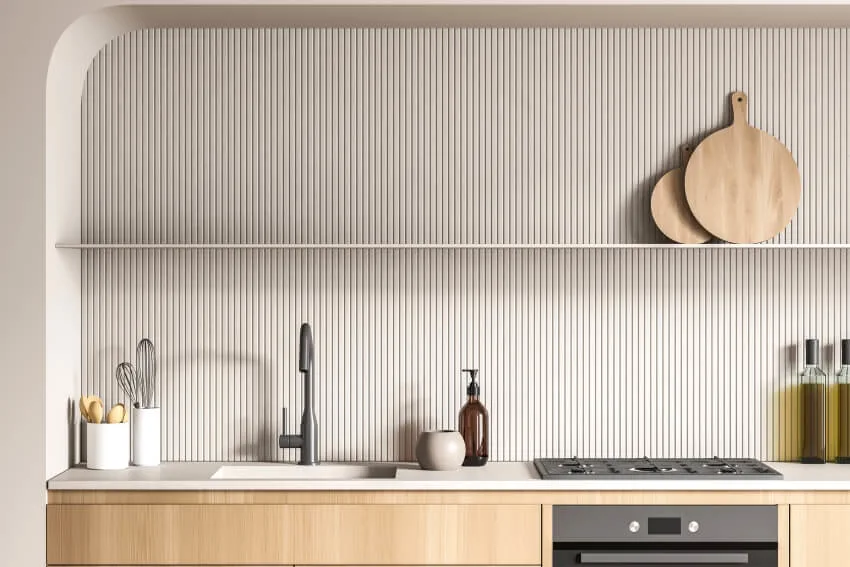 Also called wood laths, wood slats, compared to wood planks and panels, have a thinner section, typically having ½ an inch to 2 inches wide. To create a wood slat backsplash, wood slats are evenly spaced ¼ inch to ½ inch.
A tip in spacing your wood slats for your backsplash kitchen, the space should not be less than the width of the slats to avoid a zebra-stripe appearance.
Since you have a narrower width, installing a wood slat backsplash can be more time-consuming compared to your planks and panels. Although more costly, using dimensional lumber slats is a way to cut labor time.
If you want to save on materials and plan to have it as a DIY project, use sheet goods to be cut by a table saw. The advantage of cutting your own wood slats for your backsplash is that you can get customized sizes that are suitable for your preferred design.
Whitewashed Backsplash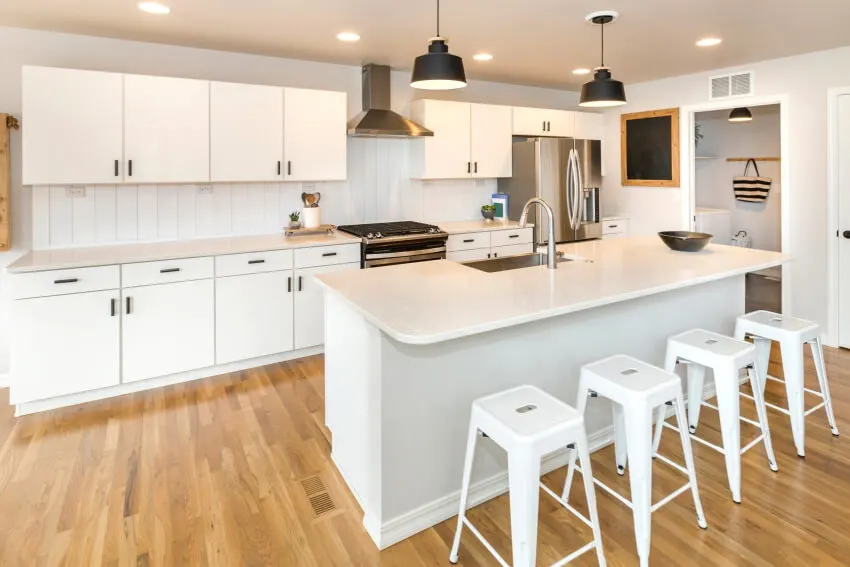 The beautiful texture of the wood is aesthetically appreciated, although sometimes we need to update the look to create a more modern and cleaner look, especially when it comes to the kitchen.
White wood backsplash is the perfect option to accommodate a bright and updated look, especially if you decide on repurposing salvaged wood. Moreover, beach-inspired, distressed, and white farmhouse kitchens are popular, and a white wood backsplash is a perfect backdrop to incorporate.
If you have an existing wood backsplash, install you can easily paint it over while retaining the natural texture of the wood.
The whitewashed wood is a trendy aesthetic that captures the weathered look of vintage-themed kitchens such as modern farmhouses. To achieve the distressed appearance, white latex paint is mixed with water in a ratio of 1:1.
The dissolved paint will have a thin application that allows partial coverage of your wood surface, showing some parts of your natural wood texture.
Try Modern Wood Kitchen with Backsplash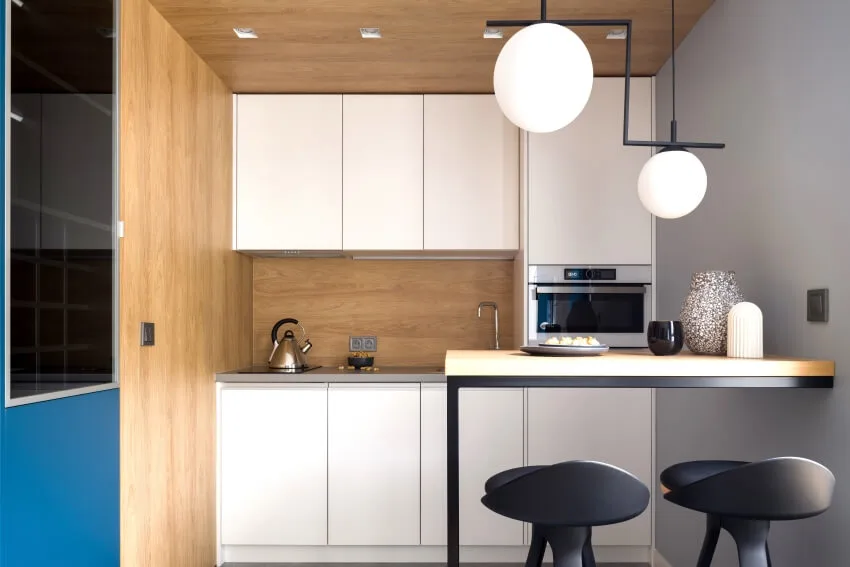 When it comes to your minimalistic sensibilities, it is quite hard to consider a wood kitchen backsplash as it may seem out of place amidst the sleek and clean surfaces.
However, the right selection of wood specie and finish can be a dynamic element in your modern kitchen. A whitewashed wood backsplash is an excellent option for your modern kitchen, or choose soft and light brown hues that work well with Scandinavian-inspired interiors.
Darker hues or almost charcoal colors are great for modern industrial themes. Wood species that have fibers that run parallel to the long axis include cherry, hard maple, and cedar.
Rustic Style Backsplash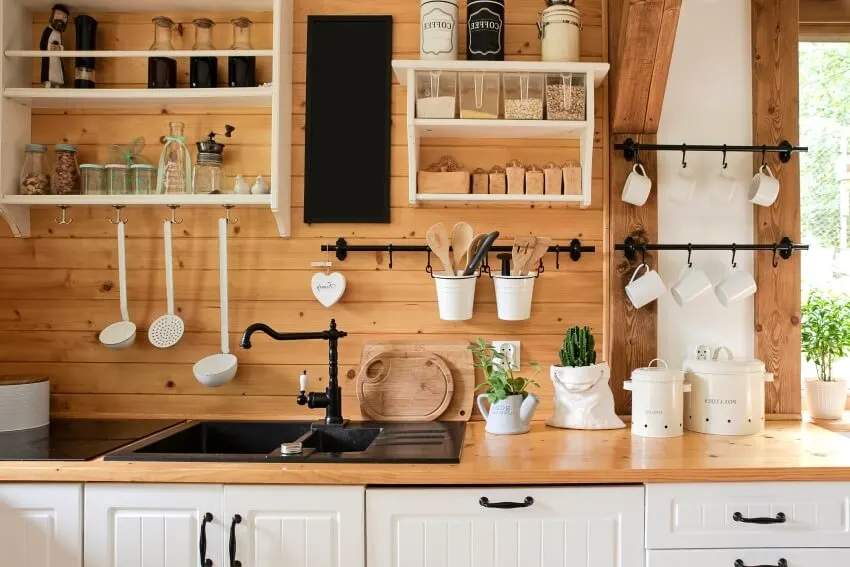 Organic and natural materials are at the heart of rustic interiors, and wood is just the perfect element to convey the casual and pastoral style.
Pallet wood backsplash is a popular option for farmhouse kitchens with its varying graining and hues that contrast with the typical white or wood-layered interior. Galvanized iron and distressed materials that are common in rustic kitchens look amazing with a rustic wood backsplash.
Peel and Stick Wood Style Backsplash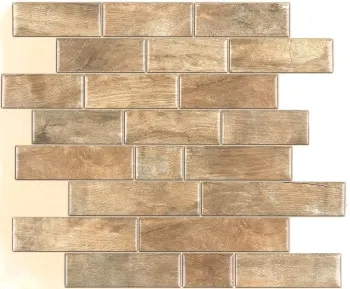 See this peel and stick wood backsplash at Amazon [sponsored link]
A peel-and-stick wood backsplash is a perfect option for renters or those planning a temporary residence. As the term implies, a peel-and-stick wood backsplash is installed by simply having a thin vinyl sticker where the backing is peeled to reveal the adhesive side, which is then laid to the wall with the desired orientation.
This type of peel-and-stick backsplash simulates the look and sometimes even the texture of natural wood, creating a 3D effect. Aside from the easy installation, the peel-and-stick wood backsplash is cheaper than your natural wood backsplash.
Herringbone Wood Pattern Backsplash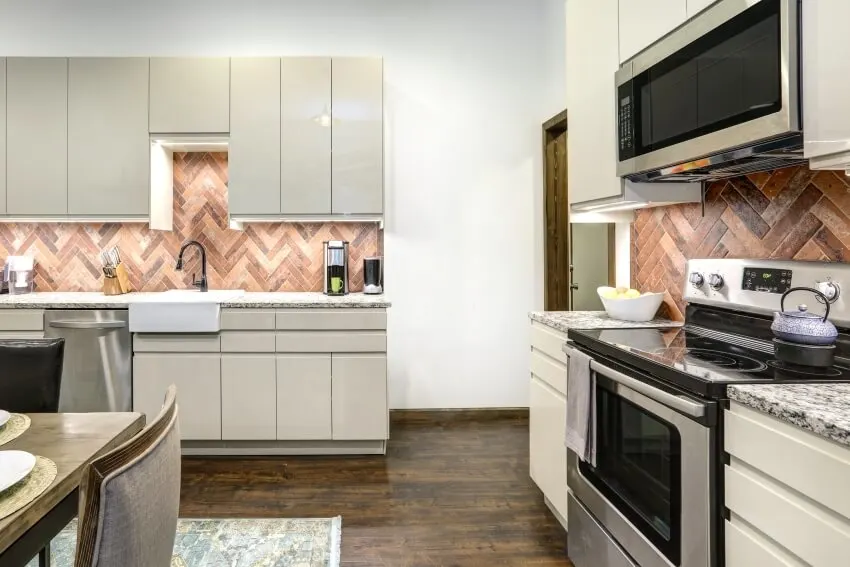 The herringbone wood backsplash lends dimensionality and is suitable for kitchen areas that need a busy backdrop. The patterned wood backsplash works for both your traditional and contemporary themes, where the hues and graining of wood will affect the overall appearance of your interior design. A herringbone is a pattern where it resembles fishbones.
The herringbone pattern is usually interchanged with the Chevron pattern due to its similar appearance. The best way to distinguish the two patterns is that Chevron has the inverted V layout while herringbone looks like a broken zig-zag pattern. Herringbone is a traditional pattern used on exterior and interior applications.
Butcher Block Countertop with Backsplash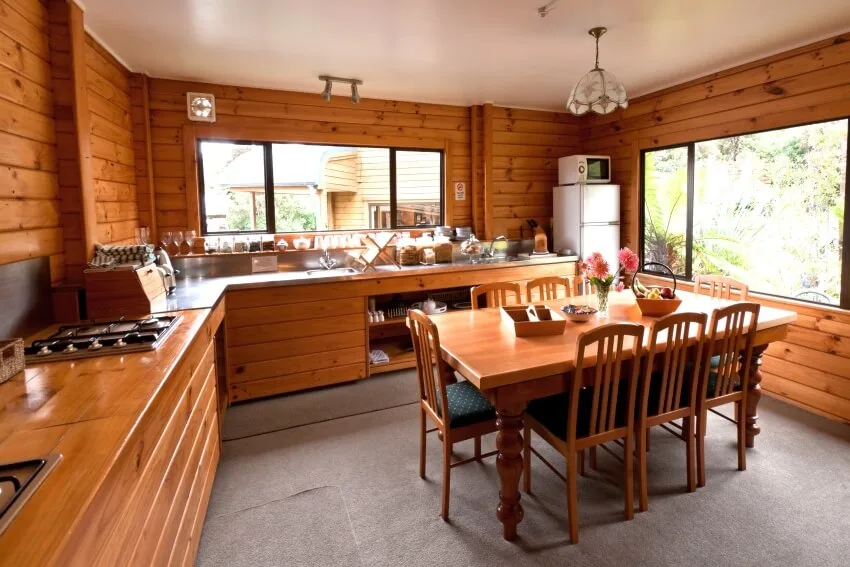 Wood on wood can be a striking feature in your kitchen, and a butcher block countertop offers that natural color and grain of the wood with its thick veneer wood.
Unlike solid countertops, the butcher block backsplash material is manufactured to have stable and is more resistant to humidity, making it suitable for damp areas such as the kitchen. Match the wood block with a backdrop of a wood backsplash to create a focal point in the interior.
Faux Wood Panel Backsplash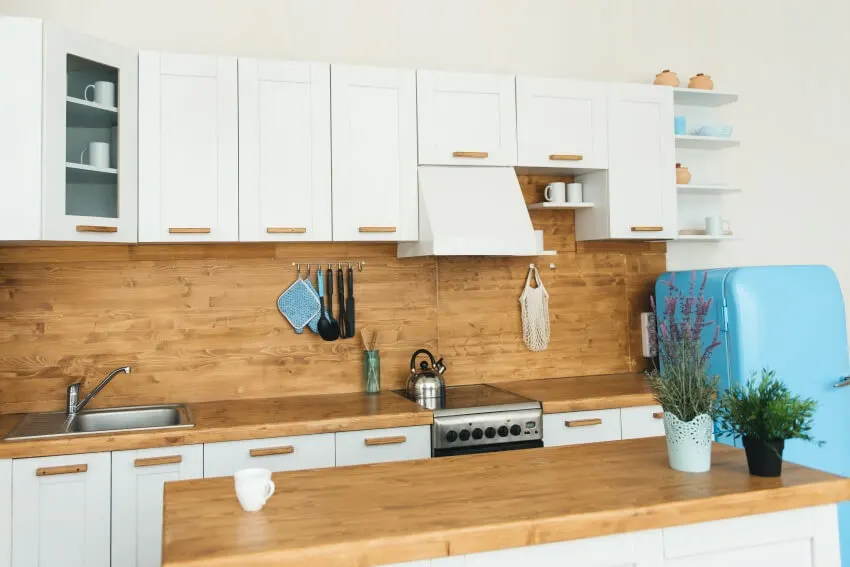 Materials that simulate the look of wood, such as faux wood panels, are a practical option if you're looking for an affordable way to create a beautiful wood backdrop in your kitchen. Moreover, there's a wide range of design options to choose from available from almost any home and improvement shop.
The faux wood panels usually come in a continuous standard size of 18 inches wide x 9 feet roll. The panel comes with an adhesive backing that is stuck against the wall.
DIY Wood Backsplash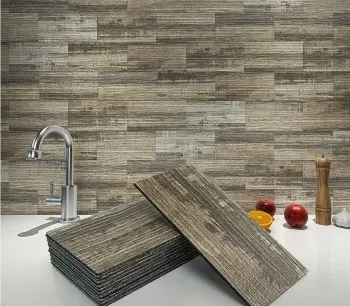 See this DIY wood backsplash at Amazon [sponsored link]
The cheapest and easiest way to achieve a wood backsplash in any kitchen design is by using peel-and-stick tiles. The self-adhesive material comes with a wide variety of wood patterns that simulate real wood graining.
The standard sizes also make it easier to cut using ordinary cutters and are easier to lay out due to the fixed size. Most faux wood panels come with a protective layer infused on their surface to provide a glossy and are easier to maintain.
When you desire authentic wood for your DIY wood backsplash, installing wood panels, palettes or tiles is relatively easy. Use basic tools such as a jigsaw or regular saw to cut your panels into desired sizes; make sure to have a layout in mind to minimize material wastage before starting to cut your panels. The location of electrical switches and outlets should be removed prior to finishing your wood backsplash.
To attach your wood material to your wall, use construction adhesive. The easiest method is attaching your panels is using a caulking gun to apply liquid nails, which come in tubes. Applying mastic on the wall or your wood panels using a notched trowel is another way to adhere your material to your kitchen wall.
How to Protect Wooden Backsplash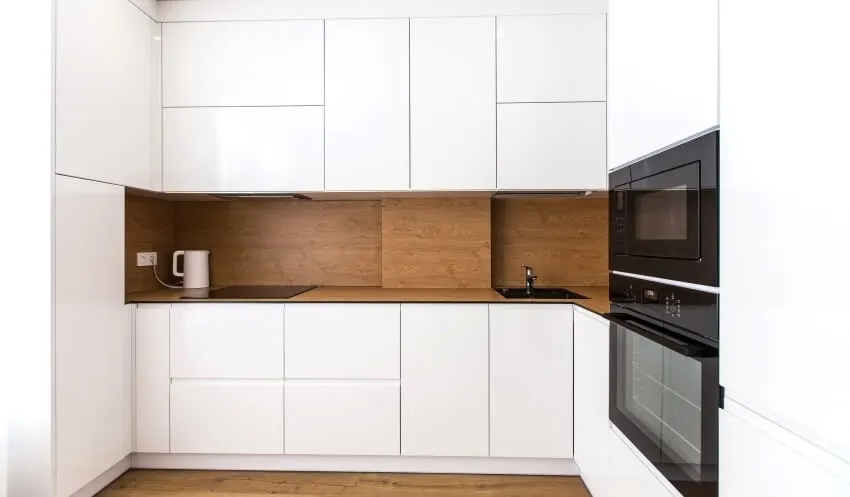 Protecting your wood backsplash is essential in maintaining the structural integrity and look of your wood backsplash. Use a coat of sealer on both sides of the panel. Clear varnishes or lacquer can preserve the color and graining of your wood. Wood or mineral oil is another great way to seal -off your wood backsplash.
When you plan to paint your wood, backsplash uses a stain-blocking primer before applying paint on the wood surface. Before applying the surface, the coat is sure to remove debris by cleaning the surface thoroughly. Dents should also be removed by lightly scratching the surface, as imperfections can lead to holes or bubbles after the surface treatment.
Surface cleaning is important in maintaining the look of your wood backsplash. Regular oiling or waxing can be an added protection while keeping it looking its best.
For more related content visit our brick backsplash kitchen ideas here.