This guide to knotty pine kitchen cabinets shares what they are, designs, if they're a good choice, and how to clean, paint and make your knotty pine cabinets look modern.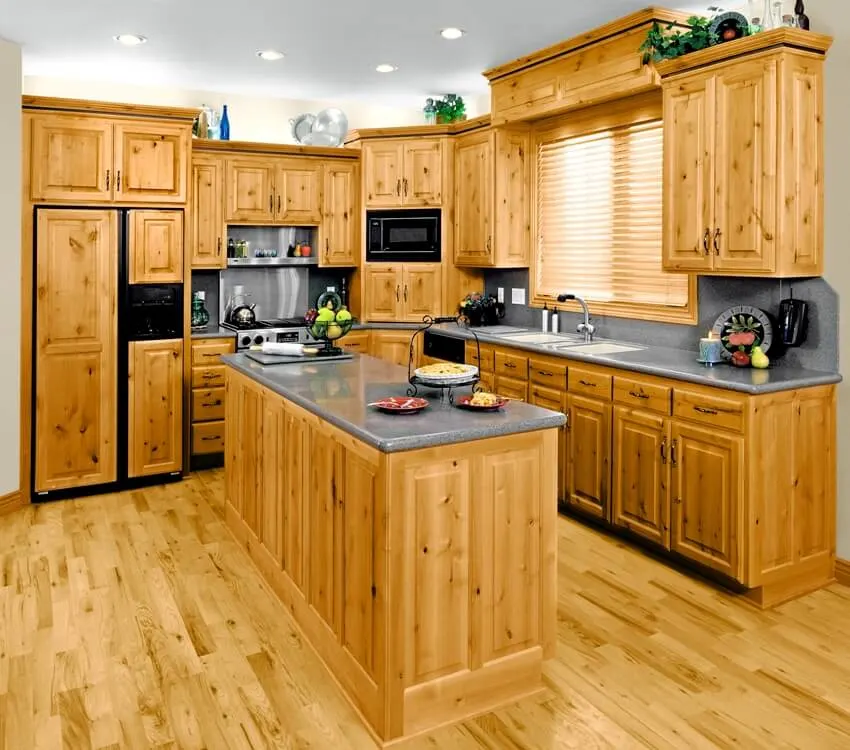 The heart of a house is always going to be in the kitchen and one of the popular choices that many homeowners consider are knotty pine kitchen cabinets due to the warmth and beauty they offer in a very rustic way.
What Are Knotty Pine Kitchen Cabinets?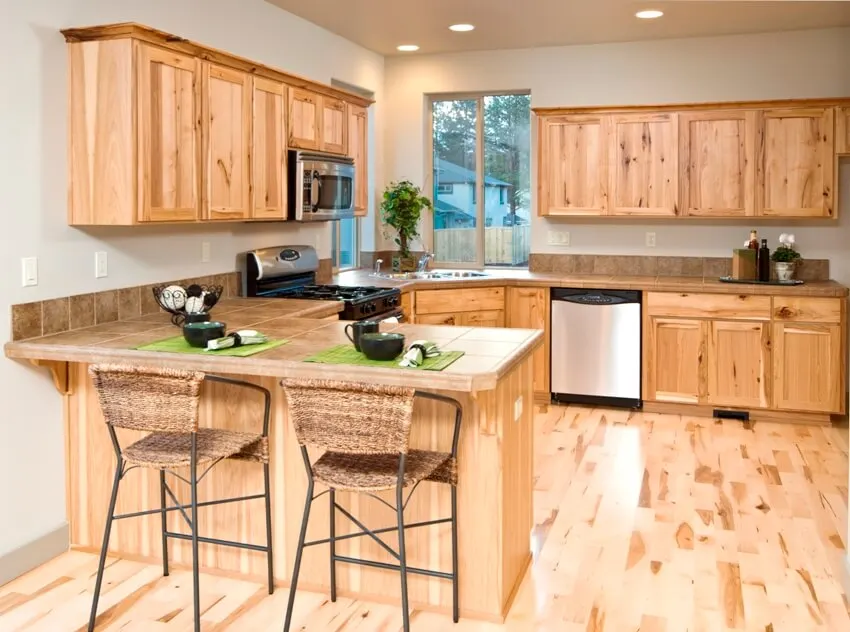 As part of the family of conifer trees, pine is one of the strongest softwoods that is inexpensive and exceptionally durable that it can last for 10 years or more. A knotty pine is like a clear pine with visible growth rings that form knots and has a unique pattern that give kitchen cabinets a distinctive look throughout.
Knotty pine wood has a slightly yellow tint or lighter in color, which can create a sunny, bright, and airy feel in a kitchen. It can be stained to a darker hue as well and still creates a welcoming feel.
When paired with distinctive hardware and decorative pieces, it complements the overall appeal for a more rustic, country or even retro look. Knotty pine is less expensive than clear pine wood. See our gallery of country kitchen cabinets here.
Extremely popular throughout the 1950s, the knotty pine refers to pine wood boards that have a large number of visible knots. It has a honey finish that varied in a range between orange and red colors.
Back then, these knotty pine kitchen cabinets with Formica countertops and wrought iron hardware were a popular decor highlight. Nowadays, designers and homeowners are bring back the knotty pine look by introducing it once again into modern home styles for a retro feel.
Is Pine A Good Choice For Kitchen Cabinets?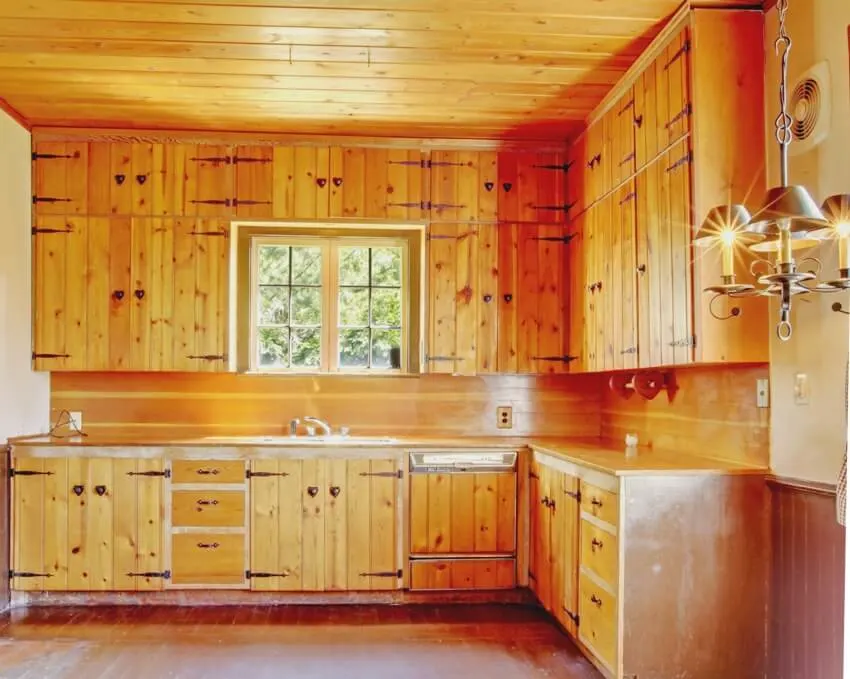 One of pine wood's significant advantages is that it is very affordable, and it is quite easy to sand and to carve, making it great for kitchen cabinets. Homeowners tend to choose pine cabinets for their kitchen because of its natural, unique pattern on the cabinet which adds character to the space.
Using pine wood for kitchen cabinets brightens the kitchen overall ambiance. The smell of the pine also evokes good feelings making the room feel warm, cozy and very welcoming.
Pine kitchen cabinets are easy to maintain, and their versatility is another advantage since they can easily be painted over, making it flexible to some changes within your kitchen cabinetry.
Unfinished Knotty Pine Cabinets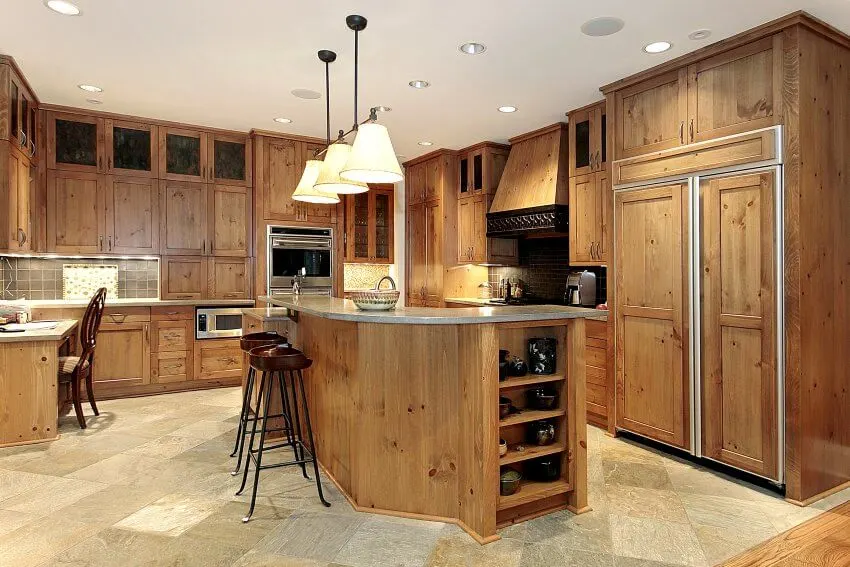 Having knotty pine kitchen cabinets offers warmth and comfortable feel. Unfinished knotty pine cabinets are extremely appealing in their raw state because the patterns in knotty pine are so unique that they really bring out the beauty in a kitchen setting. You can never go wrong with unfinished pine cabinets.
A contemporary interior design style would also work best with unfinished knotty pine cabinets because of its smooth, plain surfaces and clean lines. Using unfinished knotty pine for kitchen cabinets are certainly less expensive.
Pine wood is flexible enough that you could stain it or be paint it any color with interesting paint techniques. The unfinished look of a knotty pine cabinet offers a natural look of wood which adds character to your kitchen cabinetry.
How To Make Knotty Pine Cabinets Look Modern?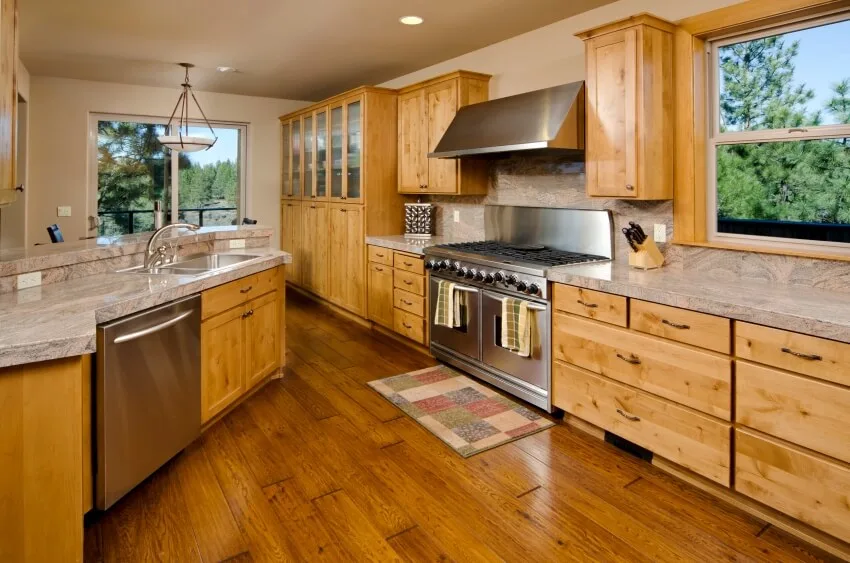 Since a soft wood like pine is easier to refinish and stain than other hardwood cabinets, knotty pine cabinets can easily be modernized and spruced up by incorporating paint, stain as well as decorative and architectural elements.
There are a variety of modern impressions through paint applications such as stenciling, murals or abstract painted designs in addition with just simply painting your knotty pine cabinets with a solid modern shade of paint. You can also try a paint splatter technique for an unusual an eclectic appearance.
Since pine wood is porous, it easily absorbs a wide range of stains. If your knotty pine cabinets have old paint or varnish, you need to strip and sand them before you can stain the wood in a color of your choice. To minimize absorption, you can buff the stain into the wood, or you may also use a rub-on or cream stains.
Another way to make your knotty pine cabinets look modern is to apply faux finishing techniques using gold gilding, creating a crackled paint surface, or distressing by painting and then selectively sanding away portions of paint at edges. Make sure you seal and protect any of the faux finish with polyurethane to ensure long wear and durability.
Replacing existing cabinet hardware with modern design hardware such as chrome or glass pulls and knobs, or other unusual options is one way you can modernize the look of your knotty pine cabinets. Adding wood trim, decorative wood embellishments and decals to your pine cabinets creates a modern and distinctive look.
Consider replacing the center panels of your knotty pine cabinets with stained, beveled, or frosted glass for an upscale modern look. Check our gallery of modern kitchen cabinets for more ideas.
Painting Knotty Pine Cabinets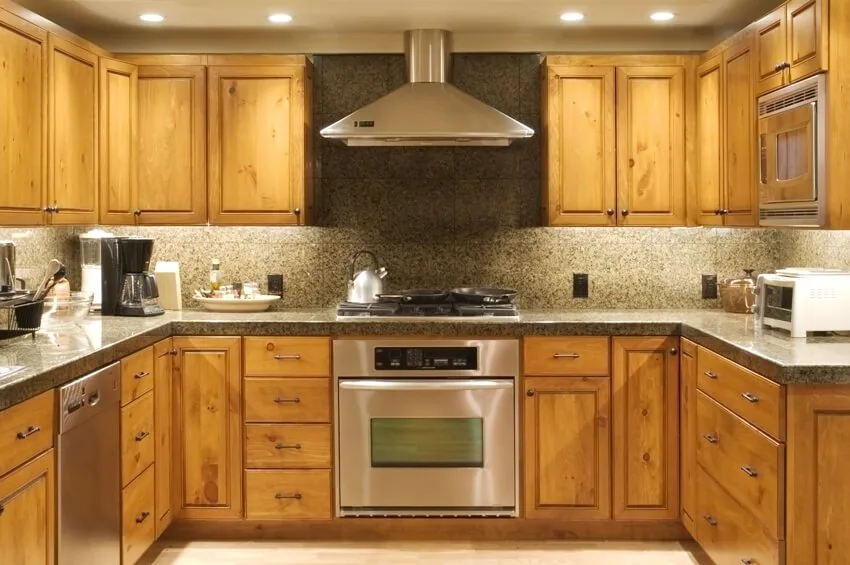 Painting knotty pine cabinets can give your kitchen a more stylish look and feel. However, there are some things you need to consider before you paint your knotty pine cabinets. The knots can make it hard to paint this type of wood.
To paint knotty pine, there must be much priming and sanding to eliminate the knot's appearance in the wood. Also keep in mind that an oily pine may not take paint well, while unfinished pine absorbs many shades and can also give the cabinets uneven coverage.
Before painting the knotty pine wood, if it is unfinished wood clean it thoroughly to remove grime and grease because painting over dirty cabinets won't let the paint adhere properly.
But for the stained knotty pine wood paneling, remove the old wood stain first by using a mild detergent mixed with water and a sponge to wipe the surface. This process also removes dirt and other contaminants. Wipe with a clean cloth the wood to remove any soap residue before you start prep work and painting your knotty pine cabinets.
The next step is to fill in all of the scratches and holes with latex-based wood filler and a plastic putty knife. Then lightly sand the cabinet surface starting with an 80-grit sandpaper and sand the knotty pine once again using the 120-grit to smooth out any bumps and will give the surface a gritty finish.
Lastly, use a 200-grit sandpaper to give it a finer finish which will help the paint to adhere to the surface of the wood. Make sure to remove all the dust by wiping it down with a clean wet cloth.
Usually, painting knotty pine cabinets need at least one coat of primer before starting the painting process. Applying primer helps in sealing the pores, ensuring even coverage and hides the pine knots better.
Apply a thin layer of primer on the cabinets and let the coat dry overnight. Using a paint sprayer can also give you an even coat and guarantees a smoother finish compared to a paintbrush. Fill up the paint pot with the topcoat and spray a thin coat of paint and let the first coat dry for a day and then apply a second coat for best coverage.
How To Clean Knotty Pine Cabinets?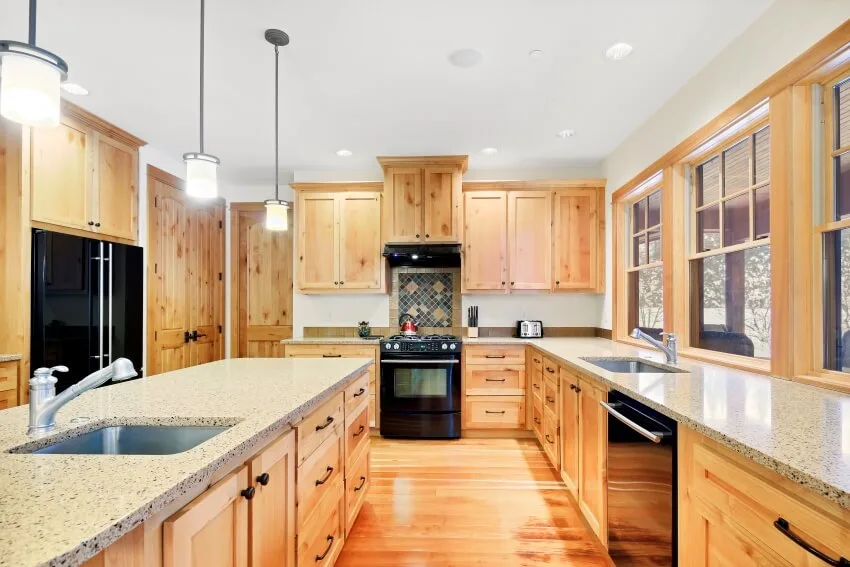 Knotty pine cabinets like other wood cabinetry are liable to wear and tear. Cleaning knotty pine cabinets is not different to cleaning it like you would most other pieces of wood. Start with any mild detergent mixed with water to scrub away dirt and grime.
Unfinished knotty pine cabinets can be scoured with a little paint thinner to get rid of stubborn spots. For a streak-free look, try mixing 50% water and 50% distilled vinegar. However, make sure that you do not spray the distilled vinegar directly on the surface instead, spray it onto a cloth and gently wipe your knotty pine cabinets.
These methods can help extend your kitchen cabinetry's lifespan. Of course, specialty wood or cabinet cleaners are highly effective, and they are available at most general store, however they tend to be a little more expensive.
Make sure you go slowly in cleaning your cabinetry by washing and scrubbing one side at a time. When washing your knotty pine cabinets, limit the amount of moisture on your cabinets to protect them; do not soak the cabinets in water. Instead, dip the cloth in soapy water to dampen it making sure that you squeeze the cloth to remove excess water.
When scrubbing the outside surfaces of your kitchen cabinets, start from top to bottom. Ensure that you take time on the corners to clean more hidden dirt from hard-to-reach areas. Scrub these tough spots with a toothbrush dipped into soapy water.
Avoid letting water sit inside the cabinets. Rinse and dry each cabinet completely and leave the doors open until they totally are dry.
What Color Countertop Goes With Knotty Pine Cabinets?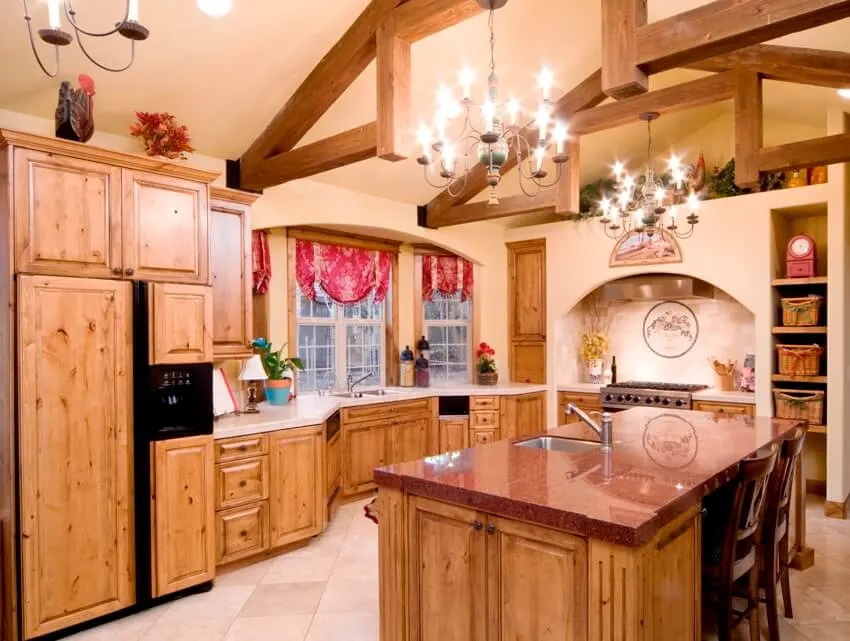 Since knotty pine wood is typically a light-yellow orange in color and the knots in knotty pine will be darker brown, a lighter neutral granite will pair well as it will create a beautiful balanced monochromatic appearance.
Pairing a black granite countertop with knotty pine cabinetry makes a strong statement in an industrial style or mid-century modern style kitchens. While slightly off-white granite color combined with the natural soft characteristics of the knotty pine cabinets offers a rustic style kitchen.
How about trying to pair blue-green granite with your knotty pine kitchen cabinets? Since orange-yellow and blue green are complimentary colors, this pairing will highlight each color and bring out the rich intensity of each shade.
Having blue-green countertops with knotty pine cabinetry became a popular combination during the mid-century. Today, this color scheme will work perfectly for a mid-century style kitchen.
Keeping these general cool, warm and neutral shades of granite in mind, you have a few options pairing these with knotty pine cabinetry.
For more related articles visit our guide to alder kitchen cabinets.