In this guide to refacing kitchen cabinets you'll see the process, pros and cons, how long it lasts, the cost, and if painted kitchen cabinets can be refaced.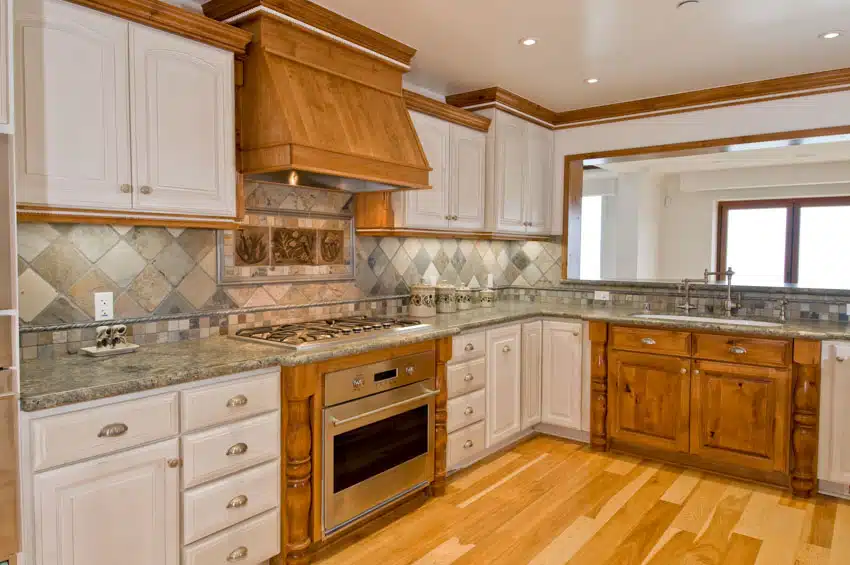 If you're looking for a quick and easy remodeling project for your kitchen, consider refacing the kitchen cabinets. Refacing your cabinets, changing the veneer or surface of the cabinet frame and doors can change the look and feel of your kitchen.
When you reface your kitchen cabinets, you improve their appearance, which can significantly influence your kitchen's style. You can easily change the color of your cabinets and change their look to reflect any kitchen style – from sleek and modern to cozy and rural.
As with any home improvement project, there are various pros and cons when it comes to refacing kitchen cabinets. Some of the biggest questions around cabinet refacing revolve around whether refacing is better than replacing a cabinet or even just painting them.
One of the biggest pros of kitchen cabinet refacing is that it's pretty budget-friendly, especially compared to cabinet replacement. While paint may be a little cheaper to buy than veneers, which you need for cabinet refacing, applying veneers are considerably less labor-intensive and can be a more straightforward and "cleaner" project than cabinet painting.
However, the most common con of kitchen cabinet refacing is that it is only sometimes the proper fix for all cabinet problems. If your kitchen cabinet is no longer structurally sound, for example, then refacing it will not necessarily extend its life.
In the long run, it might be cheaper to replace the cabinet entirely. It also won't help you if you are unhappy with your cabinet layout or need more storage space.
In this post, we will help you decide whether refacing is the answer to your kitchen cabinet problems. To better determine whether or not the pros of kitchen cabinet refacing outweigh the cons, let us first take a closer look at what it entails, the benefits it can give, and why it might or might not work for your particular situation.
Process of Refacing Kitchen Cabinets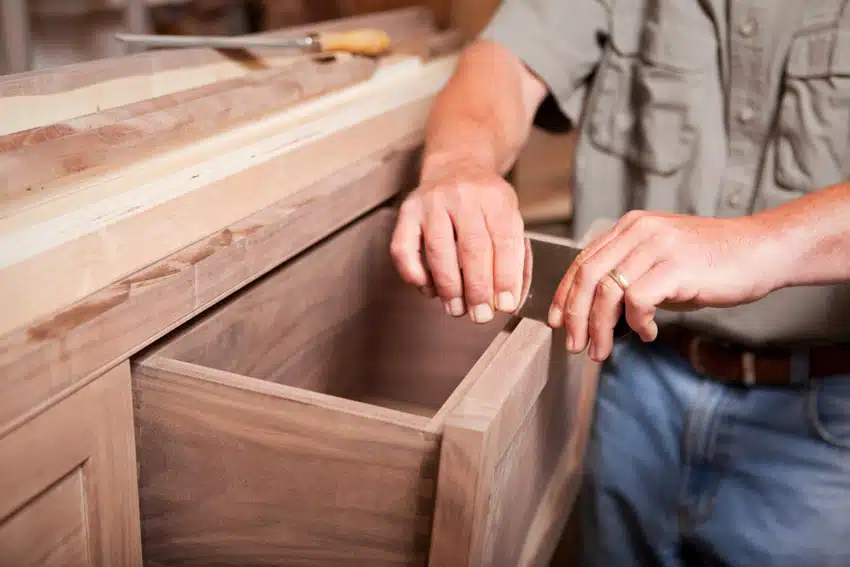 The basic process of refacing kitchen cabinets involves covering the cabinet's body with a new veneer. Cabinet veneers come in various colors and patterns, and you can even get veneers that mimic the look and feel of more expensive materials such as hardwood or stone.
The most popular cabinet veneers are natural wood veneers or RTF veneers. RTF, or rigid thermofoil is a melamine-based product that is basically a thin layer of plastic. It is usually colored or patterned to look like wood grain, that can be pressed onto a surface to create an attractive, easy-to-clean, non-porous finish.
You can reface a cabinet yourself by using a veneer cabinet kit, or you can hire a contractor that specializes in cabinet refacing.
Whether you do it yourself or hire someone to do it for you, the process of refacing your kitchen cabinets will entail the following steps:
1. The first will be the complete removal of the cabinet doors, drawers, and fronts.
2. Either you or your installer will take your chosen veneer and cover the front portions of the cabinet boxes.
3. The cabinet sides will then be skinned with the same laminate or wood veneer.
Additional steps that you may take in the process of refacing kitchen cabinets are:
• The replacement of cabinet door hinges.
• The installation of new cabinet doors or drawer fronts.
• The installation of new types of cabinet hardware, such as handles and drawer pulls.
If your cabinet's doors and other fixtures are in good shape, you should reuse them. You might also want to take this opportunity to install additional accessories like glass panels or crown molding.
Advantages of Refacing Cabinets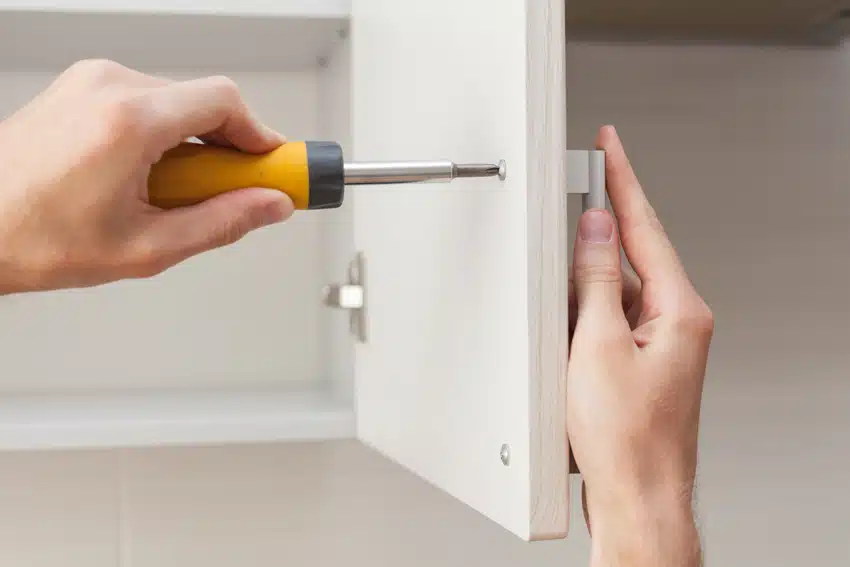 Inexpensive – One of the biggest refacing kitchen cabinet pros is the fact that it is pretty budget-friendly. It is much cheaper to buy veneers in whatever style, color, or pattern you want than it is to install new cabinets – especially if you decide you want custom-made cabinets.
Fast remodel solution – Kitchen cabinet refacing is also one of the easiest and quickest ways to give your kitchen a fresh new look while avoiding extensive remodeling.
Keep the same layout – If you like your current kitchen layout, refinishing your kitchen cabinets is better for you than reinstalling cabinets. You can retain your kitchen layout if you don't move or reinstall new cabinets in a refacing job.
Can update the look – Another refacing kitchen cabinets pro is it allows you to play around with the look of your kitchen. You can easily find many different veneer options that can suit any style, so you can switch around and try things out until you finally get the kitchen of your dreams.
Keep your original cabinet frames – Yet another reason many people choose to reface rather than replace is that refacing allows them to keep their original cabinet shells. Refacing your cabinet can add some structural strength to your existing cabinets, allowing you to maximize their use.
Keeps remodeling to a minimum – Also, suppose you are happy with the storage space and how you can arrange your stuff in your existing cabinets. In that case, it can be a relief to know that you don't have to change a thing about your cabinet interiors with cabinet refacing.
More environmentally friendly – Refacing is also a great green remodeling option if you are concerned about the environment. It keeps your cabinet boxes from landfill and allows you to reuse "old" types of furniture styles, preventing trees from being cut down to construct new cabinets.
Disadvantages of Resurfacing Cabinets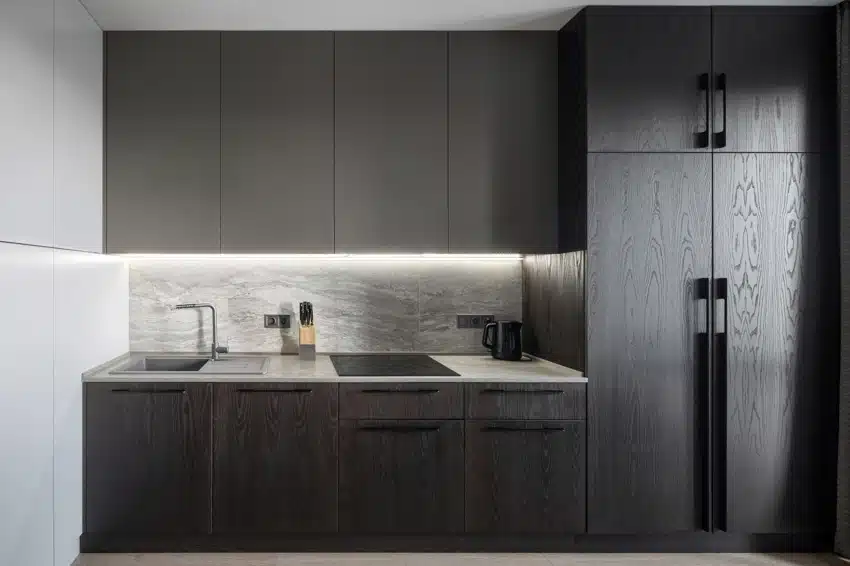 Does not change the layout – If you want to change the look of your kitchen, then refacing kitchen cabinets have a few cons. For one thing, you can't make any layout changes if you keep and reface your existing kitchen cabinets.
If one of the reasons you want to refurbish your kitchen is that you find it cramped or hard to move around in, then you will need more than just refacing kitchen cabinets. Instead, you're going to want to remove your existing cabinets and change the room's layout to ensure that you have the space you need.
Veneer installation does come with a cost – While many people find wood veneers attractive and might initially seem budget-friendly, putting them up might require a bit more work and have some additional costs.
May not increase resale value as much as new cabinets – Wood veneers give you the look and feel of wood in your kitchen but may require additional finishing, including staining and varnishing. In the long run, installing natural wood cabinets in your kitchen might be more cost-effective, as these will also improve your home's resale value.
Does not increase storage space – Another reason why some people decide that cabinet replacement is the better option is that they might be unsatisfied with their existing storage space. Cabinet refacing improves your existing cabinet exteriors but does nothing for the interiors.
Suppose you are dissatisfied with the lack of shelves, the placement of your drawers, or other storage features in your existing kitchen cabinets. In that case, you will be better off shopping around and finding new cabinets that better fit your needs.
Does not increase countertop space – Also, if you need more counter space, it's better to find and install new cabinets to increase the counter space in your kitchen.
The biggest con to cabinet refacing is that it won't really fix any structural problems that your cabinet has. If the cabinet box is in bad shape, then refacing won't fix it nor really extend its life span.
May need professional installation for an attractive finished design – Applying veneers can also be tricky. If you don't apply the veneer properly, you could end up with cabinets that look worse than before.
Refacing may not work for all types of kitchen cabinets – Also, veneers need a smooth surface that they can adequately adhere to. If the veneer doesn't properly adhere to your cabinets, then you're just going to end up wasting money on a project that won't really deliver any lasting improvements.
How Long Does Cabinet Refacing Last?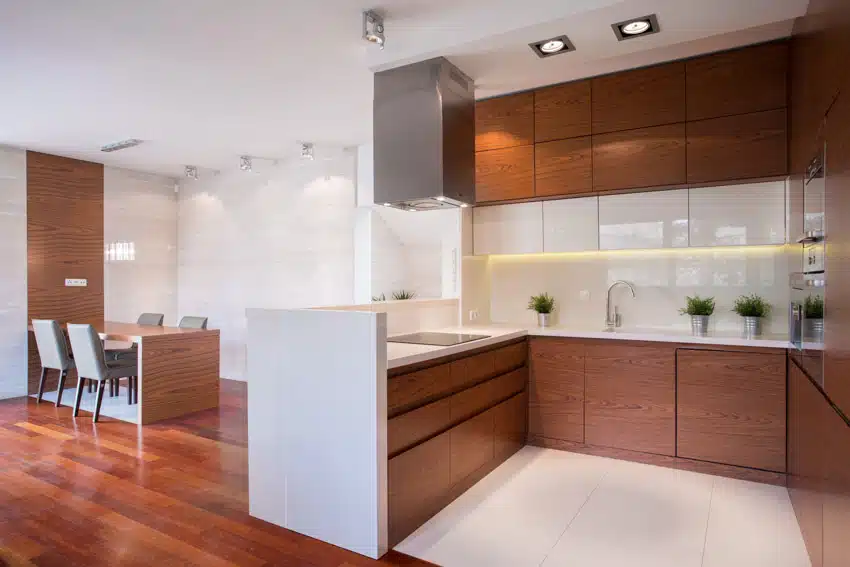 Veneers should last for about 15 to 20 years when correctly applied to a smooth surface. While certain types of wood veneer might eventually start to peel or chip, your cabinet refacing job should remain good for at least a decade.
Another advantage to cabinet refacing is that it's relatively easy to "spruce up" as you can paint refaced cabinets. So if you want to change the color or cover up some scratches, you can apply a coat of paint.
Also, you can reface cabinets that have been refaced so that you can do a quick patch or touch-up job yourself. Just find some of the same veneers or keep some handy.
How Much to Replace Cabinet Fronts?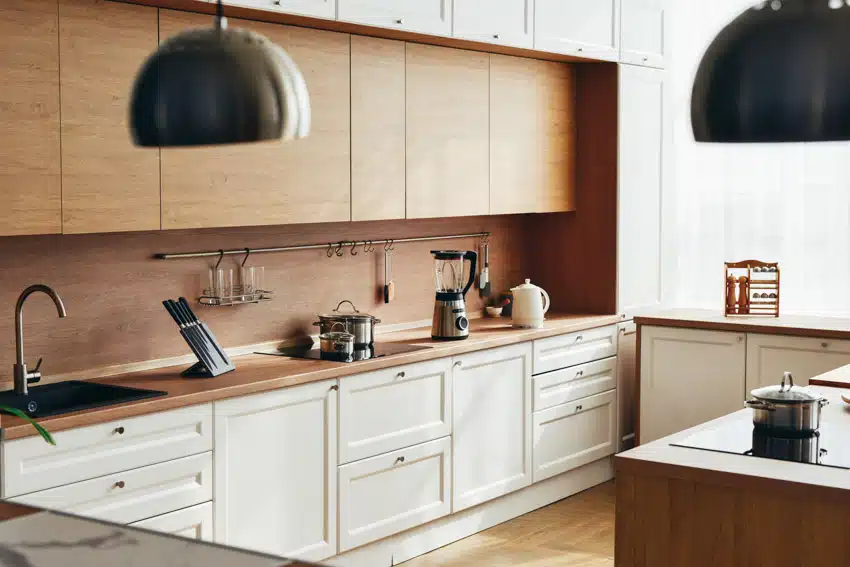 Replacing cabinet fronts is a little more expensive than just refacing the cabinets. They are also a little more labor intensive as your existing cabinets are removed, and new cabinets are installed.
If you decide to replace your kitchen cabinets, you might pay about $13,000 to $30,000 for the new cabinets. Refacing existing kitchen cabinets should cost about 30 to 50 percent less.
In general, cabinet refacing will cost about $7,000 to $10,000. This will depend on the size and number of the kitchen cabinets, the material you decide to use, and if you are going to do it yourself or hire someone to do it for you.
Does Cabinet Refacing Look Cheap?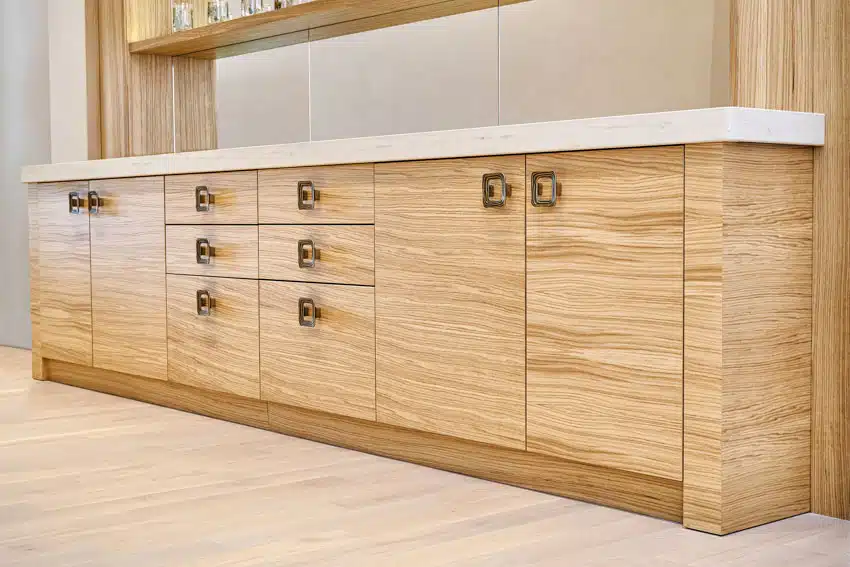 A cabinet refacing job should not look cheap as long as your cabinet boxes are in solid shape and the replacement veneers are correctly placed.
In fact, given that you can often find wood veneer that can mimic the look of expensive hardwood, it's a cost-effective way to make your cabinets look more "luxurious" and improve the look and feel of a room.
Another option people consider rather than refacing is to paint. Read more about painting vs refacing cabinets here.
Can You Reface Painted Cabinets?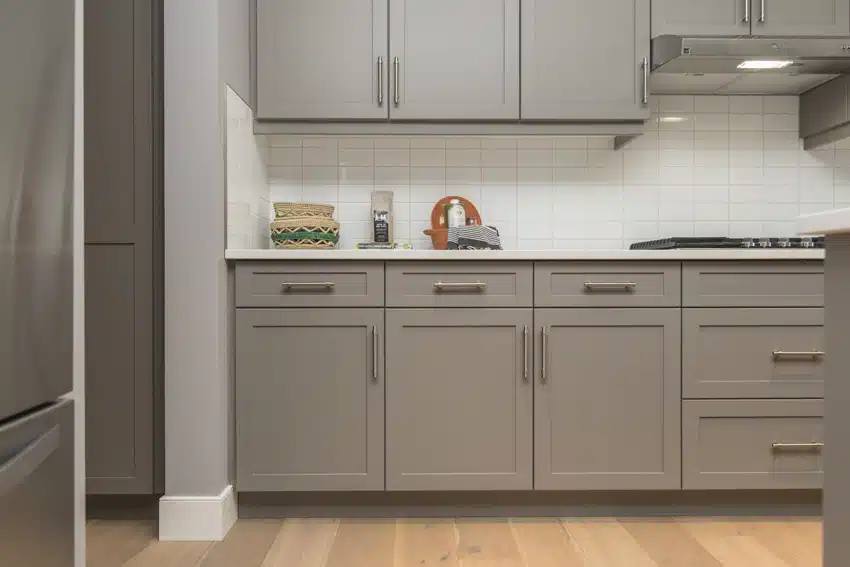 While you can reface painted cabinets, you have a tough job ahead of you. Veneer needs a smooth surface to adhere to and might not stick properly to a painted surface.
You will have to strip down and sand the paint off to ensure that you can adequately reface painted cabinets. On the other hand, you can paint refaced cabinets; you just need to make sure you use the proper paint. Look for paint that is made to coat veneer or RTF.
Can You Reface Cabinets That Have Already Been Refaced?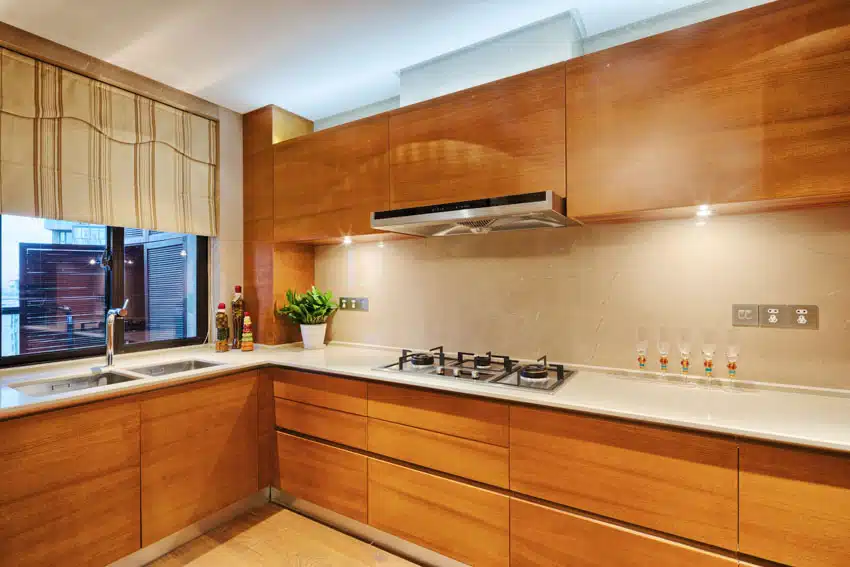 Yes. You can reface cabinets that have already been refaced as long as the cabinet box and structure itself remain in good shape.
Refacing a cabinet that has already been refaced is an easy and cost-effective way to give your furnishing a new look. It also reinforces your existing cabinet framework, adding some structural strength.
Is It Better to Replace or Reface Cabinets?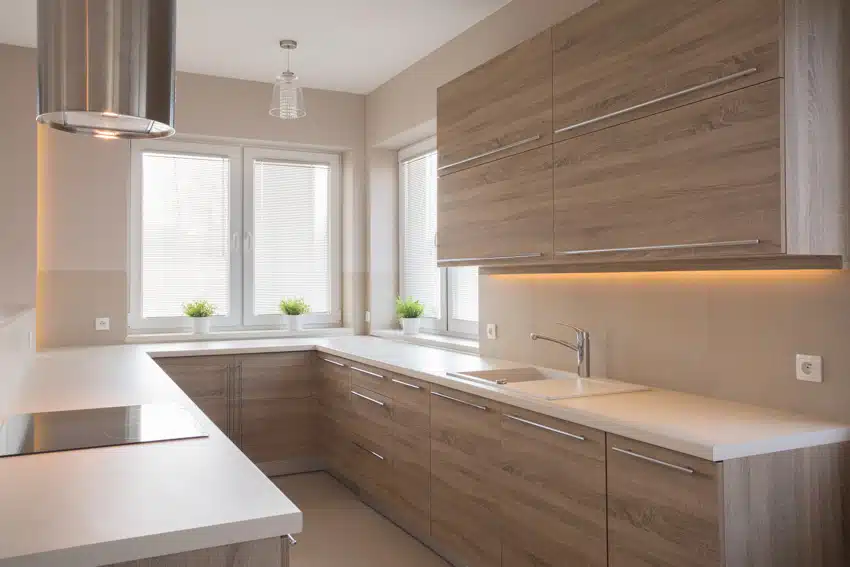 If your kitchen cabinets are well made, and there are no signs of structural damage to the body, reface them rather than replace them. Many older cabinet boxes are sturdier than the newer, factory-manufactured boxes, so refacing will extend your cabinet's life and serve you well for decades.
When deciding to replace or reface cabinets, these are the following factors that you should look for:
• What is the state of the cabinet box? Is it sturdily constructed of plywood or MDF panels? Are the body and sides still smooth and in good condition?
The state of the cabinet surfaces is critical as veneers need smooth surfaces to adhere properly, so if your cabinet box is warped or buckled, you should replace it instead of refacing it.
• The material of the face frames. Again, they should be smooth and in good condition. If your face frames are made of solid hardwood and show no sign of bucking or warping, then your cabinets are a great candidate for refacing.
• The state of the internal hardware. If your cabinet drawers are sticking or the shelving is sagging, it could turn out to be more cost-effective in the long run to replace your cabinets rather than reface them.
All in all, refacing kitchen cabinets are one of the easiest and most cost-effective ways to improve not just the look of your cabinets but the overall look and feel of your kitchen. All without extensive and expensive remodeling that could render your kitchen unusable for months.
See more related content in our article about how to reface kitchen cabinets on this page.