Welcome to our gallery featuring rustic kitchen cabinets including finishes, door styles, hardware, color matching ideas and more.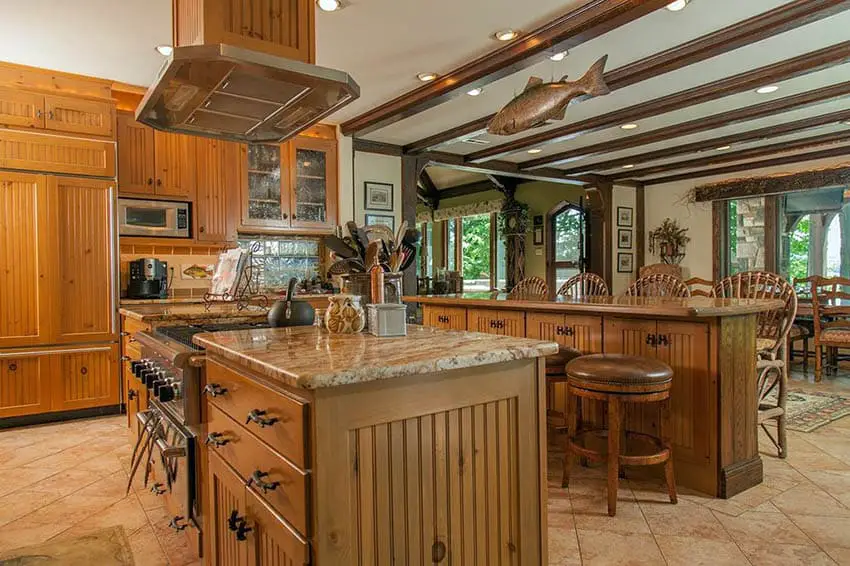 Rugged, timeworn and warm – these are some of the words that we often associate with rustic kitchen style. Best known for its down to earth aesthetics and lived in looks, the rustic kitchen style exudes not only in character but is also considered to be one of the most warm, comfortable and inviting styles in the kitchen design scene. Its age old charm and warm and relaxed style all contribute in capturing the earthy atmosphere of the true rural lifestyle.
The rustic kitchen design is also traditional. Still, it takes different inspirations from specific regions, each producing a distinct style and signature look, such as the Lodge and Mountain style, desert and adobe style, farm and country style and Southwestern style and Old West style.Rustic kitchens also often have a regional American flair: Southwestern, Mountain West or Pacific Northwest or Adirondack, but we often see this style in log houses and cabins.
The rustic kitchen style is also known for its stunning natural wooden kitchen cabinetry which exudes a rugged, down home appeal and comfort. The rustic kitchen cabinet style is also not that different from the country kitchen style as both exude warmth, comfort and natural coziness. Both styles also project a timeless elegance, however, when it comes to aesthetics, the rustic kitchen cabinet style is more unrefined.
Below we explore some of the key design features of rustic kitchen cabinets to help you decide whether their rugged style and antiquated beauty s the right fit for your home. (For more ideas visit our gallery showcasing popular kitchen cabinet styles)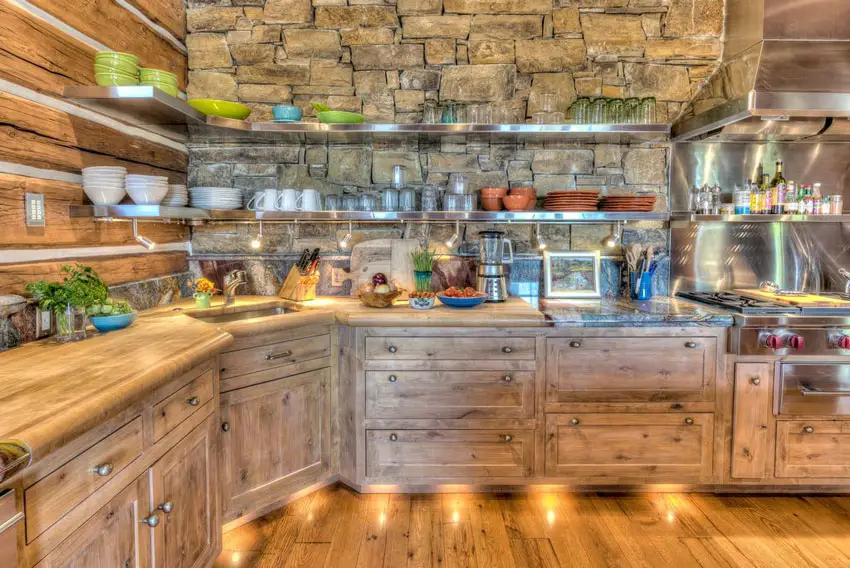 Characteristics of rustic kitchen cabinets
Rustic kitchen cabinets are well known for their rugged aesthetics, natural appearance and strong character. In general, they are characterized by combining country style comfort with an age old charm. It is set apart from other traditional kitchen cabinets style because of its more unrefined and unpolished overall look.
Here are some other popular features of rustic kitchen cabinet design:
Rugged aesthetics – If one word can summarize all the general attributes of rustic kitchen cabinets, this would be the best way to describe it. Rustic kitchen cabinets have a crude, rugged aesthetic yet are still very elegant. It is the opposite of the modern kitchen cabinet style which is sleek and polished, and has a close resemblance to the warmth and comfort of the country-style kitchen cabinets, but looks more unrefined.
Natural appearance and beauty – Rustic kitchen cabinets have a stark natural appearance and beauty. In addition, rustic kitchen cabinets take great inspiration from nature, often reflected through natural materials in their genuine finish.
Heavy use of heartwood and knotty woods – As mentioned, the main attraction that is showcased in rustic-style kitchens are their stunning wooden cabinetry. Rustic kitchen cabinets heavily use natural materials such as solid hardwoods with prominent graining patterns, often in clear wood stain finish. The rustic kitchen cabinet style is also best known for the abundant use of knotty woods.
Rough texture through the use of faded paint and stains – To stay true to its rustic appeal and rugged aesthetics, rustic kitchen cabinets are typically treated with a weathered stain finish of faded paint finish. However, the former is more common than the latter. In addition, the rustic kitchen cabinet style also heavily make use of rough textures through mixing wooden cabinetry with natural stone backsplashes, antique metal hardware, etc.
Warm colors – The colors for rustic kitchen cabinets are generally warm and is comprised of rich shades of brown, often complemented with earth colors like deep reds, greens and yellow.
Raw and weathered – Just like any traditional kitchen cabinet style, rustic kitchen cabinets project a raw appearance, a weathered look and a lived in and timeworn appeal. This is also reflected in the design of the kitchen cabinetry through the use of woods which have natural imperfections such as burls, knots, bird pecks, wormholes and pits. The more blemishes the wood has, the more raw the rustic kitchen cabinet looks.
Carved woods – Carved wood is also common in rustic kitchen cabinets. Rustic kitchen cabinets are not heavily ornamented but puts emphasis on layering of textures and a good way to achieve such is by carving kitchen cabinet doors with small decorative details. You can see more of this type of style at our craftsman kitchen cabinets page.

Robust cabinetry with a sturdy build – Rustic kitchen cabinets are not only known for their stunning aesthetics but for also their strong and sturdy build. With the original intent to last a lifetime, rustic kitchen cabinets were traditionally built with high quality construction techniques using durable hard wood.
Functional – The rustic kitchen cabinet style is made to be used and not admired as "display kitchen", so consequently it's cabinetry is constructed with full functionality. The natural wear and tear brought about by every day use also give rustic kitchen cabinets their timeworn and lived in appeal.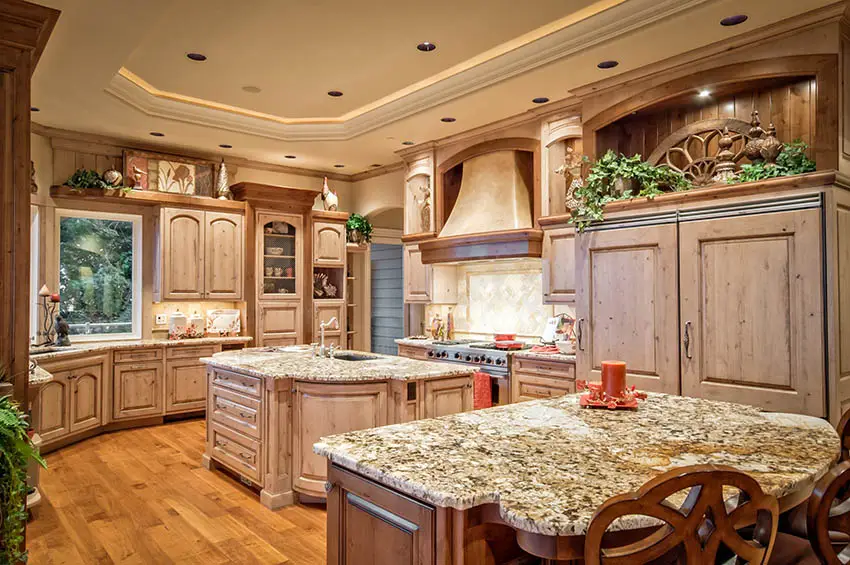 Finishes for rustic kitchen cabinets
Rustic kitchen cabinets should look as if they were furnished over time. To get that timeworn look, rustic kitchen cabinets are typically softly distressed or given an artificially weathered surface. Common finishes for rustic kitchen cabinets also include whitewashed finish, natural finish, distressed finish, antiqued finish and stain finish.
Here is an overview of commonly used finishing techniques for rustic kitchen cabinets:
Stain Finish – Staining is a popular finishing technique that is used to highlight the natural features of wooden rustic kitchen cabinets. Wood stains are composed of colorants suspended in alcohol or a finishing gent like shellac, lacquer, varnish or polyurethane.
Wood stains are used to enhance the natural color and graining pattern of real solid wood. Stains are typically absorbed by the pores, knots and grains of the wood, leaving them with a darker color and a more highlighted appearance. This finishing technique gives rustic kitchen cabinets a strong handcrafted look , while allowing the main cabinetry material's natural beauty to stand out. Opt for this finish if you want to make wood as the most dominant feature in your rustic-style kitchen.
Glazing – Glazing is heavily used in traditional kitchen settings, specifically country rustic kitchen cabinetry because they give off an antique look and an Old world feel. By definition, glazing is a type of finishing that uses a "glaze" or a transparent or semi-transparent liquid that is applied as a top coat for cabinets or furniture that have been painted or stained. The primary purpose of glazing is to add color and provide a glossy shine to wooden kitchen cabinetry.
Glazing is best used for rustic kitchen cabinets with have details such as moldings or carvings. It leaves a shadow effect on the carved details while also highlighting the corners, edges and contours of the cabinetry.
Glazes are available in a variety of colors such as bronze, mocha, coffee, white, cream, to name a few. Two common types of glaze finishes are used for rustic kitchen cabinets namely dark glaze and white glaze. A popular combination is to use white glaze over white rustic kitchen cabinets.
While dark glaze is typically applied over stained rustic kitchen cabinets. Dark glaze can also be applied over white kitchen cabinets to produce contrast and a more highlighting effect. However if a more antique look is desired, both colors can be combined. Visit this page for more dark wood kitchen ideas.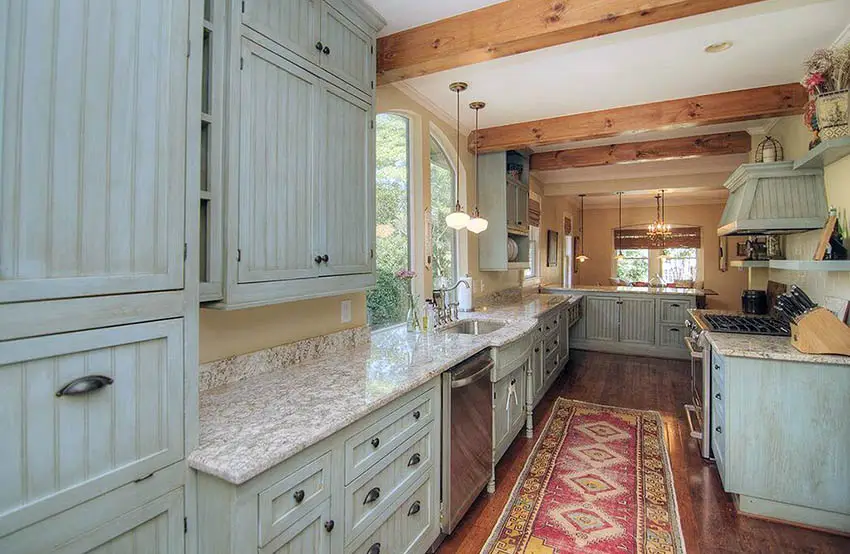 Weathered finish – A good way to give rustic kitchen cabinets a strong, worn out look, old appearance or timeworn appeal is through weathering. Weathering is a type of faux finishing technique that is used to produce cabinetry or wood that looks like it was exposed to years of changing outdoor elements such as rain, sun and wind. Rustic kitchen cabinets typically have this softly weathered look which resembles an old fence, seasoned barn planks, tumbled driftwood, sun-bleached wood, timework dock planks or charred wood.
This special finishing process also exposes the natural graining pattern, knots and swirls of the wooden cabinetry in a uniquely textured surface. The weathered finish is typically achieved by distressing the wood by hand to create artificial wear, tear and age. Stain is then applied over the wood, and is then followed by a finishing top coat of glaze to highlight the raised grains of the wood. The surface is then sanded,gently buffed around the raised edges and knots until the stain below the glaze is exposed.
The weathered finish is prized for its one-of-a-kind old beauty. Its appearance may sometimes include undertones of shades of gray which simulate aged wood.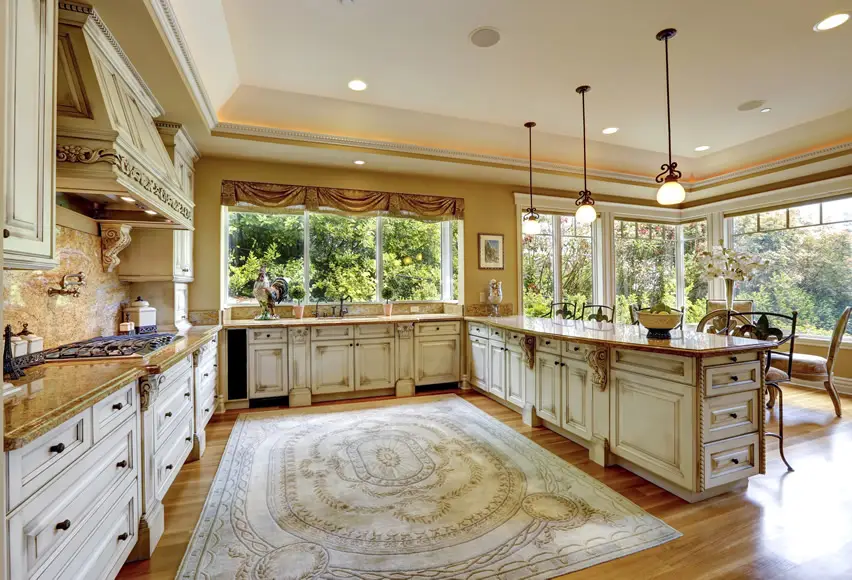 Distressed finish – Rustic kitchen cabinets with a distressed finish mimic the beauty of true antique furniture and cabinetry. Distressing is another popular finishing technique that gives wood and kitchen cabinetry an antique and time worn appearance. This is popularly used in traditional kitchen cabinetry design and country-inspired kitchen settings. Distressing, also known as antiquing, is a type of faux finishing technique that involves creating artificial blemishes in the surface of the kitchen cabinets then treating it with a coating of antique glaze. This finishing process is easy to make using simple materials and is typically done as a do-it-yourself project.
The antique or distressed finish involves repetitive sanding to get a general worn-out texture. The process typically starts with the cabinets being coated with a layer of primer and then it is sanded to give it artificial blemishes. It is then coated with paint and repeatedly sanded to give it more texture. The wooden cabinets are then coated with antiquing glaze as a final treatment using a soft cloth or rag. The edges are then darkened with more antiquing glaze to give it emphasis.
The distressed cabinets finish differs from the weathered finish in that the distressed finish is typically used with paint, while the latter is used with wood stains. Distressing is also more popular in white-colored rustic kitchen cabinets.
Patina and Heirloom finish – Patina and heirloom finish is another type of vintage finish that gives rustic kitchen cabinets an antique look and a timeworn character. These finishes make use of handcrafted details and an artistic technique to produce kitchen cabinetry which are well suited for traditional kitchen settings, such as the rustic kitchen style.
The heirloom finish is somewhat similar to the distressed finish. It creates an antiqued appearance using stains, glazing and distressing. Before the finishing material is applied, the wooden kitchen cabinets are subjected to a distressing technique by sanding, denting and chiseling the edges and corners give the wooden cabinets imperfections and a strong timeworn surface. Glaze is then applied to accentuate the door's details and give the edges and corners a shadow effect. If a more rustic and aged appearance is desired, more imperfections may be added by simply repeating the steps.
Just like the heirloom finish, the patina finish is also a combination of different techniques which involve, over-sanding, distressing, and glazing. The wooden kitchen cabinets are also subjected to heavy distressing using a chisel to produce artificial marks, which simulate the appearance of authentic bird pecks joint cracks, pits and holes. The final step involves dry brushing and the application of a coating of glaze is to accentuate the details of the rustic kitchen cabinet door. The result is an aged appearance that is unique and looks genuine.
Rustic Kitchen Cabinet Hardware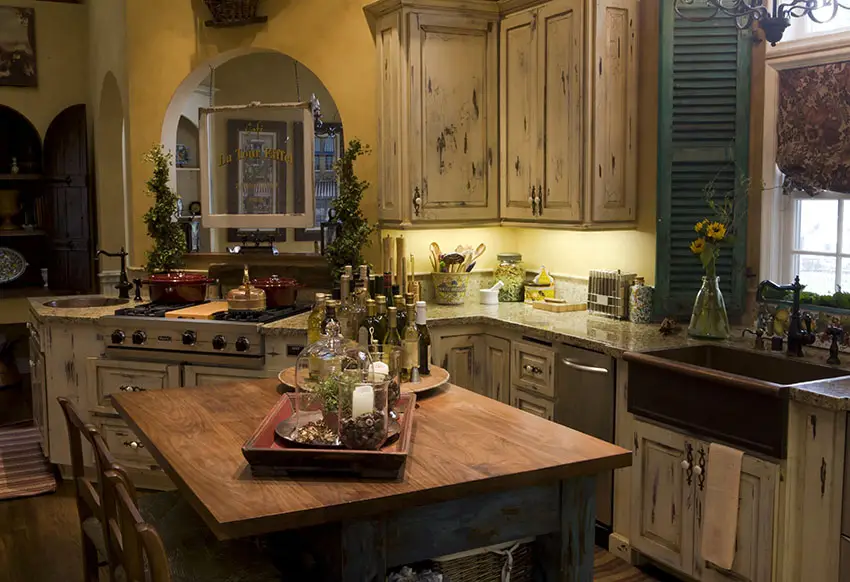 Rustic kitchen cabinets generally have a timeworn look and an unrefined aesthetic. When it comes to design, the profile of rustic kitchen cabinet hardware are well defined and simple, while the size is typically chunky. The handles are typically rectangular in form but may sometimes incorporate simple accents such as geometric shapes or decorative backplates with square cutouts.
Cup bins and pulls are also popularly used in the rustic kitchen cabinet style. Cup bins and pulls are semi-circular or half-moon-shaped drawer pulls that are mounted with the open side facing downward. This type of kitchen cabinet hardware is tantamount to most traditional kitchen cabinet styles because of their old-fashioned design and vintage aesthetic.
Knobs are also a popular type of kitchen cabinet hardware for rustic kitchen cabinets. The shapes of knobs for this kitchen cabinet style are typically round or square in shape with little to no details. In some cases, rustic kitchen cabinet hardware may include small contours or borders around the profile of the knobs.
Appearance-wise, rustic kitchen cabinet hardware have a very strong character. Rather than blending with the kitchen cabinetry material, they often stand out and bring in an element of contrast. The colors are typically dark, with black being the most popular color used.
When it comes to the material and finishes, the best type of pulls, knobs and cabinet door handles which work well with the rustic kitchen cabinet style are those that belong to the "antique metal family" . Some popular kitchen cabinet hardware finish for rustic kitchen cabinets are: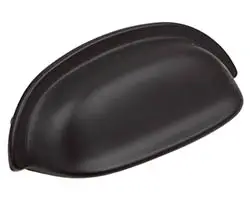 Black – Black is a popular color for rustic kitchen cabinet hardware. Black kitchen cabinet hardware is popular because of its strong character and the stark contrast that it brings to wooden kitchen cabinetry. Black kitchen cabinet hardware also have a vintage and old-fashioned feel, making it a perfect match to the antique look of rustic kitchen cabinets.
See this matte black cup pull at – Wayfair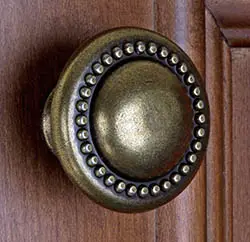 Antique Brass – Antique brass has a strong aged look of darkened brass. A medium brown color with golden undertones characterizes it. Antique brass is also known for being one of the most durable types of cabinet hardware as it is made with strong materials like lead crystal and pewter.
See this antique brass mushroom knob at – Wayfair
Antique Iron – A dull gray color with charcoal undertones characterizes antique iron. The appearance of antique iron finish cabinet hardware has imperfections which give it an interesting look and timeworn appeal, making it a perfect match for rustic kitchen cabinets. Its one-of-a-kind color and appearance produce different effects depending on the lighting conditions. In addition to its unique beauty, antique iron is also very sturdy.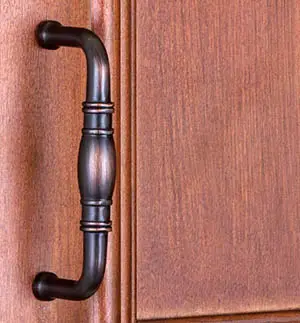 Venetian Bronze – Venetian bronze kitchen cabinet hardware is characterized by a very dark color that is close to black, but has accents of deep brown undertones. Venetian bronze kitchen cabinet hardware blends well with solid wooden kitchen cabinetry's natural beauty and works well with light and dark-colored woods. Venetian bronze kitchen cabinet hardware adds a rustic vibe to warm solid wood cabinets.
See this antique bronze cabinet door pull at – Wayfair
Other popular kitchen cabinet hardware finishes that may be used for rustic kitchen cabinets are old antique finish and oil rubbed bronze finish.

Rustic White Cabinets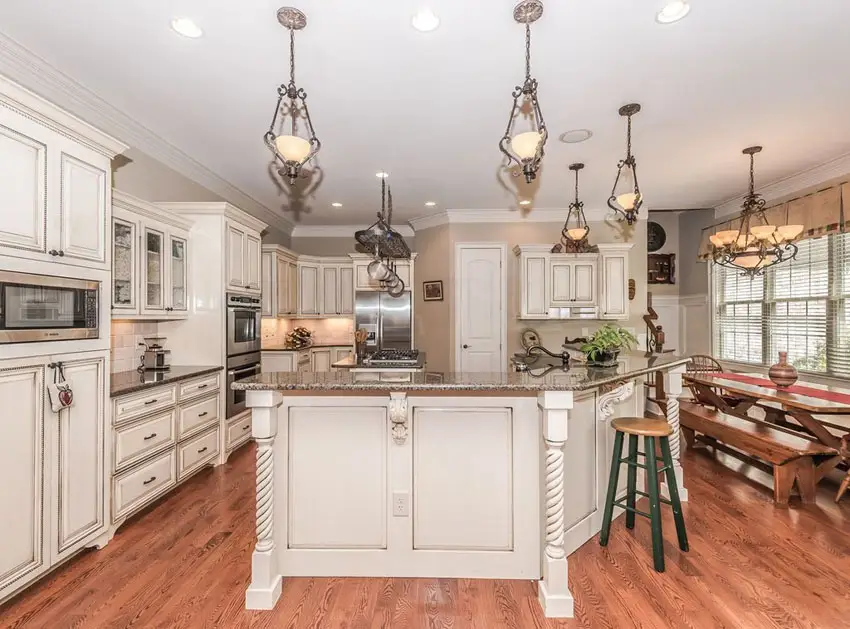 High-quality hardwood in warm colors or natural finishes have always been one of the signature features of the rustic kitchen cabinetry style. However, another alternative for the richness of warm wood are white kitchen cabinets.
Rather than being painted in a plain finish, rustic white kitchen cabinets are often treated with faux finishing techniques such as distressing, weathering or glazing to give them a more unrefined appearance and timeworn look. These finishing techniques provide more interest to rustic kitchen cabinetry and render layers of textures in the overall look.
Instead of crisp, bright white hues, the rustic kitchen cabinet style is geared towards warmers and creamier tones such as beige, off-white, cream and antique white. These shades of white are usually associated with traditional or farmhouse kitchen cabinets.
Rustic white kitchen cabinets also typically have darker edges or highlighted corners and edges. This is usually done by applying a glazed coating over stained or painted cabinets, leaving a shadow effect on the surfaces of the cabinets.
Rustic white kitchen cabinets are the best way to tone down the look of rustic kitchen cabinets. For homeowners who find natural-finished wooden kitchen cabinets too heavy on the eyes, this is the best option that can be explored.
Rustic white kitchen cabinets are easy to work with when mixing and matching decors and other finishes in the space, such as flooring, wall color, backsplash material, and countertop. In addition, rustic white kitchen cabinets also work best in small kitchen spaces as they create an illusion of a bigger space.
Rustic Wood Cabinets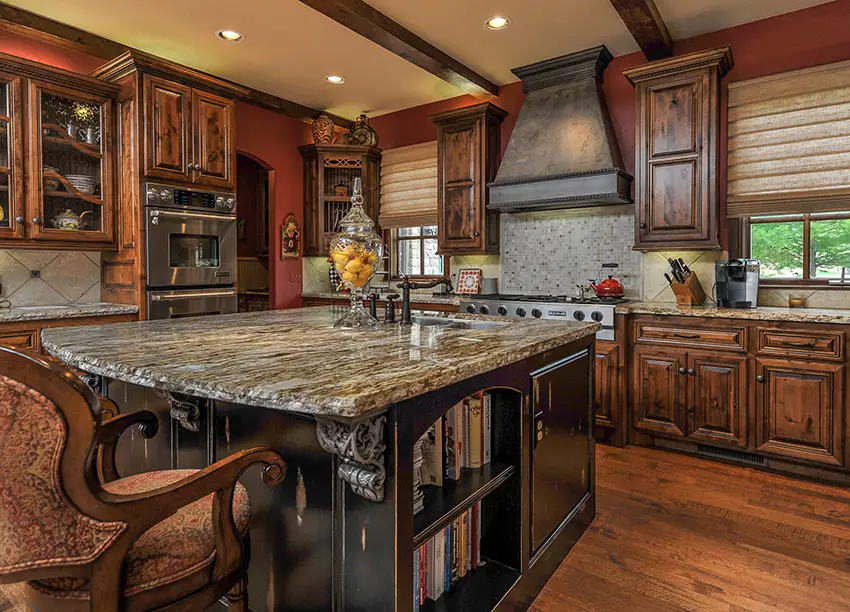 Materials used for Rustic kitchen cabinets
Traditionally, the main material used for rustic kitchen cabinets is solid wood. But there are a lot of species of wood in the market and several options make the best choice for rustic kitchen cabinets because of their naturally rugged and rustic appearance. Some wood species best suited for the rustic kitchen cabinet style are pine, hickory, alder, cedar, oak, cherry and maple. Most of these woods are characterized by a naturally warm color and a grainy and knotty appearance.
In summary, pine is the top choice for rustic kitchen cabinets because it displays the visible knots – a look tantamount to this style. Pine is also widely used because of its abundant supply and reasonable price.
Cherry, oak, maple, alder, cedar and hickory are popular for rustic kitchen cabinets. In terms of price, cherry belongs to the high-end options because of its remarkable quality, does not crack and warp easily and has a naturally rich wood color. However, some homeowners may still find knotty pine more appealing because of its unique character.
Maple and hickory are also strong woods and less expensive than cherry wood. On the other hand, oak is another popular kitchen cabinetry material often associated with most traditional styles. It is well known for its stunning beauty, strength, availability and reasonable price. It has a natural golden color and a fine grain pattern, which some may find a less appealing option for rustic kitchen cabinetry, especially for those looking for a more striking aesthetic.
Reclaimed wood is also another popular material for rustic kitchen cabinets as they naturally project a heavily weathered look that is tested by time. Materials salvaged from barns, warehouses and old houses or reclaimed lumber may be used as accents, trims, and even cabinet door faces for the rustic kitchen cabinet style.
Below we explore the four main species of wood used for rustic kitchen cabinets, along with an overview of their positive and negative features as a cabinet construction material.
Rustic Hickory Cabinets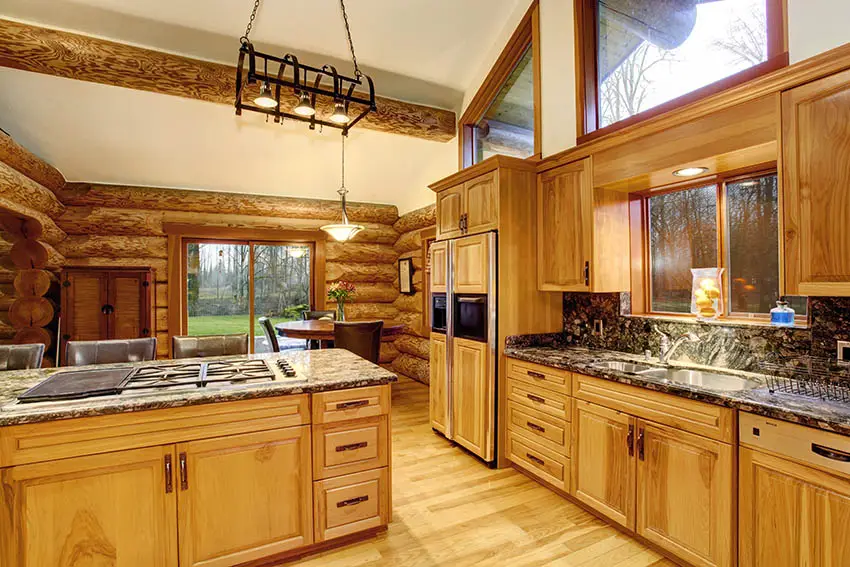 Hickory is a North American tree form the walnut family. Aside from bearing edible nuts, hickory yields timber that is commonly used for building or furniture construction and interior and exterior applications. It is a popular choice for rustic inspired kitchens and is typically used for custom and semi custom kitchen cabinets.
In terms of appearance, hickory is a type of wood with a natural creamy, pale yellow color. It has a similar graining pattern to oak, but its color is lighter as oak is more golden. Another notable attribute of hickory is that it has a naturally contrasting appearance. The dramatic color of hickory is brought about by the varying colors of the heartwood and the sapwood which may range from pale blonde or white, to yellow to reddish and dark brown.
Rustic hickory kitchen cabinets are generally characterized by being ruggedly handsome. Rustic hickory kitchen cabinets have a more profound grain variation and a more radical color. Hickory kitchen cabinets feature a smooth, prominent, close-grained pattern with heavy, flowing grains. The grains of hickory wood are generally straight, but in some cases, may be wavy and irregular. Hickory also has an inherently coarse texture which include random natural blemishes in its surface such as knots, burls, pinholes, wormholes, picks, mineral streaks and color streaks. It's rough aesthetic and weathered appearance make it a perfect match for rustic style kitchen cabinetry.
Hickory is popularly used for cooking, barbecuing, smoking or curing meat. But in terms of kitchen cabinetry construction, hickory is one of the most dependable materials which is proven to last for years. In terms of durability, hickory wood is known for possessing extreme strength comparable to oak. It is very stiff and hard and is proven to withstand the wear and tear of everyday use. However, one of its major drawbacks is that it tends to discolor when exposed to liquids. So one good way to maintain its natural beauty is to protect it from moisture through sealing and periodic wiping.
When it comes to the price, rustic hickory kitchen cabinets are more expensive than other common hardwoods. But they prove to be wise investments because of their distinct rugged beauty, making them a perfect rustic decor.
Although it can be stained with another color, hickory is better treated with a clear stain or natural varnish to highlight its distinct blond tones.
Rustic Alder Cabinets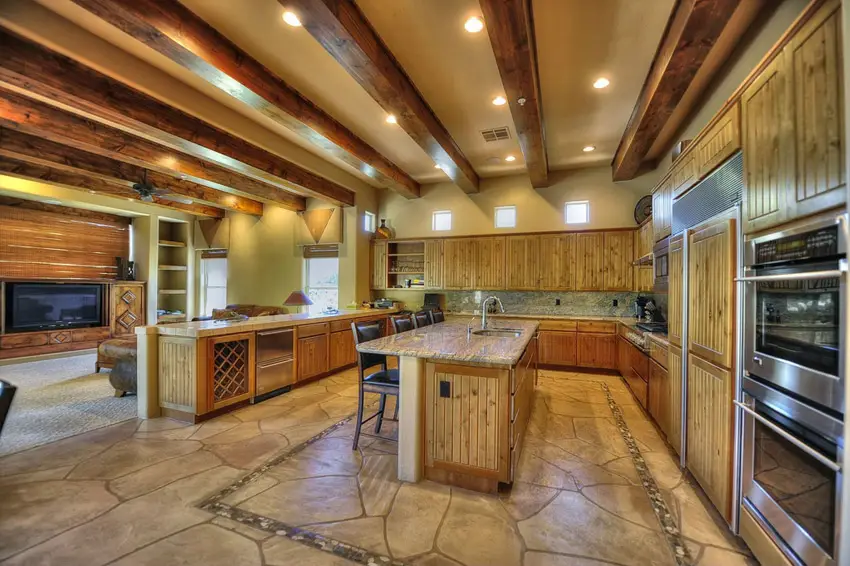 Alder is a type of tree that belongs to the genus of the Birch family. Although alder wood is a type of hardwood, it is considered the softest of all hardwood. It is harder than pine but still tends to dent and mar easily. This type of wood is typically used for furniture construction, cabinetry and other custom woodwork.
Alder is characterized by a light brown color that has reddish undertones. It has a subtle graining pattern that is generally straight and more regular than oak. Appearance-wise, alder has a great resemblance to birch and has an even texture all throughout.
Rustic alder kitchen cabinets have an overall appearance characterized by a dramatic uniform graining pattern. Its surface typically contains a variety of open and closed knots in various sizes and shapes. Alder has fewer defects like knots, splits, cracks, worm holes, worm tracks, bird pecks and mineral streaks, thus it is sometimes described as woodworkers to be "clear". This smooth and uniform appearance makes it a fitting choice for kitchen cabinetry.
For rustic alder kitchen cabinets, look for alder wood with occasional markings of holes to get that rugged appeal. These holes are typically ¾ inches in diameter and created by open knots which pass through the kitchen cabinet door panel. These large holes can be left unfilled for a more rustic character.
For cabinetry construction, Alder is typically used as a face frame material for birch plywood cabinets. Because of its strength and reliability as a structural material, alder works well as farming for kitchen cabinetry. It can maintain its shape without warping or twisting. Another notable attribute of alder wood is its lightweight. Alder s one of the lightest hardwoods, which makes material handling easy in terms of construction
It is also typically used as an alternative to birch hardwood. Still, it is priced at a lower cost, making them one of the most affordable kitchen cabinetry material in the market. However, it is more common and considered as a standard in the industry that birch plywood and alder lumber are combined together.
Alder is also commonly used as molding for kitchen cabinetry because of its inherent straight-grained pattern. It is soft enough to be cut in any form or shape but can maintain its shape without warping. In addition,
Regarding finishing, Alder kitchen cabinetry can be treated with wood stain to make its straight graining pattern more prominent or lacquer to give it more character. Due to its softness, Alder takes in finishing materials very well. Its open pores can readily absorb lacquer, stain or paint with only little amount of the material needed to give it a new character. Alder has a stable staining surface and when it comes to wood stain application for rustic alder kitchen cabinets, make sure to apply it quickly since it can easily seep into the surface. The longer the stain sits into the Alder cabinetry surface, the darker its color becomes. Lacquer can also be easily applied in Alder kitchen cabinets as compared to other wood species. Lacquer penetrates quickly into the open pores of Alder wood, giving it a quicker drying time and giving the cabinetry a more glassy coating and glossy surface.
In general, rustic Alder kitchen cabinets are prized for its affordability, adaptability, usability in construction and even appearance.
Rustic Cedar Cabinets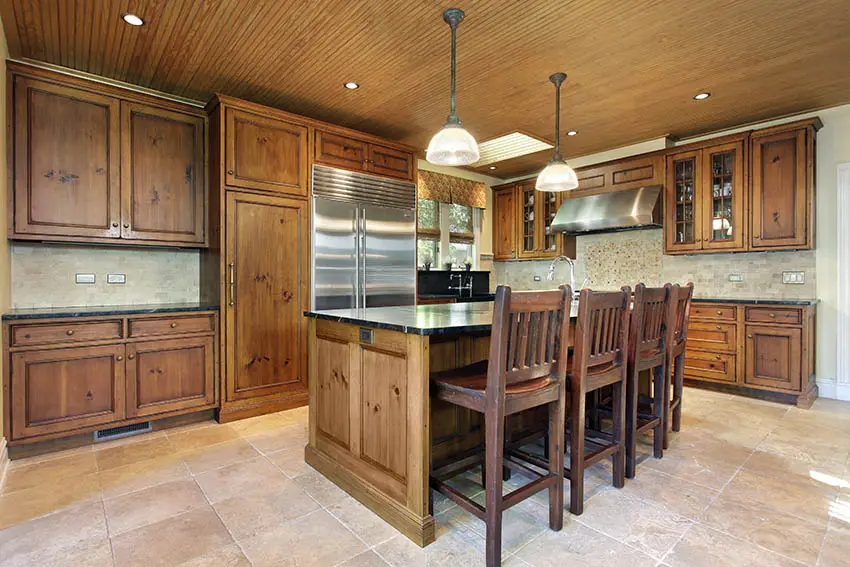 Cedar is considered one of the most reliable materials for interior and exterior applications. It is a type of softwood that can be found worldwide but is abundantly grown in the North American regions. Cedar trees grow in damp weather areas, exposing them to damaging elements like molds, fungi, insects, and moisture. Due to these conditions, cedar trees have developed self-protective qualities to adapt well to the surrounding environment. Cedar is the only wood that has natural oils which can repel insects and decay easily. It also dries up easily, making it less susceptible to rot. These properties make Cedar one of the few wood types that need not be treated before use.
In terms of its appearance, it exudes natural elegance through its vibrant color and rich grain pattern. Cedar has colors ranging from white, yellow to red but turns into a light silvery gray appearance once it ages. The weathered look of Cedar kitchen cabinets is uneven, which gives it a distinct dramatic character and rugged appeal that is perfect for a rustic kitchen setting. Cedar also takes in finishes well, so it can be treated with a clear stain to make its natural graining pattern more prominent or it can be treated with a darker stain for a whole new different look.
Rustic cedar kitchen cabinets are typically found in log homes and cabins. The random dark knots placed against a straight graining pattern give it a strong character that perfectly matches the unrefined aesthetics of the rustic kitchen design style. Rustic cedar kitchen cabinets are often paired with natural stone materials to enhance their look and give them a more organic feel.
Rustic cedar kitchen cabinets are prized for its inherent durability and resilience. They are naturally resilient when wet, stable, do not expand nor warp, and is resistant to splitting and cracking. Unlike other woods, Cedar is not prone to breakage even when exposed to humidity and temperature. Another notable quality of Rustic cedar kitchen cabinets is that they age more beautifully than other wood species. They show off different tones and turn grayish as they age, giving a different character over time.
Although commonly used for fences, window boxes, house sidings and other woodwork which are applied outdoors, cedar is also a well-fitting choice for kitchen cabinetry. Cedar has low density making it a very manageable material to work with – it is easy to handle and transport. It is fairly straight and can maintain its shape and appearance all throughout. Cedar is easy to work with with both machine tools or by hand. However, it may scratch easily. Certain types of iron-based nails, screws, and fasteners may also cause discoloration on the wood's surface.
The most common species used for kitchen cabinetry construction is the Western Red Cedar, which is a soft, aromatic and has rich color. Western Red Cedar has a general reddish to pinkish brown color with random streaks of darker red and bands of brown. It has a straight grain pattern and medium to coarse texture. Though an expensive high-grade wood, Cedar kitchen cabinets are guaranteed to last for decades as they have minimal shrinkage. Other varieties include the Atlantic White Cedar, Northern White Cedar, and Eastern Red Cedar, classified as light, porous cedar wood species.
In general, rustic Cedar kitchen cabinets are prized for its durability, rich color, and stunning beauty.
Rustic Pine Cabinets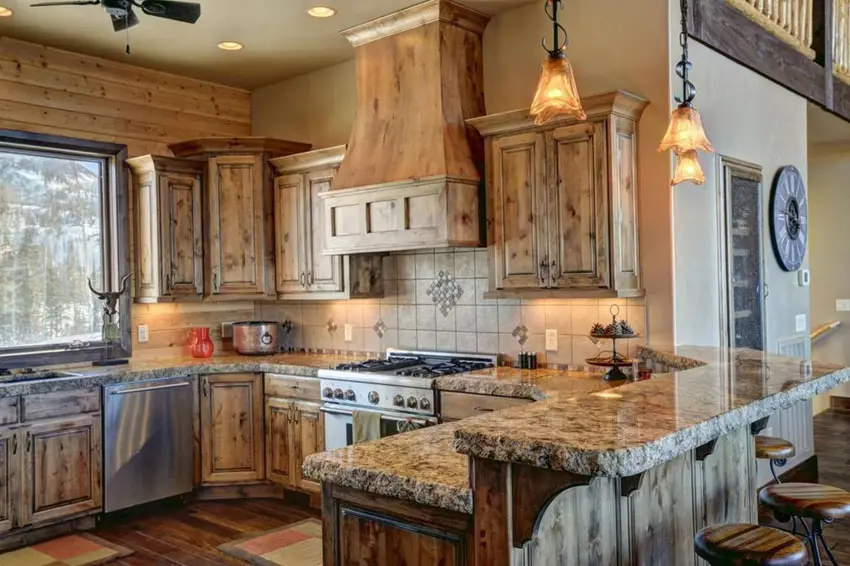 The rustic log cabin kitchen design is known for knotty kitchen cabinets. And for homeowners who love the simple, natural, raw beauty of knotty woods, pine is the best kitchen cabinetry material that they can explore. Pine kitchen cabinets are often used for settings which have a traditional character and country flair.
Pine is a type of softwood that grows in the Northern Hemisphere. It is widely available and has an abundantly supply which makes it one of the most affordable building materials in the market and one of the most widely used softwoods for interior and exterior applications. Pine is typically used to produce lumber for flooring, moldings, sidings and kitchen cabinetry. It is the only species of soft wood that s sued for kitchen cabinetry.
In terms of appearance, Pine has a pale yellow color which is amber like and has occasional brown streaks. It also has a very knotty appearance, making it a top choice for rustic kitchen cabinets. Knotty pine, in particular, has a unique appearance that sets it apart from other kitchen cabinetry material. Knotty pine has a dense, rugged surface that is full of random dark knots, swirls, defect and color variations. They have a strong, rugged appearance because of the natural imperfections in its surface such as with knots, burrs, checks, beetle tracks, bird pecks and wormholes. Among the types of wood, knotty pine has the greatest amount of character
The two most used species of pine used for kitchen cabinetry are the yellow pine and the white pine. Common species of white pine used for kitchen cabinetry are Eastern white pine and Western white pine. Eastern white pine is softer than southern yellow pine. Most kitchen cabinetmakers make use of plywood for kitchen cabinetry construction, however, pine plywood is a bit hard to find, making it more expensive. Aside from being used for cabinet doors and faces, pine wood can also be used for wood trims and profiled moldings to accentuate the design of rustic kitchen cabinetry.
Unlike hardwoods, pine easily dents but it is often pressure treated to reinforce its strength and quality. Pinewood, in general, is long-lasting and durable. In addition to these practical benefits, pine can also be customized easily .
The rustic pine kitchen cabinetry also takes in finishes well. It can be treated with oils, stains or clear finishes to enhance its knotty appearance it gives it a more rustic character. Rustic pine kitchen cabinetry also looks exquisite when treated with a light or medium-colored wood stain. Alternatively, it can also be coated with paint to give it an entirely different color. Before painting, pine kitchen cabinets need to be sealed properly first and cautiously primed.
Unfinished pine kitchen cabinets are also popular for the rustic kitchen style. The natural yellowish undertone of rustic pine kitchen cabinets gives kitchens a sense of warmth, while its natural sought and unrefined appearance easily stands out in a space.
DIY Rustic Cabinets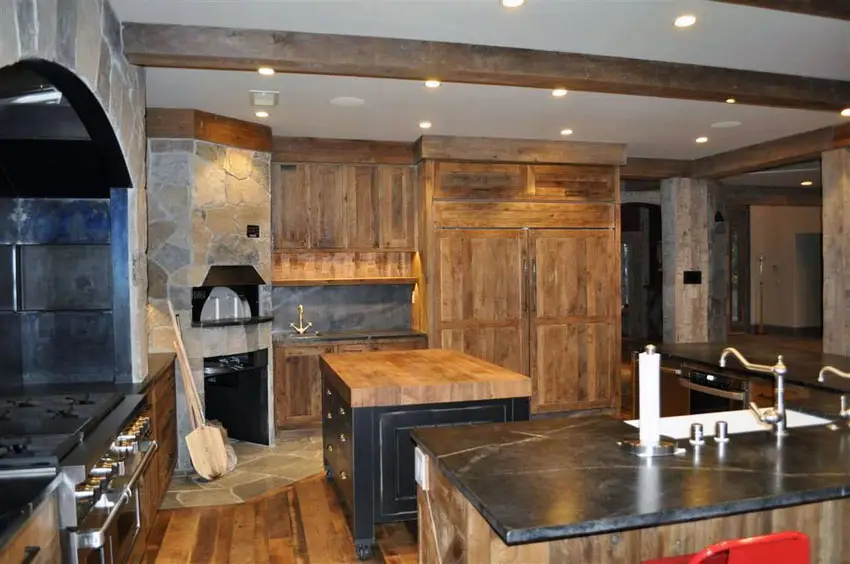 There are many ways to give existing kitchen cabinets a new look showcasing rustic details. One cost-effective way to transform existing cabinets into rustic kitchen cabinets is to resurface them. Resurfacing is a process done to kitchen cabinetry that involves changing the appearance of the cabinets face. It offers complete transformation without having to replace the whole kitchen cabinetry itself
Resurfacing kitchen cabinets may also involve replacing the cabinet doors or drawer faces with a new material. Decorative crown molding and details may also be added to improve the look, as long as the cabinets itself are not replaced. Changing the finishing material such as painting or staining is also another effective way of resurfacing. Aside from changing the finish of the kitchen cabinets, one way to resurface kitchen cabinets is to replace existing cabinet hardware and accessories such as cabinet pulls, handles and knobs.
Resurfacing existing kitchen cabinets has several advantages. First, it saves you a lot of money as it costs only half the price of replacing the whole cabinetry. It instantly transforms the overall look of your kitchen without tearing out cabinets, which is a pretty laborious and tedious task. In addition to that it takes less time and minimizes wastage too.
How to Make Cabinets Look Rustic
Here are some "Do It Yourself" solutions you can apply to resurface your existing kitchen cabinets and give them a more rustic character:
Build rustic kitchen cabinet doors. You can replace existing kitchen cabinet doors with rustic kitchen cabinet doors using rough sawn, shiplap pine boards. Kiln-dried pine boards are the best material for DIY rustic kitchen cabinets because they are very affordable and widely available in the market. It is also popular for rustic kitchen cabinets because it displays visible knots and has a strong character.
Rough-sawn lumber can also be used for DIY rustic kitchen cabinets. Rough-sawn lumber is lumber that is left rough and unfinished. It usually needs to be dried, planned and finished during construction. Drying rough-sawn lumber before use is typically done by leaving the material outside or using a kiln. However, most suppliers offer rough-sawn lumber after it has already been kiln-dried. Alternatively, you can also purchase pressure-treated pine or pine wood subjected to heat and pressure before use. Rough-sawn lumber is typically sold in random widths and lengths which a thickness that ranges from ¼ inch to 1 inch thick (the measurements are in ¼ inch increments).
Another alternative to rough sawn lumber is pine plywood. Pine plywood can be purchased from local wood suppliers at an affordable cost.
Milling your wood and constructing kitchen cabinet panel doors can be challenging. If you do not have the right power tools to DIY your very own rustic kitchen cabinet doors, you can buy ready made stock cabinet doors at local home improvement stores. Just make sure to choose a wood that has a prominent graining pattern or knotty appearance to stay true to the rugged aesthetics of the rustic kitchen style.
For kitchen cabinet doors, the frame and panel construction is typically used. The door panel fits into the grooves of the door frame. For this particular DIY guide on building rustic kitchen cabinet doors, a simple construction method will be used to create a basic flat panel or Shaker-style door.
It is also important to take note that this DIY guide is only suited for kitchens with existing wooden cabinets, as it will look a bit off if your new cabinet doors have a completely different material from the old cabinet carcases. In terms of finishing, if your existing kitchen cabinets are white in color, you need to treat your new DIY rustic kitchen cabinet doors with a matching white paint. While if it is finished in a wood stain, you can apply a darker stain on the new DIY doors and treat the existing carcase with the same color.
Alternatively, you can completely coat both with a layer of matching opaque paint. However, the rustic kitchen cabinet style works best with wood stain finishes, so choose to go with staining. Also note that with regards to the re-application of wood stains to existing kitchen cabinets, it is easier to go darker than to go lighter.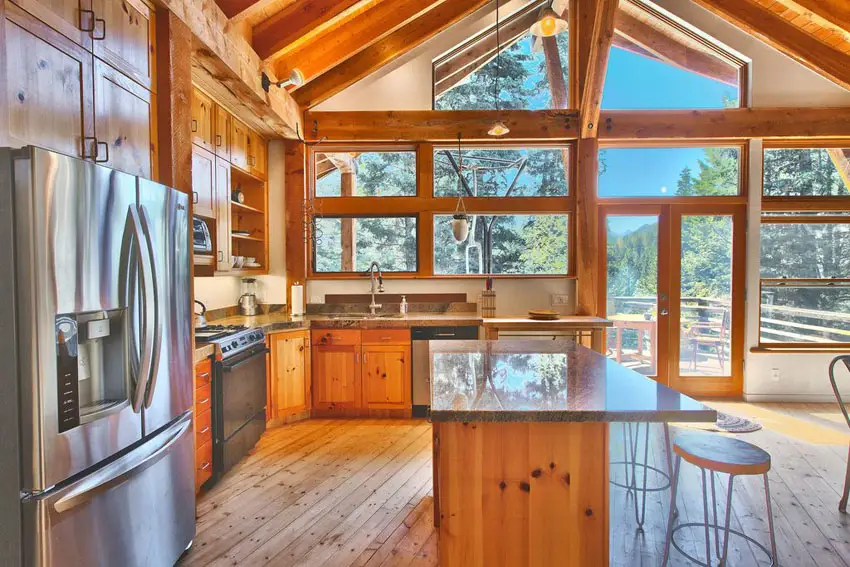 Materials used for building DIY rustic kitchen cabinet doors:
Rough sawn lumber (quantity will depend on the size of your kitchen cabinet doors) or
¾ inches cabinet grade pine plywood (for the cabinet door)
1 x 2 inches x 8 pine (for the trims)
sandpaper
Wood glue
1 inch brad nails
Screws
Hinges
Cabinet pulls and handles
Wood stain (clear stain) or oil based polyuretahne or oil based stain
Wood conditioner
Rag or cloth (for applying the wood stain)
Tools needed for building DIY rustic kitchen cabinet doors:
Tape measure
Pencil or chalk
Clamps
Saw
Hammer or nail gun
Clamp
Electric drill
Table Saw
Power Saw
Miter Saw (these power tools are typically available for rent if you do not have the budget to purchase one)
Rustic Kitchen Cabinet Doors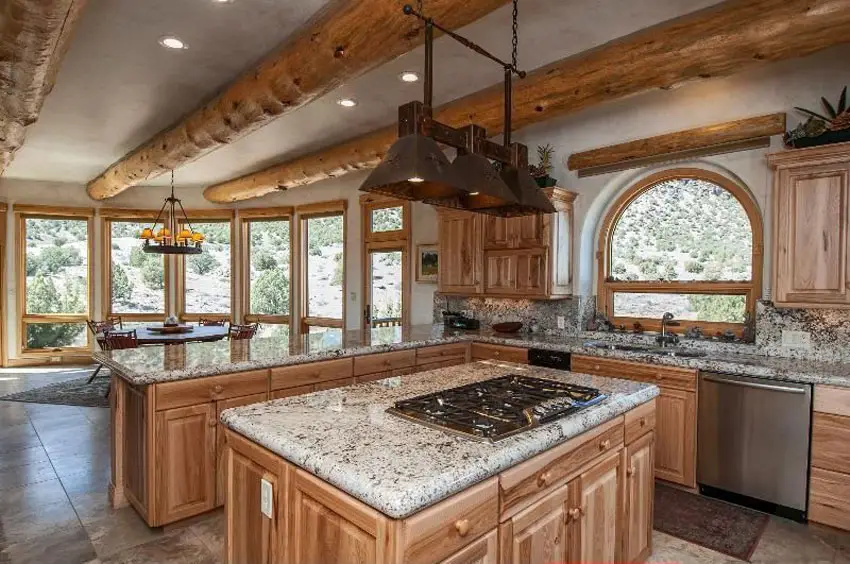 Here are the steps required to build your own rustic kitchen cabinet doors:
Prep work. Source out your materials before starting with your DIY rustic kitchen cabinets. Compare prices from different suppliers as their offers may vary depending on their location. Look for pine wood which has lots of random knots as they will show more once treated with stain, giving your kitchen a whole new rustic character
Remove existing cabinet doors. Start by removing your existing kitchen cabinet doors, including the hinges. Set them aside as you can use them as a guide in building new cabinet doors. Make the necessary prep work before starting with your project, such as covering your kitchen cabinet carcases with newspaper.
Carefully measure your existing kitchen cabinets. Your existing kitchen cabinet doors are a perfect guide to getting the right size for your new rustic doors. Measure the opening of your kitchen cabinetry and allow a ⅛ inch gap on all sides between the door and the cabinet opening. Note down the measurements and determine the number of pieces you will need to verify if the quantity of your materials are adequate.
Cut the wood. Start plotting the measurements on your rough-sawn lumber or pine plywood sheet. Mark the measurements with a pencil or chalk and double-check it for accuracy. Start cutting the wood with a circular saw based on the plotted measurements. Plan to get the maximum amount of wood per panel/sheet. Once the wood is cut, ease and sand the edges using sandpaper.
Cut the wood depending on the number of door pieces you need. After cutting you now get flat door panels with plain surfaces. The trims will be added later on. You can either buy ready-made decorative trims or create your own based on your desired design.
Make your trim. After deciding on the profile and design of the trim you want, it is time to make the trim. For this specific project, we will make a simple flat panel design, meaning that the trims are plain straight pieces of wood placed around the center panel of the kitchen cabinet door.
Determine the trim size you will need and mark these measurements on a piece of 1 x 2 inch x8 pine. You will need 4 pieces of trims per door panel. The top and bottom trims should be the same size, while the left and right trims must have the same length. Ensure that the ends of your trims are mitered so they join seamlessly once attached to your cabinet door panel. This process is similar to creating a simple picture frame with mitered joints.
Fasten the trims to the cabinet door panels. You need to put a notch on the trims to fit into the cabinet door panel. Make a ⅜ inch by 1-inch deep notch around the wood to fit around the door. Use a table saw blade to cut a 1-inch deep by ⅜ inch wide notch. O these on 2 pieces of the boards that are laid vertically. Then lay the same 2 boards flat and set the table saw to cut a ⅜ inch deep by ½ inch wide notch. Once done, start fastening the trims around the cut wooden panels for the door, using nail glue and finishing nails. Allow the glue to dry.
Sand the edges. Once your cabinet door is finished, sand the edges and ensure it is smooth.
Double check the finished cabinet door's size. Dry fit your finished cabinet door to your existing kitchen cabinet carcase to see if it fits correctly.
Apply the desired finish. To give your new kitchen cabinet doors a rustic look, allow the natural graining pattern and knots of pine wood to stand out by treating it with a coat of clear stain. Lightly sand the cabinets with sandpaper and follow the direction of the wood grain. After sanding apply a wood conditioner. Then using a piece of cloth or rag, work the wood stain down into the pores of the wood. Make sure to apply evenly and work in a direction that follows the flow of the wood grain pattern. Work quickly, but with utmost care to ensure an equal distribution. Allow the wood stain to dry.
Install the kitchen cabinet hardware. Determine the exact location of your kitchen cabinet pulls and handles in the face of your new cabinet door. You can use a tape measure to plot this accurately and mark it with a pencil so you know where to fasten the screws. Try this for a single piece of kitchen cabinet door then work your way to the other remaining pieces, ensuring that the handles are uniformly in their exact places. Fasten the kitchen cabinet handles on the marked location, using a screwdriver or electric drill and screws. The number of screws will vary depending on the type of kitchen cabinet hardware that you will be using – handles and pulls, for example, typically require two pieces of screws, while knobs usually use a single piece of screw, making them much easier to install. Note that the exact position of your cabinet handles will greatly depend on your taste and preference.
Next, proceed to attaching the hinges. Plot the location of your hinges based on the existing kitchen cabinet carcass, then using an electric drill, drill holes and fasten the hinges in place. There are several types of hinges, and each may require a specific type of installation. The most common type is concealed hinges, but this typically requires to be flushed down to the back of the kitchen cabinet door.
Here's a video showing how to build simple solid wood kitchen cabinets:
Rustic Colors for Cabinets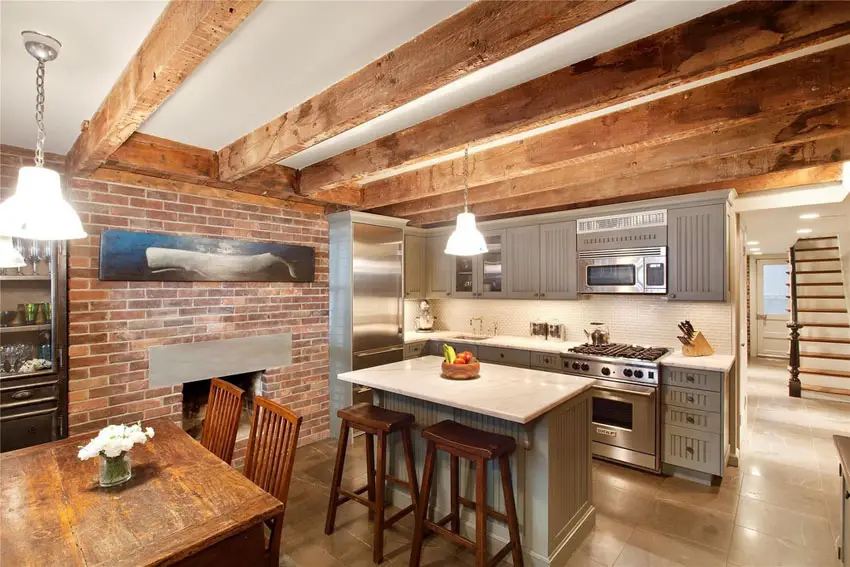 In general, the colors for rustic kitchen cabinets are warm. These include rich shades of brown, which is often reflected with the use of woods in natural or stain finish. Antique white, cream, beige, and off-white are popular colors for rustic kitchen cabinets.
These kitchen cabinet colors are often complemented with earth color accents such as red, green, and yellow. There are no bold or bright accents, but the color palette is mainly neutral as it takes inspiration from nature.
Rustic Kitchen Cabinets Ideas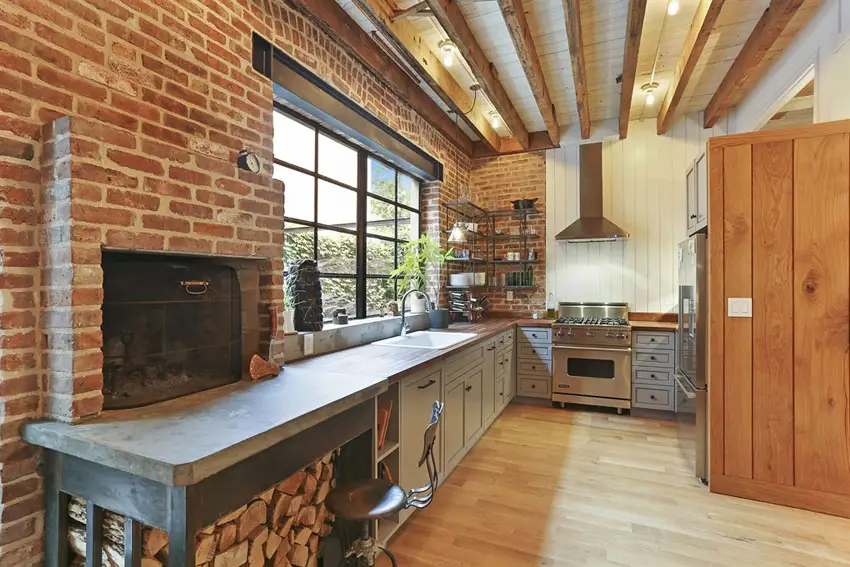 To capture the look of the true rural lifestyle that the rustic kitchen style embodies, rustic kitchen cabinets are best paired with complementing decors to give more life to the space
Salvaged wooden beams, stone works, wide floor planks, hammered copper accents, large apron sinks and antique furniture are also trademarks of the rustic kitchen style. Metals such as iron, and brass, may be used as embellishments and accents to provide diversity and variation.
And since the rustic kitchen style is also known for creating patterns through a layering of textures, combined weathered wood cabinets with variations of antique metals, or incorporate natural stone backsplash to accentuate the walls and break the monotony of the wood in the space.
Rustic kitchen cabinets are also best paired with honed or flamed natural stone countertops such as granite as they have a satin textured surface – one that will not compete with the string looks of the wooden cabinetry. Alternatively, butcher block and wooden countertops may also be used if aiming for an extra rustic vibe.
Suppose you also have the luxury of space. In that case, several statement pieces of antique furniture such as an old rustic table and chairs may be incorporated into the kitchen design to provide for a casual dining and entertainment space. For more related pictures visit our country kitchen cabinets gallery located here.