In this floating kitchen cabinets design guide you'll see what they are, how they float, tips on hanging base and lower cabinets, and differences from shelves.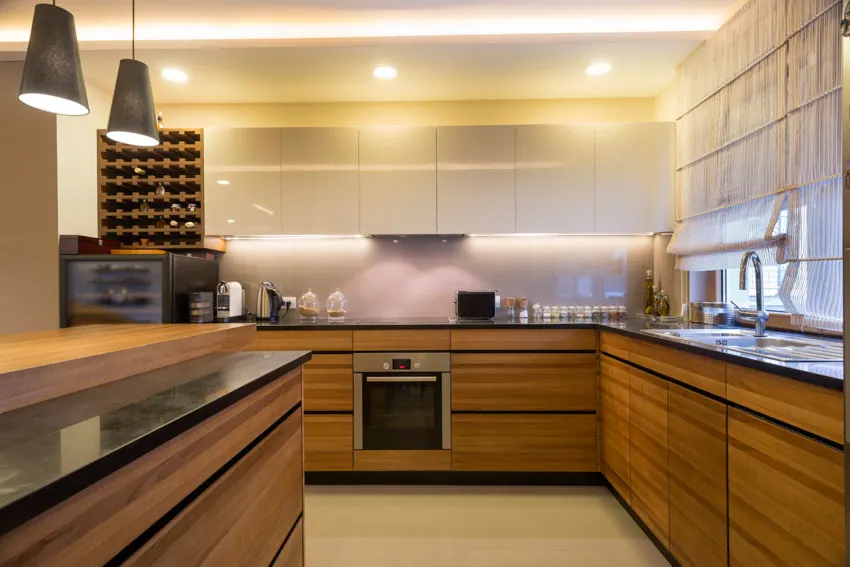 For many years, floating kitchens have been widely known as a unique element of a modern architectural kitchen. If your kitchen is spacious enough to include an island, floating cabinets can greatly improve the overall appearance of the space.
These components are still held by pedestals, but they seem to have the illusion of floating because the pedestal is hidden in the center and out of vision. You could also strengthen the appearance that your island is floating by using innovative lighting.
Even while there may not appear to be as much storage in a floating kitchen, inserts, partitions, and racks are engineered to help you optimize the space. Let us know more about them in this article.
What Are Floating Kitchen Cabinets?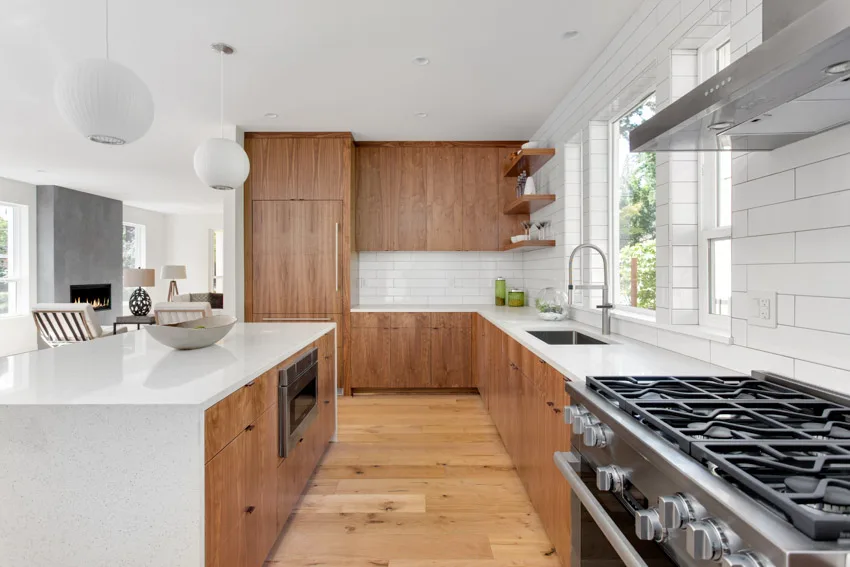 Floating kitchen cabinets are a trendy approach to spice up the humdrum of traditional flooring cabinets. These are cabinets that seem to float in mid-air and are wall-mounted for structural stability. Floating cabinets are visually appealing and exceptionally modern.
The 'floating' concept is an aesthetic illusion; it is a method of installing the kitchen cabinets on the walls to create the appearance that they are floating.
Having a floating kitchen cabinet allows the floor to appear larger while also providing your kitchen with a 3-dimensional appearance and effect. You just need to ensure that the kitchen design matches what you want to achieve with the floating kitchen cabinet dimensons. The layout must be uniform, taking into consideration ample space for the essential appliances and a fully stocked pantry.
This type of kitchen cabinet is an excellent representation of a well-designed kitchen that establishes harmony between elegance and practicality, ensuring all dishes and cookware find their perfect place.
Although a floating kitchen cabinet looks wonderful, the major perk is that you can view more flooring surfaces, giving the appearance of a larger, more expansive space. It also assists in streamlining the appearance of the cabinets.
How Do You Float Cabinets?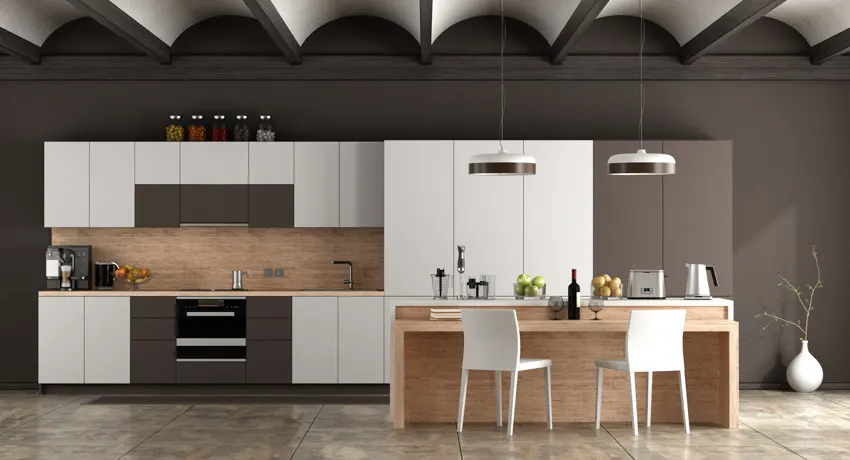 Mounting floating kitchen cabinets is quite simple, but you will need to build a durable framework to level your floating cabinets at the proper height, ensuring your faucet, countertop appliances, and food storage areas remain accessible.
Here are some of the steps:
• Begin by deciding how high the cabinets must be installed on the wall. To support the cabinet at the proper height, you can build stable frame support out of wood. This frame ensures that the cabinets are balanced at the correct height and that they are level.
• Once the cabinets are correctly positioned, open the cabinet doors and mark the locations where you will drill several holes on the inner rear side of the cabinet.
• Drill a tiny and shallow hole first to observe if you reach any studs. If you are fortunate enough to be aligned with wall studs, screw straightly through the cabinet to that stud.
• With four holes in each cabinet, you are going to end up pushing through the drywall into clear space. You will need toggle bolts to secure the floating cabinet without drilling into studs.
The screw that hooks into the toggle bolt is actually a toggle actuator that extends when pressed behind the wall and digs into the underside of the drywall, securing in position when the bolt is compressed.
• Normally, four toggle bolts are required for each cabinet. Each of these bolts must be tightened simultaneously, thus when you fit your cabinet on the base wooden framework, all four bolts would be aligned and pushed into their corresponding holes in the drywall.
• After folding and inserting the toggles into the drywall, try to pop them. It is easier to tighten a toggle bolt by pulling outwardly on the head of the bolt as you twist. The rotating bolt will lock against the toggle within the wall.
• Tighten every bolt and double-check that your cabinet is still level against the wall. Since the loosened bolts will still retain a bit of wiggle when you have to lift one side of the cabinet to level it, this would be a great opportunity to make modifications.
• Remember to tighten them firmly one at a time until the 4 bolts secure the kitchen cabinet at the rear. Do not overtighten, otherwise, you might bust the entire toggle out from the drywall.
Think about putting washers between the bolt's head and the cabinet's inner backside. Do this process to each floating cabinet you are installing, keeping in mind the organization and functionality of the kitchen area.
Consider the items that will be stored in the cabinets and how shelving options can best suit your needs.
• Drill through the interior of the framework and bolt the frontal edge together in a few spots to tighten the connection and rectify any irregularity between the cabinets if there are gaps.
• Install door handles to complete the task. You can also slowly remove the wooden frame support.
You can use one of the available kitchen cabinet design software programs to help plan your layout before going through this process. his can be particularly helpful in designing kitchens with specific organization requirements or options for combating clutter.
Floating Base Cabinets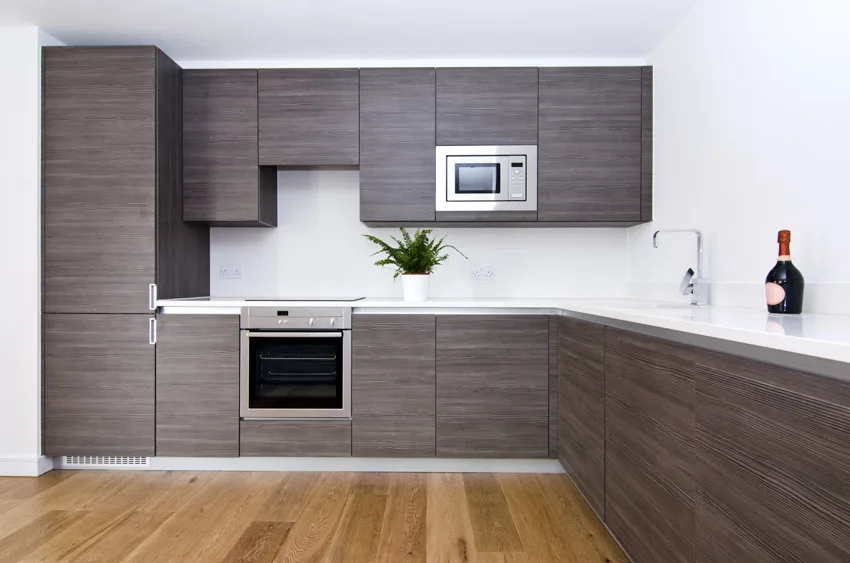 Base cabinets, the actual workhorse of the kitchen design, normally sit on the floor and serve as a foundation for additional functions and storage. The kitchen layout dimensions are also defined by base cabinets.
They are regarded as a permanent kitchen component since they are attached to the studs on the rear wall. Base cabinets feature either visible legs or legs enclosed by a long piece of wood known as a toe kick. But, some homeowners prefer them floating.
Typical base cabinets in the kitchen have a 5-inch toe kick before the main cabinet space begins atop the toe kick. By floating kitchen base cabinets 10 inches above the floor, for example, you only sacrifice 5 inches of storage space. The visual discrepancy is far more than 5 inches.
Floating Lower Cabinets
A lower cabinet is constructed to settle underneath most types of kitchen countertops. With a normal depth of 24 inches, base cabinets provide the largest storage space in a cabinet system.
If you want your lower kitchen cabinet to float, you must suspend it for at least 10 to 12 inches from the ground.
A floating kitchen island can further enhance the look of the design and continue the style. An island with countertops and cabinet sides that extend out can qualify as floating cabinets.
There is no set in stone rule as to how much these need to extend to become "floating." A deep toe kick that is painted a darker color can also provide the effect of a floating design.
How High Do You Hang Floating Cabinets?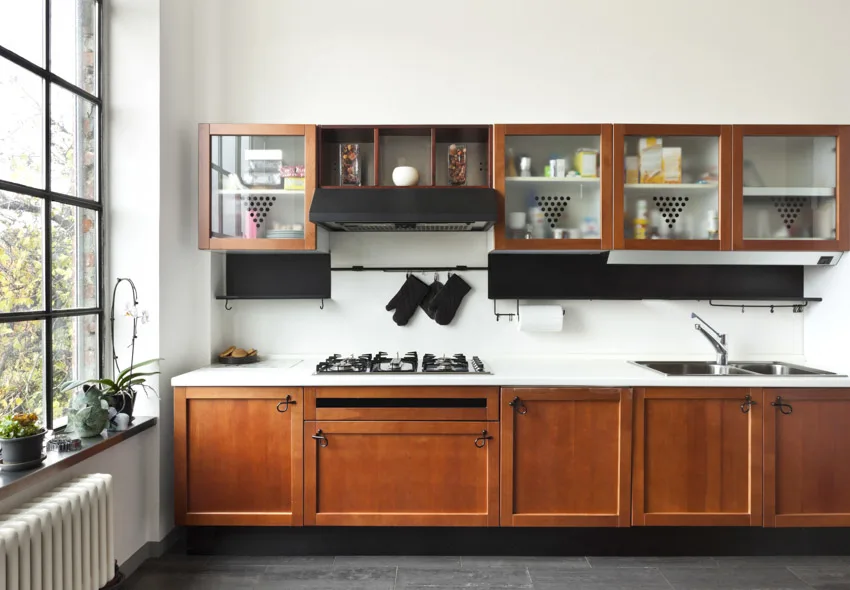 The average height for hanging floating cabinets is around 10 to 18 inches above the countertop or any platform, although this has begun to go up to 20 inches or more to offer homeowners a bit more wiggle room.
However, if the floating cabinet is not installed above the furniture, then it must be hung at about eye level or about 4 to 5 feet from the ground. This ensures that the cabinet is accessible for retrieving items and contributes to the overall organization of the kitchen.

Floating Shelves Vs Cabinets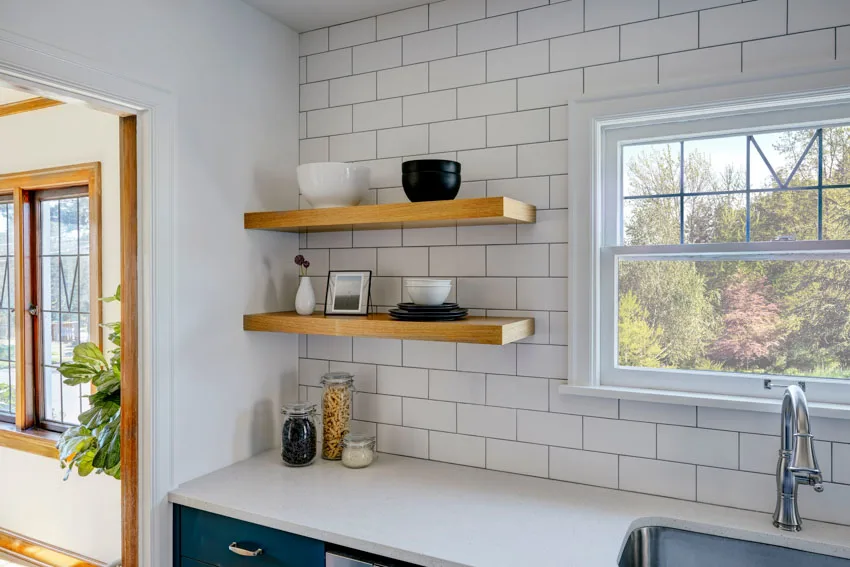 In terms of cost, floating shelves are much cheaper to build than cabinets as you will only need fewer materials to buy before constructing them.
Aside from that, floating shelves are far easier to install on the wall. They can easily fit into any space and you can customize it in a very simple manner.
However, although cabinets are more costly and difficult to install, they are more long-lasting than floating shelves. Their capacity is also quite bigger than floating shelves.
In terms of durability, cabinets are also the winner since they are built of more robust materials. Plus, they can carry heavier kitchen elements.
See more related content in our article about staggered kitchen cabinets on this page, including tips for combining various colors, lighting options, and other organization ideas for floating cabinets in kitchens.