See mother of pearl kitchen backsplash ideas including what it is, the different types, best mother of pearl designs, and maintenance tips.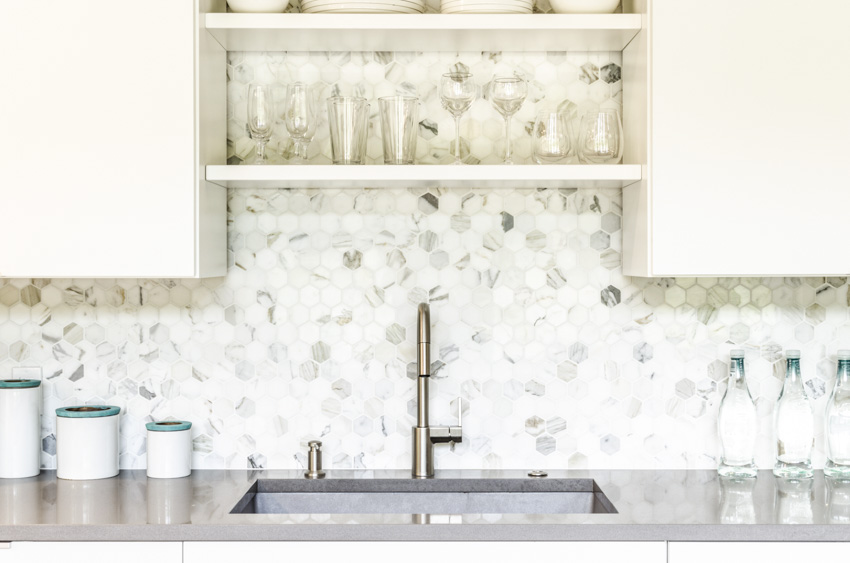 Mother of Pearl tiles are an ideal option for idyllic interior design. They are perfect for creating a stunning kitchen backsplash with lovely sparkling hues. They glisten under the presence of a high-quality lighting fixture, spreading eye-pleasing iridescence around your kitchen.
Indeed, the Mother of Pearl collection is a gorgeous natural shell compendium that combines the splendor and complexity of pearls. The natural shell has the same resilience as marble and is appropriate for use on walls, floors, and humid spaces within the home.
Hence, Mother of Pearl backsplash tiles are an obvious choice for kitchens. They are very much ideal for making your backsplashes not only functional but also attractive. Continue reading to discover more about these tiles and to see some creative and inspiring kitchen ideas!
What Is Mother Of Pearl Backsplash?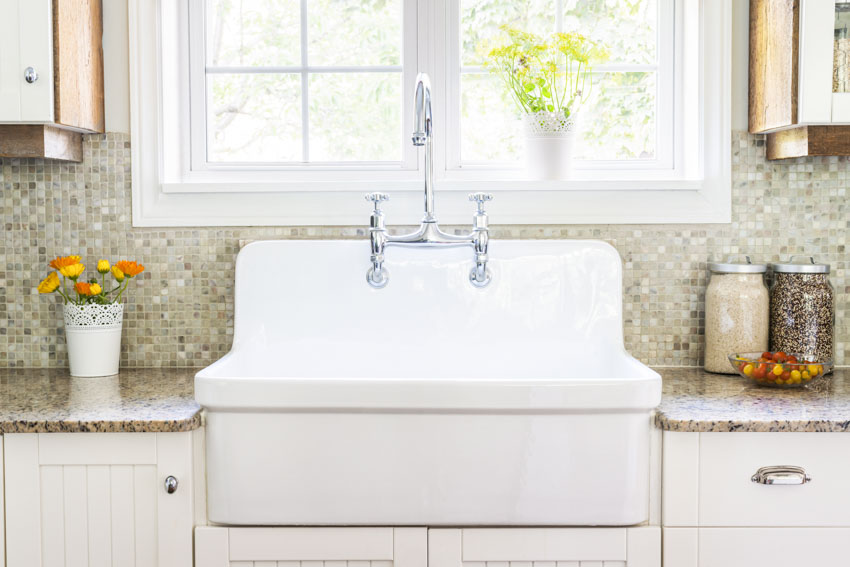 This captivating natural element called the Mother of Pearl is the pearl polish on the inner shell of various kinds of mollusks. Mother of Pearl, also scientifically described as nacre, is derived from the shells of three kinds of mollusks: pearl oysters, pearl mussels, and abalones.
The coating is a mineral combination generated by these shellfish and mollusks to defend themselves. The nacre composite is produced around a fragment of debris, such as sand, that has entered the shell. A pearl is created after layers upon layers of nacre accumulation around the foreign element in the shell.
In addition, Mother of Pearl backsplash tiles are manufactured from layers of shells formed as an interior shell layer by certain mollusks as well as oysters. These tiles can be utilized for a variety of purposes
They range from fireplace borders to bathroom walls, with kitchen backsplashes being one of the most prevalent. For kitchen layouts, this natural material provides ageless elegance and a flash of exquisite.
A Mother of Pearl backsplash, with its glossy appearance, can add a splash of magnificent elegance and boost the brightness of the area by bouncing light. Therefore, if you want an out-of-the-ordinary backsplash material with a hint of a luxurious lifestyle, a Mother of Pearl backsplash will be a fantastic makeover that you will be very happy with for decades to come.
Moreover, installing Mother of Pearl backsplash tiles is a terrific approach to bringing a dazzling glow to your home interior because of its gorgeous and expensive appeal. Furthermore, because these tiles are entirely natural, each one would be unique.
The color of the Mother of Pearl backsplash tiles is often defined by the color of the shell from which they are formed. The most prevalent color for these tiles is white. These tiles, nonetheless, come in various colors such as black, brown, gray, or yellow.
Aside from their inarguably attractive appearance, these shell tiles are extremely sturdy and heat-resistant, making them an excellent selection among the many types of kitchen backsplash. Hence, they are long-lasting, durable, useful, and visually appealing.
Mother Of Pearl Backsplash Ideas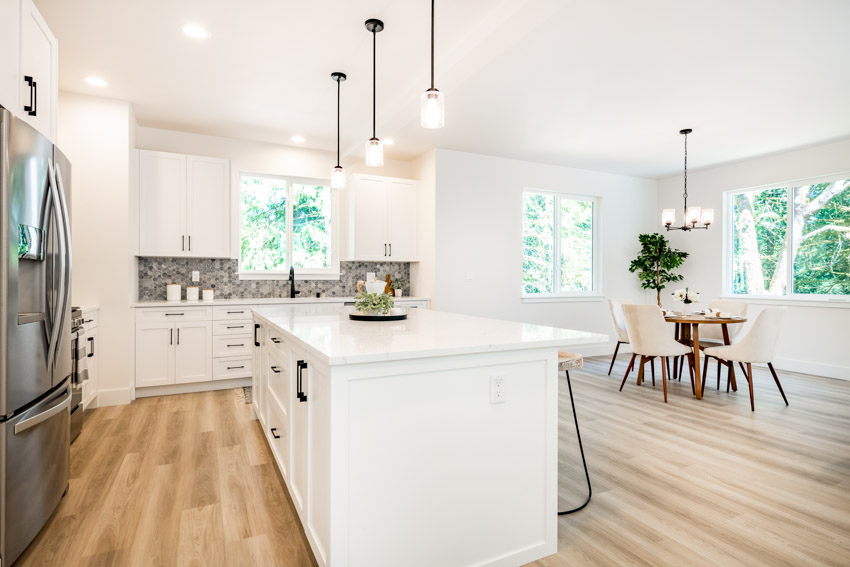 Incorporating the attraction of Mother of Pearl backsplash tiles will always be a smart option, whether you are selecting each finish for a customized project or wanting to give your kitchen a complete facelift.
Designers appreciate these shell tiles for their unparalleled beauty, iridescent sparkle, and long-lasting surface, henceforth you can use these Mother of Pearl backsplash ideas to indulge in providing your kitchen with a fantastic makeover that you will appreciate in the long run.
Mother Of Pearl Backsplash Tile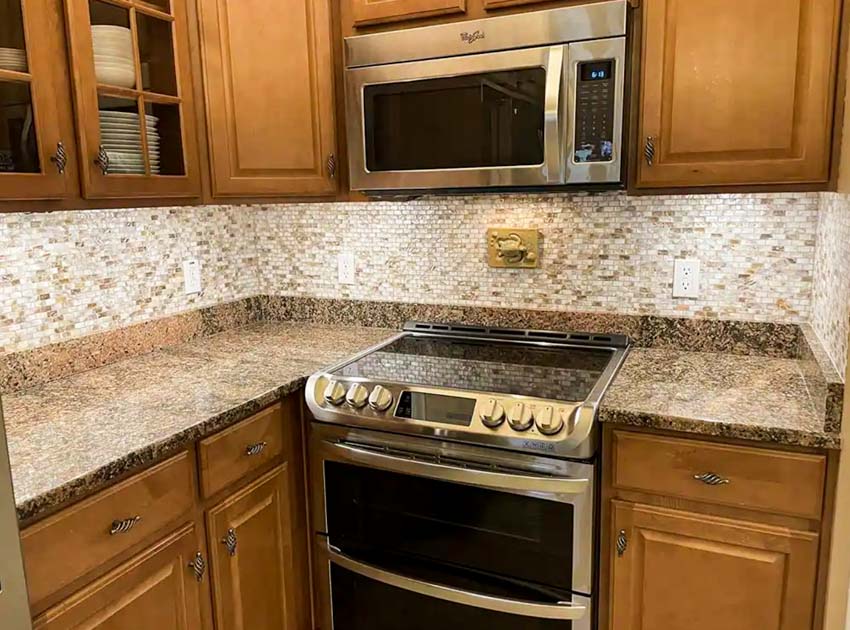 See this Mother of Pearl backsplash tile at Home Depot [sponsored link]
Homeowners adore the genuine iridescent sheen and dazzling marks on Mother of Pearl backsplash tiles. The vibrant backsplash tiles are constructed of fresh river shells that are generally white with yellowish to pinkish markings. The majority of these tiles are constructed of genuine sea shells in black, yellow, green, white, and brown.
All forms of Mother of Pearl backsplash have a mosaic appearance due to their shimmering surfaces. Glazing shells create a protective coating that highlights the natural luster.
Aside from that, these tiles are available in a variety of material combinations that create a mosaic effect. Thassos marble is the most commonly used material with shell tiles. This one-of-a-kind backsplash combination will instantly elevate any kitchen.
The shell layers that make up a Mother of Pearl backsplash can be simply shaped into various tile designs. There are numerous options available, ranging from simple white subway tiles to complex waterjet tiles. This large selection allows you to add a personalized feel to your kitchen design.
The most popular color for Mother of Pearl backsplash is white. A white Mother of Pearl backsplash's vivid and iridescent attractiveness is a terrific way to make the kitchen feel more spacious and create a remarkable centerpiece.
You may include these tiles in your all-white kitchen to add a touch of glitz, and you can round off the rich look with marble or granite worktops. Metallic embellishments are also a wonderful way to enhance these tiles.
Pearlescent Mother Of Pearl Backsplash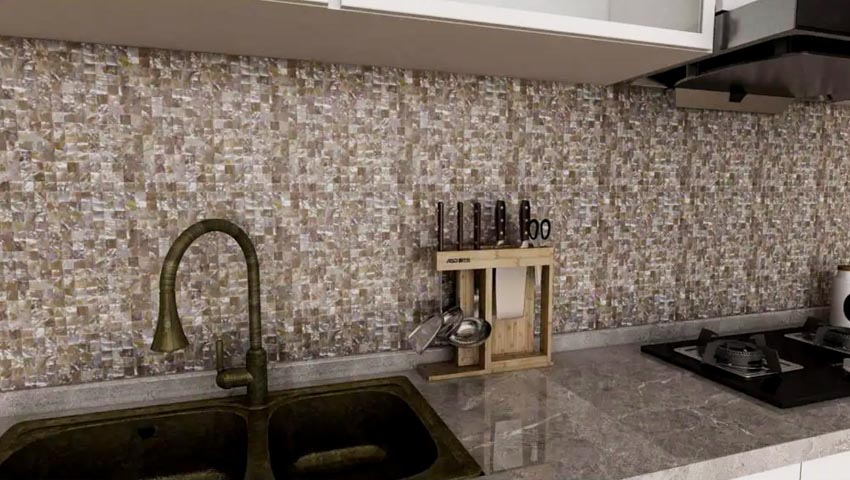 See this pearlescent Mother of Pearl backsplash set at Home Depot [sponsored link]
Pearlescent Mother of Pearl backsplash tiles are slightly translucent glass mosaic tiles with a lustrous finish added to the topmost surface of each tile.
In a kitchen with a lot of ambient lighting, the light passes through the tile and illuminates the base color. In the dark or from various angles, the tiles display a rainbow appearance, giving your kitchen backsplash a truly vibrant and eye-catching appeal.
Pearlescent tiles have a unique ability to generate a dramatic look, which is not overpowering when used to cover a wider surface because of their refined nature.
You can carry the pearlescent theme into your kitchen by changing a plain neutral wall into a dazzling focal point. The iridescent accents bounce light gorgeously, creating a bright, large atmosphere with deep sophistication.
Pearlescent backsplash can be combined with white cabinetry and metallic fixtures to create a modern and stunning look. Alternatively, for a lovely contrast, you can combine pale pearlescent tiles with natural wood cabinetry.
Mother Of Pearl Herringbone Backsplash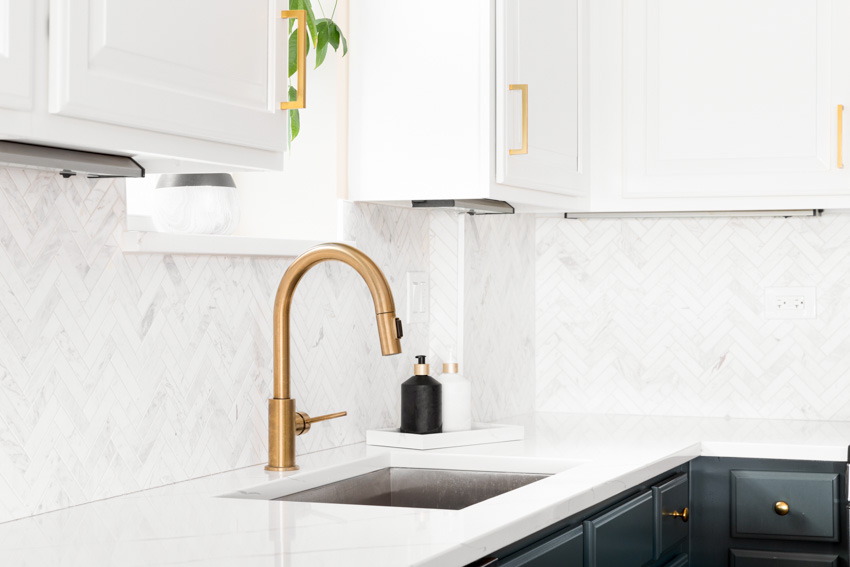 A Mother of Pearl herringbone kitchen backsplash is a popular choice for kitchen décor. The V-shaped pattern is adaptable. Its versatility has made it popular among residents and structural engineers. This is one of the hottest trends among homeowners as well. The pattern is reminiscent of fish bones and is often made up of rectangular-shaped Mother of Pearl tiles.
The Mother of Pearl herringbone tile backsplash is elegant and trendy, providing an ageless setting to any design arrangement. You can also use them as mother of pearl countertop tiles, accent tiles, shower tiles, and of course, backsplash tiles, whenever a subtle yet exquisite feature is needed.
Such Mother of Pearl backsplash tiles are the ideal accompaniment to a broad range of ceramic tiles, mosaics, and genuine stone slabs since they are durable, simple to keep clean, and require no persisting maintenance.
Groutless Mother of Pearl Backsplash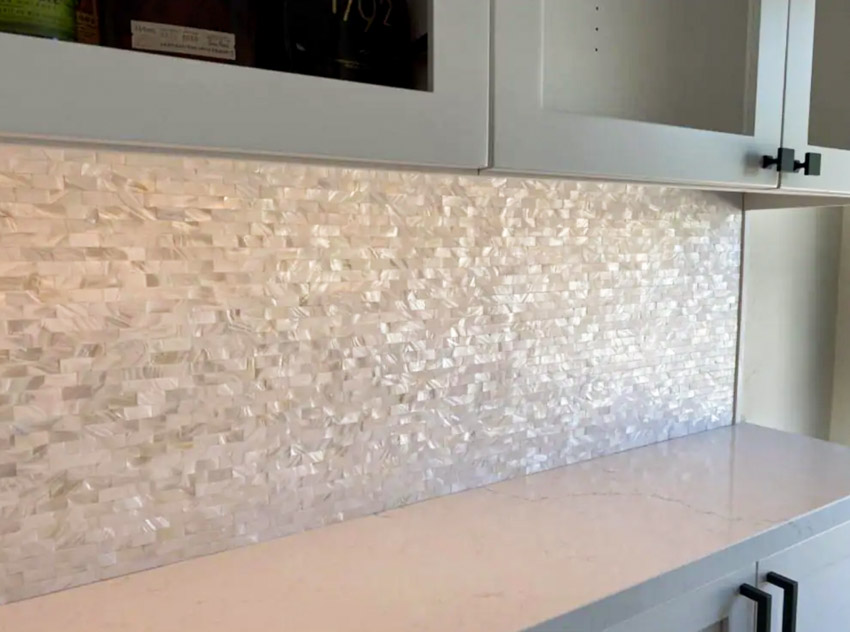 See this groutless Mother of Pearl backsplash set at Home Depot [sponsored link]
It goes without saying that groutless Mother of Pearl tiles are ideal for your backsplashes. This stylish option for any interior design quickly adds a glossy, modern touch to your space.
The heightened gloss of shell tiles is great for creating a rich feel on wall surfaces. As an added benefit, groutless Mother of Pearl tile designs are seamless, requiring minimal maintenance.
Furthermore, these tiles can be used to revolutionize your kitchen walls into an appealing grout-free solution. Mother of Pearl tiles are popular kitchen design selections since they reflect sunlight and can make even the smallest kitchen appear more airy and open. You can surely add natural iridescence to your kitchen without having to deal with filthy backsplash tile grout.
Although groutless Mother of Pearl tiles can be as elaborate or ornamental as you like, they do not have to be hard to maintain. They can be easily cleaned with several swipes with a cloth that is just moderately damp, keeping your kitchen spotless and standing up well to regular use.
Mother Of Pearl Glass Tile Backsplash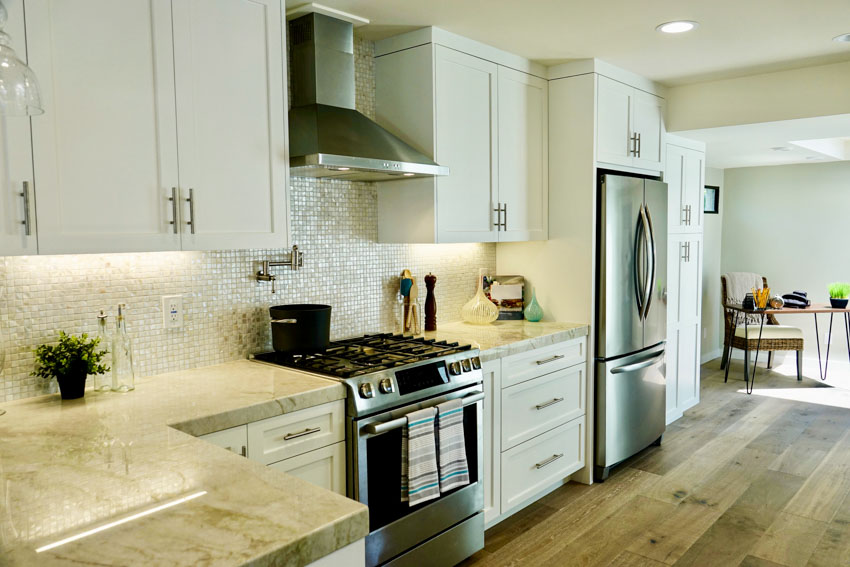 The Mother of Pearl glass tile offers a lovely multi-dimensional look and is excellent for a kitchen backsplash. A Mother of Pearl glass tile backsplash is a terrific method to add vibrancy and visual appeal to your kitchen, and the Mother of Pearl tiles can be organized in an infinite number of ways, giving your kitchen even more unique style and creative appeal.
Mother of Pearl glass tile is obtainable in almost any pattern for backsplashes, from rectangular subway tile backsplash to mosaic as well as penny shapes, thus the layout you choose is totally up to you.
Mother of Pearl glass tile backsplash is also resistant to water, heat, and stains, making it ideal for cooks who create a mess when preparing meals. Its appearance and utility adaptability make it a wonderful pick for any household.
Mother of Pearl glass tile backsplash ideas could indeed end up making a well-lit kitchen look bigger than it actually is, which is ideal for compact areas that could benefit from feeling more open. Even in spaces that might have previously felt walled off and gloomy, the light reflection accentuates the spaciousness of the area.
Mother Of Pearl Peel And Stick Backsplash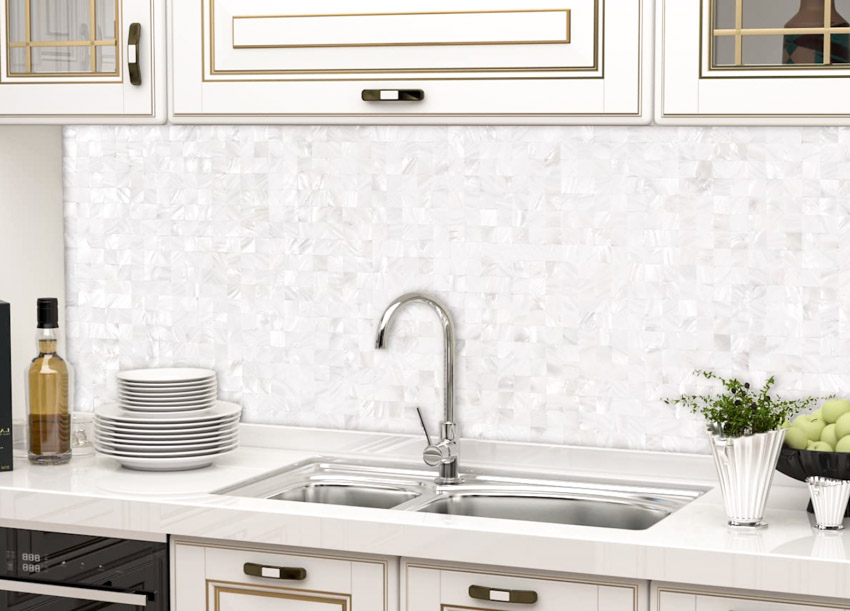 See this peel and stick Mother of Pearl backsplash set at Amazon [sponsored link]
A peel and stick backsplash alternatives are unquestionably the most straightforward and convenient method for installing Mother of Pearl backsplash tiles! These shell tiles apply quickly and cleanly because no grout or special tools are required.
The majority of peel-and-stick Mother of Pearl tiles includes a paper backing that you can easily take away and stick to improve the appearance and functionality of your kitchen. It has never been easier to instantly update your kitchen space.
Furthermore, these Mother of Pearl peel and stick tiles are simple to maintain and can be fitted in minutes. To begin the installation, you just have to make sure that your walls are tidy and smooth.
You can trim the tile sheets using a utility knife or scissors if necessary, and you are good to go. Peel off the backing and stick to your wall, as the name implies. They are also a beneficial low-cost renovation choice.
However, although peel and stick options are among the most inexpensive and low-maintenance options on this list, they might not be that long-lasting compared to the aforementioned Mother of Pearl alternatives.
Mother Of Pearl Backsplash Designs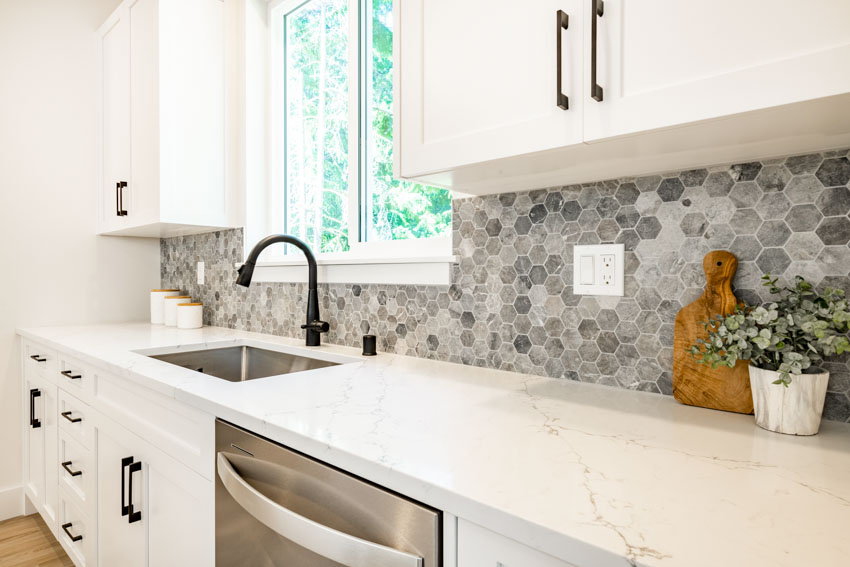 Elegant White Kitchen Featuring Grey Accents: The faultless refinement of an open and expansive kitchen welcomes us with high ceilings for an open ambiance that makes the kitchen look bigger.
A white quartz countertop matched with a grey Mother of Pearl mosaic backsplash is stunningly beautiful together. Stainless steel appliances and black kitchen hardware and accent pieces complement the white classic cabinets and add to the overall coherence of the kitchen space.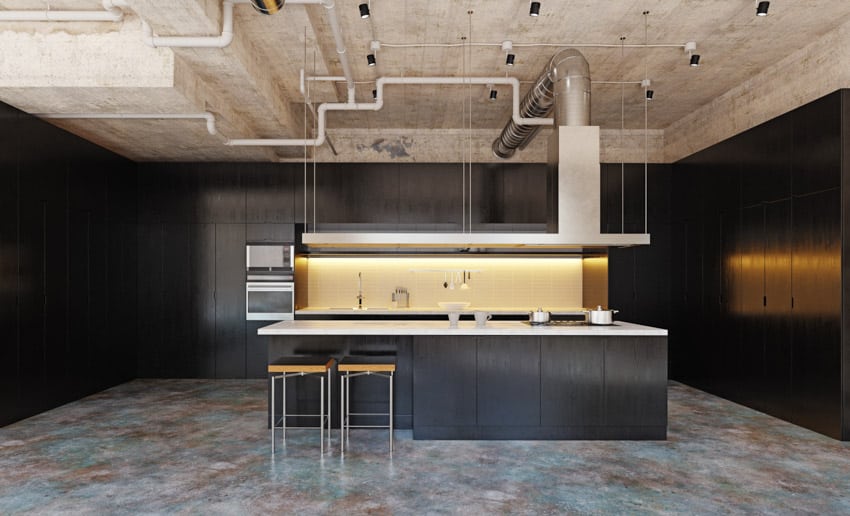 Iridescent Mother of Pearl Backsplash and White Countertops in a Modern Black Kitchen: Mother of Pearl backsplash, combined with the purity of black hue, contributes to the creation of exquisite beauty.
Handleless and flat surface black cabinets utilized in a kitchen have an undoubtedly modern and magnificent look. In the midst of this black tone, white countertops and a backlit white Mother of Pearl backsplash make an appealing focal point. The design of basic and contemporary kitchen cabinets is appealing as well.
Black Mother of Pearl Backsplash Featuring White Kitchen Countertops: Black Mother of Pearl backsplash is possibly more beautiful than the majesty of black cabinets. Black kitchen cabinets and dark flooring, encircled by white walls, appear stunning when paired with the white cascade countertops of the island and white countertops of the matte black cabinets.
Moreover, the black Mother of Pearl backsplash, which beautifully combines with the black marble slab, grabs attention in a beautiful kitchen constructed in a modern design style. It stands out in a bright and captivating atmosphere because of the use of dark colors.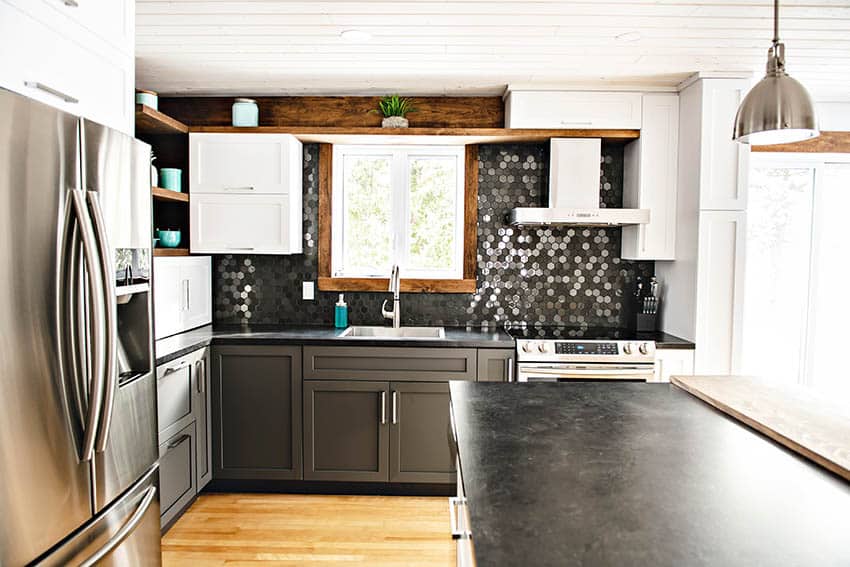 Black Mother of Pearl Hexagon Tile Backsplash and Two Tone Cabinets: A combination of black Mother of Pearl backsplash tiles and two tone cabinets makes a beautiful design. Between the Mother of Pearl hexagon tiles, soapstone countertops and black lower cabinets this kitchen design offers a stylish ambiance. Each of the materials complement each other wonderfully and create a unified effect.
To help lighten the styles white upper cabinets and light wood flooring are used combined with plenty of natural light. White shaker cabinet doors provide a distinct contrast to the darker room elements. The white cabinets with stainless hardware as well as deep black soapstone countertops complement each other perfectly. With white cabinets, penny pearl shell tiles can offer a lovely elegance.
Gray Wooden Cabinets, Mosaic Mother of Pearl Tile Backsplash, and White Countertop Combo: A pleasant and dazzling kitchen, of course, benefits from a white mosaic Mother of Pearl tile backsplash. Such backsplash tiles complement the gray kitchen cabinetry and are accentuated with chrome hardware. This straightforward and vibrant design, accompanied by white countertops, creates a light and airy ambiance.
Is Mother Of Pearl A Good Backsplash?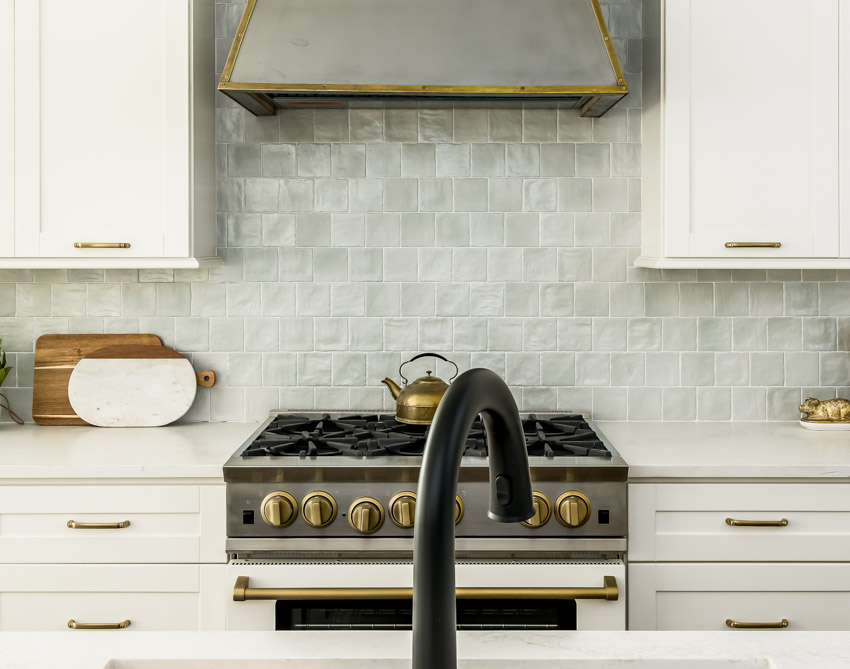 Yes. A Mother of Pearl backsplash is a long-lasting material due to its natural origins. As a result, it is an excellent choice for a kitchen backsplash. Furthermore, this tile has an impermeable surface finish. As a natural material, each piece of iridescent Mother of Pearl is firm, hard-wearing, and long-lasting. Because it is an organic substance, each item will have a relatively unique attraction!
Moreover, for generations, homeowners and designers alike have been charmed by the attractive loveliness of Mother of Pearl and have frequently utilized it to upgrade ordinary-looking interior settings, most notably in the shape of mosaic tile designs. Each piece's unique textures, natural veining, and iridescent grandeur create a feeling of luxury at an affordable price.
Additionally, the luster of each piece guarantees that it gleams magnificently as it captures the light and draws the eye even in the darkest of spaces. When it pertains to interior finishes like kitchen backsplashes, this material's superb glossy quality is unrivaled.
Is Mother Of Pearl Tile Hard To Maintain?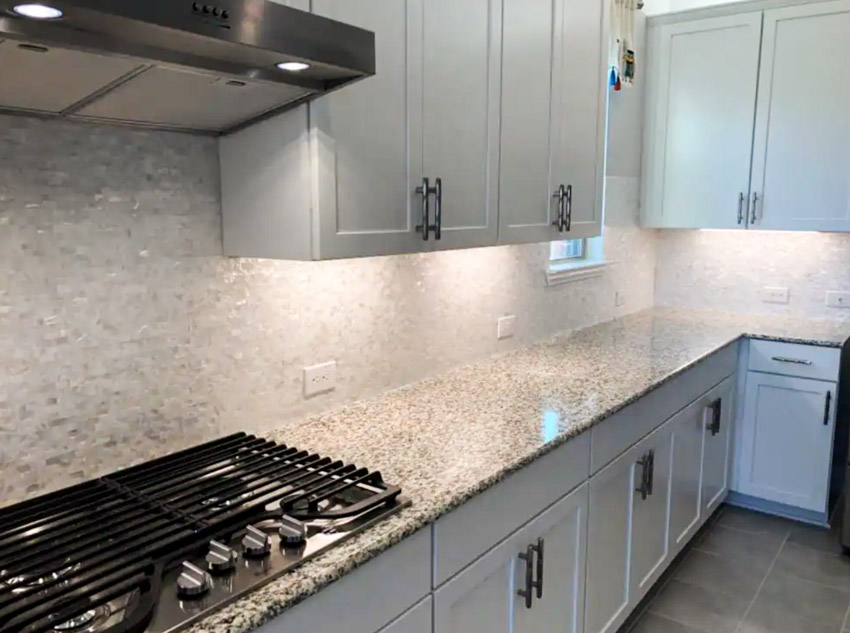 See this Mother of Pearl backsplash set at Home Depot [sponsored link]
Mother of Pearl tile can be maintained just like how you maintain ordinary tiles. Because Mother of Pearl tiles are non-porous and have a lasting patent-pending coating, these easy tips and tricks are all you need to follow to preserve their longevity and beauty:
• To prolong the lifespan and elegance of Mother of Pearl tiles, they must be cleaned and maintained on a regular basis. Just a balanced mild detergent can be used to clean the tiles. Surfaces just need to be kept free of harsh materials; abrasive cleansers, powders, scrubbing pads, steel wool, as well as sandpaper should never be used.
• Do not allow strong soap, bleach, or other cleaning chemicals to dry on the surface. The main component of seashells is calcium carbonate. Acidic substances such as vinegar, acidic meals, and carbonated beverages will cause them to negatively react.
• These tiles must be cleaned consistently with warm water and a soft cloth to keep them looking new after application.
Does Mother Of Pearl Tile Need To Be Sealed?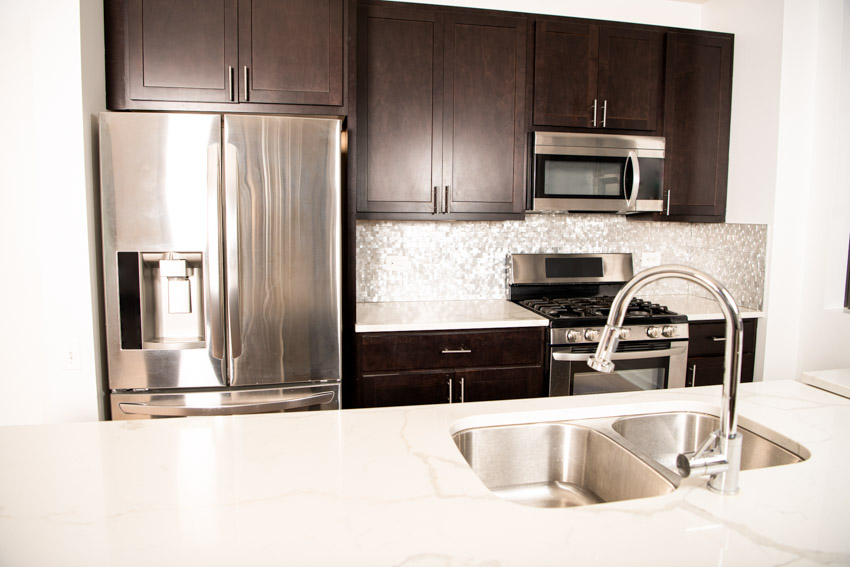 To help protect its appearance, we highly suggest sealing your Mother of Pearl tile as well as appropriate treatment and maintenance. Although the water-resistant surface of Mother of Pearl tiles does not usually necessitate a sealant, sealing your Mother of Pearl tile grout lines periodically will assist in preventing stains and discolorations.
The type of sealer that is recommended for polished marble is also appropriate for Mother of Pearl tiles. We normally recommend Rust-Oleum 511 Impregnator. If you consider using a new sealer, you can test it first on a tiny section of your backsplash. You might have an exposed edge after your tiles have been laid, grouted, and sealed.
See more related content in our article about wavy tile backsplash on this page.