Here we share our Thassos marble guide including what it is, the different forms it takes, details on countertops, flooring & walls durability, price, and maintenance tips.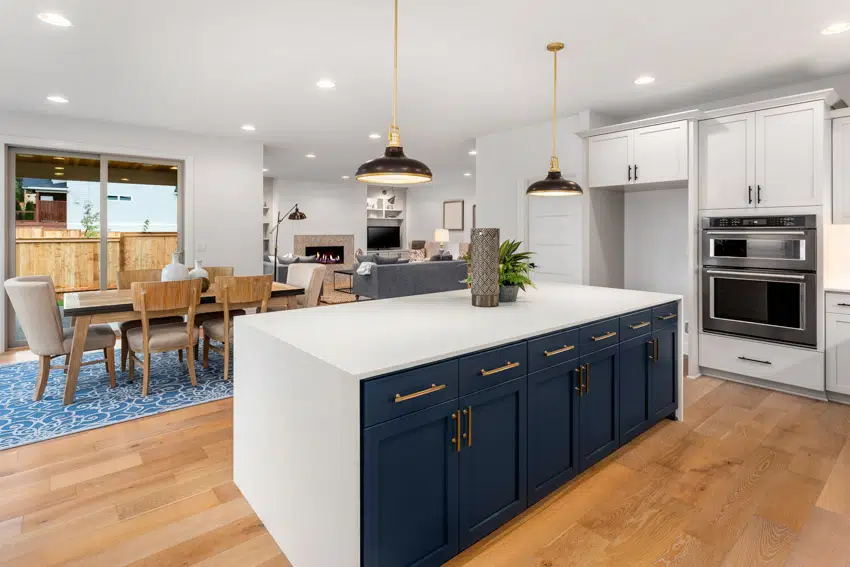 Thassos marble is the purest white marble on earth and is extracted in the Macedonia region, one of the most extensive quarries of white marble in the world.
Thassos white marble is an elegant Greek stone named after the small Greek island quarried. The stone is iconic, with a rich history dating back to the sixth century BC when Greeks and Romans used it to construct temples, sculptures, and other architecture.
What Is Thassos Marble?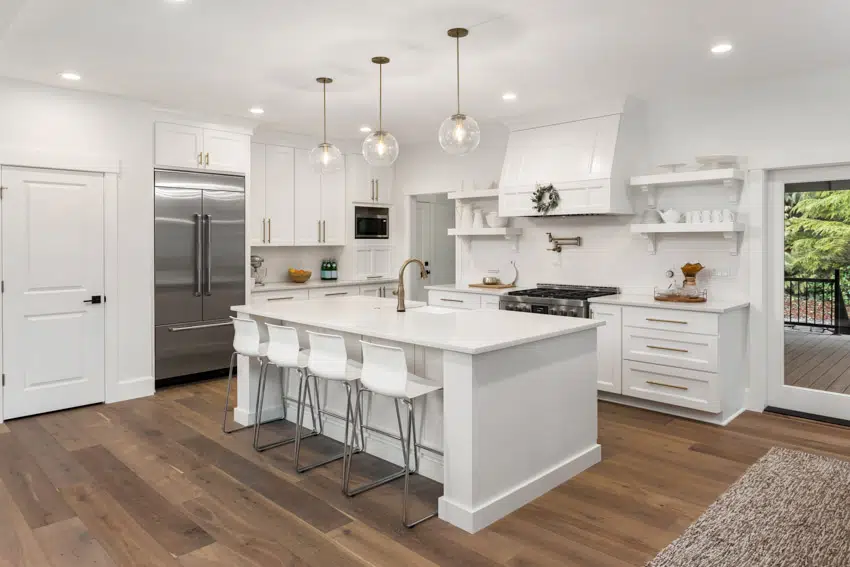 Thassos marble is its magnificent pure white essence and its limited availability that is highly sought-after and the most expensive stone materials available for high-end contemporary, modern, or transitional interior design projects.
It is the essence of luxury and high class, with its purity and crystal-like appearance unmatched. As with all natural stones, Thassos may have variations of veining patterns such as a pale gray webbing effect, and sometimes there can be minimal burnt orange veins found within the marble.
Other variety has different shades, veining patterns, and has micro-fissures. The highest quality Thassos-type of marble comes in small blocks and has a polished, pure, clear appearance and immaculate whiteness.
Thassos White Type Marble Tile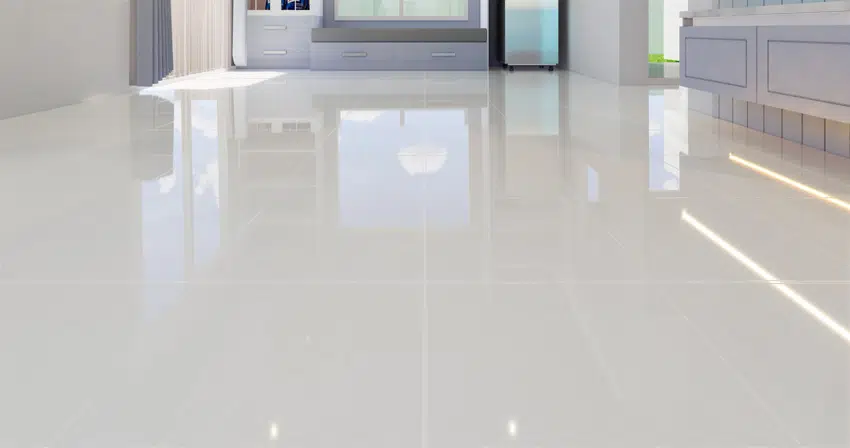 Thassos marble tile's purity, quality, and beauty make it the most striking interior floor and walls because it brings a sense of extravagance to any space and a perfect awe-inspiring appearance.
Offering incredible versatility with their brilliant white surface, the allure of this type of marble tiles remains undiminished and provides absolute tranquility to any interior environment.
Incorporating this type of marble tile into the interior space of your home is like adding an enticing piece of history. It offers a unique way to reflect light and has low-heat absorbance than any other natural stone.
This marble tile has a wide range of finishes, but designers and architects' most sought-after favorite finish is the Thassos polished and honed marble tile. Thassos is favored for kitchen walls, countertops, and floors due to their natural thermal and moisture resistance.
Thassos Polished Marble Tiles
Thassos is one of the most difficult marbles to polish due to its character and structure. It requires a certain strength to hold a polish.
Polishing this kind of marble tile allows all its natural strength and beauty to irradiate its natural shine and make it more resistant to stains. A Thassos polished marble tile enables you to achieve an inimitable effect that reflects light and objects like a mirror.
When polished, Thassos polished marble tile features the richness of color, natural texture, toughness and displays a beautiful luster that magnifies the brightness of your room, making it a favorite material among architects and designers for kitchen and bathroom.
Honed Thasus Tile Marble
A honed Thassos-type of marble tile is created by sanding the surface, giving it a flat, matte surface finish that provides the stone with more extraordinary character, a slightly rough finish, and prominence when laid.
It reflects the light but with lower reflection. Since it is a natural stone, Thassos honed marble surfaces are more susceptible to staining but don't show scratches when light reflects off it as much as polished marble.
Since Thassos has a matte finish, it is less slippery when the surface gets wet, making it ideal for flooring material for bathrooms.
Bianco Thasos Backsplash Marble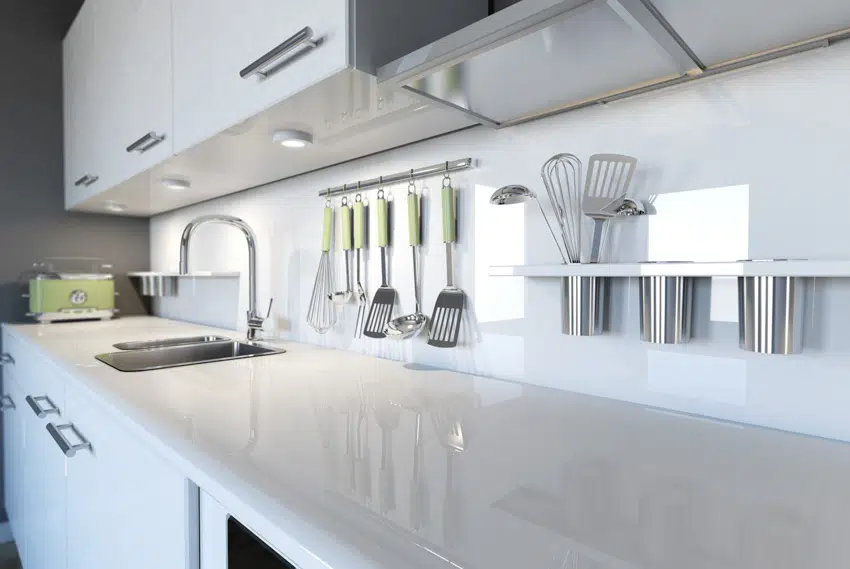 Incorporating Thassos as a backsplash gives a luxurious look and offers design possibilities and aesthetic enhancement that marble offers are always associated with elegance, class, and timelessness.
The unique characteristics of Thassos add a stunning contrast to dark cabinets or provide an even more distinctive appearance to modern and beautiful white kitchens.
Incorporating this kind of marble backsplash that extends to the ceiling is a big trend that gives an eye-catching architectural appeal in contemporary, modern, and transitional kitchen design.
However, utilizing marble for your kitchen's backsplash requires a higher maintenance to keep them pristine without as much concern for potential damage such as scratching and staining due to modern innovations in the stone's engineering and mining processes.
Cleaning this type of marble is accessible; warm water and dish soap can be used for most stains, while baking soda and water mixture remove tougher stains.
Thassos Snow White Marble Countertop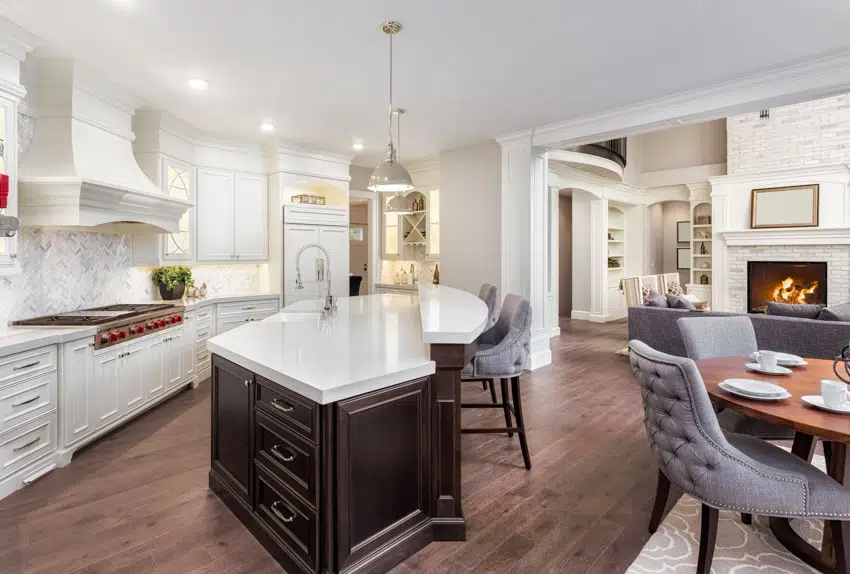 Kitchen countertops made from Thassos are exquisite due to their subtle, natural shine. The beauty of the marble and the warmth it offers allows designers and homeowners to create a unique ambiance and timeless elegance that only Thassos can offer.
This kind of marble countertop also provides strength to your marble worktop and features heat resistance that can keep the kitchen countertop cool, making it ideal for rolling out pastry.
By incorporating Thassos for the different types of kitchen countertops and worktops, it provides distinction, and since they are 100% natural, it offers unique exclusivity to the design concept. You can be sure that this countertop material will give you a worktop that will last you for a lifetime.
Bianco Taxos Marble Durability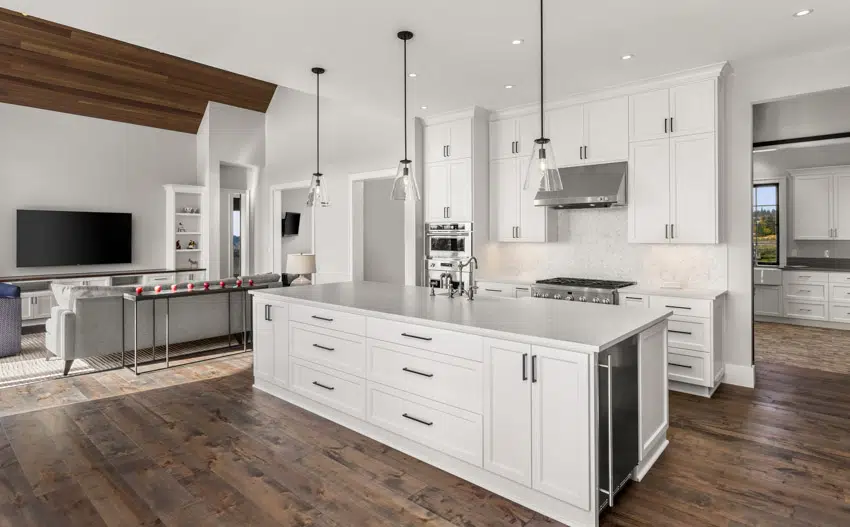 Thassos surfaces are very dense marble due to the quartzite found in them, and it is considered a "hard" marble. Its durability and quality are unmatchable.
Thassos is highly desirable as a premium natural stone because of its pure natural beauty, which displays a captivating luster. Its durability is also prized for its quality, hardness, consistency, and historical value that has stood the test of times.
Thassos can also remain scratch-free and stainless for years if cared for and maintained properly. Since it is a natural stone, it is also resistant to germs and other allergens making it a safe option when choosing among the different types of flooring materials for interior design.
Thassos Pure White Marble Price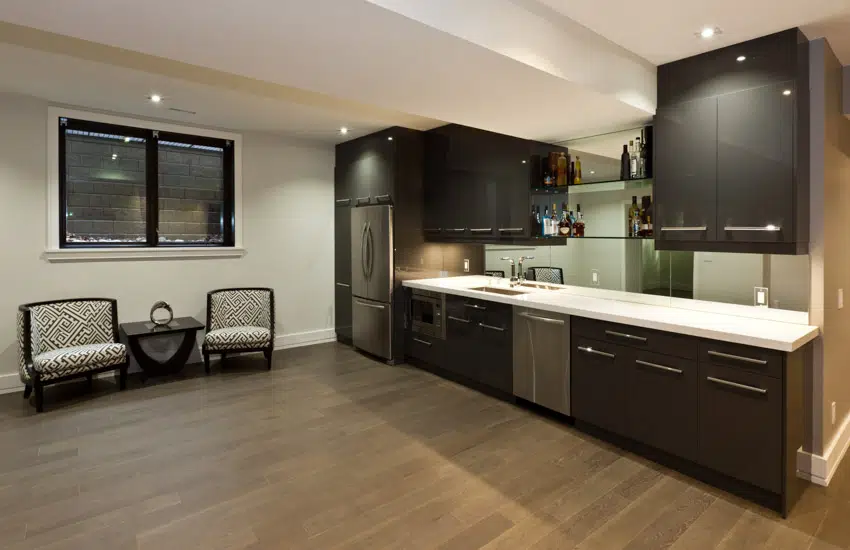 This kind of marble is the most divine stone and the most expensive of all-natural stone products due to its high price per square foot. This kind of marble comes in different looks and grades.
Check for the quality and uniformity of color before you purchase these marble tiles. Thassos' purest form of white is the most expensive and has been categorized as the A-grade marble priced between $250 to $400 per square meter.
Thassos Greek Marble Maintenance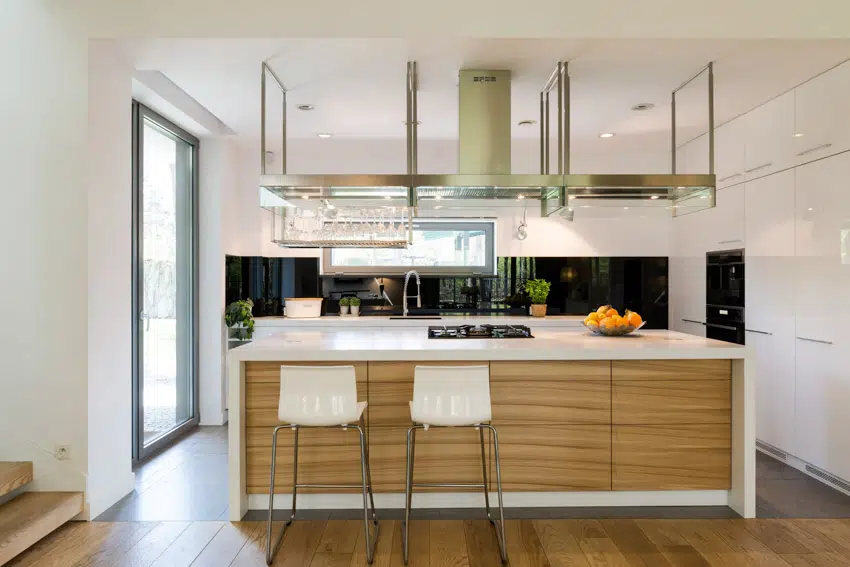 Constant maintenance and regularly sealing the marble surfaces help prolong their life and beauty. Like all other natural materials, Thassos must be cared for and maintained properly. The first aspect of caring for kind of marble is sealing.
Applying sealer periodically when doing your routine care and maintenance will help it resist stains from water and oil-based liquids that get absorbed into the surface's pores.
Make sure that you use natural stone sealers designed for Thassos marble to reduce the absorption rate of the material effectively.
Sealing a Thassos surface will not be effective if the proper daily cleaner is not used. Using a cleaner that is not formulated for use on natural stone will strip away the sealer very quickly and cause the marble surface to stain.
When staining happens, warm water and dish soap can usually remove stains. However, in cases where liquid gets through and makes its way into the pores of a stone, it is best to use a stain remover formulated for the exact type of stain.
Make sure you follow the instructions on using the stain remover properly. Removing discoloration, known as etching, is not technically a stain since it is not a substance that penetrates the pores but appears to be a color change.
For a polished Thassos-type of marble, etching will show as a dull spot, while a honed variant will present an etch as a dark spot. By using a calcareous stone etch removal product.
The care and maintenance of Thassos surfaces require specific equipment and specific care and maintenance practices to get the most from the marble and can last a lifetime. Read more about Thassos marble on the distributor's website at http://www.thassosmarble.com/.

See more related content in our article about quartzite vs marble on this page.