Here we share our guide to slate kitchen floors including its pros and cons, slate flooring ideas, options, finishes, sizes, and durability.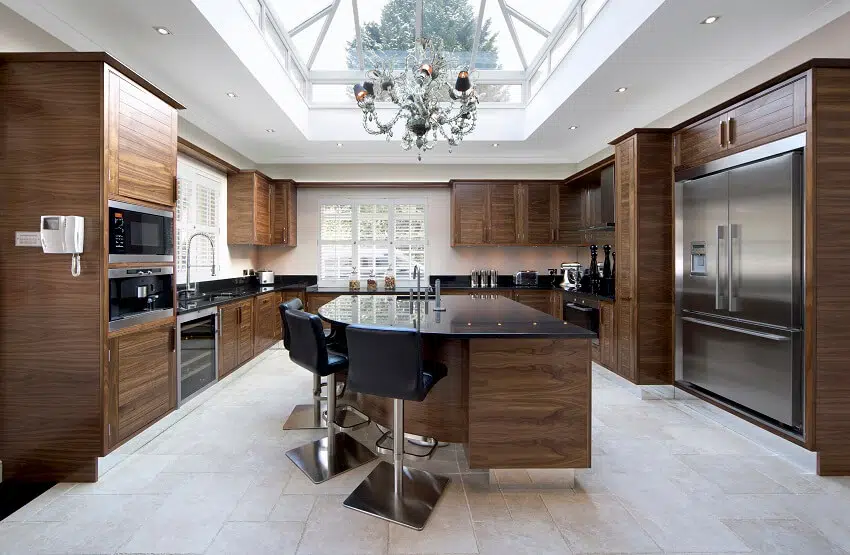 If you're having a new home built or simply updating your kitchen, flooring is likely on your list. When shopping for ideas, some of the flooring characteristics to consider have a practical application and some an aesthetic purpose. The kitchen is often the most used room in a home, with a lot of foot traffic.
Functional kitchen flooring needs to be long-lasting, durable and relatively easy to maintain. Slate is an excellent choice and offers an extensive range of styles, colors and designs. A slate kitchen floor provides a luxurious and sturdy option without compromising the look you want.
This guide will discuss the pros and cons of slate flooring in the kitchen, design options, and durability. Armed with the information you need, you can then shop for slate kitchen flooring, confident it's the right choice for your home.
Slate Kitchen Floor Tiles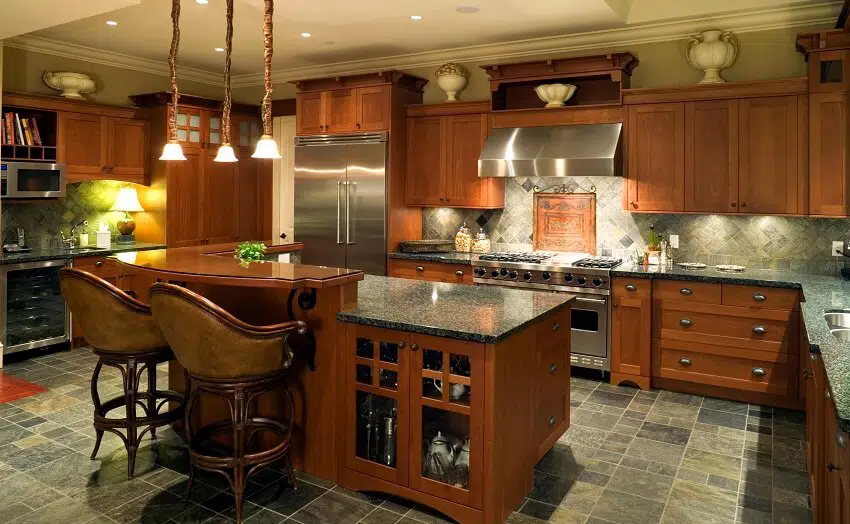 Slate floor tiles are natural stone harvested from mountainsides and other geographical areas. Slate is a metamorphic rock; metamorphic meaning modified by heat, pressure and other molecular alterations that happen below ground.
It's categorized as foliated because it appears banded or layered. Slate includes numerous looks and characteristics, offering a wide array of colors and textures, including charcoal black, rust, brown and tan in varying shades.
There are two textures offered, the natural surface texture of slate, which is rustic and naturally occurring when slate splits or a smooth surface that has been sanded down.
Slate's natural surface provides better traction, and the sanded surface can prove to be slippery, especially in the kitchen where liquids are apt to spill.
Slate kitchen tiles are typically rectangular or square in various sizes and a wide array of solid colors and multicolored tiles. At times, slate tiles may even have variegated colors, and all tiles have unique patterns.
These colors and textures allow for homeowners to choose slate kitchen tile that works perfectly with any interior design scheme they choose.
When slate kitchen tile is installed, grout is laid down between each tile and comes in almost any color needed to either blend or contrast with the color of the tile.
The grout can be sealed to prevent staining from liquids and spills and prevent mold and should be sealed regularly. Slate tile may outlive the life of the grout, but grout can be removed and redone. Visit this page for more types of kitchen flooring.

Slate Kitchen Floor Pros and Cons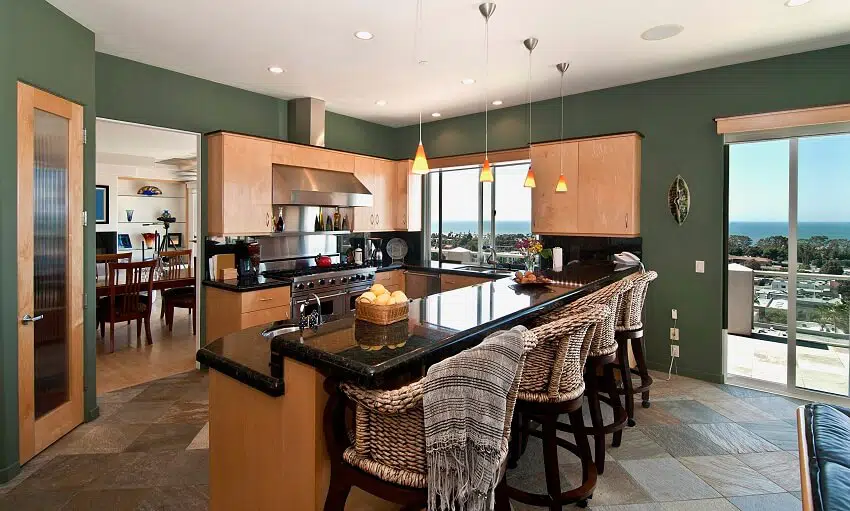 Many homeowners really love the look and feel of natural slate kitchen floors. The organic makeup of the stone is as revered as the premium style and makes it a popular choice for kitchen flooring ideas.
There are pros and cons concerning slate kitchen floors to consider before committing to installing slate tile in your kitchen.
Slate floor pros:
• Slate kitchen tile is a unique, attractive and versatile material
• Especially for a kitchen setting, slate tile is durable, strong and lasts as long as your home is standing
• Slate tiles are a great option when installing radiant heat systems below the flooring
• Slate kitchen tiles are very low-maintenance
• It offers a wide variety of colors and textures
Slate floor cons:
• Slate tile is expensive to purchase and install
• The installation of slate kitchen tile is not typically a DIY project
• Having to replace or repair slate kitchen tile is difficult
• Must be sealed or will stain
• Slate kitchen floor tiles get very cold when outside temperatures drop
Slate Flooring Options
Terminology and options for slate tile can often be confusing. If you know the colors and shades, you need for your kitchen, the easy part is done. Still, there are additional items to know before you buy, such as industry terminology and slate tiles sizes.
Slate Tile Sizes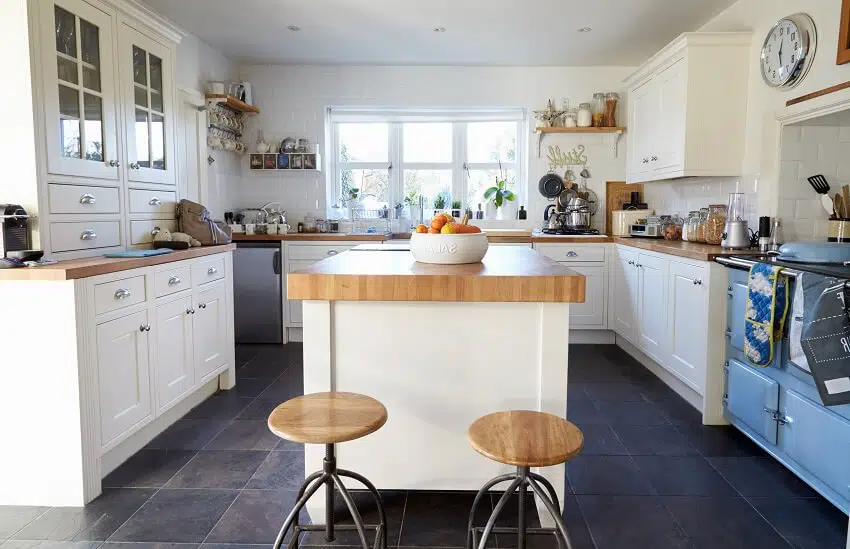 Rectangular slate tiles come in several standard sizes. Large sizes allow a kitchen to look roomier and smaller tiles create a cozy, intimate feel.
Slate tile strips are used to create mosaic designs. Square slate tiles also work well in kitchens using the same concept as a rectangle; larger makes the kitchen look more prominent and smaller tiles more comfortable.
Rectangular Slate Tile Standard Sizes
Small
Medium
Large

3" x 6"

6" x 9"

9" x 12"

9" x 18"

9" x 24"

12" x 18"

12" x 24"

18" x 24"

Rectangular Slate Tile Strips Standard Sizes
Small
Medium
Large

3" x 6"

6" x 9"

6" x 12"

6" x 18"

6" x 24"

Square Slate Tile Standard Sizes
Small
Medium
Large

6" x 6"

9" x 9"

12" x 12"

18" x 18"

24" x 24"
Slate tiles for the kitchen floor can have straight edges as squares and rectangles and be intermixed by shapes and sizes to create patterns. Installation may be random or a pattern planned out on paper.
Another choice for slate kitchen tiles is to leave the slate in its natural, irregular shape and place them in a design where they fit against each other. This leaves a very creative option to mix and match shapes, sizes, and colors with the kitchen's design.
Keeping the tile uniform in shape, size, and color creates an understated kitchen floor to highlight kitchen amenities.
By blending shapes, sizes and colors, the floor becomes more of a statement and using randomly shaped pieces of slate provides the most artistic and attention-getting kitchen flooring. See our gallery of tile shapes here to get more design ideas.
Slate Tile Finishes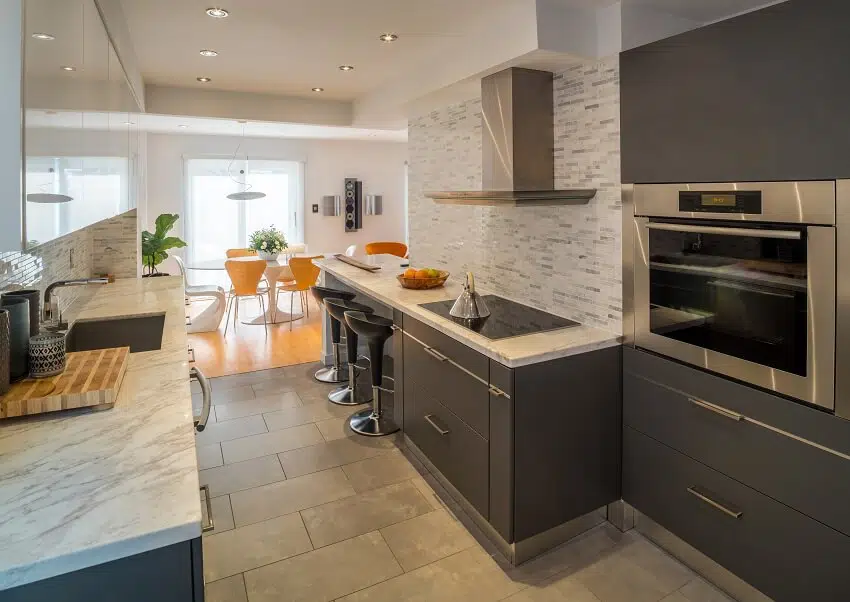 Slate, in its rawness, has the feel and texture of the rock it is. When the slate is quarried, it's sorted and prepared for distribution.
Manufacturers either leave the slate in the rough or polished. There are basically three types of finishes, each having a specific application.
Gauged Slate Tile Flooring
Slate tile flooring must have an even, smooth surface underneath to lay completely flat against subflooring. Gauged slate is raw slate cut and ground on the underside to create a flat surface even if the top surface is left naturally rough.
Gauged slate tiles are typically more expensive than un-gauged ones left in their natural state. Un-gauged slate tiles are used outside for a patio or stepping stones and can be easily maneuvered to lay flat by adjusting the sand or soil under them.
Cleft or Natural Slate Tile Flooring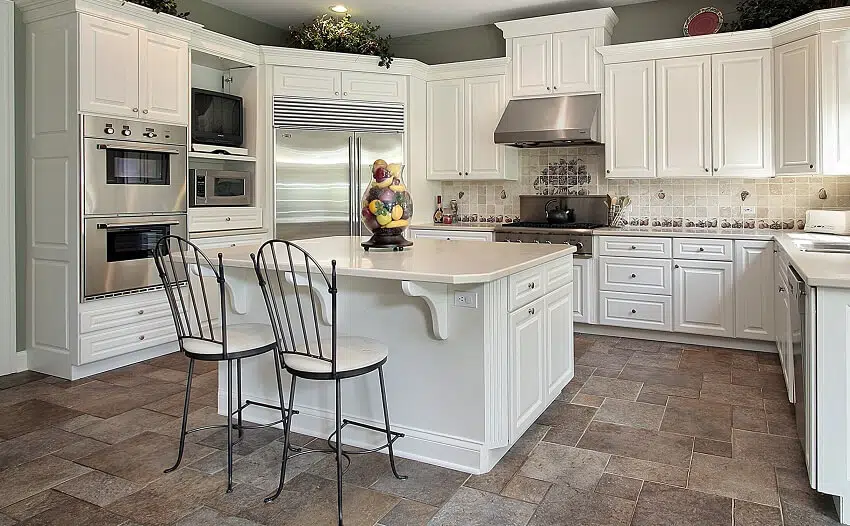 Cleft slate tile is similar to gauged slate, with the top surface of the tile being left in its natural, rough form, but the bottom, like gauged tile, is cut flat for indoor installation.
The rough surface provides textures so that if the slate tile is chipped, it will blend with the rest of the tile. When shopping for slate tile flooring, it's typically cleft flooring.
Both gauged, and cleft slate tile flooring provide the textured surface slate is known for offering less chance of slipping on a wet floor in the kitchen. Because there is no grinding or polishing, the tile retains its original, vibrant color making it an excellent option for traditional, vintage and rustic interior design.
Honed Slate Tile Flooring
Honed slate tile also has a flat bottom and a top that is cut and ground to create an even surface. Once finished, the top is then polished and sealed. Honed slate tile has diminished color due to the processing but does offer pastel shades for country, nautical, or southwest décor styles.
The honed slate tile surface can have a slightly rough texture to a glossy, high-polished finish. Slate tiles with a shiny surface do make a kitchen floor very slippery.
Slate Tile Durability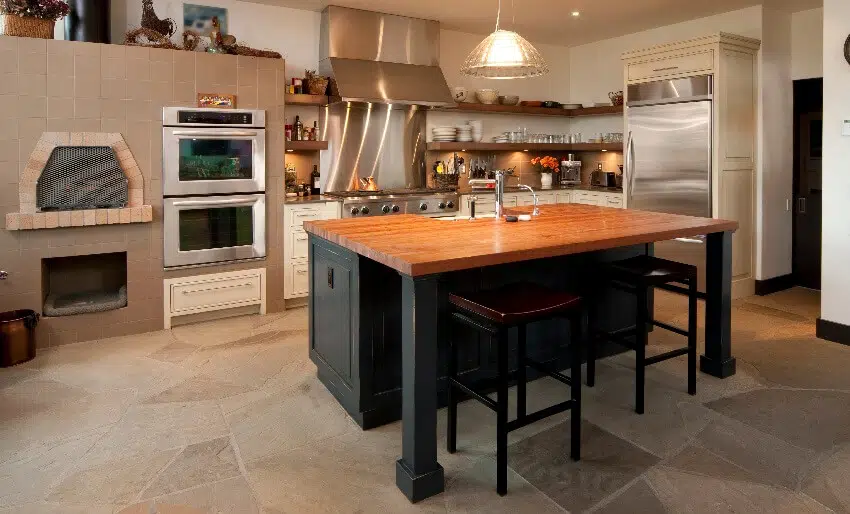 Slate is a metamorphic rock and extremely strong. As mentioned previously, metamorphic means rock that has been under extreme heat and pressure deep inside the earth for many years.
Slate tile is hard, very resistant to scratches, scrapes, dents and chipping and can go decades without needing repair or replacement.
Besides being durable and sturdy, slate kitchen floors do not show wear even after years of high-traffic use.
By sealing slate tiles on a regular schedule, moisture is prevented from entering the pores in the rock to avoid damage. Slate tile left in the raw may exhibit some scratches from rough wear, making cleaning and sealing more important.
Is Slate a Good Choice for Kitchen Floor?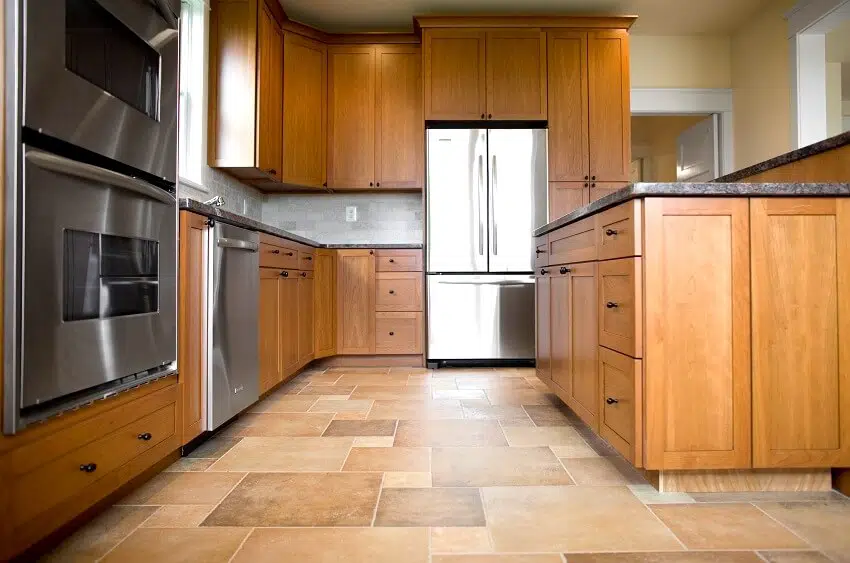 The natural beauty of slate, along with all the variations of color and texture, make this earthy material a classy way to bring the outdoors inside.
Homeowners enjoy the low-maintenance and impermeability of slate tile kitchen flooring, alleviating damage from spills and foot traffic.
Since slate tile is heavy, there are considerations on the weight-bearing ability of your kitchen floor. The subfloor and its framing must be structurally sound, or the weight of the slate tile may cause movement of the frame and base. Any movement under the tile will likely cause cracks or breaks in the slate, and the tile may have to be replaced.
Slate kitchen tile is not as expensive as granite and offers similar aesthetic colors and textures. Because of its excellent qualities and flexible design applications, it makes a very good choice for kitchen flooring.
Visit our gallery of slate kitchen countertops for more related content.