Here we share our floating kitchen island designs guide including what it is, the types, the distinct elements that make them stand out, and ideas you can use.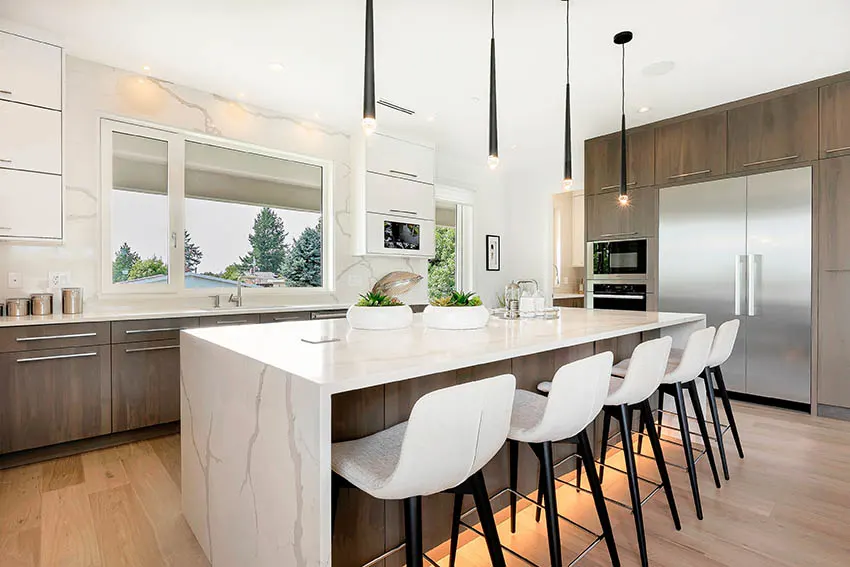 Some people hesitate to add a kitchen island because they feel like it will obstruct the traffic in the kitchen or make the space look tight. Although true in some cases, if a kitchen is well-designed, you won't encounter such issues.
What Is A Floating Kitchen Island?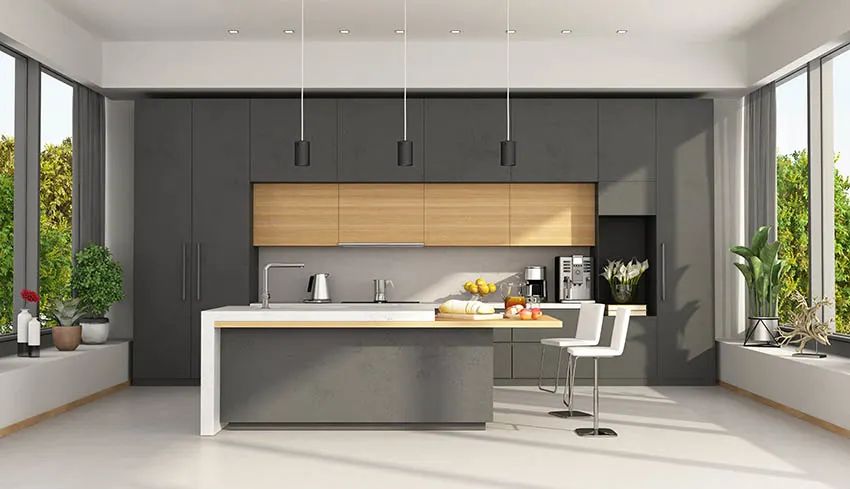 A recent trend in kitchen island designs is what we call Floating Kitchen Island. These are island counters that seem to float without support.
A floating kitchen island can be built and designed in various ways, but the main idea behind it is the feeling of openness and lightness as opposed to using a solid-base kitchen island.
Types Of Floating Kitchen Islands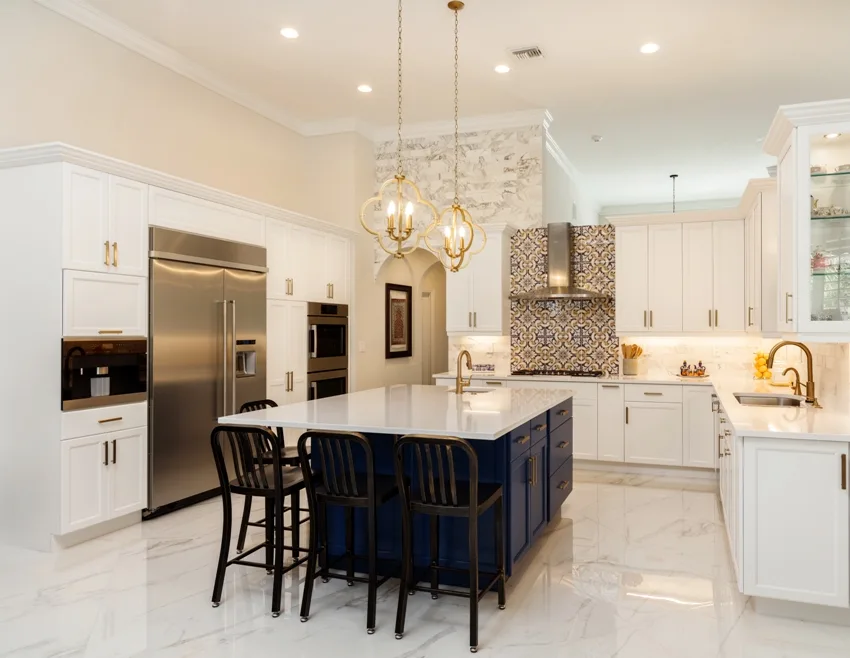 • Freestanding kitchen island: most freestanding kitchen islands have an open base; they usually only have a shelf or two underneath and is supported by four legs, making them look less bulky
• Cantilever kitchen island: this is one of the most common ways to build floating kitchen islands. These are counters extending from a solid base (such as a column), appearing to float & support themselves.
Depending on the size and depth you require, a cantilever may or may not need additional support.
• Inset base kitchen island: an inset base kitchen island is built similar to an ordinary kitchen island, but the baseboard is inset so that it is almost not visible from a person's view.
This results in a floating effect on the kitchen island. This is a good option for those who want lots of storage space and a bigger kitchen island
• Monolith: this is usually found in newly-built contemporary designs, wherein solid concrete is formed to create a floating counter.
Because concrete has rebars for support, this type of kitchen island is also highly durable.
Floating Kitchen Island With Seating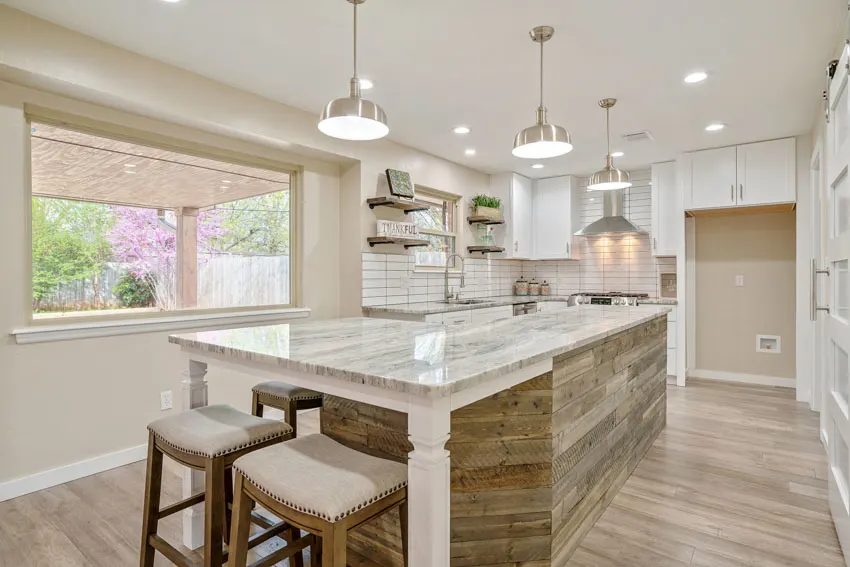 A kitchen island clad in wood laminates is extended to create a cantilever with additional post supports that match the classic aesthetic of the space.
The whole kitchen island uses one whole piece of stone, for a cleaner look. The cantilever also provides ample space so you can stow your counter stools when not in use. See more kitchen islands with seating here.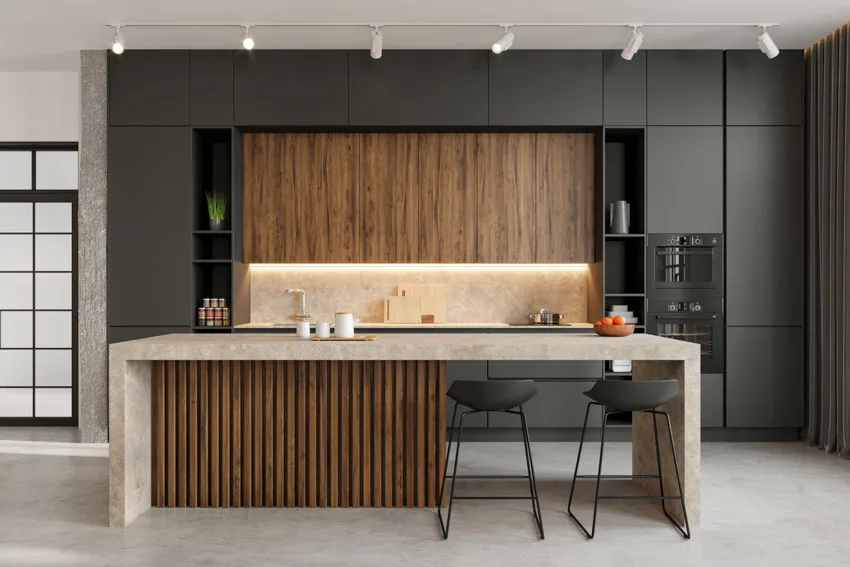 This kitchen island is perfect for modern spaces with its solid waterfall countertop, with a vertical wood slat accent at the base to add more texture and dimension. The concrete finish of the counter allows for a seamless surface that looks elegant and modern. Se more waterfall kitchen islands here.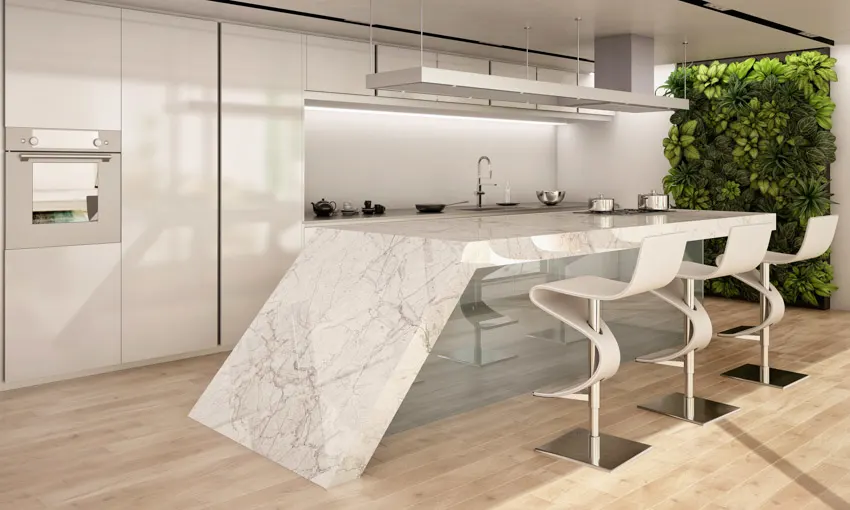 This is an excellent example of clever use of materials. By choosing a high-gloss laminate finish on the inset base of this monolith countertop, this kitchen island is able to achieve that floating look and at the same time, keep the precious storage space under the counter.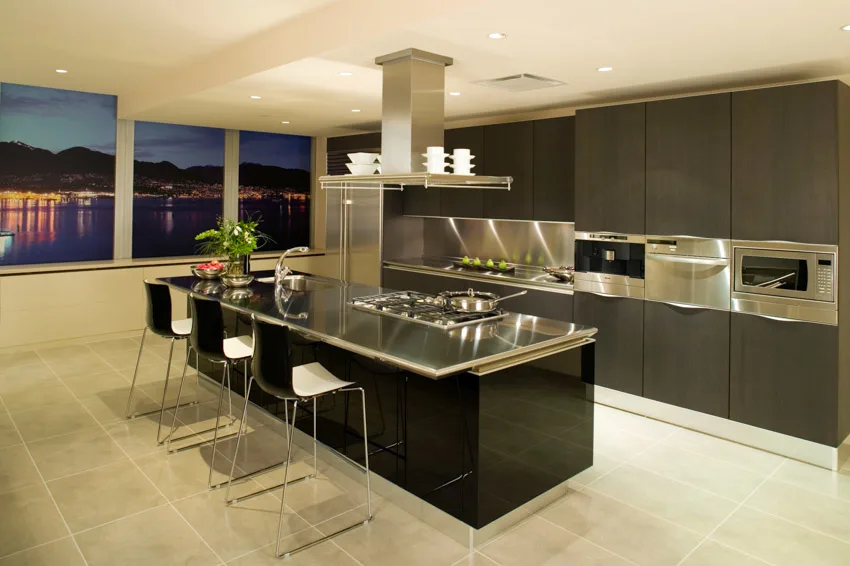 Professional chefs would love this kitchen with its stainless steel countertops that also doubles as the accent feature of the space.
For this kitchen island idea, it uses an inset base with stainless steel cladding to blend in with the light gray flooring. What's great about this material is that it will not corrode, and is it is very easy to clean & sterilize.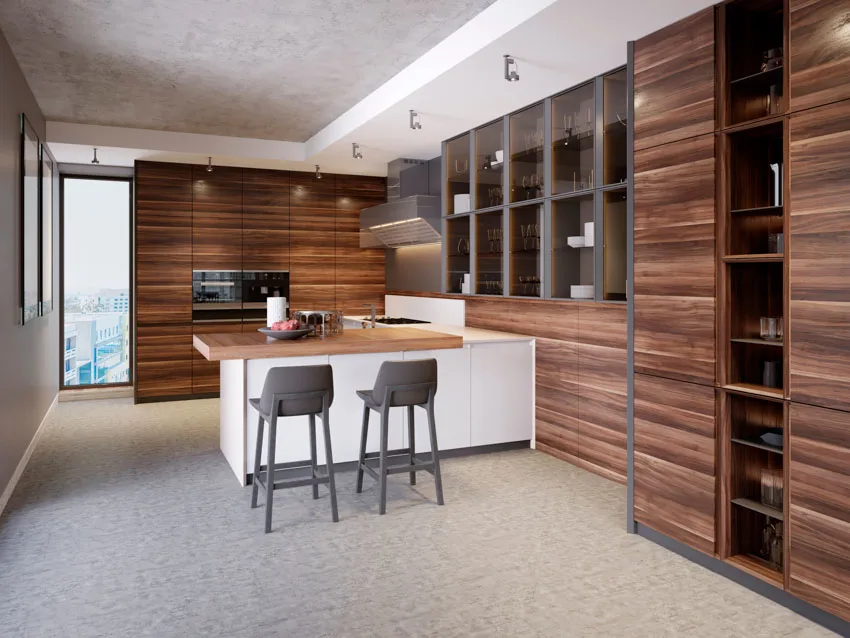 If you only have ample space for a kitchen island, this is a great example of how you can add a floating counter. A solid butcher's block is added to the countertop to create an overhang for the counter seating.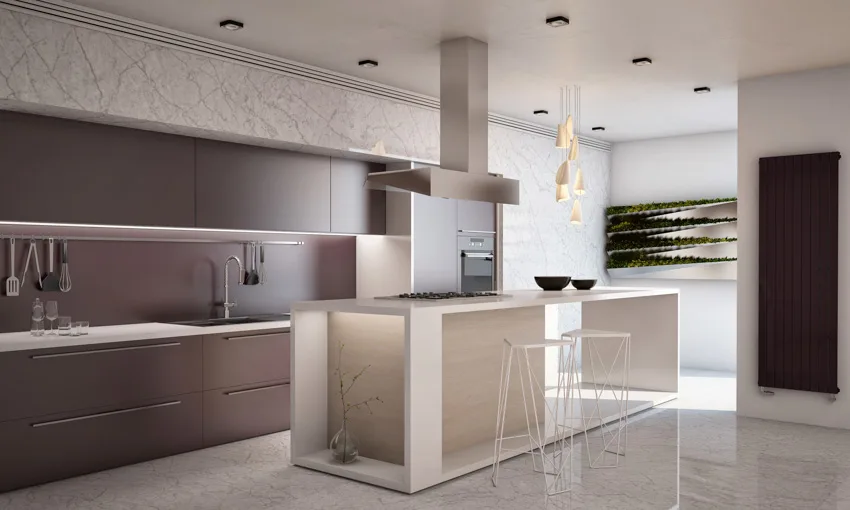 This floating kitchen island has a unique modern design that combines the looks and features of a freestanding kitchen island and a regular kitchen island.
The regular kitchen island only occupies half of the total length of the counter and is mainly used to house the cooking hob.
The rest of the counter uses solid-surface material from the top to the legs and the flat base. The unobstructed base of the floating counter makes this look lightweight.
Floating Kitchen Island Table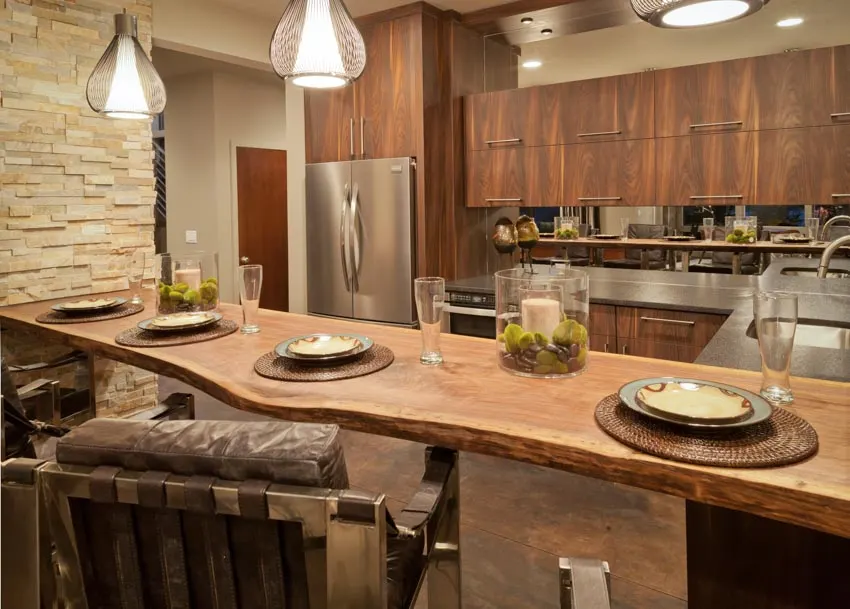 If you like the look of rustic kitchens, then a live-edge wooden floating kitchen island would be the perfect accent piece to any space.
For this kitchen, the live edge wood countertop is supported on a column and is also supported by the perpendicular countertop, allowing it to have a large open base.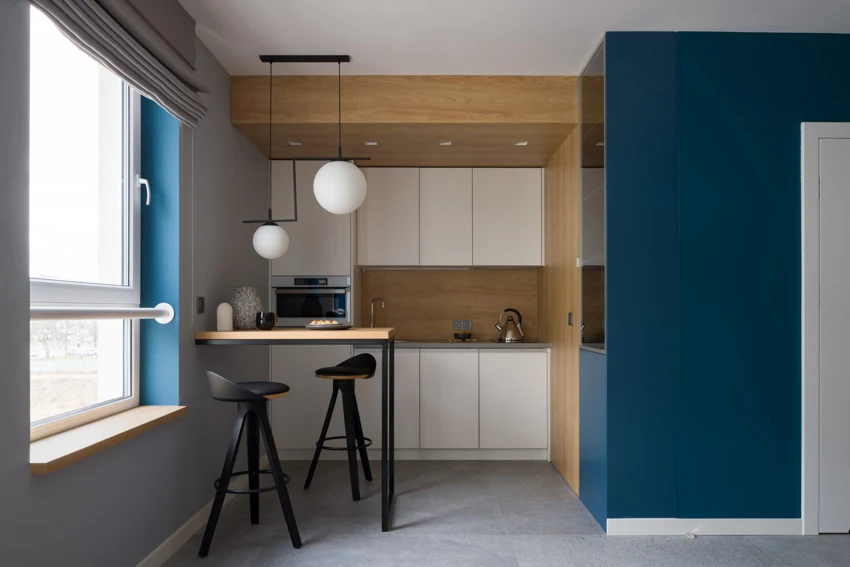 Apartments usually have a very limited amount of space and because of this limitation, some spaces need to be sacrificed.
The dining area is one of the most commonly sacrificed spaces in small apartments, but the design featured in this photo is a great alternative if you live in a small apartment.
A floating kitchen island table (peninsula) with an open base allows you to have a dining space & an additional prep area for the kitchen, for a very small footprint.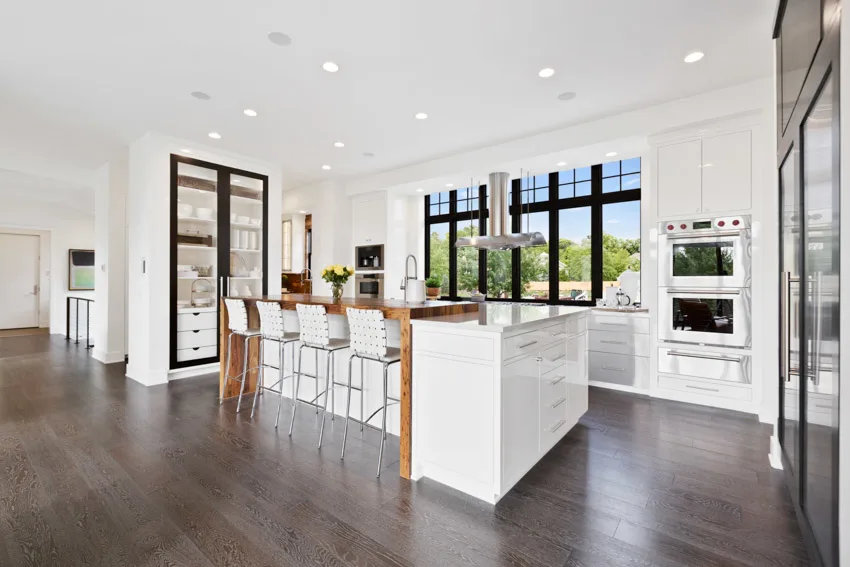 Adding a freestanding solid wood countertop to attach to your existing kitchen island is a smart and easy way to add a floating countertop to your space.
This also saves you a lot in renovation/demolition. The solid teak wood used in this design adds a nice accent to the all-white color scheme of the kitchen.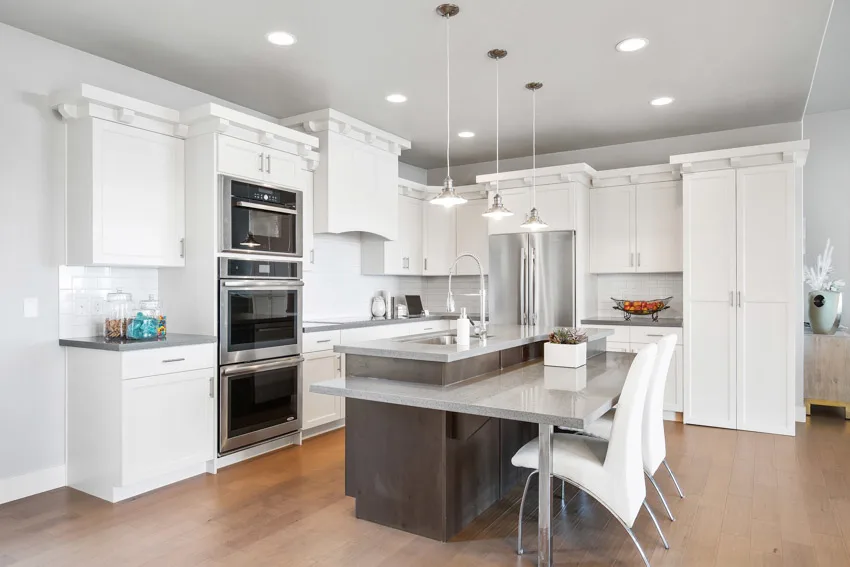 If you find counter stools or bar stools uncomfortable, you can also opt to add a cantilever dining height top to your existing kitchen counter.
In this example, stainless-steel columns were used for additional support because of the large cantilever area. The lower height allows the use of normal dining height chairs for better comfort.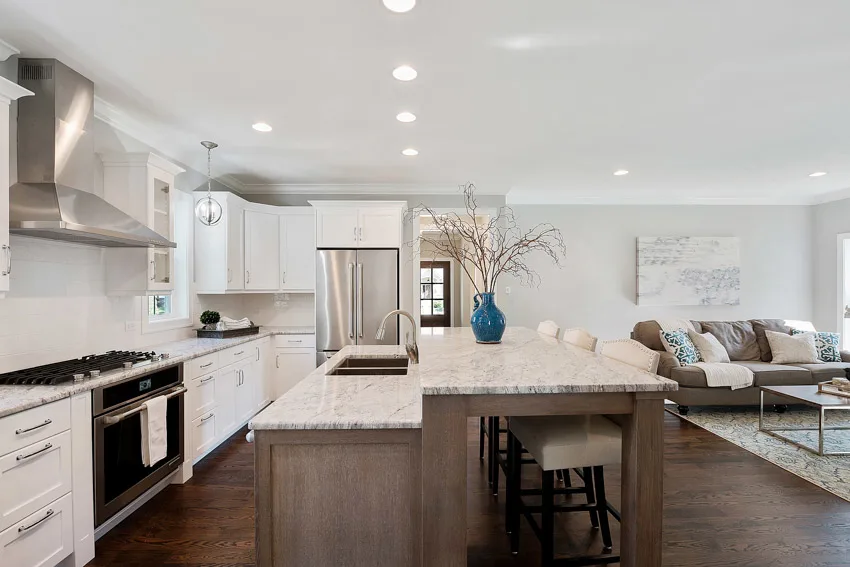 Open floor plans are a bit tricky to design, especially when the different spaces are close together. In this design, a bar-height floating counter was added to the existing kitchen island to help create a visual partition between the living and dining area.
Kitchen Island Floating Shelves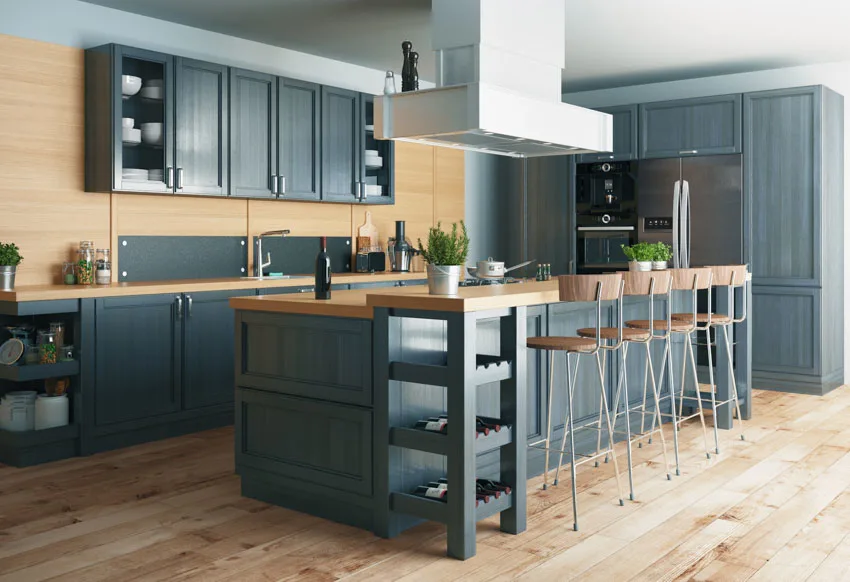 This rustic kitchen design cleverly uses the free space at the end of the floating bar counter by adding floating shelves design to specifically accommodate wine bottles.
This not only provides storage space but is also a nifty way to decorate the space. See more ways to decorate kitchen islands here.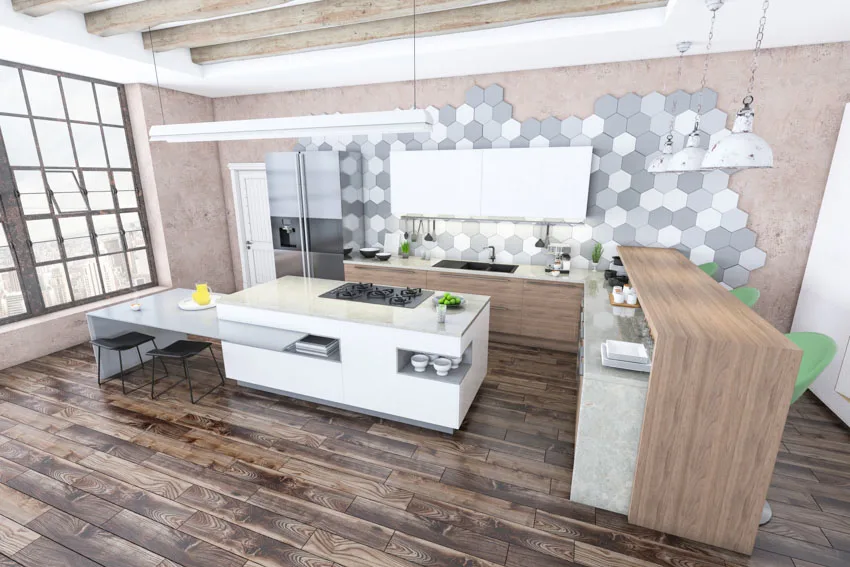 For this contemporary kitchen island, a cantilever extension was added to create a floating dining area to the kitchen island. It also maximizes the space of the main island counter by adding a recessed floating shelf underneath for a subtle display and storage area.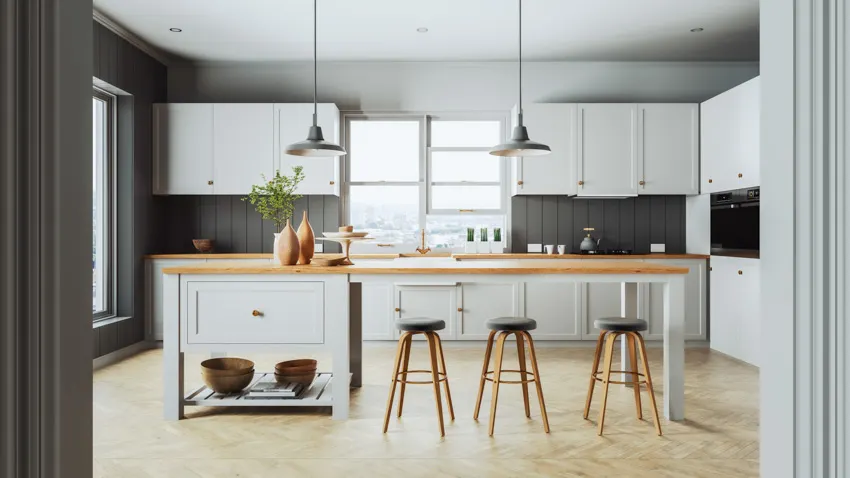 This is an excellent example of a freestanding kitchen island. The design features solid wood post legs and a butcher's block top.
One-third of the length is used for a storage drawer and a flaring shelf, while the rest of the counter has an open base giving it an appearance of lightness.
See more related content in our article about the gorgeous contrasting kitchen island ideas on this page.