Types of house siding guide including what it is, various materials, cost, design options, painting, and cleaning tips.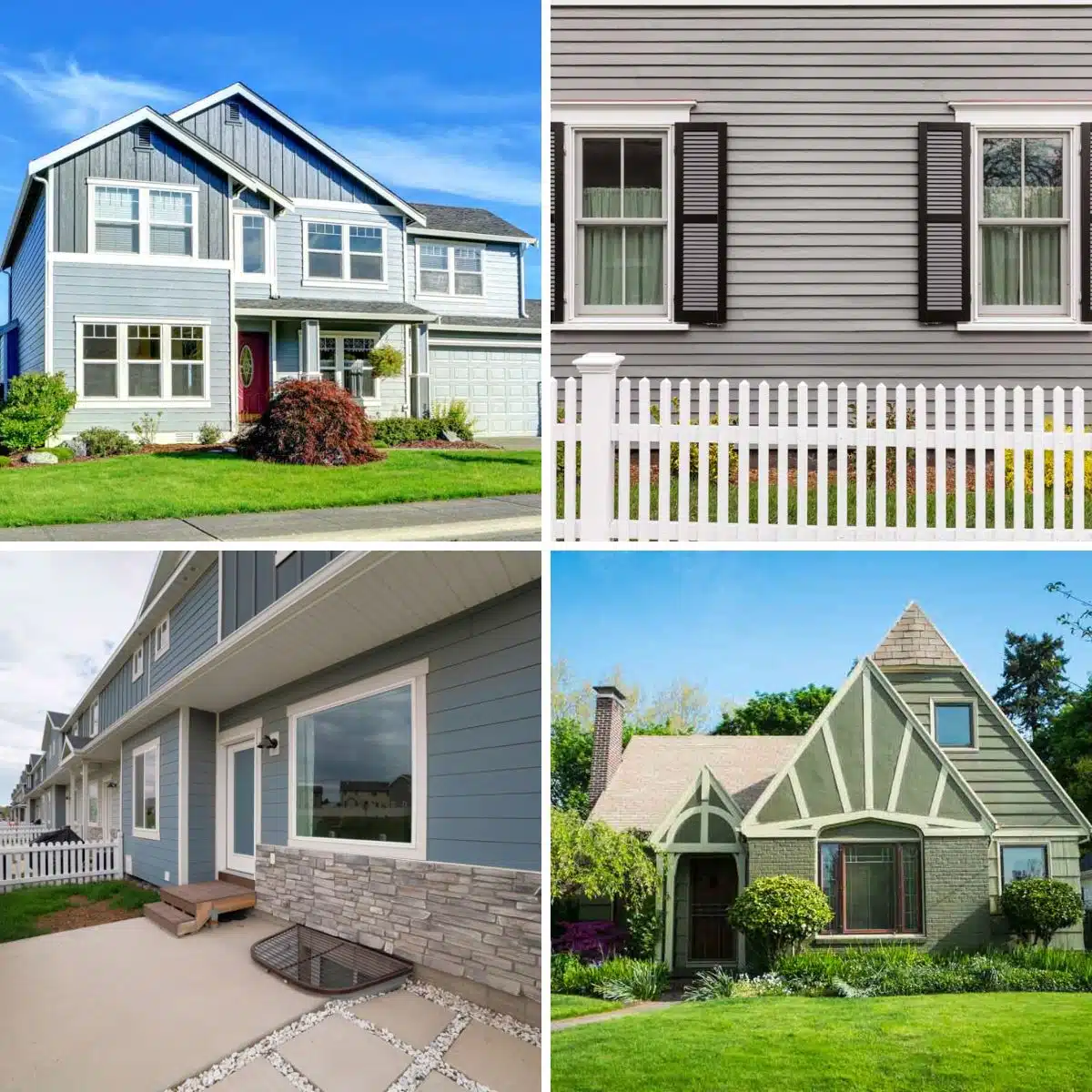 Your choice of houseexterior wall treatment reflects the value of your home, as well as the impression you want to set out in the neighborhood.
Besides curb appeal, it is also responsible for keeping you safe and your house intact from all sorts of external circumstances.
If you're brainstorming ideas for the best house siding type, this article will help you go over a comprehensive list of siding types, and important notes on maintenance and costs.
What Is House Siding?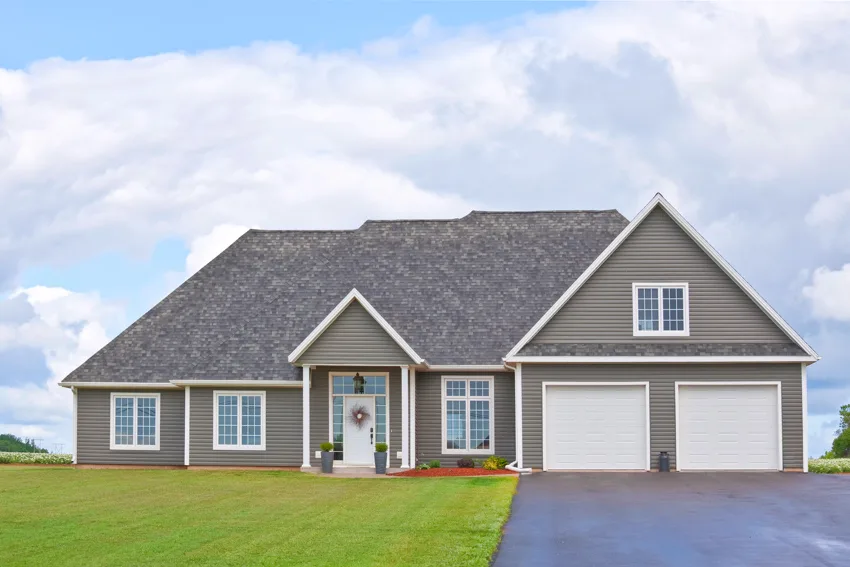 House siding is a type of external wall cladding with two basic functions. First, it acts as a barrier against weather and the elements and serves as an additional layer of insulation.
Second, it influences the architectural design of the house and even increases your home's resale value.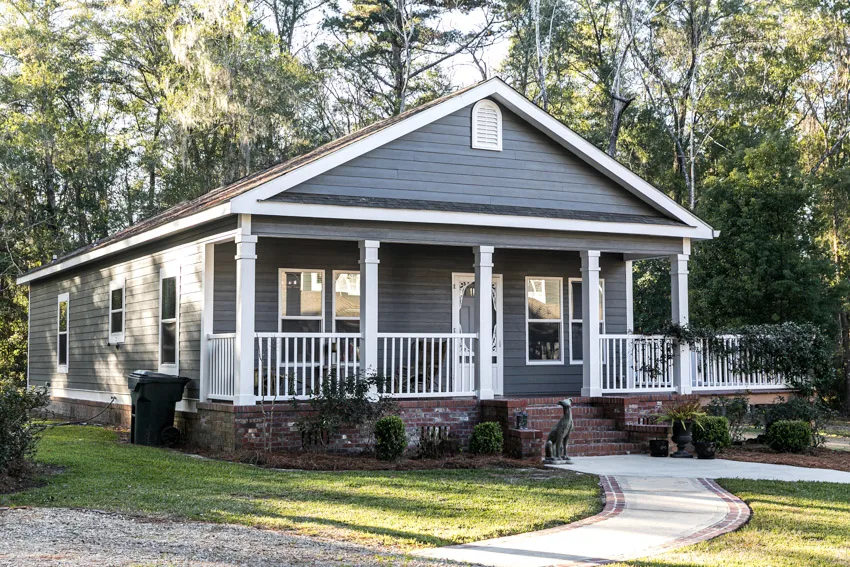 House cladding is available in different materials and styles, each working best for particular climates and architectural styles.
Depending on your goals, some types may stand out to you for being budget-friendly, or recyclable, or versatile.
Types of Exterior Sidings
Here's a comprehensive list of types of housecladding options that will help you make an informed decision:
Wood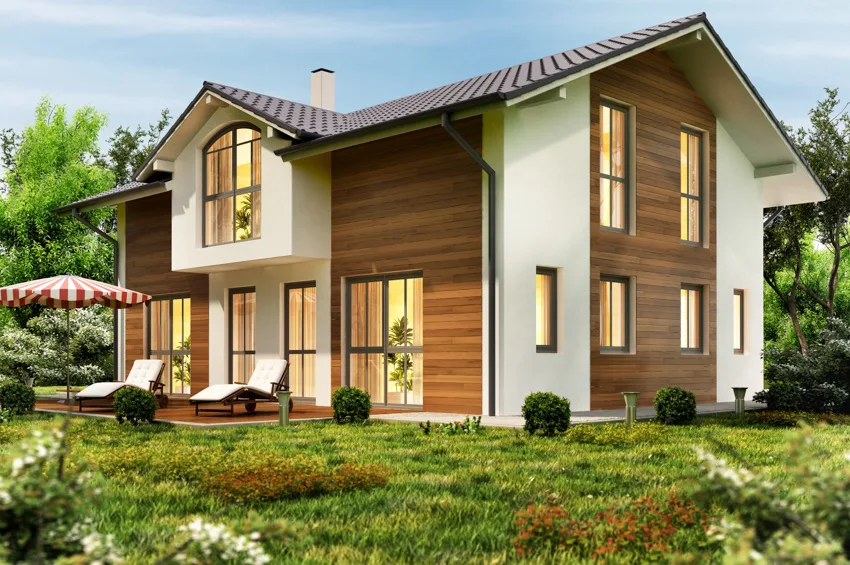 Classic and timeless, wood siding is perhaps the most popular of all exterior cladding types. It is readily available, adapts to different climate needs, and fits most budget ranges.
Common wood species used as siding include cedar, spruce, pine, and redwood. Design-wise, you can paint or stain them and choose across a wide range of profiles, such as the following:
• Wood Lap Siding: Wood boards are sawed lengthwise with one edge narrower than the other and then overlapped with each other.
This way, it allows the wood to contract and expand as affected by the weather, and shed water back to the ground.
• Wood Paneling: These are often installed vertically and come in different forms and finishes, such as rough-sawn, smooth-sided, pressed hardboard, and fiber-cement.
• Wood Shingle Cladding: Thin, tapered wood pieces sawn on both sides that are installed over the wall. They are usually smoother and more uniform and help tame oddly-shaped walls.
• Wood Shake Siding: Wood pieces are sawn on one side but hand split on the other, resulting in a thicker and more textured version of shingle exterior wall treatment. It is preferred for homes going after the rustic look.
• Wood Clapboard Sheathing: Overlapping wedge-shaped wood boards are installed horizontally on the sides of the house.
• Board and Batten: Wide boards are installed vertically and evenly spaced, while smaller batten boards are installed in between them. This gives room for the wood to expand and contract without the danger of cracking.
• Composite Wood Cladding: Composite wood is a type of treated exterior wall treatment made of scrap wood bonded with resins. It comes pre-primed or finished to mimic natural wood grains.
• Logs: Reminiscent of the traditional cabin look, split log cladding are popular in mountainous or forested areas where homes need to stay cozy. Logs are split in half, and the flat side is attached to the wall, giving the impression of being built by solid logs.
Wood exterior wall treatment is oftentimes defined by orientation, too. Orienting your cladding in particular directions changes how your home's length or height is perceived.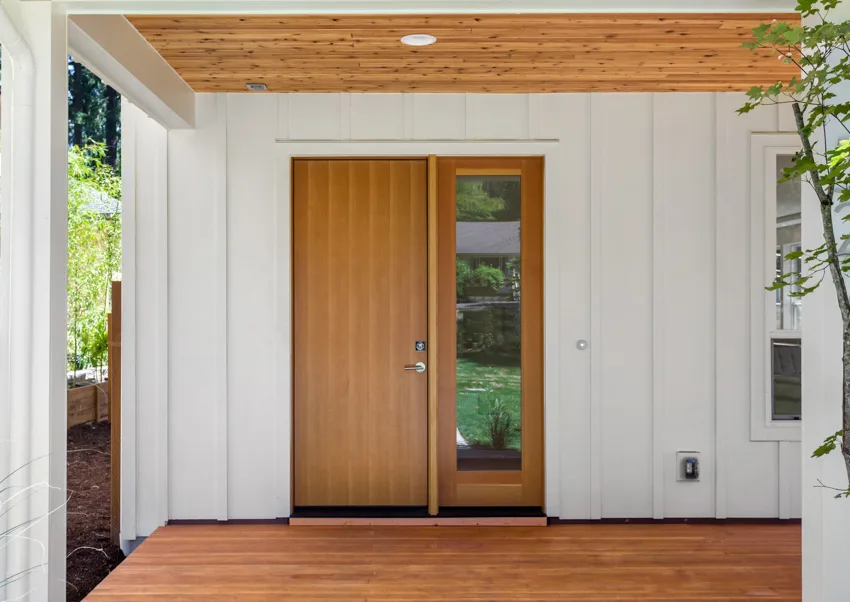 • Vertical Wood Boards: Installing wood boards vertically makes your house appear much taller than it is.
An onlooker's eye will travel upward which creates the illusion of a higher structure. It's relatively easy to clean since water runs down naturally. However, vertical siding is difficult to install and is thus more expensive upfront.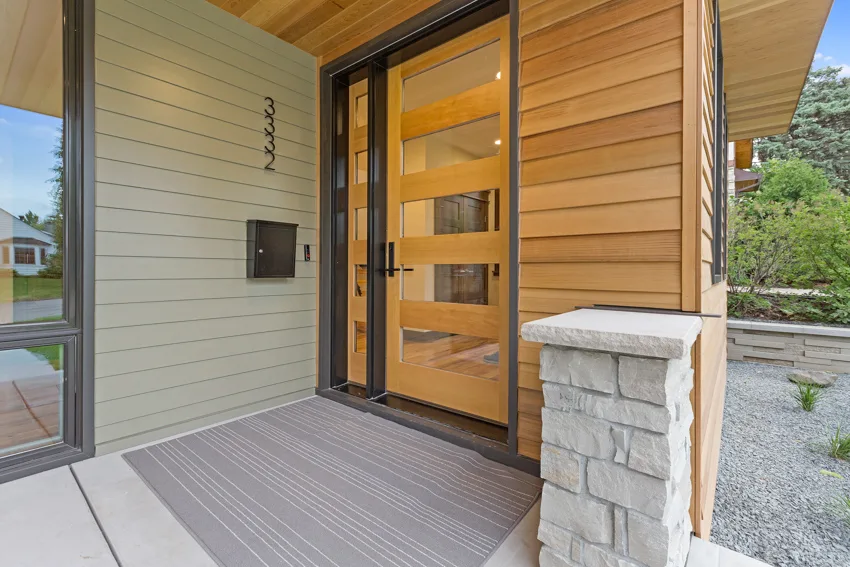 • Horizontal Wood Boards: Horizontal wood boards, alternatively, make your house look longer. This is a popular style for most houses for having a classic appeal.
It is much easier to install as well. However, horizontal cladding is prone to water damage. The ridges between overlapping boards allow rain to trickle in if not properly installed or maintained.
Wood sheathing is relatively easy to install. If you have basic construction knowledge, you can even do it yourself.
However, wood is susceptible to rot, termite, and other natural damages, so regular maintenance is required.
Engineered Wood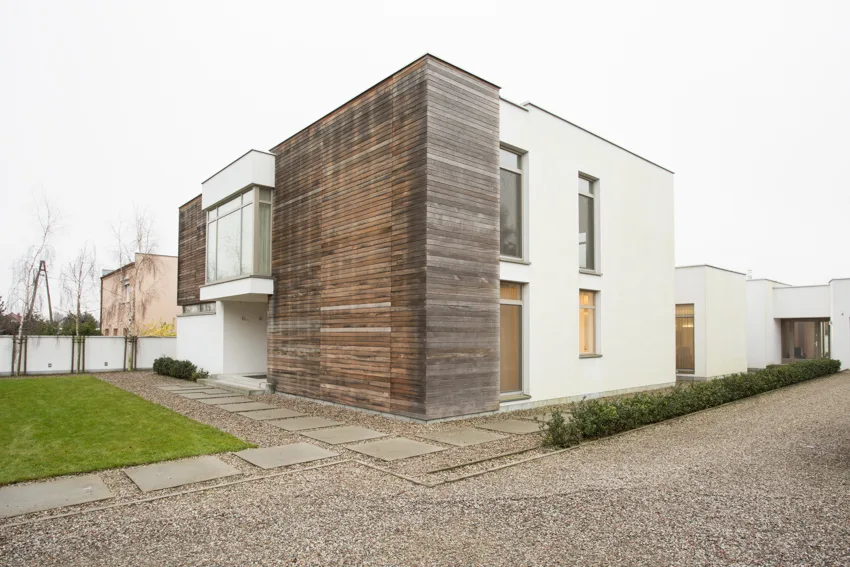 Engineered wood is a strong and lightweight alternative to natural wood. It is made of wood scraps, wood chips, and sawdust that are combined with bonding chemicals or resins.
Many homeowners choose engineered wood siding to gain the durability of vinyl or aluminum while keeping the attractive look of wood – and all the while fitting in a small budget.
You can get engineered wood in a variety of lengths or have them milled into different profiles.
There aren't as many knots and dents as natural wood, it is very economical to install. And since these are treated materials, they hold up well to changing temperatures, fire, or pests.
Vinyl Cladding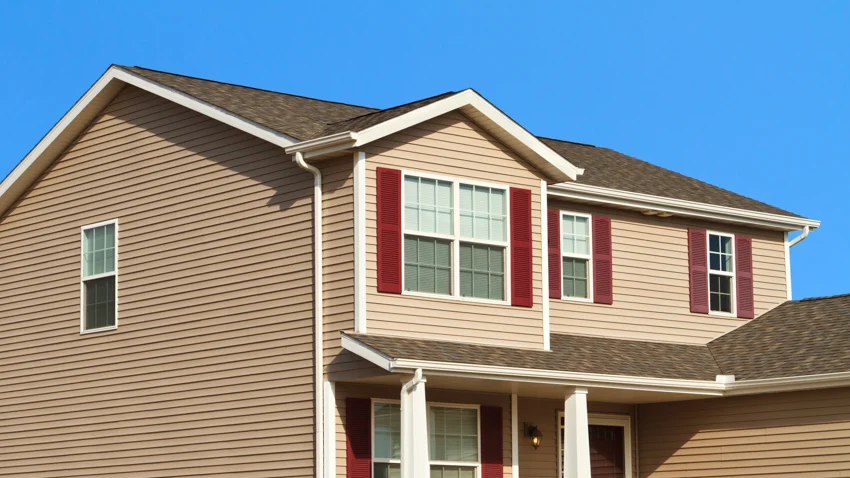 Vinyl cladding has become popular for homes because of its affordability, durability, easy maintenance, and variety of designs. You can rely on its ability to resist weather and moisture damage and is truly made to protect your home from external elements.
While you can't paint over vinyl siding, it comes in a wide range of colors baked into the material. It won't easily fade or scratch off so you can expect your house exterior to look good as new with little maintenance.
Dust and debris slide off easily by simply spraying them down with a hose. Vinyl, however, is a synthetic material, and may not be the first choice for eco-conscious homeowners or those going after rustic and natural themes.
Metal Siding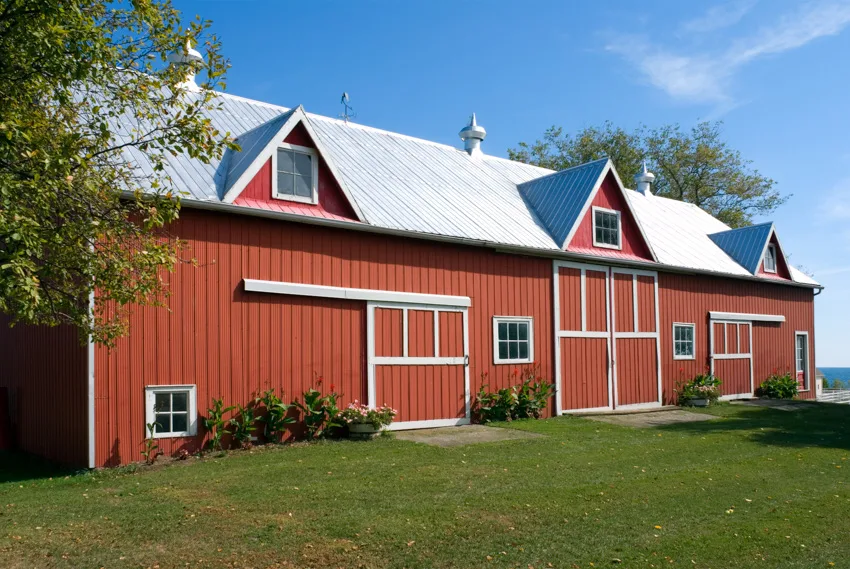 Metal exterior wall treatment has been increasingly used by homeowners, favoring longevity, durability, versatility, and ease of installation. The two commonly used metals for cladding are aluminum and steel.
Both metal exterior wall treatments are manufactured as extruded panels with baked-in colors or textures. Some designs even mimic natural wood grain.
Aluminum wall veneer is fireproof, termite-proof, and rust-proof. It is relatively easy to install since it's very lightweight.
You can install them yourself with basic tools and some elbow grease. However, aluminum scratches easily and dents under extreme pressure.
Steel siding is also resistant to flame and termites but is susceptible to rust and scratches. Nonetheless, it is much stronger and heavier than aluminum and does not easily dent. It is best to seek a professional for installation.
Fiber Cement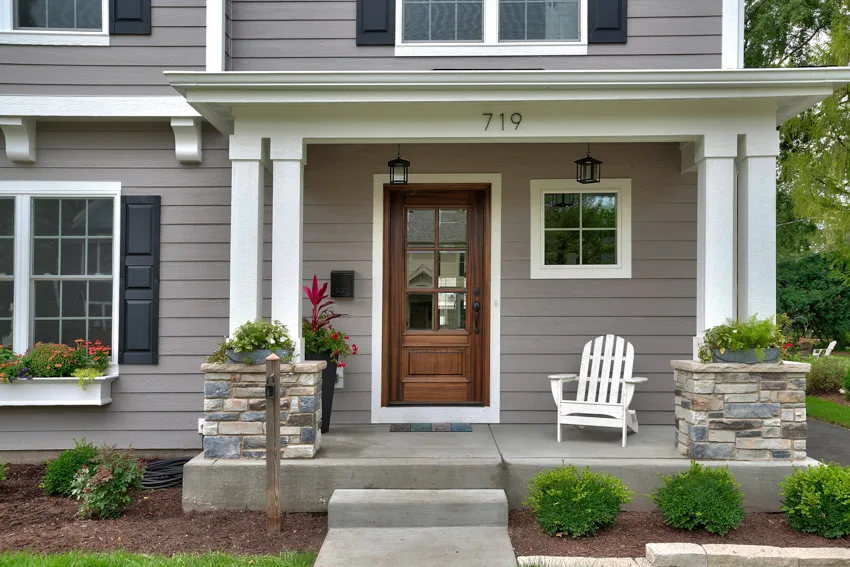 Rivaling the quality of vinyl is the fiber cement siding, a cladding material made from the mixture of portland cement, cellulose fibers, sand, and water.
You can find it marketed as Hardie Boards and are typically less expensive than composite boards, hardboards, brick, stucco, and other siding material options.
Fiber cement siding matches masonry in terms of performance, meaning it is fire-, rot-, and termite-resistant, able to withstand weather, and requires minimal maintenance.
Design-wise, this siding type can mimic the appearance of wood, and in some cases, brick and stone, too. It is a fairly versatile cladding type that remains very affordable to homeowners.
Brick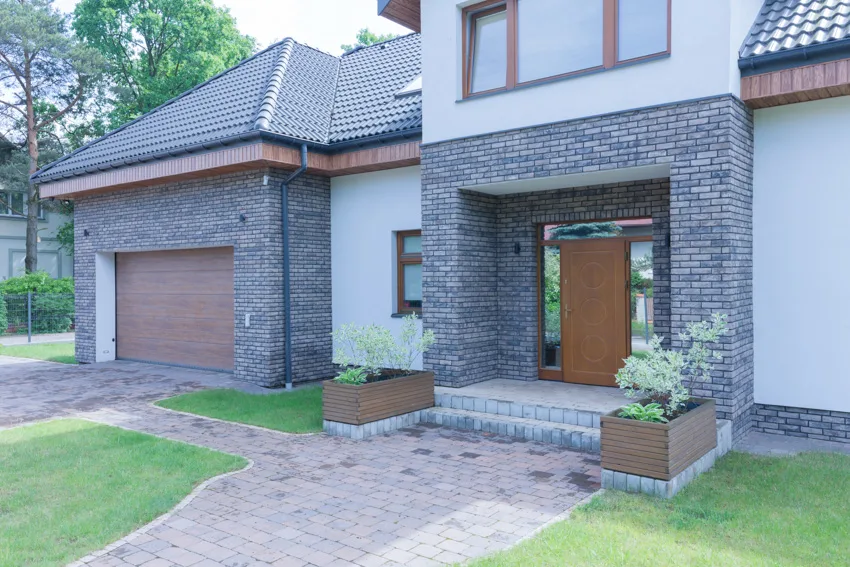 Traditionally, brick is installed in the customary masonry method where solid blocks build the exterior wall.
In modern times, most homeowners use brick veneers or thinner blocks of bricks installed in the home's exterior and are not necessarily load-bearing.
Brick siding is regarded for its durability and ease of maintenance. You can expect it to last decade as it even looks better as it ages. You only need to use a pressure washer occasionally to clean it.
• Half Brick Half Siding House: While full-wall brick siding is not everybody's preference, designers have found a way to incorporate brick into contemporary taste.
Pairing brick with siding creates an interesting facade for homes. The rich texture of brick is tamed by the smooth lines of wood siding – whether vertical or horizontal. Industrial-themed homes showcase the blend of metal and brick sidings very well.
For balance, brick is often installed on the lower floor with a different siding material above it.
Stone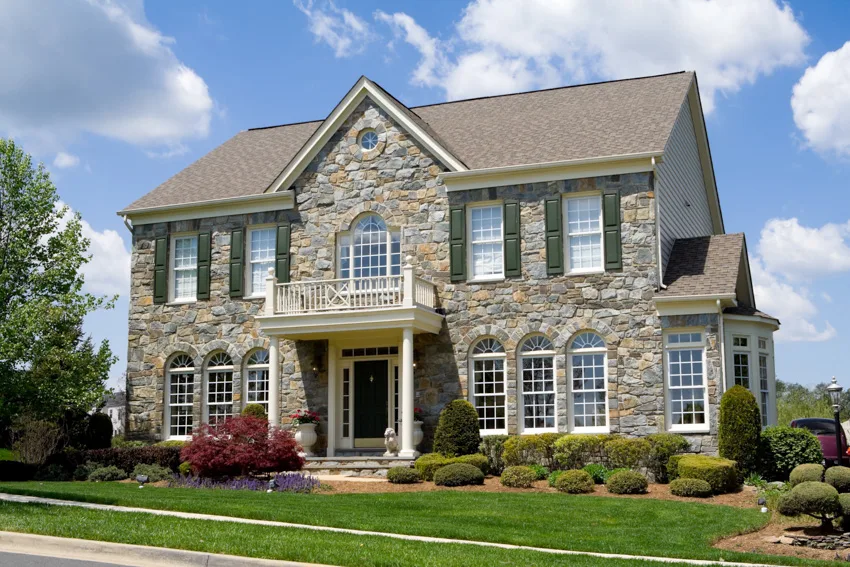 Stone siding is perfect for giving your house a distinct high-end look and a considerable value increase over time.
This type of exterior cladding is hard to match in terms of beauty and durability, especially since it is resistant to fire and moisture damages.
A drawback for stone siding would be the high cost of authentic stone. Natural stones commonly used as home siding include limestone, slate, and granite.
• Stone and Siding House: Most house remodels feature stone and a different siding material together.
Full-wall stone siding can look very traditional after all, so striking a balance by adding another texture will elevate the look of your home.
Half-stone exteriors are great for small to medium-sized houses where a full-stone finish would be otherwise overbearing.
Faux Brick & Stone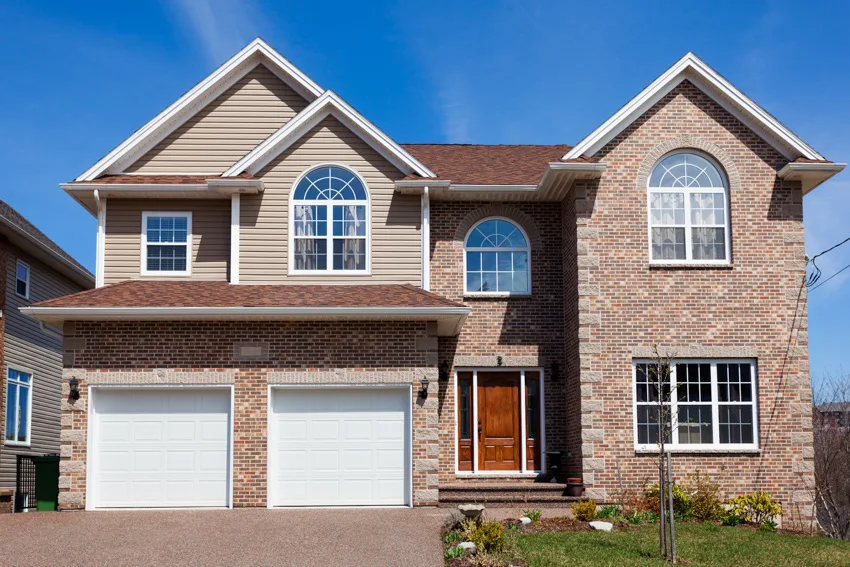 If you want the look of natural stone or brick but are on a budget, you can explore some faux brick and stone options instead.
Faux stone and bricks are manufactured in panels where all you have to do is install them in large enough panels at a time (instead of smaller individual units).
Most contemporary homes use brick or stone veneers for practical purposes, such as saving on material and labor costs.
Faux stone and brick sidings are specially manufactured to resist water damage, insect infestation, cracking, warping, and other common damages to natural materials.
Stucco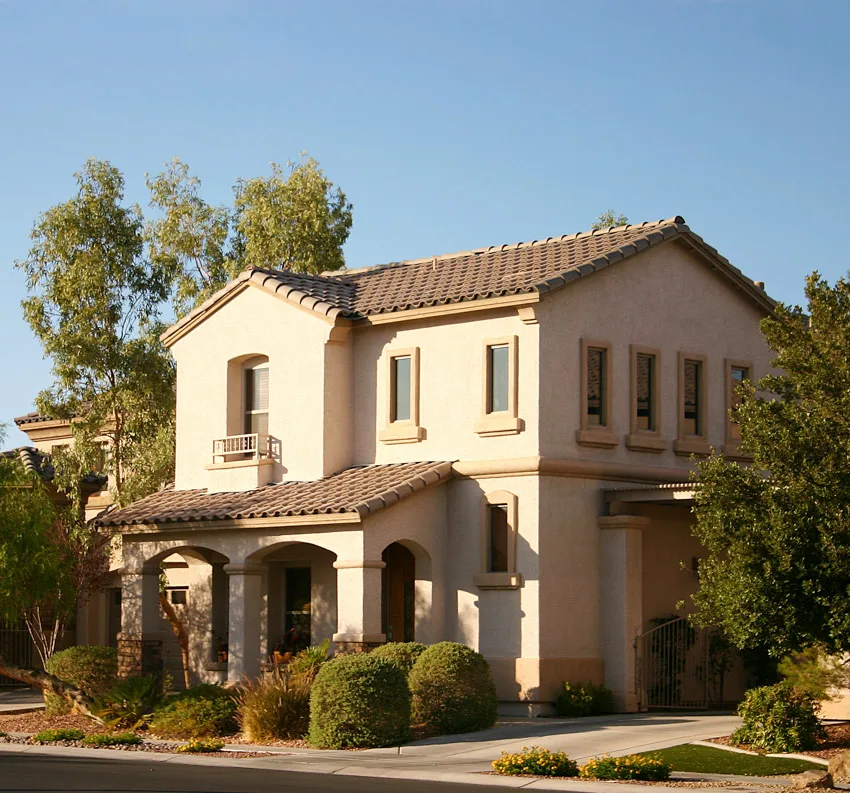 Stucco siding has been used in homes for centuries and carries the same traditional value as wood, brick, and stone.
Stucco is a cement-type finish coat made from a mixture of portland cement, sand, lime, and water. You can find it in hardware stores today pre-mixed and only requiring water.
You can paint over stucco, though there are varieties that are already tinted. After application, stucco siding creates a seamless coat that effectively seals your home from rain, snow, and external elements.
One disadvantage, however, is that it tends to flake over time. Nonetheless, it is one of the most affordable siding types.
• Stucco and Siding House. Stucco siding is often combined with wood, vinyl, or other more textured siding materials.
Modern homes often feature light stucco with dark wood siding for clean contrasts and an elegant facade. Stucco and brick siding is a popular combination, too.
Concrete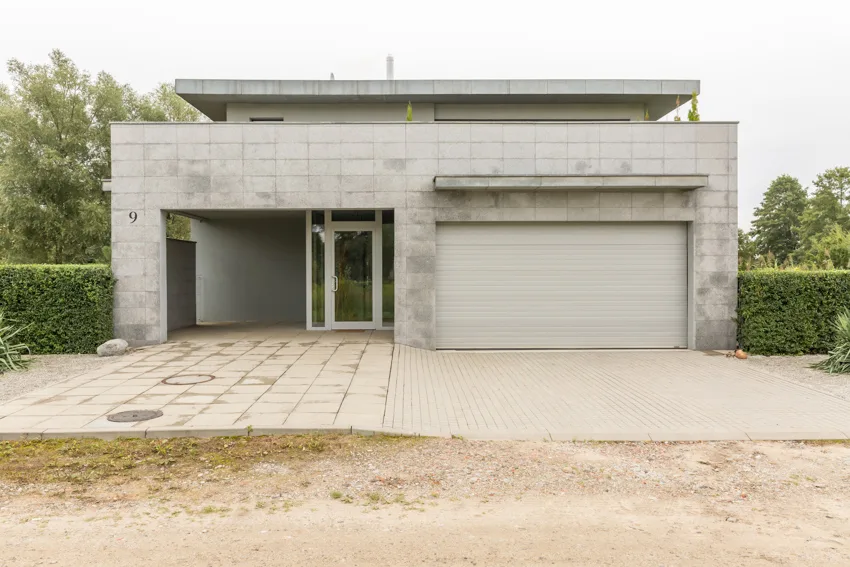 In many ways, concrete exteriors are similar to using fiber cement siding. Concrete itself comprises cement, sand, gravel, and water mixed in precise proportions to produce a hardened material.
Concrete is known to withstand extreme weather, fire, fungus, and insect infestation, while at the same time offering insulating properties.
Concrete bests other siding types in terms of customization. It can be molded into the desired shape, including customary wood siding profiles.
It may introduce greater upfront costs in terms of installation, but the promise of being low maintenance would likely offset such costs.
How Much Does It Cost to Side a House?
Whether you're remodeling or planning for a new house, the cost of siding a house will take up a significant portion of your budget. The overall cost to side a house depends on a variety of factors, such as the following:
• Quality of Siding Materials: The material you choose has the biggest impact on the overall siding cost. Using low-cost siding boards may save you money at first, but you have to consider their durability.
Choosing premium materials, on the other hand, may present large upfront costs but help you save in maintenance and replacements later on.
• Size and Shape of the Home: Larger homes have greater wall surface area and need more materials and a longer installation time frame.
On the same principle, simple rectangular homes are much cheaper to install siding than houses with complicated designs.
• Remodeling Old Siding: Removing or refurbishing old siding may entail additional labor costs from the installation cost. The condition it is found would also dictate how much you need to spend on repairs.
• House Siding Type: The type of house siding largely influences the cost of your project, perhaps just as much as the materials used. For instance, horizontal wood boards are easier to install and will likely cost less.
• Community Regulations: Some villages or districts impose certain permits, endorse acceptable materials (especially for historical towns), and other regulatory factors that may affect your project.
• The Time of Installation: New construction and renovations usually take place during the spring and summer months.
Hence, these are the seasons when contractors are in demand. Working during the off-season, however, may grant you lower labor costs.
• Your Region: Every region or state has set standards on labor and materials costs. To get a realistic estimate, ask for quotations from at least three different contractors in your area.
Taking these factors into consideration, property surveys show a cost bracket homeowners usually pay for house siding, as discussed below.
Average Cost of Siding a House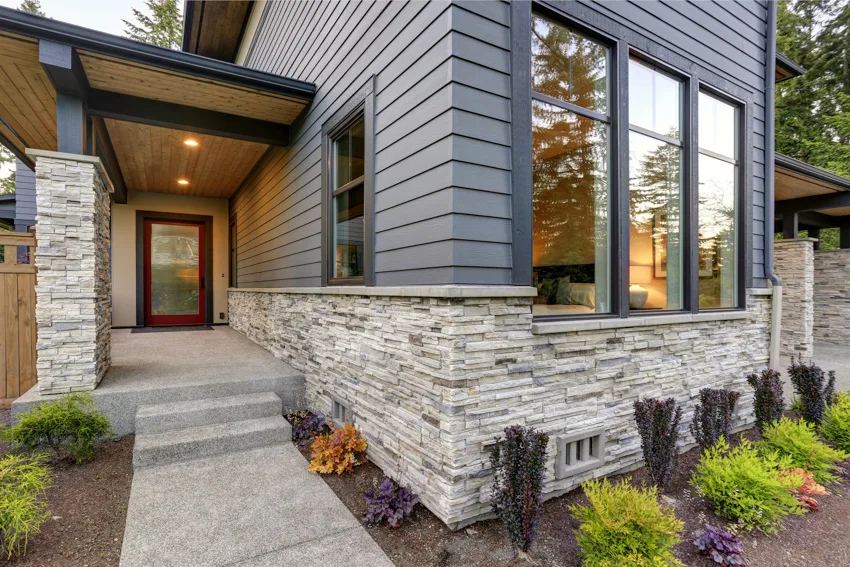 On average, homeowners allot $10300 for house siding – or between $5400 and $15000. Variations on the price mostly come from the material and siding type used.
For a typical 2000 square feet single-family house, the house siding costs are as follows:
| | | |
| --- | --- | --- |
| Wood | $2 – $5 per sqft | $7000 – $23000 cost bracket |
| Vinyl | $3 – $12 per sqft | $6100 – $16500 cost bracket |
| Engineered Wood | $4 – $9 per sqft | $5400 – $13000 cost bracket |
| Steel | $4 – $8 per sqft | $4000 – $14600 cost bracket |
| Aluminum | $2 – $5 per sqft | $10000 – $19000 cost bracket |
| Fiber Cement | $5 – $13.5 per sqft | $6000 – $20000 cost bracket |
| Stucco | $5 – $6 per sqft | $1830 – $7052 cost bracket |
| Brick | $9 – $28 per sqft | $8900 – $25000 cost bracket |
| Stone | $35 – $50 per sqft | $87000 – $125000 cost bracket |
As you can see, stucco siding is the most affordable at a little less than $2000, while stone siding costs the highest at over $100000. For a two-story house, you can add at least 35% of the single-story siding cost.
Aside from installation, it would be nice to have an advance estimate of maintenance costs of house siding.
Some siding types (like stone, brick, and fiber cement) need nothing but an occasional wash. Wood siding, if to be repainted or restrained, will cost you between $2000 and $5000.
Cost To Replace Siding on House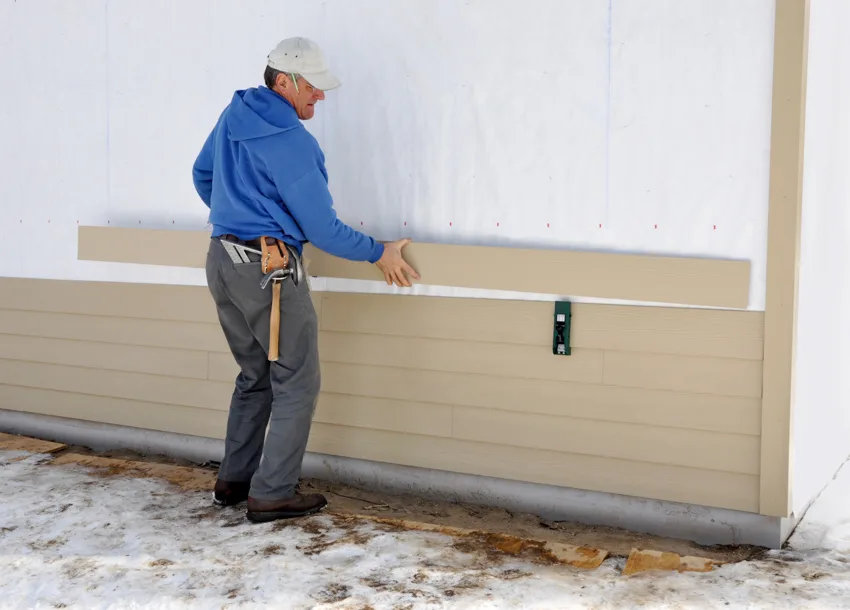 Removing old siding adds around $1000 – $3000 to the initial installation cost. For example, you're going to install vinyl siding around your 2500 square feet house. The installation itself costs you $15,000.
However, you have to remove the old cladding to make way for the new vinyl siding. This activity adds $3000. All in all, you have to prepare $18,000 to replace the siding of your house.
Best Siding for a House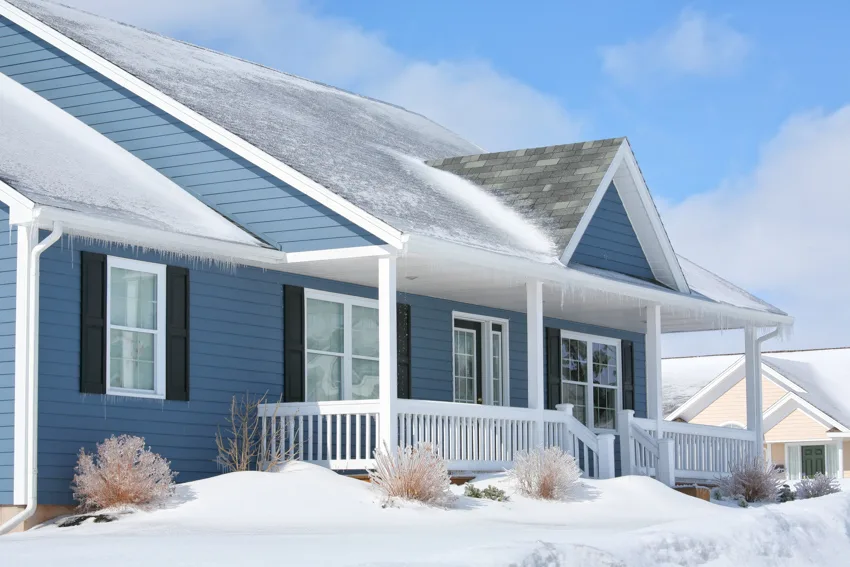 The best cladding for your house is the balanced culmination of your goals and priorities. Before you embark on the project, consider the following:
• What architectural design am I going for?
• Is my house location prone to experiencing extreme weather?
• What exterior wall treatment type would need the least maintenance?
• How much can I allocate for house paneling installation?
These questions will help you select the type of house siding most in sync with your lifestyle and preferences.
Vinyl siding is by far the most popular siding in use today. It's relatively inexpensive, and comes in a wide variety of styles and colors. – 2005 National Home Improvement Estimator, Ben Moselle
As a general rule for those looking for durability, vinyl cladding is the best choice. Vinyl exterior wall treatment has a lifespan of 20 to 30 years making it one of the best to choose. It is also very energy efficient and available in many different colors and styles.
What Is the Most Durable Siding for a House?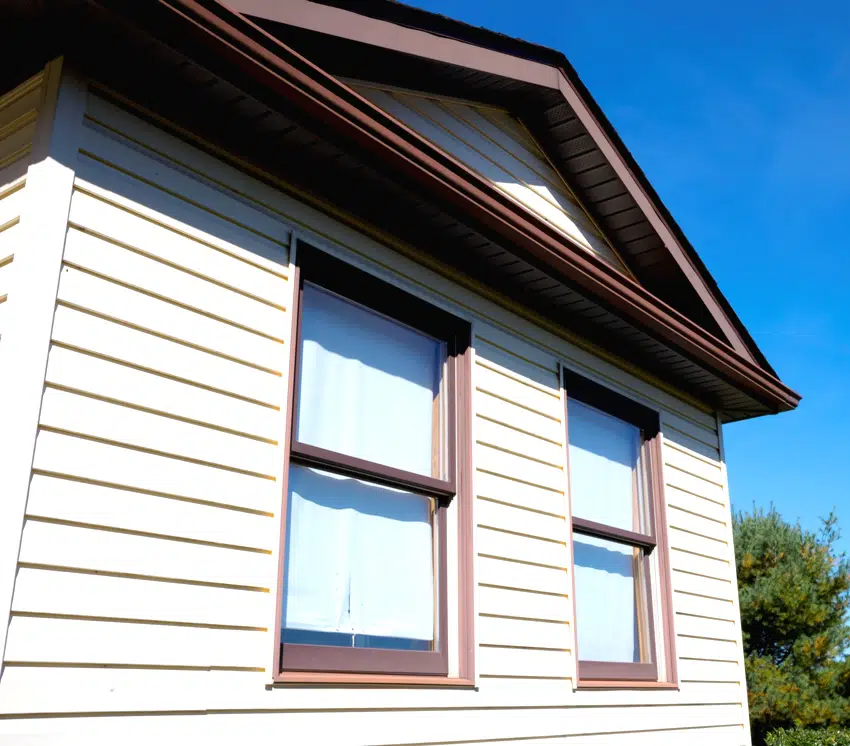 A durable siding means an external cladding that's able to withstand a variety of external factors to protect your home – and do so for several years.
While each exterior wall treatmenttype has its own merits, homeowners and construction professionals both have identified a few of the most durable sidings.
• Vinyl Siding: It's rot and pest resistant and holds up well over time.

• Engineered Wood: What makes engineered wood durable is its resistance to impact and moisture, which are otherwise big issues with natural wood.
• Steel Siding: Steel is naturally a hard material and can withstand significant damage, that's why you see this material in heavy industrial applications.
• Fiber Cement: Fiber cementexterior wall treatment is best known for its resistance to fire, moisture, and termites while keeping an aesthetically pleasing facade.
What these materials have in common other than durability is the low maintenance requirement.
You only need to clean them occasionally or perhaps inspect them during harsh weather. Nevertheless, they are expected to last many decades before needing intervention.
Replacing Exterior Wall Treatment on a House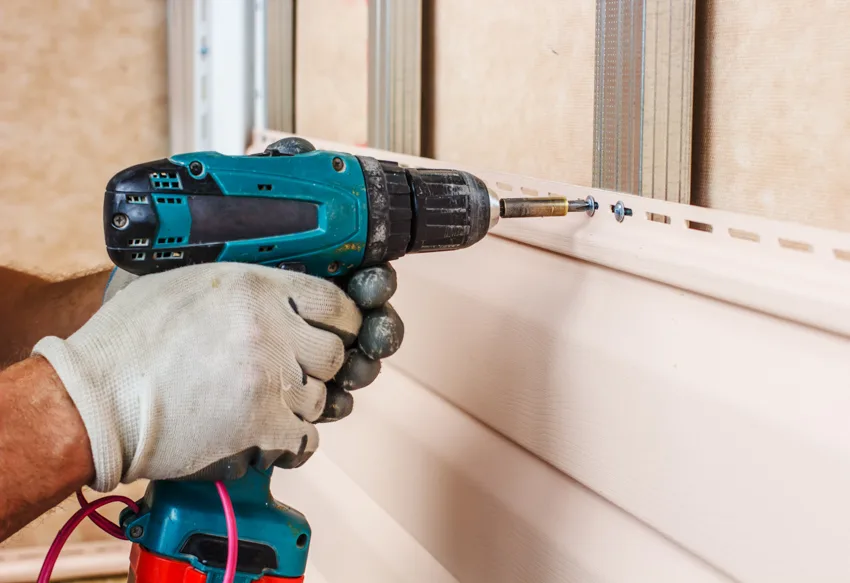 Even the most durable houseexterior wall treatment is prone to damage after several years. Extreme weather, accidents, or simply the test of time will likely introduce several issues on your home's exterior.
Simple repairs can do with minor damages. However, you'll know it's time to replace your home's cladding if you find the following issues:
• Missing, misaligned, and loose pieces
• Warped and cracked on significant portions
• Water-damaged and rotting areas on woodcladding
• Dents and holes
• Completely faded or peeled portions
To repair most exterior wall treatment types, including wood or vinyl, you can follow the steps below:
1. Inspect the exterior of your house for damaged pieces and evaluate which ones need replacing. For woodcladding, immediately replace rotting boards to prevent mold from accelerating.
2. Remove the nails at the bottom part of the damaged boards. If your cladding uses an interlocking mechanism, check for instructions from the manufacturer on how you can carefully slide out a damaged piece.
3. f needed, you can remove the board with a flat pry bar (or a circular saw for isolated spots). You can use scrap plywood over good exterior wall treatment to protect them from any impact.
Afterward, remove debris and protruding elements using wire cutters and nail clips.
4. Replace old sheathing with new but similarly-designed boards. Work your way from the bottom up and follow the overlapping courses of the original cladding.
You can attach your new cladding by driving nails into the insulated sheathing beneath it.
Replacing damaged exterior wall treatment improves the look of your facade by a mile – and it's always a good idea to attend to the issues early.
If you're not yet confident with your building skills, however, you can always hire a reliable contractor.
Siding Alternatives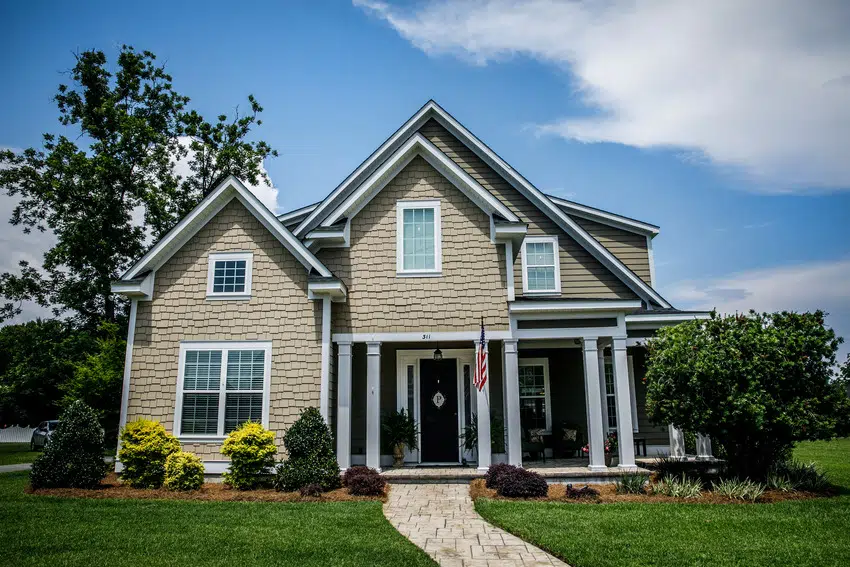 The most popular houseexterior wall treatment types include wood, brick, and stone. Homeowners prefer these materials for their unmatched aesthetic beauty and durability, although they often come with an added cost.
Modern building technology and designers' creativity led to alternative material choices for house cladding – options that bring a high-end look, a promise of durability, and a competitive price range.
Brick and stone veneer panels imitate the look of natural stone and brick, so you can install them on your homes for a fraction of the original cost.
These synthetic substitutes are lighter and easier to install, lowering your labor costs. This way, you won't be limited by the natural stone options in a certain geographic region.
Engineered wood and vinyl exterior surfacing are common alternatives to wood cladding. They share the best properties of wood while leaving out the limitations associated with the natural material, such as weather and moisture issues.
Emphasizing practicality, fiber cement sheathing is widely used in contemporary homes as an alternative to more expensive materials. Less expensive finishes like stucco are creatively incorporated into modern house designs, too.
Can You Paint Siding on a House?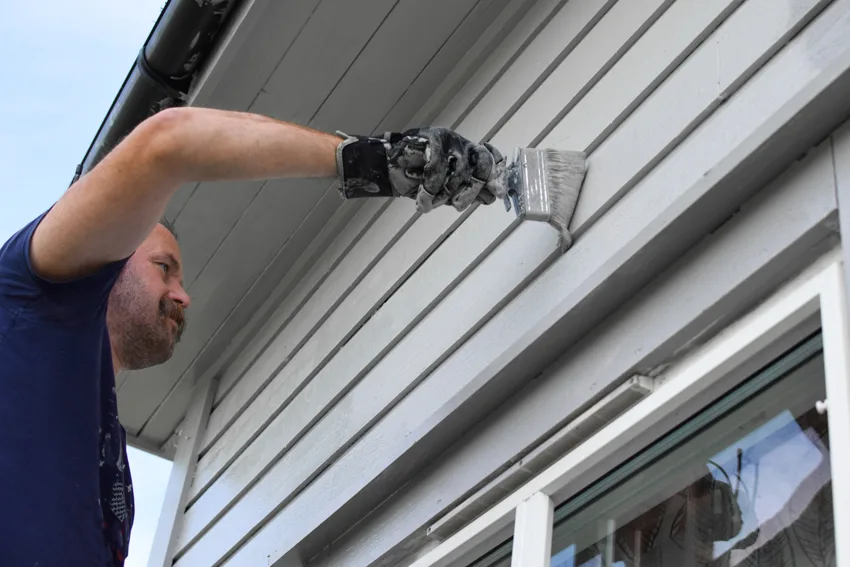 Painting house cladding is definitely doable. It's even better to add a layer of weather resistance to your cladding. There are, however, a few set practices in painting you should observe to get the best results.
If you're painting over old cladding, you should choose a similar paint type to what was already applied to the old sheathing.
New oil paint adheres best over old oil paint and a new acrylic latex bonds most over old acrylic latex. Dissimilar paint types do not attach to each other.
If you want to use a different type of paint completely, you must properly remove any trace of old finishing from the exterior wall treatment first. You can ask your local hardware store for new types of primers that will make this transition easier.
Best Exterior House Paint for Siding Made of Wood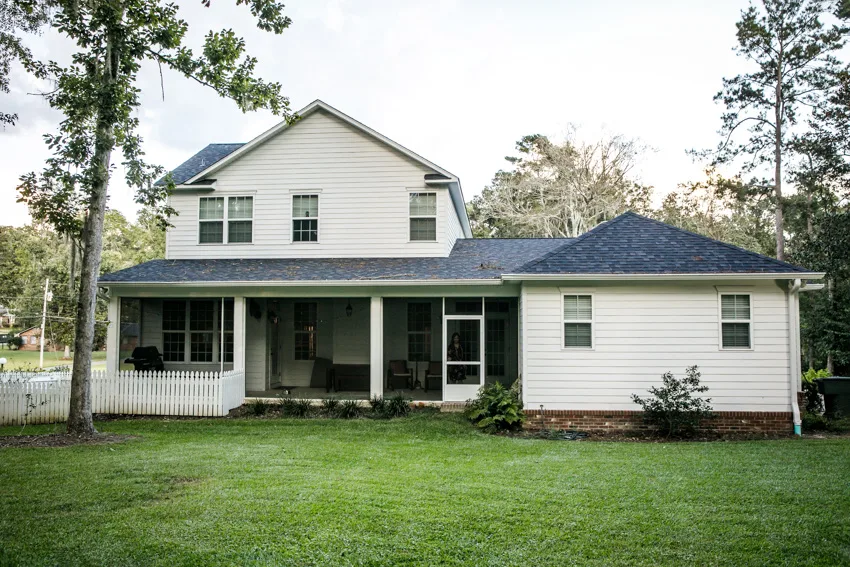 A good quality exterior paint should add a layer of protection over the wood cladding and give your house a fresh look at the same time.
Paint should withstand changing weathers, UV exposure, and other external elements, while being least prone to fading and cracking.
The solid acrylic latex emulsion paint can satisfy all these conditions. This type of paint is versatile enough to use on metal, vinyl, and masonry but adheres especially well to wood cladding.
Wood is a porous material, so other paint types get absorbed easily and peel off. But acrylic latex is formulated to resist cracking and peeling.
You can expect the color to last for decades, too. When you visit hardware stores, look for a label that says 100% Exterior Acrylic Latex.
Here are some more factors that can help you choose the best exterior paint:
• Durability: Durability in paint is indicated by its consistency and sheen. High-quality paint contains better ingredients and thus flows thicker (except for oil-based paints which are naturally runnier).
• Climate Suitability: Paint additives configure the paint to suit different climates. If you live in a humid region, look for paint with a "mildew resistant" label. On the other hand, "UV resistant" paint is preferred for dry regions.
• Low VOC: In order to improve drying time and hardness, paint is infused with volatile organic compounds (VOC). However, these emit harmful fumes. Instead, you can choose paint products labeled "low VOC," which contain fewer VOCs per liter.
You can read more about tips for matching siding and roof colors here.
What Color Cladding Fades the Least?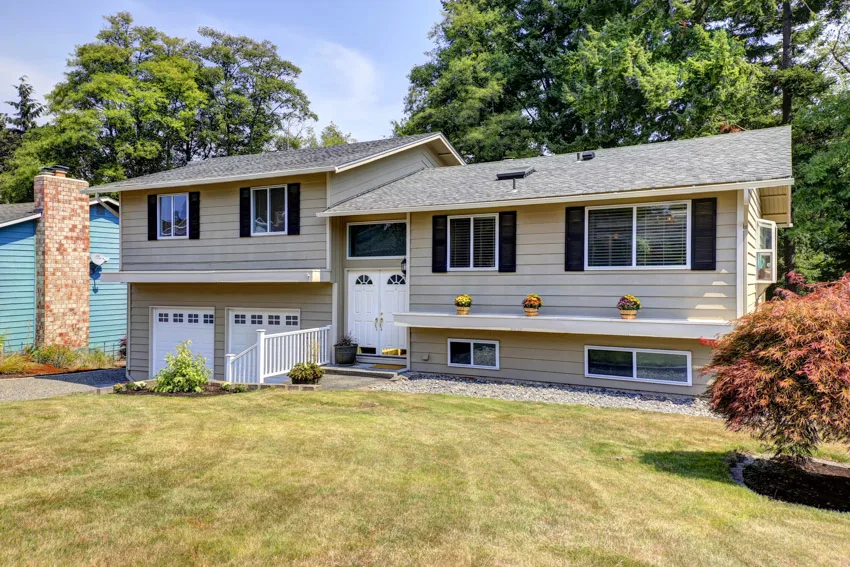 Pigments and dyes found in paint products work by absorbing wavelengths of light and then reflecting a particular hue. This frequent exposure to light – and ultraviolet rays – break down chemical compounds in paint and inevitably cause them to fade.
In line with this principle, colors with shorter wavelengths degrade faster and vice versa. Dark reds and browns have shorter wavelengths and are likely to fade faster.
In lighter colors, however, fading is less noticeable. Using UV-resistant paint can help slow this down and increase the time your exterior wall treatment to look bright and new.
How to Clean Exterior Wall Treatment of Your House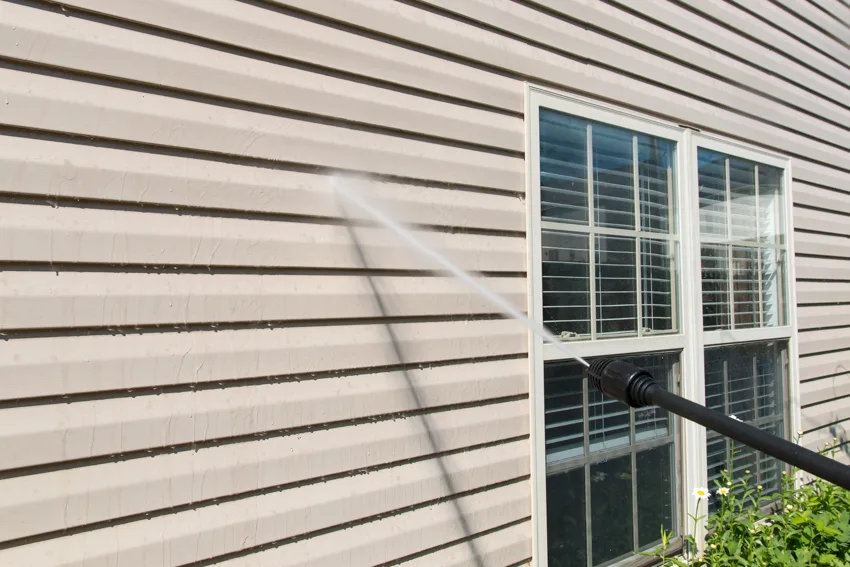 Siding protects your home from all sorts of external elements, so it's only natural for it to accumulate dirt and stains.
However, this doesn't mean you will let your house look aged. Just an afternoon of cleaning will bring back the original appeal of your cladding.
Before jumping into cleaning procedures, you should know the common causes of imperfections and deteriorations in your wall sheathing:
• Oil and Grease: These common household substances are causes of stains over time. If you regularly grill in your backyard, for instance, it has a tendency to stick to and be absorbed by your exterior wall treatment.
• Mold and Mildew: Exposure to rain, humidity, and particles in the air coming from trees and plants cause mold and mildew buildup on your cladding, especially on narrow gaps and overlaps between the boards.
• Chalk Accumulation: Constant exposure to sunlight (UV rays) and the elements cause pigmented materials to dull. A thin film starts to flake and cause chalk-like accumulation on the cladding. Wood is most susceptible to mildew and algae growth.
• Outdoor Exposure: Houseexterior wall treatment catches particles coming from cars driving by, dust brought by wind storms, bird droppings, rust, and external debris in general.
These factors affect all types of wall cladding, but different materials require different cleaning procedures.
• Cleaning Vinyl Siding: Vinyl cladding is one of the easiest to clean.
You can use a soft cloth or a soft-bristled brush to remove dirt. If there are molds and stains, a mixture of water and vinegar (70% and 30% respectively) is an effective solution.
Avoid using bleach, polish removers, and highly abrasive brushes to avoid scratching the vinyl.
• Cleaning Wood Exterior Wall Treatment: If you're cleaning wood cladding, the best method is to soft wash the surface using a low-pressure washer.
This process makes sure not to peel off paint or the wood itself from its place in the wall. If there are stains that can't be removed with water, you can use specialized wood cleaners or solutions found in hardware stores.
• Cleaning Brick Siding: With brick cladding, you must first inspect for any broken, chipped, or loose blocks. If there are, it's best to clean them by hand and proceed to repair them. If all are intact, you can simply power wash your brickexterior wall treatment.
• Cleaning Fiber Cement: Fiber cement is among the materials that least need maintenance, although it is not exempt from getting dirty over time.
Soft washing fiber cement is the best way to clean it because a high-pressure washer can potentially crack its surface.
• Cleaning other materials: In general, you can easily clean your exterior wall treatment by using a pressure washer. Although, you must not point it at an upward angle to avoid getting water into the exterior wall treatment. Follow the same principle with vertical wall veneer.
It is best to clean your house exterior wall treatment once a year and more if your wall cladding is often damp or near a road with heavy vehicular traffic.
If your house is located in a generally pleasing environment, you can reduce the cleaning frequency to every 18 months.
See more related content in our article about exterior shiplap siding types on this page.