In this gallery of mahogany kitchen cabinets, you'll see if this wood material is a good option, its durability, benefits, different types, and ideal paint colors for mahogany cabinets.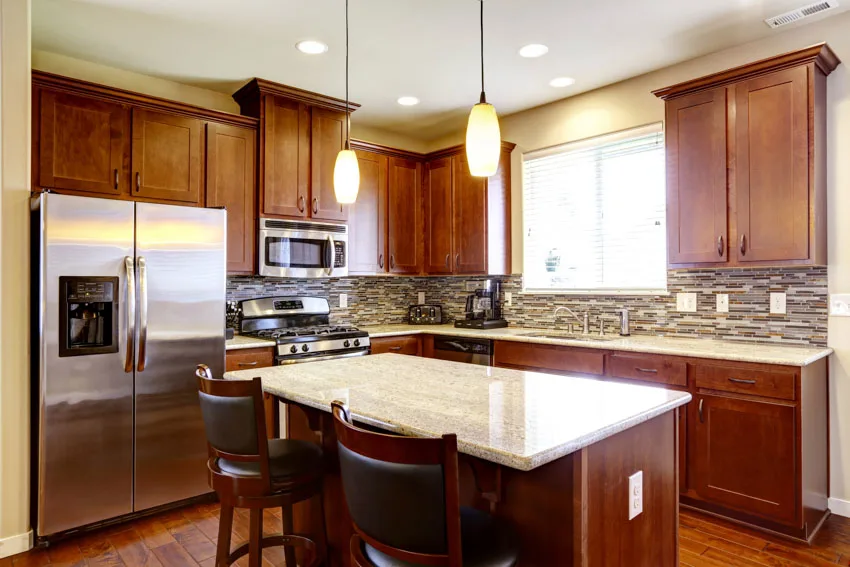 Mahogany was a hit in the mid-1700s up to the early 1800s, but it doesn't mean it's lost its luster and is not popular today. It's still a sought-after dark wood because of its straight wood grain that looks stunning on kitchen cabinetry.
While mahogany trees grow in Asia, Africa, Cuba, and the West Indies, the ones from the latter two countries are the most prized ones. These trees can flourish to over 6 feet wide and 150 feet high starting from the base.
One of the world's best but most expensive wood options, it takes pride in its rich red-brown hue, delivering classic, elegant, and luxurious aesthetics, which can be an excellent addition to your home.
You can integrate the wood into your home through different elements, particularly furniture. From dining tables to cabinets, it is an option you can consider, but you need to decide if it's a good material for what you want to have in your home.
Is Mahogany Good For Kitchen Cabinets?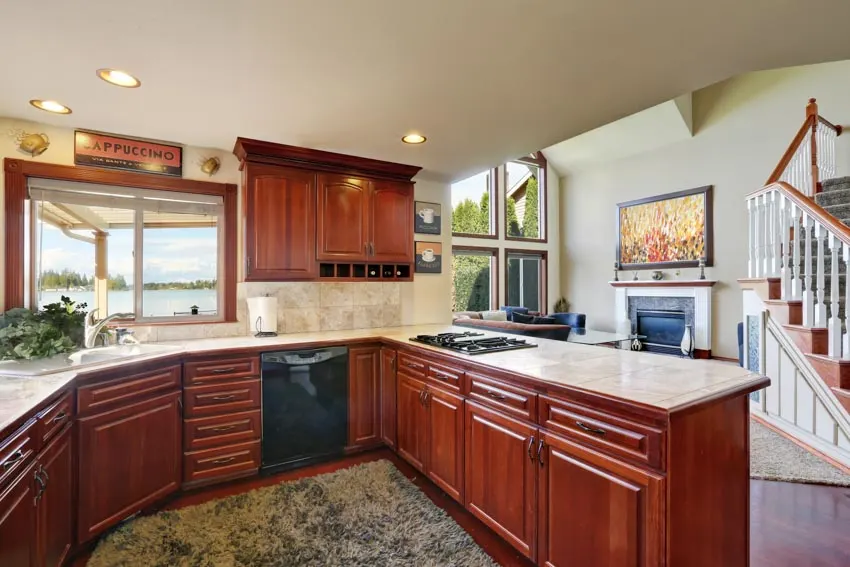 Mahogany is an incredible option you can use for your kitchen cabinets, both functional and aesthetic-wise. But you need to be able to accept both the benefits and drawbacks that come with using this wood for cabinetry.
The kitchen interior is a common area in the home, and when food preparation comes, it seems like a battlefield. And you would need a battlefield that can take the wear and tear every day, which is the case with a kitchen.
This means you must ensure that every element in your kitchen is strong and durable enough. Since the wood is a durable material, it is a good consideration for your kitchen cabinets. But like most wood kitchen cabinet materials, the wood needs to be appropriately sealed to have a longer lifespan and be more resistant to moisture and rotting.
Mahogany kitchen cabinets will look wonderful because of their classic aesthetics and smooth surface. Whether you choose to have it polished or bare, this particular wood is a favorite for a reason.
The wood's reddish-brown color screams elegance and luxury, while its faded version, when it changes color over time, delivers a classic and rustic appearance. It is definitely a wonderful addition to your kitchen's aesthetics that matches a variety of countertop materials, appliances, hardware and paint finishes.
Is Mahogany Durable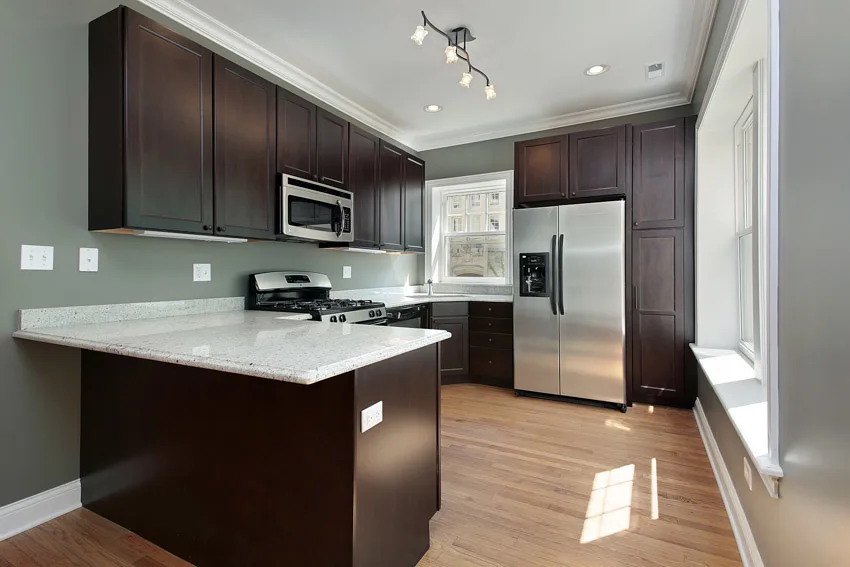 Mahogany is guaranteed to be durable, considering it is seventy percent harder than most types of wood, including pine and oak. Resistant to water and scratching, this type of wood has no pockets and scores that make it vulnerable to other outdoor elements.
When considering different properties contributing to a wood's hardness and durability, it is also at the top.
Some of these mahogany wood properties and their corresponding value include the following:
• Hardness: 830 lb
• Density: 0.42 kg/m3
• Bending Strength: 10,700 psi
• Compressive Strength: 6,460 psi
• Stiffness: 1.40
The wood is highly durable in its construction, with impressive values in hardness, density, bending strength, compressive strength, and stiffness. This is why this type of wood is a sought-after material for constructing different items.
These include furniture, musical instruments, and even boats and yachts. Besides that, the wood is also known to last for over 40 to 50 years, which is why many antiques are made from this wood.
Mahogany Benefits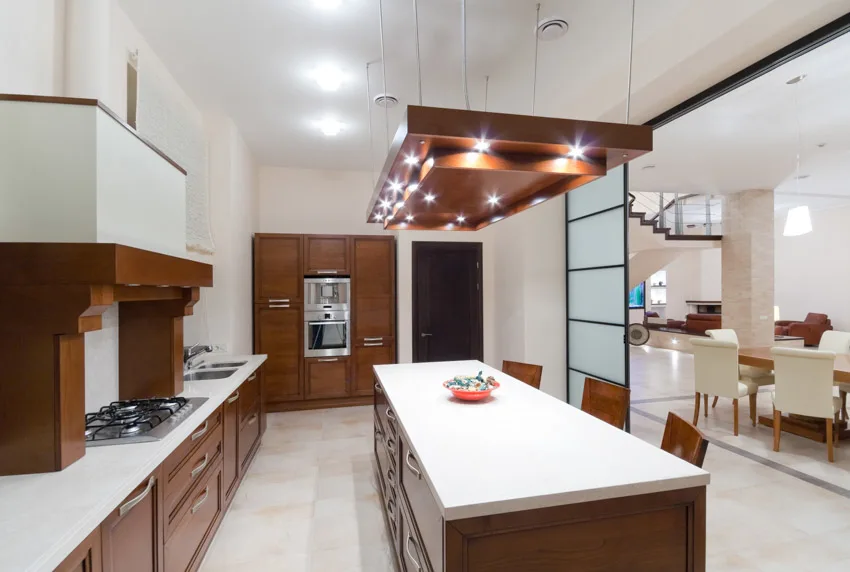 In figuring out if mahogany cabinets will be an excellent addition to your home, considering the advantages you can get from having one is the best way to go.
Here are some of the benefits of the wood that make it a popular choice for many homeowners.
Durable and Long-lasting: It is popular first and foremost for its durability. It is a hardwood that can stand the test of time around 40 to 50 years (With proper care and maintenance) and still around 20 years if left alone on its own. This means that your cabinetry will be an investment you'll get to enjoy for decades to come.
Unlikely To Shrink or Warp: It is not susceptible and affected by weather changes, which means that your kitchen cabinet won't shrink in the winter or warp in the summer.
Water-resistant: One of the elements that damage wood is water. Since mahogany is water-resistant, this is not a problem you have to worry about once you install your kitchen cabinets. It's also the reason why the wood can be used in boat and yacht building, decking, and even in the construction of most types of outdoor furniture.
Rot-resistant: Since it is a hardwood, the material is resistant to rotting and decay. This wood has dense and compact grains, making it strong against rotting.
Stunning Wood Grain & Unique Aesthetics: Another characteristic it's known for is its stunning and unique aesthetics. It has this iconic reddish-brown color that can range in a variety of shades.
Its shiny, deep red color particularly delivers an elegant yet warm look. The wood grain also has a uniform color that makes your cabinetry aesthetically pleasing.
The stunning aesthetics of the wod also comes from its compact and straight grain pattern. This also results in a deep and dark shade that the wood is well-known and loved for. Besides allowing the cupboards to stand out, the wood-tones also offer a natural look that something manufactured or artificial can never replicate.
Easy Maintenance: This cabinetry is also pretty easy to clean and maintain. Cleaning can easily be accomplished by wiping the surface with a cloth. Its maintenance consists of repainting, restaining, refinishing, and even repairing the wood only whenever needed.
Easy to Customize: The wood is easy to customize and work with. You can shape the wood however you want despite its hardwood and high durability status. It can also be screwed and nailed because of its compact and dense grains that hold the screws and nails very well. You can use both large and small tools when working on this wood.
Holds Stains/Paints Well: The surface holds paints and stains well so that you have more creative freedom in matching your kitchen cabinets to the general aesthetics of the room.
Easily Available: Being a popular wood species, it is easily available in the United States and is actually used a lot. The material is available in a variety of quality and colors, so you have many options to choose from.
Eco-friendly & Renewable: Wood is a known renewable resource, and using it to build furniture and other things results in less environmental stress compared to when using synthetic materials. And choosing reclaimed cabinetry can mean you're helping the environment with your choice in the process.
Excellent Value Retention: These cupboards also have great value retention over time, especially if they have been well-maintained. Compared to other cheaper and artificial materials, wood maintains its value, and if you resell your home, these cabinets can be considered when determining your home's resale price.
While these benefits can definitely sway you towards getting this cabinetry, you should know two major drawbacks about this hardwood. One, the wood is heavy, and if you plan to work with it and DIY your kitchen cabinets, make sure you know what you're dealing with.
And two, this particular hardwood is expensive. If you choose to use this material, expect to pay more than you expect for pine, cherry, or even oak kitchen cabinets. So, if you have a tight budget to consider, this might not be an ideal option for you.
Types of Mahogany

Here are the most popular types of mahogany kitchen cabinets, including solid, cherry, African and Bombay styles.
Solid Mahogany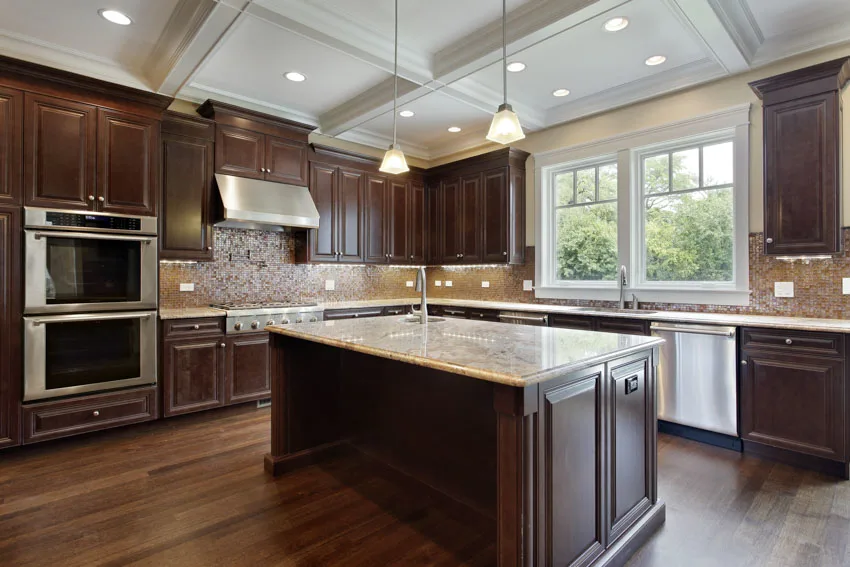 A solid mahogany kitchen cabinet can be an excellent addition to your home. If this is our choice, you can expect a piece of furniture that's strong, durable, customizable, eco-friendly, and has easy maintenance.
And more than its beautiful appearance, it also has great retention value you can include in your home's resale value. Some of the things you need to worry about, though include water damage, cracking and warping, high cost, and termite infestation.
Cherry Mahogany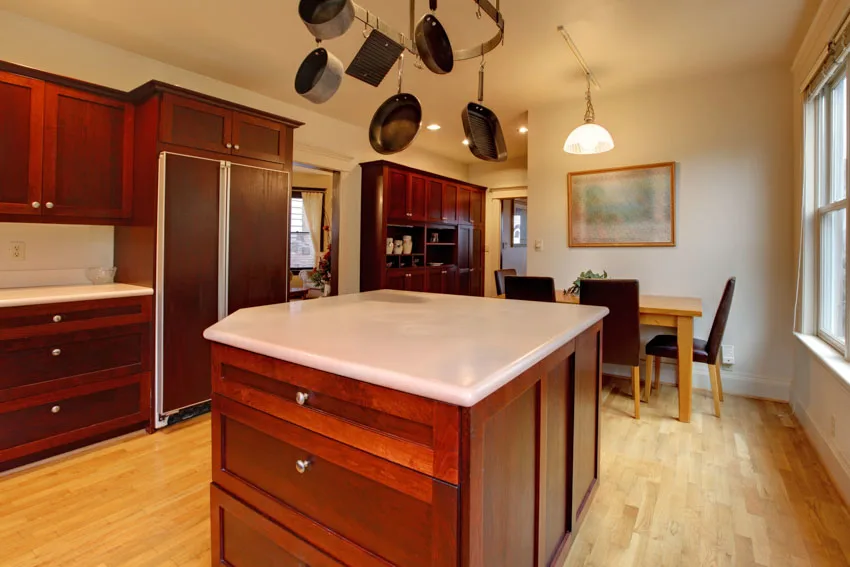 Cherry mahogany kitchen cabinets can also be a good option and they are highly popular because they're extremely durable and deliver timeless beauty like no other.
These surfaces have the most stunning reddish-brown color compared to other cabinetry. And like most, they can be expensive but can be considered a good investment at the end of the day.
African Mahogany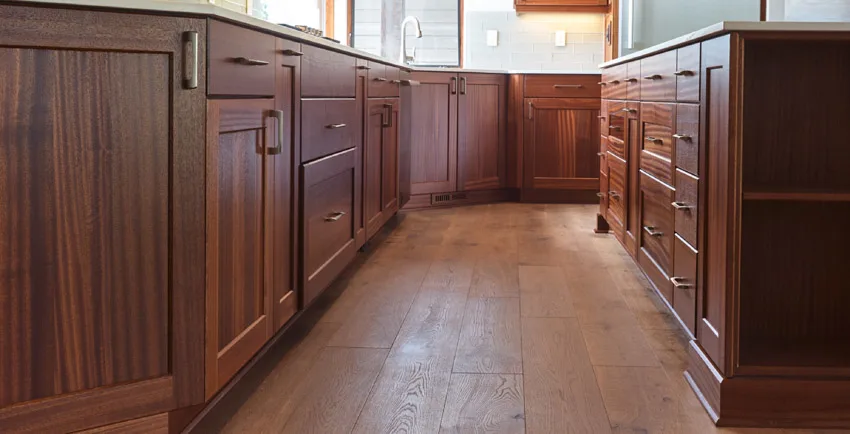 African mahogany kitchen cabinets are made from a particular wood species that originated in Africa and are known for their interlocked grain pattern.
If you choose this cabinetry, expect the wood to have reddish-brown to deeper reddish-brown streaks. It also has a coarse texture that requires treatment to have a smoother surface.
Bombay Mahogany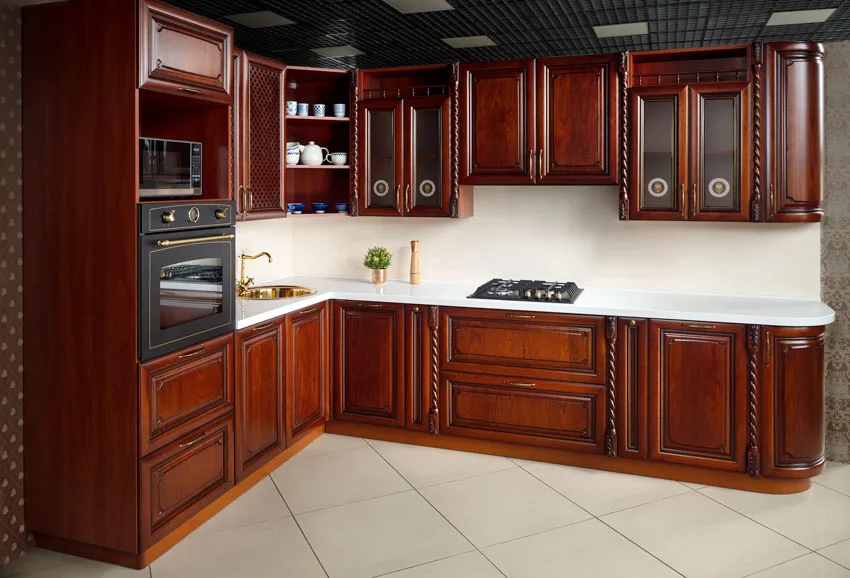 Bombay mahogany kitchen cabinets offer a deep reddish-brown color that leans more heavily on the brown side. The material's wood grain can be further improved by staining it, protecting the wood at the same time.
Mahogany Costs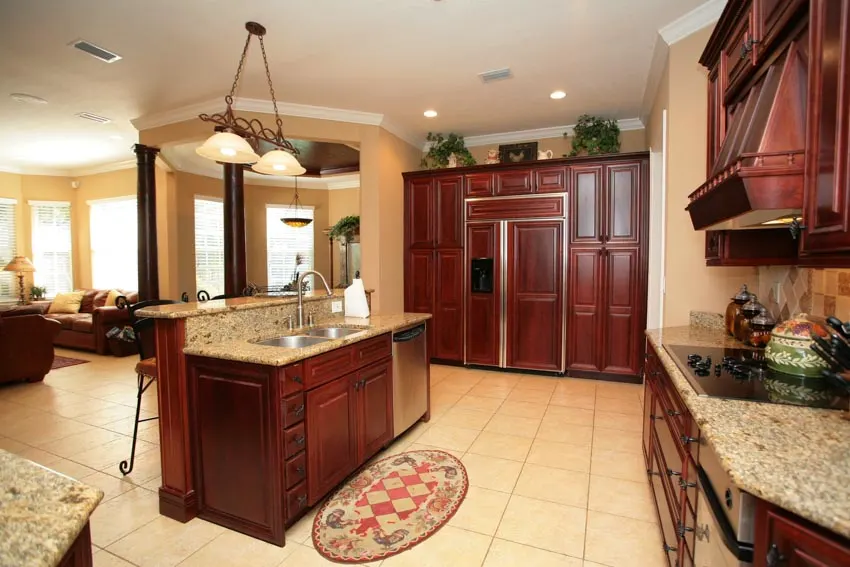 Mahogany kitchen cabinets are known to be expensive. Being costly is one of its few yet major drawbacks you need to know about. One factor to consider with costing is whether the cabinets are customized or not, with stock kitchen cabinets as the most affordable ones on the list.
Here are the costs for mahogany kitchen cabinets:
• Stock cabinets: $60 to $200/linear foot
• Semi-custom cabinets: $100 to $650/linear foot
• Custom cabinets: $500 to $1,200/linear foot
Kitchen Paint Colors Using Mahogany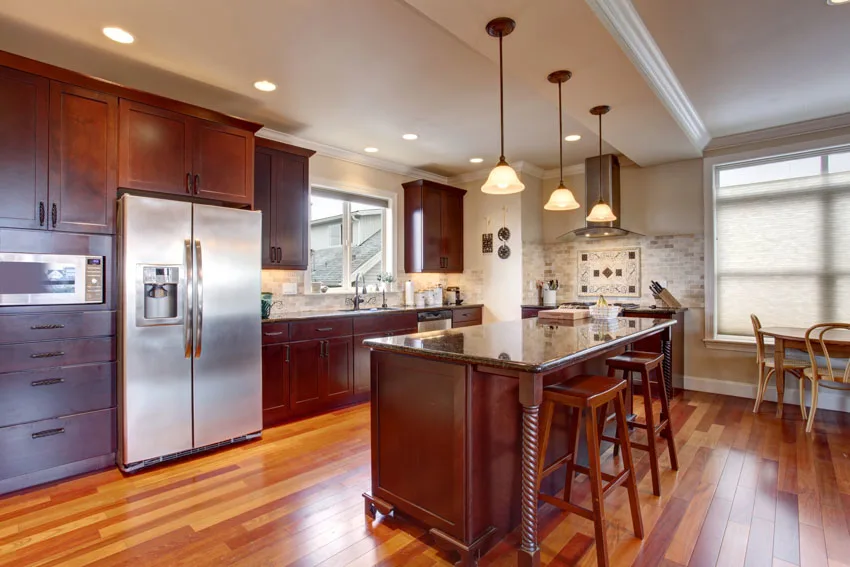 Mahogany is a hardwood that is popular for its iconic reddish-brown color. Choosing this material will automatically increase the value of your kitchen and its general elegant appeal. Adding warmth to the space and spruce up your entire kitchen just with that single element is a good option.
When painting colors, creating contrast and balancing mahogany's warmth can be possible by matching your cabinets to blue or sage green walls.
Some paint color options include the following: Benjamin Moore Salisbury Green (HC-139)
Benjamin Moore Misted Green (2138-50)

Glidden Hazy Sage (GLN27) Benjamin Moore Lily Pad (480)
You can also choose to blend the colors of your cabinetry with neutral colors like beige and tan. Here are some paint color options to consider:

The Spruce Best Home Seasonal Taupe (SPR-23) Sherwin-Williams Kilim Beige (SW 6106)
Kitchen Backsplash Ideas Paired With Mahogany

When choosing mahogany cabinets, you are also given the task of matching them with your backsplash. If you want to go for something safe and classic, a white tile kitchen backsplash works with anything. And yes, even with your luxurious kitchen cabinets.
If you want something different and not ordinary, go for a green kitchen backsplash to pair with your mahogany cabinets. A green backsplash can balance the warmth of your wood kitchen cabinets. From light green to olive green, there is a variety of stylish shades of green to choose from.
When it comes to door fronts, a raised panel will provide more rustic or craftsman kitchen designs, while a flat panel or shaker cabinets will offer a more contemporary or modern feel.
How Do You Clean Cabinets Made From Mahogany?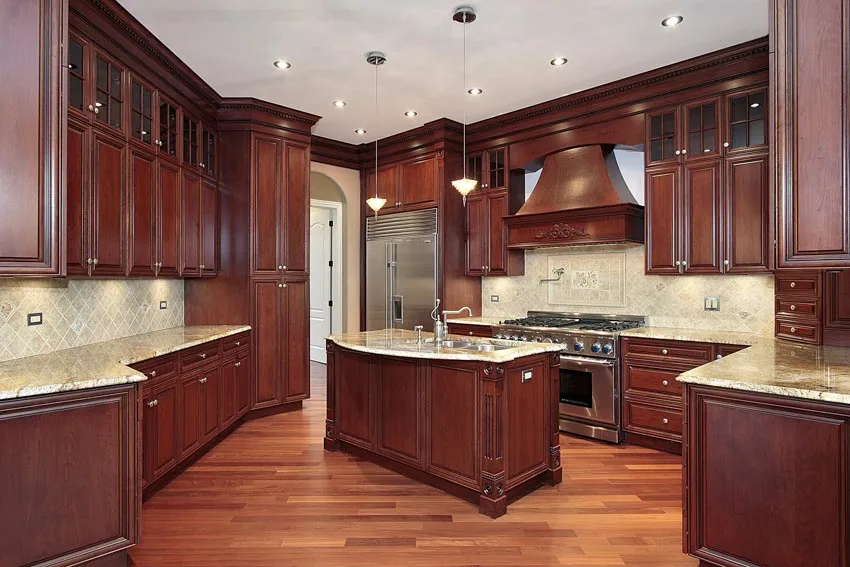 Cleaning your mahogany kitchen cabinets does not take that much effort or time. Here are some cleaning tips to consider to make sure your cabinetry is in its prime condition:
• Occasionally dust your cabinets using a plain soft rag.
• Wipe away regular stains using a damp rag (Use warm water with a drop of detergent if the stains are stubborn).
• Wipe all splatters and spills as soon as they happen.
• Avoid harsh cleaners and detergents that can damage your cabinets.
• Do not wax your door surfaces, or it can cause discoloration.
Considering the materials do not come cheap and maintenance is not hardcore anyway, make sure to take proper care of your cabinets so that they can last for decades.
Mahogany vs Cherry Cabinets
One of the competitors that mahogany kitchen cabinets have is the ones made from cherry. If you are pondering on the similarities and differences between these two kitchen cabinets, here are some details worth noting.

Factors
Cherry Kitchen Cabinets
Mahogany Kitchen Cabinets

Grains & Pattern

Fine grains and smooth pattern

Straight and sophisticated grains

Texture

Uniform texture

Smooth texture

Hardness

Harder surface


Moderate hardness

Stainable

Takes stain well

Color

Warm rich color

Warm tones (Tan to reddish-brown)

Color (As it ages)

Darkens as it ages and exposed to light

Workability

Resist warping but easy to carve (Make a good carving wood)

Cost

Less expensive

Pricier than cherry

Origin

the United States & Canada

South and Central America
Both cherry and mahogany kitchen cabinets will be an excellent addition to your home. Three of the possible factors that can affect your choice are aesthetics, durability, and cost.
While both have red shades in them, cherry is brighter, and mahogany has a deeper and darker hue that leans towards brown. Both may have rich colors but mahogany is known for its luxury and elegance.
Cherry kitchen cabinets are harder and more durable than mahogany kitchen cabinets. It cannot be denied, though, that both resist warping, and so they are durable enough where it matters. Despite their hardness though, you can easily work with them too (carving or cutting).
And when it comes to cherry vs mahogany kitchen cabinets cost, mahogany is a bit pricier. So if you're going for reddish wood but need to consider a tight budget, you can go for cherry kitchen cabinets.
See more related content in our article about cherry wood kitchens on this page.