In this gallery of large format tile shower ideas you'll see what this material is, pros & cons, layout tips and showers with large format tile designs for floors & walls.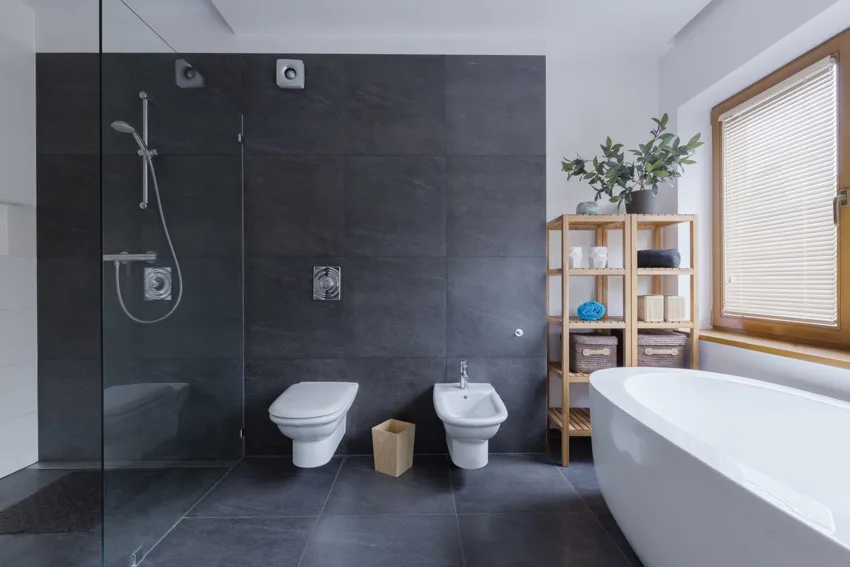 Renovating your bathroom and choosing the ideal tile for your shower is a vital decision you have to make. This decision can impact the overall aesthetic ambiance you have in your bathroom. But with many choices for tiles offered left and right in the market, which ones are ideal for you?
There are many factors you need to take into account but if you want to start somewhere, exploring your options is a good first step. And one excellent option you can consider is having a large format tile shower.
What Is Large Format Shower Tile?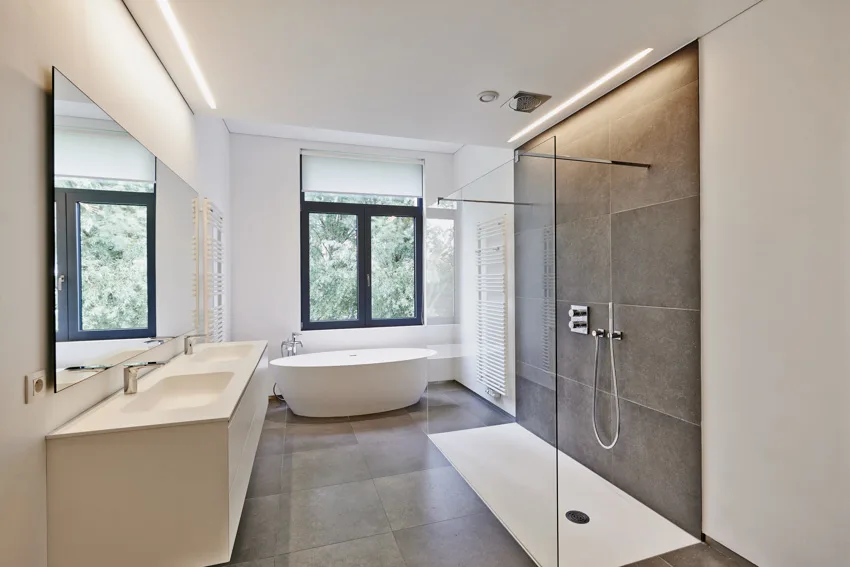 A large format shower tile or LFT measures at least 12 x 12 inches and can go over 16 x 16 inches. It is as its name suggests, which is a tile that has large dimensions.
Large format tiles come in rectangle and square shapes, and can also be made of different materials, including stone options, ceramic, and porcelain. The main feature of these particular types of bathroom tiles are their gigantic size with their most popular size coming in at 12 x 24 inches.
LFTs create a more seamless look for your shower, showcasing an easy flow that connects the floor and walls in your shower area. This results in an elegant and luxurious look, especially when paired with clear glass shower doors – giving your shower area a more open style.
In the end, your shower area appears a bit bigger than it actually is. This is also the reason why it's becoming a popular trend today.
Choosing large format tiles will give you the freedom to mix and match them with other materials, sizes, colors, and designs. You can work with a gigantic tile and use several small to mid-size tiles to balance it out.
Ceramic or porcelain large format shower tiles are more fitting in the bathroom, particularly in the shower, compared to natural stone slabs that are porous and would require frequent sealing.
Large format shower tiles are affordable and feature the same luxurious appeal that natural stone slabs deliver. With modern manufacturing, these tiles are now more accessible, which is why they are offered at affordable prices.
You can play with layouts, colors, patterns, and styles in using LFTs. And to help you cement your choice and decision, comparing the pros and cons in using large format shower tiles is an excellent step to take.
Advantages and Disadvantages of LFTs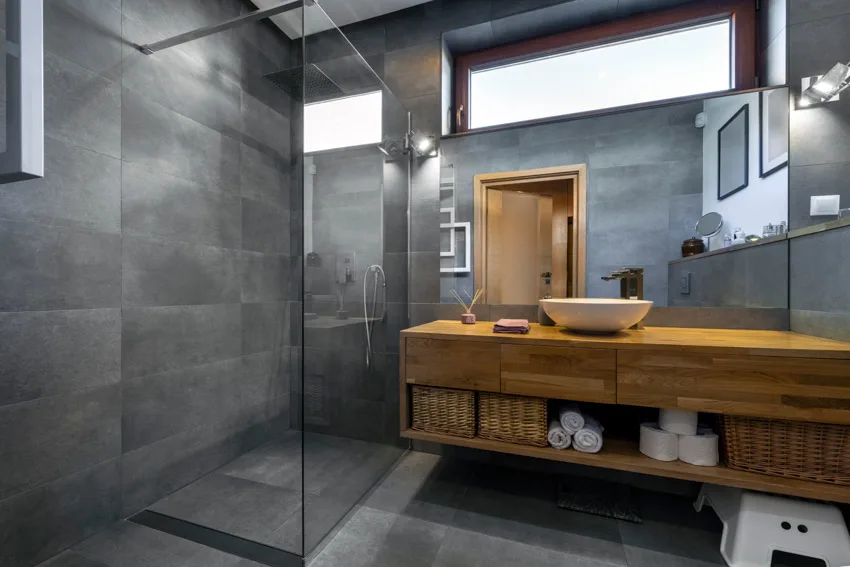 Using large format tiles in the shower is entirely possible as long as the dimensions and sizes of your bathrooms and tiles match and are compatible. But before you go ahead to the market and purchase large format tiles for your shower, here are the pros and cons you need to know about.
Pros of Tiles with Larger Dimensions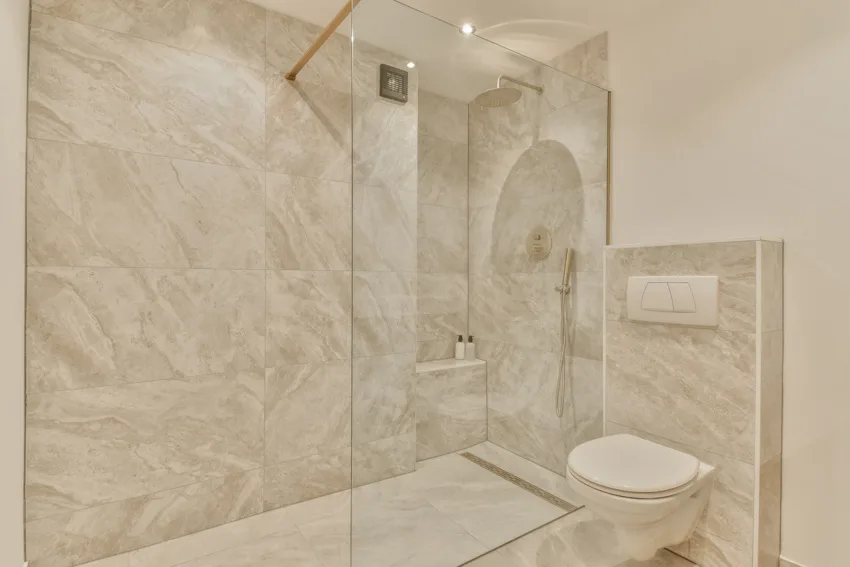 Large format shower tiles are trendy and popular because of the benefits they offer, including the following:
• Features minimal grouting: Since there are few grout lines, you also use less grouting in the process, making the job faster and requiring fewer materials.
• Unified look: With fewer grout lines, your shower can have a more unified, seamless, and modern look since the grain pattern will be uninterrupted.
• Requires less maintenance: large format tiles have less grouting that you need to upkeep and scrub clean.
• Showcases an expanded space: large format tiles offer a feeling of being in an expansive space than its actual area and dimension. This is why it is an excellent option for small bathroom sizes. It further expands the space for large bathrooms, especially for those with an open layout.
• Faster installation: Since using a large format tile shower will require fewer materials to work with, you can expect that the installation process is very quick.
• Stunning aesthetics: Large format tile shower showcases beautiful aesthetics that can increase your home's value. Its uninterrupted seamless look delivers a minimalist and contemporary style that many homeowners can appreciate. More than just the illusion of a bigger space, LFTs' seamless look is elegant and simply refreshing.
Large Tile Disadvantages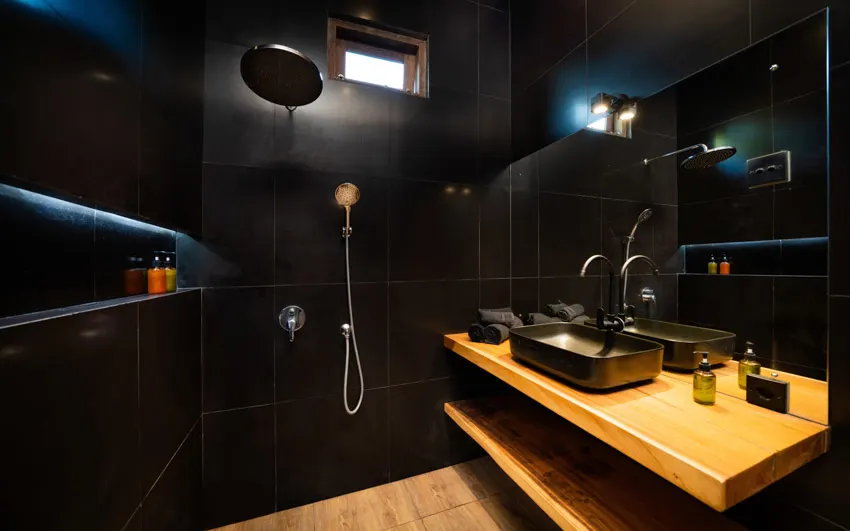 More than just these advantages though, make sure you know the drawbacks that come with using large format tiles. Some of these drawbacks include the following:
• Requires space: While it's true that large format tiles can make the space expansive, you still need enough space to accommodate this large material and to be able to install it in the area.
The smallest ones measure 4 x 8 feet so make sure you have enough or more space than that. And the best thing to do is to measure your bathroom beforehand so that you'll know if it's applicable in your bathroom in the first place.
• Incredibly heavy: Since it is large in size, it's only logical that it also comes with the corresponding weight. When it comes to installation, you might need some help lifting the material from one location to another.
With these pros and cons, you can weigh your options and be able to decide if this is the ideal choice for your bathroom.
LFT Designs for Shower Areas
Once you've set your eyes on a large format tile shower, you need to choose the designs you will install in your bathroom. LFTs can guarantee that your shower will look more spacious than it actually is with minimalist and elegant aesthetics.
When it comes to the overall design and style that large format tiles deliver, the idea is very straightforward. LTFs create a cohesive look that can either make the space wider or taller, depending on how you installed them (horizontally or vertically).
The clean and harmonious look that LFTs offer can bring a luxurious ambiance and added value to your shower. But the ambiance that the tiles offer depends on the design of the tiles you go for.
Here are some designs to consider and their corresponding functions and benefits:
• Spa-like LFT shower: A large format tile shower delivers a spa-like experience in the bathroom, improving the space to feature a more elevated kind of comfort. A spa-like experience can be achieved with warm-colored large format tiles and you can up the ante by mixing wood accents in the shower.
• Unique LFT feature wall: If you want something bold and popping, you can go for LFTs with mosaic patterns. You can use this for a feature wall in your shower. The patterns will stand out if you pair it with simple or neutral-colored tiles.
• Brighter shower area: If you want to brighten your shower, polished large format tiles capable of reflecting natural light can make this possible. One of the popular tiles that can do this is the Calacatta marble, considering its high gloss finish that also delivers a luxurious look sought-after by many homeowners. Of course, this doesn't come with a small price tag.
While the main feature of large format tiles is the lack of grout lines and its seamless look, you can also exercise your creative freedom and customize it however you want to produce the style and ambiance you're envisioning for your shower.
Large Tiles for the Shower Floor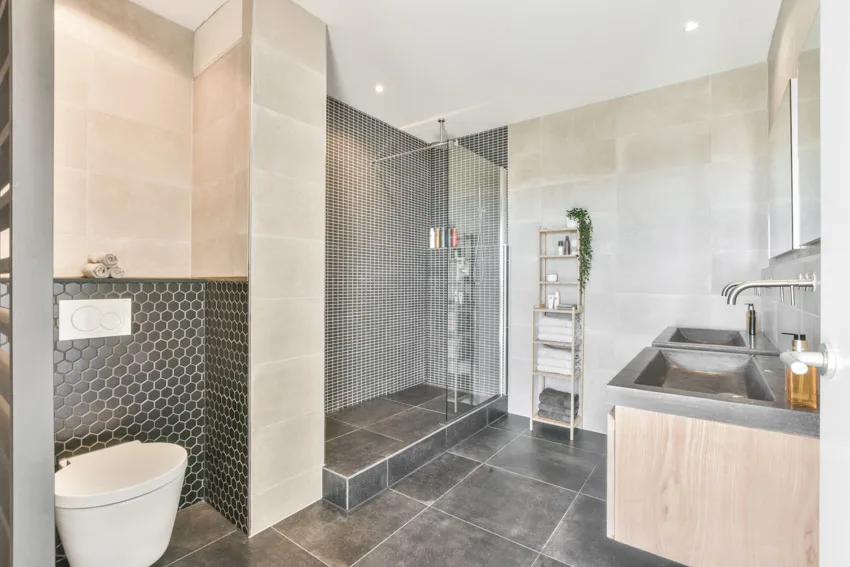 Large format tiles can be installed on the shower floor as long as you choose the ones that offer the best grip. In order to avoid slip-and-fall accidents, choose one with an anti-slip finish as one of its major features.
Here are some of the benefits you can expect if you choose large format types of bathroom floor tiles for your shower:
• Gives the illusion that your shower floor is more spacious
• Improve your shower's aesthetics
• Less grouting
• Easy maintenance
When choosing LFTs for your shower floor, here are simple tips to follow:
1. Match the design and color of your large format tiles to your shower's theme
2. Balance extra large LFTs with small and mid-size tiles
3. Use high quality adhesive, grout, and membranes for your shower floor to avoid discoloration and mold buildup
Wider Tiles for the Walls of the Shower
You can also use large format tiles for your shower walls, whether the tiles cover the entirety of your shower or you just use the tiles as a bathroom feature wall.
Covering your entire shower walls with LFTs will look like they are continuous and seamless on your shower. With a feature wall though, you can choose an area on your shower wall to spruce up with your LFTs.
A clear glass shower door will look wonderful when matched up with large format tiles. Your shower will look more expansive with glass doors, on top of the added illusion of space provided by the LFTs.
Large Subway Tiles to Use in the Shower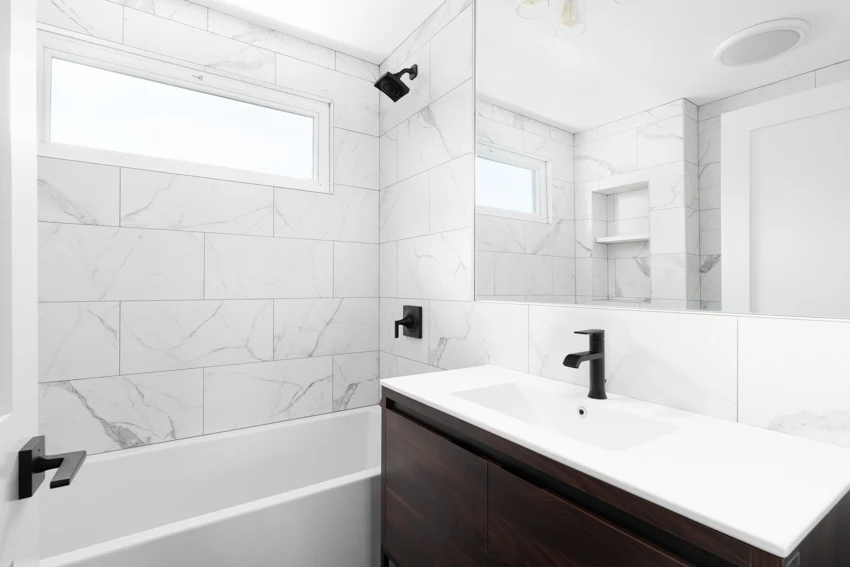 Large format subway tiles can look wonderful in your shower, with their classic look. Installing these in your bathroom will add a chic and rustic ambiance so this is a good option if you're going for that.
More than just offering an expansive illusion, a large format subway tile bathroom shower also showcases a dramatic statement despite its clean and seamless aesthetics. If you want a more authentic-looking subway tile, however large it is, you can go for ceramic and neutral-colored large format tiles.
Large Vertical Shower Tiles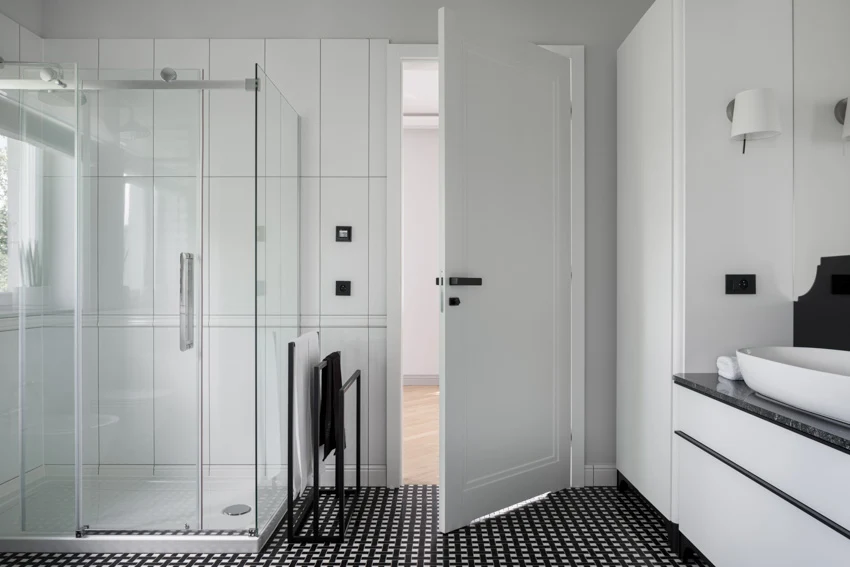 Another option for your shower is a vertical large format tile. When installing large format tiles vertically in your shower, your shower will have the illusion of looking taller.
This is why it is perfect for bathrooms with low ceilings. And this is not a difficult installation style too since you simply need to flip it to run from the floor to the ceiling.
The downside to vertical large format tiles in the shower is that since they are installed lengthwise, they are more likely to fall with gravity doing its job well. Make sure that you install the tiles properly on the wall and that they are stuck pretty well to avoid accidents.
Small Showers with Bigger Tiles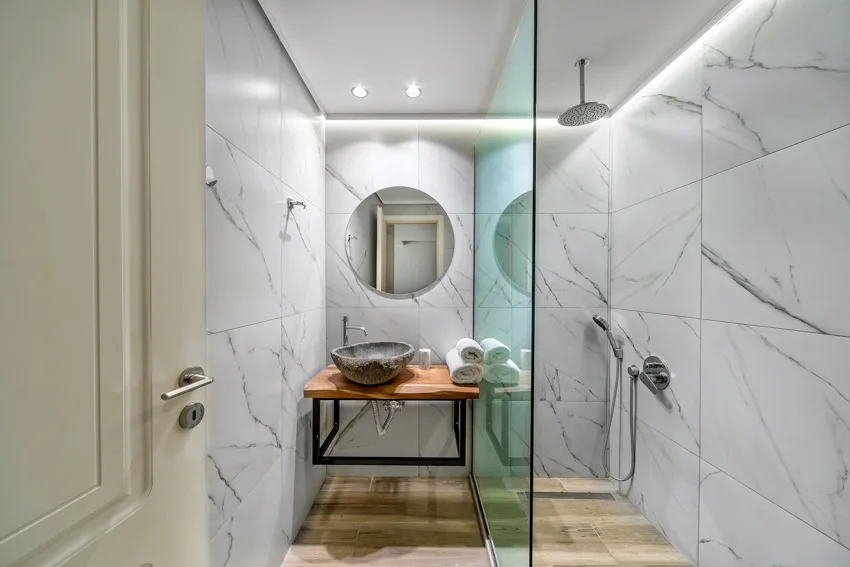 With large format tiles though, you might wonder if this is applicable even with a small shower and bathroom. The straight answer to that is yes, LFTs can be installed in small showers and they are even encouraged, considering the fact that these tiles deliver an illusion that a space is bigger and more open than it actually is.
One thing you need to make sure though is that the tiles actually fit your shower, however small it is. Large format tiles have fewer grout lines, which is responsible for the illusion of space.
More grout lines will indicate a more visual interruption, which will make a space look smaller and more limited. And since LFTs have fewer grout lines, they can help a small bathroom look more expansive. To help you install large format tiles in your small shower, here are some tips you can use:
• Choose light-colored LFTs if your shower is small since they can reflect more light and make the area look more spacious and open (Explore your color options like white, taupe, gray, and pale blue).
• Go for LFTs with simpler patterns because bold and messy patterns can be overwhelming in a small space and make your shower feel more cramped so if you want tile patterns or designs, you can choose a simple border to go with it.
• Glass can also create an expansive illusion so installing a clear glass shower door can help you make your shower feel bigger since glass also reflects more light.
• Go extra large if your shower is small (as long as it can fit and accommodate the tiles) since you get fewer grout lines and the walls will appear continuous and spacious but make sure you won't force a very large tile inside a very small bathroom.
Large tiles are usually associated with large spaces and that's how human brains work sometimes. Don't hesitate to consider large tiles even if you have a small bathroom for as long as it fits and does not look forced, it will work excellently.
Choosing Wide Tile Arrangements for the Shower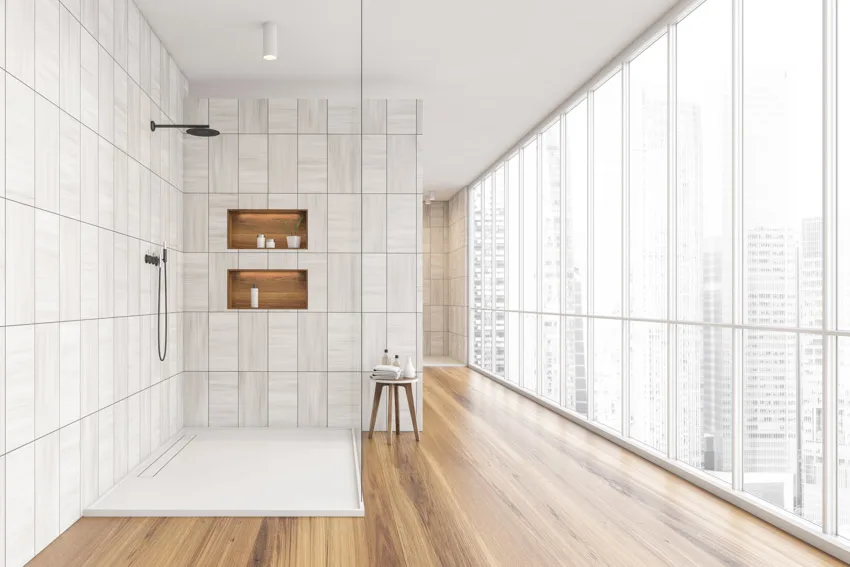 Determining the layout for your large format tile shower will involve a plan on which walls or floors will have the tiles, how big the tiles you're going for, and how many tiles will be needed in the installation.
There are different patterns you can use as layout for your LFTs. You can go horizontally (as most do) or you can do it vertically on the wall. You can also opt to just focus on a feature wall to work on. Make sure you decide on these elements first before purchasing your tiles.
How To Install Large-Sized Tiles on Shower Walls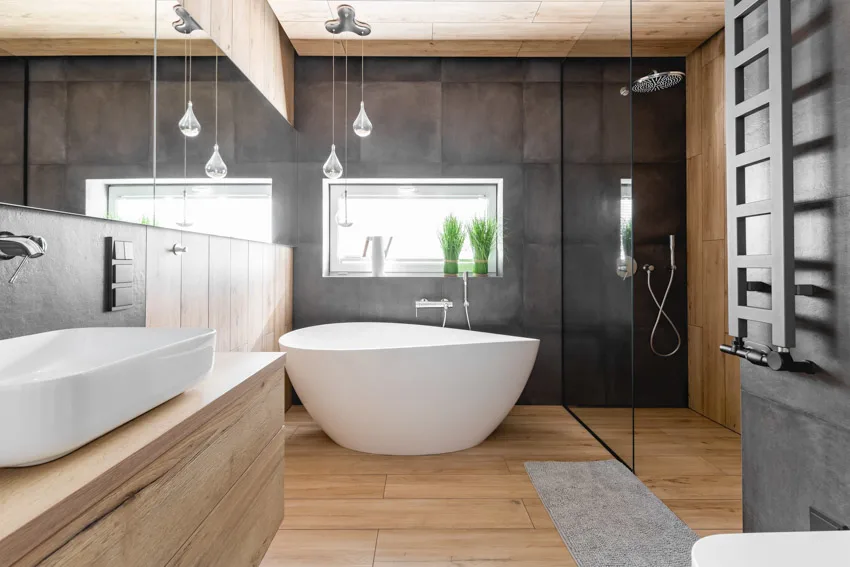 Installing large format tile on your shower wall will be better left to the expertise of the professionals because of the tile's size and weight.
If you are set to DIY large format tile though, here are simple steps to follow.
1. Decide on a layout and where you plan to install the large format tiles. Make sure to get exact measurements.
2. Choose the type of LFT you want for your shower (square or rectangle, ceramic or porcelain) and if you choose natural stone tile make sure it's properly sealed.
3. Install a level ledger board to support the first row of tiles you will work on.
4. Mix the mortar and choose one specially designed for large format tiles.
5. Cut the tiles in the shape you prefer with a tile saw and you can use an angle grinder if needed.
6. Trowel the mortar and hold it onto the wall at 45 degrees to help in setting your tiles.
7. Apply a thin coat of mortar on the back of the tiles.
8. Install spacers to guarantee symmetry and balance.
9. Set the tiles one at a time.
10. Make sure that the tiles are level.
11. Drill the necessary holes in the wall.
12. Properly do the grouting.
13. End with sealing everything.
There are other factors that you need to consider before making this as a DIY project you can spend 2 days of your life in. If you are a beginner, you may need someone's help installing large format tiles in your shower because of their size and weight.
See more related content in our article about what type of tiles are best for a shower floor on this page.