In this gallery we share our subway tile bathroom ideas including the different shower & bathtub designs, colors, types of materials, grout used, and subway tile cleaning tips.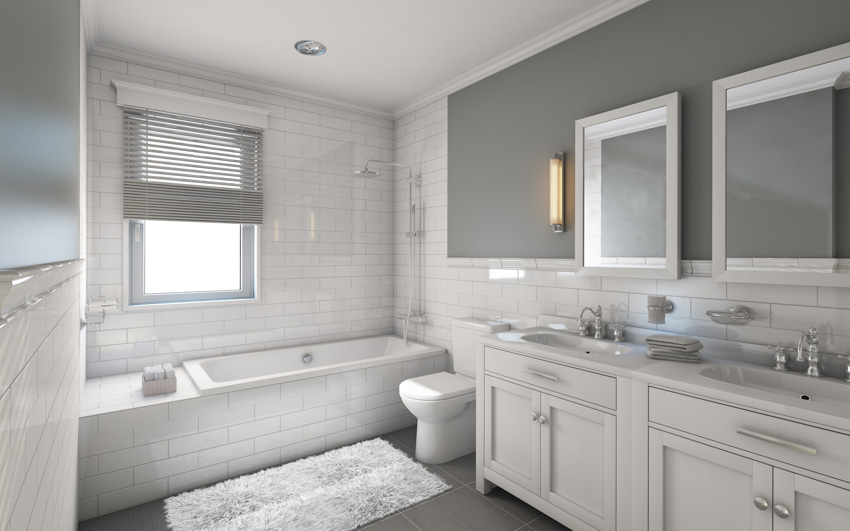 Subway tiles. We've all heard about them; admired them, even. But in reality, do we really know what makes subway tile as such? Thankfully, we're here to help you out with that little dilemma.
In this article, we'll discuss everything that you possibly need to know about subway tiles, including where they came from historically, and what their general characteristics are.
There are so many ways for you to be able to use subway tiles in the home that you're really only limited by your own imagination. There are so many adaptations and patterns for you to choose from as well.
But first and foremost, what's a subway tile, exactly? This term refers to tiles that come in a rectangular shape. The usual dimensions are at 3 x 6 inches. They're usually laid at a 50% offset and almost always horizontally.
Subway tile is very well known for its durability. It's timeless and classic and doesn't really get out of style when you come to think about it. It's also typically made out of ceramic.

What Is a Subway Tile?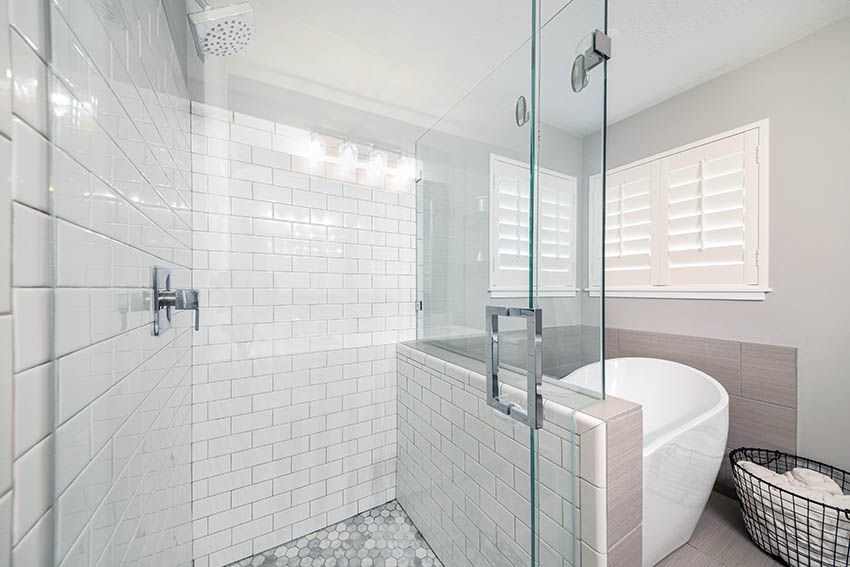 This is a pretty interesting name to call a certain type of tile with. Thankfully, its etymology is pretty simple and straightforward. This is mainly because of the fact that subway tiles were first used in the New York subway stations.
This made them iconic and timeless. The subway tile was born out of a challenge from designers to make sure that they come up with a surface that is both bright and low maintenance. They had a huge success with this back in 1904 and when you come to think of it, the subway tile design is a huge success up until this day.
Subway tiles are prized despite weathering out the decades because its main value really is in its hygiene and aesthetics. It's stain-resistant, quite easy to clean, and can also be quite resistant to bacteria.
More than that, the glossy and white design of the first subway tiles, when put together, formed a reflective surface that embodies light and cleanliness. This had psychological advantages for people traveling underground who otherwise might have had concerns related to feeling sanitary and safe.

Tips for the Subway Station-Inspired Bathroom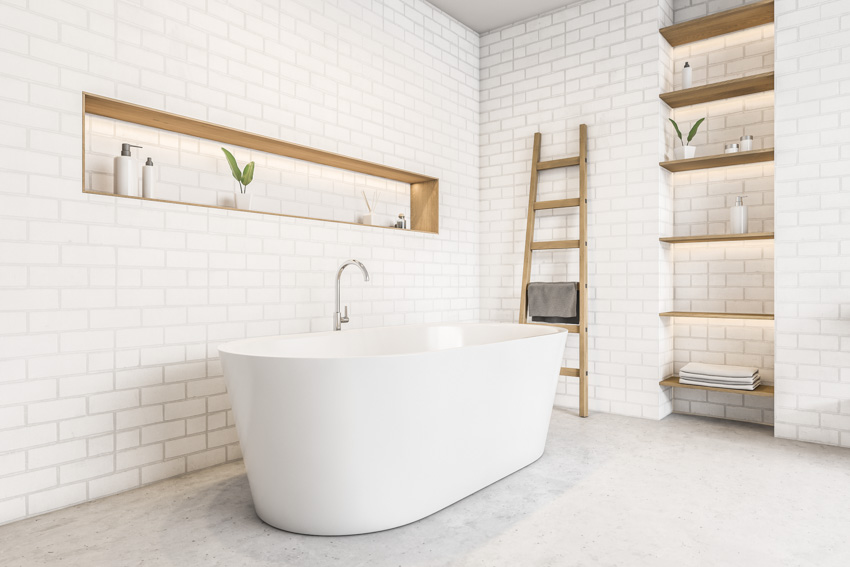 There are plenty of different bathroom subway tile designs for you to choose from. If this is something that you've been contemplating for a while now, then you're really on the right track.
Here are a few tips for you to keep in mind when you're starting the conceptualization process out from scratch:
Keep everything classic: Subway tiles are highly valued because of their timelessness. Staying with the white color and sticking to a repeated bond pattern definitely isn't a bad idea. Tastes and styles come and go with the times but classic is classic at the end of the day.
Mix up the materials: Rather than using the traditional ceramic or porcelain subway tiles you can try using a material such as marble to give more depth of interest. See marble shower designs here.
Switch your colors up a bit: Multi-colored subway tiles are a sight for sore eyes. Putting up subway tiles in vibrant and vivid colors is a smart way to make a statement without necessarily overwhelming the space that you're working on.
Use a dark grout during installation: This will give your finished look a geometric effect. Try to veer away from traditional light-colored grouts as much as possible as it can make your subway tile surface look unremarkable and bland.
Dark-colored grout will give your subway tiles that look and feel of drama in the clean and bold lines produced. They can make the subway tiles pop out even more.
Consider an inverse design: Try to go for the opposite aesthetic by opting for dark subway tiles with light-colored grout. It has a look that's moodier and not as bright but it does have its own offerings in its contrasting tones once everything is done and smoothed out.
Try stacking your subway tiles vertically: The running bond pattern with the subway tiles stacked horizontally is iconic but having a clean stack that's laid out vertically can look quite cool as well. It can elongate a space so if you want to make a room look taller than usual, it's a nifty optical illusion that you can employ.
Go with a herringbone layout: Another classic subway tile pattern is the herringbone. It's not quite as commonly seen but it's just as iconic and aesthetic.
It brings something different and unique to the table so if you like the classic appeal of the subway tiles but want a little something different on the side, the herringbone pattern just might turn out to work for you and the space you're trying to create.
Contrast the tiles with the floors: Black and white is a combo that's been around since the beginning of time – and it works. Line the walls with white subway tiles and get them accented with black floor tiles.
It can really make the space pop and more than that, the lightness and brightness in the walls can open up the space.
Bring in more tiles: One way for you to help make your subway tiles gain more dimension is by flanking it from different sides or angles with other tiles of different shapes and colors. You can create a stripe effect by lining tiles up either at the top, or bottom, or even both.
Go with a half wall: We get it. The subway tile surface is perfect and classic and all of those good things but for the sake of variety, you really don't have to go all in on it.
You can limit your subway tile layout to a single wall and have other tiles for the other walls or you can lay out the first half of the wall with the subway tiles, and use wallpaper or another type of tile for the second half.
Suitable Tile Colors for Subway-Style Bathrooms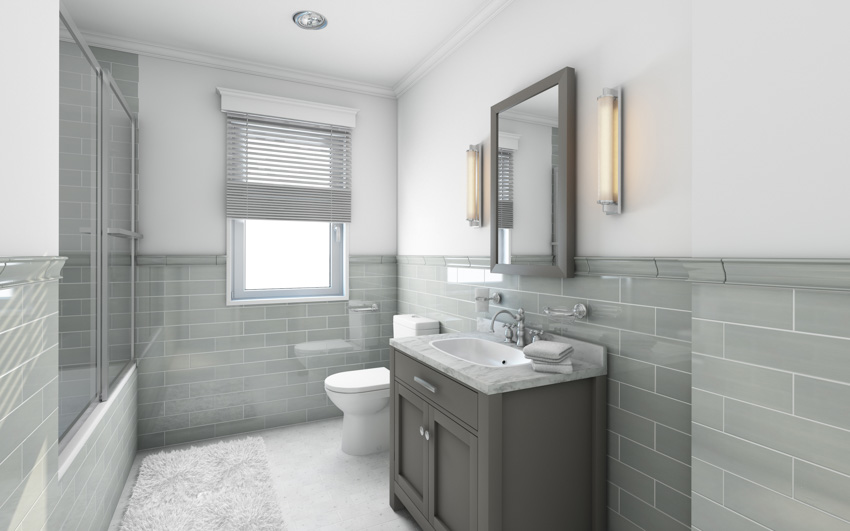 Subway tiles these days are available in virtually any finish and in any color. Think about a particular material or color that you would like to go with and there's a pretty good chance that there's a particular subway tile that will fit your exact specifications.
They can be laid out in countless patterns, can be in virtually any color that you can think of, and can be in literally any material as well. For as long as it can be cut and squared, it can definitely be turned into a subway tile.
It's definitely easier to make a design statement with such a wide selection to choose from coming from bright and boldly pigmented hues to the most neutral and earthiest tones you can find.
Bathroom Ideas Using Subway-Style Tiles
There are so many bathroom remodel ideas that you can play around with if you have subway tiles in mind.
The notion that there's only a singular application to subway tiles because of their specific look is outdated and incorrect and if you have this preconceived notion, then you're definitely missing out.
There's so much design potential that subway tiles can bring to the bathroom. Here are a few that you should at least know about.
Go Classic with White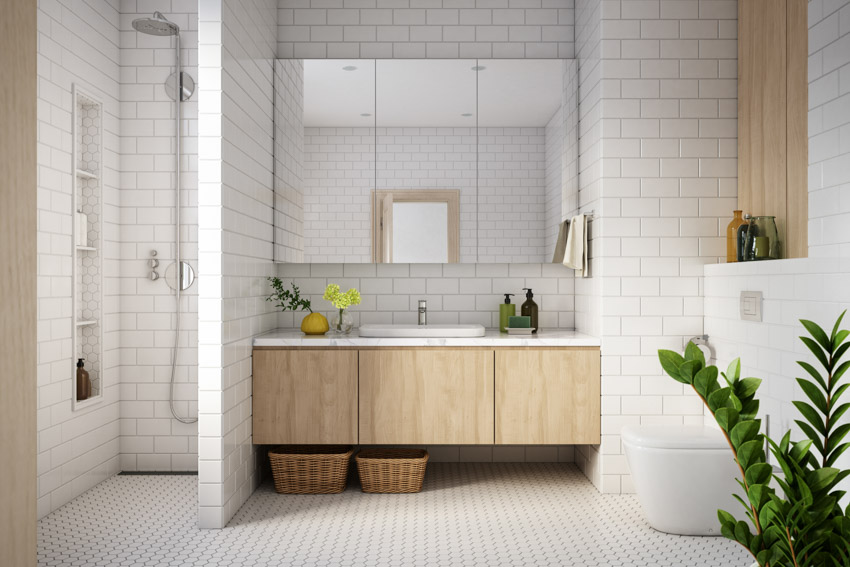 If you want to go for a bathroom look that's classic or contemporary, you can easily achieve this with the help of your white subway tiles. It's really not rocket science for us to understand how white subway tiles got to where they are today.
The reason why they're so popular is because of the range of versatility that they can bring to the table. When you haven't really decided on everything yet in terms of bathroom design but want to go ahead with the tile choice, white subway tile is something that you can't really go wrong with.
Its bright appearance can contrast nicely with so many color palettes but also easily blend in with neutral hues if you decide to go towards that direction.
You can open up your bathroom with a floor-to-ceiling subway tile look. You can go with a marble honed finish if you want something a little more posh. You can go with flat subway tiles to give it a handmade look and for a little bit of personality.
You can go with a herringbone pattern that goes upwards if you want to get rid of the cluttered look and want something that looks a little taller. You can have the subway tiles just on the splash zones for easier maintenance.
You can even have bevel white subway tiles for that aesthetic, walking on clouds look without breaking the bank. There are so many things that you can do with white subway tiles so design to your heart's content. See more white bathroom ideas here.

Large Tiles Enhance Larger Bathroom Spaces
Although the 3×6 tile size is classic and iconic, it definitely wouldn't hurt to consider the other options out there in subway tiles. If you're ever curious if they happen to come in large sizes, yes they do.
You can go for smaller mini tiles such as 1×2 dimension tiles or you can go big with the 4×12 tiles or even higher.
When it comes to considering your design for the bathroom in relation to your subway tile size choices, you have to know right off the bat that size does matter. It's great to be creative and all that but you also need to make sure that the tile size you pick out will be appropriate for the project that you actually have in mind.
Start off by considering the actual area of coverage for the tile. Smaller tile areas would mean that it would be best if you go with small to medium-sized subway tiles. Larger tiles are best for complimenting big walk-in shower designs or more open areas throughout the bathroom.
Have a Fully-Tiled Bathroom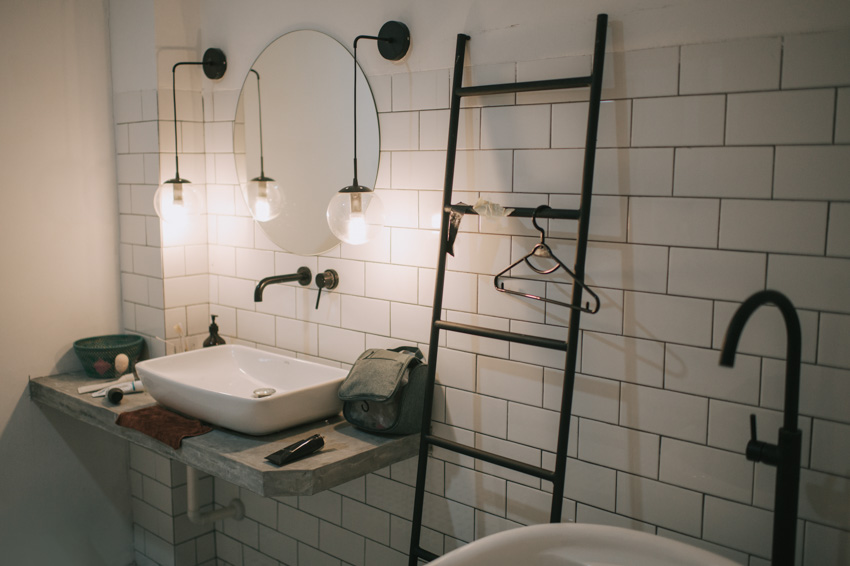 The thing with subway tiles is that they have grooves on the sides of the individual tile pieces. What this means is that they can be a breeze to install because it means that there would be no need for you to use spacers at all because of these said grooves.
You automatically get a 1/16" grout line with no need for spacers. If you use spacers, you'll end up with pretty wide grout lines. What this means is that you can easily DIY this project and end up with fully tiled bathroom walls.
The end result is exquisite for a fraction of the price. It's definitely a big yes for you to tile your bathroom walls with subway tiles.
Use Them in Shower Areas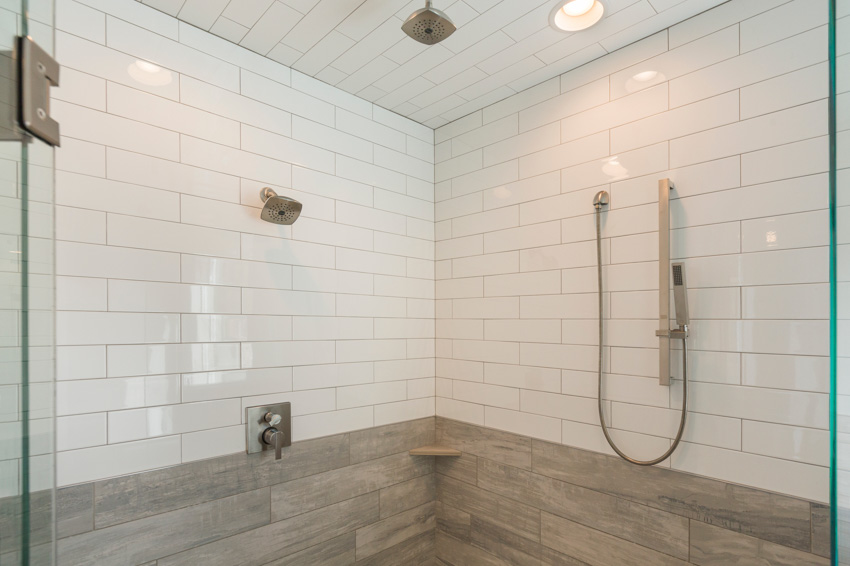 Subway tiles are also quite popular for shower areas. We're talking about the traditional white subway tiles in particular. They're a very popular favorite especially for those who are going after a Victorian-era design for the shower area of their bathrooms.
This is because all white-bathrooms were fairly common during that era. The rule back in the day was that the plain white tiles are always for the less visible areas in the home.
Consider Black Tiles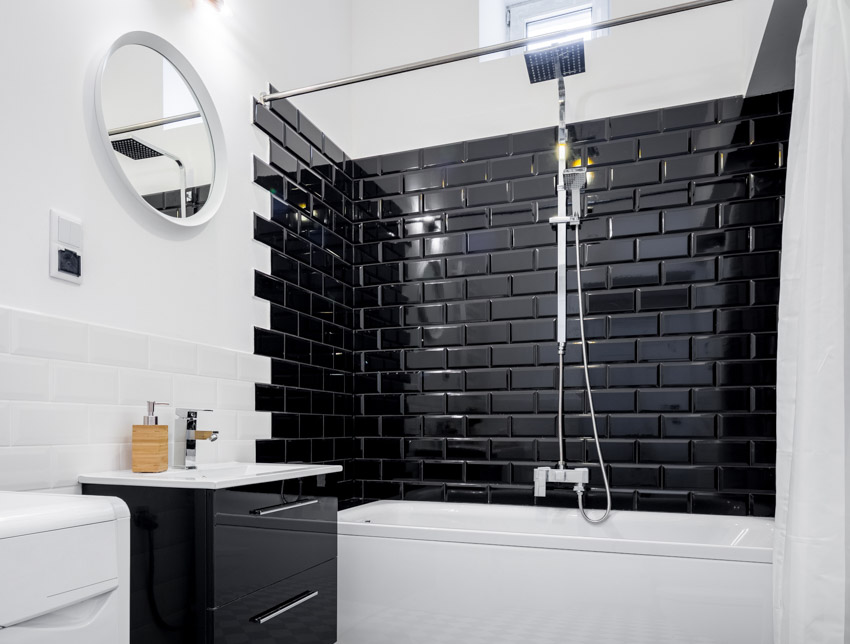 If there's one twist that you can add to the deliciousness of subway tiles, it would be opting to go with black subway tiles. This look can add drama to a room.
It can be the perfect décor backdrop and can anchor neutral pieces for variety. Here are some creative ways for you to incorporate black subway tiles in your bathroom without overdoing it.
Use it as a visual interest piece in your shower: Tile shower is OK and all that but putting in black subway tiles from top to bottom is a definite showstopper. It makes the small shower area far more special and can give your bathroom a luxurious look and feel.
It will also convert your shower area into the focal point of your bathroom space. Pair this with graphic floors that have black accents and you'll have a design that really pulls everything together.
Go matte: Black is a loud color. Pair that up with the typical shiny gloss finish of traditional subway tiles and it may turn out to be a little too much.
One way to really pull this off the right way without overwhelming the rest of the design elements in your bathroom is to tone down the finish. Go with matte black subway tiles or something a little more textured for a subtle visual focal point that goes well with everything else.
Combine black and white tiles: Contrasts are dramatic. One thing that goes extremely well with black subway tiles are white subway tiles, of course.
You can dream up all of the creative ways and elaborate patterns to put them together but at the end of the day, the simple thought of having black floors and white bathroom walls can turn out to be just the right amount of drama you need.
Go big with an accent wall: Pick one major wall in your bathroom and tile it top to floor with black subway tiles. This is a go big or go home concept that can really pay off if you do it right.
It will also create an element of freedom for the rest of your bathroom as a dramatic black wall is a statement in itself. You can play around with bathroom design software to try out different layouts to get a feel for what you like best.

Choose High Gloss Tiles for That Modern Look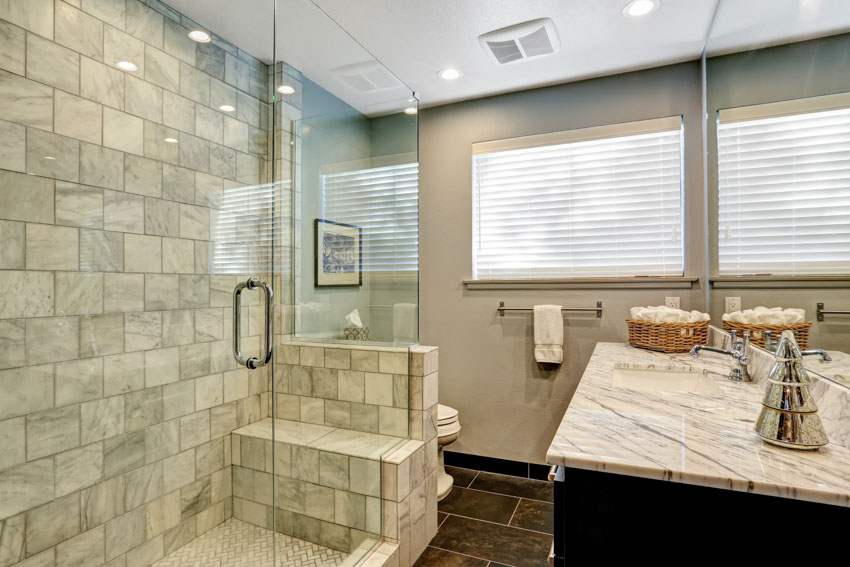 If you want to pull off a somewhat modern look with the use of white subway types of bathroom tiles, it would be best for you to pay attention to the surface finish of your tiles of choice as well as with the color of your grout and the type of grout you use as well.
Pay attention to whether you'd like to go with sanded or unsanded grout finishes and which ones pair well with your particular tile in creating the look that you want.
Go with something high gloss and high sheen for you to really pool off that ultra-modern design. When you want to think of the other elements to include, think about a Jetsons concept or something that relates to the cleanliness and minimalism of the space age.
This shouldn't be too much work as the white subway tiles will do most of it for you.
Opt for Blue Tiles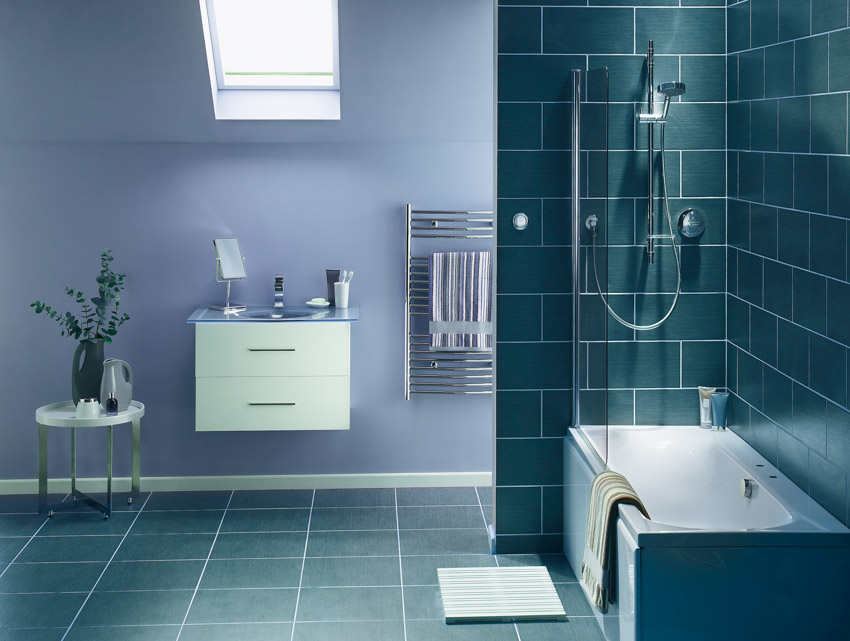 The blue subway tile is like the offspring of the marriage between the most popular tile color ever created with the most timeless pattern ever known to the world of design.
It's a statement of superlatives but this is exactly what you're getting when you're choosing to tile your bathroom with beautiful blue subway tiles. At the end of the day, it really doesn't matter what design aesthetic you have in mind. The thing is, blue subway tiles will come and they will deliver every single time.
Using blue subway tiles in the bathroom can create a feeling of calm and the vibe of having a sanctuary and tranquility. This is a genius take for bathroom design given the fact that we usually decompress and retreat to the confines of our bathrooms after a long hard day at work.
The color really makes all of the difference in the world. Light shades can dissolve tension and encourage calmness whereas dark shades can stimulate focus and clear thoughts – perfect for meditating while in the shower.
Go Minimalist with Grey-Colored Tiles
Grey subway tiles for the bathroom are a great hybrid if you like the minimalist cleanliness of white subway tiles but you aren't too much of a fan of its bright starkness. It's perfect for when you're trying to create a neutral design for your bathroom.
This color shade of subway tiles is eclectic and subtle and although a little understated, this only means that you can play around with louder or more colorful design elements you'd like to add.
Stack Your Tiles Vertically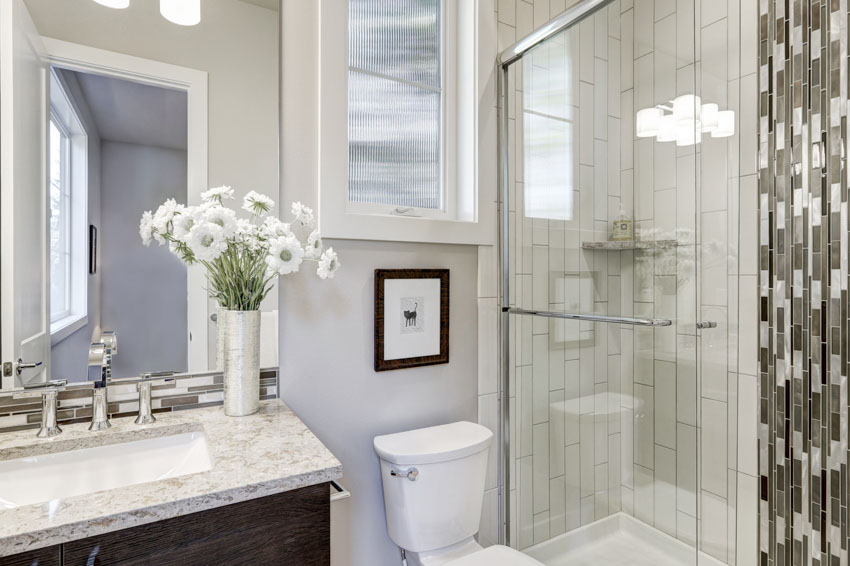 Stacking your subway tiles vertically in the bathroom can create really clean lines especially right along the edges of the bathroom.
Because of the fact that the tiles are appearing longer and skinnier with this particular tile arrangement, it can make your bathroom space feel taller and bring in a more modern feel to the entire space.
Tap Modernism By Using Glass-Type Subway Tiles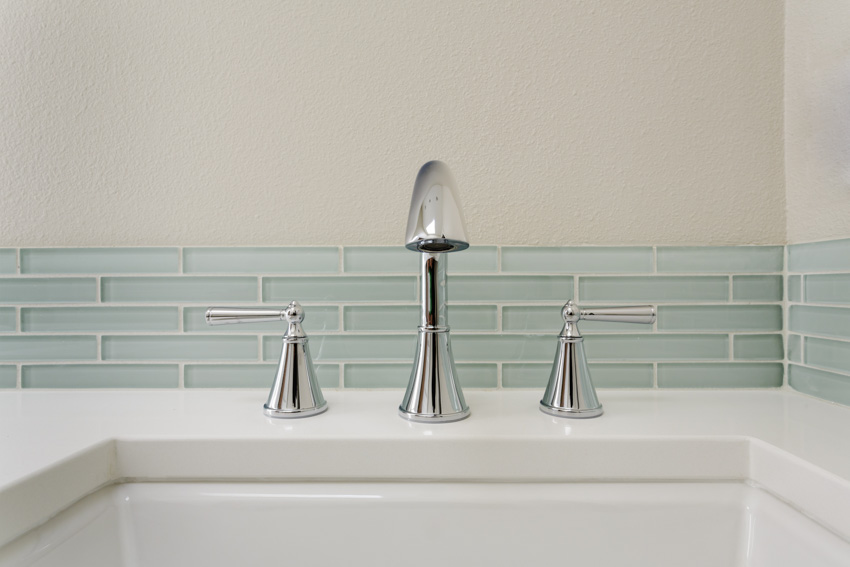 Glass tile is a more modern innovation or addition to the subway tile variations and they're definitely something worth considering. Aside from the fact that they have a somewhat premium aesthetic value, they also come with a host of advantages that you shouldn't ignore or sweep under the rug just yet.
Glass subway tiles are very easy to clean. More than that, despite the name, they offer an incredibly durable surface that at the same time brightens up your bathroom because of their light reflective qualities. This is a smart addition, for sure.
Match White Tiles With Black Grout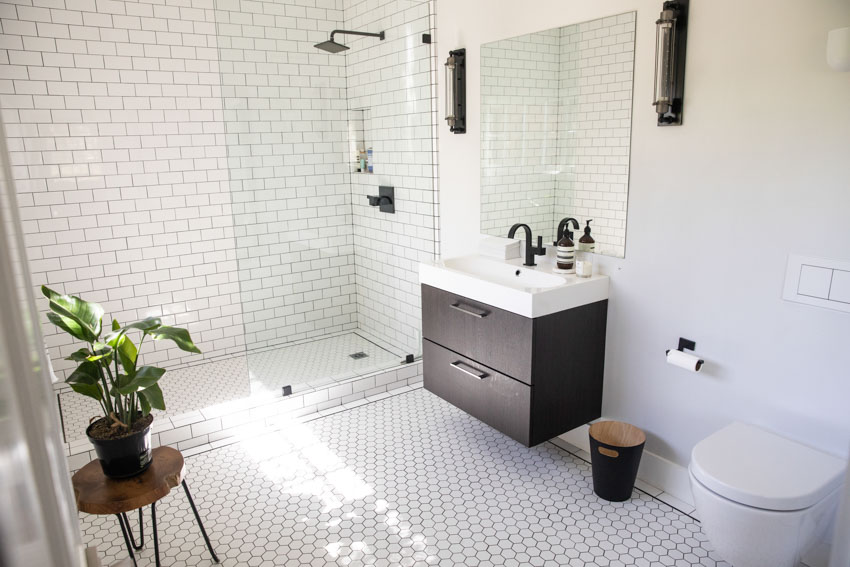 Subway tiles are pretty popular and it definitely isn't uncommon to see them in bathrooms in homes all over the country. Be that as it may, there are so many ways to jazz things up so that you don't just get the usual run-of-the-mill subway tiles you're quite accustomed to seeing.
One creative way to really make your subway tiles shine through and look more special is for you to go with a black grout for your next bathroom renovation. This is a really quick and easy way to make your bathroom tiles look and feel "richer".
The term that aptly encapsulates this is "econo-lux". It means that you get to capture the look and feel of luxury without going broke for it or without paying a premium for it.
Subway tiles are fairly inexpensive and pairing them with light-colored grout can run the risk of making them look a little too plain or cheap even. Using black grout can really elevate the look and you wouldn't even have to do anything extra to get it done.
The good thing about playing up your white subway tiles with black grout is that this is actually something that you can do yourself. You don't have to hire out a professional to get this done. You also don't need any major renovations in your bathroom.
Let's say you already have subway tiles but you just wanted a quick update. You can run over some fresh black ground and no one will be the wiser. Your bathroom will look brand new in a jiffy and it won't burn through your home renovations budget.
Use Mosaic Accent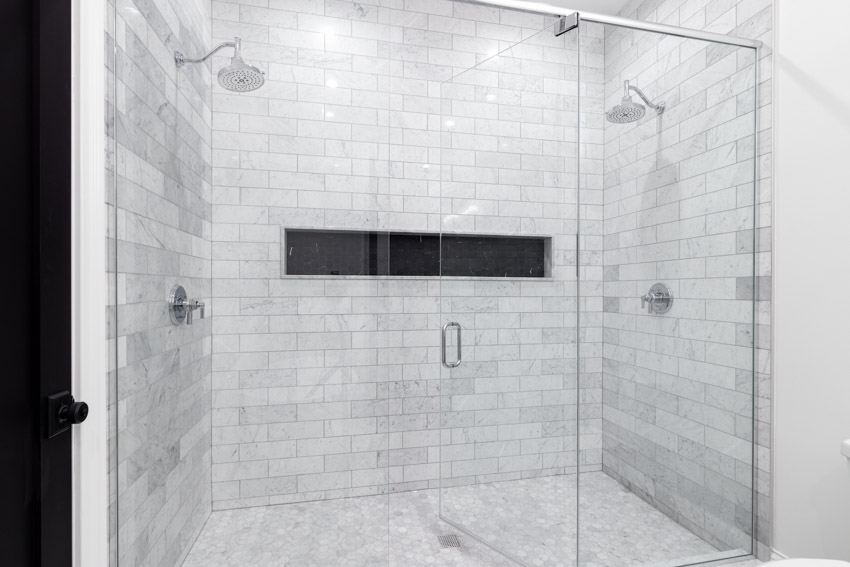 Don't get us wrong. Subway tiles are great as standalone. They're great on their own and they can really hold their weight in design. However, it certainly wouldn't hurt if you'd like to play around a little and add in some decorative tiles into the mix.
Take mosaic accents, for example. They're great for that pop of color in an otherwise monochromatic look. It can really inject some shock value into the space, or even just a little bit of element that can break up the line of sight.
Another way to play around with mosaic accents is to go with something completely different in terms of the texture, material, or even the actual surface finish. Glass mosaic tiles are a current favorite but don't let that limit your options because mosaic accents can come in every finish, material, color, and texture imaginable.
The options are actually really endless and we get it if you might end up finding it hard to choose just one. There are so many trends to consider as well from tiles that look like wood, to porcelain that looks like organic materials such as wood or natural stone, to so many other looks that tiles, in general, can mimic.
Perhaps the best kind of advice we can give you regarding this is to carry a piece of tile around with you and walk around at the home depot stores and actually juxtapose your base tile with whatever other tile design out there that catches your eye.
Samples are great and all but they aren't nearly quite as realistic as actually laying tile samples out side by side.
This can give you a better look and feel for the design that you're creating all the way to the point wherein you can actually imagine how it would feel like for you to run your fingers through the tile surfaces.
All that you really need to keep in mind in all of this is that your options aren't limited. You can play around and be as outrageous as you would like to be.
Mosaic tiles are meant to accentuate or to stand out so it doesn't matter if they're a little on the wild or avant-garde side. You only have a little bit of them anyway and what this means is that it is nearly impossible to break your design by adding them in.
There isn't any way at all for an accent mosaic tile to be overwhelming. So let your imagination run free and go with what you think will feel or look good for your bathroom space after everything has been said and done.
Is This Type of Tile Ceramic Or Porcelain?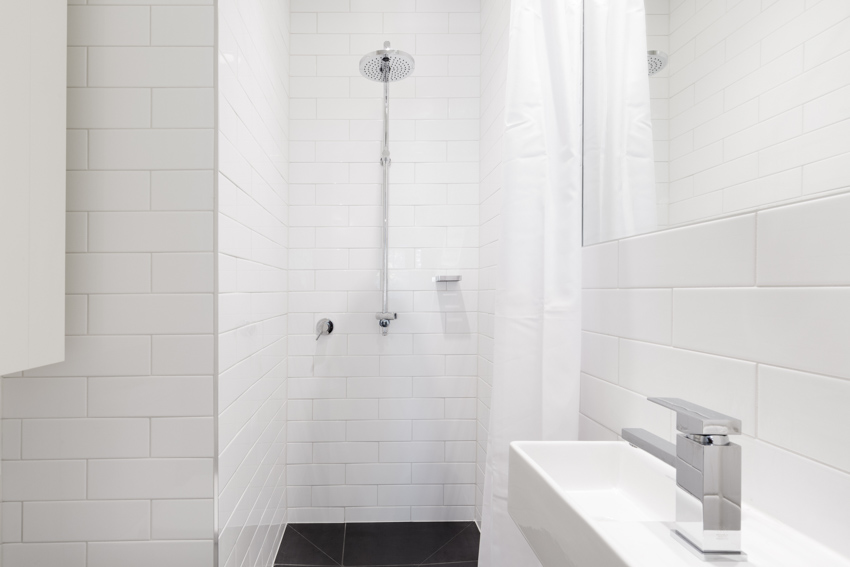 If you're wondering about the main material source, the traditional subway tile really is made out of ceramic. Glazed ceramic, in particular.
This is how it got its reflective and smooth surface. However, subway tiles also happen to have variations to the material form. You can actually get a variation of subway tiles not just in porcelain but also in different kinds of natural stone, an assortment of materials, and even glass.
If you like the concept of subway tiles but would like to go for something a little more different, there are other alternative materials that you can try out as well.
You can go for bricks that look like tiles, stone backsplashes in the same 3×6, 2×4, 4×8, or 6×12 dimensions, curvy shaped tiles, or even plank or linear tiles.
Best Tile Grout for Subway Tiled Rooms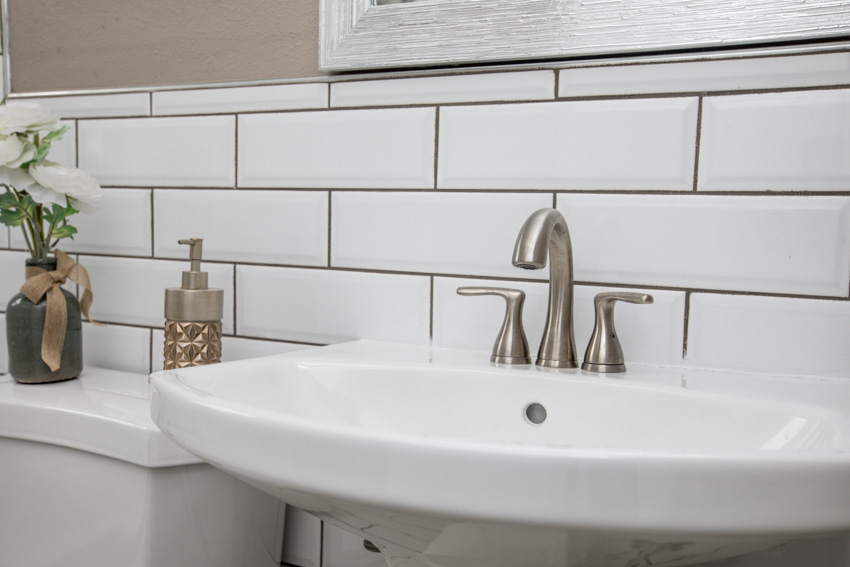 What you need to understand about choosing the best type of grout for the specific subway tiles you have in mind is that the color is always key to making the best choice.
You need to make decisions such as making the tiles the centerpiece of the room design or making it blend out into the background. Here are 5 easy steps to choosing the right grout for your subway tiles.
First, decide on the kind of tiles you want. Choose your tile before you choose your grout. In order for you to get cohesive results, you need to first get right down to the gist of what you're working with in the first place. It's similar to designing a room. You'd want to pick out all the design elements first and then make the paint come last.
Second, decide on whether you'd like your grout to stand out or blend in. This is pretty simple enough to wrap your head around. If you want something that serves as a strong contrast, you might want to get a dark grout against your subway tiles. If you want something that blends in, you might want to go with a similar color for your tiles instead.
Third, always keep the upkeep in mind. Are you alright with a high maintenance grout but in exchange, you get dramatic visual results or would you like to go with something that requires less maintenance?
Darker tones grouts can go with literally any type of tile and more than that, spills and other stains go relatively unnoticed. You might also want to consider upgrading your type of grout to something more high performance such as resin-based grout or cementitious grout.
These two latest technologies in grout work can work with any size of grout joint.
Fourth, decide on whether you'd like to go for sanded or non sanded grout. Their main difference would be on the surface's texture. Know the difference between the two so that you will end up selecting the correct one before you actually proceed with purchasing your tile.
And lastly, you need to consider the look you're trying to create. Are you going for something traditional or something chic? Would you like to keep a design that will go on for more and more years to come or to you crave for something a little more spontaneous and creative?
A classic grout color is best if what you're looking for is timelessness. However, if you want something trendier, you should check out colorful dimension grouts.
Are These Tiles Hard To Keep Clean?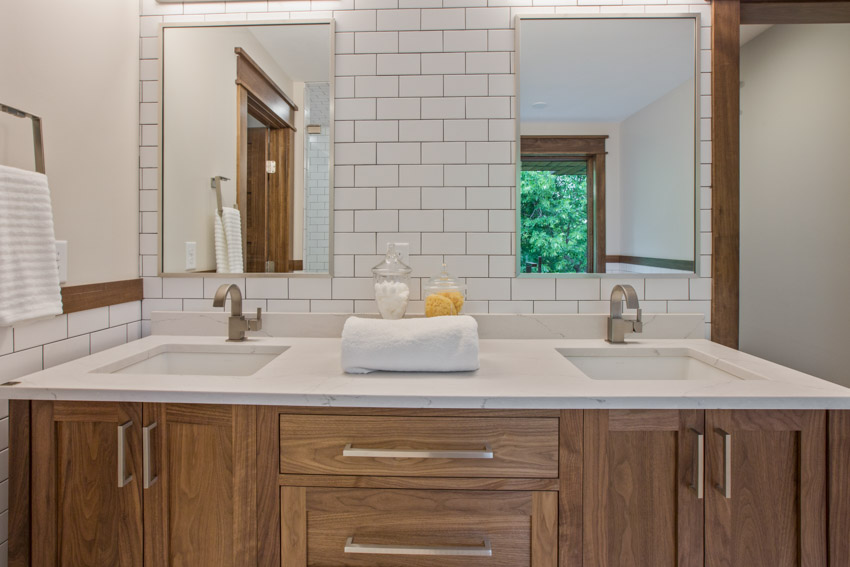 On the contrary, subway tile is relatively easy to clean. As a matter of fact, the whole appeal of why subway tile rose to the popularity that it's still enjoying today is because of this fact.
Subway tiles are ridiculously easy to maintain. It's almost impossible for mold or mildew to stay on the glazed surface of subway tiles.
Usually, they just need a quick clean with no major scrub downs and the surface is already kept spotless and immaculately clean. This is a far cry compared to its acrylic shower and baths counterparts.
See more related content in our article about the subway tile kitchen backsplash on this page.