See if white subway tile with black grout is right for you, including the pros and cons, and how it's used for kitchens, bathrooms, showers, and black grout cleaning tips.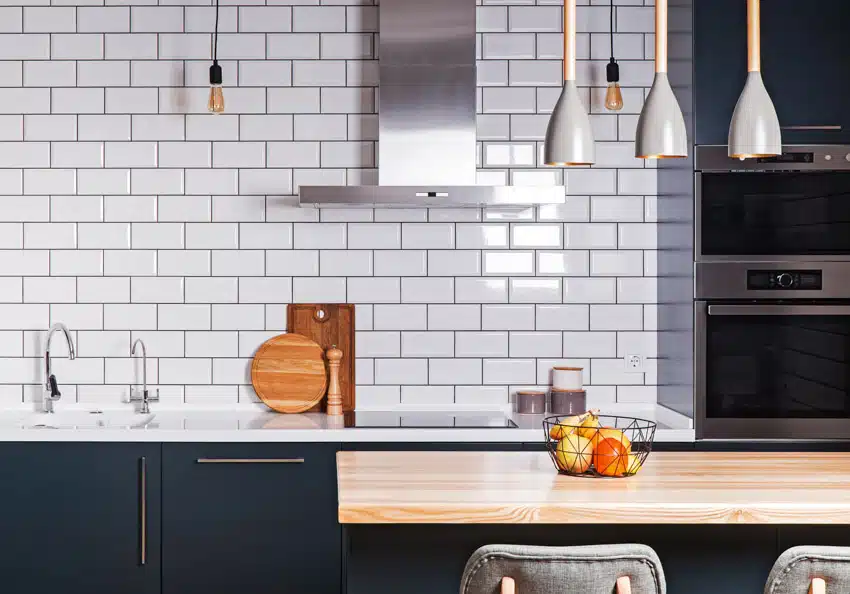 If you're looking for a classic but somehow trendy combination, white subway tile with black grout may be a good option for you. You get the classic bit from the white tiles and the black grout can surprise you and make the entire thing stand out. The balance between classic and trendy is what makes this combination popular with many homeowners.
Commonly used in kitchens and bathrooms, particularly as accent walls and backsplashes, black grout looks wonderful with white subway tiles that measure 3 x 6 inches. While this may be the standard size, you can use longer rectangles to have the illusion of more space.
If you're choosing white subway tile with black grout, it can definitely be a stunning addition to your home because of its dramatic effect. Is it worth the aesthetics though?
White Subway Tile With Black Grout Pros And Cons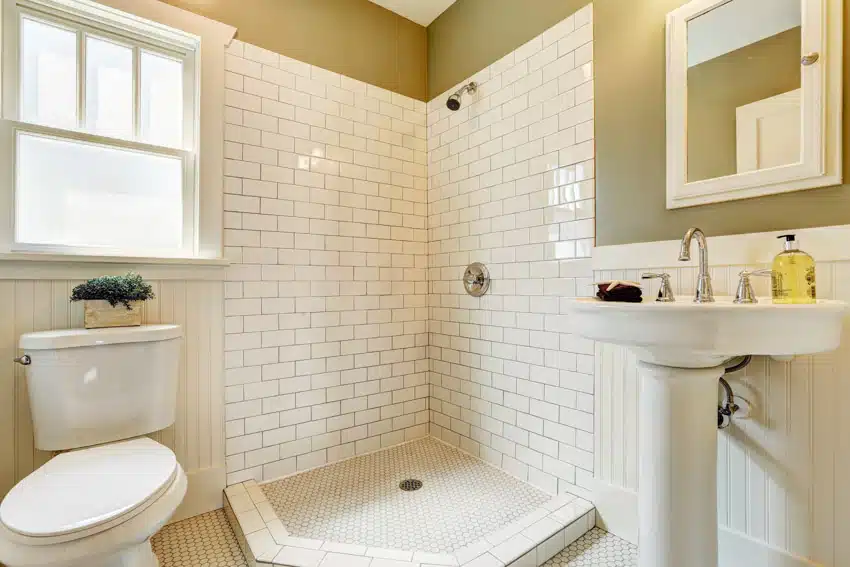 To be able to decide if this tile combination is the ideal option for your home, weigh the advantages and disadvantages they come with. The choice with this unique grout is not just about aesthetics there are other factors worth looking into when making a decision.
Decide if this combination offers benefits that are worth experiencing its drawbacks with before actually purchasing all the material you need for it.
Pros of White Tiles and Black Grout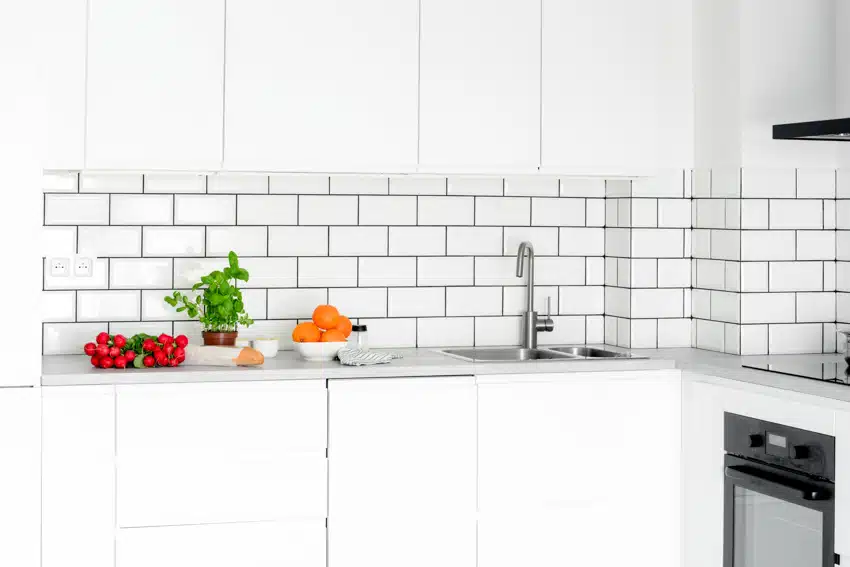 While white subway tile with black grout seems like a small factor to take into account, it is actually incredibly popular for homeowners, not just for those with modern and minimalist style homes. And it's because of the following benefits you can enjoy from this combination:
• Classic and timeless aesthetics: White subway tile with black grout offers an elegant and classic look that interior designers consider easily elevates a space. Using black grout with stark white tiles delivers stark contrast and adds visual interest to your home.
It also provides the warmth and depth that helps the white tiles from looking too sterile. This irresistible combination never gets out of style so you won't have to worry about following the ever-changing trend.
• Showstopping statement maker: Even with the classic and timeless vibe, it cannot be denied that white subway tile with black grout is a beautiful statement maker that makes people stop and look. The stunning contrast adds a little drama to your home and black is a bold color that can definitely deliver that showstopping look.
• Showcases the shape and size of your tile: The black grout acts like a bold outline for the white subway tiles and so brings more attention to how the tiles are shaped and sized.
This means that the subway style will pop more in this combination and the size of the grout, whether a narrow pencil-thing outline or a thick one, will determine the boldness of this look.
• Inexpensive yet sophisticated look: With its sophisticated look, white subway tile with black grout does not necessarily come at high prices. So if you're looking for a way to make your kitchen or bathroom look luxurious without spending too much, this is a combination you might want to consider.
• Delivers bold design grid patterns: Since the black grout acts like a wonderful outline, it creates bold design and grid patterns you can appreciate. The white subway tiles will appear to have a grid-like pattern and make the design you've chosen more prominent and obvious.
• Black grout can conceal dirt and grime: While darker color grout can help conceal a dirty backsplash that is not always a total positive. The dark color can also help hide dirty grout lines which can avoid alerting you that they need a cleaning.
Cons of Metro Tiles Combined with Black Grout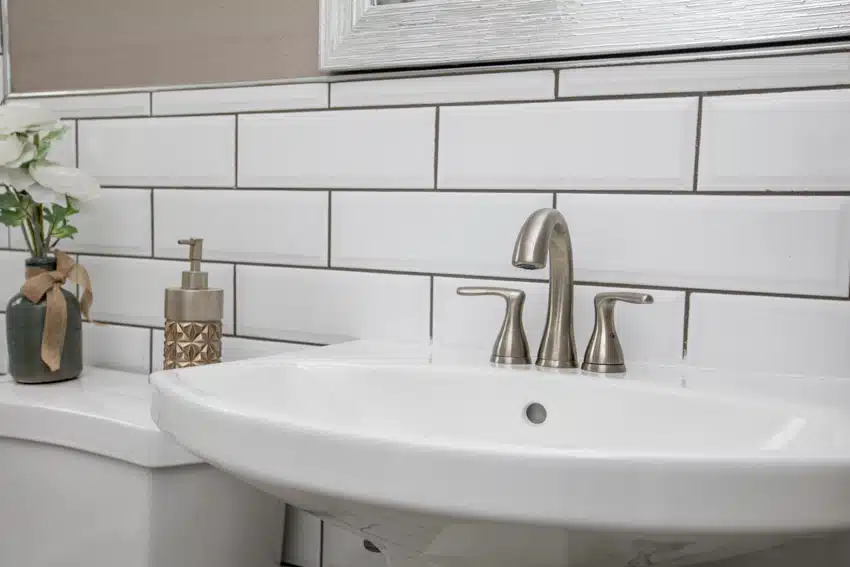 Before committing to black grout and white subway tiles, you also need to look at the disadvantages you are about to experience using this combination. Here are some of the drawbacks that you need to know before making a final decision.
• Tricky to install: When installing white subway tile with black grout, hiring a professional might be more recommended because of its tricky constitution.
Since grout is gritty and has this kinetic texture that tends to go everywhere, using black grout means that it can be really messy. And it's also the reason why most prefer light-colored grout so that if there's a mess, it won't be as noticeable.
• Can get dirty without you noticing it: While black grout seems like something that can easily hide dirt, it can actually deliver the opposite effect.
The dark color can make it more challenging to keep the tiles and grout clean, especially since you won't know if it needs cleaning in the first place. This is crucial for common areas with high foot traffic which tend to get dirt more compared to other areas.
• Dark grout fades over time: The truth about black grout is that it does fade over time and this is even when it is properly sealed. Since grout is extremely porous, it will fade even faster when exposed to moisture.
• Requires meticulous and specific maintenance for the upkeep: Many believe that having black grout means that it is easier to clean and maintain but it's actually the opposite.
Dealing with black grout can be incredibly messy and difficult to clean up. It can also fade through time so maintaining a luster look can take an effort to do so. There are other lower maintenance bathroom wall materials that can make cleaning easier.

• Not recommended with white glaze: Dark-colored grouts like black grout are not ideal to match with white glaze because of the tendency to stain. To make sure that staining is minimized, use a sealer for your grout.
| | |
| --- | --- |
| Pros of Subway Tile with Black Grout | Cons of Subway Tile with Black Grout |
| · Beautiful appearance | · Can be difficult to install |
| · Creates interesting contrast | · Black grout can fade over time |
| · Brings focus to the tile | · Harder to clean up |
| · Creates a bold design pattern | · Should not be used with a white glaze |
| · Darker grout can help conceal grime | · Can become dirty without you knowing |
Adding White Wall Tiles with Black Colored Grout to the Kitchen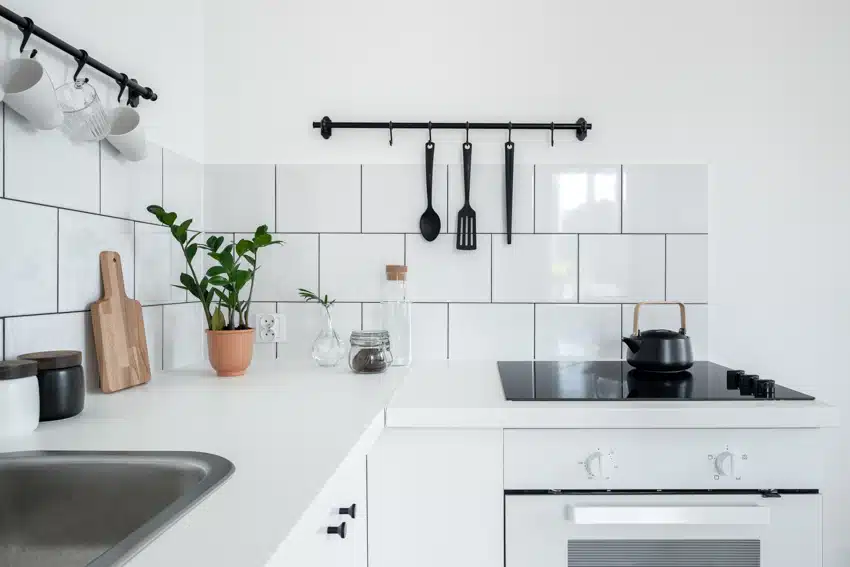 White subway tile with black grout is a popular choice for the kitchen, primarily since white tiles are the go-to option for the kitchen. This is an incredible option if you're looking for something eye-catchy and eclectic to add to your kitchen walls.
This combination of white subway tiles and black grout can make a fun addition to your kitchen, whether you're installing this for your kitchen backsplash or as a kitchen accent wall.
A kitchen with a subway tile backsplash will look traditional, but the black grout will make it look more contemporary and modern.
Some of the elements you can pair with this combination are the following:
• White kitchen cabinets
• Stainless steel appliances
• Light-toned wood flooring
• Pendant lights
White Colored Tiles Matched with Black Bathroom Grout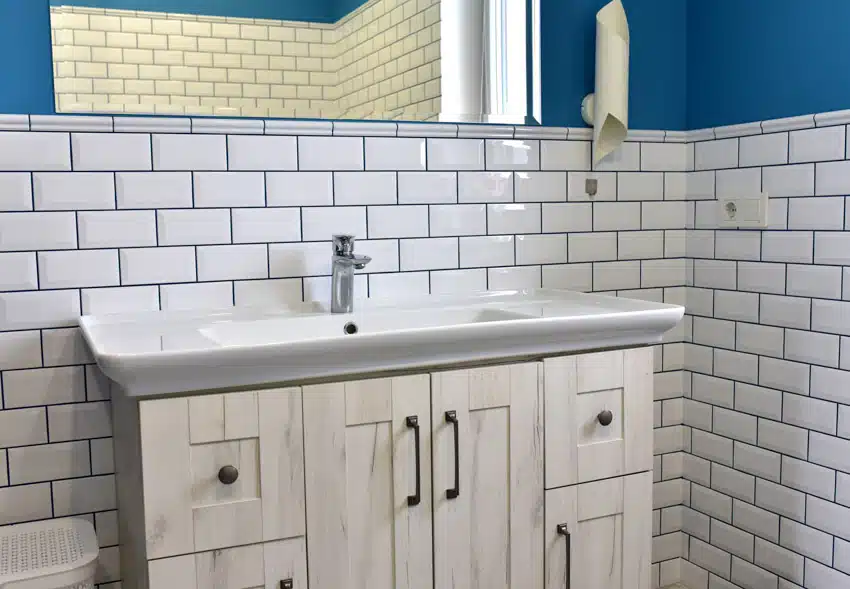 A white subway tile with black grout bathoom uses white rectangular tiles, typically 3 inches by 6 inches in size, arranged in a brick-like pattern. By using black grout it creates a bold contrast against the white tiles and highlights the individual tiles helping them standout and make an impression.
This design has become popular in recent years due to its classic yet modern look, and it can work well with a variety of decor styles. The black grout also has practical benefits as it can help to hide dirt and stains better than lighter-color grout.
You can make this a bathroom accent wall or half wall and pair it with wood grain marble vanity and a trendy frameless mirror.
The bathroom walls can have white subway tile with black grout while the floor can also have similar white tiles but only with ornate black patterns.
To create a more mellow look one can use a lighter color grout such as gray which will tone down the design contrast. See more pictures of bathrooms with subway tile here.

White Shower Tiles with Black Shower Grout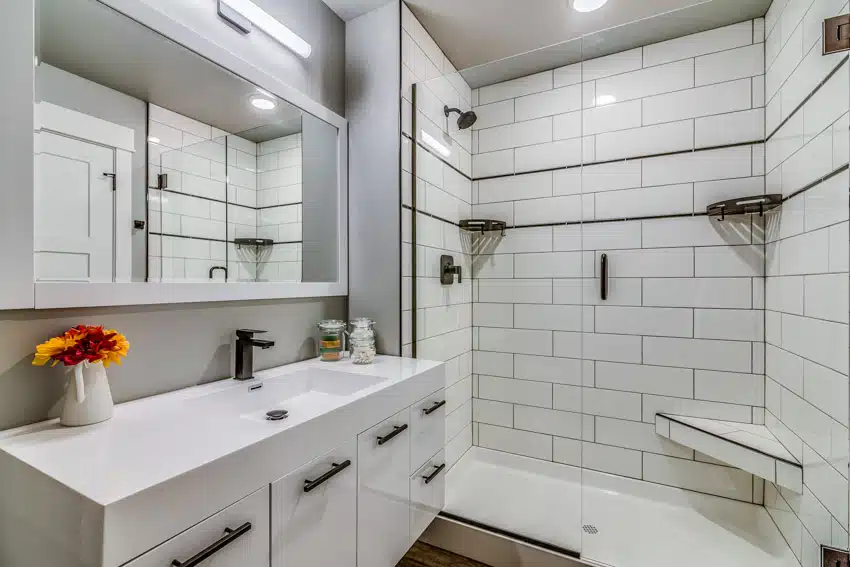 The shower area is one of the ideal spaces to install white subway tile with black grout, especially if you want to contrast the shower area from the bathroom without having to use any partition between the areas.
If you want some sort of partition, you can go for a white shower curtain with a black fringe to have a similar concept as the walls.
Other elements that you can pair your white subway tile with black grout shower are the following:
• Seamless glass enclosure
• Black faucet kit
• Wooden stool
• Black hexagon floor tiles
• White freestanding bathtub
• Wooden counter with white sink
How To Clean Black Grout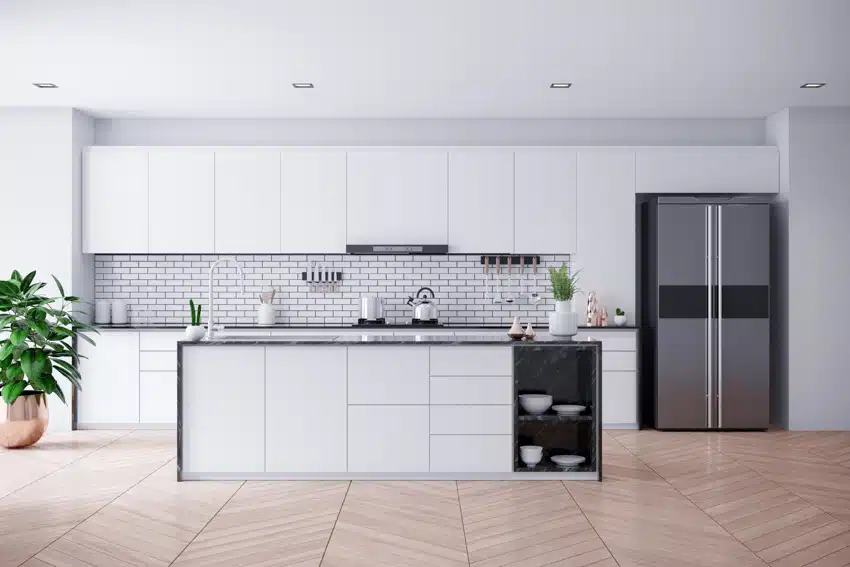 Black grout has become increasingly popular because of how the design adds an aesthetic punch and boldness to the mix. Popular for a minimalistic and modern farmhouse plan, this combination will need special caring if you want to keep this bold and stunning black grout on your white subway tiles.
Cleaning the black grout of your kitchen or bathroom needs to be regular and thorough but only after you make sure that it is properly sealed.
Choosing the right sealer is vital and the cleaning task can be laborious that you will need to schedule enough time to clean those tiny spaces between your white tiles. Here are some solutions that will come in handy with this task:
• Water and vinegar solution: Mix equal portions of water and vinegar to create this solution then use a toothbrush to rub it on the grout, leave it for a few minutes, then rinse with clean water and a sponge.
• Water and baking soda paste: Safe to use for dark grouts, this paste is created by pouring a small amount of water on the backing soda.
Follow the same process as the water and vinegar solution by leaving the paste on the surface for a few minutes before rubbing and rinsing everything off.
• Hydrogen peroxide and baking soda: You can use both baking soda and hydrogen peroxide in small amounts because using them in large quantities can lead your dark grout to become lighter and have stains.
Once applied to the ground, use a toothbrush to rub it on the grout and a sponge and water to clean the dirt and mixture.
• Water, baking soda, and dish detergent solution: The combination of these elements can be a wonderful cleaning product for your grout, along with their anti-fungal components that can make the cleaning task even more successful.
It might be a bit tedious to clean your black grout but it is a necessary task you need to undertake if you want to maintain the stunning look it offers your white subway tile. It is crucial for black grout since staining and discoloration can destroy its classy look.
Should You Use Grout in Black Color on White Subway Type Tile?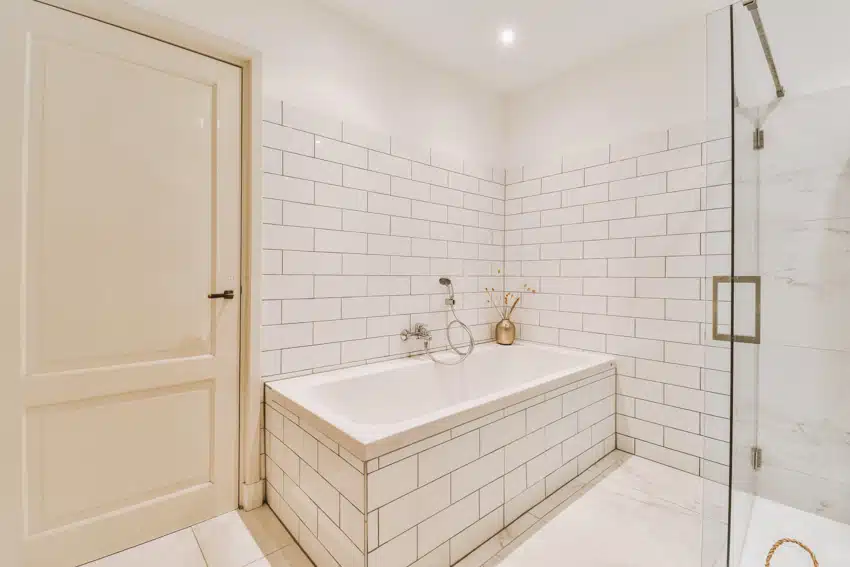 Yes, you can use black grout on white subway tile especially if you're looking for something that's both classy and dramatic. The contrast of the dark and light shades can look wonderful and provide a certain depth to the appearance.
Black grout can serve as a bold outline of the tiles and add texture to the area. Whatever pattern you choose to have for your white tiles (like the subway), the black grout can emphasize it more and give it a bolder look.
The major downside of using black grout is that even if many homeowners believe it hides dirt, it will also lead you to believe that it's still in good condition even when it needs a thorough cleaning from dirt and mold. If this is the case, just make sure to regularly clean the grout, with or without the dirt showing.
See more related content in our article about full tile bathroom wall designs on this page.