Here we our gallery of kitchen accent wall ideas including the different colors and materials to use, such as shiplap, tile, stone, wallpaper, and wood accent wall designs.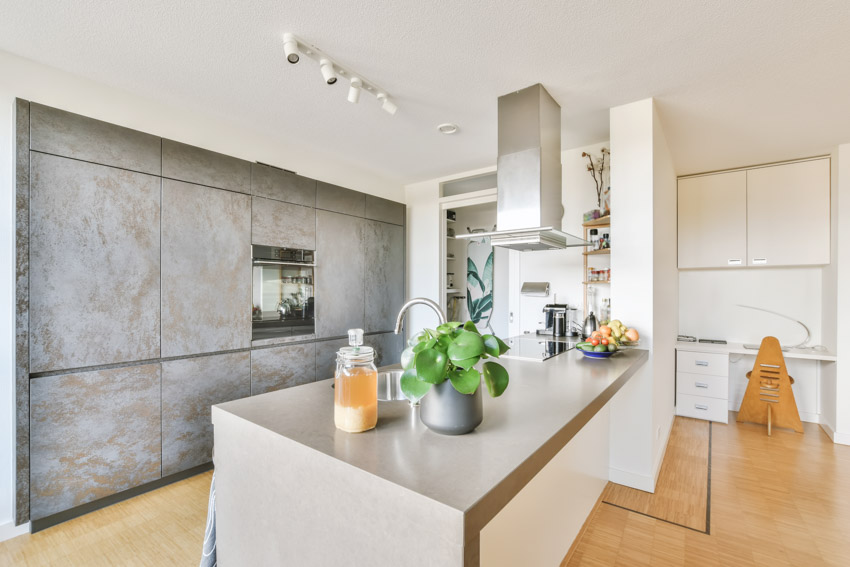 Kitchen accent walls can either contribute to the room's current style or bring something different and unique to the room. When you first enter a kitchen the wall you see directly across from you is often the best for creating visual interest.
Kitchen walls with decorative features such as windows, archways or architectural elements are well suited for accent wall designs. There are many ideas you can apply to your own kitchen depending on several factors, from the kitchen's general ambiance to the budget you have for its construction. Here are some creative kitchen accent wall ideas for inspiration.
Kitchen Accent Wall Colors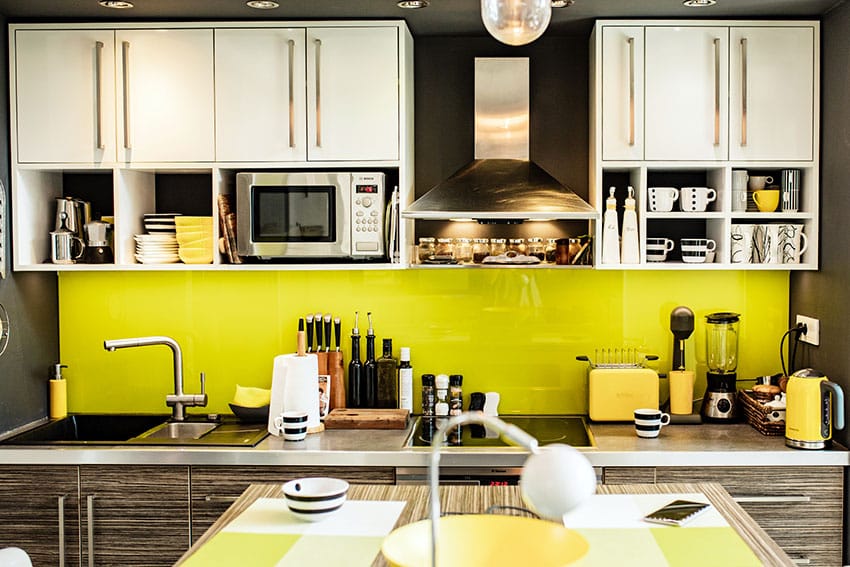 One of the ways you can differentiate kitchen accent walls is through the dominating color they showcase. You can match the kitchen accent wall colors to the theme you have going in the room.
Matching the accent wall to the dominating color of the kitchen decor and accessories can offer great results and a cohesive design.

Blue Kitchen Accent Wall
Blue is among the accent wall colors that can boost a room's vibe from boring to chic and stylish real quick.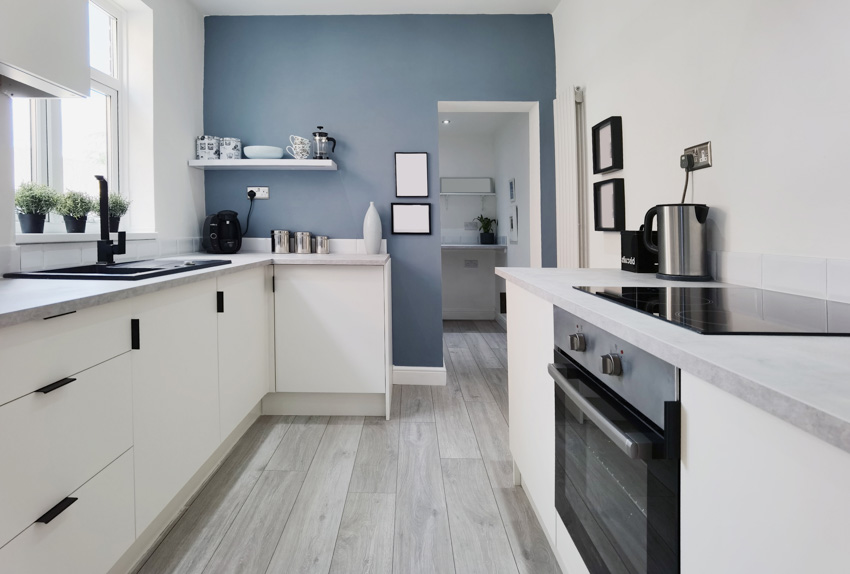 The blue accent wall in this kitchen brings a unique popping element that gives this room more texture. The blue stands out amidst the white and black in this modern-designed kitchen.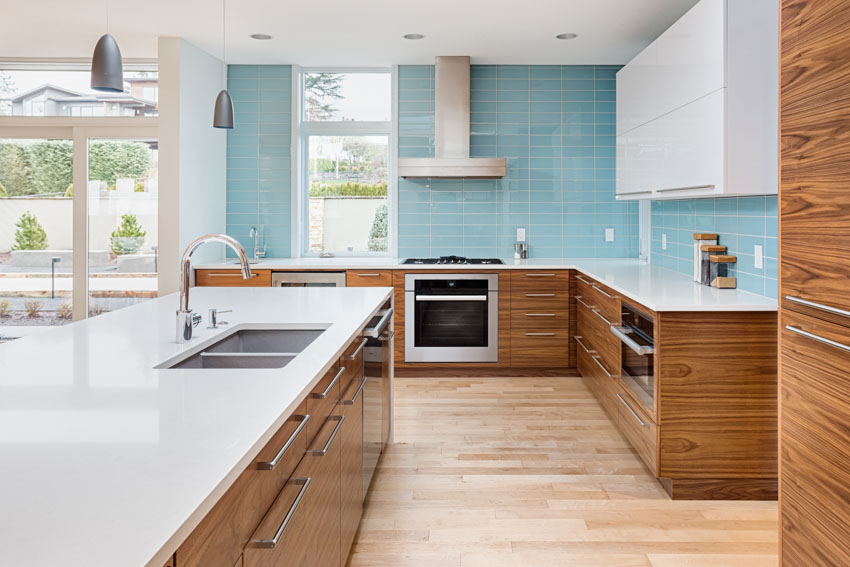 The blue kitchen accent wall in this luxurious home showcases something light and fresh to look at. With the wooden flooring and cabinets and white countertops, the sky blue walls are fresh on the eyes without looking out-of-place in the design.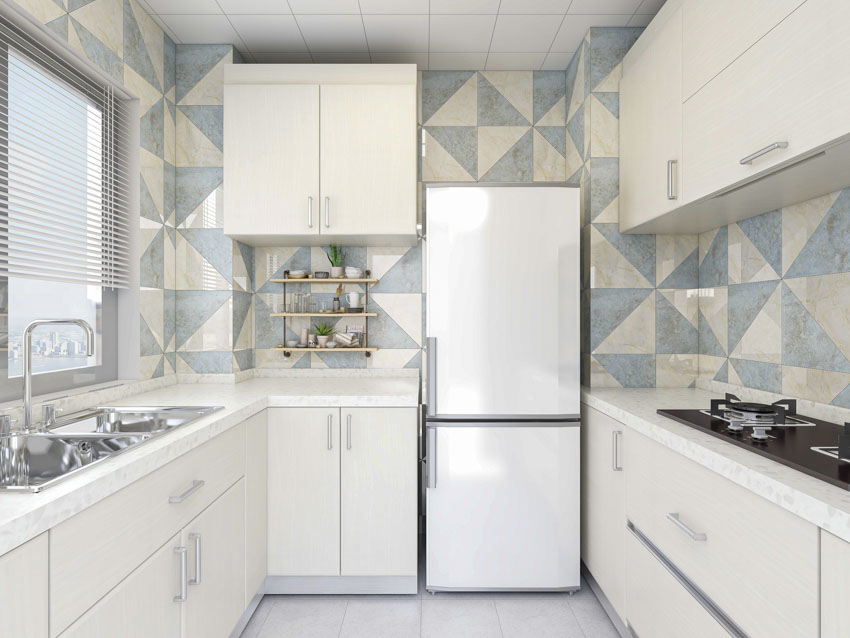 If you want something edgy for your modern kitchen, why not try blue and white geometric patterns? This blue and white kitchen accent walls offer something quirky to this straight-laced white room.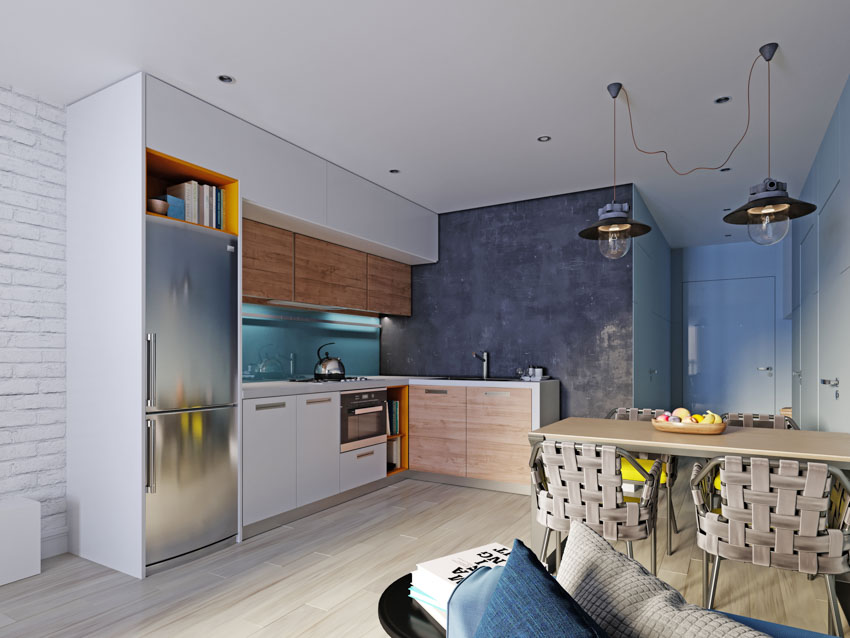 A blue kitchen accent wall will always look wonderful in a room with a blue and white color scheme. This is contemporary style houses several blue and gray elements that work excellently together.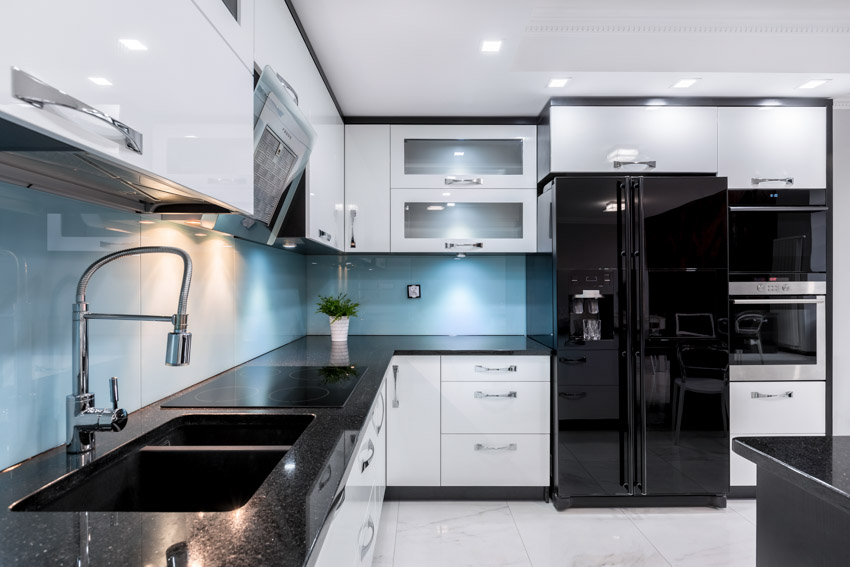 This modern kitchen has a black and white color scheme that looks incredibly elegant. The blue accent wall further adds to its luxurious and chic charm.
Black Accent Wall Kitchen
Black is a classic yet bold color you can always match with any other color, especially with white. The color screams beauty and elegance, even when used in the kitchen scene.
Here are some ideas you can use for a black accent wall in the kitchen.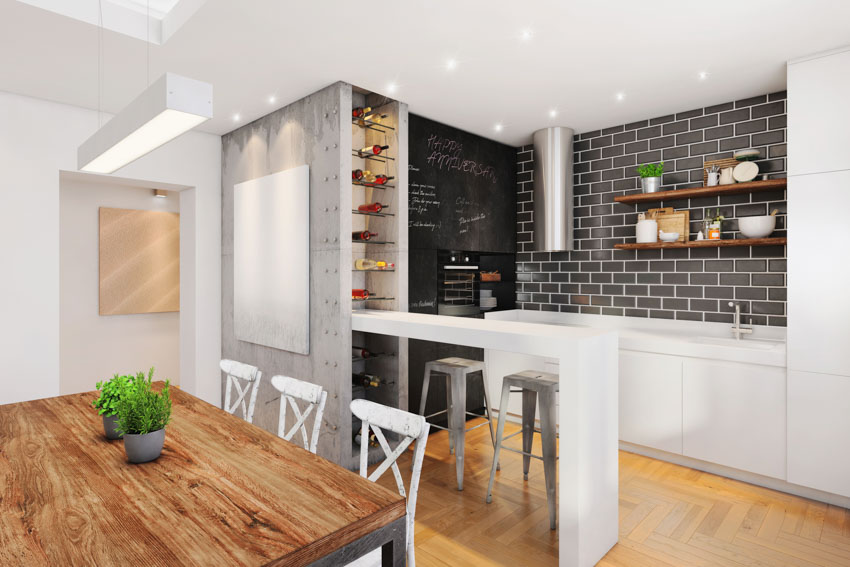 The black accent wall in this kitchen is made from black brick tiles, giving the room a vintage hipster twist especially when coupled with a wooden shelf and large counter.
The blackboard kitchen element and its white chalk writings round up the entire design.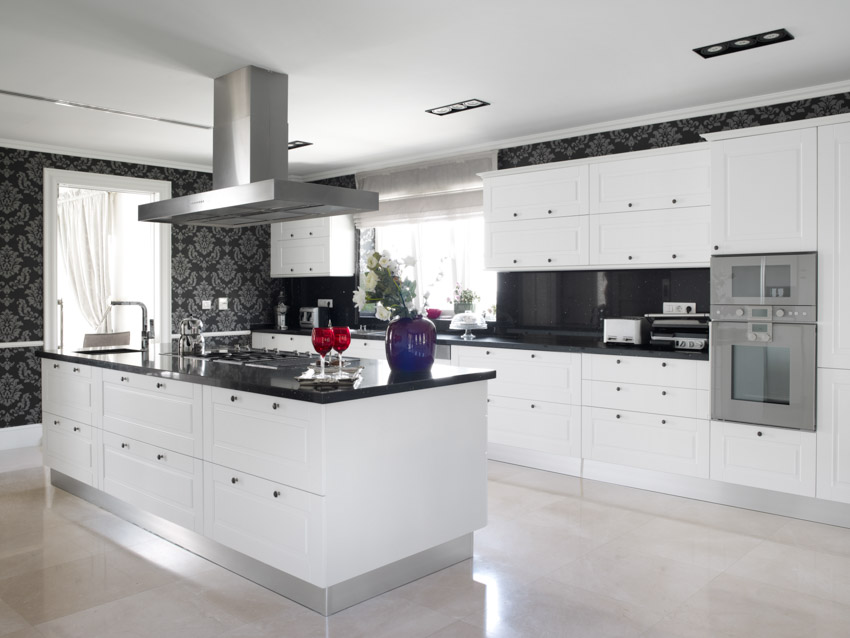 This domestic modern kitchen houses a beautiful black accent wall with its unique patterns. It also stands out in this white-dominated kitchen with the black countertop and backsplash rounding up the entire look.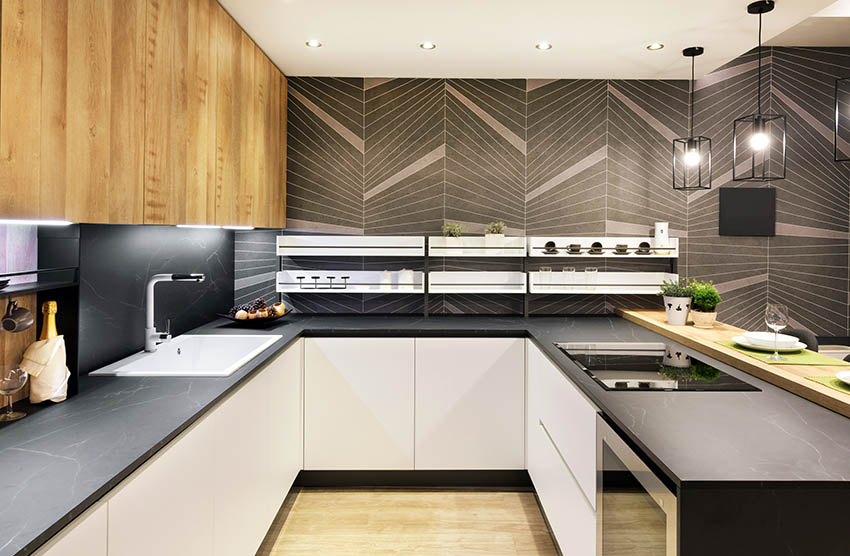 This modern kitchen features a number of contrasting unique materials and finishes. The light wood cabinets is offset by the dark soapstone countertops and modern geometric tile accent wall.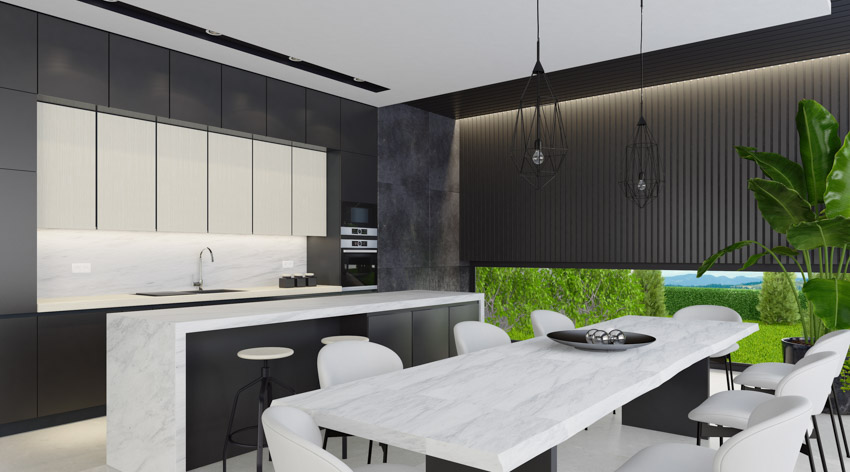 This trendy kitchen showcases a white and black color scheme, along with its white marble countertops and tables and black cabinets and walls. Its illuminated black accent wall is made from dark ceramic tiles that contrast elegantly with the white floor.
Red Accent Wall Kitchen
Red is a bold color you can always use to spice up a room. And yes, you can also do that to your kitchen! Here are some great red accent wall kitchens to try out.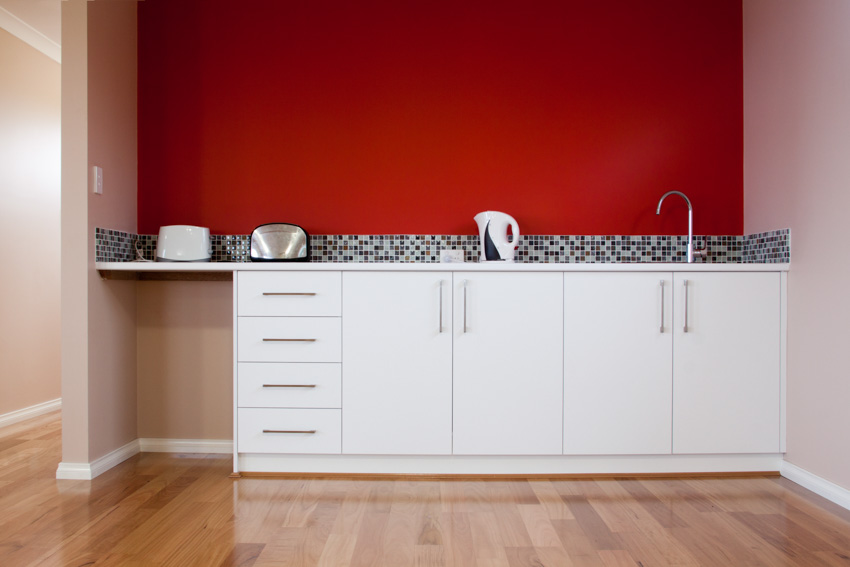 This indoor kitchenette has a bold red accent wall that gives it a beautiful twist despite its simple design.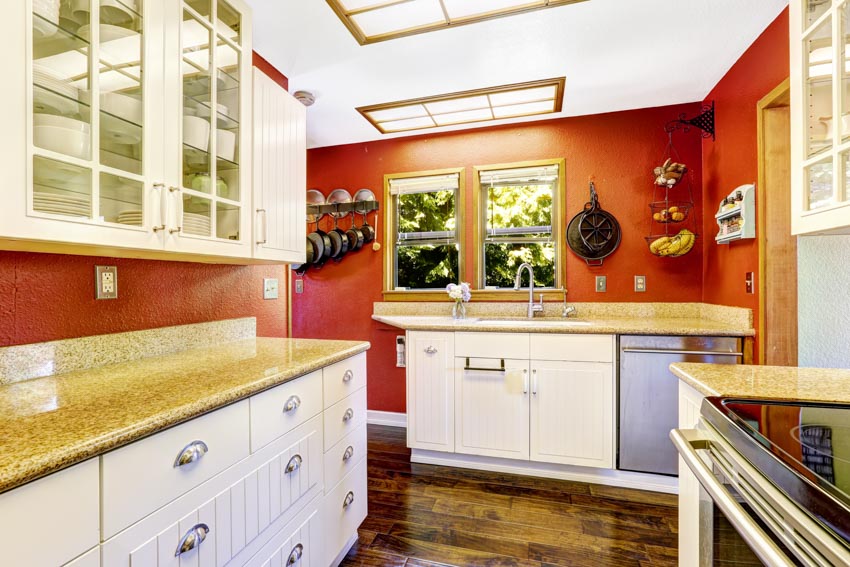 White can be paired with any color and it can balance bold colors like red. This is what this kitchen showcases with its white cabinets and countertops coupled with the bright red accent wall.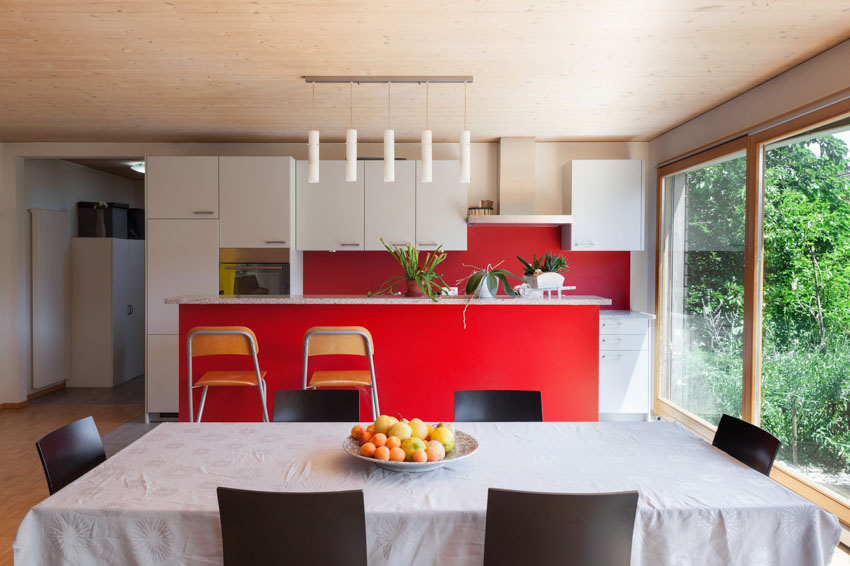 The red accent wall that acts as a backsplash in this kitchen matches its red countertops. The color is then paired with white cabinets and wooden flooring, along with its homey table and chairs.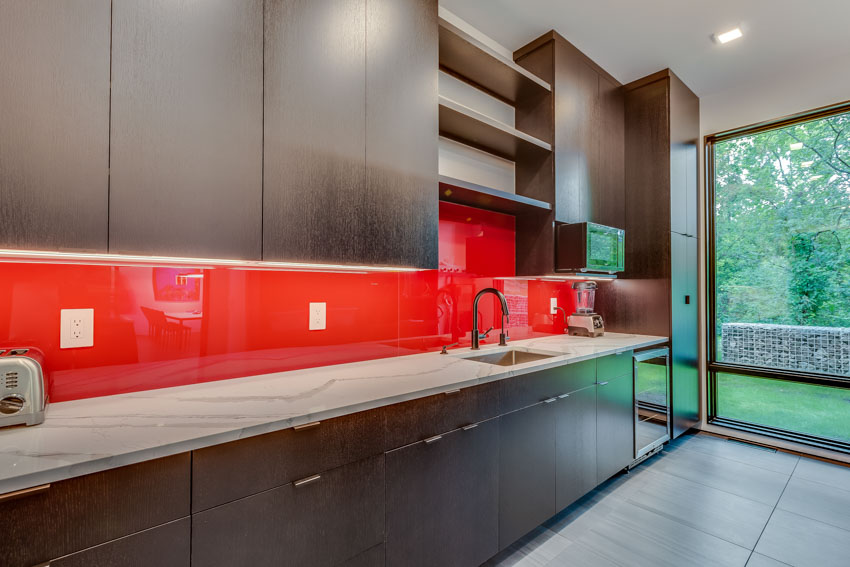 This modern kitchen shows a bright red backsplash as an accent wall coupled with wooden cabinets and flooring. Brown and red look wonderful together, a good contrast to each other.
Yellow Kitchen Accent Wall
If your kitchen feels gloomy and needs a pick-me-up, a yellow accent wall is a great solution. Here are some ideas you can apply.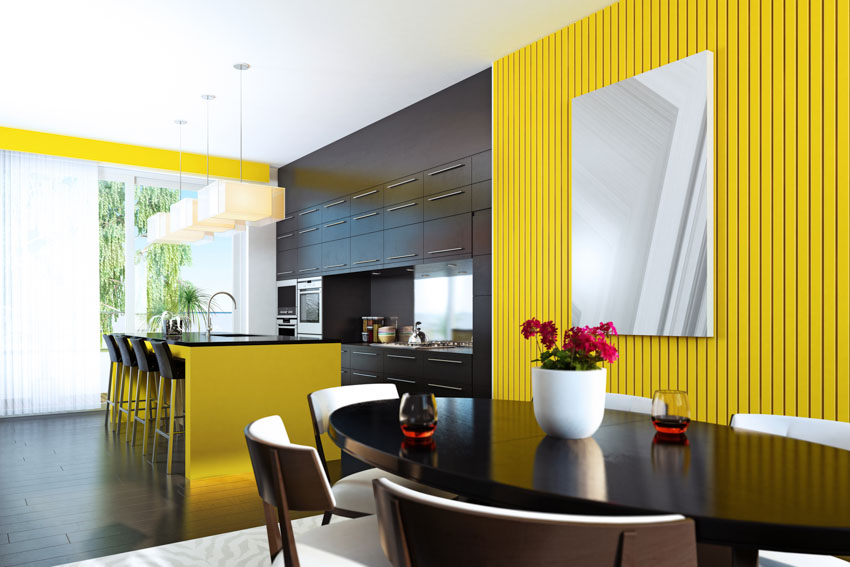 This modern kitchen interior sports a bright yellow accent wall that matches the countertop. The wooden slats vertically positioned on the wall also give the kitchen texture.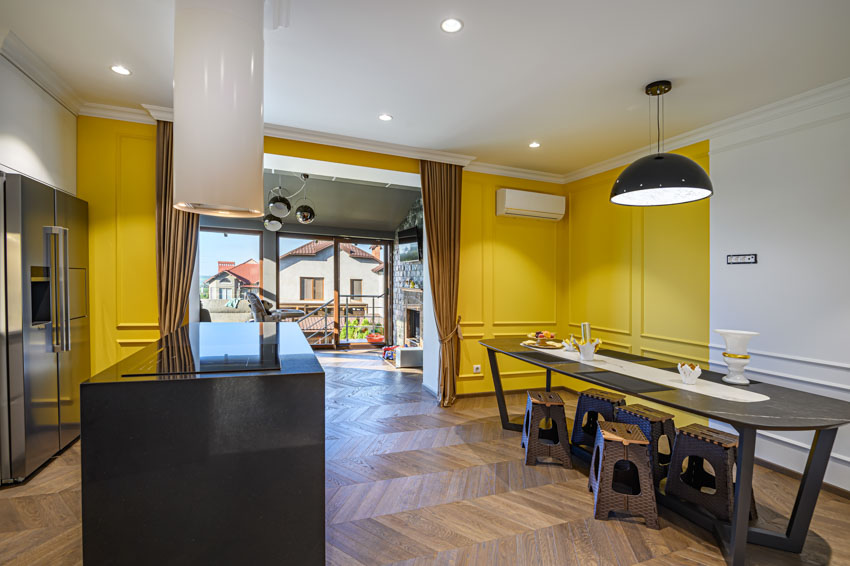 This modern kitchen has white walls with a popping bright yellow accent wall that gives the room a twist. While the kitchen may have a minimal design, its yellow accent wall adds luxury to the entire vibe and appeal.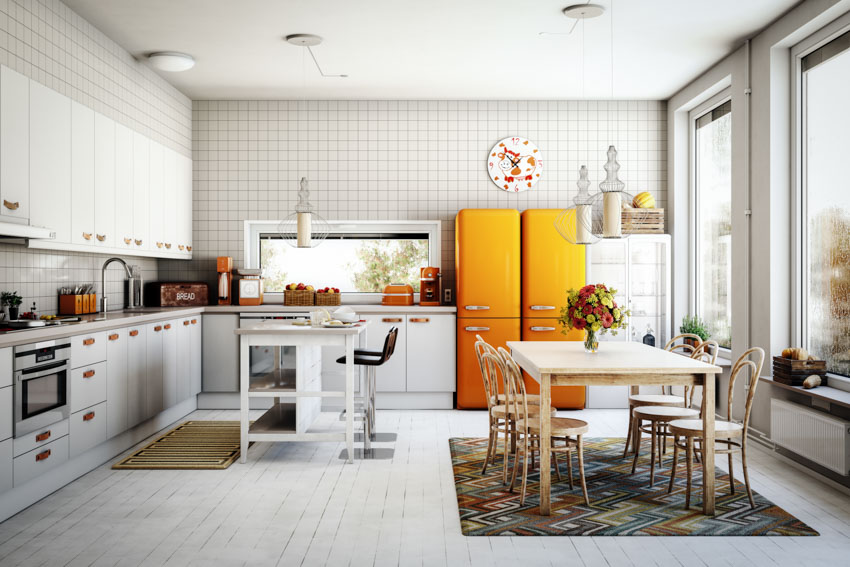 This kitchen showcases all-white kitchen walls, floors, and ceilings, which perfectly showcase a clean and sanitary feel. The Scandinavian kitchen has checkered tiled walls that add to that simple and clean vibe.
While not a wall per se, the bright appliances create an interesting backdrop that showcases another way to get the look of an accent wall.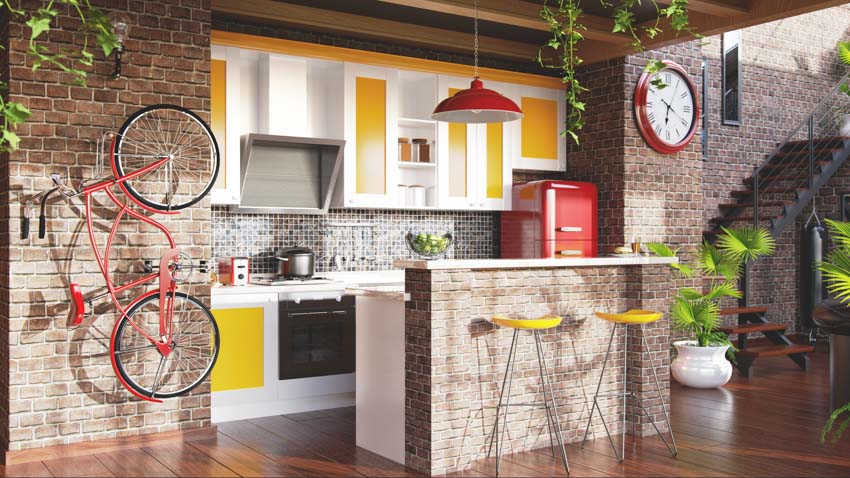 This kitchen features a brick pattern wall that runs from the kitchen to the adjacent room. This brick pattern is also displayed on the island and its backsplash showcases small dark-colored squares. The yellow kitchen cabinets bring create a focal point that draws the eye and makes a statement.
Green Accent Wall Kitchen
Green is a fresh and earthy color that can transform your flat white kitchen into a room with a cool and refreshing vibe. If you want to try it out, here are great green accent walls to use.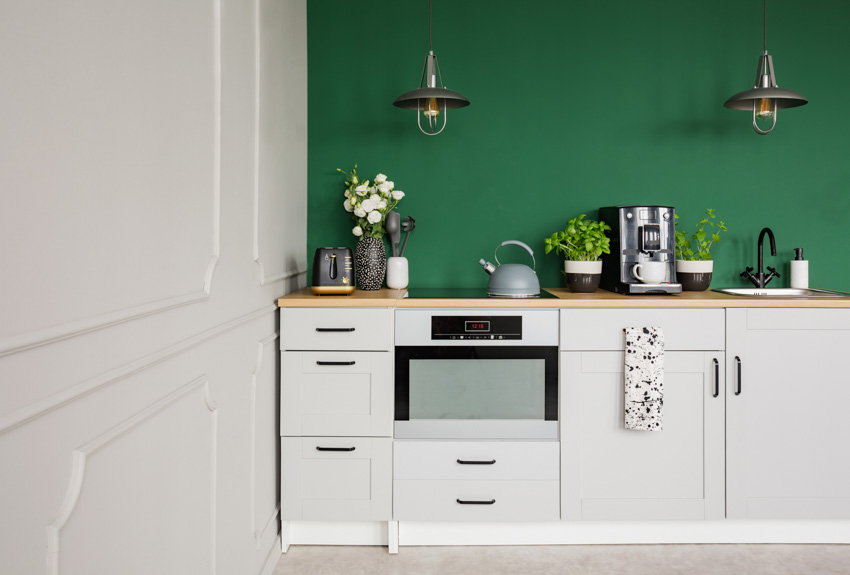 This simple white kitchenette showcases a green accent wall with indoor plants rounding up the whole earthy look. The hanging lights also add brightness and elegant appeal to the kitchen walls.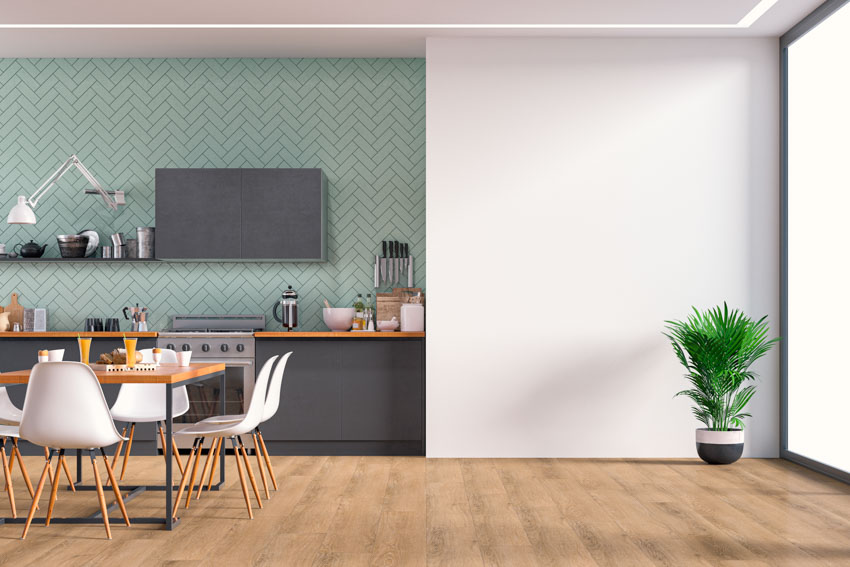 This simple kitchen offers a clean and fresh look with white and green walls positioned side by side. The colors look excellent in contrast with each other and the indoor potted plant on the side of the white wall somehow rounds up the entire look.
The accent wall also has this adorable light green hue and tiling pattern that gives the wall a unique appeal.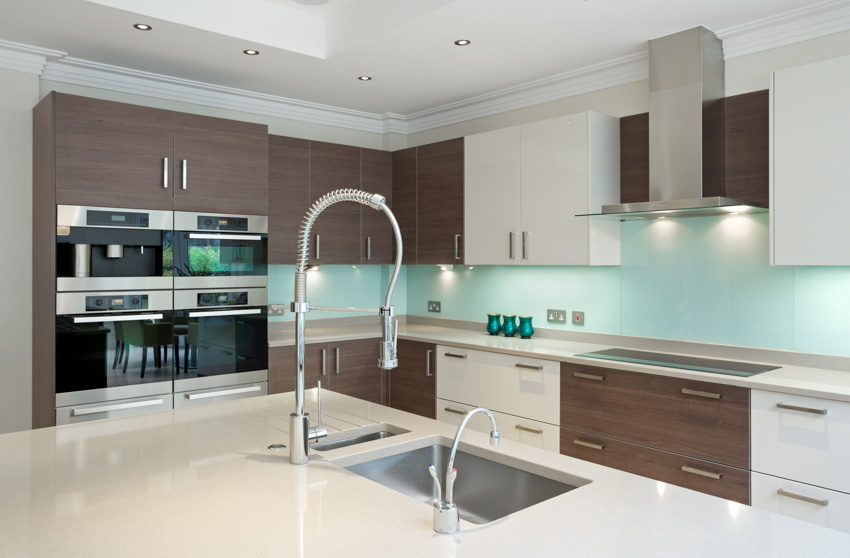 This modern kitchen features a large kitchen island and a green-tinted glass lined up below the cupboards that act both as an elegant accent wall and a backsplash.
The green in this kitchen is further supported by the three emerald green vases at the center of the countertops. The light green hue of the accent wall matches elegantly with the walnut and cream kitchen cabinets.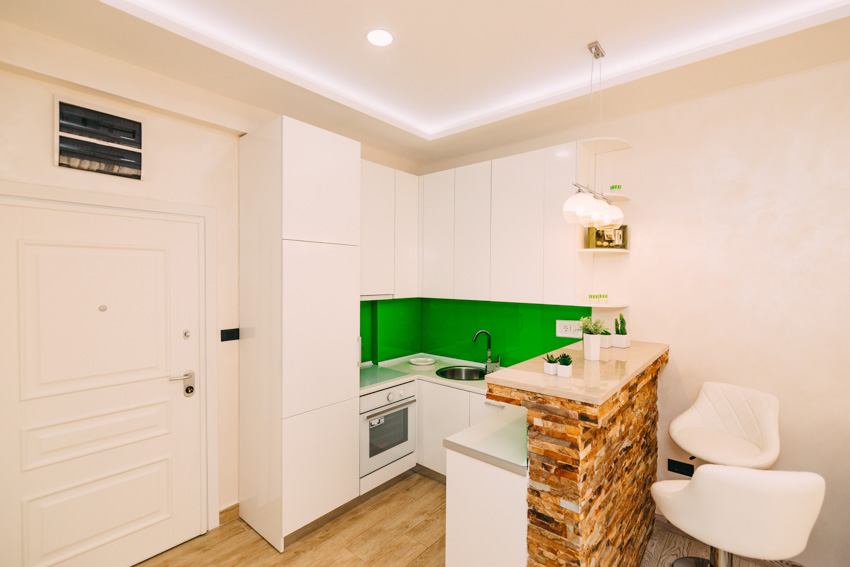 This small white kitchen is installed with a bright green backsplash that acts as a quirky accent wall. The green kitchen accent wall stands out when surrounded by the white elements in the room, from the white countertops, chairs, and cabinets.
Gray Accent Wall Kitchen
Gray is a neutral and elegant color you can always use if go for subtlety and doesn't like big bold colors.
The color can also easily be paired with other colors and act as a good backdrop. Use this incredible color with these gray accent walls.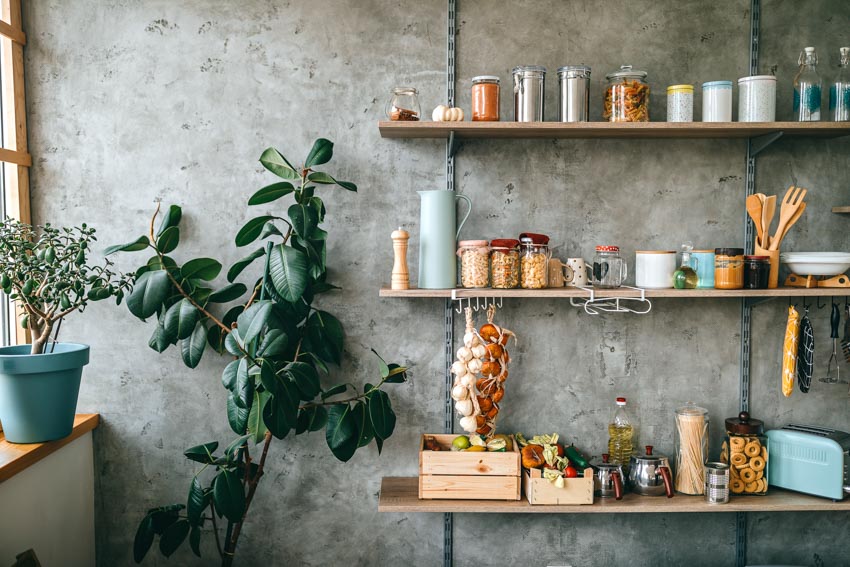 This gray kitchen wall accent is made from concrete, making the room look incredibly rustic. It is also a great backdrop for hanging shelves, jars, and indoor plants.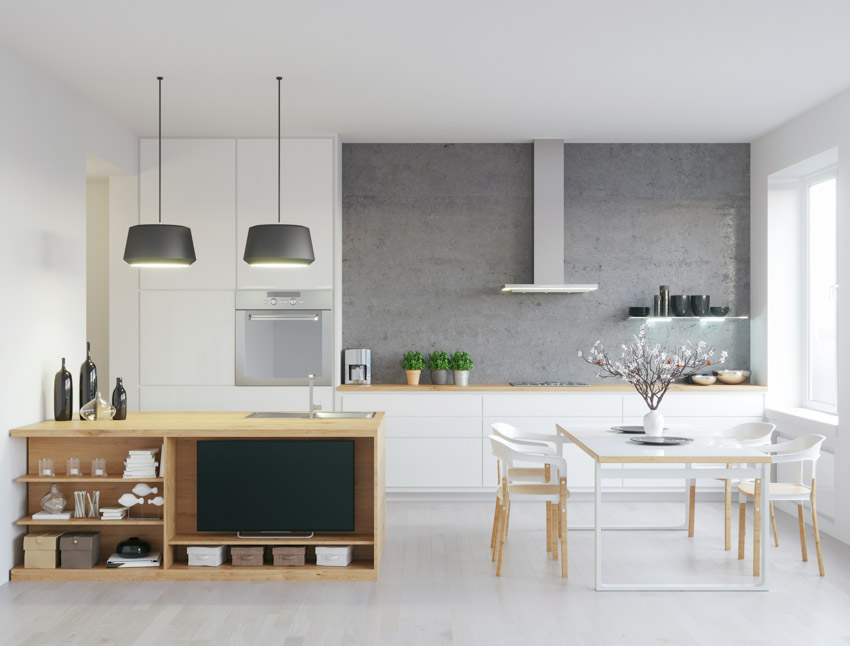 This modern minimalist kitchen showcases a simple gray accent wall that adds to the room's elegance. The white cabinets and walls allow the accent wall and other elements to stand out.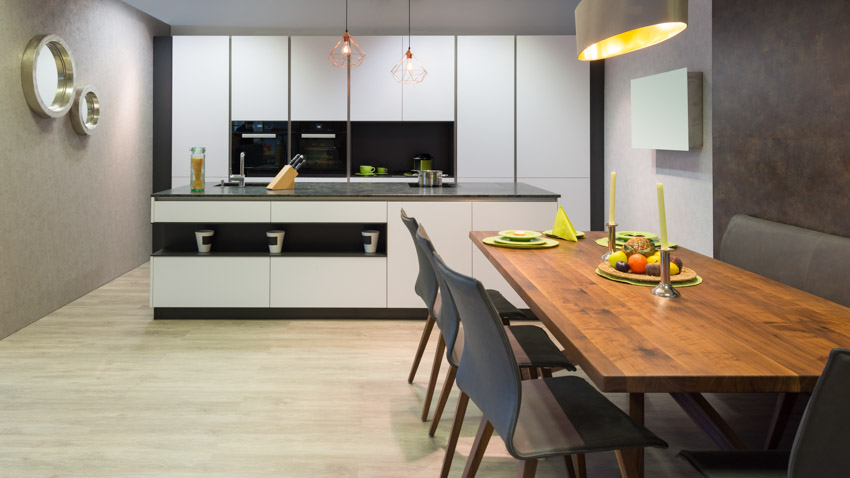 In this modern kitchen, the gray accent wall adds a new texture to the white and brown color scheme of the room.
The gray accent wall is a great background for hanging decor and other artworks you might want to install.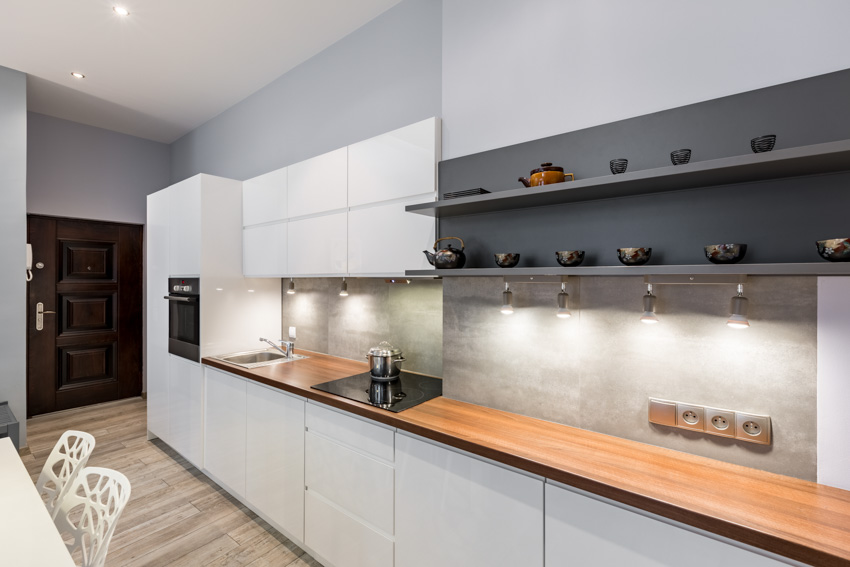 This contemporary white kitchen has a light gray backsplash that also acts as an accent wall.
The hanging led lights on top of the backsplash brighten the wall, making it stand out between the white kitchen cabinets and dark gray hanging shelves.
Shiplap Accent Wall In Kitchen
A shiplap is a wooden board similar to generic wood planks but it naturally slides and laps on top of each other once install side by side, whether horizontally or vertically.
It can be used for exterior siding but also works for an accent wall material. Here are some ideas you can use for a shiplap accent wall in the kitchen.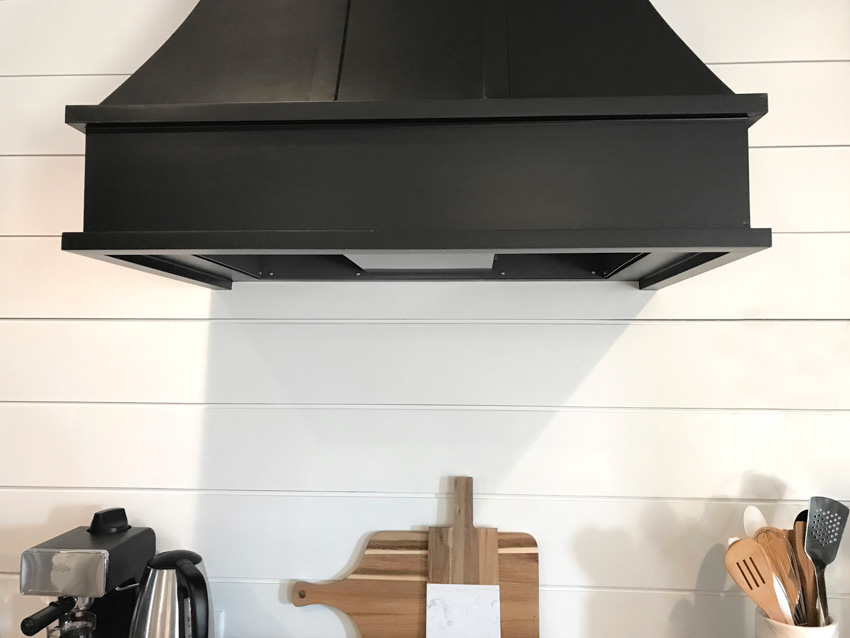 This kitchen has a white shiplap backsplash. This shiplap kitchen accent wall is made from pieces of shiplap horizontally installed on top of each other.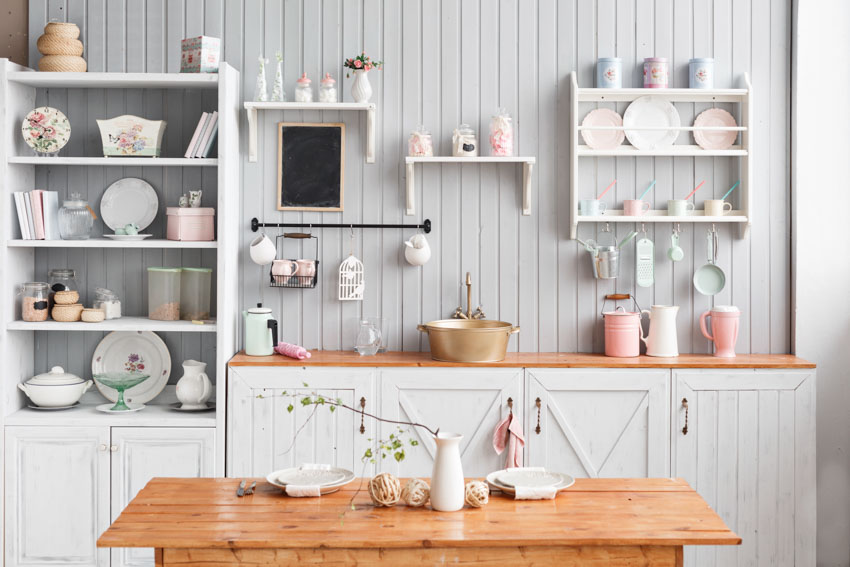 This white-dominated kitchen has a shiplap accent wall that becomes a perfect backdrop for hanging shelves and the kitchen tools and utensils placed on them.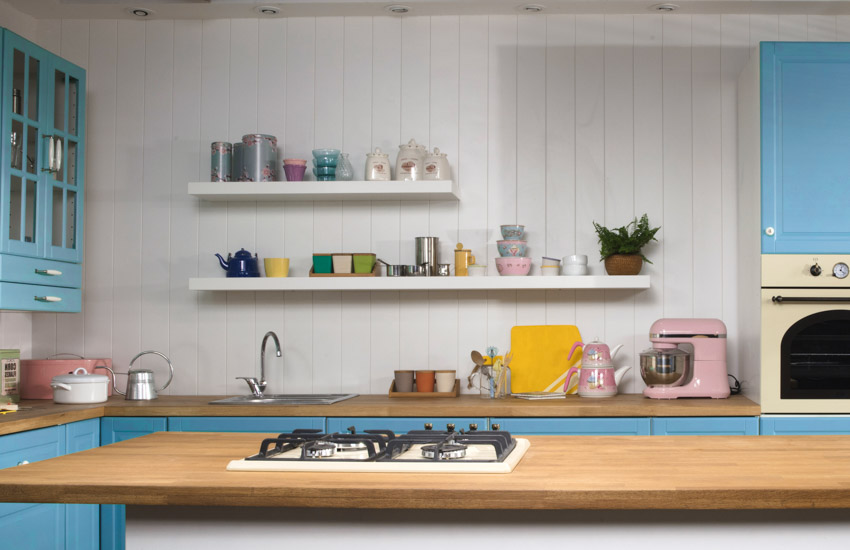 This sweet and chic kitchen has wooden countertops, light blue kitchen cabinets, and a white shiplap accent wall that looks wonderful with each other.
The pieces of shiplap are arranged vertically, making the kitchen look like its ceiling is higher than it really is.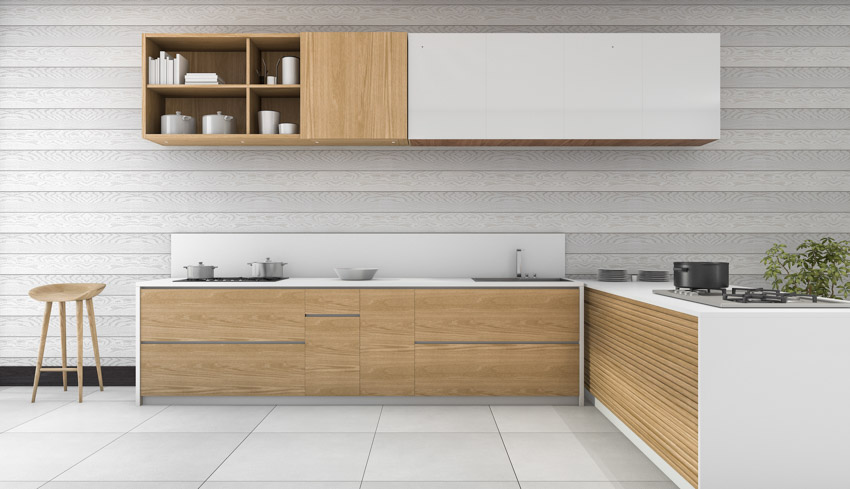 In this minimalist kitchen, the white shiplap accent wall is arranged horizontally, making a good backdrop for the hanging cabinet.
There is a great balance between the white and brown wood, from the white and brown cabinets and countertops to the white flooring and brown chair.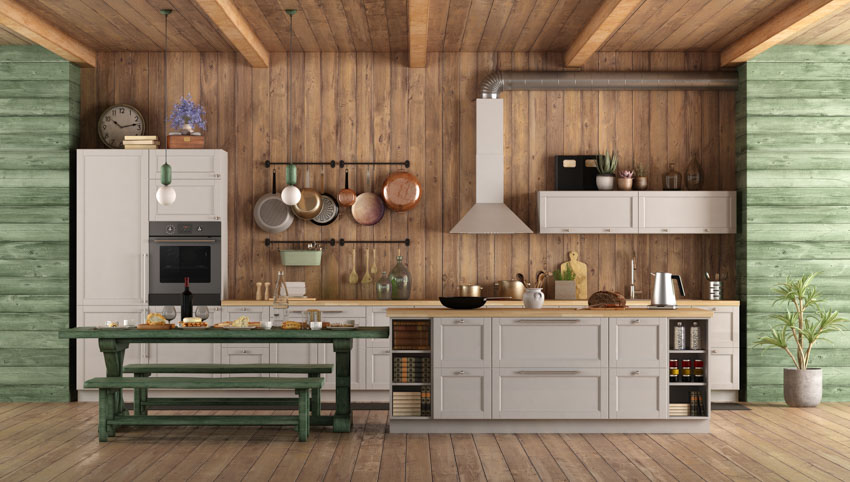 Brown and green are nature's colors, which when used indoors can transform it to look like you're outdoors. This retro kitchen does that, with a brown shiplap accent wall binding everything together, from the flooring to the ceiling.
Stone Accent Wall In Kitchen
Stone can also be used as an accent wall in the kitchen, and depending on its design it can add elegance and boldness to the room.
If you are looking for some ideas to use, here are some ideas to consider.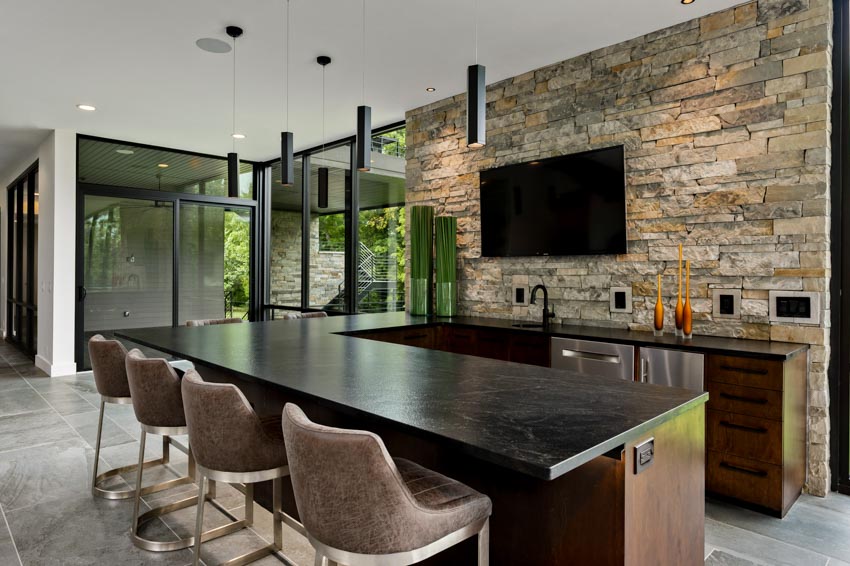 The stone accent wall in this kitchen looks rustic and elegant at the same time. The brown bricks look incredible with the wooden countertops and brown stools.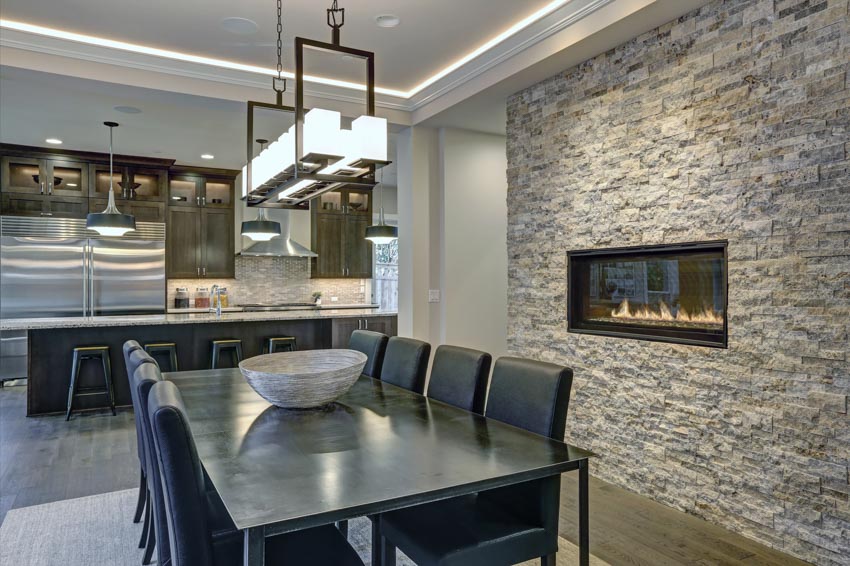 This modern open dining and kitchen feature a luxurious stone accent wall that houses a modern fireplace. The rectangular chandelier hanging on the ceiling brightens up the dining area.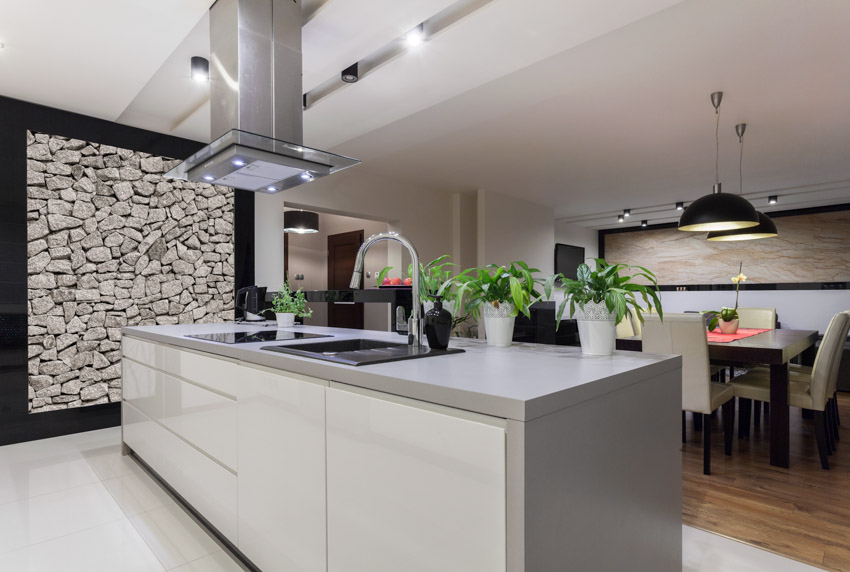 In this luxurious kitchen, the stone kitchen accent wall stands out like a creative artwork with its thick black border.
The gray stones on the accent wall match and gray countertops and look good with the white flooring, ceiling, black table, and hanging lights.
Wallpaper Accent Wall Kitchen
If you have a limited budget and don't want to spend too much on your accent wall, here are some ideas for a wallpaper kitchen accent wall.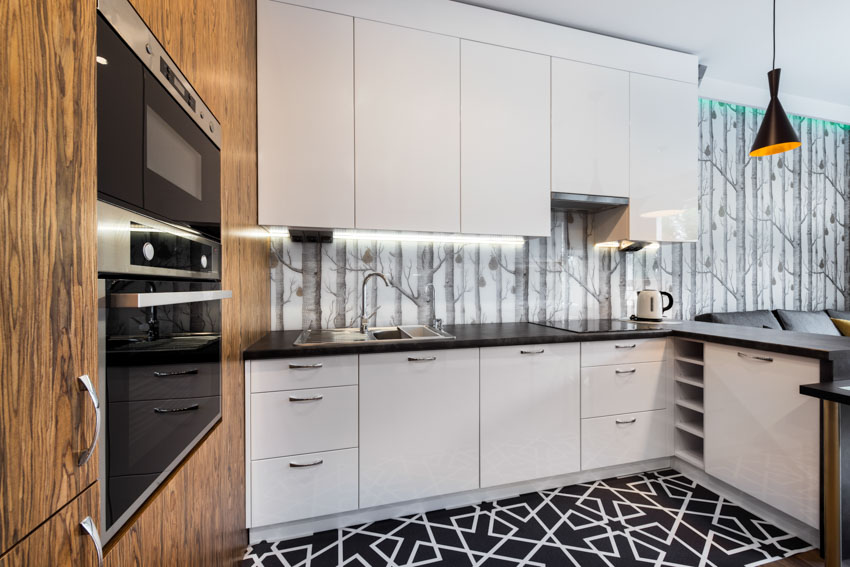 This modern kitchen sports white and wooden cabinets, black countertops, and quirky geometric shapes flooring. The wallpaper kitchen accent wall has a pattern of tree branches and trunks, adding a nature design in a rather modern setup.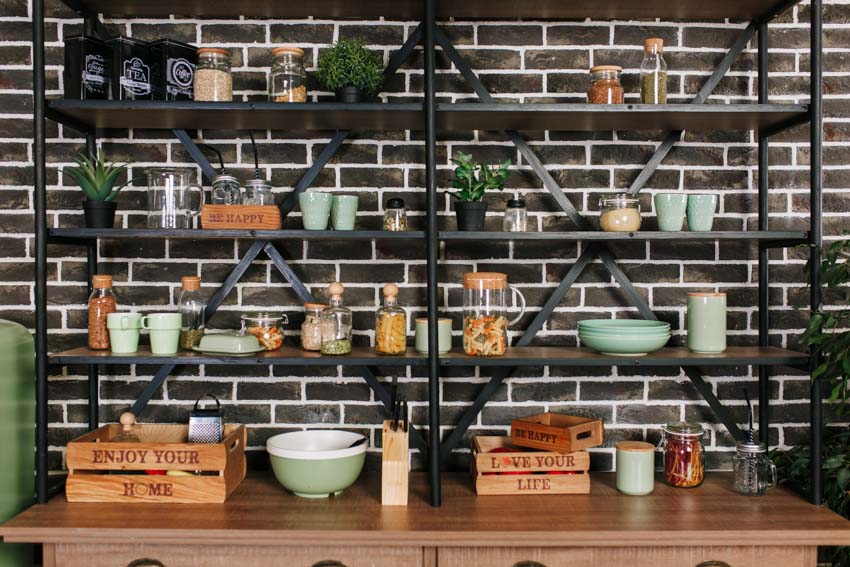 The accent wall in this kitchen is made from a black brick wallpaper, which matches the black loft-style storage leaning to it. The wooden and ceramic dishware adds character to the entire appeal and vibe.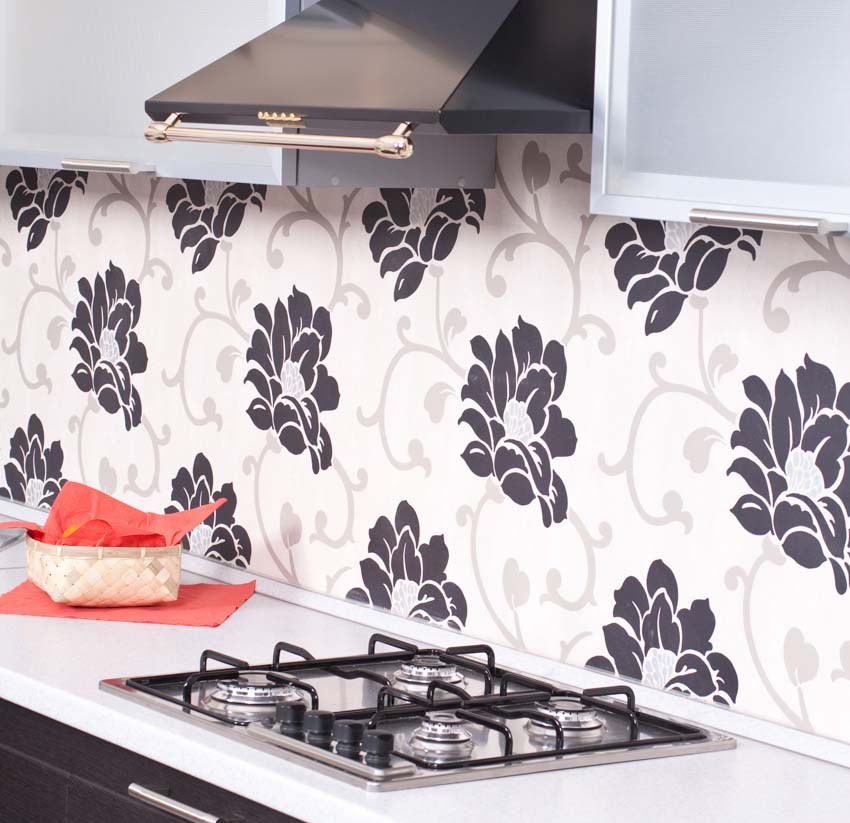 The wallpaper accent wall in the kitchen sports black flowers on a white background, supporting the white top countertop and the black cabinets beneath the countertop.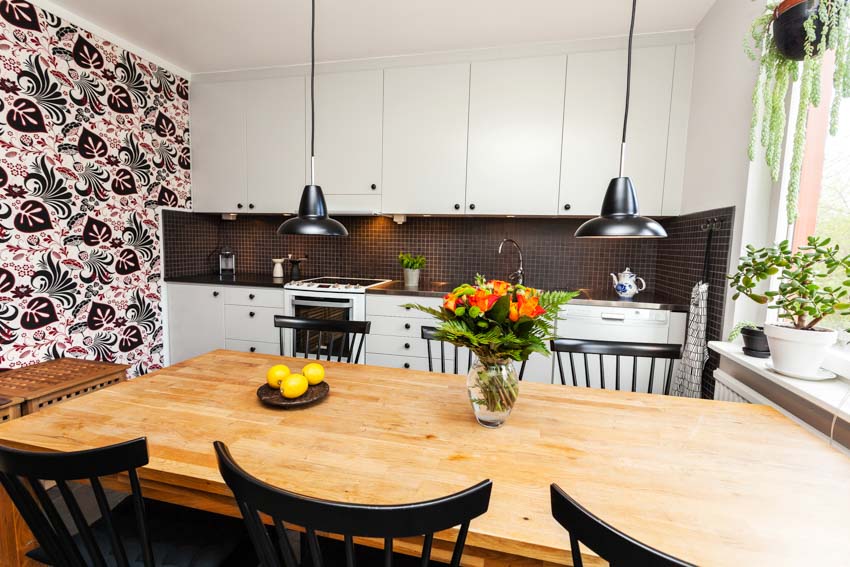 In this kitchen, the wallpaper accent wall has leaves and ferns patterns with green, brown, and black colors on it. These colors are supported by several indoor plants inside the kitchen, adding to its nature vibe in general.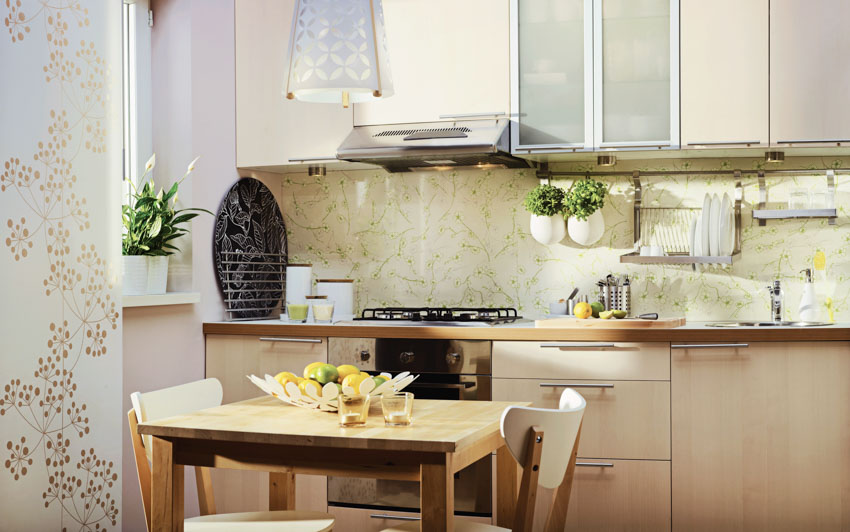 The artistic wallpaper used for this kitchen accent wall offers a subtle sweetness to this homey room. The cream color of the backsplash adds brightness to the kitchen without having to overwhelm the eyes.

Wood Accent Wall Kitchen
Wood is a classic material used for construction and renovation of the home, and yes even when it comes to accent walls. Here are some kitchen wood accent wall ideas you can use for inspiration.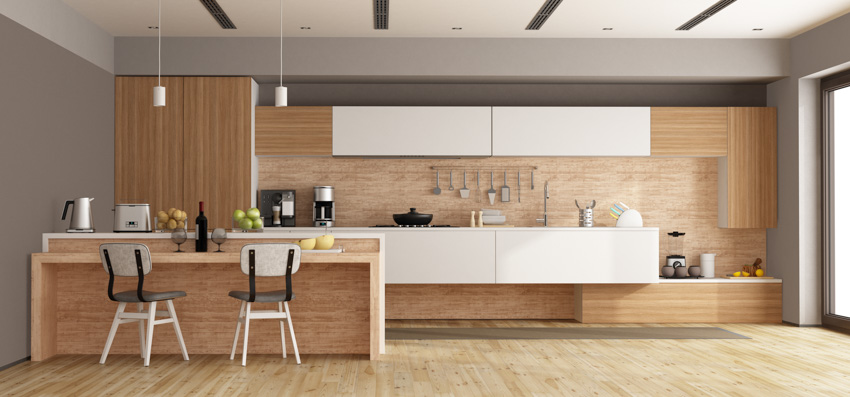 This modern kitchen has white countertops and hanging cabinets, as well as wooden flooring, countertops, and walls. The wooden kitchen accent wall and backsplash match the entire vibe going in the room.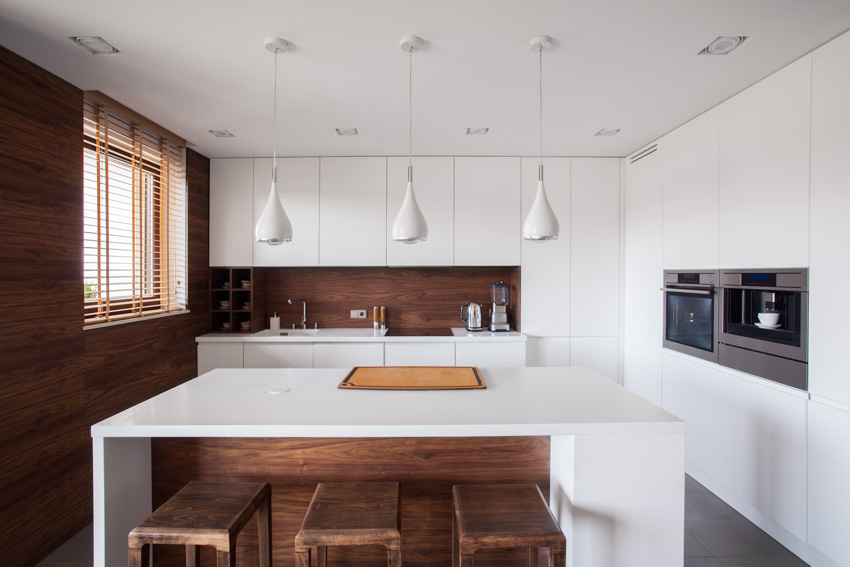 This modern kitchen is dominated by white and dark brown colors, which look great together since the combination of light and dark colors balances the entire vibe. The wood accent wall stands out because of all the white elements in the room.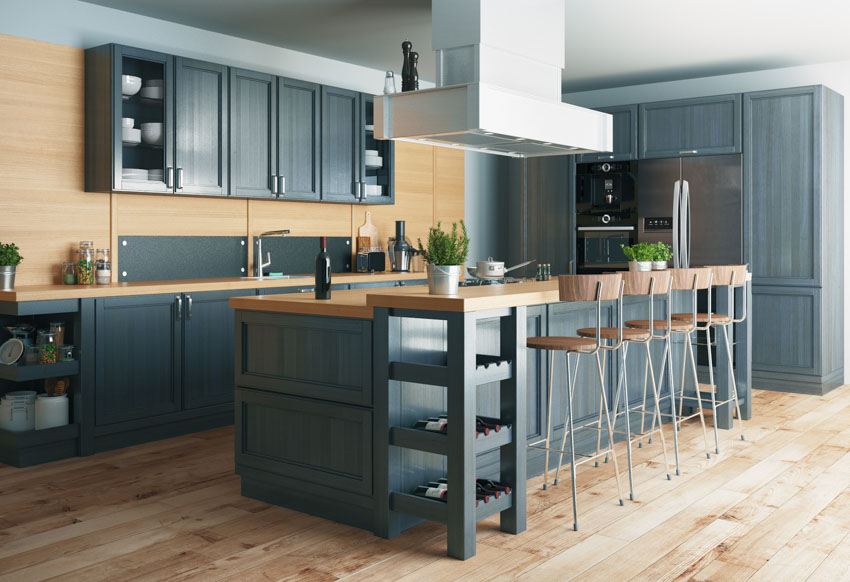 The wooden wall accent on this modern luxurious kitchen matches the wooden flooring. The dark color of the countertops and kitchen cabinets allows the wall accent to stand out beautifully.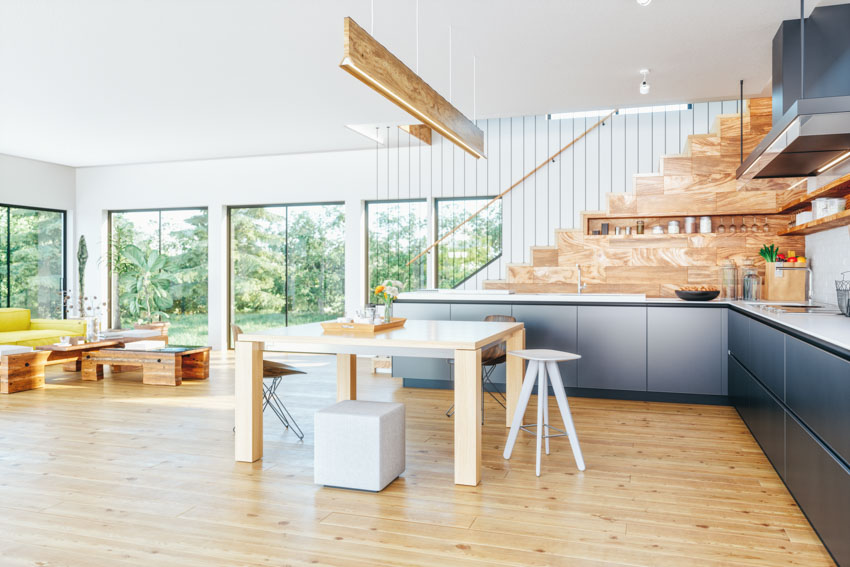 This open-floor kitchen has a modern vibe going, with all three areas (kitchen, dining, and living room) connected to each other without walls dividing them.
The wooden accent wall can be found on the side of the staircase, matching the color of the wood flooring
Tile Accent Wall Kitchen
Tiles are affordable and easily customizable, which is why it is a great material to be used for an accent wall. If you need inspiration for a tile accent wall for your kitchen, here are some ideas: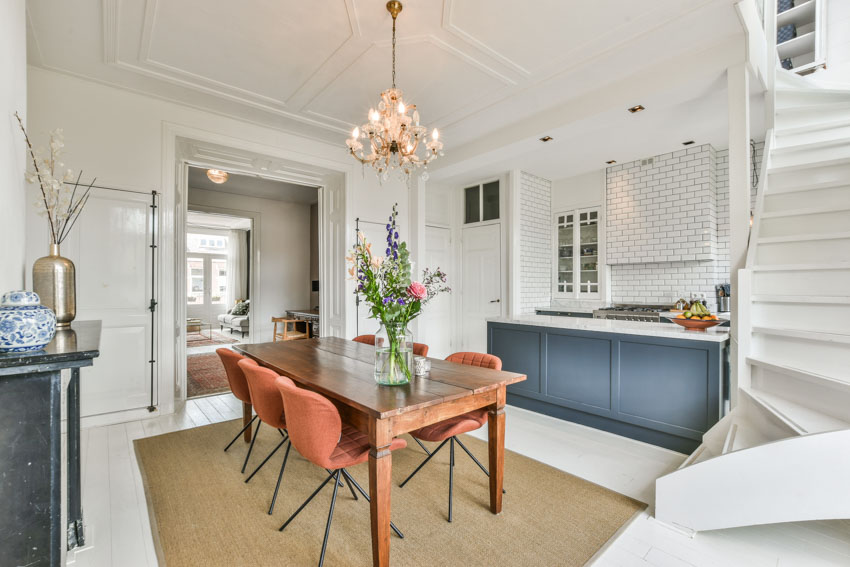 The tile accent wall in this kitchen follows a classic brick style in color white, matching the color of the entire kitchen and dining space.
The white color looks clean and luxurious, giving the area an elegant look that matches the luxury of the chandelier hanging on the ceiling.
This kitchen interior is filled with gray colors in classic style, with a trendy geometric accent wall in tiles. The pattern repeated on this tile accent wall is a hexagon, which is designed creatively and elegantly in blue, green, and white colors.
These colors and the geometric pattern look wonderful with the general theme and color of the room.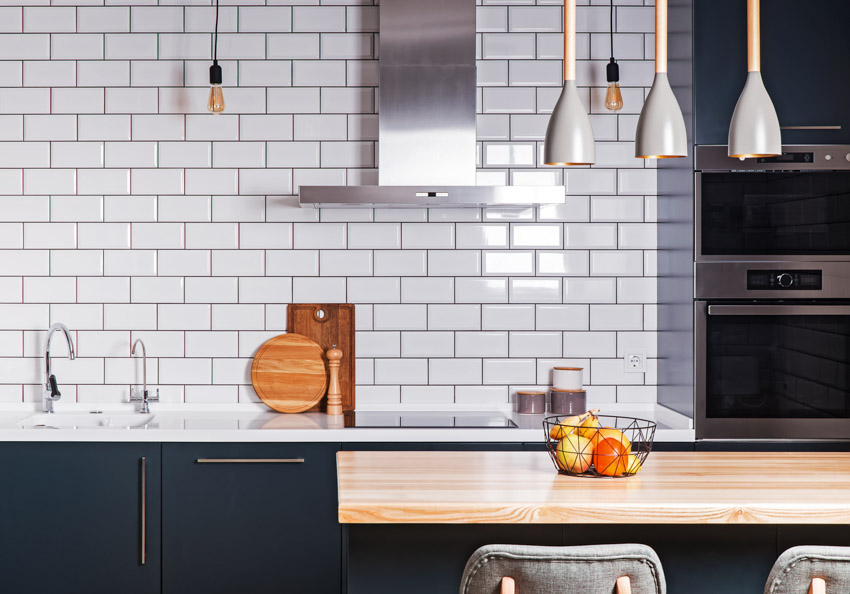 This spacious kitchen offers a brick tile wall that looks classic for the interior of a modern kitchen. It matches the color of the white countertop and somehow lightens the entire kitchen.
Chalkboard Accent Wall In Kitchen
Are you looking for something quirky and unique to add to your kitchen? One of the cool elements you can add is a chalkboard accent wall. You can use the wall to unleash your creativity or feel like you're in a rustic coffee shop.
Here are some trendy chalkboard accent walls you can try for your kitchen.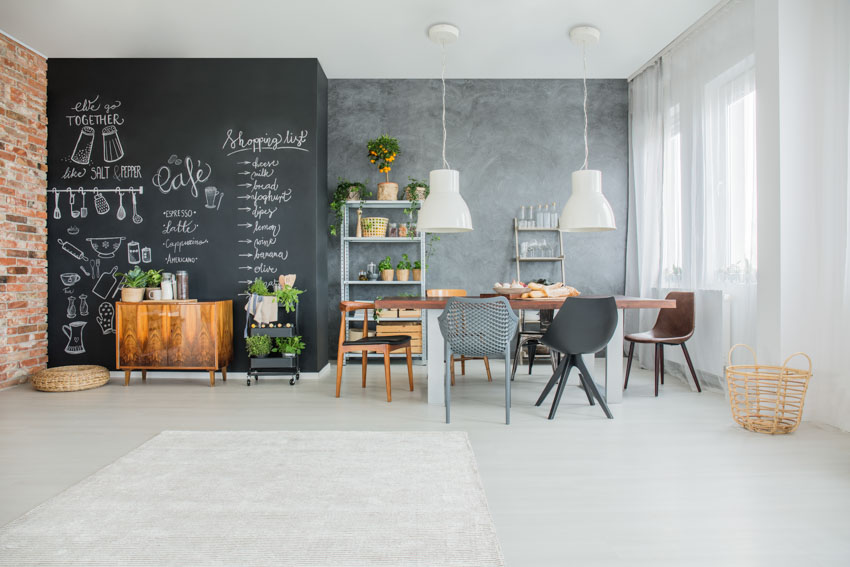 This spacious open kitchen/dining area showcases a chalkboard accent wall that gives a trendy and unique look to the area. This accent wall adds to the homey look of the kitchen.
This modern kitchen is surrounded by white elements, from the table and chairs to its walls and cabinets.
Its chalkboard kitchen accent wall brings something quirky into the mix, making sure that the kitchen does not look too formal or cold.
Galley Kitchen Accent Wall
A galley kitchen refers to a long and narrow kitchen bordered by base cabinets and hanging cabinets. These kitchens tend to be smaller because of their narrow walkway that appears like a hallway.
If you have a galley kitchen and need inspiration for an accent wall, here are some ideas you can use.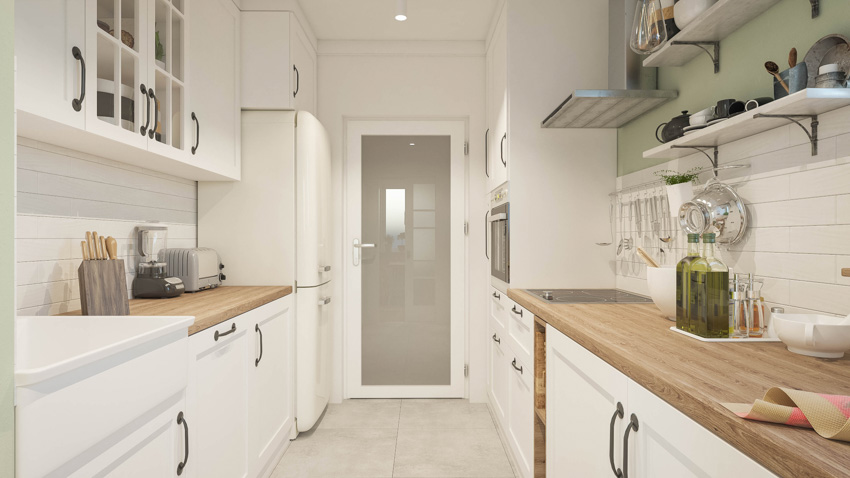 This galley kitchen has a minimalist style dominated by white cabinets and shelves, as well as wooden countertops.
The accent walls can be found on both sides of the galley kitchen, which appears to be made from white brick tiles, supporting the clean and bright look of the room.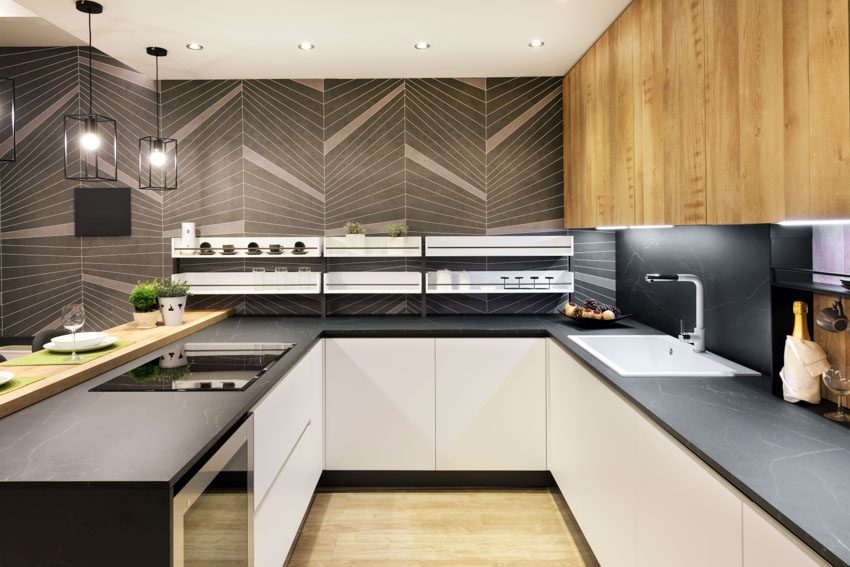 This modern galley kitchen has built-in appliances, white cabinets, and black countertops. Installed with ceiling lights, the kitchen has a trendy accent wall with black and white lines as a pattern.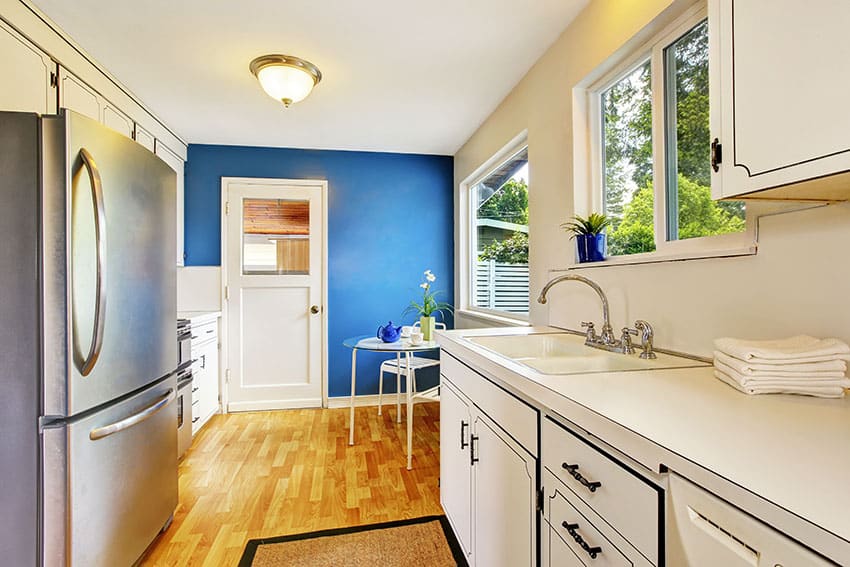 This basic galley kitchen is spruced up with it blue painted accent wall with white door and trim. A blue color in the kitchen is a classic and calming choice that can help energize an otherwise cramped space.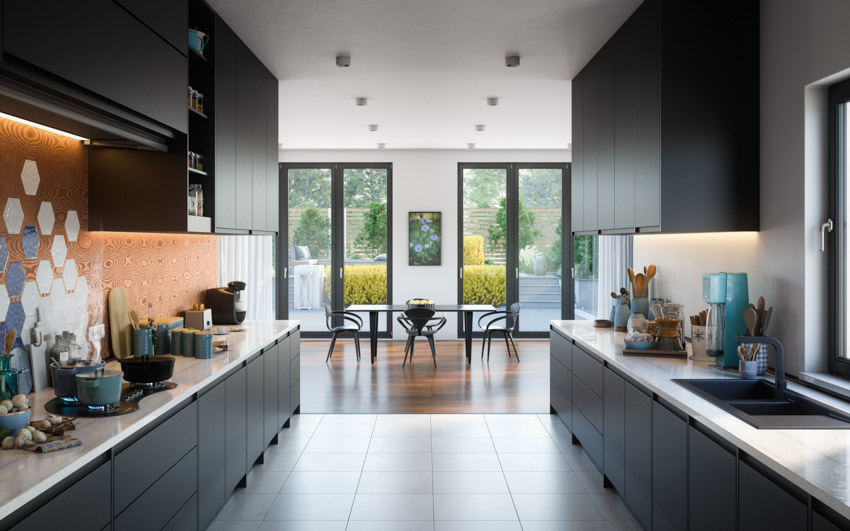 Compared to other kitchen galleys, this kitchen galley is wider and more luxurious. The kitchen accent wall is found at the right side of the galley, with a bright orange wall scattered with several hexagon shapes.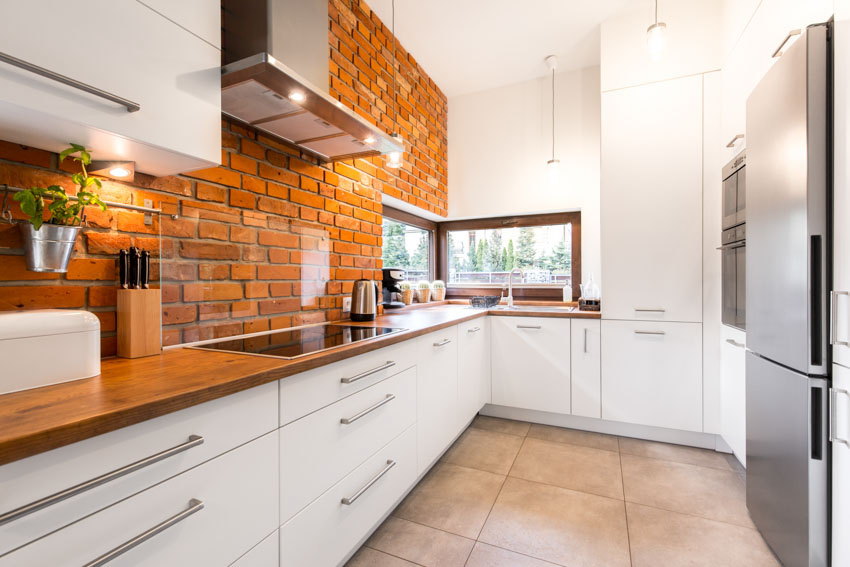 In this elegant kitchen galley, the accent wall is a brick wall by design, matching the color of the wooden countertops.
See more related content in our accent wall ideas gallery on this page.