See black quartzite countertops and discover what they are, the different types, kitchen design pictures, and the best quartzite countertop cleaning tips.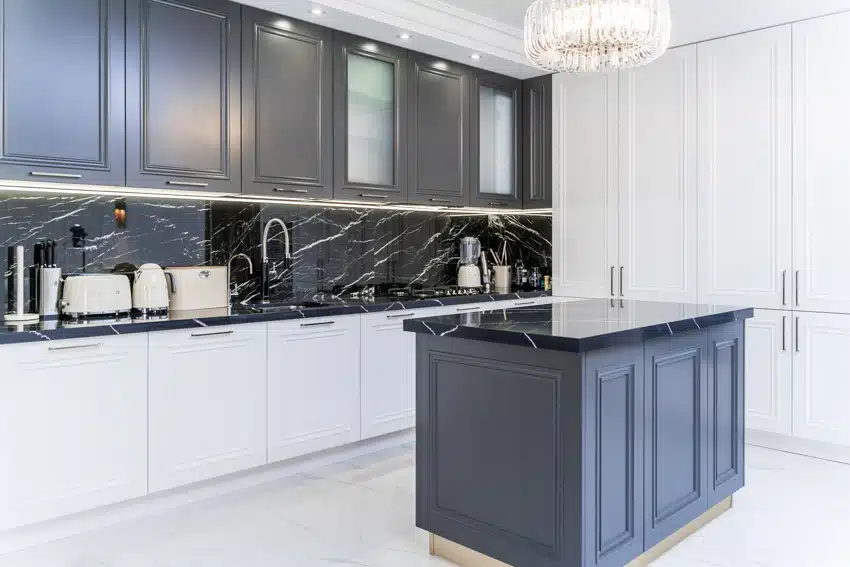 Black is an eye-catchy color that will definitely make you stop and look. This is exactly the reaction that a black quartzite countertop gets from people and more. Quarried from Brazil, black quartzite countertops are stunning and sophisticated to look at, making them an incredible visual addition to your kitchen's aesthetics.
If you are planning on revamping your kitchen and installing a new countertop, black quartzite may be a good consideration. It would also be a refreshing sight from the traditional white countertops and can be a great conversation piece whenever you host dinner parties. Make sure though that you first learn everything about it.
What Are Quartzite Countertops?
Quartzite is formed from sandstone fused with quartz crystals and then processed under heat and pressure. It is also fairly hard but less dense compared to quartz, which makes it susceptible to staining, particularly when installed in high-traffic areas like the kitchen.
And while quartz may require no maintenance, quartzite is different since it requires sealing so that staining may be prevented. The good thing about black quartzite is that the stains won't be as noticeable compared to its white version (in case you choose not to seal the material).
When it comes to quartzite countertops, it is a go-to option for many homeowners because of the following reasons:
• Excellent durability: While not as durable as quartz, black quartzite countertops are hard and durable enough to be installed in high-traffic areas like the kitchen. You will also need to seal the countertops to make sure that they remain resistant to staining like quarts.
• Stunning aesthetic: One thing that's undeniable about black quartzite is its magnificent aesthetics. The color is incredibly striking and sleek, adding a luxurious feel to the kitchen.
Black is also a color that's easy to match so you won't have to worry about fussing over color pairs. This is the option you can go for if you want an eye-catchy element to your home.
• Easily adds value to your home: Black quartzite countertops add to your home's value, elevating not just the look of your kitchen but its resale value once you decide to go for these quartzite countertops.
Quartzite backsplash and countertops can be an easy choice to consider since the only major downside with this material is that it's less durable compared to its quartz counterpart. You have to seal the material to make it more durable and resistant to staining, which is what can be problematic if you fail to do this.
Types Of Black Quartzite Countertops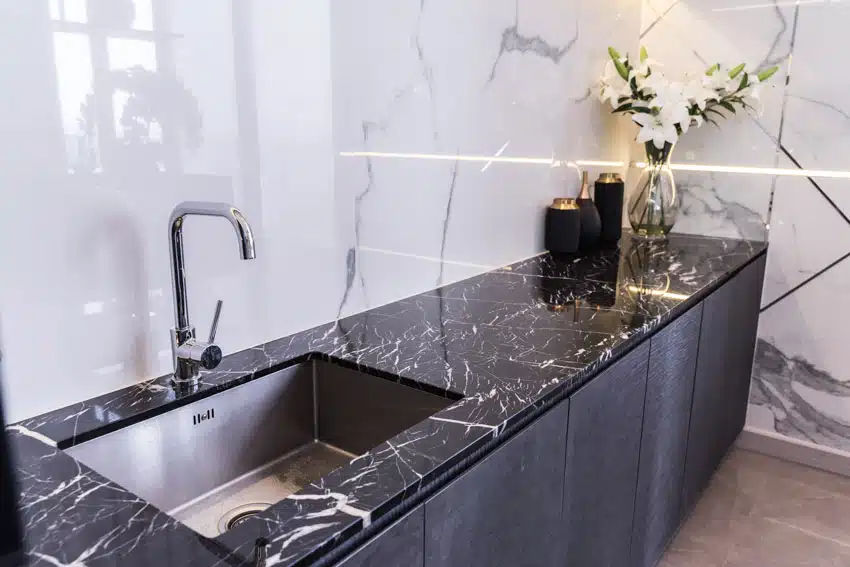 There are a variety of options when dealing with black quartzite countertops, based on several aspects including the upgrades, colors, and finishes. You can explore all the different types and then settle on a specific type for your kitchen and match the one that has this particular vibe perfect for your home's ambiance.
The vibe of the black quartzite countertop may depend on the colors and finishes. There are those with finishes that allow the countertops to appear like dried lava. And while dominated by the color black, they have specks of other colors that make the quartzite look more interesting and fun.
Brilliant Black Quartzite Countertop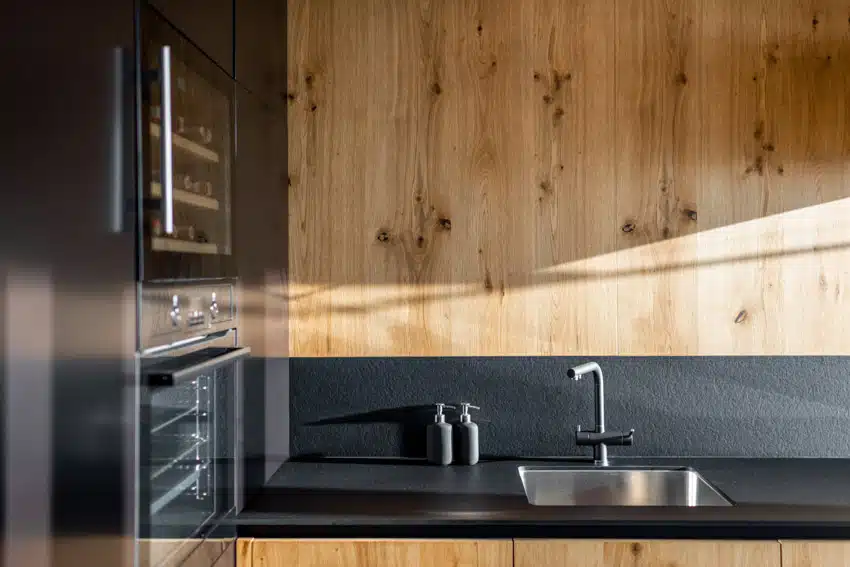 Showcasing an exotic collection of colors, a brilliant black quartzite countertop is a durable material quarried from Brazil. Also known as black raven quartzite, the brilliant black quartzite option is ideal for many types of applications, including interior and exterior walls, flooring, countertops, and even monuments.
In homes though, they are perfect for bathrooms, kitchens, and landscaping. And if you choose this particular type of black quartzite, you also have a variety of textures and finishes to go for, including sandblasted, polished, tumbled, sanded, sawn cut, and rock-faced.
Platinum Black Quartzite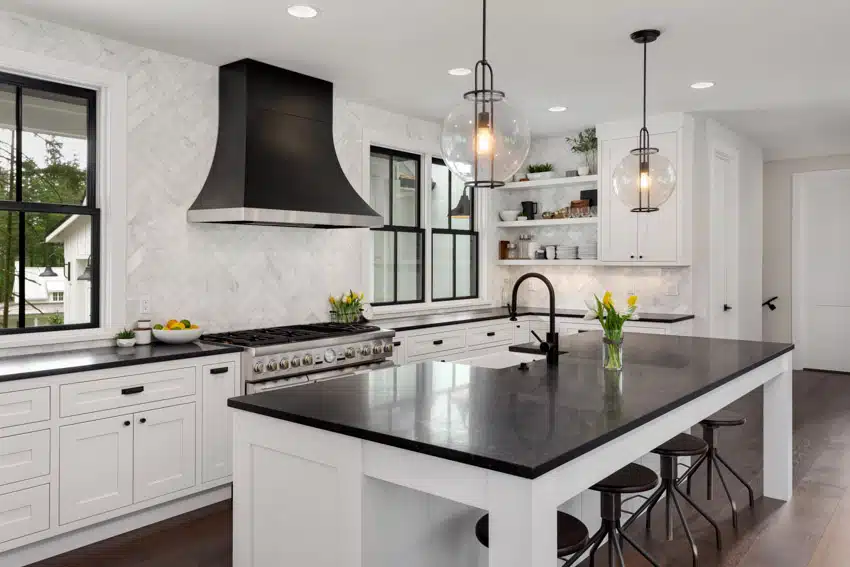 Platinum black quartzite is another type of black quartzite you can use for your home. Besides its usual elegant and sophisticated aesthetics, this particular quartzite is popular for the subtle inflections on the surface.
This detail adds an interesting and dramatic vibe to the quartzite's style and giving it character in general. The inflections also add movement to the aesthetics of the black quartzite.
This natural stone is ideal to be used for bar tops, bathrooms, fireplaces, kitchens, and outdoor walls. You can get black honed quartzite or leathered quartzite countertops and their durability will also make these options a worth-it choice.
Black Diamond Quartzite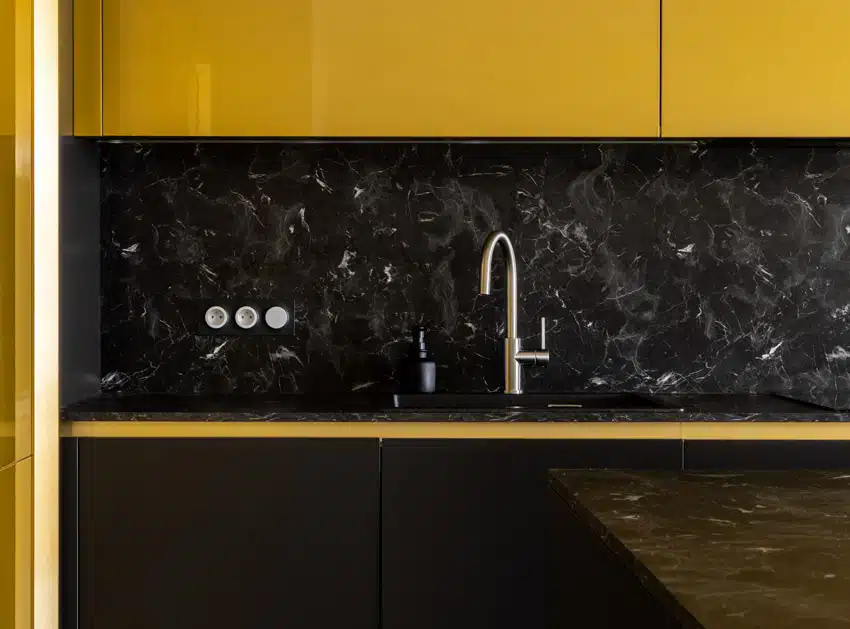 Considered a stunning metamorphic rock, black diamond quartzite can be flexible and sturdy at the same time. It can be an alternative to marble because of its excellent durability and similar aesthetics with marble.
Just as how they are named, black diamond quartzite is shiny and durable at the same time. Its shine provides an elegant and sophisticated appeal to the quartzite, whether you use the material on driveways, walkways, and interior and exterior floors and walls.
Considering it can be used outdoors, the material is definitely durable enough and fairs well that it is able to stand on daily wear and tear, on top of resistance to stain and heat.
Double Black Quartzite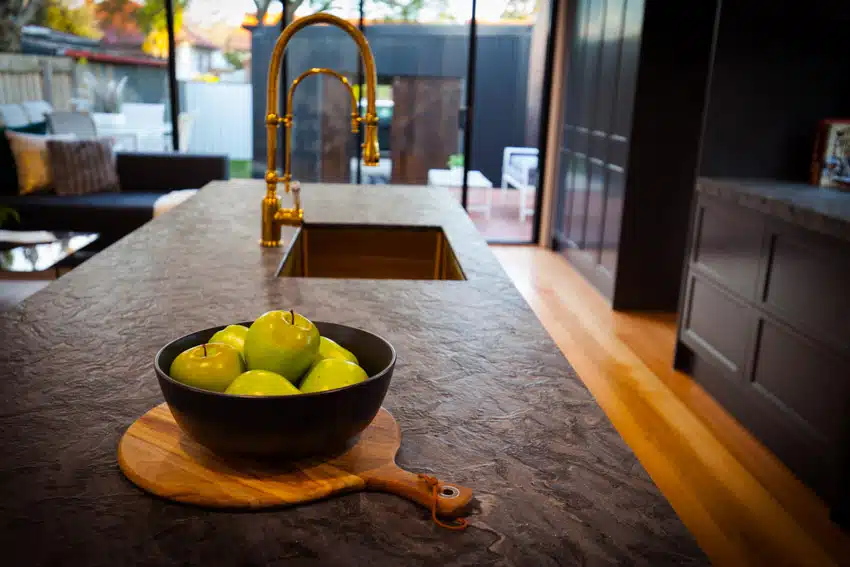 A dark quartzite from Brazil, double black quartzite offers a unique look compared to other types of black quartzites, because of its stunning veining and flowing lines. These lines and vines come in deep black and ash-gray colors, which make the material a safe choice if you're looking for a distinctive addition to your kitchen.
Double black quartzite has properties that are quite similar to granite, offering excellent durability and resistance. Since it's dark with flowing lines and veins that are barely visible, the quartzite appears more of a pure black appeal. Its look of endless darkness is a beauty to look at, which is how it got its name "double black" in the first place.
Popular for its monochromatic and tone-on-tone art, the double black quartzite has stands and lines that intertwine and blend across the slab's surface but in a more elegant and subtle way.
It showcases this black sand factor that when coupled with a matte finish or texture, offers a mysterious and dark tropical vibe. So if that's what you're after for your new kitchen countertops, this is definitely the deal material for you.
Black Fantasy Quartzite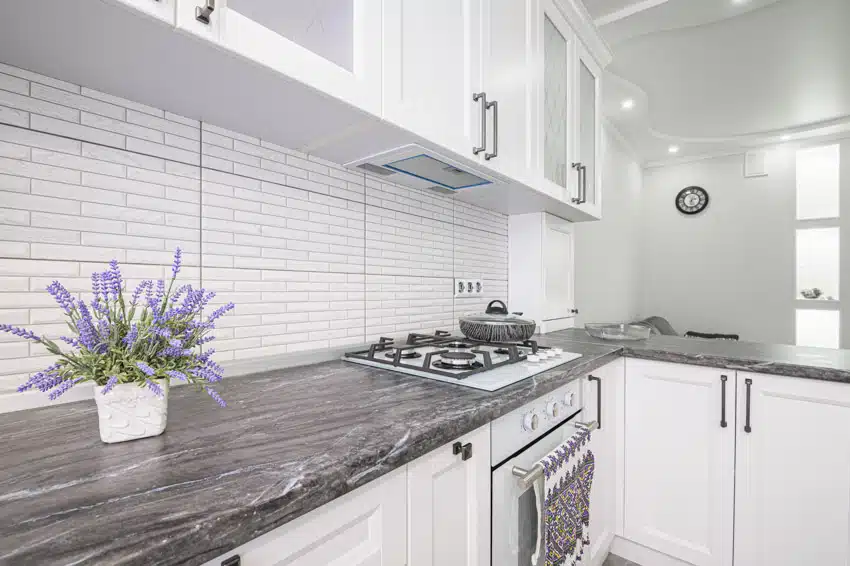 If you want to go all-out when it comes to the mysterious vibe, a black fantasy quartzite is worth exploring. This type of black quartzite easily stands out not just for its bold black color but also for the dramatic movement of its lines and veins that also come in eye-catchy shades of gold and metallic gray.
Compared to double black quartzite which seems to feature a monochromatic color style, black fantasy has the metallic property of gold and gray to stand out and create contrast in the slab's surface.
Besides gold and metallic gray, this quartzite can also come with fine white markings and veins. The black slab offers an excellent and rich background for other colors to play with. And to get the full effect of the fantasy and mystery, go for a polished or brushed finish, creating a premium and sophisticated three-dimensional look.
Black fantasy quartzite is a durable material but there are soft and hard areas on the surface of the material because of the movements of its lines and veins. Ideal for kitchen bench tops, this sophisticated material is durable enough to stand the daily wear and tear in this busy area of the home.
Black And White Quartzite Countertops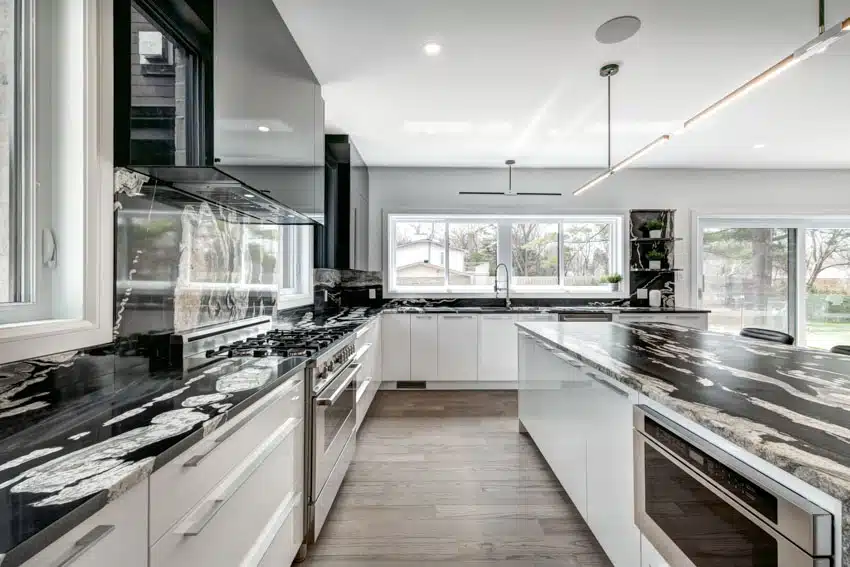 Black, similar to the color white, is a shade that can easily be matched with most colors. If you are for a color to really stand out amidst the pure black surface as its background, going for its contrast will always be an excellent starting point. And with black, you won't have any issue with the color white.
Black and white quartzite types of kitchen countertops are a safe option you can consider. This classic color combination is aesthetically pleasing to look at and would be a stunning addition to your kitchen. The color complements each other so well, which is why it has been a classic color option throughout the years and doesn't go out of style.
This type of countertop may be regarded as classic but it can guarantee a dramatic feel to your kitchen. Going for an all-black quartzite kitchen countertop integrated with white streaks may be a good option if your kitchen's color scheme is associated with white, black, or both.
Cleaning Black Quartzite Countertops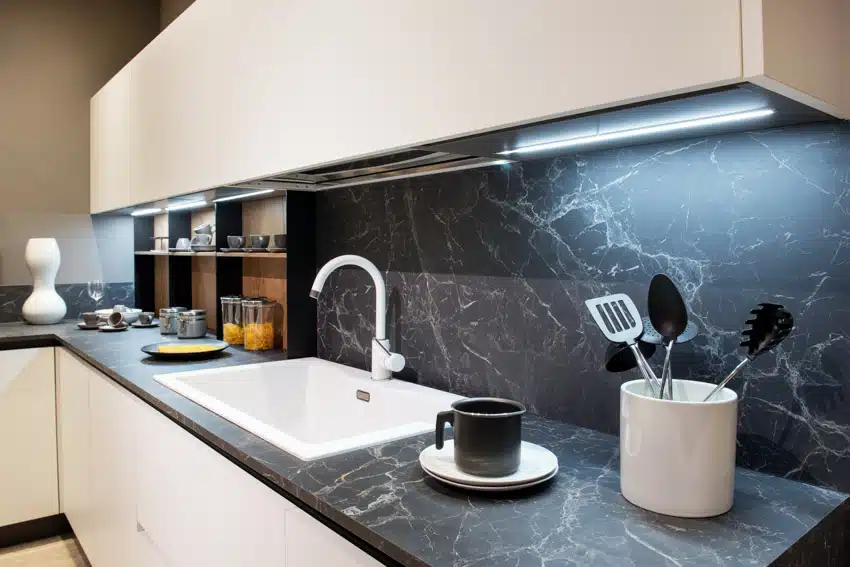 Black quartzite countertops are stunning to have but they will also need the right cleaning process to maintain how they look. The first thing to do is to make sure that the countertops are sealed considering quartzite is not completely stain-resistant compared to quartz.
Besides that, the next thing to focus on is to maintain your black quartzite countertops and you can guarantee this by following these simple tips:
• Daily clean: Clean your black quartzite countertops on a daily basis just using water, soap, and a soft cloth.
• Occasional deep cleaning: Do the deep cleaning for your countertops occasionally, using a glass cleaner and cloth. Simply spray on the surface and use a damp cloth to wipe it off.
• Know how to properly deal with different types of stains and dirt on your quartzite countertop: While there is a standard way to clean your countertops,
1. For dried gunk: Get a putty knife to take it off the countertops (Make sure not to use a sharp object as an alternative for the putty knife if you don't have one). Clean the surface as usually done after you remove the gunk.
2. For stains: Since quartzite is not completely resistant, you will experience stains, especially the more persistent stains from liquids like coffee, ketchup, or wine.
In this case, spray a bit of an adhesive cleaner on the stain. Then let it rest for about five minutes, and then use a soft cloth to wipe it off the surface. After that, clean the surface as you traditionally do.
3. For minor stains: If you are dealing with some minor stains like the ones made from markers and ink, you might want to try rubbing alcohol first before using an adhesive cleaner.
Get a clean cloth, put a bit of rubbing alcohol on it and then rub the cloth on the stain you want to be cleaned. After getting rid of the stain, clean it with water and soap as you normally do.
4. For grease: Choose a degreasing cleaner without bleach, spray that on the countertop's surface, and then get a soft cloth to wipe it off.
5. For spills: Since some liquid can leave stains on your quartzite countertops, it is best to remove and wipe the spills as soon as they happened and at your quickest opportunity.
The great thing with black quartzite countertops is that stains won't be that much visible on the surface but it will still be best to get rid of them with water and soap as quickly as possible.
• Avoid using harsh chemicals: When cleaning your black quartzite countertops, despite their durability, they can still be damaged by strong chemicals.
Say no to harsh chemicals with ammonia or bleach (which are the chemicals that can easily damage the surface of your quartzite countertops). If accidents happen though, you can neutralize these chemicals using water.
• Always use a cutting board: Countertops are meant for food preparation but even if you think your quartzite countertop is very hard and durable that it's almost resistant to scratches, it's still better to do everything to prevent scratches on it. One thing that can help you with this is by using a cutting board every time you use a knife to prepare food.
• Keep your black quartzite countertops away from high temperatures: While quartzite may be created with heat and pressure, it will be terrible if you exposed it to high temperatures and end up damaging the countertops (especially if the temperature change is quick).
These are only some simple tips to follow. In any case you can always go for the experts for cleaning you can't handle yourself. Doing so will help you get the best cleaning results for you black quartzite countertops.
See more related content in our article about quartzite bathroom countertops on this page.