In this guide to quartzite bathroom countertops you'll find the most popular types of quartzite, cost, durability, and tips on how to clean and care for this countertop material.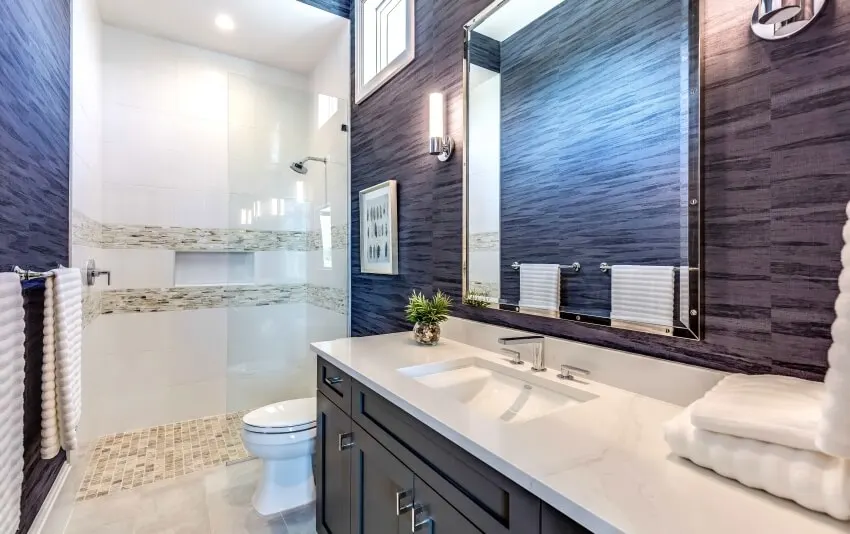 Quartzite is a 100 percent natural form of metamorphic rock which are mined in large slabs. It is a durable, scratch-proof, highly resistant to heat and a strong material due to the force and pressure this rock endures.
Thus, forming an interlocking grain over time making it a popular choice for all types of architectural and decorative purposes. This material is so tough that it can only be cut and divided into slabs with diamond blades.
Quartzite is perfect for neutral lovers as it is only available in its beautiful natural color form including whites, beige, browns, and blacks. It is a material that most closely mimic marble and offers the same type of resilience to this high-end premium surface material.
Is Quartzite Good for Bathroom Countertops?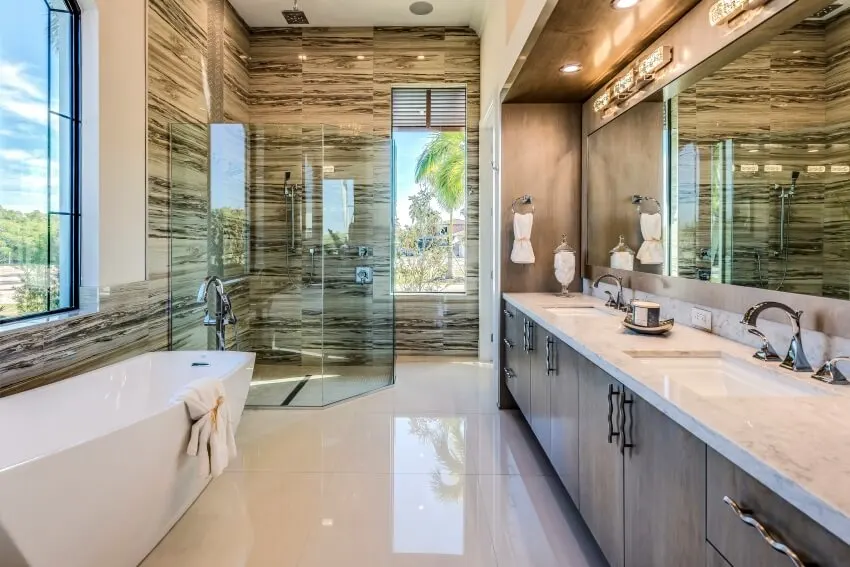 Quartzite is a good and popular choice for bathroom countertops since it offers a unique, one-of-a-kind natural veining design pattern.
It has the beauty of marble, harder than granite and ranks as 7 out of 10 on the MoH's Hardness scale. This material is incredibly durable as it is resistant to warping and etching since the material is far less porous than other countertop materials.
Quartzite is resistant to UV rays and fading, so it is the best choice for bathrooms that are flooded with natural light. It has a beautiful shine and are light, bright and have the slightest little sparkle in certain lighting.
For a busy area such as the bathroom, quartzite is a low-maintenance material to use compared to marble. Though quartzite countertops do require sealing, they can be easily cleaned with warm water and dish soap. Avoid using abrasive cleaning tools such as scourers and cleaners that contain acids and harsh chemicals.
Avoid leaving spills to stand for a long time as it could stain the sealant, clean up spills with a damp cloth as soon as they happen. Quartzite needs to be resealed periodically every one to two years.
Quartzite is an amazingly versatile material that will match the aesthetic of your bathroom and will look natural and vibrant for years to come.
Popular Types of Quartzite Countertops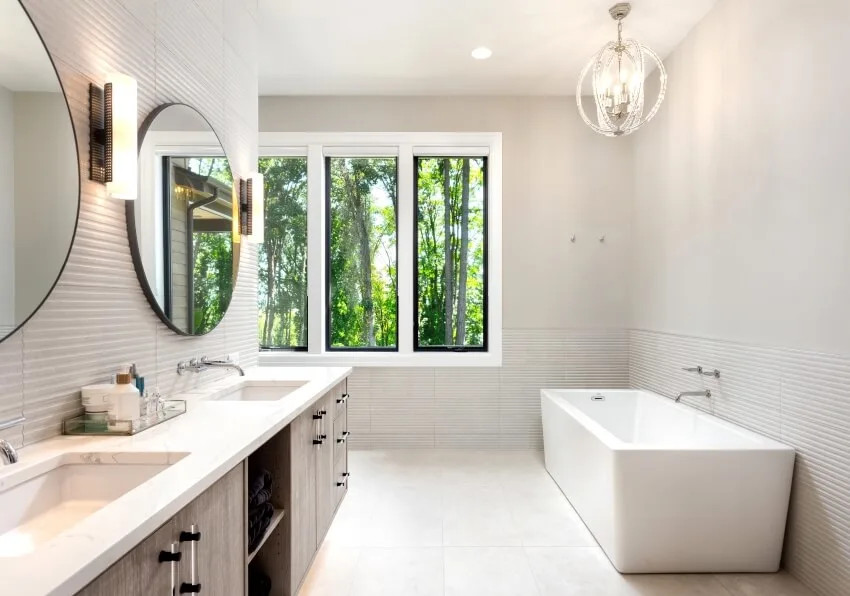 Quartzite is becoming one of the hottest additions to homes, because of its incredible beauty, and add tons of value to your property. Here are a few of the most beautiful and popular types for quartzite bathroom countertops.
• Classic White Quartzite – this type of quartzite offers luxury to your bathroom and adds dimension, sophistication, and an eye-catching level of luminosity. Princess white quartzite features gray vein patterns and sparkling quartz deposits that enhance depth and visual interest of any bathroom countertop.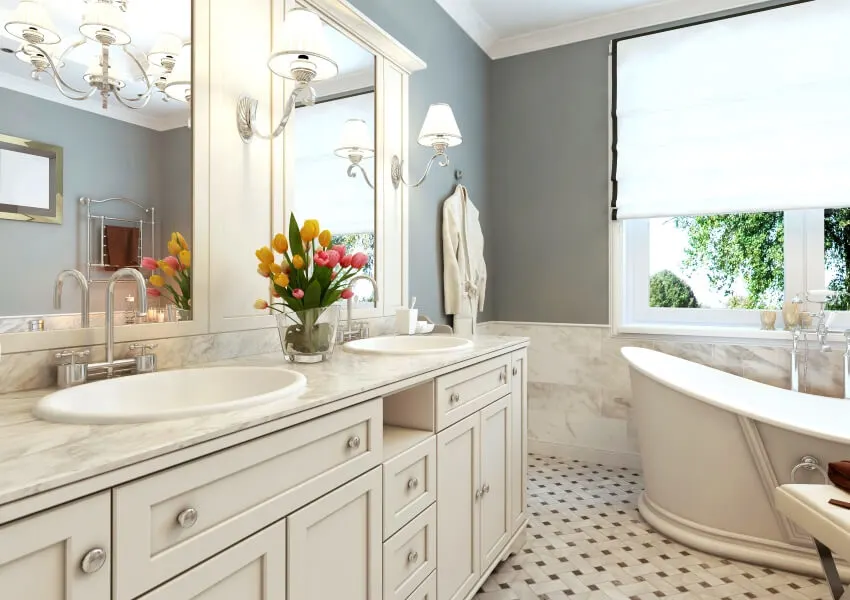 • Super White Quartzite – these slabs are often mistaken for marble, but they are more compact than Carrara marble, and feature deep grey veins on a white background. One characteristic of this type of quartzite is that it requires less sealing and is less prone to staining.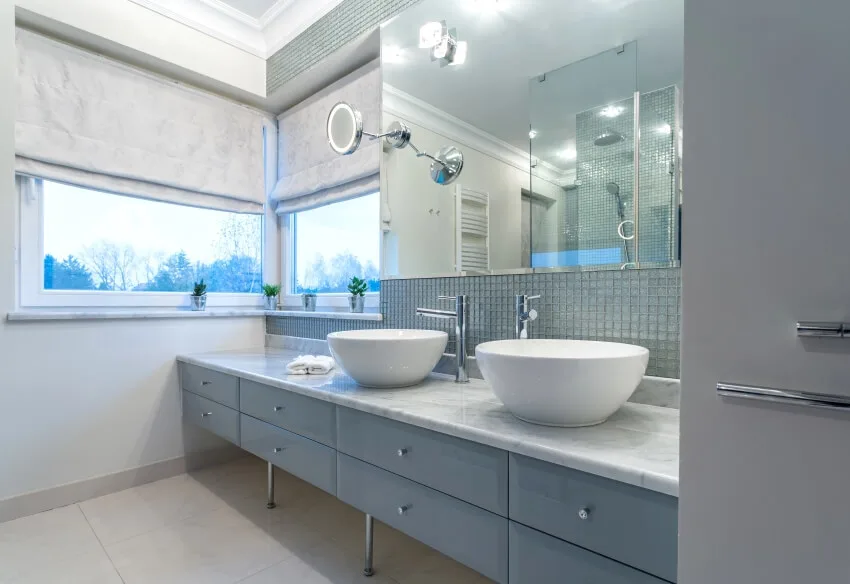 • White Macaubas Quartzite – this off-white quartzite features long, straight veins of various shades of grey that adds a touch of elegance and sophistication to your bathroom countertop.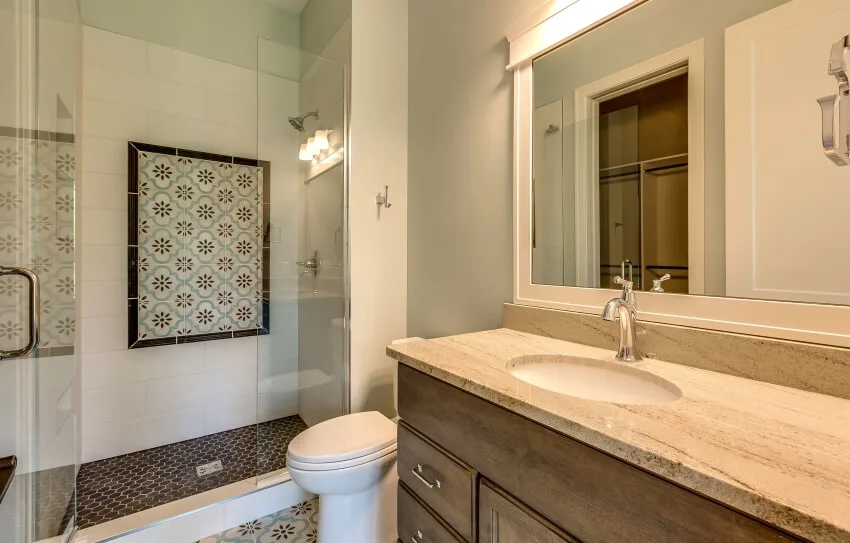 • Taj Mahal Quartzite – this creamy quartzite with soft, subtle veining is slightly warmer compared to Calacatta marble. Taj mahal quartzite features a white background brushed with feathery gold, beige, and gray veining making it an incredibly versatile stone that pairs with a wide range of styles and palettes.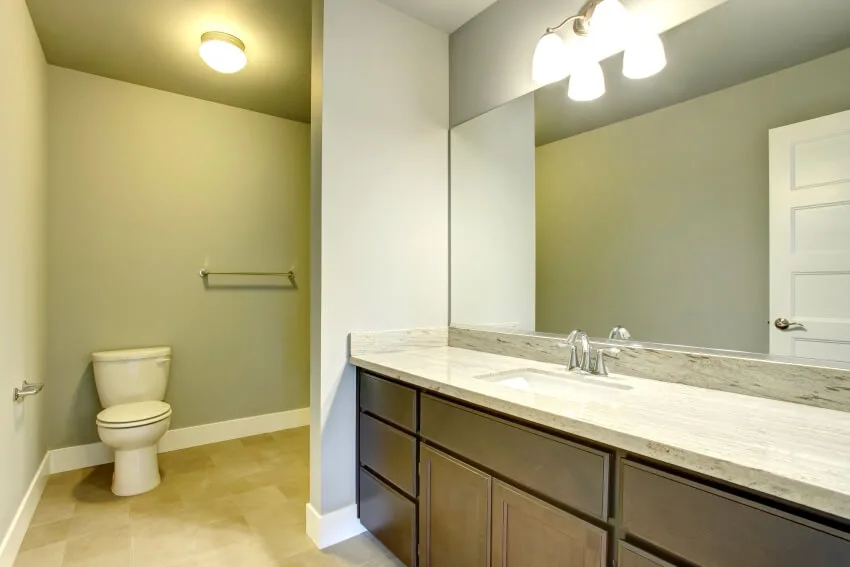 • Brown Quartzite – this type of quartzite has a more prominent color and pattern background ranging from yellow to orange and veining in white, cream, gray, beige, and peachy tones. This stone has the same similarity with the characteristic of Taj Mahal yet offers more warmth to your bathroom space.
It works well with cooler tones, such as pale, gray cabinetry and stands out against white cabinetry of your modern bathroom design scheme.
However, if you are on the hunt for a totally unique stone, there are some rare natural colors that occurs in the quartzite family such as the blue and emerald colors that make great accent pieces. Another magnificent type of quartzite is the Sandalus Leather which look a lot like fossilized wood in both color and texture.
It features an artistic black, white, and gold veining all through the slab. Its intense tones make it a great accent and visually striking countertop material. The Medusa quartzite is another stunning natural stone which carries long veins of green, orange, brown, and violet throughout the length of the slab.
Countertop Costs
Since quartzite is a natural stone, the cost of quartzite is mostly based on its rarity and popularity. Other factors to be considered are the total project area, amount, and type of edging you select, and the number of cutouts, such as sinks.
However, the following estimated per square foot price is based on an average 35 square foot project. The white quartzites that are the most common and affordable option, it ranges typically from $65 to $85 per square foot installed.
White quartzite with grey veining will on average cost between $75 and $125 per square foot installed. The brown quartzite can be expected to range between $60 and $75 per square foot installed provided if there is a large selection of slabs available.
More exotic options such as the white Macaubas start at about $120 per square foot while the Taj Mahal quartzite comes with a price tag of $220 per square foot installed.
Quartzite Countertop Durability
Quartzite is fast becoming the gold standard for homeowners who want a tough, reliable bathroom countertop surface that looks amazing. It is much harder than marble, it is a great option for anyone who wants the look of a marble and the hardness of granite.
In fact, due to the incredibly high abrasion resistance of quartzite it can be difficult to quarry and fabricate. It is harder than granite and there are some types of quartzite that are quite non-porous, and so they do not need to be sealed as often as other stone surfaces.
Quartzite is an extremely hard, solid natural stone, more resistant to scratching, has the resistance to extreme temperatures, and highly resistant to direct UV rays.
Does Water Stain Quartzite?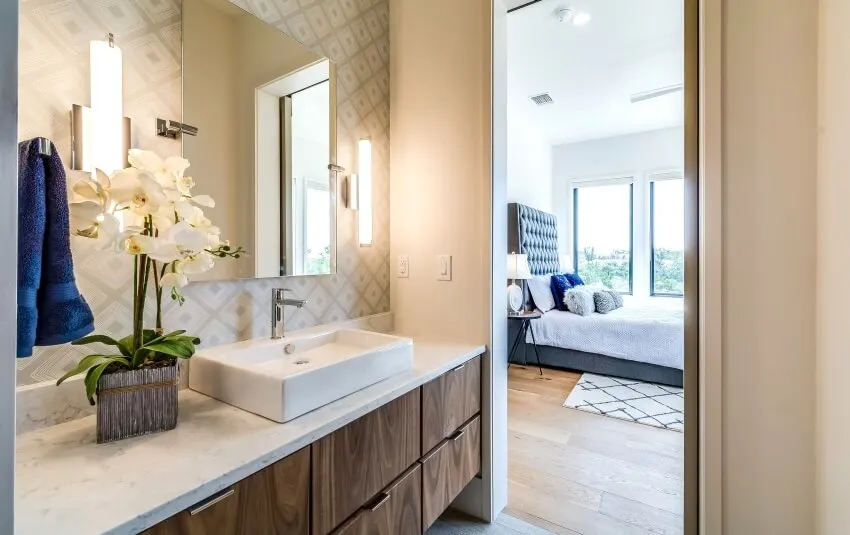 Since quartzite is a natural material, different types of quartzite have different strength and absorption rates. Some quartzites are very dense and resistant to water absorption. Other types of quartzite are very porous and require the application of heavy-duty sealer to protect its surface against water absorption and staining. Keep in mind that quartzite is not stain proof, but most are incredibly stain resistant.
Quartzite is liable to suck up wine and tomato sauce spills or when exposed to oil and highly pigmented liquids; and so, there is a need to seal it to protect the material and maintain its longevity.
If the quartzite is sealed properly, it should not be absorbing moisture. We recommend that it is best to immediately clean potentially staining liquid substance.
Does Quartzite Need Sealing?
Most stone sealers are made from polyurethanes, natural wax, or acrylics. There are also penetrating seals are made from silicones and other materials that repel liquids and soak into the surface of the stone; thus, making it last longer.
As a natural stone, quartzite countertops should be sealed and resealed periodically about every one to two years depending on usage.
Keep in mind that different types of quartzite will require slightly different levels of care depending on how porous the material is. Remember that the denser the quartzite, the less often you will need to reseal the surface. Sealing your quartzite bathroom countertops will protect it from discoloration and staining.
How to Clean Quartzite Bathroom Counters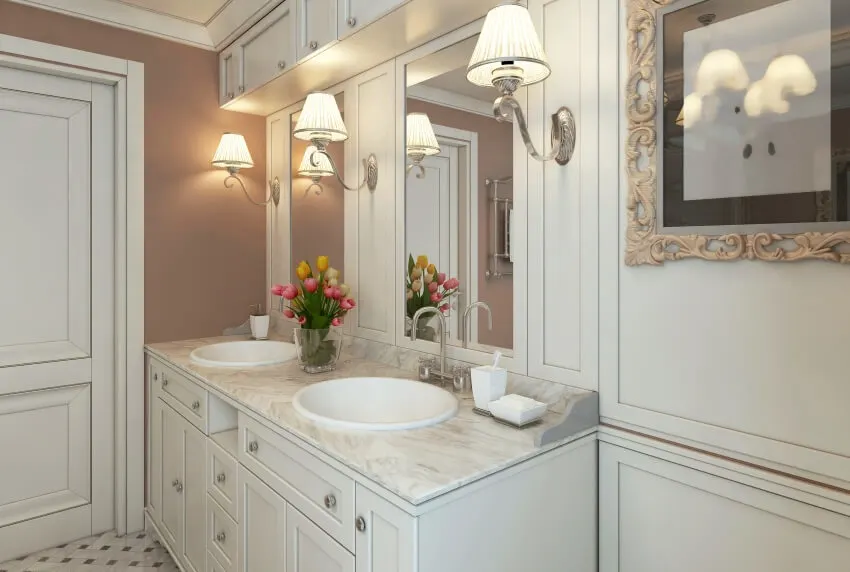 The maintenance of quartzite is very minimal and requires care like that of granite. Usually, using a non-acidic, it should never contain bleach, low pH cleanser such as mild soap and water or stone-specific cleaners should be applied to the quartzite bathroom countertop with a sponge or spray bottle to prevent stripping off the sealant.
To keep quartzite looking shiny and new, a polish that does not contain harsh chemicals can be used. A stone polish can also be used to restore the natural shine of quartzite.
Which Is Better For Bathroom Granite Or Quartz?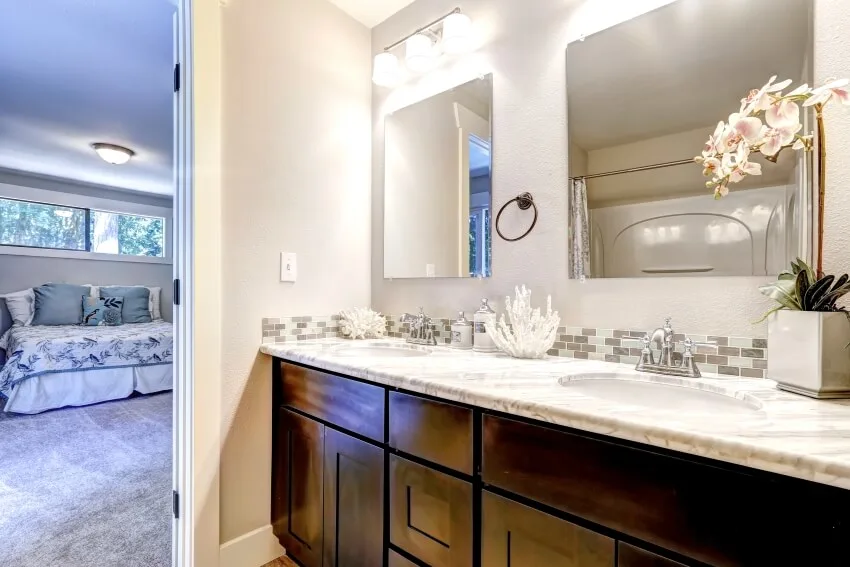 Both granite and quartz are widely popular materials used for bathroom countertop. Granite is a natural stone that is durable, and each slab has a unique natural appearance which offers a one-of-a-kind look for your countertops. It is often considered a high-end choice that can add value to your bathroom and home.
On the other hand, quartz offers many of the same benefits as granite in terms of its durability, resistance to stains, variety of colors and patterns. It is non-porous making it less susceptible to bacteria and it does not need a sealant for easy cleaning.
Unlike granite, quartz is engineered and not a natural stone slab making it less expensive and more eco-friendly because it made by recycling the waste byproducts of other natural stones.
For bathrooms that has a lot of direct light, a natural stone such as granite is best to use. However, if your bathroom has indirect light or no light, then choose quartz. Read more about quartzite vs granite here.

Visit our guide on marble bathroom countertops for more related content.