This gallery of quartzite backsplash ideas shares what it is, different designs, types, pros & cons, cost, and if quartzite backsplash is a good kitchen option.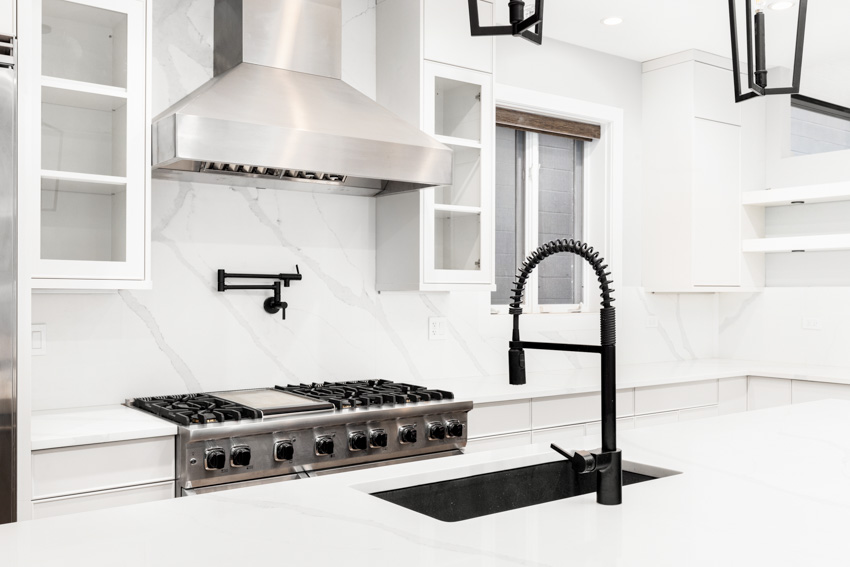 You are probably aware of quartzite countertops, but what about quartzite backsplashes? Although quartzite is typically used in kitchen countertop projects, an increasing number of designers are opting to put quartzite backsplashes in their kitchens.
Well, quartzite is a brilliant option for homeowners searching for a backsplash material that looks like marble but has the strength and durability of granite. Certain forms of quartzite are so identical to marble that the backsplash material is mistaken for genuine marble.
Generally, homeowners like natural stone, but in a high-traffic area, marble or anything permeable can be difficult to maintain. Quartzite in the kitchen may therefore prove to be a lifesaver.
What Is Quartzite Backsplash?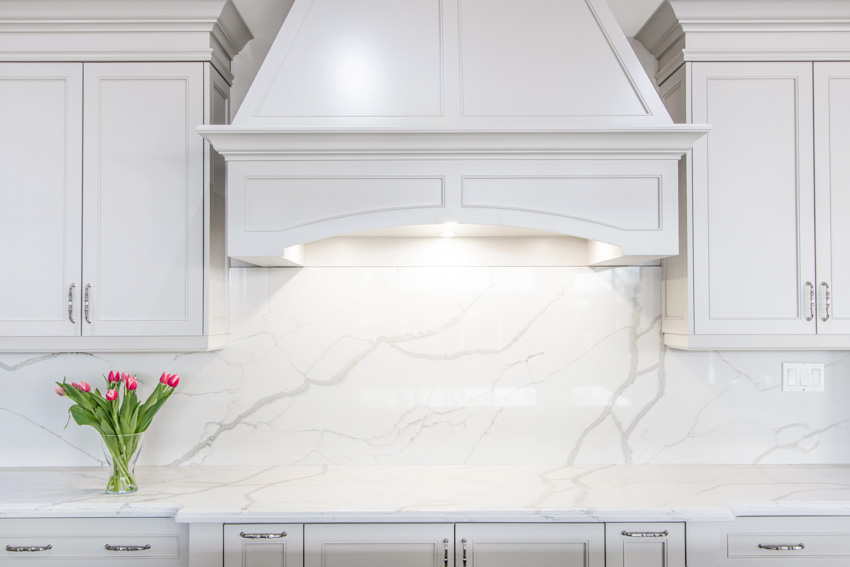 Quartzite is a type of metamorphic rock that occurs naturally. The stone is mined and cut into slabs before being carefully fitted into backsplashes. For beauty and longevity, the surfaces are polished and sealed.
People frequently interchange quartzite and quartz, but they are not the same thing. Quartz is a man-made artificial stone composed of 90% crushed quartz and 10% polymers, resins, as well as pigments.
However, quartzite is a natural stone material composed of 90 to 99% quartz granules that are joined by the mineral silica, draws the attention of environmentally conscious homeowners because it is created by nature and has only organically existing elements.
Moreover, a quartzite backsplash originates as sandstone, which is merged with shiny quartz crystals through a natural procedure of pressure and heat to make quartzite. Quartzite is normally white or mild gray, although the elements in the stone can impart pinkish, golden, or reddish-brown tones.
Quartzite backsplash, as aforementioned, is frequently confused for granite or marble backsplash due to its subtle veining and coloring, and patterning comparable to certain granites.
These types of kitchen backsplash are ideal for those who like a natural aesthetic with lots of movement. Quartzite is a relatively hard stone, although it must be sealed to avoid stains.

Quartzite Backsplash Tile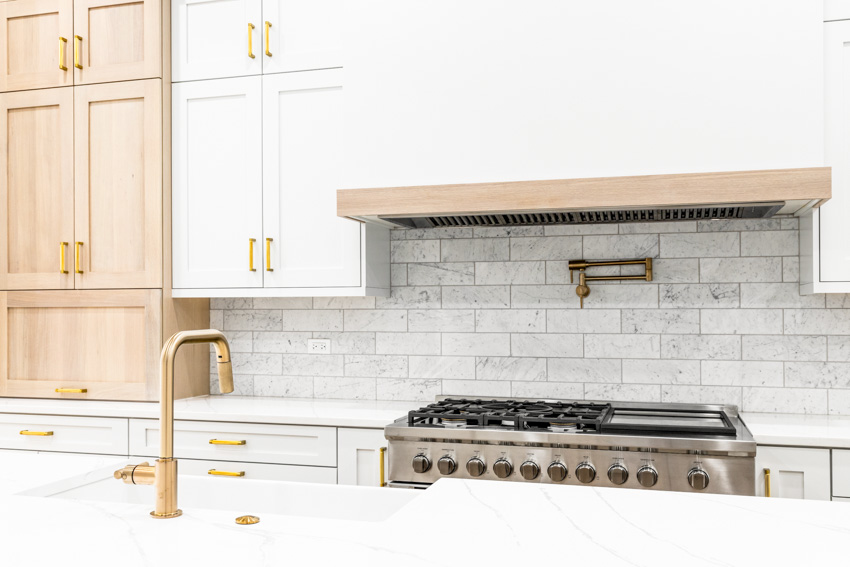 Quartzite backsplashes are available in tiles ranging in thickness from 1/2 to 1 inch. Since individual quartz pieces recrystallize under high temperatures, quartzite backsplash tiles usually have a spectacular shimmering texture. Because of their great strength, they are incredibly ideal for backsplash applications.
Even in their most unrefined form, quartzite backsplash tiles are extremely durable. They are more rigorous than marble backsplashes and have an extremely thick surface, which makes them ideal for high-traffic cooking areas.
Quartzite backsplash tiles also offer a more distinct texture than natural sandstone. These types of backsplash tiles are commonly utilized in contemporary and modern kitchen designs.
Quartzite Slab Backsplash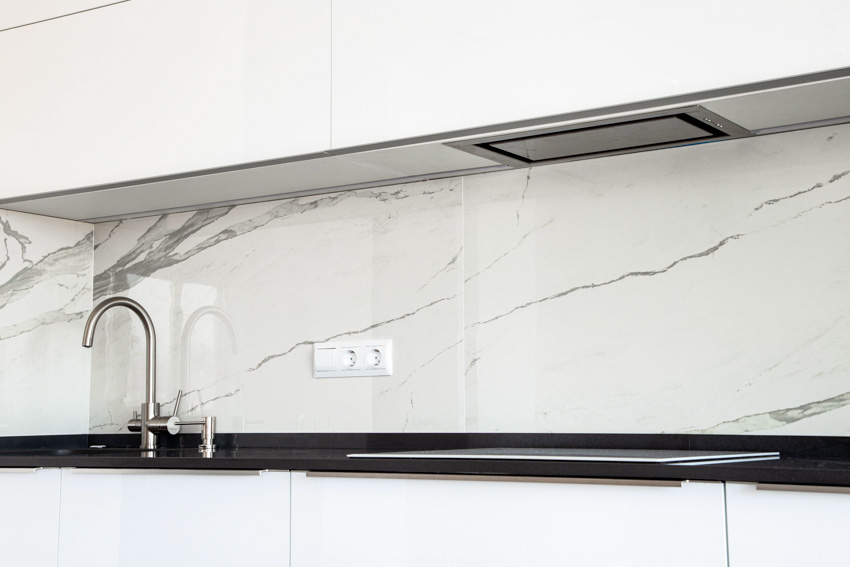 Quartzite slabs feature the grainy, sugar-like feel of quartz-rich sandstone, but with a slightly rougher texture, that appeals to individuals who like backsplashes with a more naturalistic appearance.
The adhesive used to bind ground quartz provides the quartzite slabs with a smooth, seamless finish that gives the appearance of a prefabricated backsplash.
Furthermore, quartzite slabs weigh slightly less than quartz slabs, weighing roughly 20 pounds per square foot as opposed to 20 to 25 pounds per square foot for quartz slabs.
However, neither of these heavy slabs is suitable for do-it-yourself backsplash installation. Installing quartzite slabs as backsplashes requires a professional.
Thin Panel Quartzite Backsplash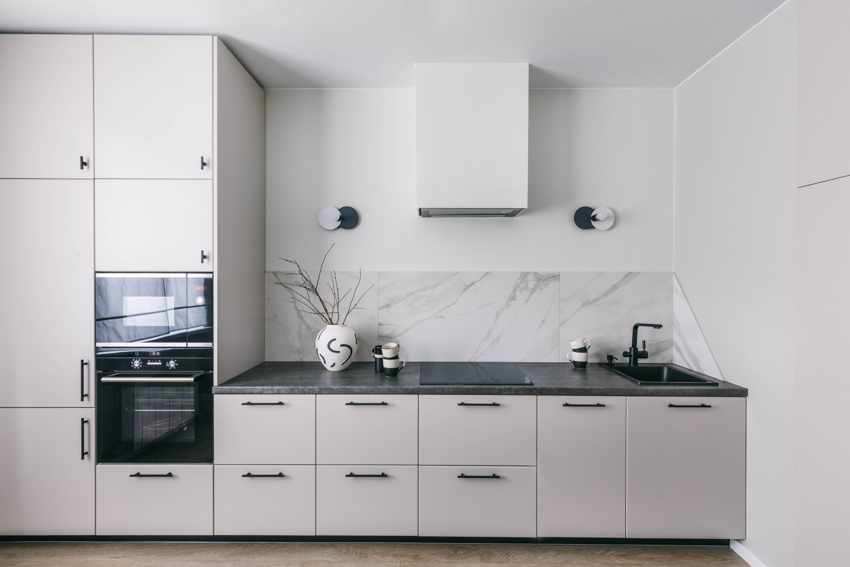 Thin quartzite panels are available in a variety of forms, shapes, and sizes and can also be used as backsplashes. The materials that are typically used in the production of thin quartzite backsplash panels are quite durable. They have exceptional stability and resilience to physical pressure and accidents.
Moreover, thin quartzite backsplash panels are resistant to moisture and chemicals that might cause damage. These panels have an unequaled strength-to-weight ratio, allowing them to protect your kitchen walls without damaging them.
Typically, quartzite pieces are bonded together to form a thin, easy-to-install panel. Because it is water- and heat-resistant, these thin quartzite panels are ideal for interior use, particularly as a kitchen backsplash.
Popular Quartzite Backsplash For Kitchens
Here we share the popular types of quartzite backsplash for kitchens.
White Quartzite Backsplash: There are several hues of white quartzite available in stone quarries. Some are smooth white, whereas others feature veins of different hues, making them look more natural.
This quartzite backsplash color is popular among individuals who desire maximum versatility, sophisticated color, modern style, cleanliness, and sleekness. Nothing could go wrong with using white to redesign one's kitchen backsplashes because it is so versatile with numerous colors.
Fusion Blue Quartzite Backsplash: Fusion blue quartzite is an excellent choice for your kitchen backsplash if you like blue hues. This quartzite backsplash option is a new attraction and gives a tone of peace and coolness.
This material comes in a variety of blue varieties, including deep blue, royal blue, and light blue with black striations. Many people choose this backsplash color because it represents a unique and gorgeous art tone in the kitchen.
Allure Quartzite Backsplash: Allure quartzite backsplashes complement both contemporary and antique décor with delicate gray tones, flecks, and pale veins. Their glossy appearance maximizes natural and artificial light, lightening the room and making even small kitchen layout dimensions appear spacious.
Allure quartzite is a more lasting alternative to Carrara marble and is more resistant to heat, allowing you to safely place your cooktop near the Allure quartzite backsplash with confidence.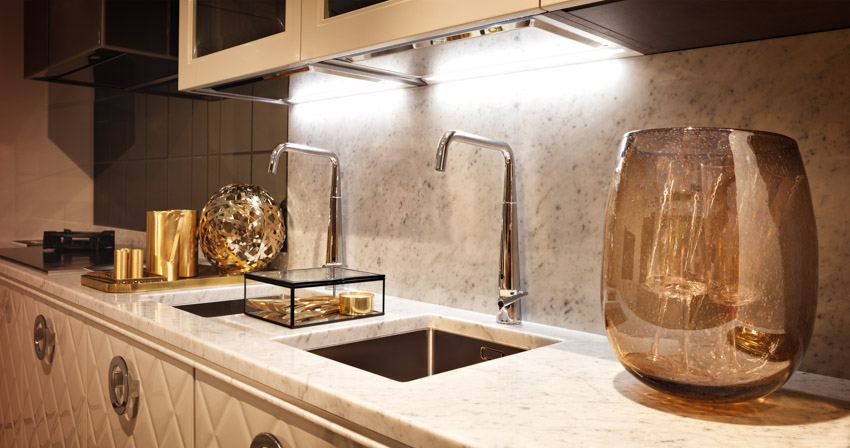 Taj Mahal Quartzite Backsplash: A beautifully crafted Taj Mahal quartzite backsplash represents a modern kitchen, producing an eye-catching focal point. It is indeed a wonderful choice for a visually stunning backsplash, with a cream-colored background and light golden veining.
Taj Mahal is a genuine stone produced and imported from Brazil that is suited for all-around usage, particularly backsplashes. It can even withstand cold conditions and direct sunlight, making it ideal for protecting your kitchen walls from splashes and other factors. See what backsplash goes with Taj Mahal quartite here.

Madreperola Quartzite Backsplash: Madreperola Quartzite's beige tones give a timeless elegance to any kitchen without putting additional effort or stress. You may safely use this quartzite as a backsplash for food preparation. A few splashes of orange juice or a spatter of spaghetti sauce will not trouble a completely sealed Madreperola quartzite backsplash.
Fantasy Brown Quartzite Backsplash: Fantasy Brown quartzite may be a wonderful selection for your kitchen backsplash if you want to add multiple colors to your design.
This quartzite, which has a unique mottled blend of brown, white, gray, and green veins, is popular among homeowners for a range of projects, particularly backsplashes. It provides a terrific centerpiece when matched with neutral-hued quartzite countertops, or other neutral color material, allowing the vast, magnificent veining to be displayed.
Macaubas Quartzite Backsplash: Macaubas quartzite is a neutral color palette that combines creamy white, tan, as well as charcoal gray and features remarkable stripes and uneven veining. When compared to its relative, Calacatta Marble, you will appreciate how durable and low-maintenance it is. It has a significant amount of complexity and is ideal for backsplashes.
Kalahari Quartzite Backsplash: Kalahari Quartzite is a light silky beige with reddish-brown swirls and striations that are bright, lively, and pleasant. If your ideal kitchen has marble countertops, this backsplash would be an excellent candidate and much easier to install.
Notwithstanding its light, almost-white polished appearance, the pores of Kalahari quartzite can be tightly sealed, making the quartzite backsplash extremely stain-resistant.
Quartzite Backsplash Pros And Cons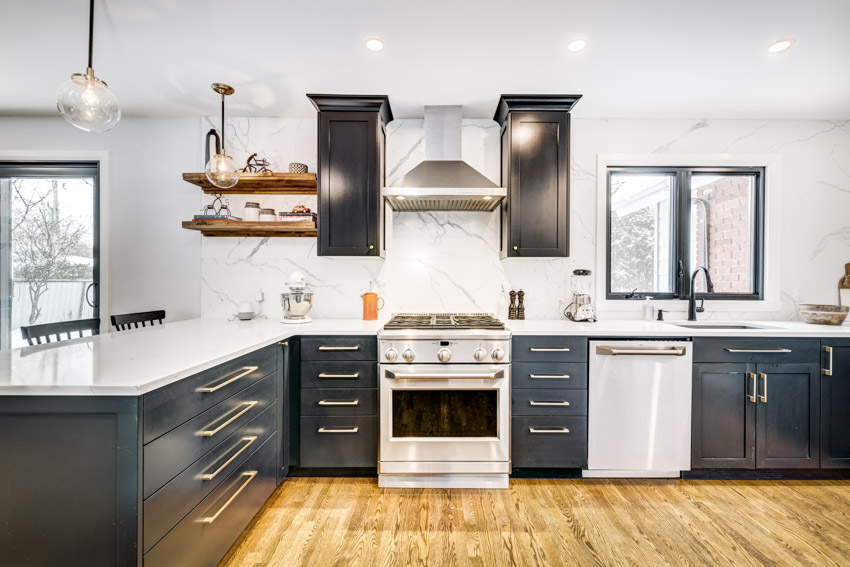 Here we share the advantages and disadvantages of a quartzite backsplash.
Pros Of Quartzite Backsplash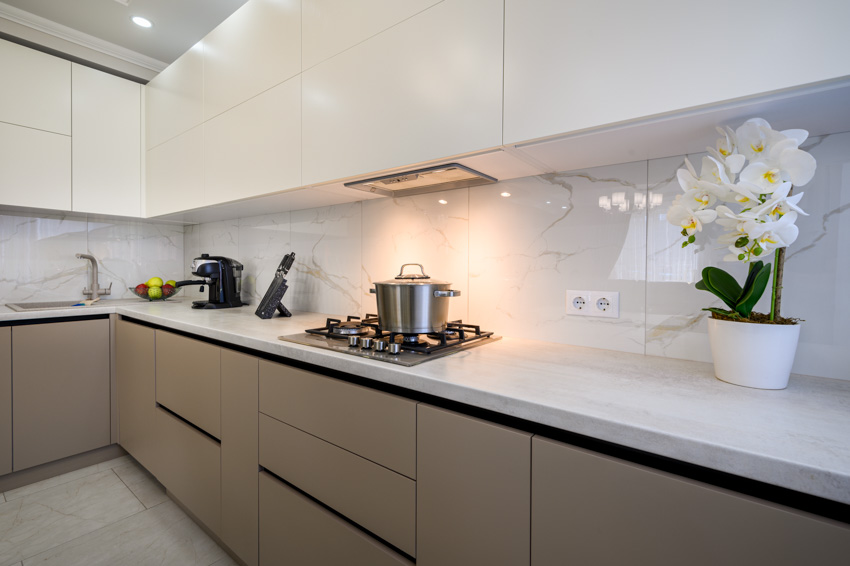 Are you interested in using quartzite for your kitchen backsplashes? Let us weigh the pros and cons to make a wise choice.
Quartzite is Highly Durable: Quartzite is a natural stone with qualities similar to granite such as compressive strength and durability. Because of the unique characteristics of this stone's development, it is very resistant to heat and water, making it excellent for a protective backsplash.
Additionally, it is very impervious to the acids that induce etching. Because quartzite is harder than granite, it is extremely durable. Quartzite rates around 7 out of 10 on the Mohs hardness scale. It can also endure high temperatures.
Quartzite Extremely Resembles the Look of Genuine Marble: Quartzite resembles marble in appearance. The distinctive, swirling gray and white patterns make the backsplashes aesthetically attractive and contribute to the creation of an outstanding kitchen.
If marble backsplashes are out of your price range, quartzite would be your best option for a comparable design at a lower cost. Read more about quartzite vs marble here.

Quartzite Backsplashes are Low-Maintenance: Once your quartzite backsplash has been sealed, it will be simple to maintain and keep clean. To clean spills, you can simply use a mild dishwashing solution and warm water
This mixture results in a pristine backsplash that is prepared to deal with food splatters. Harsh chemical-based solutions, on the other hand, should be avoided because they can harm the sealant.
Quartzite Has an Attractive Appearance and is Available in Different Colors: Because of its remarkable visual appeal, quartzite backsplashes are ideal for modern kitchens. Their distinctive veining and organic colors make them an eye-catching accent to your kitchen.
Quartzite is typically found in shades ranging from pristine white to elegant gray. Iron oxide in the stone causes the pink and red tones. The inclusion of additional minerals causes quartzite to be yellow, orange, blue, green, or red.
Despite the color, the quartzite will have beautiful patterning due to variable degrees of pressure during creation and the haphazard occurrence of iron oxide and other elements.
Moreover, quartzite is therefore obtainable in a wide variety of colors and patterns. Whether you want something more traditional or modern like white, or gray quartzite, or something bolder like blue or green quartzite, there is certainly a type of quartzite appropriate for your kitchen backsplash.
Quartzite, in fact, has a distinct color spectrum that makes it both adaptable and appealing. The mineral composition of the rock determines the color differences in earthy tones. Because of this, it is a preferred option for kitchens designed in rustic, minimalist, or even industrial kitchen decor.
Quartzite Backsplashes Can Withstand UV Rays: Is there a significant amount of sunlight on your kitchen backsplash? Fret not! Quartzite backsplashes are UV-resistant and will not fade or discolor when subjected to direct sunlight.
Cons Of Quartzite Backsplash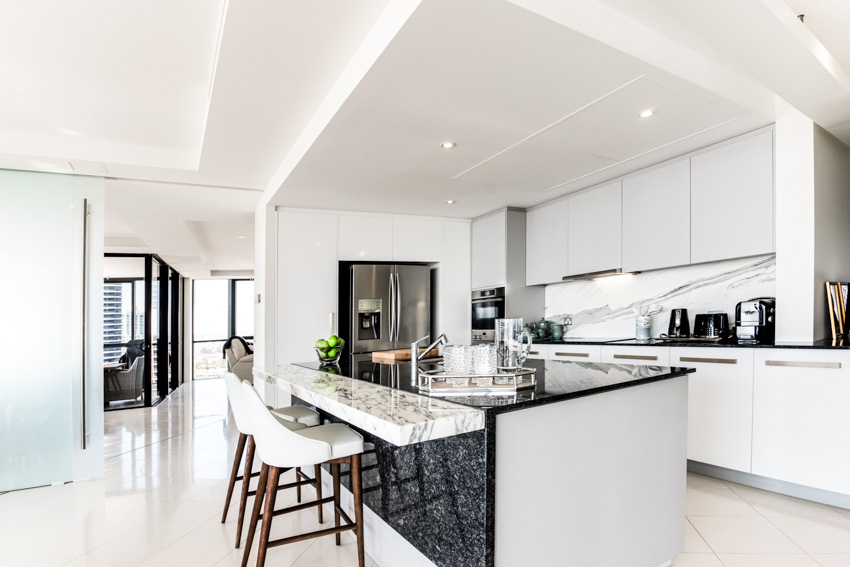 Quartzite Backsplashes Are Susceptible to Scratches: Despite its strength and durability, quartzite can be ruined by pointy objects. Repairing your quartzite backsplash using sharp objects, for example, might create marks and scratches on the material.
Quartzite Backsplashes Are Relatively Expensive: Notwithstanding being less costly than marble, quartzite, like any real stone, is a costly option for backsplashes. Manufacturing it to the size of your kitchen backsplash is a highly expensive operation that involves qualified professionals because the process needs diamond cutters to shape them.
Quartzite is Porous: Quartzite is a porous mineral that requires sealing. Spillages can leak through without sealing, causing tenacious stains and microbial contamination, particularly if spills are not cleaned up immediately.
Hence, you must seal your quartzite backsplashes at least once a year to keep them gleaming and stain-free. However, depending on the sort of quartzite you selected, you may have to seal it several times each year.
Quartzite Backsplashes Can be Challenging to Set Up: Quartzite is not an ideal backsplash material for do-it-yourselfers. It is a difficult, dense, and weighty stone that must only be put in by professional workers using specialized tools. You have to ensure that the one you will hire can expertly handle quartzite slabs, tiles, or panels.
Quartzite Backsplash Cost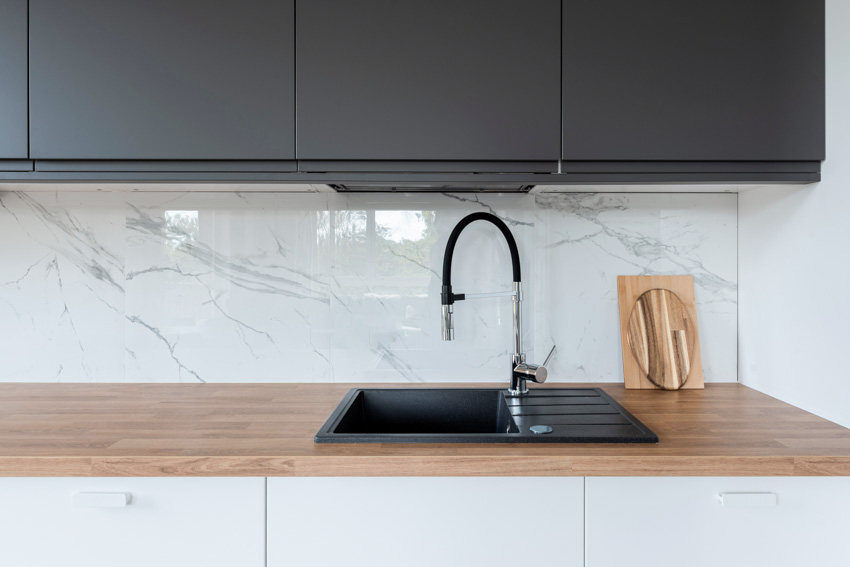 The price of quartzite, just like any other natural stone, is influenced by its availability and demand. Quartzite typically costs $60 to $120 per square foot, although the actual cost will vary in different locations.
For instance, white quartzites, which are easily found in the majority of stone yards, normally cost $65 to $85 per square foot installed, although some of the more unique alternatives range in cost from $100 to over $200 per square foot.
Costs and slab selection will differ considerably between slab yards as well as showrooms. Visiting a huge stone yard will probably improve your chances of locating the perfect quartzite slab for your backsplash at the best possible price.
Quartzite, like the rest of natural stone backsplashes, can have several surface treatments to fit a wide range of tastes. Because construction companies execute the work on demand, most quartzite backsplashes arrive polished, and you will have to pay more for alternative finishing options. The following are the cost details:
Polished Quartzite: In most situations, you will not have to pay any extra for polished quartzite because the manufacturer considers it a standard procedure for making quartzite slabs or panels. Polishing the quartzite generates a glossy, reflecting surface that hides minor faults and brightens the hues.
• Honed Quartzite: An additional $10 to $20 per square foot is normally needed to have your quartzite backsplash honed. A honed quartzite finish results in a beautiful matte texture that lightens the hue of the stones and makes them uniquely looking.
You can also find leathered quartzite finishes that come with a rough and pebbled surface texture. The amount of leathering can vary from stone to stone and also depends on the manufacturer.
Labor accounts for 25% to 30% of the total cost of installing quartzite as your kitchen backsplash, so saving $600 to $1,500 per project by doing it yourself is quite intriguing. Quartzite backsplash installation, on the other hand, is time-consuming, labor-intensive, and necessitates a high level of knowledge in stone-cutting, framing, and a variety of other specialized abilities.
Furthermore, this backsplash material is quite heavy and cannot be carried by a single person. Hiring an expert may be a lot more expensive, but it is the safest and most recommended solution to get your quartzite backsplashes well-installed.
Is Quartzite More Expensive than Granite?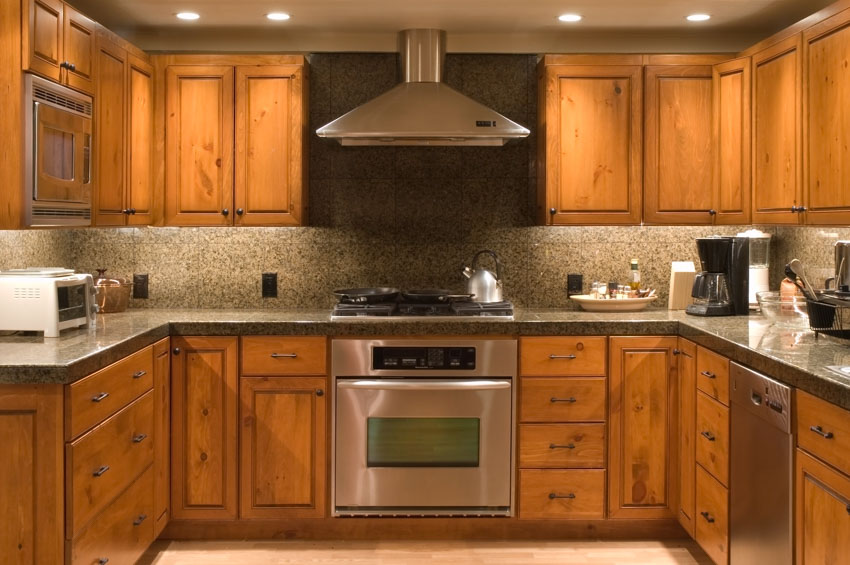 To receive an exact cost estimate, you can compare quartzite to another popular backsplash material. Although granite is becoming less popular, it is an excellent candidate for comparison.
Quartzite typically costs $60 per square foot, but it might cost more if the variety you select is more uncommon. Quartzite is generally more expensive than granite. Granite is typically priced between $40 and $100 per square foot installed.
You should receive a quotation if you want to know how much quartzite or granite will cost you. Having said that, granite is generally a more economical alternative than quartzite.
Generally speaking, quartzite is more expensive than granite, but with quartzite, you truly get what you actually pay for. Although quartzite is more pricey, granite is softer. It is also highly porous, necessitating considerably more sealing than quartzite.
Hence, in the long run, you will see that quartzite is still the better option in terms of cost-effectiveness. Read more about quartzite vs granite here.

Is Quartzite Good for Backsplash?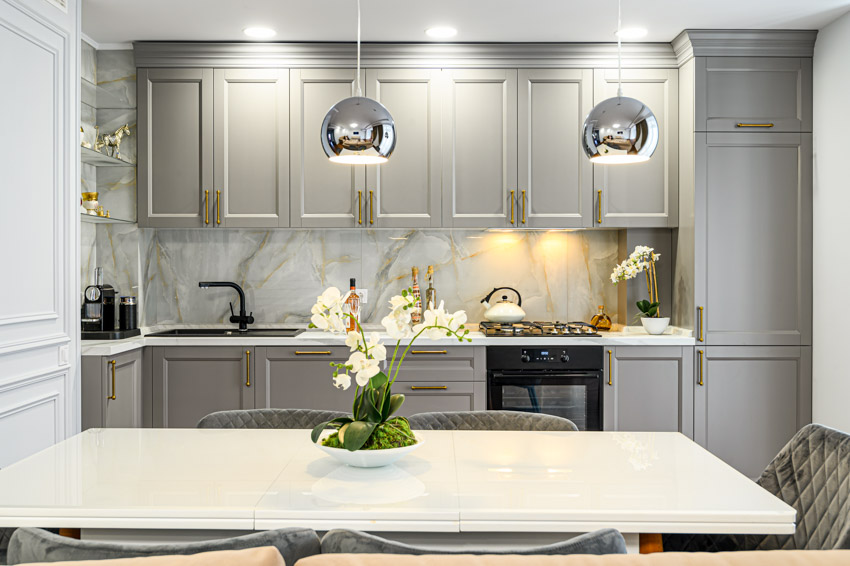 Yes. Generally speaking, quartzite is a good option for a backsplash. For homeowners searching for a backsplash material that simulates marble but may provide a comparable level of durability and strength as granite, quartzite would be a terrific option.
Quartzite is an extremely durable stone, making it ideal for a backsplash in a kitchen. The stone will necessitate little maintenance, but this is not a disadvantage. Quartzite just needs to be sealed once or twice a year, but as previously mentioned, it will depend on the manufacturer's instructions.
Many varieties of quartzite resemble marble so much that people mistake the stone for being a form of marble. Quartzite backsplash offers a delicate and refined appearance that gives your kitchen a rustic charm and beautiful aesthetic qualities.
The capacity of quartzite to withstand intense heat and sunlight also aids in maintaining the color of the material over time. If some hot oil is splashed on it, it will not show any signs of being damaged.
Polished quartzite is vulnerable to scratches and etching, while honed quartzite can resist this kind of damage. Honed and polished quartzite both need to be sealed to prevent staining. – interior designer, Ellen Siloy
Quartzite backsplashes are very simple to keep clean and maintain. You will not need complicated, costly cleaners to clean them; all you need is mild detergent or dishwashing liquid and warm water.
See more related content in our article about quartzite vs quartz on this page.