Here we share different types of Calacatta marble countertops including Calacatta gold marble cost, finishes, cleaning tips, and how it compares to Carrara marble countertops.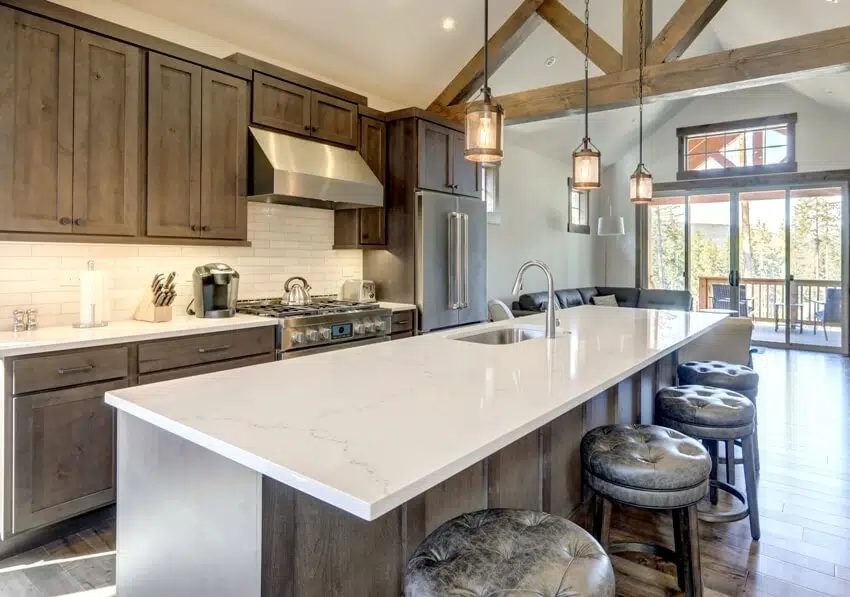 Calacatta is frequently regarded as incredibly unnaturalized and luxurious, and with maximum care, it can last indefinitely. Hence, Calacatta marble countertops must be at the forefront if you want an appearance that is both timeless and stylish.
Calacatta marble was given the name after Roman colonists and merchants who arrived from Kolkata, whereupon recognized as Calcutta, characterized the city as being unique as the sight of Calacatta marble.
Indeed, countertops that are made out of Calacatta marble are meant for high-class and luxurious homes. In this article, we will discuss what exactly is a Calacatta marble. We will also show you the categories under it as well as the other key information about it.
What Is Calacatta Marble?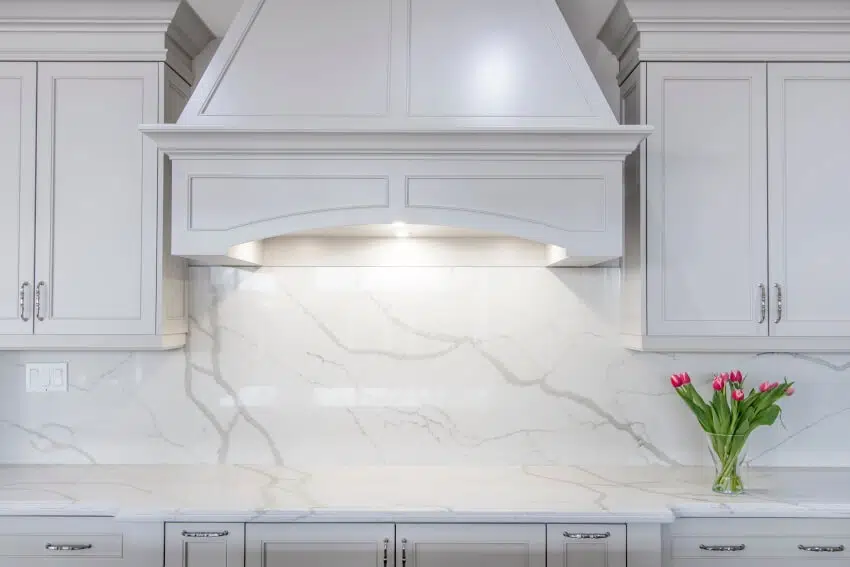 Calacatta Marble stands out due to its rich and outstanding speckles. Calacatta's peculiarity is minimal but has more expressive and unstructured veins, as opposed to the many soft veins of marble such as Carrara.
Because of its relaxing white background, veining, and color tone, this color does have global popularity among designers and architects. The lighter and more white the backdrop, the more precious and sought-after these Calacatta marbles become.
Calacatta marble is both beautiful and unique since it is only accessible from a particular quarry in the globe, which is situated in Carrara, Italy. The manufacturing of Calacatta marble from this quarry is often limited and strictly regulated.
Moreover, seasonal conditions also have an impact on manufacturing, as quarrying becomes extremely difficult on Carrara's mountain top during the harsh winter months. These factors contribute to the natural stone's scarcity and high costs.
Calacatta marble pieces, tiles, and slabs are suitable for a wide range of indoor uses where luxury is needed, especially kitchen countertops as well as backsplashes. Calacatta marble countertops can be seen in both prestigious conference rooms and modern designer residences.
Types of Countertops Made of Calacatta
Calacatta Gold Marble
Calacatta Gold marble is an Italian marble with white background and grayish and golden veining. It is regarded as one of the most valuable stones on the planet. Its natural variety results in a ravishing work of art in each piece.
Using Calacatta gold marble in your kitchen countertop will, without a doubt, turn your kitchen into a very eye-pleasing, valuable, and luxurious kitchen, making your guests envy your well-loved home.
This gorgeous natural stone is typically accessible as marble slabs and marble tiling in both rough and polished styles, making it the ideal choice for creating stylish marble countertops. A large choice of complementing wall tiles, surface tiles, and mosaic tiles are usually offered for design and installation versatility.
Calacatta gold marble has been employed in some of the world's most aristocratic designs. This type of Calacatta marble is a good purchase for any householder because of its high-quality aesthetic and the economic advantages it may provide in the long run.
These are only two of the many advantages that Calacatta Gold marble provides. Placing this material in your house will have a positive impact on its design, feel and resale value.
What Color Is Calacatta Gold?
Calacatta Gold is a valuable and particularly prized natural mineral. This type of exquisite marble features a premium white tone, and it has deep colors in the pattern of grayish and golden veins.
Calacatta marble has a deeper, darker background that is more vibrant than Carrara marble. Calacatta's specks are solid and striking, ranging in color from gray, brown, black as well as golden.
Calacatta Extra Marble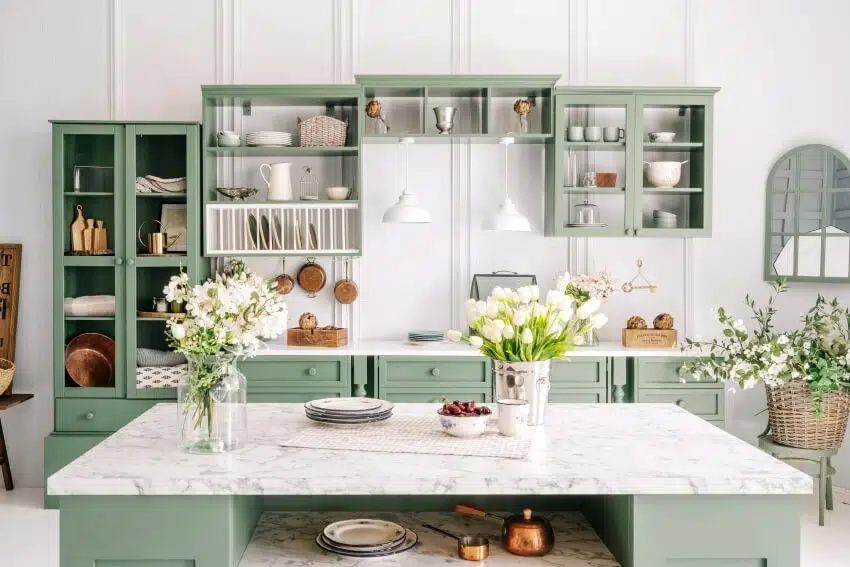 Calacatta extra marble is a breathtakingly scintillating white stone that captivates and enchants. The high-quality and subtle shading of cloudy pewter and soft golden highlights provide intensity to this white marble, making it a favorite of the majority of architects as well as interior designers. Calacatta extra marble can be used for countertops to add a touch of glam to your kitchen or bathroom.
The delicate interplay of enormous white surfaces and sinuous gray streaks gives this intriguing natural stone complexity and depth that enthralls the eye and draws attention to the senses. Calacatta extra marble is a breathtakingly scintillating white stone that captivates and enchants.
The premium-quality and nuanced shading of cloudy pewter and soft golden highlights provide intensity to this white marble, making it a favorite of the majority of architects as well as interior designers. The delicate interplay of enormous white surfaces and sinuous gray streaks gives this intriguing natural stone complexity and depth that enthralls the eye and draws attention to the senses.
Moreover, Calacatta extra marble is a gleaming stone with lovely muted colors that invigorate any environment while elegantly integrating the space with a sense of timelessness. Indeed, installing Calacatta extra marble countertops is an excellent way to bring a feeling of formal elegance to your current kitchen or bathroom aspects.
Borghini Marble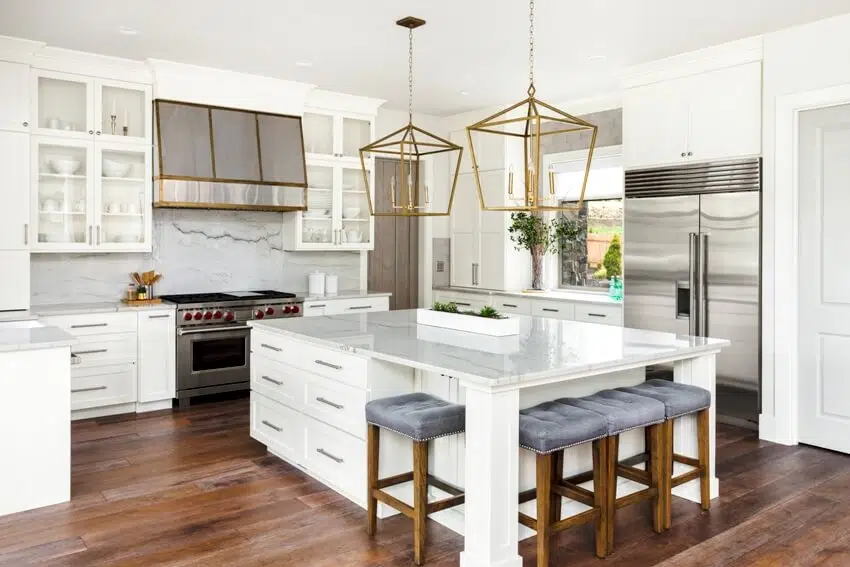 Calacatta Borghini marble is a stunning, classic Italian marble with a gentle white backdrop and dynamic textures in golden and caramel hues. Hence, this is very much ideal for huge and massively decorated kitchen and bathroom countertops.
Truly, Calacatta Borghini Marble combines timeless grandeur in its appearance and quality. It is deemed to be one of the most iconic white marbles in nature and is obtained from one of the earliest and most famous quarries in Carrara. The pattern of strong veining on a white backdrop is particularly popular in antique kitchen and bathroom countertops for producing a traditionally classy aesthetic.
Moreover, Calacatta Borghini has established a status as a very exotic and exquisite alternative for top-tier homes since manufacturing and quarrying of this eye-pleasing marble has become extremely scarce in the past few years.
Calacatta Oro Marble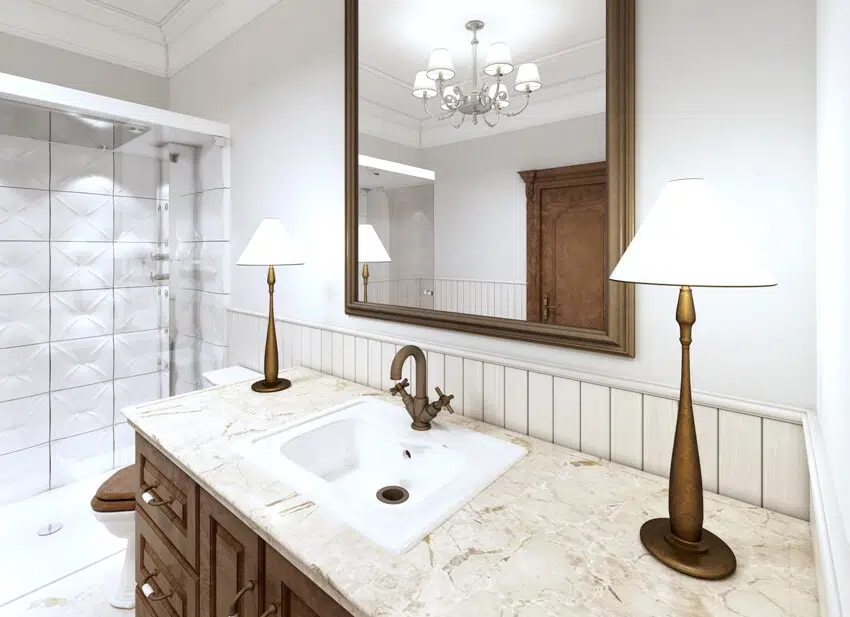 Calacatta Oro is an attractive white Italian marble with gilded beige speckles. It looks elegant with countertops, whether in the bathroom or kitchen and gives off a vintage aesthetic that will dramatically accentuate your house. The eye-catching veins that flow through this marble make a strong statement.
It is also quarried in Italy just like the other fine forms of marble. Calacatta Oro marble can, in fact, boost the value of your property. This can be useful if you plan to sell your property in the future as marble surfaces, even if they are found on your countertop, are among the most popular among residents.
Incorporating Calacatta Oro marble into your countertops would be a terrific decision because of the excellent beauty it will contribute to your room and the high value it will give to your property.
Michelangelo Marble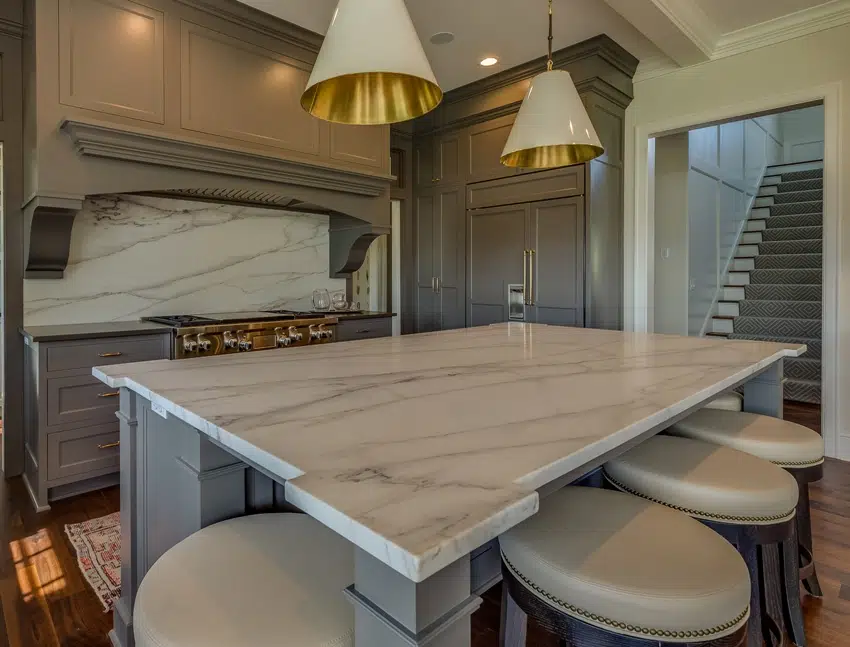 Michaelangelo marble is a magnificent type of Calacatta marble with a combination of white and brown tint. It has a meandering pattern with beige to white hues.
Furthermore, it is available in a variety of colors that can complement a variety of design palettes. It has a smooth surface and an appealing appearance that improves aesthetics, making it ideal for kitchen countertops.
Because of its artistic appeal, this arrangement is widely appreciated. Homeowners always like it to be displayed in a noticeable area in the house due to its incredible glint and glitter.
This is ideal for use as flooring, wall cladding, as well as worktops. Because of its longevity, resilience, and appeal, it is in high demand for kitchen countertops and other working surfaces.
Finishes for Calacatta Gold Island Counters
See the types of Calacatta gold marble finishes below.
Honed Finish Calacatta Countertops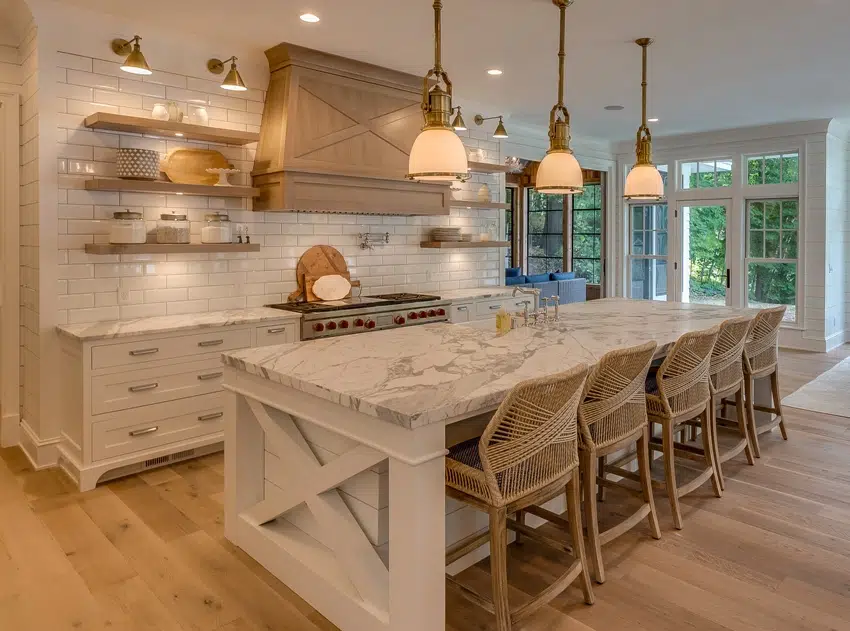 When a Calacatta gold marble slab is honed, it implies that it has been ground to a uniform, even, and coherent surface. This finish is achieved by discontinuing polishing before the final stage, leaving the marble with a non-shiny, matte appearance, and velvet-like texture.
Because the honed Calacatta gold marble countertop has a matte texture, it is more scratch-resistant. Moreover, even if you get your honed marble scratched, it would be less apparent since the scratch is not as visible when lighting bounces off it as it is on a polished marble surface. And since it is matte, it is less slippery when wet than polished surfaces, making it an excellent choice for flooring.
This finish would be very much ideal, particularly if you intend to use your Calacatta gold marble countertop mainly for chopping, slicing, cutting, or any activity that involves sharp objects.
However, you have to remember that honed Calacatta gold marble is more prone to staining, thus it is critical to clear them up very quickly. Check our guide about honed marble countertops for more design ideas.
In terms of maintenance, all you have to do is wipe the surface off with water and mild liquid soap on a daily basis, clean up spills as soon as possible, and reseal it every now and then.
Polished Calacatta Gold Type Marble Counters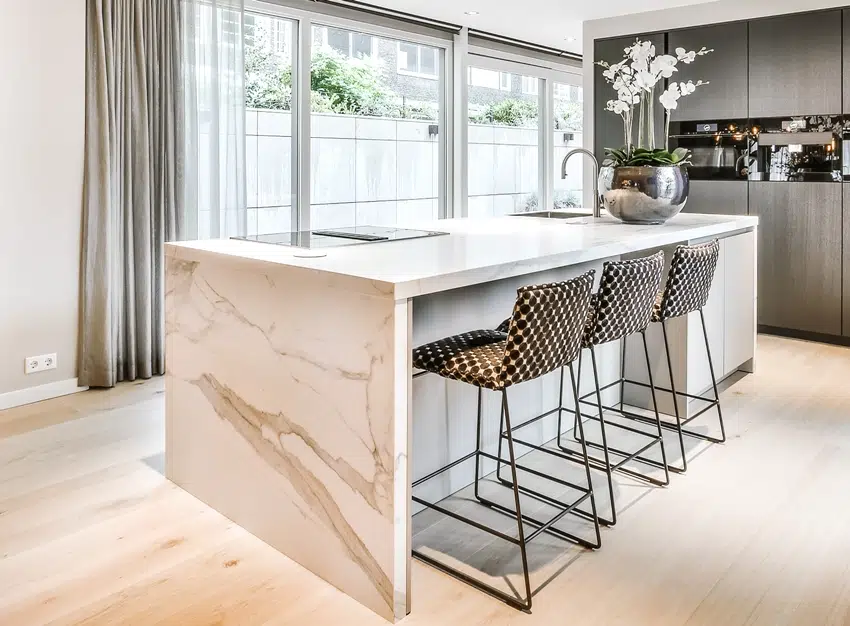 The intrinsic reflection of the marble's crystals gives a gorgeous glossy finish on a polished Calacatta gold countertop surface. It is treated, which functions as a protective barrier and makes it less prone to stains. As a result of the highly shiny surface, scratches would be more evident, which is one of its main drawbacks.
A polished marble finish is achieved by refinishing the material's surface using ultra-fine abrasive material until it becomes glossy. It has a finishing coating, which produces a very seamless and mirror-level shine.
Since polished marble is incredibly smooth, it is a risky choice for flooring in high-traffic areas like shower areas because it may be extremely slippery when the floor is wet. It is, nevertheless, a traditional material for kitchen and bathroom countertops because of its elegance.
In terms of appearance, polished Calacatta gold marble countertops are indeed better and more presentable than the honed version.
When it comes to maintaining polished Calacatta gold marble countertops, all you have to do is clean them every day with lint-free or microfiber cloth to ensure that no scratches will be left behind whenever you wipe the surface off. You can use mild detergent as your cleaning solution.
Calacatta Marble Slabs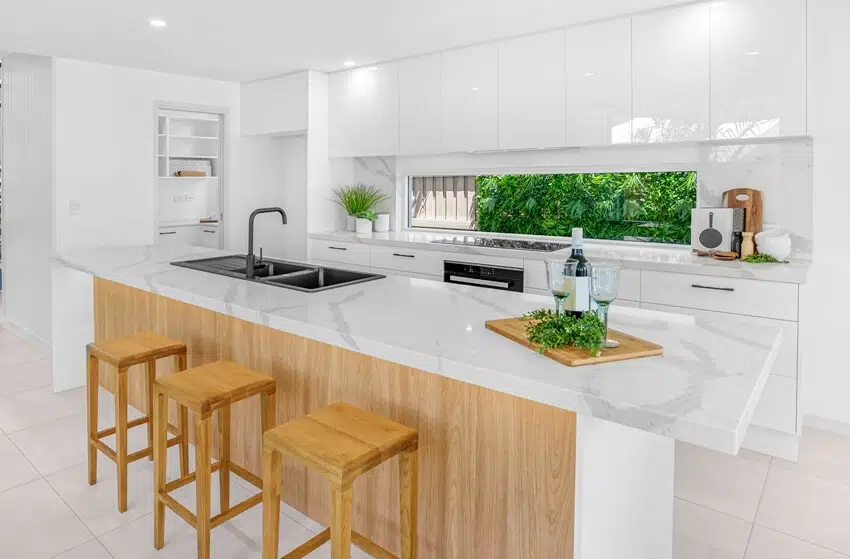 Ever since the era of Imperial Rome, Calacatta Marble slabs have been one of the most highly desired marbles. This Italian marble is obtained in the Massa-Carrara Italy Region, in the heartland of the Apuan Mountains.
Calacatta Marble Slabs are ideal for anyone looking to add a sense of grandeur and refinement to their house or company. Calacatta Marble comes in several variations, which include the well-known Calacatta Oro and Calacatta Statuario Marble.
Calacatta Oro marble slabs are distinguished by their pristine white backdrop and distinctive pale gray or golden vein. Calacatta Statuario marble slabs, nonetheless, are widely known for their white hazy backgrounds and striking dark gray streaks.
How big is a slab of Calacatta marble? Before we get to the answer, you should know that there are two categories of marble slabs. The first is a whole marble slab, while the second is a half marble slab.
The first type usually comes in a very large size, whereas the second type usually comes in a medium or small size. Of course, the biggest distinction is the width size. Normally, the length measurement is the same.
A whole Calacatta marble slab typically measures 95" x 48" or 103" x 63". However, you can always opt for much bigger ones. You can obtain massive Calacatta marble slabs in the market that can measure up to 110" x 79".
On the other hand, a half Calacatta marble slab generally measures 71" x 24" or 71" x 28". You can also find slightly longer slabs that measure up to 94" x 32". In general, half Calacatta marble slabs would be much more ideal for making countertops.
Calacatta Gold Type Countertop Costs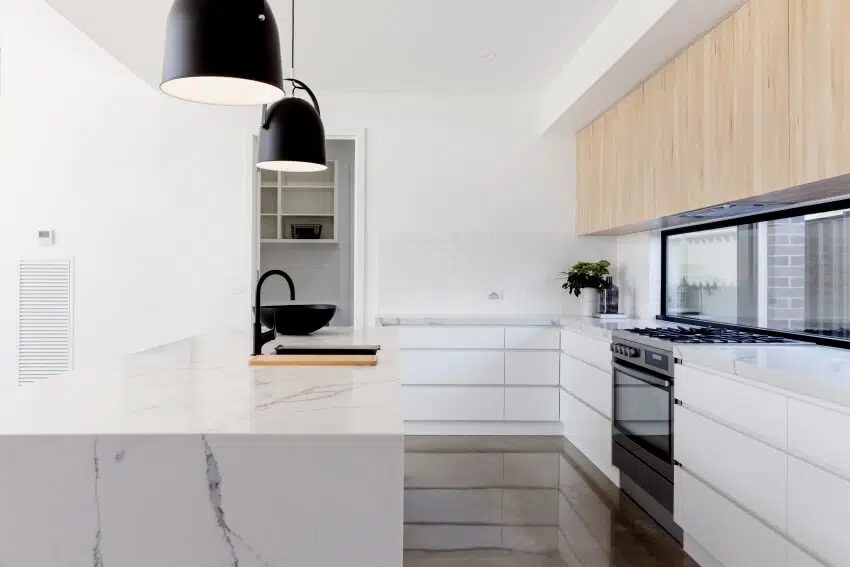 Calacatta gold marble is the most pricey type of marble, which normally ranges from around $180 to $200 per square foot. It has a white foundation with dark gray veins that stand out. Calacatta is highly porous and necessitates chemical treating before it can be used in the kitchen or bathroom.
On the other hand, Carrara, the most popular type and the most reasonably priced is usually marketed at most countertop distributors for around $40 to $50 per square foot.
Carrara is a white or blue-gray stone with gentle gray veins and gold flecks. It is porous as well and must be chemically treated before it can be used in the kitchen or bathroom. Find more about marble countertop costs here.
How to Clean Calacatta Kitchen Counters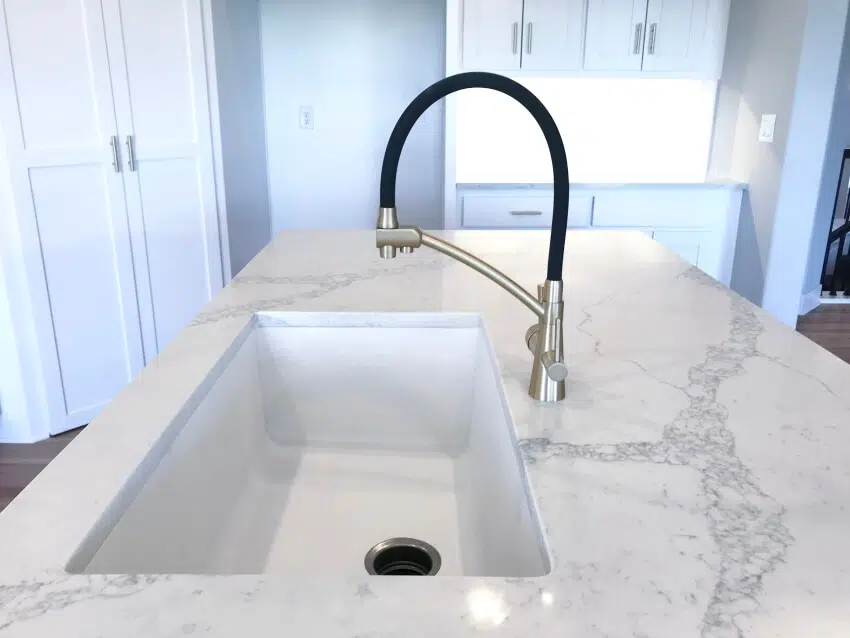 Calacatta marble has an inherent elegance. Since marble is a natural stone composed primarily of calcium carbonate, it can be sensitive to acidic substances and cleaners. Even a small amount of lemon juice or vinegar might create stains or etches on your marble surface.
To prevent this, you have to regularly clean your Calacatta marble surfaces using the most basic cleaning product you can find. A little detergent and water can go a long way. We will show you how to thoroughly clean your Calacatta marble countertops in the steps below.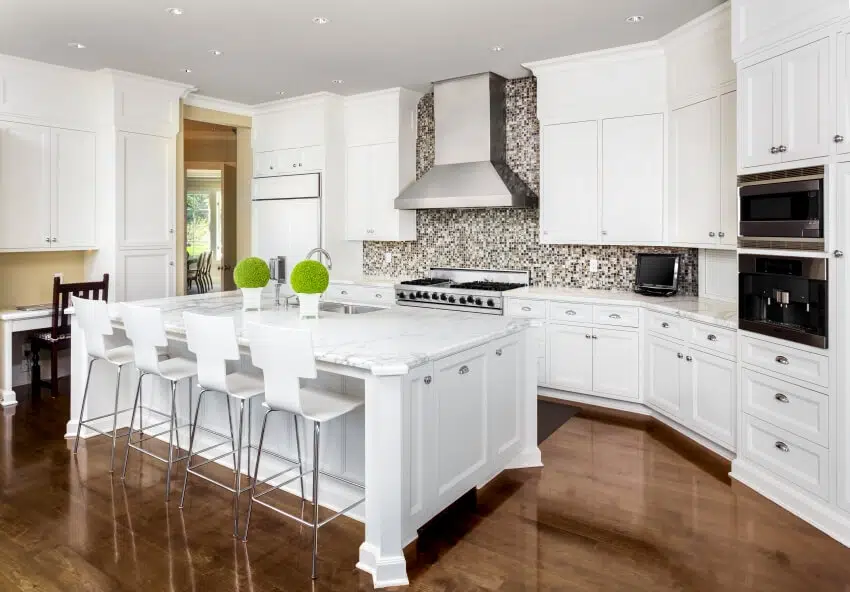 Step 1:
To a damp and clean sponge, add a handful of drops of mild dishwashing liquid and a sprinkle of water. Scrub the Carrara marble countertop surface thoroughly with the non-abrasive side of the sponge until a nice and smooth lather is formed.
Step 2:
Wipe off the foamy lather from the countertops after rinsing the sponge free of bubbles. After you have removed the soap off the surface, use a dry washcloth to rub the surface dry and restore its luster.
(You can re-sand and polish the Calacatta marble surface as necessary to eliminate etches and flaws and restore its natural sheen.) See our guide on how to clean marble countertops here.
A Few Tips on Cleaning and Maintaining Your Calacatta Marble Countertop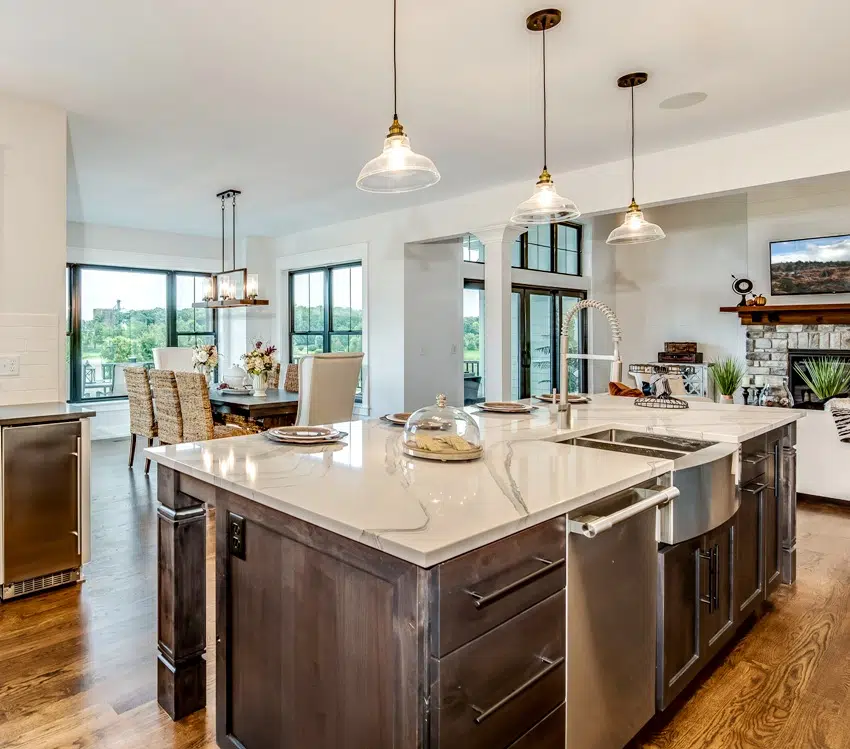 Indeed, prevention is always the key to many things, including Calacatta marble maintenance. Therefore, it is a great idea to seal your Calacatta marble every few months. Sealants do not make the marble stain-proof, but they will render it more stain-resistant, allowing you a little more time to clean up major spills.
Furthermore, seek advice from the person who sourced your marble. If you are going to use anything in the kitchen, ensure that it is food-safe. You can buy some furniture cushions and coasters for high-traffic countertop surfaces.
Adding another dimension. the Marble Institute highly suggests cleaning food stains with a cleaning solution that contains 12 hydrogen peroxide and several drops of ammonia; if you spilled anything oil-based, such as used cooking oil and the stain has been developed, using a soft cloth, rub it lightly with a liquid cleanser containing acetone or any mineral spirit.
Lastly, you can buff your Calacatta marble with dry steel wool (#0000) to remove watermarks, minor scratches, and nicks.
Any scratches that are much deeper than the countertop surface level will necessitate the assistance of an expert, thus if you left citrus out on the countertop and it has both etched and stained, follow the previous guidelines for food stains to remove the latter. Unfortunately, the etching will almost certainly need to be polished by an expert.
Calacatta Vs Carrara Marble for Countertops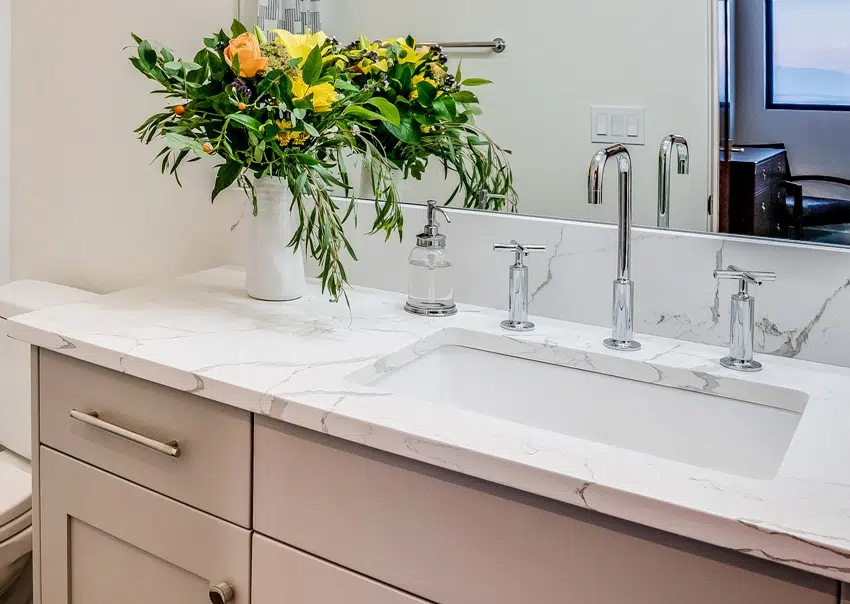 Calacatta marble is much harder to obtain than Carrara marble and is regarded as a premium stone, despite its origins in Carrara, Italy, which is the same as well as the case of Carrara marble.
It is more expensive, and the veining is more noticeable than in Carrara marble. The veins can be golden, brownish, or beige, and they are dense and vivid.
Furthermore, one technique to tell the difference is to seek the whitest one in the area. However, keep in mind that the whiter the marble, the more pricey it will be.
Nonetheless, Calacatta is a long-lasting and beautiful marble material for your countertops, backsplashes, and even floors. See our gallery of Calacatta marble backsplashes here.

Calacatta in the bathroom can also generate a stately effect due to its contrasting appeal. You can consider an all-white bathroom vanity and large white marble slabs with rich gold or gray veins. It will brighten the room and make it more comfortable and welcoming.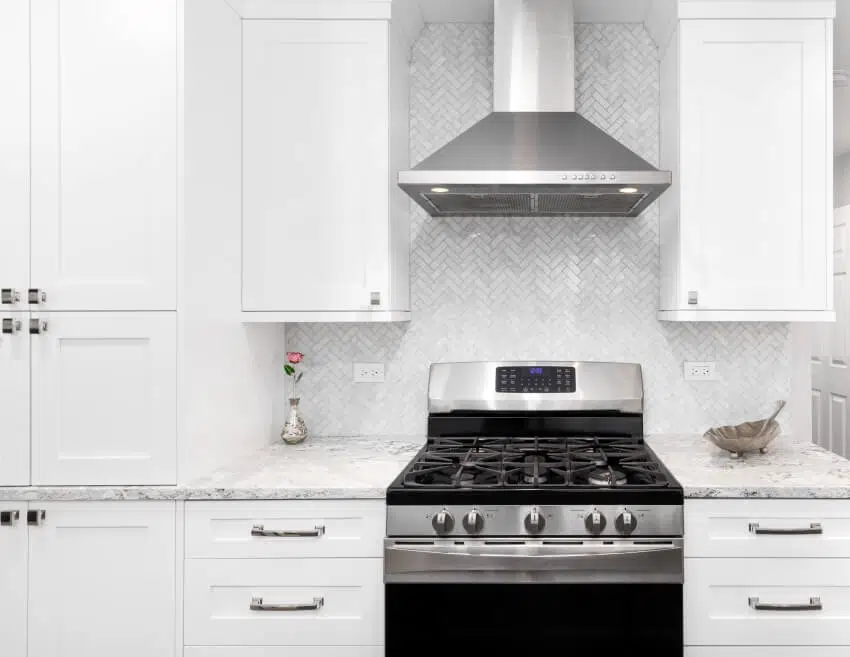 Carrara marble, on the other hand, is a two-tone cool, white, and gray stone with a granular backdrop and randomly placed veins. Carrara marble, which is more widely accessible, is a gorgeous and classic option for bathroom vanities
Carrara marble is a more prevalent option, especially for kitchen countertops. This stone will last for decades if only lightly polished and sealed regularly.
While each of these marbles is from Carrara, Italy, they are obtained from different highlands. The white tone of Carrara is less whitish and bright than that of Calacatta marble. Because of the veins, it can sometimes look yellowish or pale when contrasted to Calacatta.
Is Carrara Marble Durable?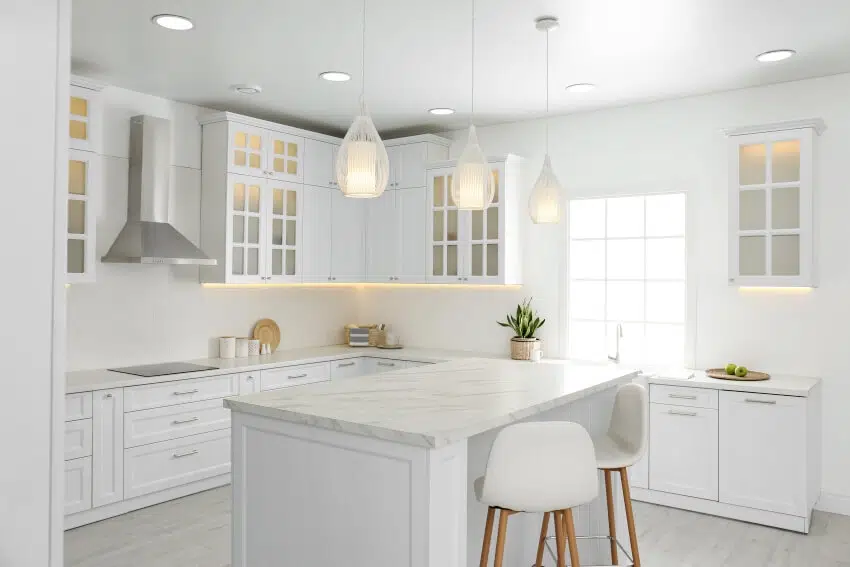 Generally speaking, yes. Carrara marble is a solid, valued crystal-based carbonate metamorphic rock originating from Tuscany's Carrara territory. Carrara's quarries produce many classes of marble, which are evaluated by developers.
Carrara marble is generally durable enough to be used for countertops, flooring and wall panels, and even building façades, though it is not as hard as other ornamental stones like granite.
Granite is more solid, quartzite is more expensive, but Carrara marble is enchanting and conveys both ancient homes and modern mansions. After all, it is stone, and stone is indeed more lasting than many other flooring and countertop surfaces.
Nevertheless, if something unexpected happens and your Carrara marble becomes fractured or cracked, you can always fix those scratches with a polishing powder or an epoxy remedy solution specialized for marble.
So, which type of marble should you choose for your countertop? There is, in fact, no correct answer when it comes to deciding which marble to choose. It is mainly dependent on your budget, overall design, and available space. Plus, it depends on your needs and preferences in terms of various factors. However, in general, both Calacatta and Carrara marble are one-of-a-kind and extraordinarily gorgeous.
The surfaces of these top-quality marble types are both porous. As a result, they are prone to etching and staining. They are, nevertheless, highly durable when properly cleaned and sealed regularly. They will both bring a feeling of elegance and style to any room.
Finally, it all boils down to the specifics in the end. You must determine if you want to make a larger, more powerful statement in your room or go for a more subtle and delicate look. Calacatta marble is best suited for homeowners seeking an eye-catching appearance, whereas Carrara marble is best suited for those searching for a minimalistic and subtle appearance.
Visit our gallery of beautiful Calacatta quartz countertops for more related design ideas.