Here we share our guide on ipe countertops including what it is, pros and cons, and ideas on how to finish your ipe wood kitchen countertops.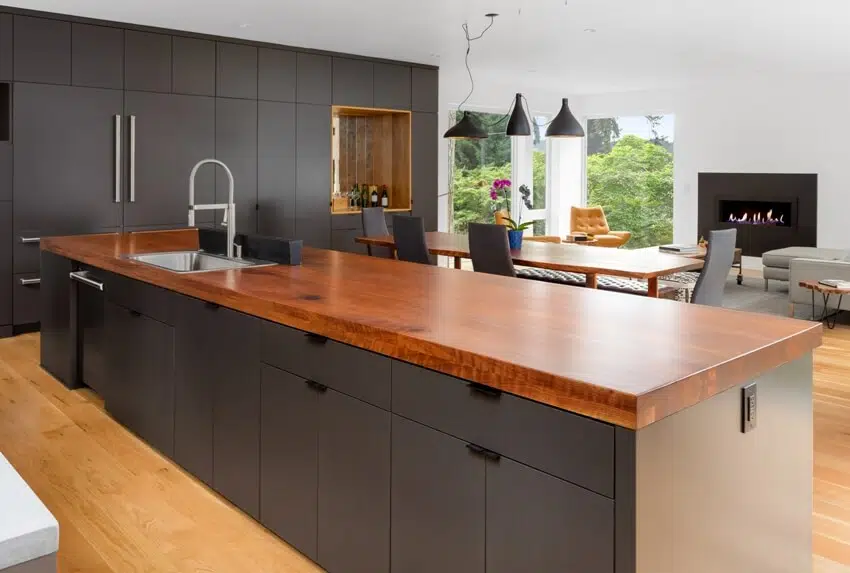 If you are trying to make a decision on what material to consider for your kitchen countertop for your next kitchen remodel, Ipe wood is something you should consider. Wood countertops are few and rare in between compared to stone for the main reason they aren't as dense, nor as nonporous as natural stones normally are. This is a problem that an Ipe countertop can seemingly solve.
Ipe is so strong that it's the recommended lumber type being used for bridges and other wooden types of infrastructure. It can take in the load of actual vehicles passing by it, even. It is extremely durable and has been known to be quite resistant to decay and rot.
A lot of moisture, heat, and other temperature variances and spillages in the kitchen can expose your wooden countertop to the possible risk of damage. An Ipe countertop will be able to hold up well against those things with proper maintenance.
What Are Ipe Wood Countertops?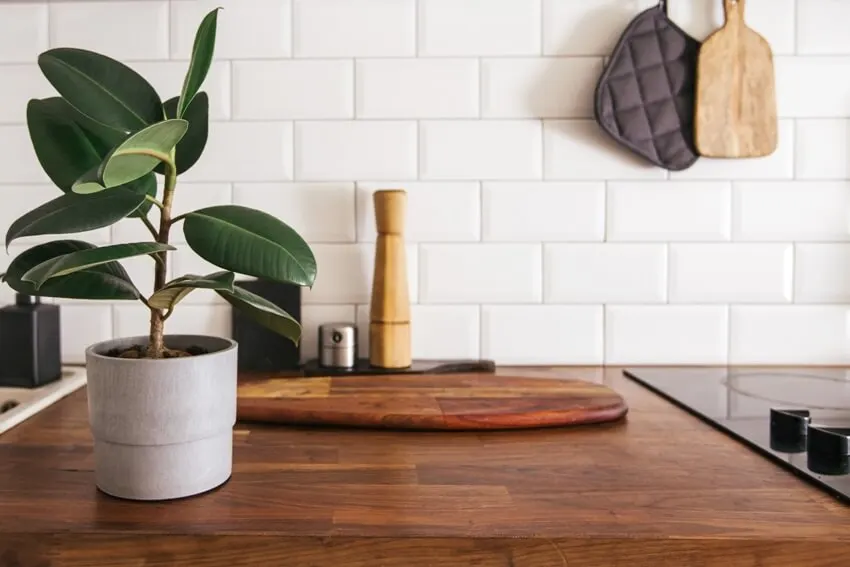 Ipe wood is a type of Brazilian walnut. Appearance-wise, it's a beautiful exotic wood. But at the end of the day, it's so much more than that. Ipe wood structures are known for being naturally resistant to rot and decay, impressively strong, and incredibly resilient against harsh weather conditions.
If you go ahead and opt for an Ipe wood countertop, one thing that you can bank on is that you're getting a material that's up to about five times harder than any other wood material you can possibly get your hands on, and at least two times denser.
This is no small feat to accomplish at all and this is why getting an Ipe wood countertop will not only make your countertop stand out for its warm and organic aesthetic, you are also rest assured that it's a great investment.
It is something that can last you for a very long time and with the proper care and maintenance, you might even be able to extend its life span. An Ipe wood countertop closely resembles the color and even the overall look and feel of mahogany wood. It can be medium to dark brown in color.
Over time, as with most hardwoods, it can gain some sort of patina and turn grayish. You only need to use the right cleaner and brightener for this and your Ipe wood countertop will be brought back to its original glory.
Even in the outdoors, Ipe wood has been known to have a lifespan of up to 75 years. But to keep the projections conservative, with the proper application, you can expect your Ipe wood countertop to last you for a good 40 years or so, give or take.
This is a life span that's at least 4 times longer compared to your highest quality pressure-treated woods. If you want your wooden countertop to really last, Ipe wood should be a strong candidate.
Ipe Countertops Pros And Cons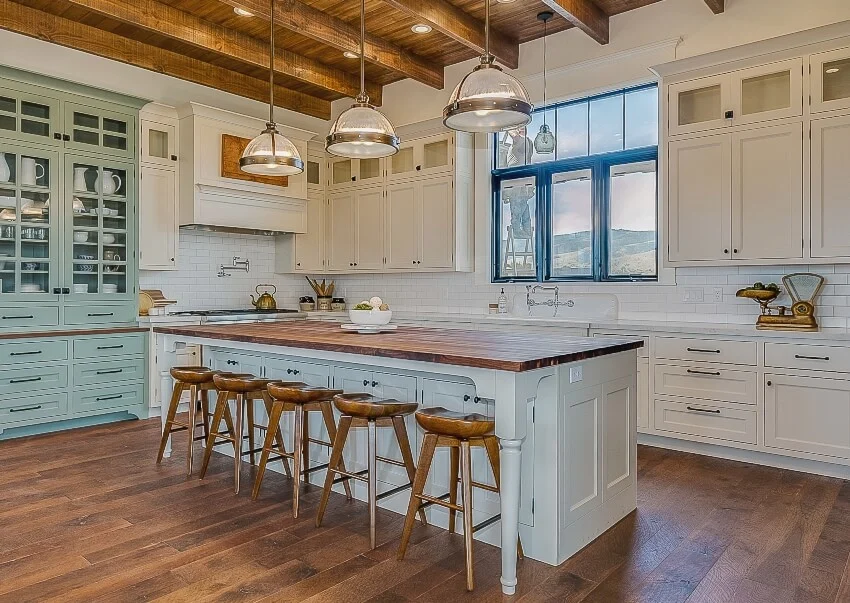 Pros
Increased Durability – There's a good reason why Ipe wood is also at times nicknamed as ironwood. It's because it's extremely durable. It can survive for 50 to 75 years even if placed under the harshest weather conditions.
It also has natural oils coming from the heartwood of the tree that provides it with its natural resistance against termites, mildew, general decay, or even warping.
Since the kitchen is one of the most humid areas in the home, it would certainly make sense to put in a wooden countertop that will be able to last despite the variances in the temperature.
Aesthetics – Ipe wood countertops have a texture that appears grainy yet is smooth to the touch. This can really add character into your kitchen space. See more types of wood grains here.

Minimal Maintenance – As Ipe wood is still a type of wood at the end of the day, it will still require some type of maintenance.
However, compared to its other wood type countertops, it's so much less so. It has been known that Ipe wood does not actually require sealing.
A gentle clean with the use of some soap and water should suffice. However, if you ask us, sealing your Ipe wood countertop will really get to extend its life span so you might as well add in that extra coat.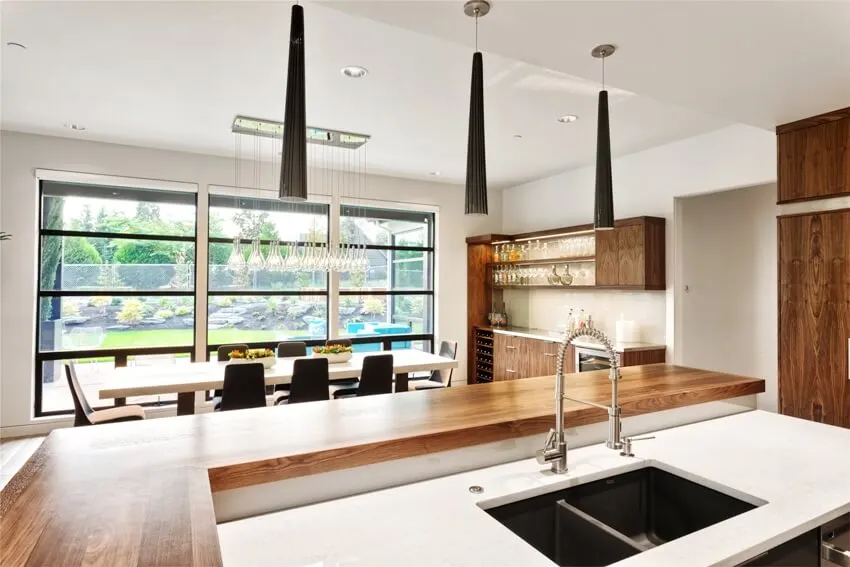 Scratch Resistant – Ipe wood is a type of wood that doesn't get scratched not does it get dented. This is why it would make sense to put it in as a kitchen countertop, where a lot of heavy duty tasks are being done day in and day out, from chopping, to prepping ingredients, to kneading dough, and so on.
Resistant To Hot Temperatures – Ipe wood is quite popular as a deck floor. This is because it doesn't get too hot to walk on despite its exposure to the scorching sun. This can work to your advantage as a kitchen countertop.
It isn't uncommon to forget to use a trivet every now and then before you put a hot pot or pan on the surface. You can be rest assured that your wooden countertop won't end up damaging the surface or making it hot to the touch because of it. This is all because of Ipe wood's ability to stay cool despite being exposed to hot temperatures in the kitchen area.
Cons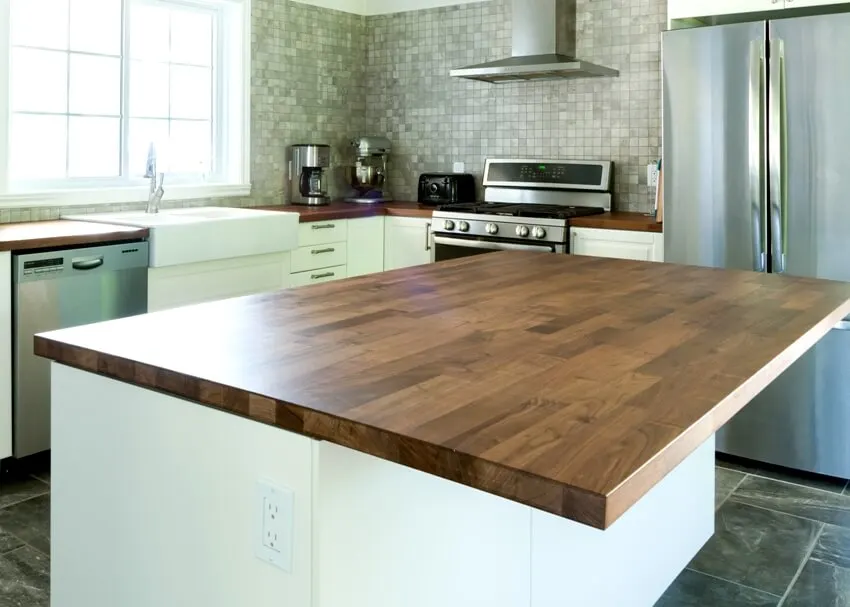 It's Very Heavy – Because of its extreme density, this means that Ipe wood can be extremely heavy. As a countertop, you need to make sure that you get your cabinets checked by professionals first.
Make sure that they can actually take on the load of a full Ipe wood countertop slab or you'll end up with a collapsed cabinet.
It's Expensive – Because of its unique traits and amazing strength and durability, Ipe wood is extremely in demand. And because the supply for such a wood is scarce in the market, this has effectively drawn the prices up for it.
If you're opting for an Ipe wood countertop, it will not come cheap at all so you need to be prepared for the ensuing price tag.
It has been said that there are other types of wood such as teak that can more or less be compared to the density and hardness of Ipe wood without the punishing cost but then again, if you are as fan of Ipe wood's dark colored appearance, then there are compromises that need to be made.
Can You Use Ipe For Kitchen Countertops?
Not all types of wood are recommended for outdoor use not to be used in the kitchen. This is based off of the basic fact that wood in general does not take it well when it gets wet.
However, with the right type of wood, a wooden countertop can definitely be pulled off. Visit our guide to butcher block countertops pros and cons for more wooden countertop ideas.
This is where Ipe wood countertops come in. Ipe is great in being able to give your kitchen that natural and organic look that no material other than wood can.
Because of its darker color, it can deliver that much sought after exotic look for your kitchen countertop. See more ideas in our types of kitchen countertops gallery.
So yes, you can definitely use Ipe wood for your kitchen countertop but with a few requirements. You need to make sure that it's properly sealed.
And when it comes to its maintenance, you also need to have it resealed around once or twice a year. Here's the breakdown on getting Ipe wood as a kitchen countertop:
Ipe Wood Countertops Cost
The cost of Ipe counters is around $4 to $8 per linear foot. Since linear feet is one dimensional while square feet is two dimensional and an average kitchen countertop measures 30 square feet, this means that the cost for an Ipe wood material for a countertop would be at around $480.
Take note that this is for the raw material alone. This does not include delivery, installation, labor costs, and additional services such as sealing and the like.
Ipe Countertops Maintenance
It requires just the basic soap and water and perhaps a cloth or a soft bristled brush to get it cleaned up. But once in a while, to extend the life span of the wood material, it would need to be resealed at least once or twice a year.
Reinforce your cabinets. Give your cabinets underneath a professional checkup to make sure that it will be able to bear the load of the Ipe countertop. It's heavier than most woods and you need to secure those cabinets so that they don't collapse under its weight.
How Do You Finish Ipe Wood?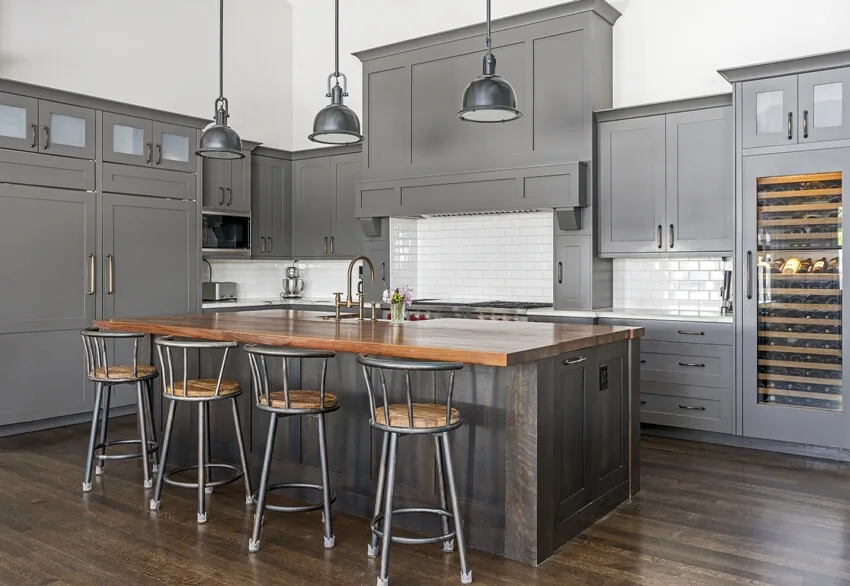 Ipe wood is naturally dense so technically speaking, a type of finish isn't necessary. Still, you should. You must keep in mind that the kitchen is one of the sunniest areas in the home and your wooden countertop will be exposed to a lot of UV lighting.
This could ruin the appearance of your Ipe countertop. You will also be exposing your countertop to a lot of wet materials or water and other liquids while you're working in the kitchen so sealing it is necessary.
When finishing your Ipe wood countertop, start off by getting it pressure washed. This will get rid of any hard-to-remove debris and any signs of grayish patina. Let it dry out for a day or two.
Once completely dried out, sand it until it's smooth and make sure to pay extra attention to get any remaining gray patina removed. Brush off the debris and wipe it down with a dry soft cloth.
Once ready, apply your oil finish of choice. You can use a sponge brush or some type of bristled brush for this.
Can Ipe Wood Be Used For A Cutting Board?
Ipe wood makes for a great cutting board material. It's dense so you're sure that it won't warp not have any knots on its surface. It makes for a very smooth and satisfying cutting board experience.
When it's sanded and well oiled, Ipe wood cutting boards can look very handsome on your kitchen countertop so there's the added element of aesthetics as well. Check the different types of cutting boards here.
Is Ipe Wood Toxic?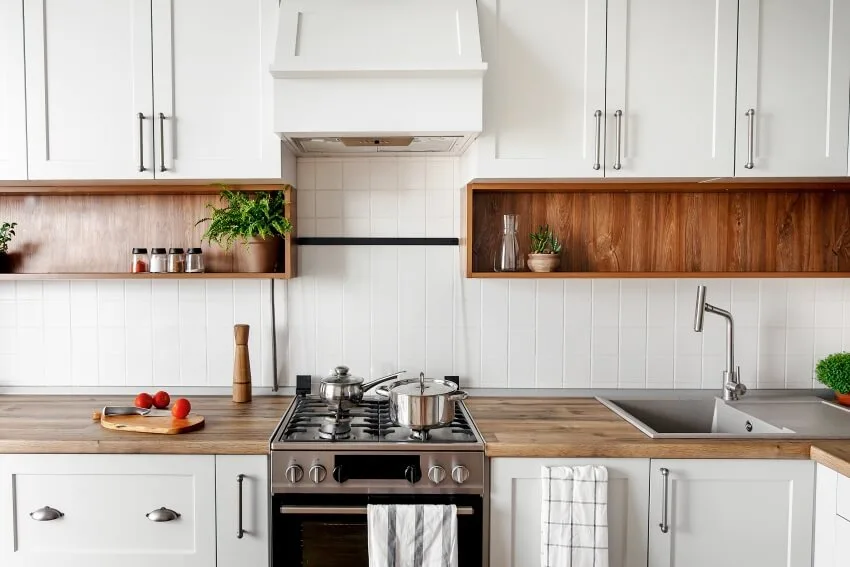 Ipe wood by itself isn't inherently toxic. It's still quite safe to use it as a cutting board or as a countertop. There won't be any safety issues involved.
However, working with Ipe wood can pose some issues. The dust that comes out of it can be fine.
This means that it will fly everywhere when you're working on it. It can get into your ears, nose, and other bodily orifices and can cause difficulty of breathing and other similar respiratory issues.
And although uncommon, it has been noted that some people are actually allergic to Ipe wood dust as well. It can bring on asthma-like symptoms, can cause eye, skin, and respiratory irritations, and for some cases, even some serious headaches. This isn't something that you should be taking lightly at all.
If, by any chance, you find yourself being the scenario of having to work with Ipe wood, you need to make sure that you are properly protected at all costs. After all, you'll never know for sure if you're going to be allergic to it or not so you might as well put in pre-emptive measures.
For starters, always wear protective clothing. There's a reason why handyman uniforms are readily available in hardware stores everywhere. Grab one and don't take it lightly.
Also make sure that you have protective gloves and eyewear on. Ipe wood dust can get into your eyes and cause irritation as it tends to fly everywhere because of its fineness.
And since you're going to be working with your hands, it will be the part of your body that will get the most exposure to the Ipe dust. Having gloves on will make sure that you aren't getting any type of direct skin contact to it. And of course, you are going to need a protective mask.
Respiratory irritation is one of the biggest issues you will face when working with Ipe wood. You need to make sure that you don't end up inhaling the dust.
For more related articles, visit our ipe wood furniture design guide.