Here's our Carrara marble backsplash design guide showcasing what it is, different types, cost, pros and cons, and how to clean Carrara marble backsplash.
If you are in need of material for your backsplash project, the Carrara marble is perfect. Quarried from the Apuan Alps in the Tuscany region of Italy, this marble from the Massa-Carrara provinces is one choice that should not be missed. The material traces its usage history since Roman times.
From the Roman age to the Renaissance by Michaelangelo to today (Michael painted on an inferior version of the material, but even that proves a point.), the natural stone is timeless, classic, elegant, and worth the premium. The material is still available today for residential and commercial applications.
What Is This Type Of Marble?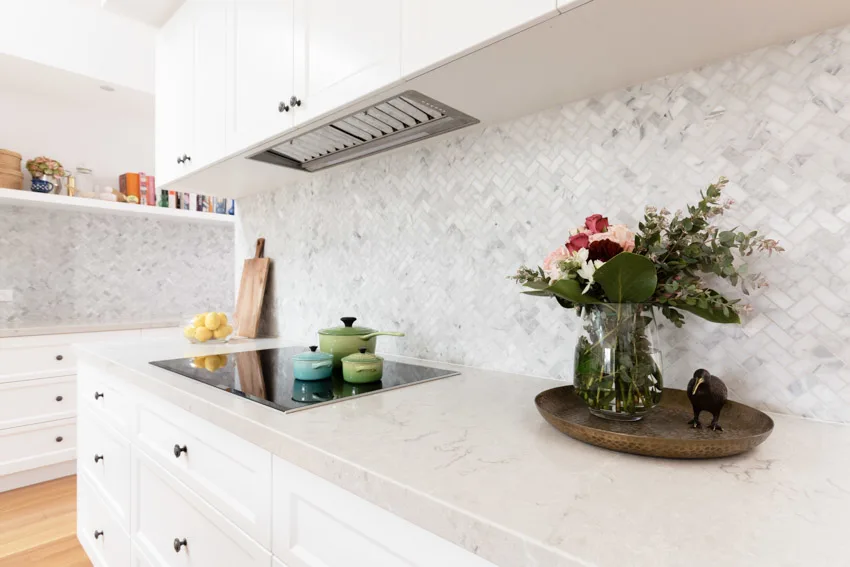 Appearance-wise, Carrara Marble is an Italian marble that comes primarily in cool white with subtle light gray veining that leans towards blue hues. The luxurious marble looks softer compared to another well-known variation, the Calacatta marble.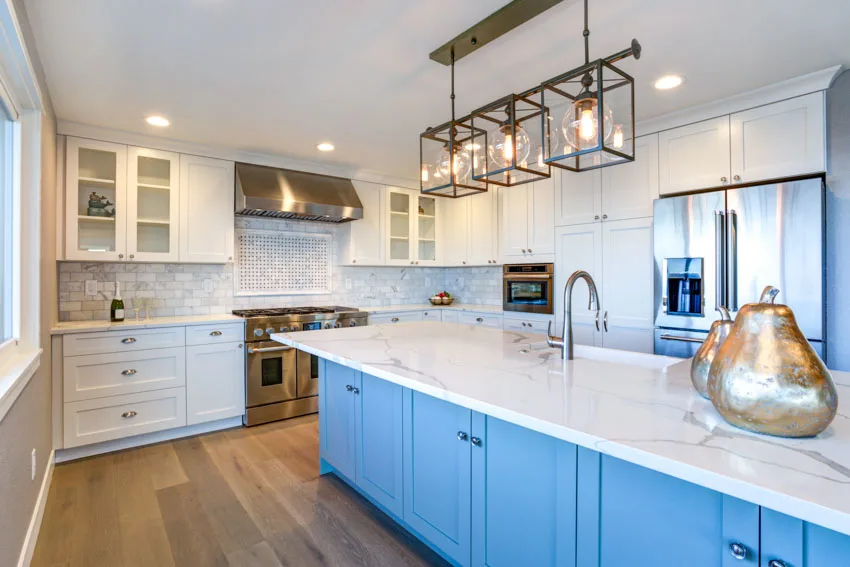 They usually come as slab, tile, and block forms, although the preferred choice for backsplash material is in tile form since it's easier to install and can be extended or removed easily.
1. Dimensions: The most common Carrara marble come in 12-inch x 12 inches and 12-inch x18-inch tile sizes. You can also have them custom-sized. Aside from rectangular shapes, there are also hexagon and diamond-shaped Carrara marble with 3-inch size as the most common.
2. Tile and Slab Thickness: The usual thickness of Carrara marble tiles is 15 to 20 mm (best for backsplash) and 20-25 mm (recommended for countertop areas)
Types Of Backsplash Made Of Carrara
Marbles are best used infrequently in damp areas, such as kitchens and bathrooms. This lovely natural stone is also used as one of the sought after types of backsplash materials for kitchens.
What is known to the trade as Carrara marble is divided into various grades, such as Bianco, English Veined, Statuary, Veined Statuary, etc. – The Marble Worker, 1911
For the Carrara marble backsplash, you rest assured that your kitchen will look amazing. Listed here are the types of Carrara marble variations you can incorporate for a stunning backsplash.
Carrara White Marble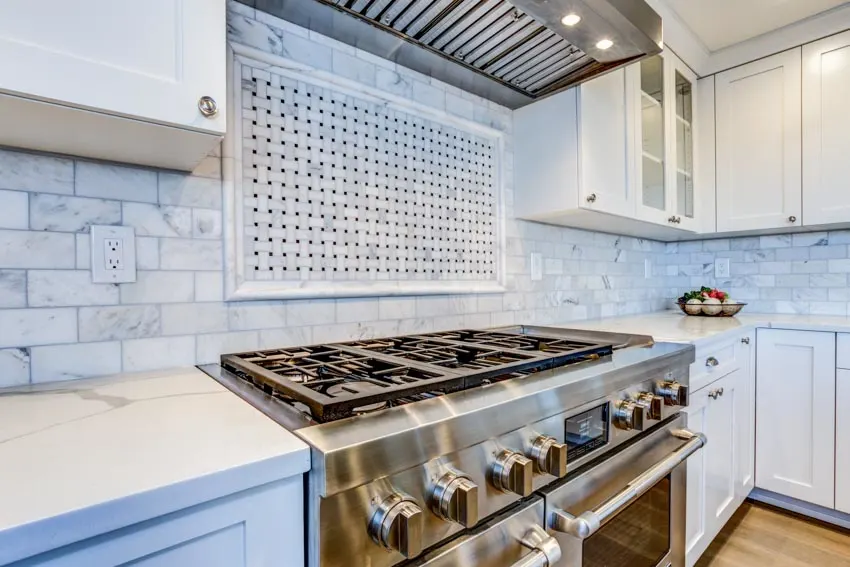 The Carrara White marble tile is associated with luxury: with soft white and gray shades, subtle veining, and a sophisticated honed finish. Aside from backsplashes, showers, and bathroom floors, unexpected locations like mudrooms and laundries can all benefit from these tiles.
Carrara White marble backsplash goes with a variety of home décor styles. From classic to farmhouse styles in iconic shapes like hexagon and subway to new styles like 3×12, which are perfect for a backsplash.
White Carrara marble, also known as Bianco Carrara, comes in a variety of white shades that can be distinguished using a grading scale; the most common grades are CD and C.
Carrara marble with a C grade typically has a light background and a light vein pattern, whereas marble with a CD grade typically has a grey background and a darker vein pattern.
The Carrara C grade marble is pricier compared to a CD grade marble because of its coveted white coloring, making it more suitable for projects with a smaller budget.
White Carrara marble tiles, both C and CD grade, are popular in a variety of applications and are a popular backdrop for kitchens and bathrooms.
Sahara Carrara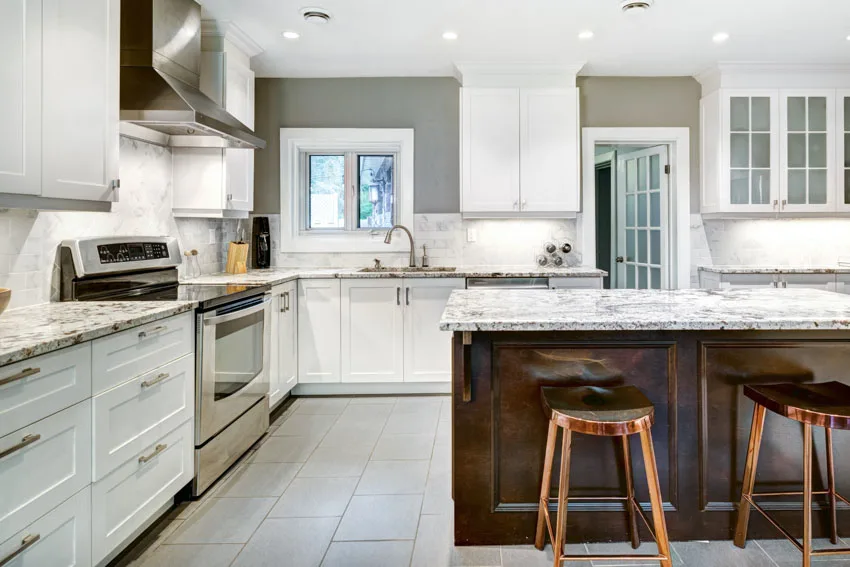 The Sahara Carrara marble backsplash is not actually made from authentic Carrara marble but instead has a similar look to the Italian stone. Most Sahara Carrara marble is sourced in Namibia or Egypt.
The Sahara Carrara marble backsplash made from tile sizes similarly will have varying gray and white shades, and each stone tile has its unique veining.
Hampton Carrara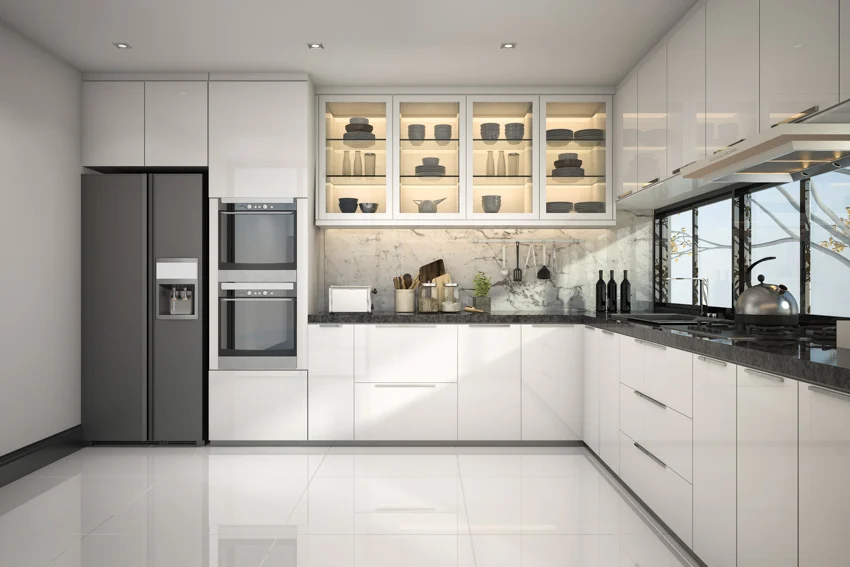 Hampton Carrara Marble Backsplash has a marble material that is light and dark gray veining as well as beige veining. Like the Sahara Carrara marble, the Hampton version is not true Carrara and is sourced in Egypt or in China.
Since you get a wide range of options, expect to have varied sizes and trims to choose from. This makes Hampton Carrara easy to mix and match with coordinating shapes and sizes. It is best to inspect all tiles before your installation.
Natural stone products are subject to variations in color, shade, finish, etc. As a tip, you should sort and blend tiles sourced from different boxes when installing. All-natural stone products should be sealed with a penetrating sealer.
Subway Tile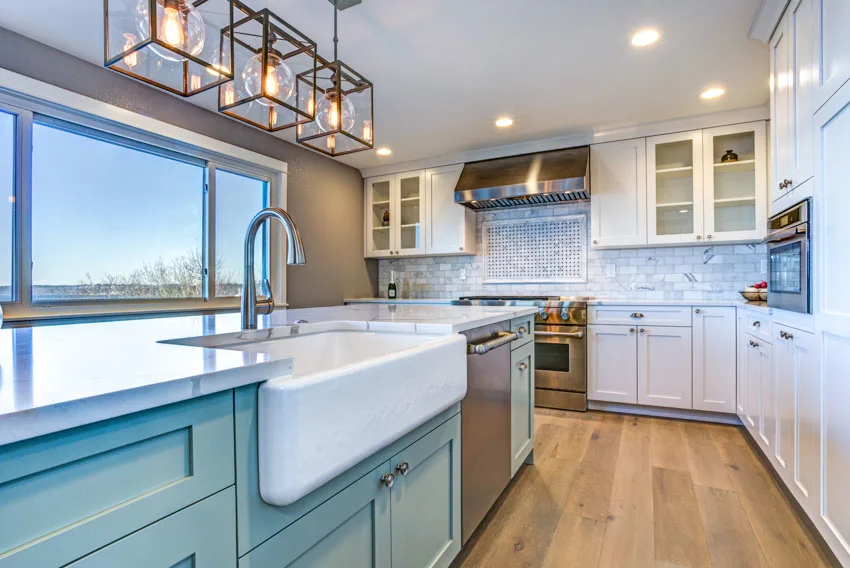 Rectangular shaped tiles in varying white, gray, and beige hues distinguish the Carrara marble subway tile backsplash. Subway tiles, in general, can cover a large surface area on walls, particularly those that are frequently exposed to water.
Subway tiles also have a very thin grout line between each tile, leaving little room for moisture or mold to accumulate. As a result, this tile is an excellent option for bathroom walls and kitchen backsplashes.
While Carrara marble subway tiles can stand alone, combining them with other types of tiles and tile accents can expand their potential and your décor ideas. Do you want something modern or minimalist without too many natural colors?
Metal accents that match your appliances or bathroom fixtures are another option. Consider adding an accent strip of mosaic tiling to your subway tile backsplash to add a bit of interest.
Herringbone Backsplash

As a natural stone, marble comes in variations in a pattern where no two pieces are exactly alike. Variations in color, pattern, texture, and veining will occur; this makes the Carrara marble herringbone backslash tile an interesting and chic backdrop for your kitchen or bathroom.
Carrara Backsplash Cost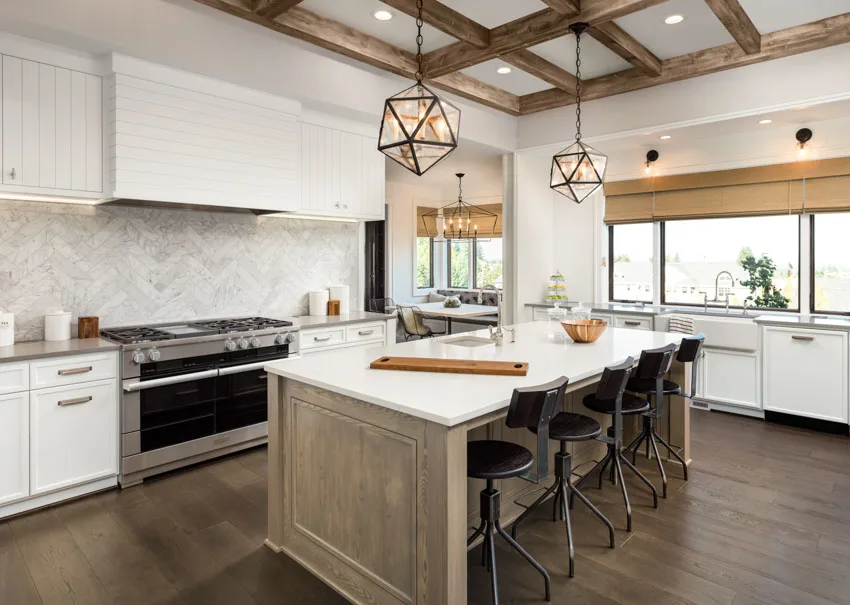 Carrara is the most popular and affordable tiling material for those operating on a budget, costing around $40 per square foot from most countertop vendors.
Carrara is a white or blue-gray marble with soft gray veins and gold flecks. It is porous and requires chemical treatment before being used in the kitchen or bathroom.
Type, grade, size, transportation, and other factors influence material and installation costs. Prepare an additional $10 to $20 per square foot of your backsplash for the labor costs.
Also, remember that the price of a particular slab is also affected by its thickness. Generally, countertops are cut either one centimeter or two centimeters thick; one centimeter generally suits the purpose.
Carrara Backsplash Pros And Cons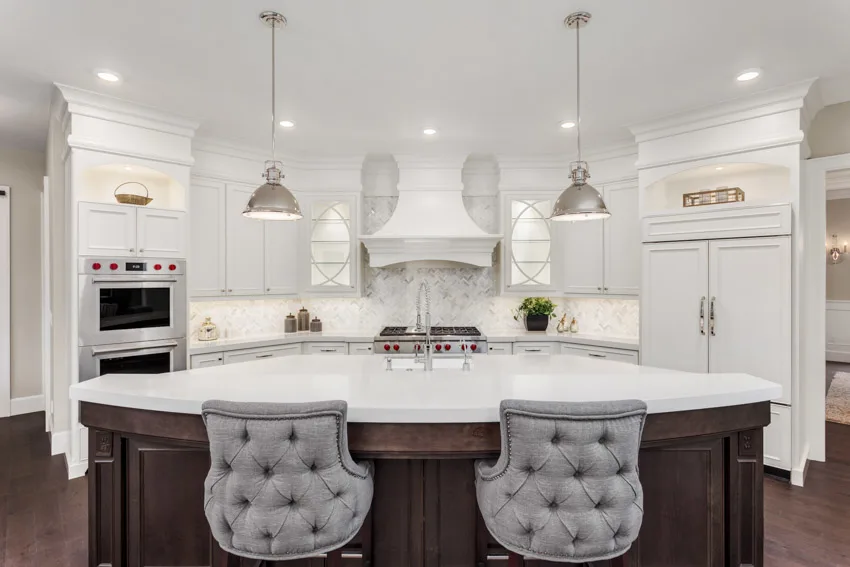 Before you get excited about getting a Carrara marble, you should know the pros and cons of the said natural stone.
Carrara Backsplash Pros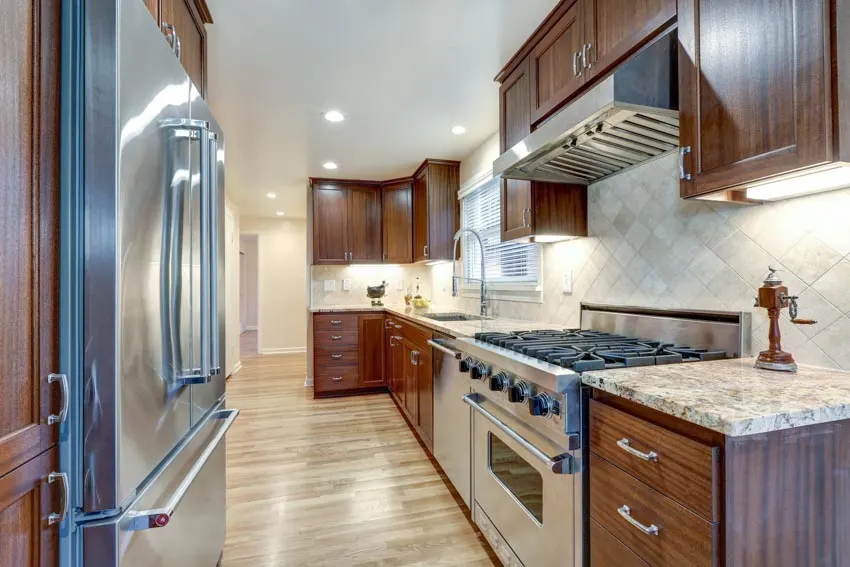 1. A Versatile Beauty: Nothing compares to the aesthetic appeal of real marble, which is timeless and versatile to fit any design preference you have.
With the number of tile configurations available, a Carrara marble backsplash will surely be an eye-catching addition while blending harmoniously with the rest of your bathroom or kitchen interior.
2. A Less-expensive Marble Option: Although it's more expensive than other natural stones, it's generally one of the more affordable types of marble materials available in the market. This means you can implement a continuous countertop to the backsplash, creating a continuous coverage of the natural stone.
3. Price Variation: Carrara marble comes in a variety of shades that are classed and prized by a grading system, and the two most used are C and CD.
The grade C marble comes primarily with a whitish background color and a soft light grey veining. The CD marble has a more grayish backdrop and a darker veining hue.
The C grade marble is pricier since it has the more coveted white coloring, while CD grade marble is installed for projects that require a less expensive option. Since Carrara marble varies in pattern, thickness, grade, dimension, hue, tone, and veining, you'll also expect to have varied pricing.
4. Friendly to Environment: Marble is a natural, eco-friendly material that evokes a strong sense of place. Quarrying in Italy has vastly improved in terms of environmental protection over the last 15-20 years.
Domestic quarries are now required to follow strict guidelines and certifications and are closely monitored by government agencies. With these strict guidelines come new environmentally friendly manufacturing procedures, such as lower energy consumption due to improved technology and the installation of 100% recycled water systems for cutting.
Moreover, many old marble quarries have been turned into recreational parks, green areas, and even lakes. You'll also find tile sources of Carrara Marble that have GreenGuard, USGBC/LEED, and NSF or certifications that ensure that the natural stone product is sourced and produced responsibly.
Marble is 100 percent recyclable, and fabricators are now repurposing the waste from the manufacturing process for other projects such as roadbeds.
Recent advanced studies have revealed a new method of using marble dust in cement to increase the strength and durability of the cement; if this method is successful, marble could become a zero-waste product. Other common kitchen countertop materials, such as quartz and ceramic, require the use of silicones or are manufactured in a less environmentally friendly manner.
5. It's heat-friendly: Without worry, you can put a hot pot or pan directly on most types of countertops. That being said, you wouldn't want to put something like that directly on the countertop because it could scratch.
Note: although they can technically withstand heat, stone can be subject to heat shock, or cracking, under extreme temperature differences. Because marble sits colder than room temp, I've never directly done this for fear of cracking.
Longevity and increased property value. Carrara marble automatically increases the financial value of any property in which it is used. Its beauty, clean aesthetic, and distinct personality can transform any space from drab to elegant, modern, and luxurious.
6. Easy Cleaning: Aside from its ability to increase property value, marble is surprisingly easy to maintain, requiring only periodic resealing. Many marbles care tips are available, but as long as you remember that it's a natural product that can react to acids, food, or drinks and treat it accordingly, you'll be fine.
7. It's unique: Every slab and block of marble is one-of-a-kind due to its natural creation and evolution; slabs originating from the same block will all exhibit slight differences in veining or color from the other slabs, resulting in each slab and block being classified as one-of-a-kind. It's almost as if you're the proud owner of an original piece of natural art.
Carrara Backsplash Cons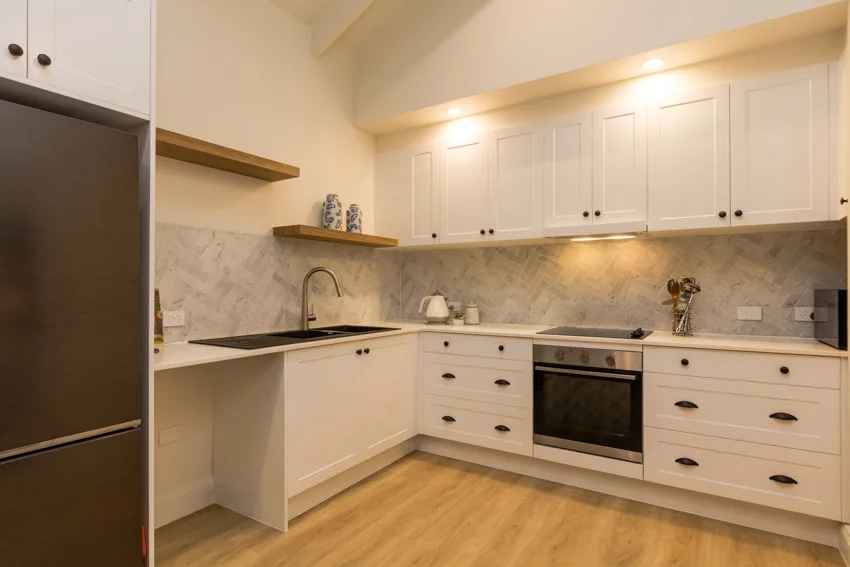 1. Hard to install by yourself: For DIYers, beware that installing your marble backsplash tiles by yourself is a job that will take a lot of your time and energy. If anything, marble is a relatively heavy natural stone, and cutting through it to make intricate mosaic designs takes special tools that you'll have to rent or buy.
If you don't know what you're doing, chances are you'll end up with a poor-quality backsplash that looks nothing like what you had in mind. This is one job you're better off leaving to the pros.
2. Marble is nowhere as hard as Granite: Granite is much harder than marble. That means it can be chipped by hitting an edge with a metal belt buckle or a heavy skillet.
3. The need for regular sealing: Another disadvantage of marble backsplashes is that they must be sealed on a regular basis. Marble, like other stones, requires sealing to perform at its best.
This seal acts as a barrier between the stone and any acidic chemicals that might come into contact with it, preventing permanent stains and discoloration. Although resealing your stone may appear to be a hassle, it is a simple and inexpensive procedure that you can do yourself.
4. Staining and etching: As a natural stone, marble is also porous, and if not sealed, marble surfaces are susceptible to staining. If you have a honed marble backsplash, it is more likely to stain than if you have a polished marble backsplash.
Marble surfaces are susceptible to etching because they are softer natural stones. The severity of the etching, on the other hand, is usually determined by the type of marble backsplash you have.
The etching will be much more vivid when comparing a polished marble backsplash to a honed marble backsplash.
Is Marble A Good Material For A Backsplash?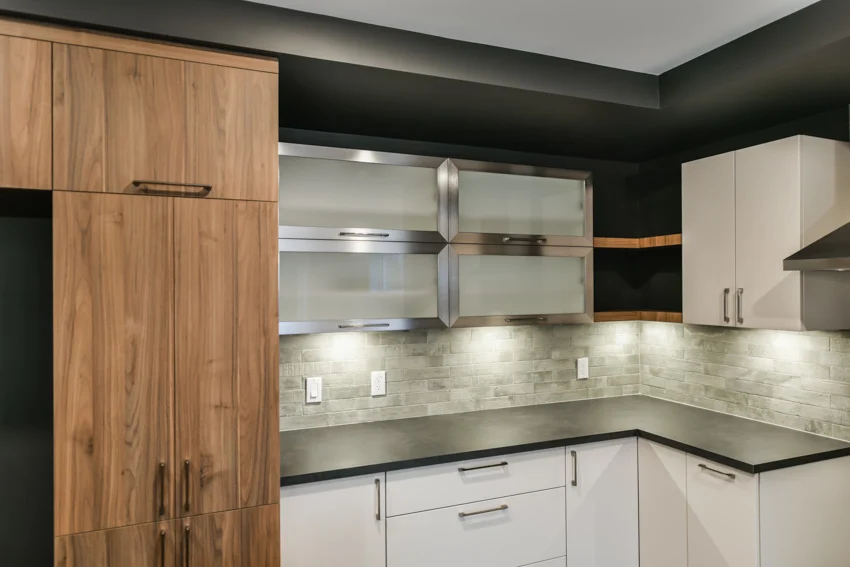 Marble is best located in damp areas, such as the backsplash, but needs to be sealed at a regular interval. Food stains, scorch marks, and discoloration will be less noticeable if you choose a darker-colored stone or one that is heavily veined with variegated colors. Natural markings will be visible rather than what has happened to the stone over time.
Is This Backsplash Hard To Maintain?
Cleaning a marble backsplash is simple. Warm water and dish soap can clean most messes, and a baking soda and water mixture can remove stubborn stains.
On the other hand, Marble backsplashes require frequent sealing because marble is a porous, high-maintenance material. It's difficult to undo this, so sealing the surface professionally before installation is critical to help prevent damage.

Should This Marble Be Honed Or Polished?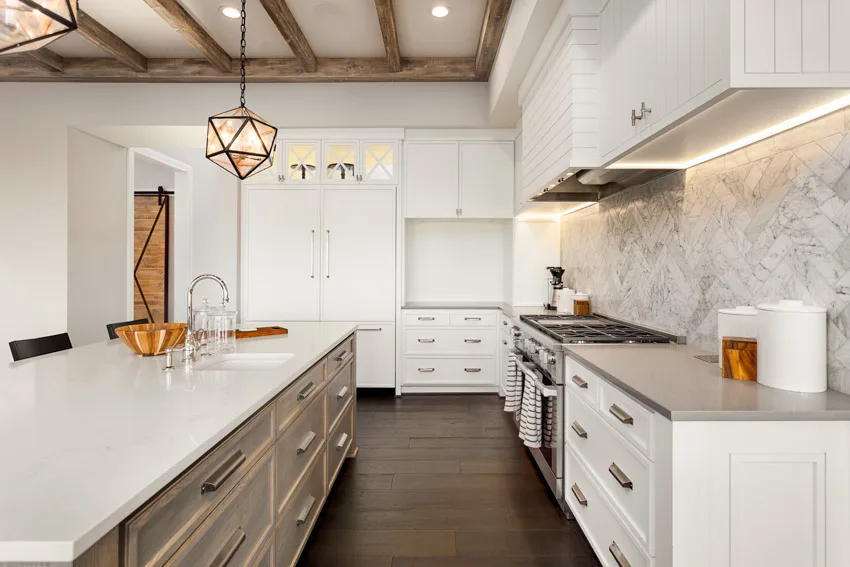 If you don't want the scratches and etches in the marble to be as noticeable, a honed finish is recommended. On a polished finish marble, any scratches or etches will leave a dull, matte mark that contrasts with the polished finish on the rest of the marble.
A honed finish refers to a stone slab that has been ground to a smooth, flat, and consistent surface. This look is achieved by stopping short of the final polishing stage, leaving the stone matte and velvety in appearance. On a polished surface, the natural reflection of the stone's crystals creates a lovely glossy shine.
Because honed marble has a matte finish, it is more scratch-resistant. Even if honed marble is scratched, it will be less noticeable than polished marble because the scratch will not be as visible when light reflects off it. On the other hand, Honed marble is more prone to stains, so spills should be cleaned up right away.
The natural stone is coated for the polished marble backsplash, which acts as a protective layer and makes it less susceptible to stains. As a result of the highly reflective surface, scratches are more visible.
Meanwhile, polished marble is extremely smooth, making it a risky choice for flooring in high-traffic areas or bathrooms, as it can be extremely slippery when wet. See our comparison of honed vs polished marble here.

Is This Backsplash Easy To Clean?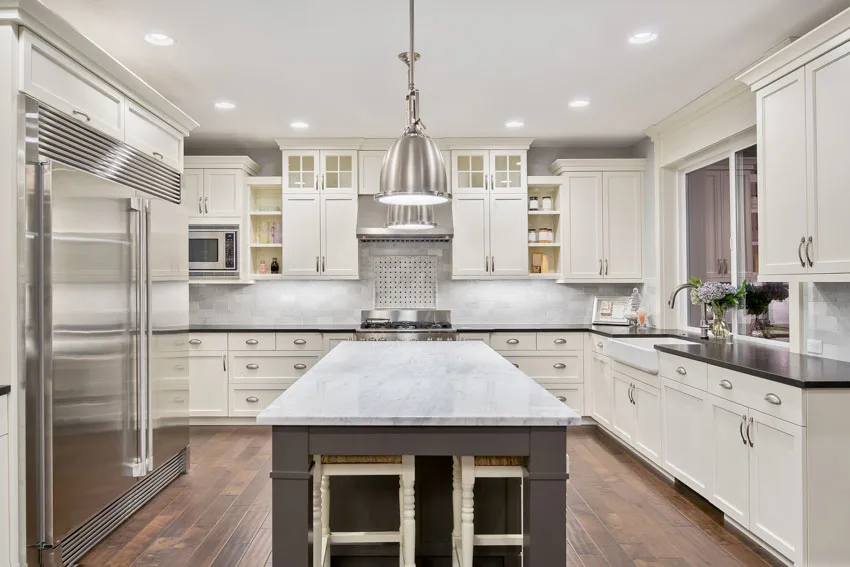 The cleaning marble backsplash is quite simple, even though it requires regular maintenance. Warm water, a scouring pad, and dish soap are all you need to remove stains from spills and splashes.
Cleaning Procedure:
1. Apply a layer of detergent soap on the surface of your marble backsplash.
2. Then, dip a new scouring pad in the warm water basin. Using lukewarm water, it is able to loosen hardened stains, and if oils are involved, it will help the soap even further to remove the stains.
3. Scrub the entire backsplash surface with the scouring pad several times to ensure that the soap solution and warm water solution remove the stains.
4. Finish off by washing the soap from the surface with more warm water, then, allowing it to dry naturally or using a dry cloth.
5. Finally, Simply apply baking soda and follow the same procedure as your detergent.
Does This Marble Material Need To Be Sealed?
Yes. After sealing your marble backsplash after installation, you'll need to reseal it every two years to keep it looking brand new and prevent the surface from staining. Failure to do so will certainly result in acidic food splatter permanently discoloring your marble.
It should be sealed but not honed for use as a backsplash. Polished marble repels stains slightly better than honed marble, but scratches are more visible. Because it's a splash, it's unlikely to matter.
Sealing penetrates the stone and creates a protective barrier. Anything acidic such as wine, tomato sauce, lemons, vinegar, etc., will etch up or dull on polished surfaces more than on honed surfaces.
This will not be prevented by sealing. Sealing the stone will allow you to wipe away the tomato sauce before it sets in and discolors it. You'll need a marble-specific impregnating sealer, such as a honed stone sealer is required for a honed marble.
See more related content in our article about the best granite backsplash ideas on this page.