In this gallery of granite backsplash ideas you'll see its advantages & disadvantages, different types of granite designs, backsplash height, and care tips.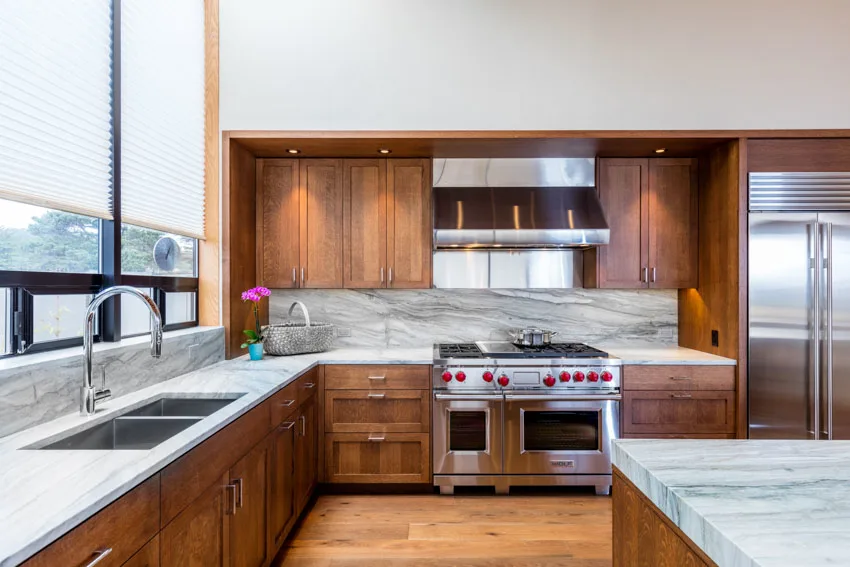 Placing a granite backsplash is a brilliant technique to enhance the high-quality appearance and operational features of granite counters. One of the handiest features of a granite backsplash is that it could be constructed from the same piece as your granite countertop.
Granite is indeed one of the most gorgeous and long-lasting natural stone components you can install in your kitchen. Incorporating a granite backsplash instead of other common backsplash materials, like marble tile, can assist in accentuating the natural stone's effect.
This option may give you a consistent and aesthetically pleasing style. This article will review various ideas for granite backsplashes and how to limit them down to pick the best selection for your kitchen.
Using Granite As A Backsplash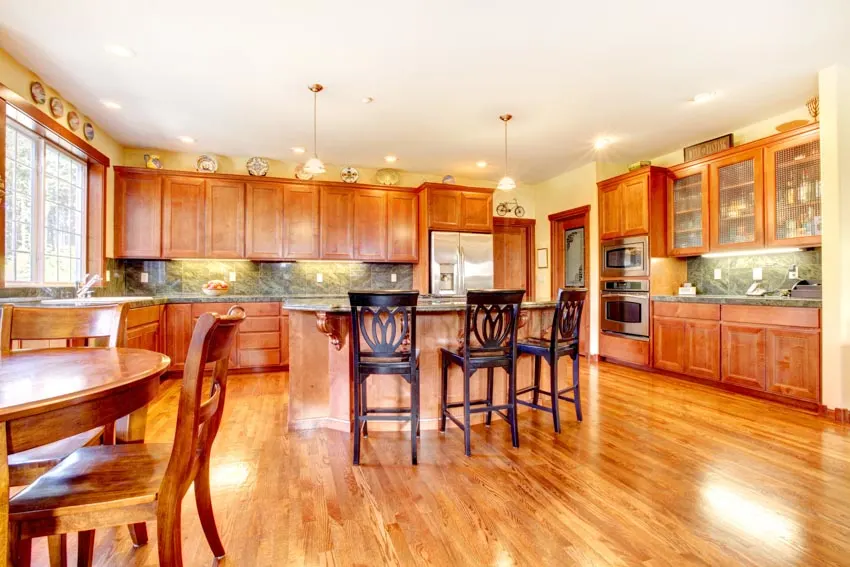 The granite is perfect for cleaning – it is heat and stain-resistant, so spilled liquids and spitting frying pan oil will wipe off easily, unlike tile backsplashes where dirt gets stuck in the grout lines. Granite is the perfect solution if you're after a stylish and easy-to-clean backsplash.
A granite backsplash is an extraordinary way to create a positive impact in your kitchen or other areas of your home. Incorporating a granite backsplash is a beautiful choice because of its natural luxury and longevity in your kitchen.
Granite types of kitchen backsplash are typically trimmed from the same piece as your granite countertops, ensuring a flawless complement.
Even if the kitchen countertop features a sloping edge, a granite backsplash would be usually 5 inches, or 13 centimeters in width and possesses a square edge at the upper end. The backsplash adheres to the wall with silicone glue, and all gaps are covered with a sealant.
Moreover, granite is easy to clean since it is heat- and stain-resistant, hence spilled substances and spouting frying pan grease will be effortlessly wiped off, unlike tile backsplashes where debris gets lodged in the grout lines. Granite is an excellent choice for a gorgeous and easy-to-clean backsplash.
Granite Backsplash Designs
Here we share different designs for granite backsplashes that make a statement and provide inspiration.

Granite Tile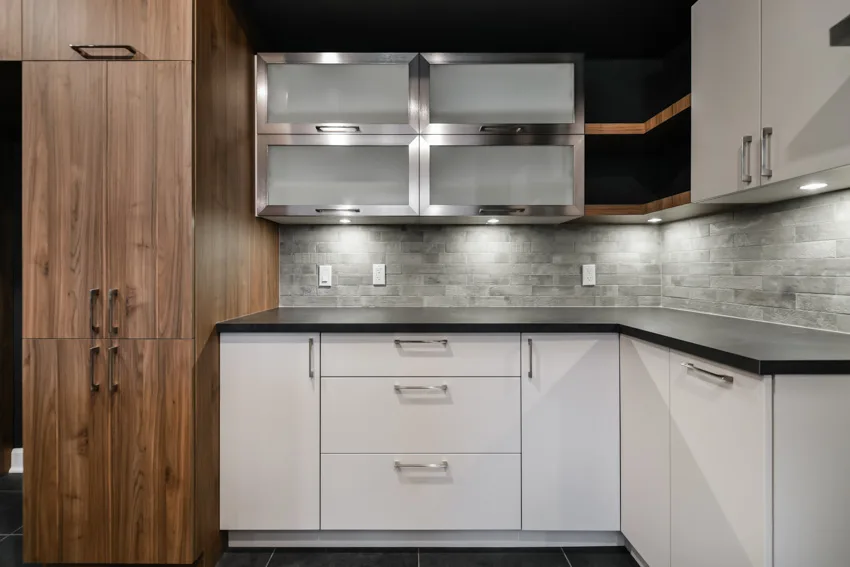 Granite tile backsplashes are becoming increasingly popular due to the material's longevity and durability. Granite tile is attractive and sturdy, able to survive heavy use because it is multifunctional in nature.
Since granite is one of the most durable materials available, utilizing it as a kitchen backsplash is a logical solution. Granite tile backsplashes are highly looked after by potential home buyers and add significant value to your house.
Furthermore, granite tile does not discolor and is resistant to grease, oil, and just about everything else that may be splashed on it. It is also incredibly heat-resistant, thus, there is no need to be concerned about melting the granite tiles with exceedingly hot oil.
Granite Slab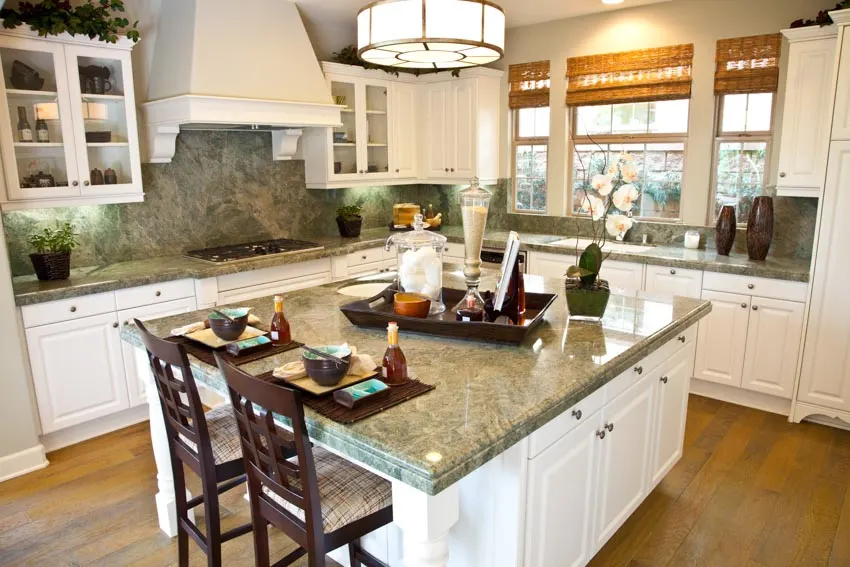 A solid granite slab backsplash is a great aesthetic that boasts unrivaled luxury in any kitchen size. You have probably seen one in a brand-new premium kitchen. It may be a massive granite slab backsplash, complementary granite countertops, and ivory upper cabinetry.
A solid granite slab backsplash is merely a backsplash constructed of one entire piece of granite. Solid granite slab backsplashes provide many practical advantages over other materials such as tile. The solid granite surface offers a distinct appearance and quality that other materials just cannot mimic.
A solid granite slab backsplash is a premium concept quickly emerging due to its striking luxurious appearance and its practical advantages.
They are also not too pricey. Many homeowners think that they are overly expensive, but in terms of quality, a granite slab backsplash is very cost-effective.
One of the most noteworthy day-to-day practical advantages of having a unique solid granite slab backsplash is how uncomplicated it is to maintain.
There is no need to cope with unsightly grout, where stains accumulate in typical tile backsplashes. Many people select polished granite for the backsplash, so they will not have to deal with a hard-to-clean textured surface.
Full Height Granite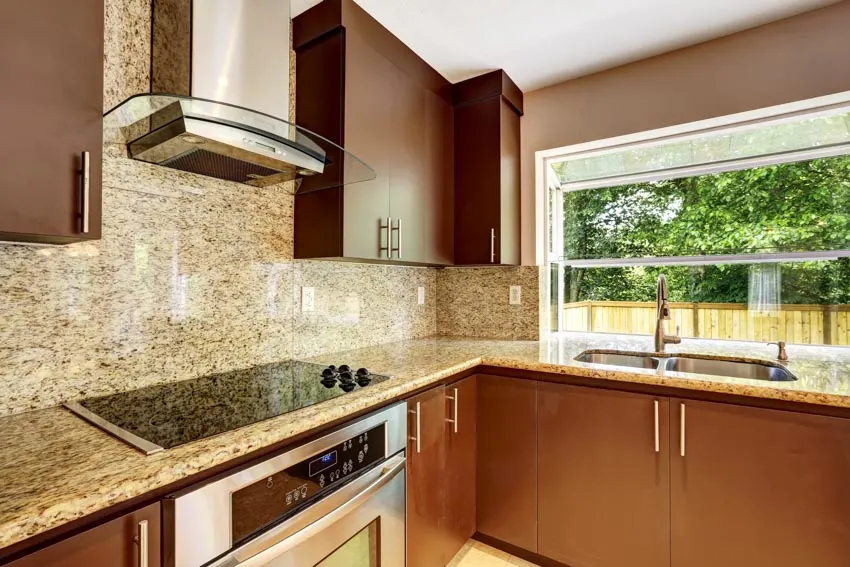 A full-height granite backsplash appears as a newer trend in the kitchen space in terms of covering the space between the bottom of the wall cabinets and the kitchen countertop.
This design proves to be a superior alternative since it gives kitchen design a more bold and more exciting appearance. Full-height granite backsplashes surpass all expectations when it comes to minimal maintenance.
Moreover, full-height slab backsplashes are now popular among homeowners who want to give their kitchen a more distinctive and classy design. For granite aficionados, the granite market provides numerous choices.
Higher granite backsplashes essentially cover exposed wall surfaces and enliven the surrounding environment. With its 70 x 23-inch dimension, a large granite cutting slab could effortlessly cover a large area. A large-sized granite backsplash to ceiling for the kitchen has numerous advantages for homeowners.
Granite With Tile Above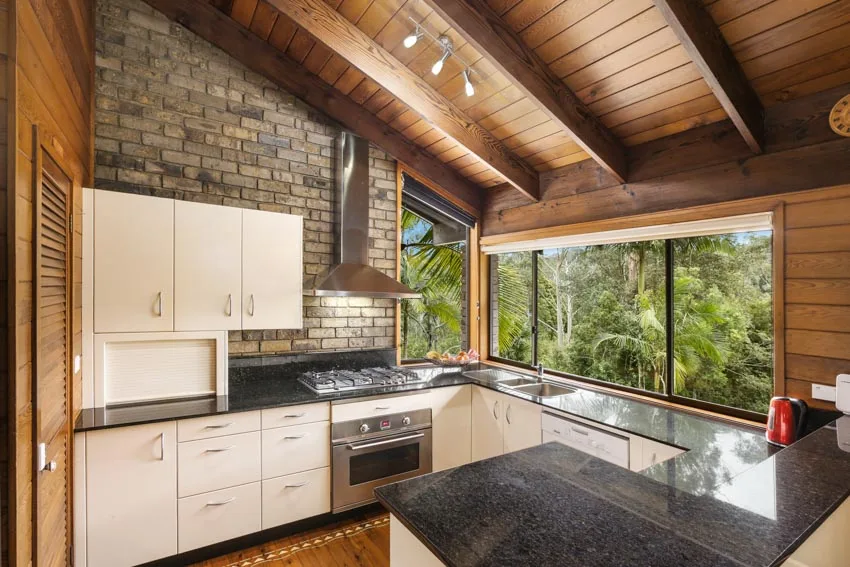 Using a tile arrangement above your granite backsplash is one of the most imaginative solutions you can consider. This is an appealing option since it allows you to experiment with different proportions.
Rather than simply altering the color of the tile, this material will give complexity to your kitchen, making it more aesthetically attractive.
Granite Behind Stove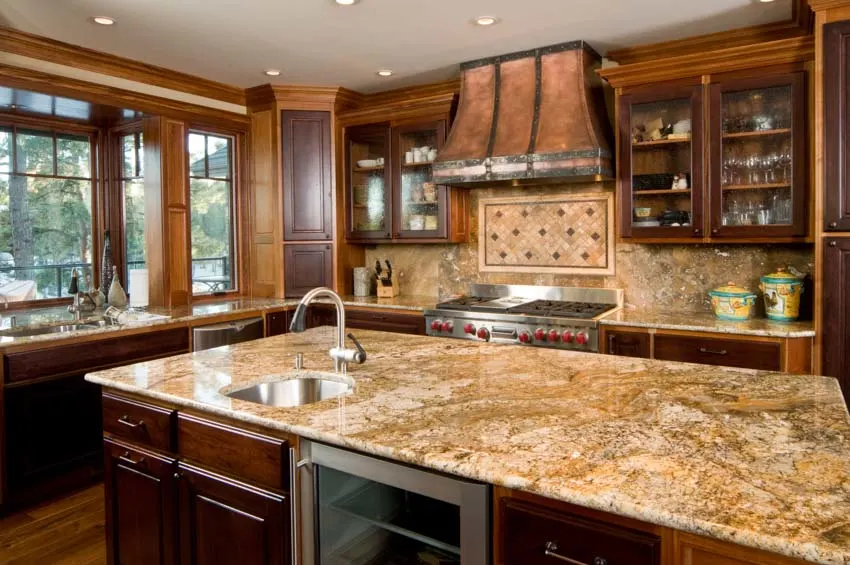 If you are on a tight budget but still desire a magnificent granite backsplash, you could place it only behind your stove. Regarding functionality, the backsplash materials you choose must adeptly help prevent stains from degrading your wall. Therefore, granite is another high-end option for the backsplash behind stove.
Furthermore, granite is an ideal alternative for a beautiful and simple-to-clean backsplash behind your stove. Granite has long been used for kitchen backsplashes.
Unlike mosaic tiles and ceramic tile backsplashes, this authentic material boasts an advanced aesthetic. Placing a granite backsplash behind your stove protects your wall from oil and food.
Popular Types Of Granite to Use for Backsplash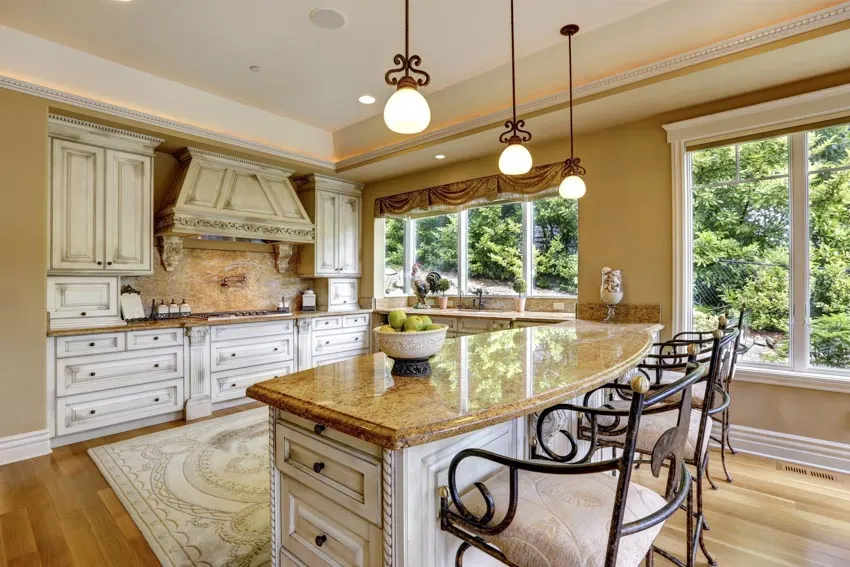 Several types of granite backsplash differ in many ways, particularly in appearance. Here are some of them:
Santa Cecilia Granite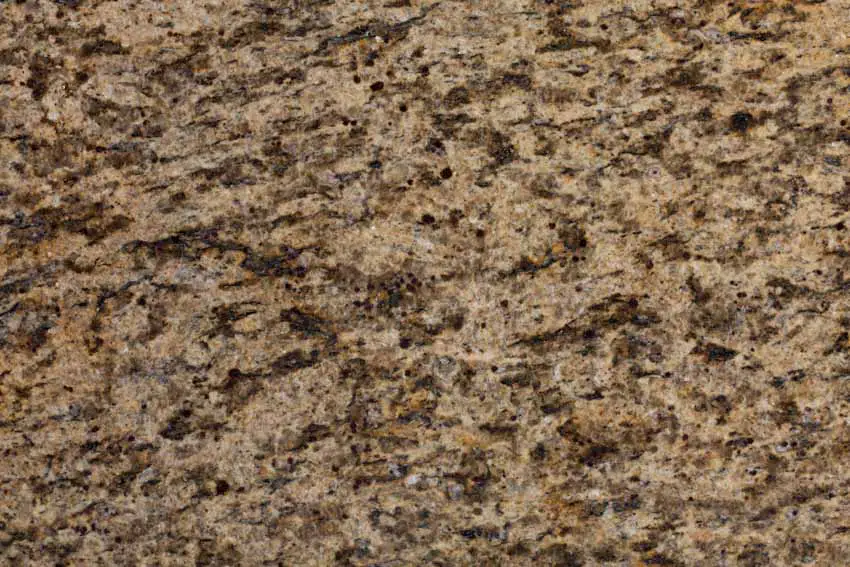 Santa Cecilia granite normally has a lovely beige base with crimson, gold, and dark gray streaks. This long-lasting refined slab granite is ideal for both indoor and outdoor applications.
This type of granite comes in various gorgeous colors and patterns that may be applied outdoors and indoors, such as backsplashes and kitchen counters.
Santa Cecilia usually features a creamy background with colors spanning from dark colors like brown to brighter gold tones. The black speckles themselves can range from black to wine-red. The contrast between the speckles and streaks and the base is eye-catching, making your kitchen look classy and chic.
When purchasing this material, it is preferable to be personally there and ensure that all tiles are from the same granite slab, as they sometimes vary, even in the same color group.
It is not only beautiful, but it is also practical. It can endure high temperatures and is tougher than marble and quartz since it is pure granite.
Here are the categories under Santa Cecilia granite:
Santa Cecilia Classic Granite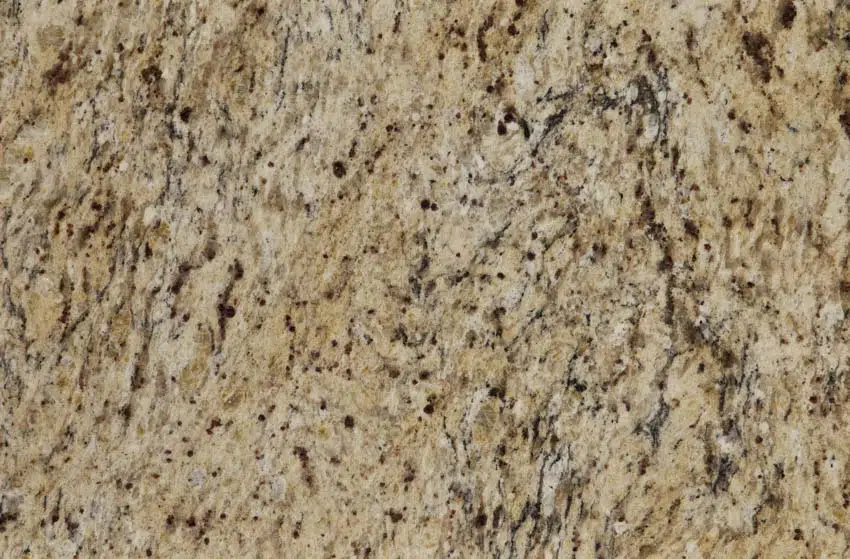 This Santa Cecilia category boasts a yellowish hue and could be identified by its burgundy, brown, and black specks.
Its deep rustic color creates a vibrant but peaceful earthy atmosphere in a space. This backsplash design complements lighter-colored kitchen cabinets very nicely.
Santa Cecilia Light Granite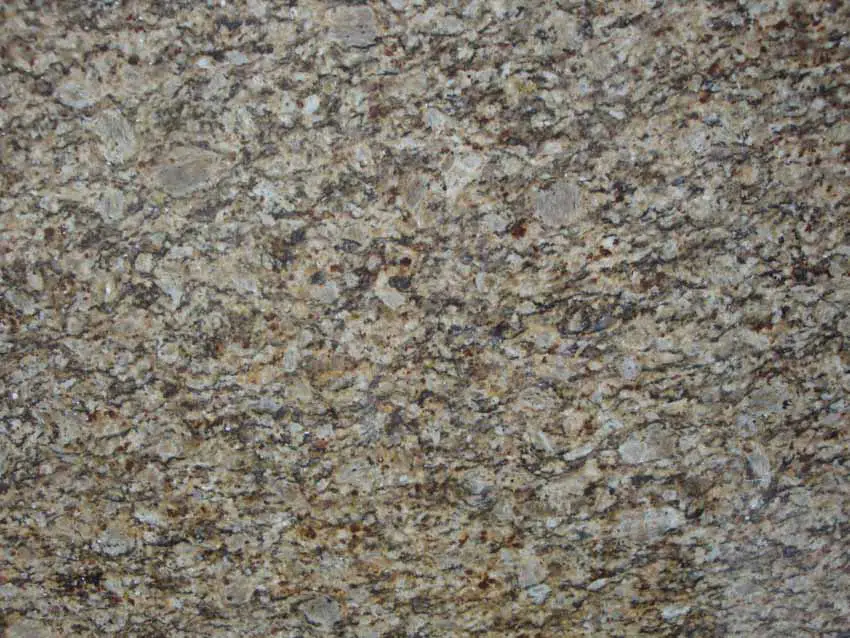 This granite slab's cream and yellow background contrasts nicely with its black dots and subtle shading. These backsplash slabs compliment darker kitchen cabinets, providing the kitchen's visual consistency.
Santa Cecilia Gold Granite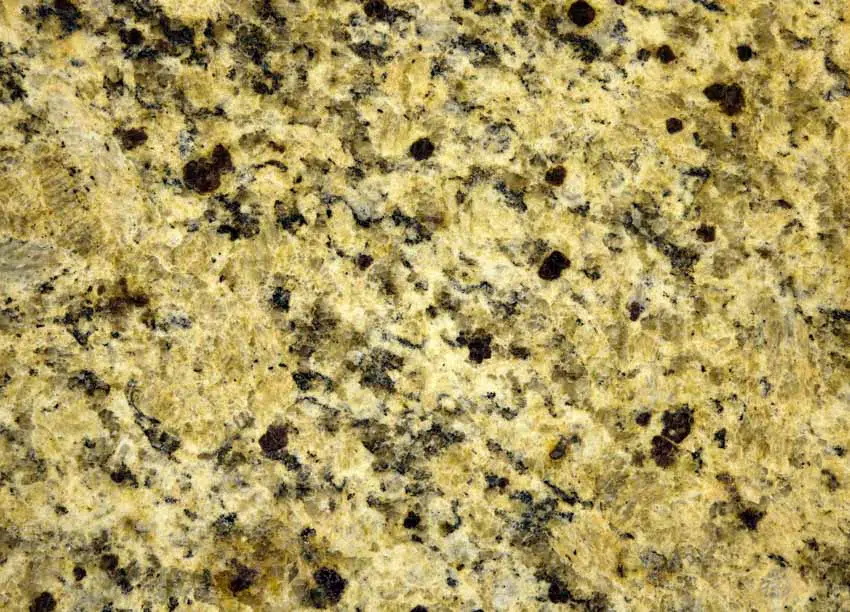 This category, under Cecilia, the gold granite, is a mix of brown, beige, black, and gold. The base varies in color from bright yellow to deep yellow. It features a highly earthy vibe to it, and one of its biggest appeals is its golden color palette.
Such golden shades get more noticeable when this granite backsplash is exposed to more illumination, making it a lovely item to have in the kitchen, specifically near the windows where it will be bathed in sunlight.
Uba Tuba Granite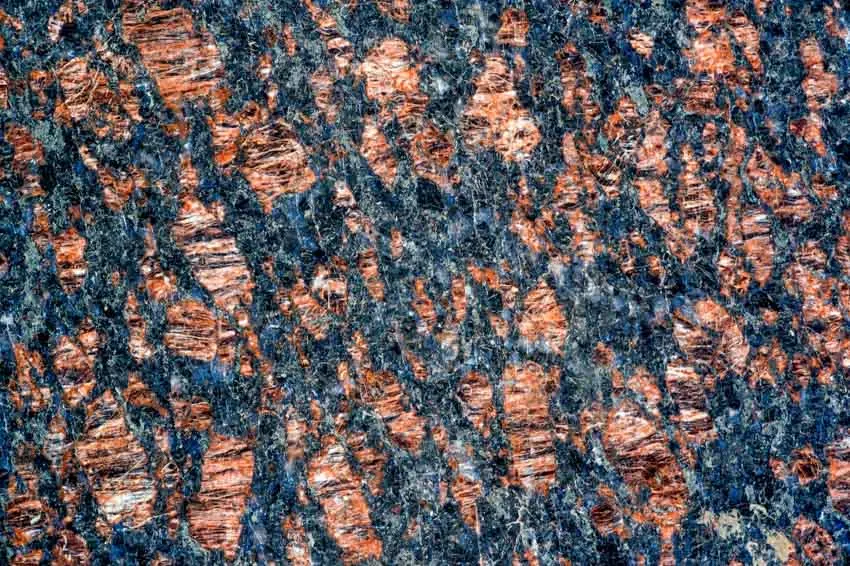 Uba Tuba granite is a striking and well-known deep-colored granite found in Brazil. It is a popular option among householders for granite backsplashes, countertops, and other applications.
Uba Tuba is commonly known as dark granite. The stone comes in various richer colors and has glimpses of other colors within the slabs. The following is an overview of the several variations of Uba Tuba granite that you might find.
Regular Uba Tuba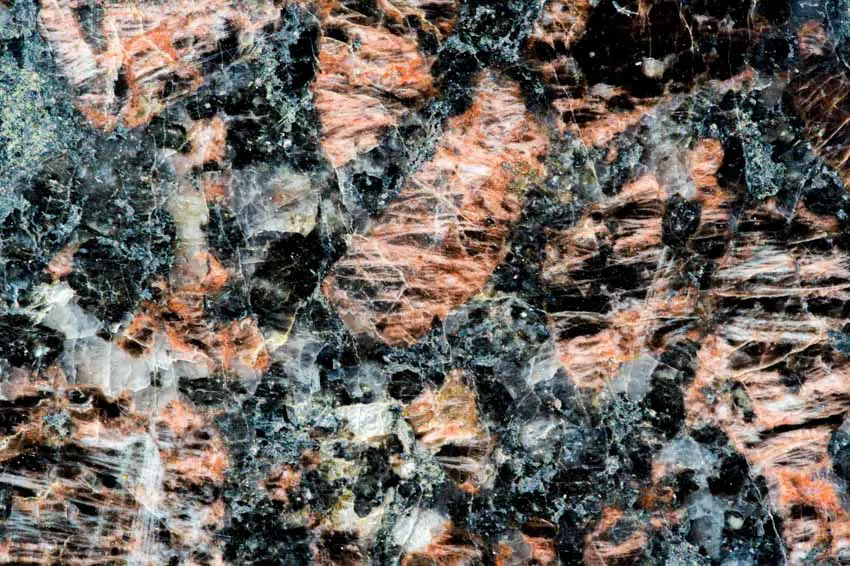 A regular Uba Tuba granite features a dark green backdrop with gold, beige, and green stippling that runs around the slab.
It is one of the most flexible granite backsplash selections since it appears phenomenal with either complementing dark or contrasting light cabinets.
It is no surprise that Uba Tuba granite backsplashes are so prevalent due to their gorgeous aesthetic, durability, and ease of upkeep.
Gold Uba Tuba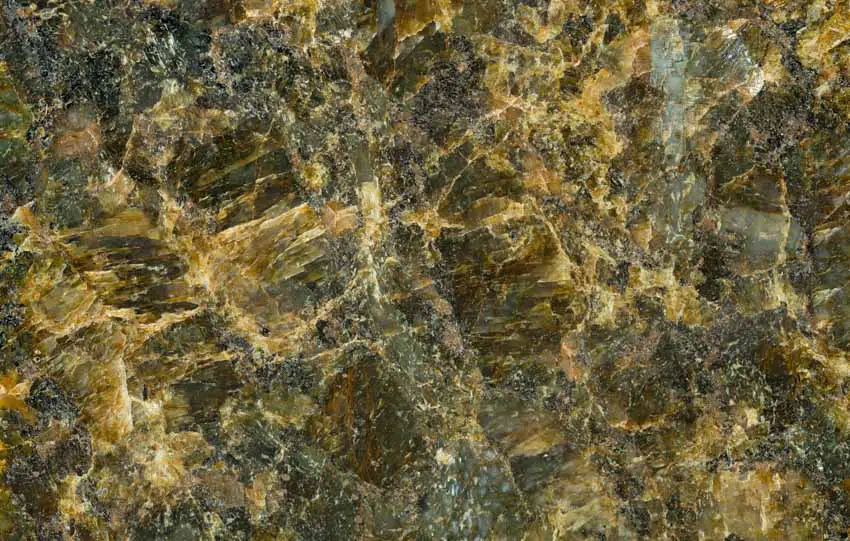 Gold Uba Tuba is quite identical to the regular Uba Tuba backsplash, but with minor variances. The color is almost dark green with touches of gold, beige, and green speckles everywhere.
Green Uba Tuba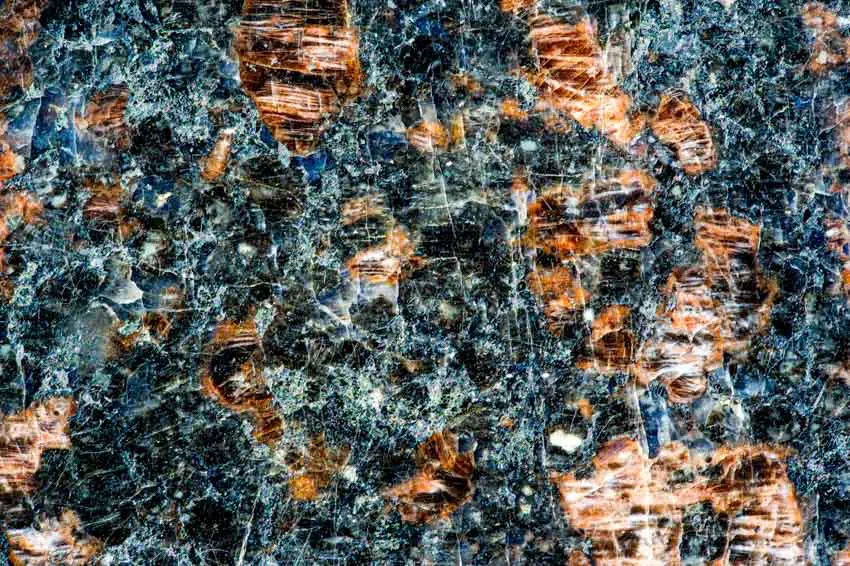 Green Uba Tuba granite backsplash, notwithstanding its name, is predominantly black with little specks of yellow, green, and white everywhere.
This backsplash is an excellent selection, especially if you want to match it with dark-colored natural marble kitchen countertops, bathroom vanities, or other household surfaces.
Properly maintaining Uba Tuba granite is straightforward as with other forms of granite. To preserve the granite in good condition, you must keep up with cleaning and resealing as needed.
Cleaning your Uba Tuba granite backsplash using a regular granite cleaner routinely is an excellent practice. It is not recommended to use any strong chemicals since they might harm the stone. You will most probably only have to reseal annually with sealants.
Typhoon Bordeaux Granite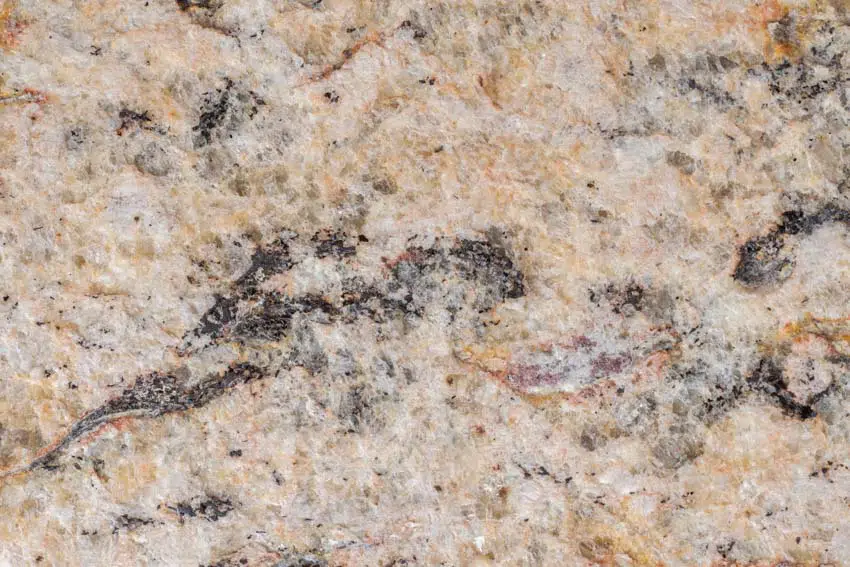 Typhoon Bordeaux granite is a very resilient gold-and-beige-colored granite with rich golden streaks. Typhoon Bordeaux is ideal for outdoor landscapes and flooring applications in cold zones, but you can still use it for interior purposes like backsplashes, worktops, and many more.
A Typhoon Bordeaux granite backsplash has an eye-catching color scheme of deep crimson, gray, white, brown, and gold. Typhoon Bordeaux granite's earthy tones, streaks, and ripples will give you that feeling that you are very close to and engaged with the environment.
This feeling, nonetheless, will not be a deception because this granite was extracted directly from our mother nature. Moreover, Typhoon Bordeaux granite backsplash patterns typically include swirls in more than a single dimension, similar to water in rivers or waves.
This is the best option if you want your kitchen to be vibrant and lively with color and rhythm. Aside from that, Typhoon Bordeaux granite backsplash ideas are an excellent alternative for anybody who wants their kitchen to have an artistic feel.
The golden streaks, the stunning burgundy crimson lines, and the gleaming creamy drips all swirl brilliantly together. This lovely combination would create a striking creative impact in any kitchen.
There are several Typhoon Bordeaux backsplash options since this material allows you to experiment with a variety of tile styles. For instance, a rippled stone backsplash will look fantastic with Typhoon Bordeaux granite countertops.
Bianco Antico Granite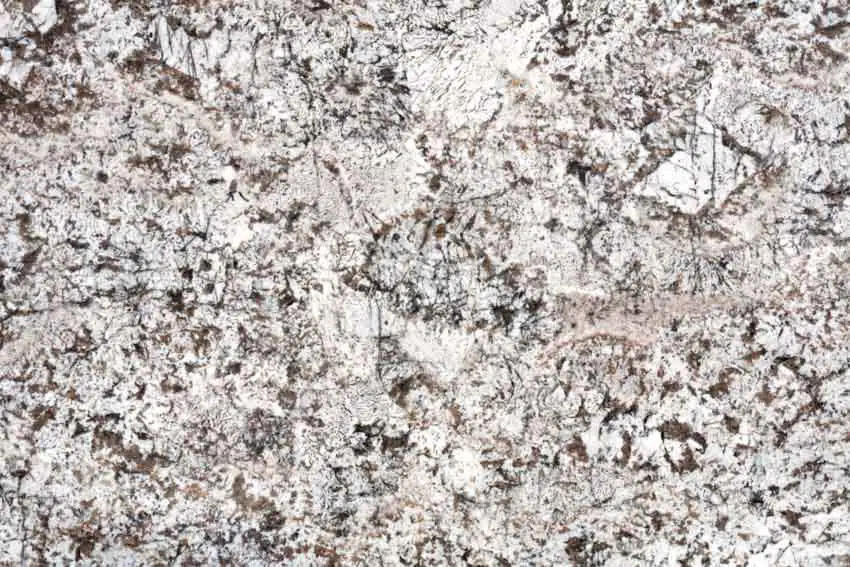 Bianco Antico Granite backsplashes have a delicate gray backdrop with subtle beige and fuchsia specks. This stunning granite may be utilized for backsplashes, complementing accent walls and floors, and countertops.
Bianco Antico granite backsplashes are sometimes white and gray slabs with softer gray, ivory, and brown accents. This specific type of granite is mined in Caera, Brazil. Brown and gray's mineral deposits are normally located in separate deposits.
Because the amount and regularity of these deposits can differ widely between slabs, inspecting the whole slab before making a choice is critical.
Bianco Antico also sprinkles transparent quartz crystals throughout the stone, creating a gleaming and luxurious effect on the backsplash. This granite backsplash is truly a cost-effective option that nonetheless has a premium appearance and vibe.
Bianco Antico granite backsplash matches the creamy white cabinets and the dazzling hardwood flooring. Moreover, they provide the kitchen with a pristine, beautiful, and welcoming atmosphere, precisely what most homeowners want.
Baltic Brown Granite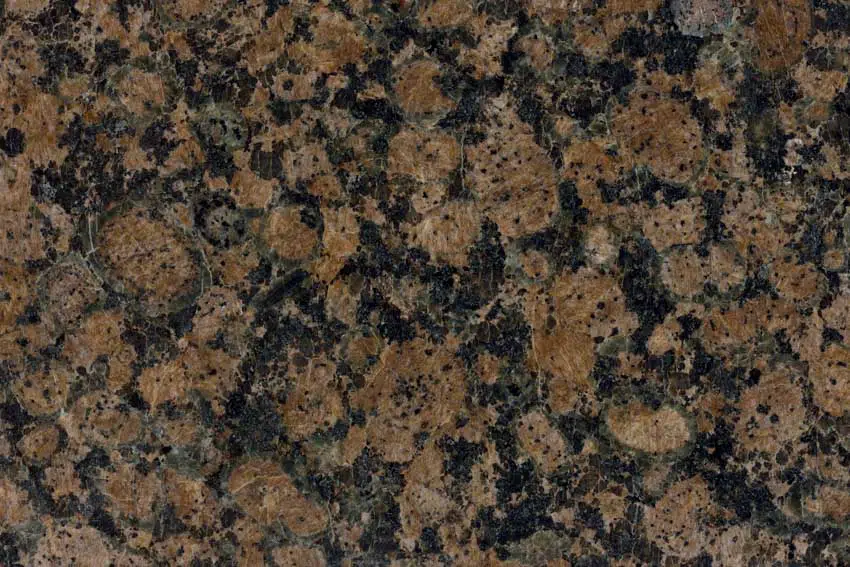 Baltic Brown granite is a stunning combination of browns and blacks with warmer gray and brown specks. This granite is ideal for kitchen backsplashes, especially if your kitchen has a rustic theme.
Like most natural granite types, Baltic Brown is mainly composed of genuine quartz and feldspar. Other materials may be present, although, in most instances, the major minerals would be those. The minerals that make up a Baltic Brown Granite slab provide certain appealing characteristics.
Additionally, Baltic Brown granite backsplashes are extremely heat- and scratch-resistant. It is a unique granite slab that has attractive characteristics. Their deep combination of brown and black with a thick grain gives them a distinct appearance.
White Ice Granite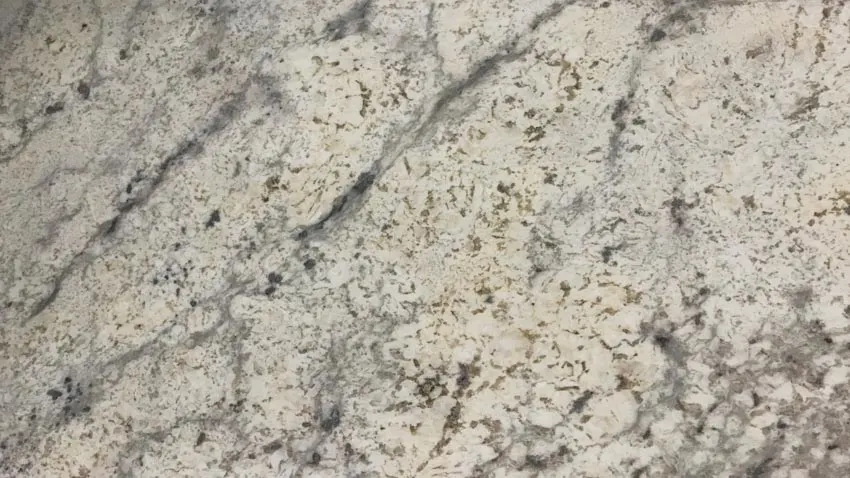 White Ice granite, with its dazzling brilliance and deep subtle shading, would be a pleasant option for kitchen backsplashes.
White Ice, as it turns out, is quite flexible and genuinely glows in kitchens that reflect its stylish appearance. White Ice is mined in Brazil and is accessible in limited amounts, making it quite valuable, especially for kitchen backsplashes.
A closer analysis at White Ice granite backsplashes exposes blue and gray veins, which produces a streamlined appearance that makes this material ideal for modern kitchens.
White Ice backsplash complements cool-toned kitchens due to its color. Metallic tones also complement White Ice granite, making stainless steel appliances an appropriate option for kitchens that include White Ice granite backsplashes.
Backsplash Height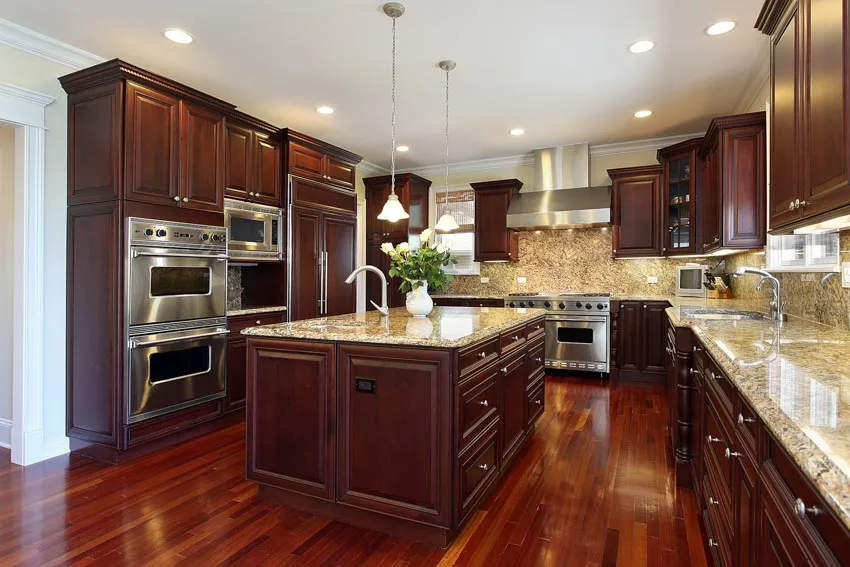 Backsplash come in different heights with 4" to 6" being the normal heights often seen in new construction homes.
4 Inch Backsplash
The customary backsplash, often a 4-inch, could still be seen in numerous traditional kitchens for its aesthetic and function as a temporary kitchen element.
A granite backsplash has a trendy design, particularly if it merges in perfectly with granite countertops.
Although full-height granite backsplash options might start to appear a bit "extra," a 4-inch granite backsplash can properly and adequately protect your wall from food and grease spillages without making your kitchen appear overdone.
For years, 4-inch granite backsplashes have been utilized in kitchens. Unlike marble tile and subway tile backsplashes, this classic material maintains a contemporary appearance; a 4-inch granite backsplash does not get old.
Furthermore, if you choose the granite 4-inch backsplash, as most basic kitchens have, it will not break the bank if you also have granite countertops done.
If you already have a granite countertop built in your kitchen, you can primarily obtain a 4-inch backsplash cut from the same slab for an affordable price.
4 Inch Backsplash with Tile Above
You may begin with a 4-inch granite backsplash made of the same material as the countertop. Following that, you can install a separate but complementary tiling surface above it, leading up to the underside of your upper kitchen cabinets.
This style provides a traditional, country, or rustic look that offers extra protection and visual interest on your walls without running the granite to the full height.
Granite backsplash ideas constructed with glass, marble, ceramic, or porcelain tiles will serve a functional purpose and provide complexity with their unique accent patterns and hues.
To incorporate geometric appeal, you can also alternate the heights of your granite backsplash to imitate the patterns generated by your upper kitchen cabinets.
6 Inch Backsplash
Certain kitchen granite backsplashes are prefabricated and have a height of 6 inches. Note that nothing prevents you from experimenting with different granite backsplash heights.
Do not be hesitant to explore the layout of your granite backsplash. If you need further shielding from spewing oil or food while cooking, you can freely use a 6-inch granite backsplash.
With unique tile work or elegant elements, homeowners frequently combine eye-catching splashes of color and texture into a 6-inch granite backsplash. This may offer depth and complexity to the entire kitchen design and an artistic centerpiece.
Aside from the looks, another advantage of a 6-inch backsplash is its increased defense for your kitchen walls in your stove area, for more details see our article about where to stop backsplash on a wall.
Best Height For Backsplash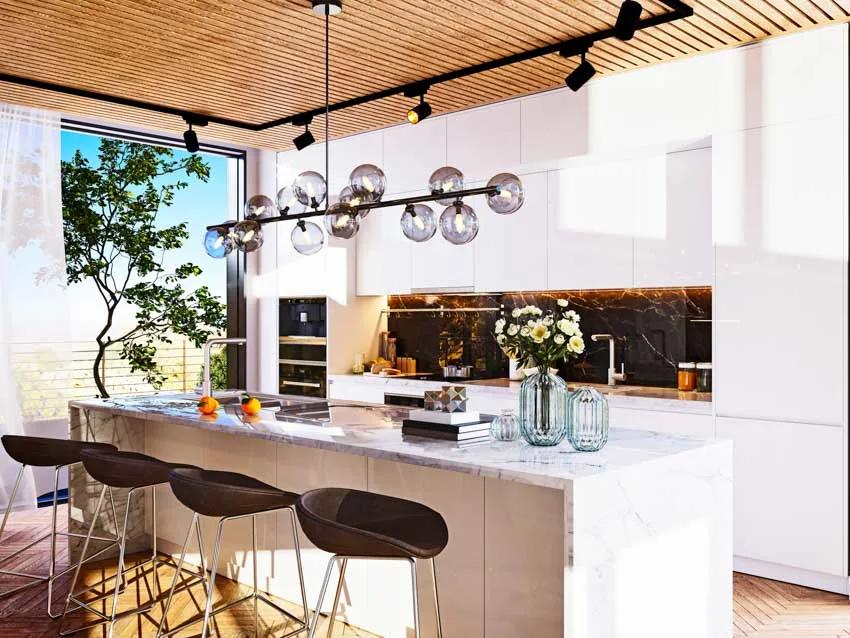 In most cases, the granite backsplash is positioned 4 inches above the surface of your kitchen countertop. These granite backsplashes could be any color, but we recommend that they match your upper kitchen cabinets and countertops.
A 5-inch backsplash is an excellent choice for low-cost kitchen interior design. There is, nevertheless, no permanent pattern regarding backsplash height.
In your kitchen, you may add backsplashes of any height. You are not obliged to stick to a 4-inch backsplash design. The backsplash can be as high as you want it to be.
For example, if you want added protection for your walls on your stove area but want to save money, you can always go for 6 inches.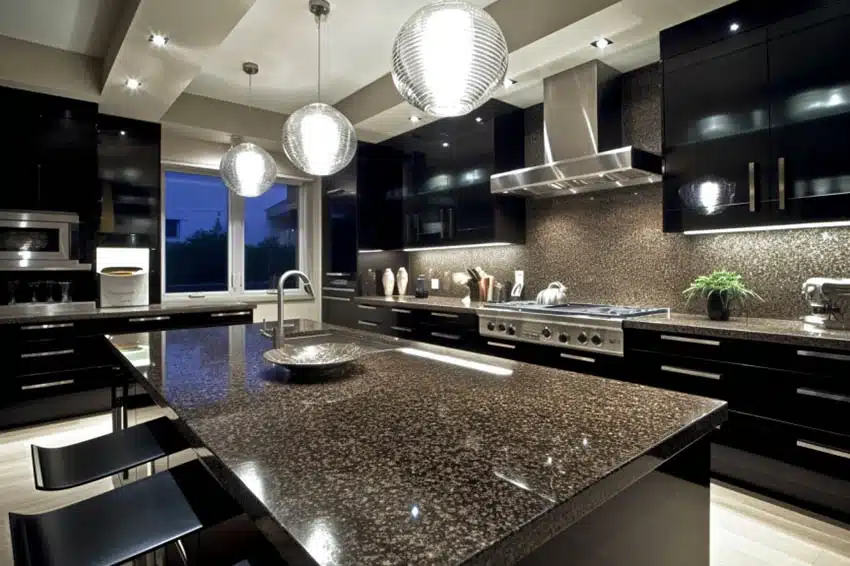 However, if you want your kitchen backsplash ideas to have a more modern and stylish design, have enough budget, and want to protect your kitchen walls from hot oil and food spillages, then go for a full-height backsplash.
How Thick is the Backsplash Material?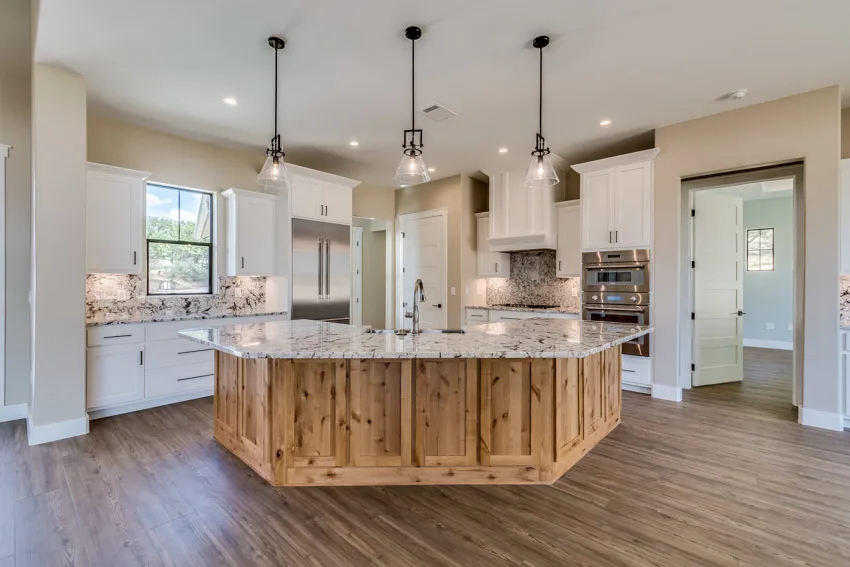 Granite backsplashes are usually cut from the same slab as your granite kitchen countertops to ascertain that the kitchen theme is maintained properly.
A granite backsplash is typically 3 centimeters (1.25 inches) thick with a square border at the upper end. Silicone adhesive connects the backsplash to the wall, and unwanted gaps are sealed with caulking.
How To Cut the Backsplash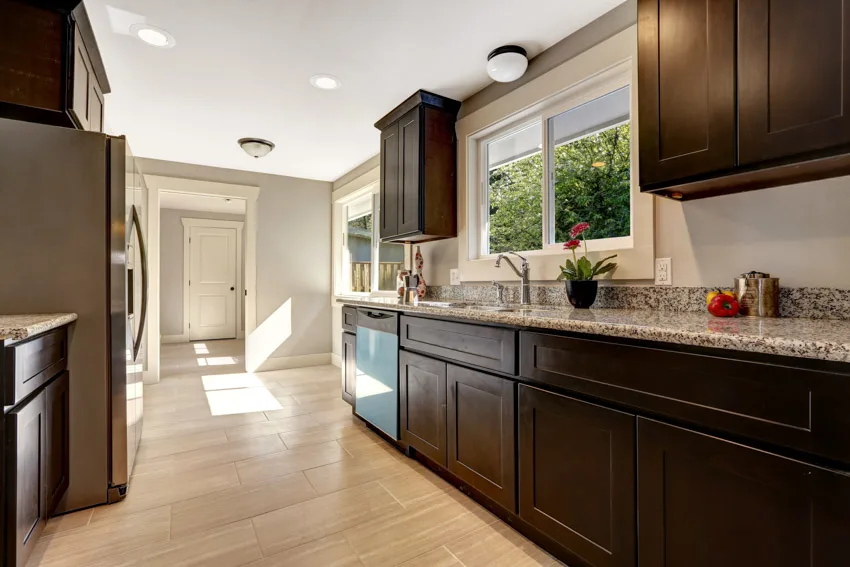 Granite is very solid and hard; hence you must do the cutting process carefully and use the appropriate equipment to complete the task. Here are the important steps and reminders you have to know about cutting granite slabs for your home remodeling project.
1st Step: To cut granite, use either a conventional or wet-cut circular saw. Both will do the job, but the wet-cut circular saw will generate less dust due to its tiny tube that distributes water over the surface of the granite as you trim.
Cut the granite slab outside your house to make cleaning easier if allowed.
2nd Step: Place the granite slab on a very stable working platform and secure it with C-clamps, one every 2 feet along the slab's sides.
A dedicated workstation is ideal, but you must prevent putting the granite slab on anything that may wobble. By clamping the granite slab, you may limit vibration and movement, which can result in cracking.
3rd Step: Wear a dust mask, protective goggles, and ear defenders to protect yourself from inhaling dust, drawing tiny particles into your eyes, and ruining your hearing senses. Cutting granite slabs would become very noisy and dusty without a wet-cut circular saw.
4th Step: Painter's tape should be used to conceal the part of granite you wish to cut. Since the tape will help to cover the surface and lessen the possibility of chipping, the location or placement of the tape will not be that critical. You can arrange 2 or 3 strips along the upper side where you will be cutting.
5th Step: Measure meticulously and draw a cutline using a marker above the painter's tape. The carpenter's motto, "measure twice, cut once", applies in this process.
Therefore, you should take your time and double-check your measurements to ascertain that you are cutting in the correct spot. When it comes to granite, you only have one shot to do it properly.
6th Step: Attach a granite-cutting diamond blade to the saw. Afterward, make a small "back-cut" approximately 2 inches in length from the end of the cutline. This will lessen the possibility of the granite breaking when you cut from the other end to this point.
The back-cut is required since the granite material thins down right before the saw-blade cuts through the last chunk of granite at the extreme of the slab. Without the back-cut, saw vibrations might induce cracking or tear out a portion.
7th Step: Reorient the saw at the other end of the granite slab after completing the back-cut and cut gradually across the cutline.
Hold the blade properly and keep it well-aligned on the cutline and apply mild, consistent pressure to the saw without overdoing it, allowing the blade to do the task properly by itself.
Continue to use gentle pressure until the cutting is complete. This might take 15 minutes or longer, depending on your preferred length.
8th Step: Remove the tape from the granite and appreciate your neat, smooth cut. Let the granite dust rest before vacuuming it up with an industrial vacuum.
If you use a wet-cut circular saw, you will notice a thin wet slurry rather than dust; wipe it away with a moist towel. The slurry accumulated on your outdoor ground can be simply removed with your garden hose.
How To Install the Backsplash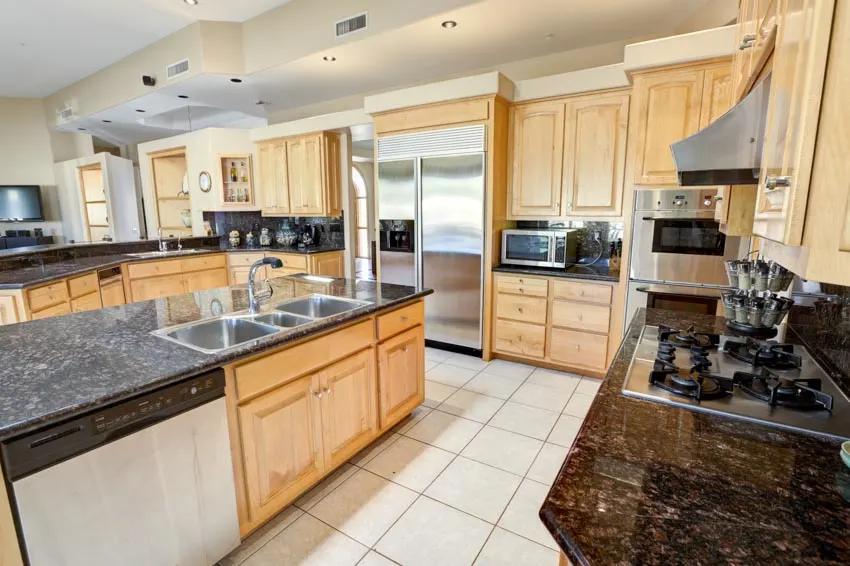 Here are the things you will need:
• Pre-Cut Backsplash
• Caulk Gun
• Construction Adhesive
• Waterproof Clear Silicone Caulk
Step-by-Step Guidelines
1. Make sure the backsplash and your walls are both spotless.
2. Using the caulk gun, apply construction adhesive.
3. Afterward, run a thin line of silicone down the border of the cabinet top — this is where the backsplash will go.
4. Put a narrow line of silicone to the end of the side-splash to meet the front of the backsplash before installing it.
5. Lay the granite slabs in position. You may install the side-splash first to ensure they are level with the front edge of the upper cabinet.
6. To achieve maximum adherence, press every piece of granite against the wall.
7. Once the silicone has dried, apply it to the joint between the backsplash and the countertop. As a result, water will not be able to infiltrate between the slabs.
8. Using your finger, flatten the caulk line. If you like, you may use a caulk tool.
Removing the Backsplash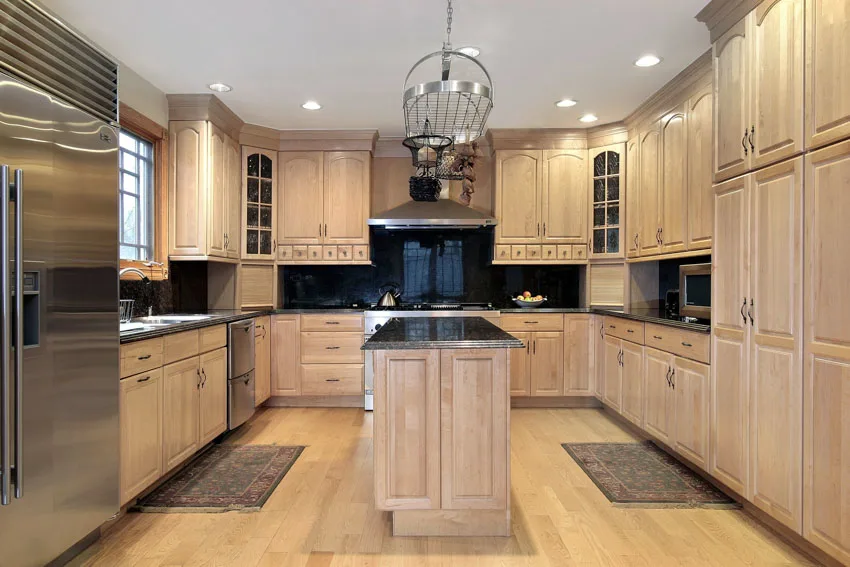 Here are the products you need to remove a granite backsplash:
• Manual/rotary grout remover
• Hammer
• Drop cloth
• Protective goggles
• Suede or leather working gloves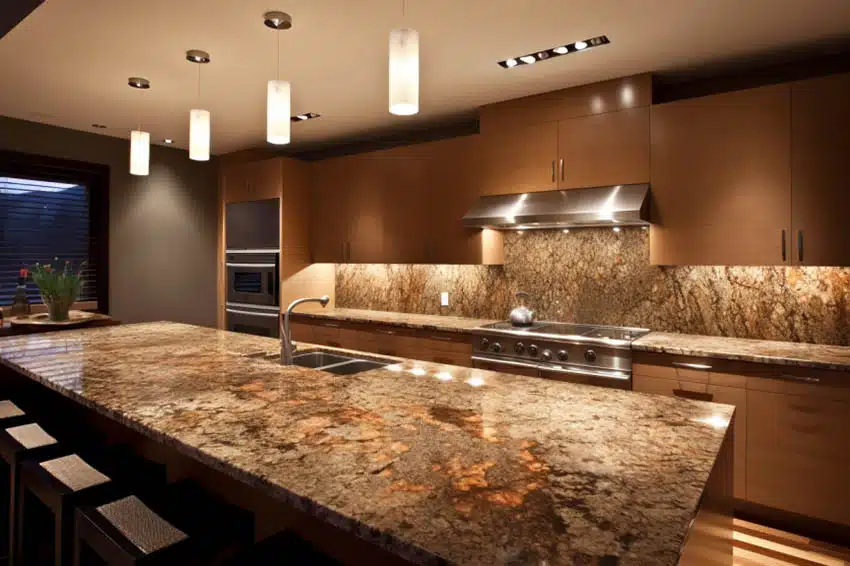 Step-By-Step Guidelines:
1. Be sure that all of your surfaces are covered. This includes covering up your flooring, cabinets, and mainly your countertop surfaces to prevent them from getting dents and scratches.
A drop cloth should be used to cover the total area of your countertop. Protect the nearby flooring space and cabinets with a cloth as well. If you do not have any extra fabric, you may use old newspapers or scraps of cardboard.
Ensure that all high-risk areas are covered. Tape the cloth or newspaper's edges together. Ensure they are securely fastened and will not move when you handle or walk on them. This will ensure that there are no dangers of falling or sliding.
2. Take out your utility knife. Gradually take away the previous caulking from the backsplash seam with your knife. To reveal the backsplash's edges, cut both the upper and bottom edges throughout the whole backsplash.
3. Put the utility knife in a specific spot for the time being once you have already removed the caulking. Instead, get your putty knife. Slide your putty knife blade cautiously between the seams where the granite backsplash touches the wall it covers.
4. Begin carefully peeling the backsplash off from your wall. If the adhesives applied are not too tight, removing the backsplash should not be too difficult. Take the putty knife and begin prying away at additional locations after you feel the backsplash has freed up a little.
5. Repeat this procedure until the remainder of the backsplash has been removed off your wall. Slide your putty knife across the course of the backsplash to ensure that all adhesive connecting it to the wall has been dissolved. After that, you may take the backsplash away from the wall.
How To Care For This Backsplash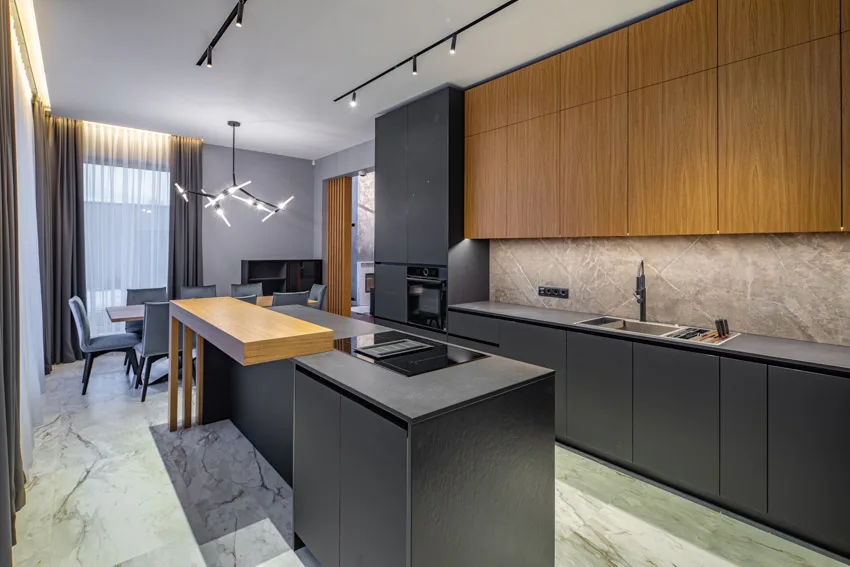 Here are some techniques and items you can try for maintaining your granite backsplash:
• Always begin by scrubbing the grout, but that is if you have granite tile backsplash. Apply a stone tile cleaner instead of a conventional grout cleaner since it is overly harsh and may harm the stone tiles.
• The easiest technique to remove these stains is using a pancake batter-like mixture of baking soda and acetone. Put the paste to any stains and hold it in position with a paper towel. Let the paste remain for 24 hours before rinsing with water.
• Regular home cleaners should not be used on a natural stone since they include aggressive or corrosive substances that might harm the granite.
Alternatively, use a granite cleaner that is guaranteed safe for the stone. Spritz the cleaner straight onto your granite backsplash and wipe it with a lint-free cloth to dry.
• Consider sealing your granite backsplash to keep the protective seal intact and decrease the chance of chipping and discoloration.
Let us know which of these granite backsplash ideas were your favorites in the comments section or anything else we missed. See more related content in our article about backsplash for busy granite on this page.