This guide to Amazonite countertops includes what it is, its design qualities, Amazonite slabs finishes, cost, matching cabinet color ideas, and where to buy Amazonite countertops.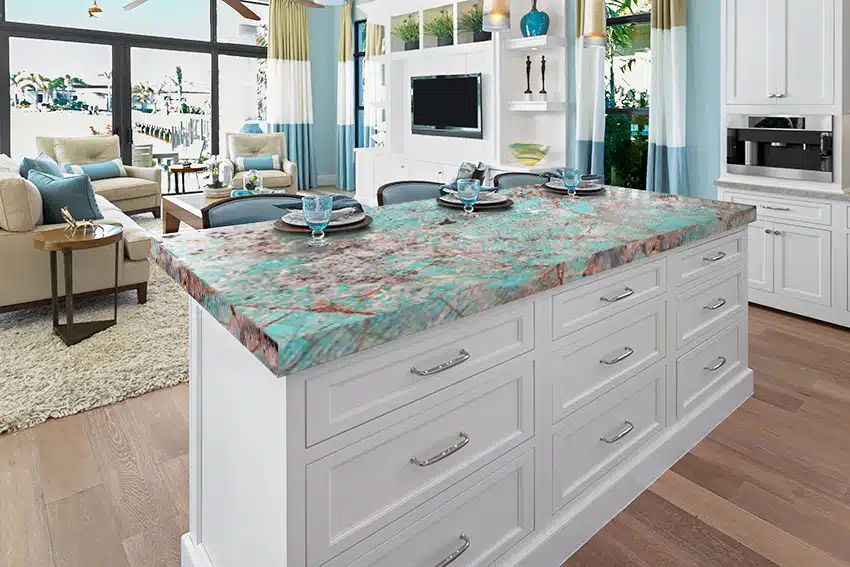 The Amazonite stone is loaded with treasures. It has a pure green background, and there appears to be no shade in anything when we look at a naturalistic painting. Nonetheless, when you look closely at these stones, you will realize that they are quite elegant and stylish, which makes an oddly beautiful countertop.
Amazonite offers a lot of unique characteristics that you will most certainly find amazing and beneficial for your home, especially your kitchen or bathroom. In fact, Amazonite is a peculiar natural stone that has a high resistance to external impact and is excellent for manufacturing a variety of useful household objects including countertops.
In this article, we will talk about all of the essential details of Amazonite. We will also know whether this unique stone is a good or bad option as a countertop material.
What Is Amazonite?

Amazonite is a type of potassium feldspar that belongs to the mineral class Microcline. It is a triclinic structural system component with a vitreous luster. Amazonite is normally available in gray, green, and blue hues. It is usually a bluish-green color. Amazonite has a figurative effect of calming anxieties and delivering serenity.
When it comes to its construction-related history and characteristics, Amazonite is an extraordinarily sophisticated green stone that is distinguished by distinct colors ranging from green to blue and gray.
One of the defining attributes of this exquisite stone is its incredibly dense compact surface, which makes it suitable for kitchen countertops and bathroom vanities.
Amazonite Qualities
• As aforementioned, this one-of-a-kind stone comes in a variety of blue, green, and greenish-blue hues. The colors exhibit a pastel or faint tint at times, as well as a vibrant saturation at other instances. Amazonite has many distinct varieties since the stones naturally have varying colors, white lines through the bluish-green, and distinct cuts.
• Most Amazonite cuts are not a pure-colored tone, but instead, have traces of white quartz running across them.
• Amazonite stones have a pearly shine and are normally opaque or translucent. Amazonite stones for countertops, on the other hand, can be honed, sanded, brushed, polished, antiqued, fired, or bush-hammered.
• Amazonite's smooth and appealing color is similar to that of nephrite and jadeite.
• Amazonite is vulnerable to chemicals, abrasive scrubbers, high temperatures, acidic solutions, and ammonia. Hence, you should never use a steamer, boiling water, or ultrasonic cleaning device on this stone.
To preserve the shine of the stone, it is advisable to only use mild soap and room temperature tap water with a gentle towel.
Amazonite Slabs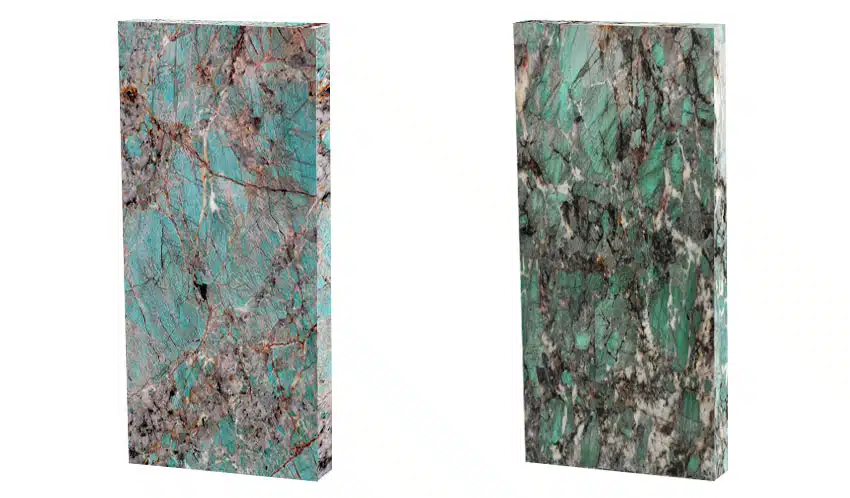 You will see that Amazonite slabs and Tiffany blue are surprisingly similar if you pay closer attention to their aesthetics. Nature is frequently used to influence the appearance of Amazonite slabs.
Amazonite slabs are incredibly exotic, uncommon, and unique-looking stones that will make your countertop projects pop out. Moreover, the thickness of these slabs is usually around 0.70 to 1.15 inches.
Amazonite slabs are usually available in several finishes. Here are some of them:
• Natural Finish. There is no treatment added to this Amazonite slab finish. It can be directly purchased as quarry-extracted material. This is the ideal solution for cladding and cobblestones.
• Polished Finish. A polished amazonite slab features a high-glossy, mirror-like appearance that draws attention to the stone's hue. It is quite simple to maintain and keep clean. It is suggested for use on countertops.
However, because of its low resistance to corrosive acid, this finish tends to reveal more etches and blemishes. To minimize issues, we recommend that you use a long-lasting sealer.
• Honed Finish. A honed Amazonite slab is matte in appearance. The procedure entails rubbing and sanding the surface until it is seamless but less glossy.
This finish does have the advantage of requiring less maintenance compared to the polished finish. It is especially excellent for countertop surfaces that come into touch with water since it provides a far greater grip.
• Leathered Finish. A leathered amazonite slab gives it a texture, a rugged look, and a soft shine. This is one of the most modern amazonite stone finishes.
This type of finish effectively conceals fingerprints, watermarks, and smudges. It lends the stone a slightly rough appearance. It works best with dark granite, kitchen countertops, and bathroom vanities.
• Flamed Finish. A powerful flame is directed at the amazonite slab, enabling it to burst and turn rough. It is best suited for outdoor floors where an anti-slip finish is desired. However, this type of finish is also commonly used on granite and limestone outdoor countertops.
Where Is Amazonite Sourced From?
Amazonite gemstones were first discovered in Egypt and Mesopotamia. The ancient Egyptians cherished Amazonite mineral rock. They used it for carving magnificent jewelry, ornamental objects, and important scriptures.
This delicate greenish-blue mineral rock is thought to have been discovered around 2000 years ago. It is also believed to have been found in the Amazon River Basin in Brazil, hence the name "Amazonite".
Amazonite is a scarce mineral that can also be found in some parts of Brazil, Colorado, and Virginia in the United States of America, Australia, as well as Madagascar. Nowadays, they are extensively mined in countries such as Turkey, Kuwait, Iraq, and Syria. A few deposits can also be found in countries such as Russia.
Amazonite Countertop Cost
The average cost of a 0.70- to 1.15-inch thick Amazonite countertop slab per square foot is around $150 to $200. The price of Amazonite slabs might vary as it will depend on their color, cut, size, and quality.
What Color Cabinets Go with Amazonite?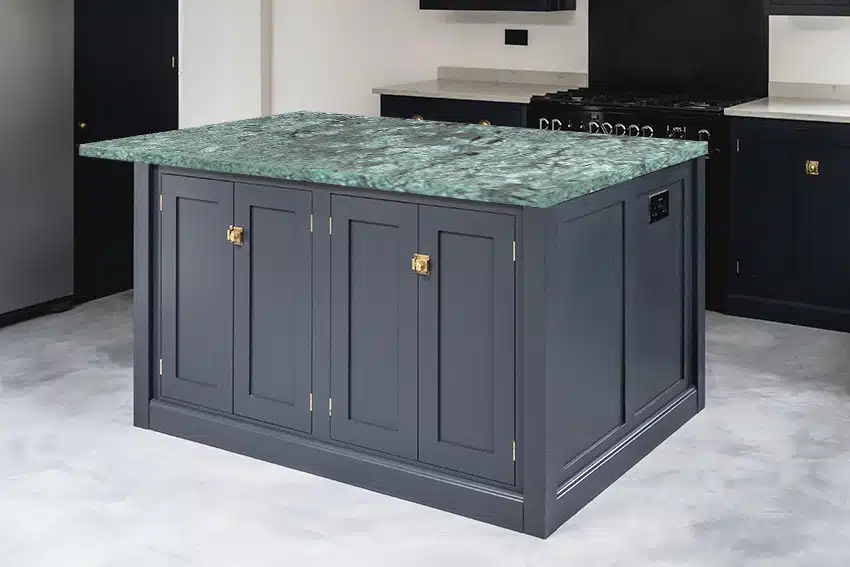 Amazonite is a mineral with a greenish-blue (turquoise) color, which is influenced by the gentle colors of nature. Color palettes featuring blue, green, or gray are easy to find. The idea is to match your Amazonite countertop with natural-colored cabinets.
You can consider matching your Amazonite countertops with these colors:
• Neutral Colors – Beige, Gray, Brown, White, Black
• Wood Tones – Pale Cream, Yellowish Brown
• Darker Blue Shades – Navy Blue, Denim, Azure
You can also combine them with cabinets that have a complementary color such as pink or orange.
Where To Buy Amazonite Countertops
Here are the stores and manufacturers that sell Amazonite countertops:
• Acemar Stone
• Accent Countertops
• International Granite and Stone (IGS) Countertops
• StoneTrash
• CK Stones
See more related content in our article about blue stone countertops here.