Welcome to our guide to shaker cabinets vs raised panel including what they are, major differences, cost and pros & cons.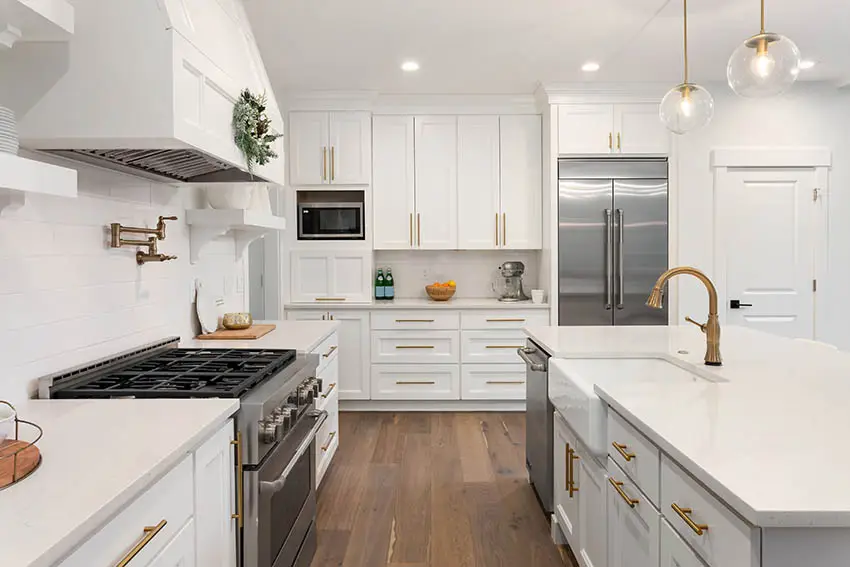 In order to create the kitchen of your dreams, one of the first things that you have to decide on is the style of cabinet that you will be using.
Cabinets are undoubtedly the most dominant design feature in a kitchen. They take up most of the space and not only offer function but also contribute to visual aesthetics.
Their style is very much significant because they help set the tone for the rest of the room, while helping achieve the overall concept that you want for your kitchen.
In kitchen cabinetry, the color, finishing and door style of the cabinet and drawer fronts make up the core of its entire design.
The style of kitchen cabinet doors also act like a canvas where you can introduce different decorative elements like polished hardware, stunning woodwork and other details which can make your kitchen unique.
Due to their significance, it helps to know a thing or two about the different options that you have in terms of cabinet and door styles. With all the options in the market, it can be quite overwhelming to choose the right one which will best fit the look your envision for your kitchen.

Below, we take a look at two of the most popular cabinet styles — Shakers and raised panel cabinets.
Both options are equally stunning, but this comprehensive guide will take you through their differences, their unique features and the practical benefits that they offer. Keep on reading so we can help you decide which one is best for your home.
What Are Shaker vs Raised Cabinets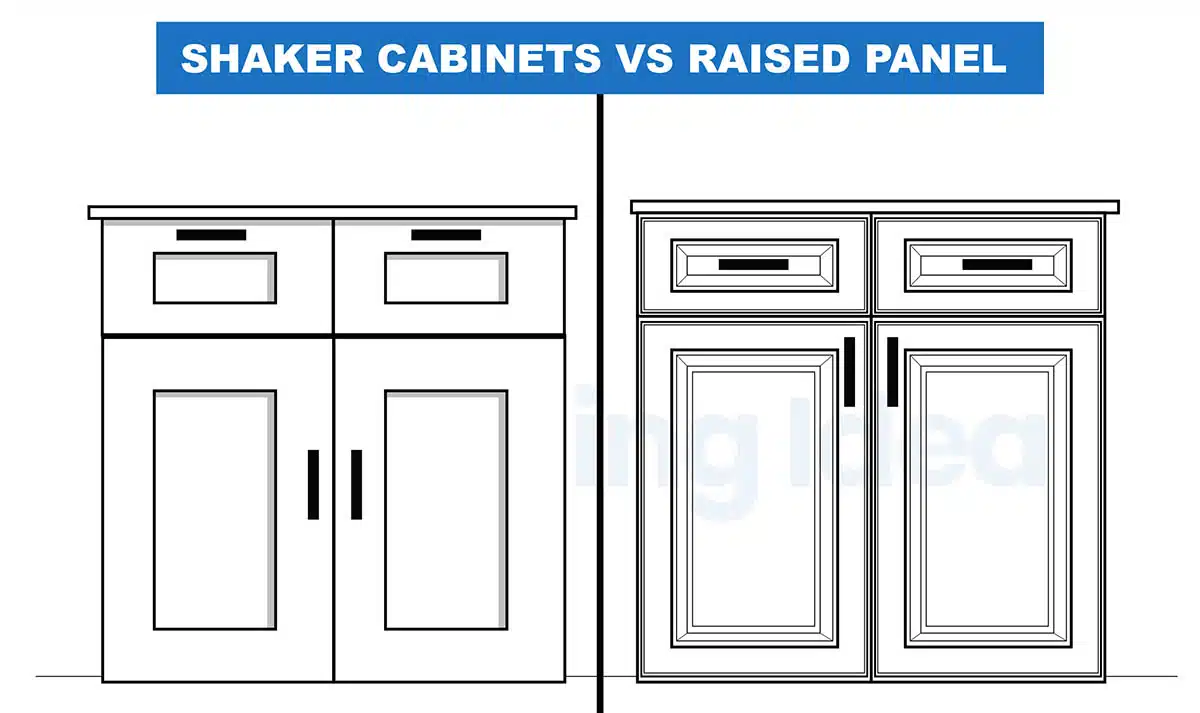 Kitchen cabinet doors are generally classified into three types of door styles namely (1) slab or flat panel, (2) raised panel and (3) recessed panel, sometimes referred to as Shaker cabinets.
Each of these styles bring in a unique character to a kitchen which can help achieve the design inspiration or period style that you envision.
Here is a detailed look on the differences between raised panel cabinets and Shaker door styles:
What are Shaker Style Cabinets?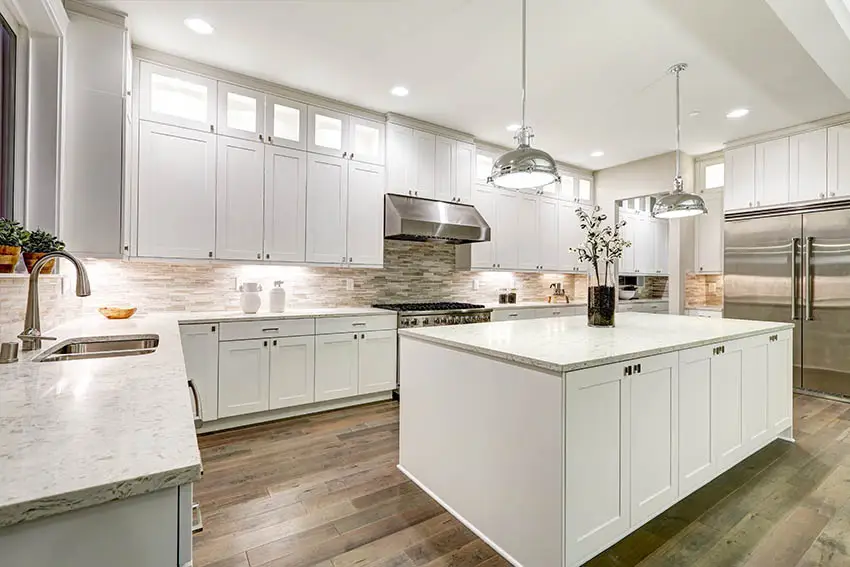 Shaker style cabinet doors are a type of recessed panel cabinet doors, characterized by a simple raised frame design. The center panel is lower, or recessed from the surrounding frame of the cabinet door.

The Shaker style was first introduced during the 1700's by a group of exceptionally skilled craftsmen, but it reached its popularity during the 1930's where it can be found in most homes.
Until now, the this style has been one of the most prominent styles used in kitchen design. In fact, several modernist furniture designers have drawn inspiration from its simple yet timeless aesthetic.
What Features Define the Shaker Style?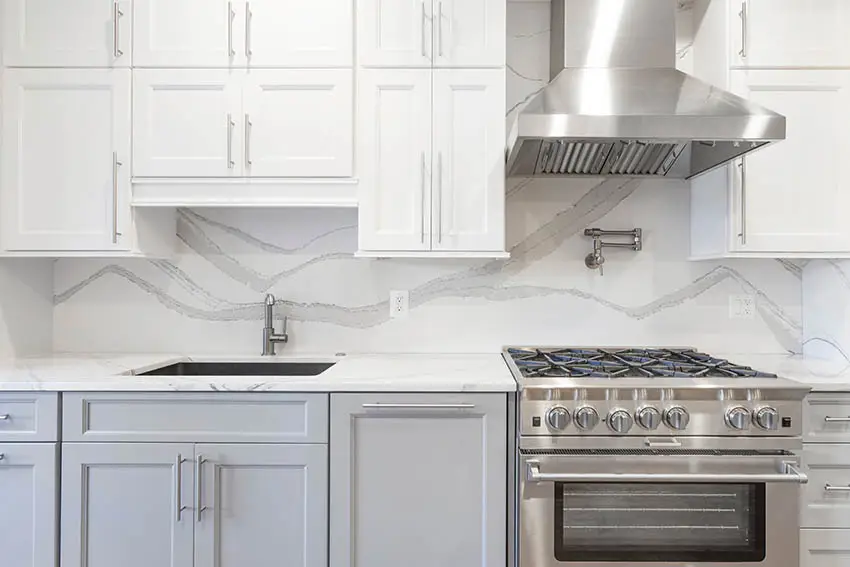 The Shaker style is best known for its polished, well crafted woodwork which leans toward the austere and utilitarian. Aside from functionality, there are several other characteristics that define it.
Typically, cabinetry in this style makes use of the best quality of hardwood available like oak, birch, maple, pine, chestnut, cherry, hickory or ash.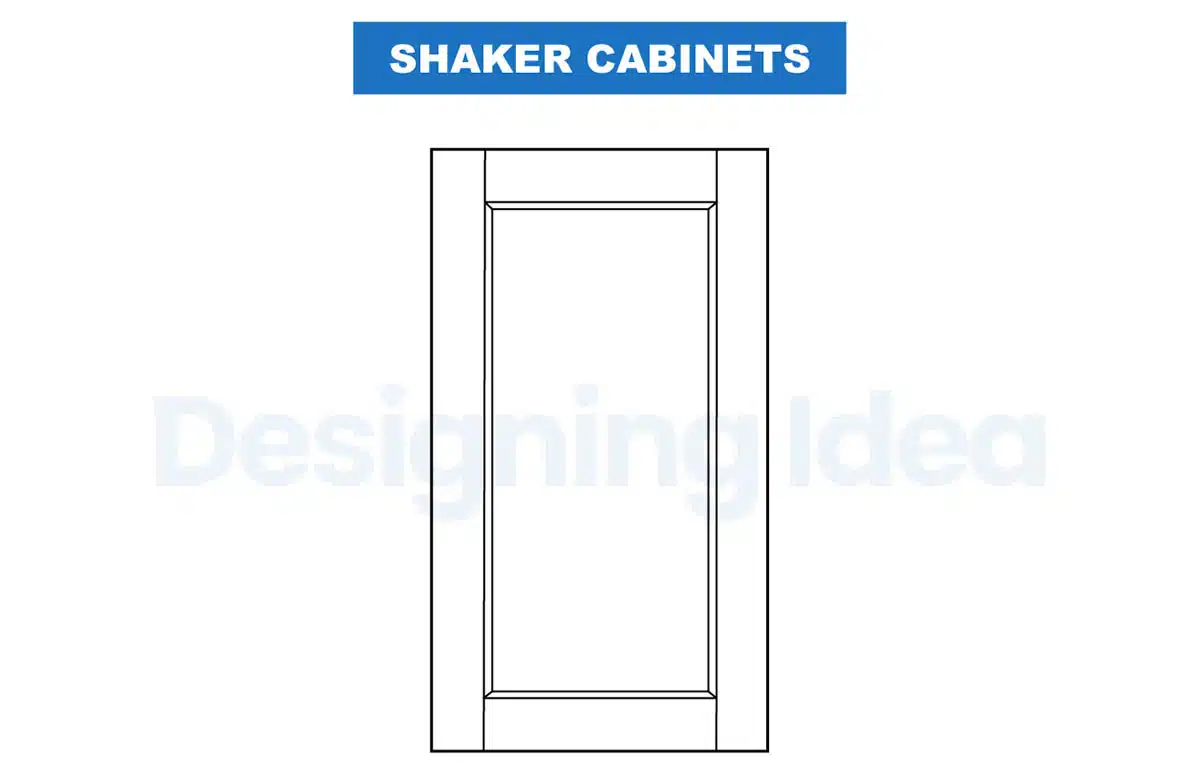 The design of these cabinets is very simple — has no ornamentation and is characterized by prominent straight lines, squared edges and moderate proportions.
Construction wise, cabinets or drawers in this style are typically composed of five pieces — front with flat, recessed panels.
The most common finishing material used is wood stain, often in light color, to enhance the natural tone of the hardwood used. To stay true to its simplicity, even the hardware, handles and knobs used are very basic and lack flair.
What is a Raised Panel?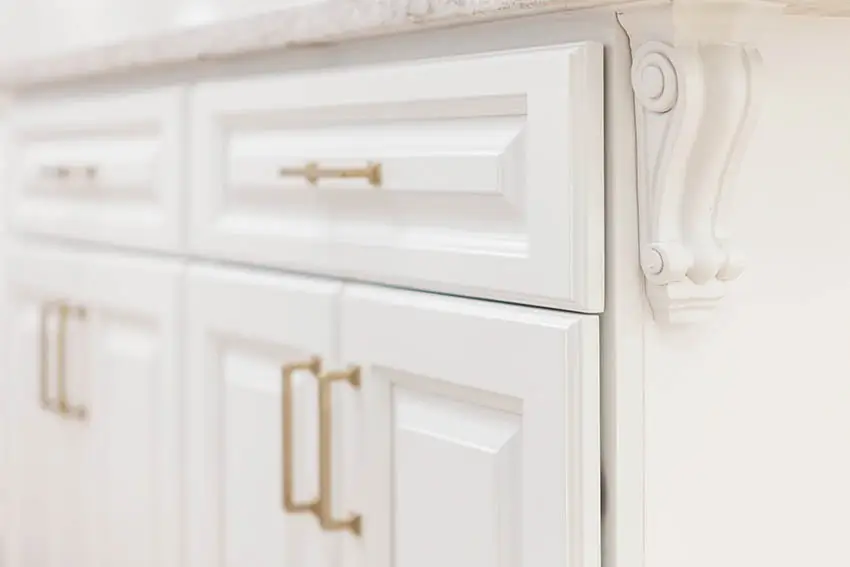 As its name suggests, a raised panel cabinet has a center panel that is slightly raised or higher than the surrounding wood or the main surface of the door.
Raised panel cabinetry rose to popularity during the American colonial era, when their presence in a home was a sign of wealth because they were more costly to make.
Construction wise, raised panel cabinet doors are built by attaching the panel using an adhesive or by carving grooves into the cabinet door's frame to create an outer rim or overlay.
The center panel may also be carved in such a manner that they slope backwards to the edges to create a raised effect. This makes the cabinet door look as though it was carved out of a single, large plank.
The raised panel provides additional depth and dimension to a simple flat panel door design. Raised panel cabinets come in a variety of styles and designs which allow them to fit into both traditional and modern kitchen settings.
What are the Features of a Raised Panel Cabinet?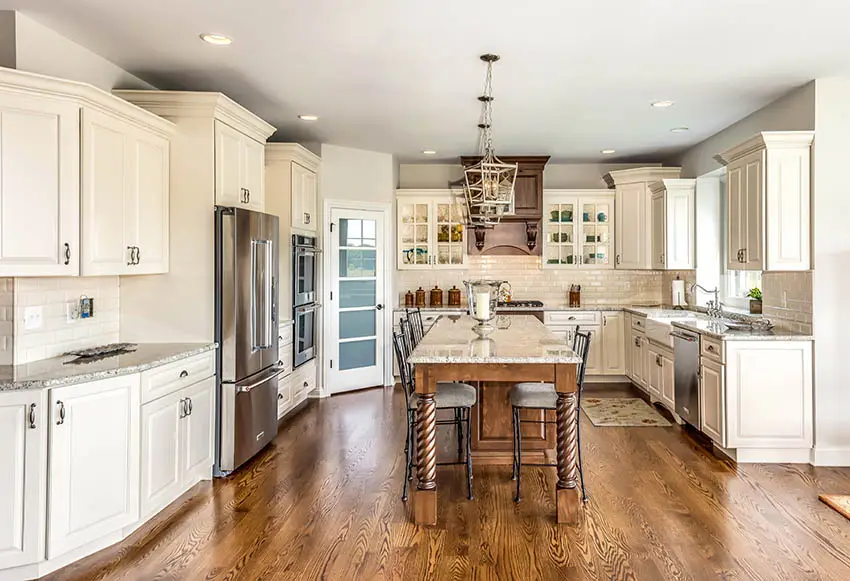 As we have mentioned, raised panels doors come in a variety of designs and the trim work they feature may not always be the same. The overlay around the center panel is generally grooved, but in some cases they have a decorative edge on the interior and exterior.
Aside from grooves, beveling and beading can also be incorporated into the design to achieve a more decorative effect.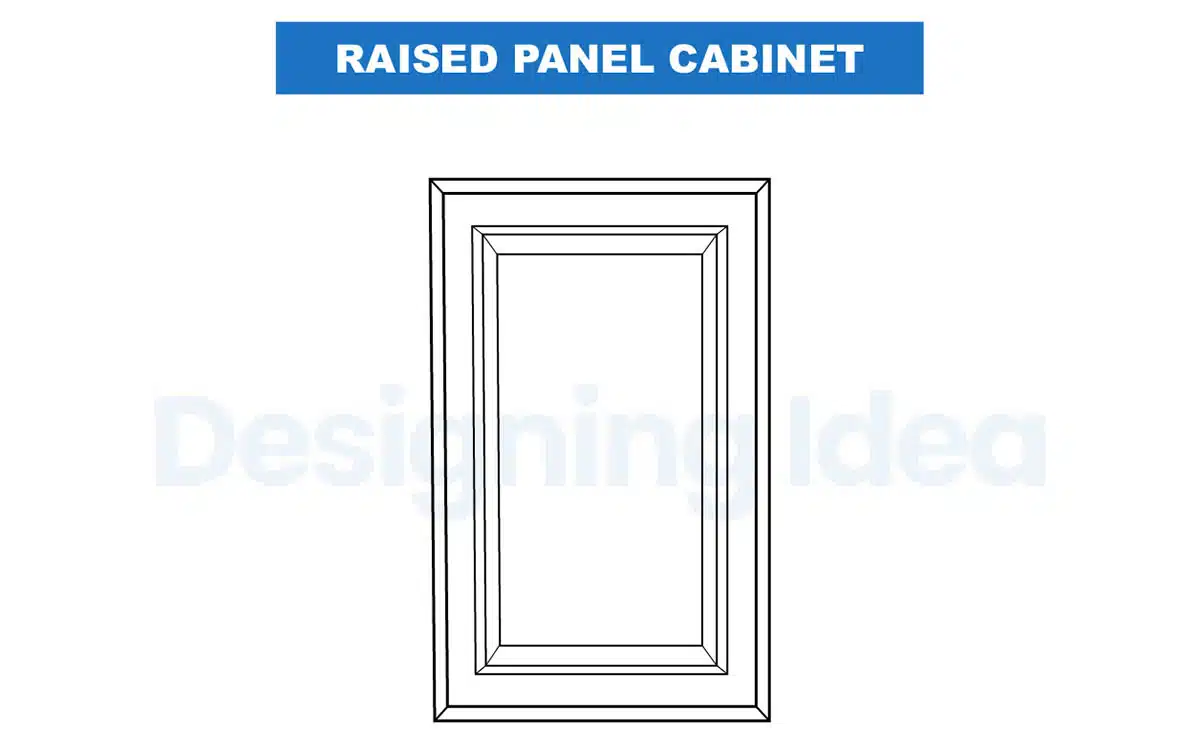 The most common design comes with a simple framework around the edges, while some variations include a stepped frame to add more visual depth and dimension to the door.
Other raised panel doors feature arches instead of square edges. Some raised panel designs may also incorporate a combination of different raised center panels and framed type panel
Unlike Shaker cabinets which are typically made of solid wood through and through, raised panel doors can be constructed using mixed materials. To add more ornamentation to the original wooden raised panel door design, glass or metal inserts may be used.
Differences Between Shaker And Raised Panel
Both Shaker style and raised panel style add a unique character to a kitchen and each option presents different advantages and disadvantages. Below, we have outlined the differences between the two based on several qualities and factors:
Appearance – The biggest and most noticeable difference between Shaker style cabinets and raised panel cabinets is their appearance.
As mentioned earlier, Shaker style cabinets have a flat, recessed center panel while raised panel cabinets have a central panel that is slightly higher than the outer frame.
Raised panel cabinets also have a more three dimensional appearance compared to Shaker style cabinets.
Overall, Shaker style cabinets have a much more simple design as both the center panel and the outer frame of the door are completely plain.
Whereas with raised panel cabinets, the edges surrounding the center panel may be grooved, carved or laid with some type of decorative detail.
Style. Because of the simplicity and minimalist aesthetic of Shaker style cabinets, they tend to be more contemporary and are often used in transitional, rustic and modern kitchen designs.
On the other hand, raised panel cabinets are predominantly used in traditional kitchen interiors due to their formal design. See more rustic kitchen cabinet designs on this page.
Installation. Raised panels and Shaker style both refer to the door style of the cabinet or drawer front. They do not refer to the kitchen cabinetry as a whole, which means that regardless of the door style used, the difficulty, method and cost of installation will vary depending on the overall design and layout of the cabinetry.
Both types of door styles come in framed or frameless construction with full overlays or semi-overlays. If both of them are constructed the same way, then installation will also be the same for both.
Framed or Frameless Construction. There are two ways to manufacture kitchen cabinets, namely frameless and framed construction.
Framed cabinetry is the traditional way cabinet manufacturers make cabinets. In this method, the cabinet door is attached to a 1-½ inch frame.
The frame somewhat resembles a picture frame and adds dimension to the door front.Framed construction gives cabinets more strength and adds sturdiness since the doors are well secured to a supporting frame. This type of construction also allows for more flexibility and customization in terms of design.
On the other hand, frameless cabinetry eliminates the use of a face frame and just the cabinet box or carcase remains. This method is the European way of manufacturing cabinets and can be typically found in more contemporary and modern cabinet designs.
Frameless construction relies on a thicker cabinet carcase for more strength and stability. Since the doors are directly attached to the sides of the cabinet, the result is a more clean look.
With frameless cabinet construction, the stiles between two cabinet doors are also removed, so they allow more "full access".
Shaker and raised panel kitchen cabinets can be found in both framed and frameless types of construction. However, raised panel cabinets can be more difficult to find in frameless construction because of its traditional style.
Shaker cabinets, on the other hand, usually make use of frameless construction because they have a sleeker and more contemporary design.
Availability. Whether prefabricated or custom made, both types of cabinet styles are readily and widely available in the market. Shaker style cabinets and raised panel cabinets are both very popular and a majority of manufacturers have them in stock or offer them as special order.
However, if you prefer frameless cabinets, you may find that Shaker style cabinet doors are more widely available in this type of construction. The reason being is that most frameless cabinet makers make more contemporary kitchen cabinets or modern styles.
Maintenance. The door style of a kitchen cabinet does not affect the maintenance it requires. Rather than the design, this aspect is more dependent on the type of material and finishing used. So regardless if it is Shaker style or raised panel, the maintenance will be the same.
Both types of cabinet door styles tend to collect dust and other types of dirt along the edge of the panel or the outer frames. The bigger the overlay, the more noticeable the dirt is.
But then again, regardless of the door style, Shaker cabinets and raised cabinets need to be wiped and cleaned regularly to ensure that they stay in their top quality and appearance.

Resale Value. The style of cabinet door used in a kitchen won't have much impact on the value of a home. There are other design factors in kitchen cabinetry which can add value to a home's resale value, like the type of materials and finishing used.
Solid materials such as quality hardwood, high quality white kitchen cabinets — these are some examples of factors which appeal most to potential buyers.
If you want to increase the resale value of your home using Shaker style cabinets or raised panel cabinets, just make sure to invest on the high quality materials and finishes.
Keep the cabinetry design timeless, the finishing neutral and stick to a neutral color palette. Also remember that the cabinet style that you choose must be cohesive with the rest of your home as it will have a broader appeal to home buyers.
Cost. When it comes to cost, Shaker style cabinets are often less expensive than raised panel cabinets. (Read on as we take a more in depth look at the comparison of their prices in this article.)
Shaker Cabinet Door Pros And Cons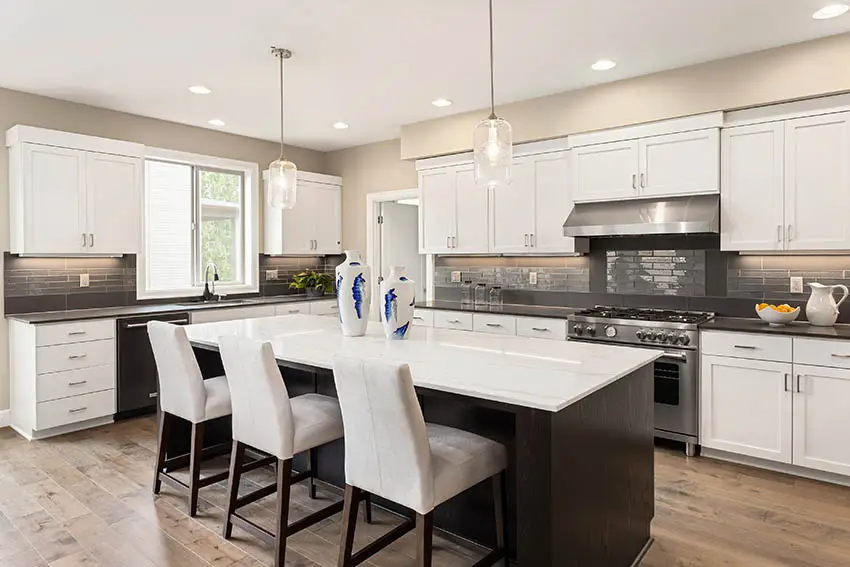 Shaker style cabinets are universally loved and remain to be one of the most popular kitchen cabinet styles in the market. But other than its clean aesthetics, what other attributes make it a worthy investment for your home?
Pros of Shaker Style Cabinets
Here are some of the advantages of these cabinets:
Sleek, uncluttered look. A perfect manifestation of the design philosophy "less is more", these cabinets have an enduring utilitarian appeal, a minimalist aesthetic and a very clean look that can lend a big impact to a kitchen setting.
Timeless appeal. Known to be a "classic" cabinet design, the Shaker style is simply timeless and elegant. It will never go out of style even in the years to come. In addition, you can easily update its look to keep up with trends just by treating it with a fresh coat of paint or by changing the hardware.
Versatility. These cabinet products are compatible with most kitchen styles, hardware and concepts — from traditional, transitional, contemporary and modern.
Offers design flexibility and gives you room to express yourself. Since these flat panel cabinets do not have any embellishments, it gives you room to personalize your kitchen cabinet.
Depending on your taste and preferred design, you can either add bevelled or beaded edges to your cabinet doors. They also lend themselves to a wide range of finishes.
They also set a good foundation to experiment with the rest of the design of your kitchen. You can easily match it with a variety of flooring materials, countertops, backsplashes and other design elements in the space.
Full of charm. The charming appeal of a Shaker cabinet can instantly make a home feel welcoming and homey. Its inviting charm makes it perfect for rustic interiors.
Less expensive than other kitchen cabinet styles. Because there is no ornamentation used in construction, these cabinets cost less compared to more detailed kitchen cabinet door designs.
Readily available in the market. A lot of cabinet manufacturers and suppliers have this style cabinets on stock and they can also be easily custom made by a skilled professional.
Available in many wood species and in different finishes. These cabinets are typically constructed using best quality solid woods which can be treated with different finishing materials.
Often found in frameless construction. As mentioned earlier, these cabinets are more commonly found in frameless construction. Frameless cabinets provide fuller access compared to framed cabinets.
Cons of Shaker Style Cabinets
Here are some of the disadvantages of Shaker style cabinets:
Harder to clean than slab style cabinets. Although considered to be low maintenance, cleaning Shaker cabinets is a little bit more difficult compared to slab or flat door cabinets because they may gather residue in the corners of the center panel.
However, they are easier to maintain compared to highly ornate kitchen cabinet doors because of the absences of excessive details which might trap debris or grease residues.
Too classic for modern kitchens. Shaker cabinets suit modern kitchen styles, however some homeowners may find that slab door kitchen cabinets are more suited for ultra modern and minimalist kitchen concepts.
Raised Panel Cabinet Door Pros And Cons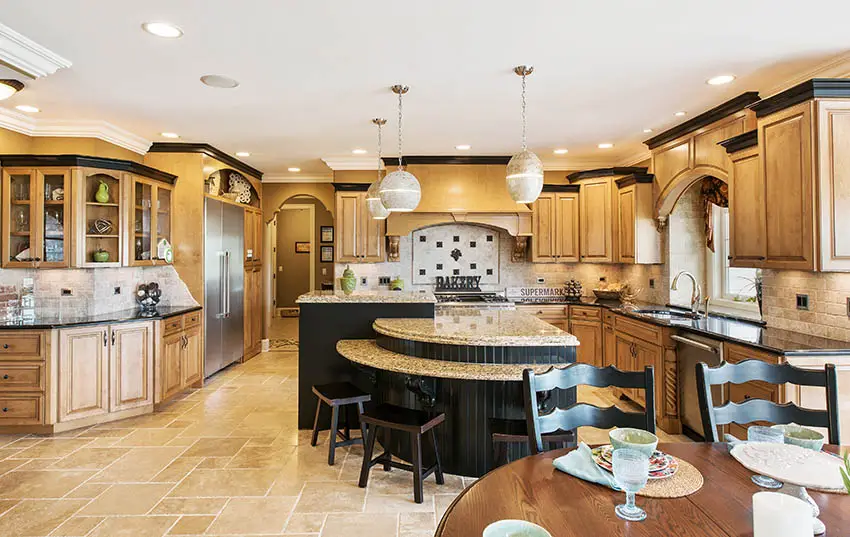 Raised panel cabinets are a consistent favorite in traditional style homes. But other than its class and formal look, what other attributes make it a worthy investment for your home?
Pros of Raised Panel Cabinets
Here are some of the advantages of raised panel cabinets:
Traditional style. Raised panel cabinets offer a traditional look with their formality and elegance.
The raised panel provides an additional dimension to the cabinet door design. The center panel which floats in the center of the frame creates more depth and gives kitchen cabinets more character as compared to slab style and recessed style doors.
Many decorative options. You can introduce different decorations to your raised panel cabinets to make them more unique. Raised panel cabinets can include decorative trims, bevelled edges, beading, glass and metal inserts.
Rail and molding options available. In connection to a wide range of decorative options, you can choose from different rails and moldings to include in your raised panel cabinet door and drawer fronts.
Many wood species and finishes are available. Similar to Shaker style cabinets, raised panel cabinets are typically constructed using best quality solid woods which can be treated with different finishing materials.
Readily available in the market. A lot of cabinet manufacturers and suppliers have raised panel cabinets on stock and they can also be easily custom made by a skilled professional.
Often found in framed construction. As mentioned earlier, raised panel cabinets are more commonly found in framed construction which makes the cabinet sturdier and gives it more strength.
Cons of Raised Panel Cabinets
Here are some of the disadvantages of raised panel cabinets:
More expensive than other cabinet door styles. Raised panel cabinet doors generally cost more than recessed or Shaker style and slab style doors.
Difficult to find in frameless construction. Raised panel doors are difficult to find in frameless construction because most cabinet makers make traditional style cabinets in a framed method.
Differences in Cabinet Cost
Kitchen cabinets are priced in several ways and a lot of cost factors such as the materials used, finishing, boxed construction and design contribute to their overall price. The cost of labor for building the cabinet door will greatly depend on the style used.
In most cases, raised panel doors tend to cost more than Shaker style cabinets. Typically, Shaker style cabinets cost about $16 in labor fees, whereas raised panel doors cost approximately around $30 in labor fees.
For a 10 feet x 10 feet kitchen with all plywood cabinets finished in white paint, raised cabinets also tend to cost more than Shaker style cabinets.
For the materials alone, it will cost around $2,706 to build Shaker style cabinets for a 10×10 kitchen, while raised panel doors would take roughly $3,392 to construct.
Installation cost for both types of cabinets cost an average of $2000, which would bring the total project cost to $4,706 for Shaker kitchen cabinets and $5,392 for raised panel cabinetry.
What Is Best For A Kitchen Design, Shaker Or Raised Cabinets?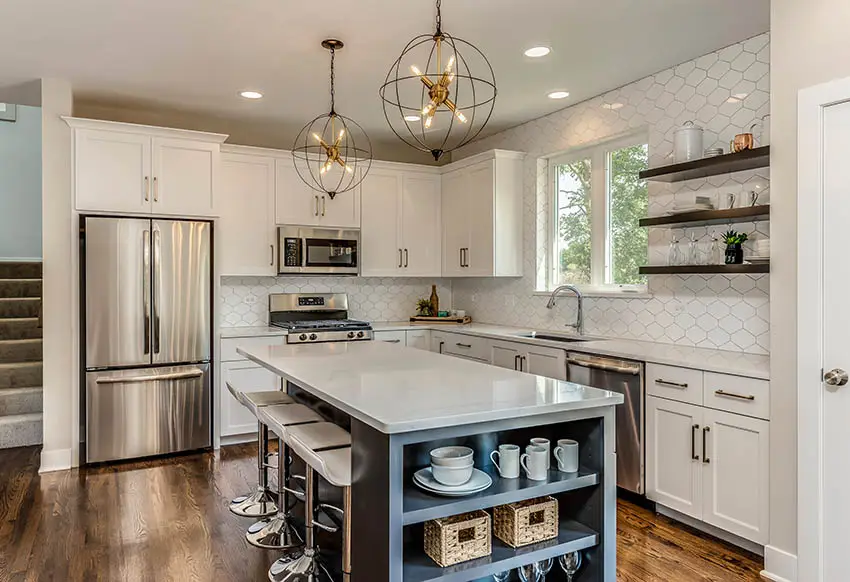 Since each of these cabinet door types convey different styles, the answer to this question may vary. Deciding on which cabinet style is better between Shaker and raised panel cabinets will ultimately depend on the existing style of your kitchen and the look you envision for it.
To help you out on deciding which one is the best for a kitchen design, here are our recommendations based on different factors.
Best for Traditional homes and kitchens – Raised panel cabinets. This type of door leans traditional and has a more formal look.
Best for modern, contemporary and transitional styles – Shaker style cabinets. The straightforward design appeal of Shaker kitchen cabinets make them perfect for more modern kitchen concepts which lean towards a minimalist and clean aesthetic.
Most versatile – Shaker style cabinets. This type of cabinet door style can support a wide range of design concepts which makes them a popular go to option for a lot of homeowners.
If you see yourself changing your kitchen style from time to time, Shaker style cabinets are the perfect option because they will not look off whether you transition from rustic to contemporary or vice versa. Shaker cabinets can also be easily updated if you want to shift from one look to another.
For more related designs visit our gallery of kitchens with white cabinets here. Also don't forget to tell us if you prefer shaker cabinetry or raised cabinet panels the best in the comments.