See travertine kitchen floor designs and discover the pros & cons of this stone material, different travertine styles, sizes, and the best cleaning tips.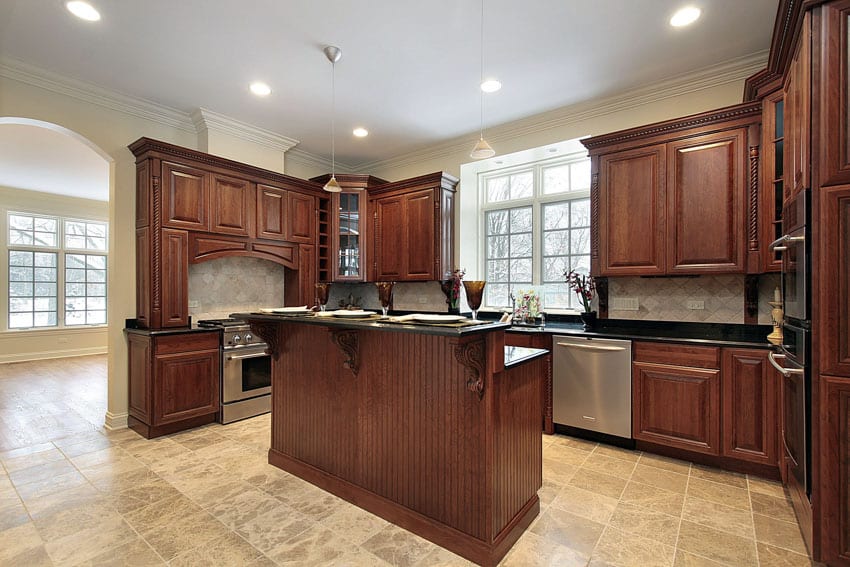 The travertine kitchen floor can be a stunning addition to your home and a practical one because of how durable the material is. Travertine is a durable natural stone and won't break just because of the daily wear and tear and even if it's installed in common areas with high foot traffic like the kitchen.
This durability comes from the fact that it was formed from natural mineral spring deposits. Its qualities are similar to natural stone flooring materials marble and granite but tend to be heavier and require regular sealing because of how porous the surface is.
If this is something you're considering for your home, you can take advantage of the aesthetics that the material offers. A type of limestone, travertine features earthy tones like beige, tan, brown, and rust.
It also has this unique fibrous and marble-like pattern on its surface that's attractive to look at. This is the reason why using this material for your kitchen flooring can add warmth and an inviting feel to the space. There is also a wide selection of sizes and shapes you can explore and so forming your envisioned aesthetics and ambiance can be possible.
Travertine Kitchen Floor Pros And Cons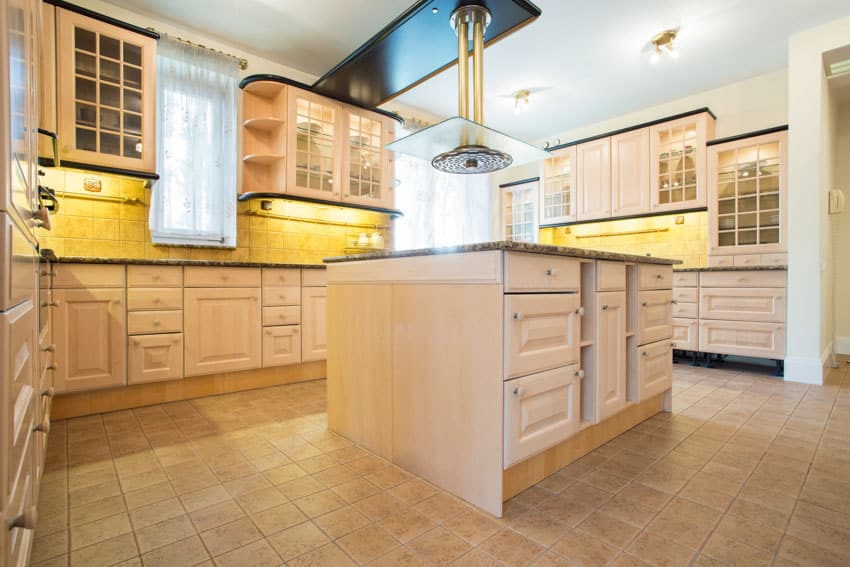 Before you go to the internet and search for the best offer for travertine online, make sure you know first what you're dealing with.
It's ideal to explore the different pros and cons that come with installing and using travertine flooring for your kitchen before coming up with a final decision on whether to have one for your home or just choose another material to explore.
Pros of Travertine Floors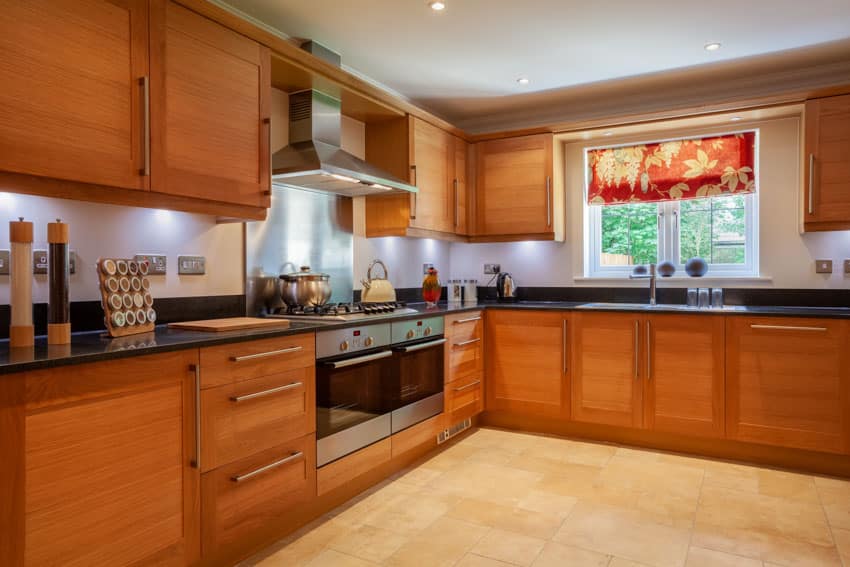 Travertine kitchen floor has characteristics that will make it an incredible part of your kitchen and home. Some of the clear advantages you will get in choosing travertine kitchen flooring are the following:
• Incredible Durability: Travertine types of kitchen floor tiles can be considered a longer-wearing flooring and can last for years if properly maintained.
The hard stone rates 5 on the Mohs hardness scale, making it comparable to marble flooring and suitable for common areas with high and heavy foot traffic. And while travertine is porous and needs sealing, proper upkeep can easily allow it to outlast other natural stones.
• Great Resiliency: When your travertine flooring is sealed and well-maintained, the material can be resistant to water and moisture. Given this optimum condition, travertine won't easily crack and can even tolerate extreme weather conditions whether you install the material indoors or outdoors.
• Features A Non-slippery Surface: Travertine is a porous natural stone and so it's only expected to have a rough texture on its surface with pits and holes in its unpolished and unsealed state.
This makes it a good option for flooring, especially for areas that are prone to being slippery, including showers, bathrooms, pool decks, and swimming pools. It will also be a good option for the kitchen, where spills can lead to a slippery floor.
• Beautiful Aesthetics: Travertine flooring can be a stylish addition to your bathroom, with all the neutral colors that these solid stones and tiles come in. Aesthetically, the material offers a unique blend of nature's mountains and interior spaces.
While the common colors are beige, tan, and brown, there are also white veins, rusty red surface, and even orange tones. Travertine tiles may also come with patterns and layers of pastel colors.
• Value Added: Natural stone flooring like travertine can significantly increase the value of your property, more than just adding to its aesthetics and appeal. And since these toles can easily stand the test of time, it will be a good investment to consider.
• Comes in A Variety of Options: Travertine comes in a variety of sizes and colors, with the most common ones associated with neutral shades, as well as ivory, gold, and red colors. There are also four different finishes to consider, including polished, brushed, tumbled, and matte honed.
• More Cost-effective Option: Similar to the prices of natural stone, travertine flooring can come at a higher cost when compared to types of vinyl and laminates but it is also a cost-effective choice since the material can last for a long time.
Compared to granite and marble tiles, travertine tiles commonly used for kitchen flooring costs less, which is around at least $2.69 per square foot and at most $4.49 per square foot. If the labor is considered, the cost will be around $15 per square foot.
• Environmentally Friendly: Travertine flooring is made from natural stone and besides adding an environmentally friendly touch to your home's interior, especially since the processing of the tiles requires less water, and minimal landfill waste, and so will also produce fewer greenhouse gases to the environment.
• Easy Replacement: If after some years there are cracks and flaws in the tiles (yes, it can happen after years of use and wear and tear), replacement is easier to be done compared to other materials. And since there are many colors to choose from, you can simply find the one that matches the one you used on your kitchen floor.
Cons of Travertine Floors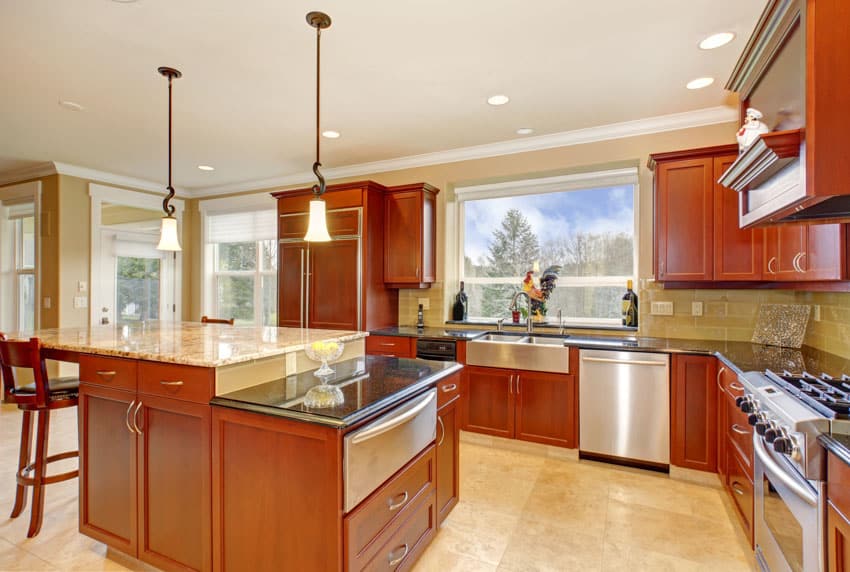 Besides the benefits you can enjoy with your travertine kitchen flooring, there are also flaws and drawbacks you should be aware of. Some of the issues and challenges you might face in the future are the following:
• Porous: Travertine is a porous natural stone and so it will always be vulnerable to moisture, especially when not sealed. Some of the issues that a porous travertine may deliver include possible discoloration to appear on the surface of the water and even mildew seeping through the grout.
• Requires Regular Maintenance: Since travertine is naturally porous, periodically sealing the material is necessary so that moisture and other elements will not be trapped in the small holes that may lead to mold growth.
This is the advantage that granite and porcelain have over travertine. And more than just the effect that mold will have on the travertine flooring, mold growth is also quite unhygienic to the kitchen and home in general.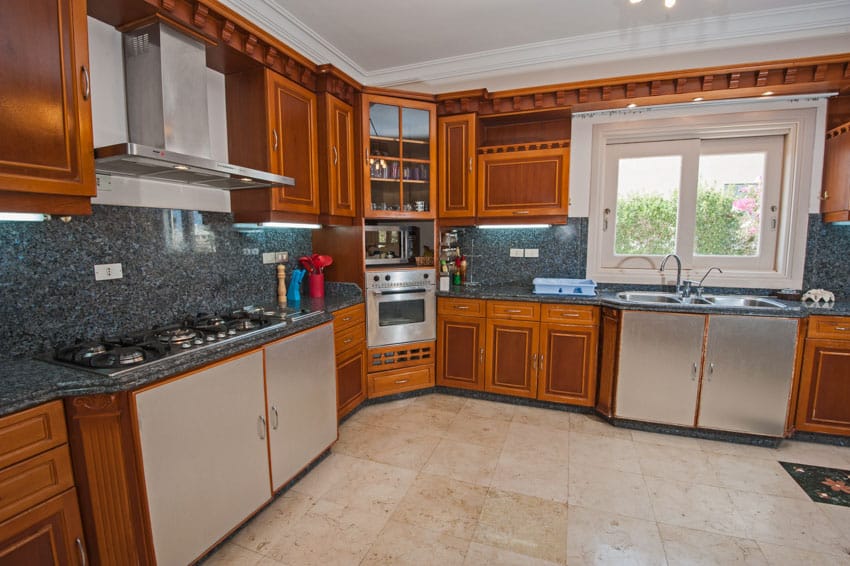 • Tends To Be Heavy & Not DIY-friendly: Travertine is a heavy material, which means that working with this natural stone will require an extra hand for its installation.
This also means installing travertine kitchen flooring may be too much of a DIY project, especially since it will take time to do so and will take a lot of effort too. To make it a lot easier, you might just hire experts for the installation.
• Feels Cold Underfoot: Travertine types of floor tiles feel cold underfoot and slippery when the tile flooring is polished.
• Easily Reacts to Acidic Substances: One of the major drawbacks of using travertine kitchen flooring is the fact that it's highly reactive to acidic substances.
This means you need to make sure to keep the floor free from spills like coffee, orange juice, alcohol, and vinegar. Exposure to these elements may lead to your travertine kitchen floor having permanent stains on it.
• May Be Damaged from Weather Elements: Travertine kitchen flooring, when exposed to weathering elements (rain, ultraviolet, wind, etc.), can wear the material away. Even when regarded as a hard stone, it can turn soft and corrode both under constant moisture conditions and with chemical exposure.
Travertine Tile Kitchen Floor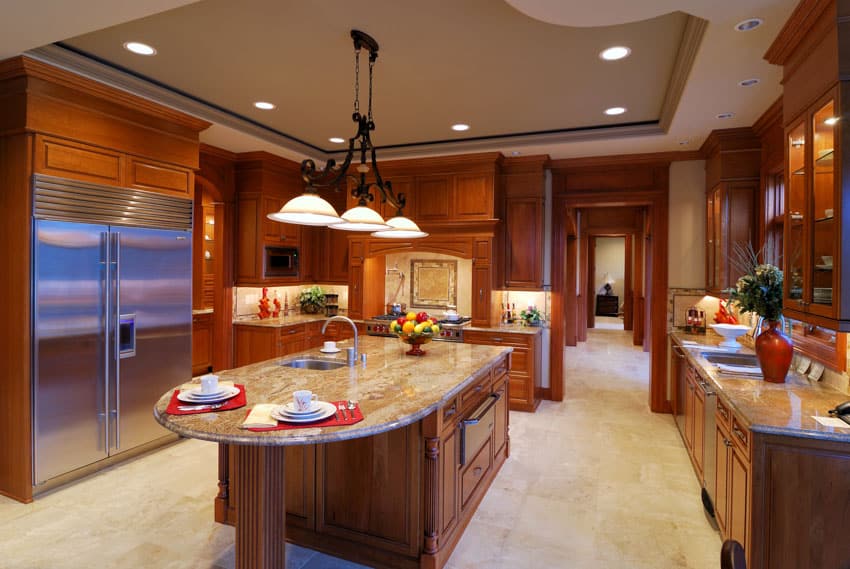 When creating your travertine kitchen floor, the most common form the material comes in is in tiles. And there are two main types you can consider when choosing travertine floor tiles for your kitchen, which are filled and unfilled.
Unfilled travertine tiles have the notable holes that the natural stone is famous for. This offers the floor a more textured and rustic look it so would be perfect if that's what you're going for.
If you want a more modern and contemporary vibe for your kitchen floor though, filled travertine tiles will be the better option since the usual small holes that come with the natural stone are filled with a binding substance. This gives the kitchen tile a more sophisticated and sleek look.
Silver Travertine Kitchen Floor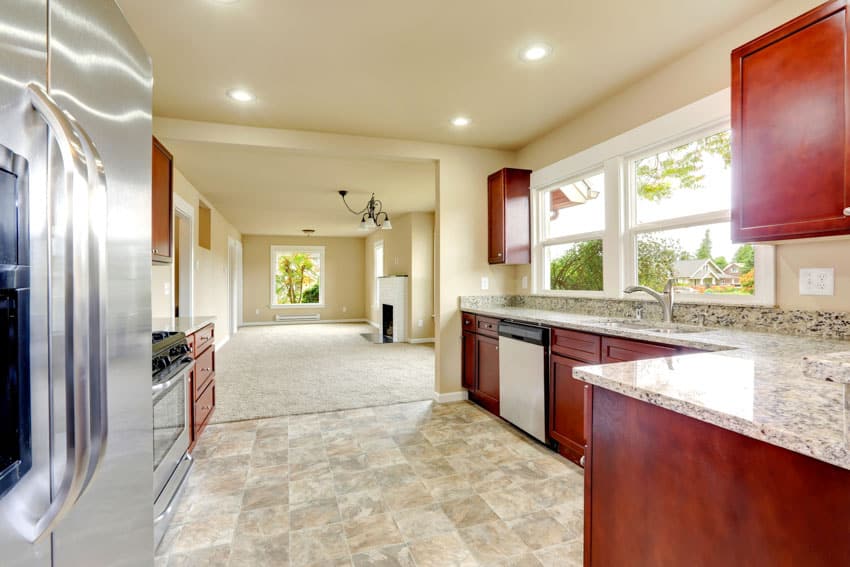 If you're looking for a stunning and unique look for your travertine kitchen floor, you can opt for a silver stone. Silver travertine is usually associated with gray and dark silver veins and deposits on a light silver surface.
In some situations, these types of travertine come with small quantities of cream deposits. The combination of all these colors gives way to a classic and elegant look that can look timeless on your kitchen floor.
The silver travertine kitchen floor is a popular option for many homes that want to have a stunning space to look at. This is why besides the kitchen floor, travertine is perfect for backsplashes, bathrooms, and accent walls.
And with this stunning aesthetics, maintenance is vital information to know about. Make sure that you seal the tiles regularly to avoid moisture from destroying the material altogether.
Travertine Tile Kitchen Floor Sizes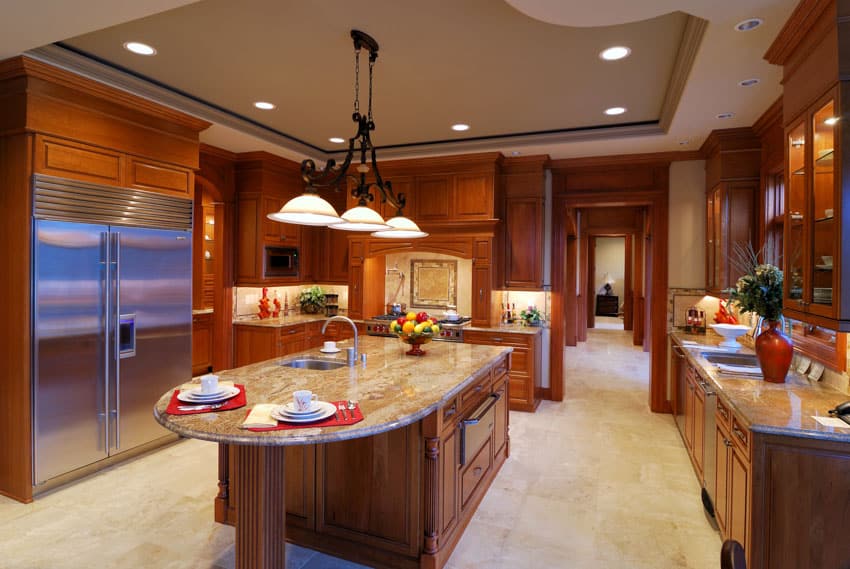 When considering the sizes you can consider for your travertine tile kitchen floor, there are several considerations you can look into and match to your kitchen's floor space.
For the tiles, the most common sizes include the following:
• 1×1 square feet
• 1×2 square feet
• 2×2 square feet
• 2×4 square feet
• 4×4 square feet
While these may be common, you don't need to be limited to them. Travertine tiles are highly workable and easy to cut so customizing them based on the size you need is not difficult to do so.
Make sure that you choose the size idea for your kitchen floor, whether you plan to use the illusion of more space or you want the floor to look trendy and busy with movements.
How To Clean Travertine Kitchen Floors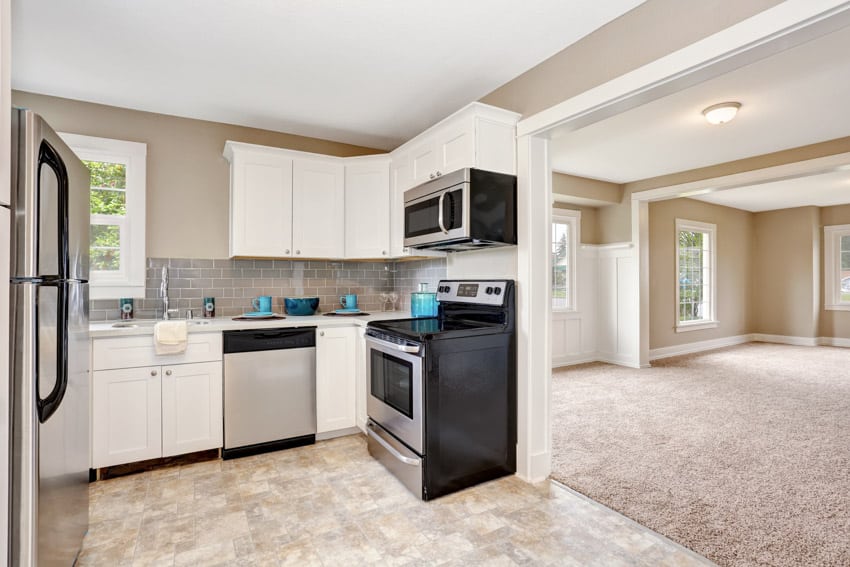 Cleaning and maintaining the quality of your travertine kitchen floors will require your understanding of how to do that.
Here are the simple tips to follow to make sure your floors are thoroughly clean and that they remain in their original form:
• Wipe spills as soon as they happen, especially when the spills are from acidic materials like orange juice, vinegar, and ketchup.
• Use a good alkaline-based stone cleaner to make sure that your travertine kitchen floors remain clean and sparkling.
• For day-to-day cleaning, use dry mops (but make sure that the travertine tiles are properly protected with stone sealants) and avoid using vacuum cleaners.
How Often Does Travertine Need To Be Sealed?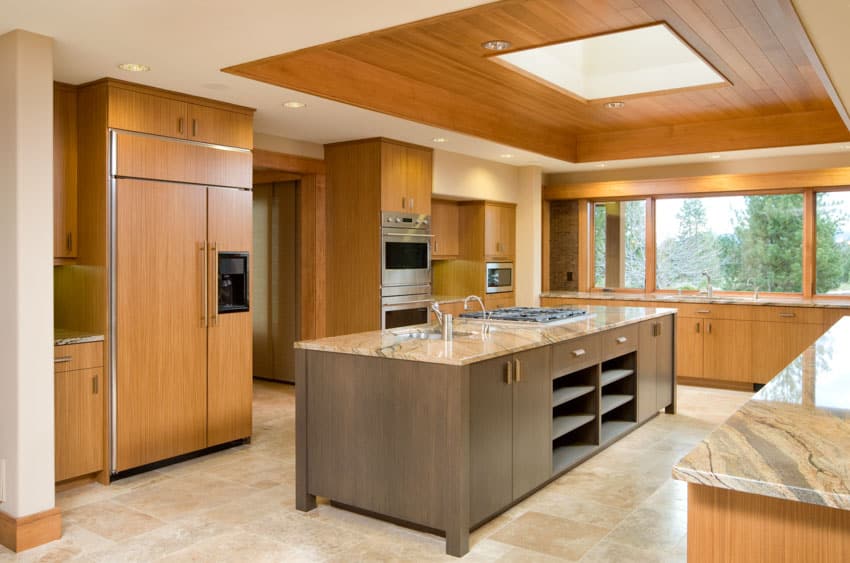 Sealing is a major requirement when using travertine for your kitchen walls and this is because the material is naturally porous and is vulnerable to moisture, dirt, dust, and other elements.
These substances can penetrate the small holes of the natural stone and destroy it from the inside. If not destroyed, there will be a permanent stain on the surface.
Sealing your travertine kitchen floor should be done first and foremost during the installation, and then periodically after that, which is around 3 to 5 years.
You can choose to seal the floor every 3 years if you are prone to spilling liquid on your floor, especially when the substance is acidic by nature and if their heavy foot traffic in the said area.
This can cause the material to wear away the sealer on the travertine tiles prematurely. Make sure to schedule a reminder on your calendar so that you won't forget to reseal your kitchen floor at the right time.
Kitchen Cabinet Colors For Travertine Floors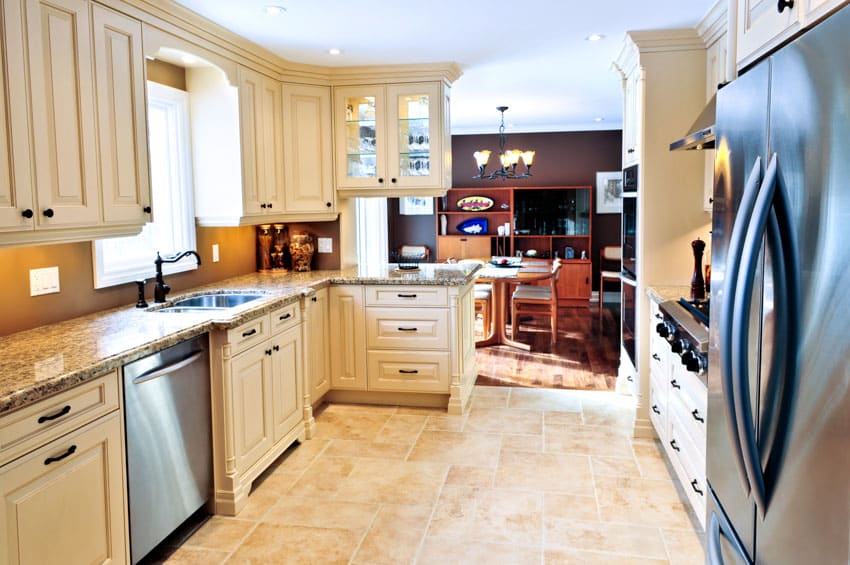 Travertine kitchen floors usually come in warm neutral colors, including beige, cream, tan, and brown. Pink and rust may also appear every now and then, along with other earthy colors. In addition to that, silver travertine with vines and spots of gray is also available.
These colors would be needed to take into account in choosing the color for your kitchen cabinet to make a great match. Before you make a decision on what color your kitchen cabinet should have, make sure you have chosen the color of the travertine tiles you want to install or you have installed in the kitchen.
In general though, here are some color options worth considering:
• White: Travertine kitchen floors with white cabinets go well with the pink and brown tones of the material. This ensures that the travertine floor aesthetics stand out and that the white cabinets serve as an incredible background.
• Warm Neutrals: Works perfectly with other earthy and neutral shades that travertine has and will somehow create a full neutral look.
• Gray: Pair this color with white and get a Mediterranean vibe that will look great with your travertine floor. This will be a better option for travertine tiles with warm neutral tones than other types like the silver travertine.
• Navy Blue: Since most shades of the travertine tiles come in warm neutral tones, choosing this cool shade will instantly balance and cool down the kitchen. You can also pair this with the color brown to have a more unified look with the travertine tiles.
Is Travertine Good For Kitchen Floors?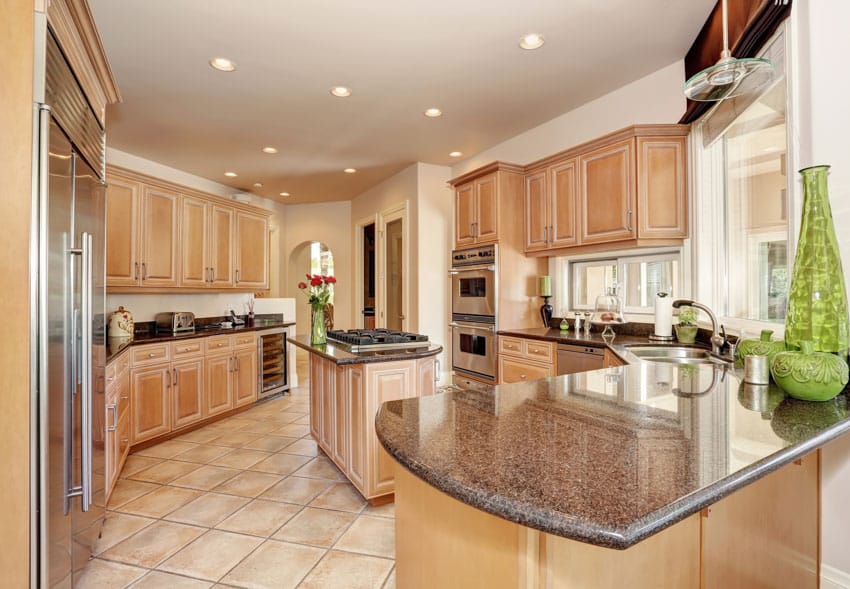 Travertine is a hard stone that can be considered a good construction material. The good thing about kitchen floors is that, unlike the shower area and bathroom, moisture is not a constant issue you have to worry about.
And so even if travertine is a porous material, installing it on the kitchen floor won't be a challenge, and maintaining the material won't be too difficult. This does not mean though that you don't need to seal the material. If you want optimum conditions for your travertine kitchen floors, make sure to reseal them every few years.
See more related content in our article about travertine countertop designs on this page.