Welcome to our gallery of open shelving kitchen ideas including decorating tips with a variety of design styles.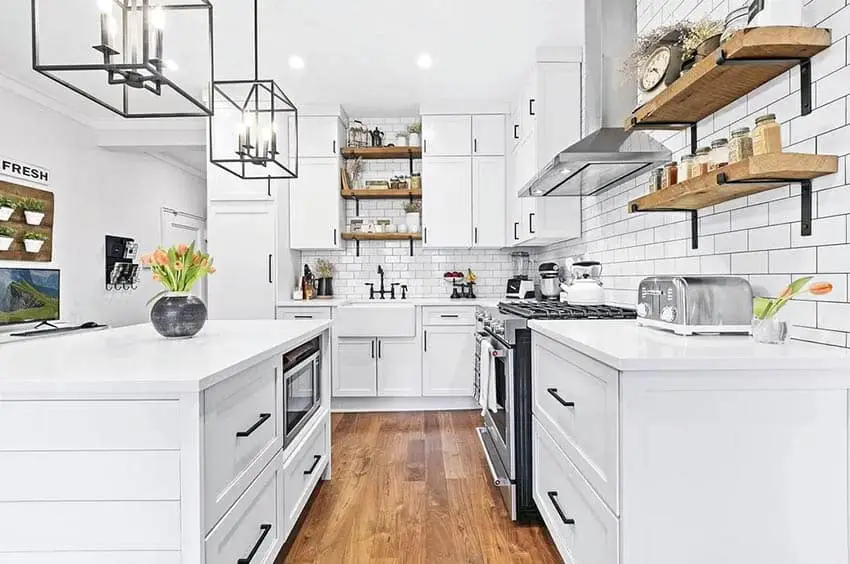 Open shelving is one of the easiest ways to maximize the storage capacity of a kitchen. Aside from being easy to build, open shelves are practical and can also add a lot of character and beauty to a kitchen.
Additionally, they make work in the kitchen easier and the household flow more efficient since it saves time by eliminating the need to open doors. Things are highly visible and more accessible, but what's more to love about open shelving is that it enables you to show off some of your most valued valued collections as a part of your kitchen's design.
Below, we take a look at some stunning kitchen open shelving ideas along with some tips on how you can pull them off as a practical and functional feature of your home.
White Kitchen with Naked Shelving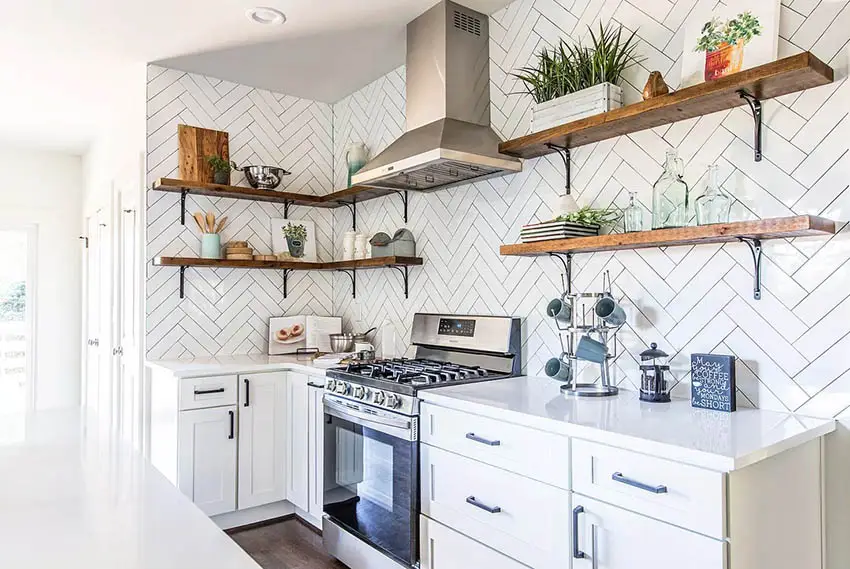 A classic favorite among homeowners and designers alike are white kitchens. A kitchen dominated by spanning white cabinetry exudes an ultra bright and airy feeling. In fact, no other color can match the fresh, crisp look of it. It's just timeless, elegant and very easy on the eyes.
In addition to its classic aesthetic, white kitchens provide design flexibility and versatility, allowing you to introduce any other color into the scheme. You can freely experiment on the color of your walls, countertops, backsplash, flooring, accessories, and even the open shelves.
For white kitchens, there are more choices for colors for the open shelves. It will really just depend on the overall style of the space and the look you want to achieve. Both complementary and contrasting colors can be used for white kitchen open shelves. However, the best colors and finishes to go with are (1) white, (2) light neutrals, (3) dark neutrals and (4) wood finish.
White open shelves are perfect for white kitchens that have a traditional or contemporary classic flair. White open shelves combined with white cabinetry creates a very clean overall look. Light neutrals, on the other hand, are beiges, ivory, creams, greige, cool grays or shades of white with a slightly warmer undertone. Depending on the type of finish, whether distressed, antiqued or high gloss, these colors may be used for white kitchens that are traditional, contemporary or modern.
Dark neutrals like black, charcoal and graphite are the best colors to go with if you want to create a bit of contrast between the open shelves and the an all white kitchen. Wood finishes, on the other hand, also creates contrast between open shelves and white cabinetry, but unlike dark neutrals, they give the space a more cozy feel and a more natural warmth.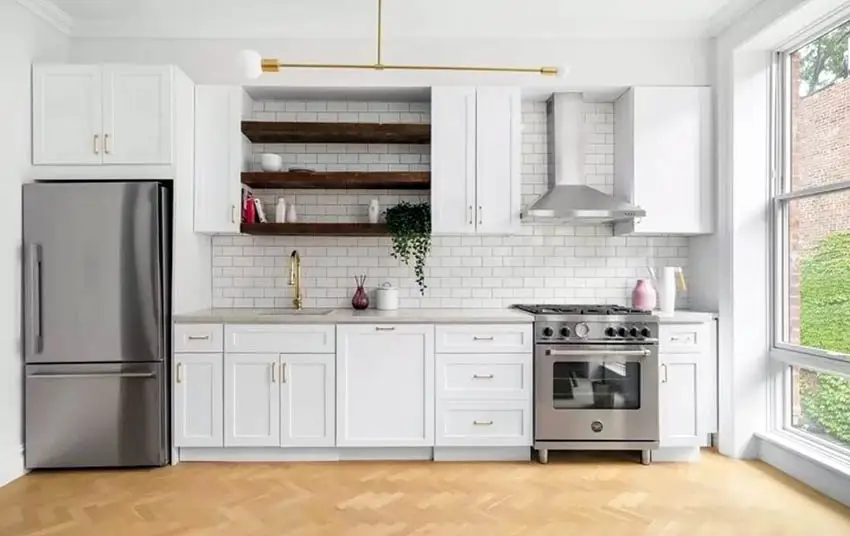 Aside from being super functional, open shelving in the kitchen can provide a visual break which can make a monotonous color scheme more interesting. This kitchen, for example, has dark wooden shelves which contrast beautifully with the all white cabinetry and the classic subway tile splash board.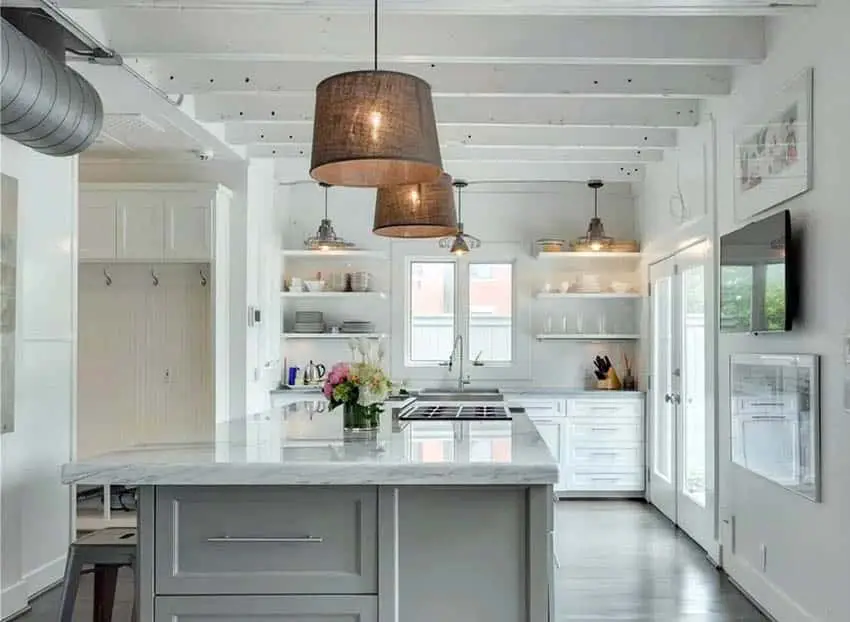 One of the key design elements used in interior design is symmetry. Easily create balance and symmetry in kitchen design by putting open shelves on both sides of a window.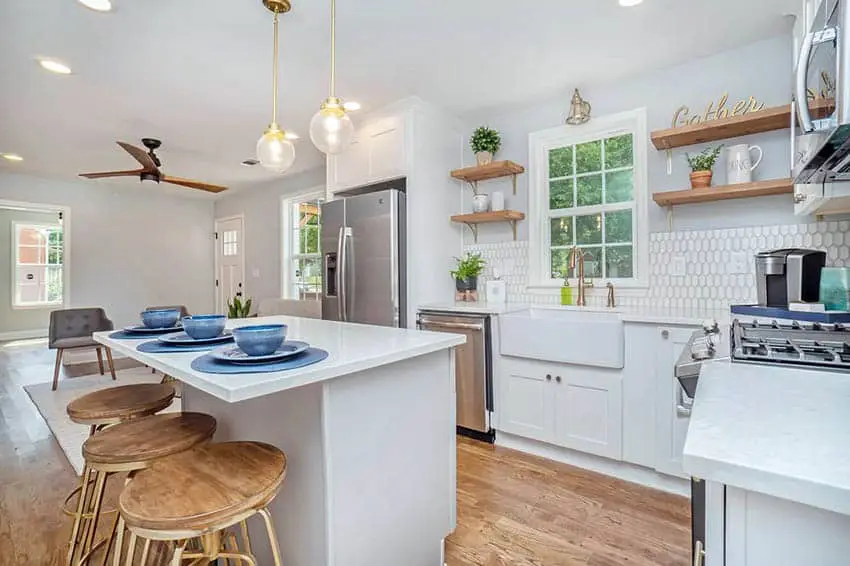 Another way to create a balanced and cohesive overall look for your kitchen is to pair the finish of your open shelves with other furniture pieces, such as bar stools. You can also complement your open shelves with a matching floor finish.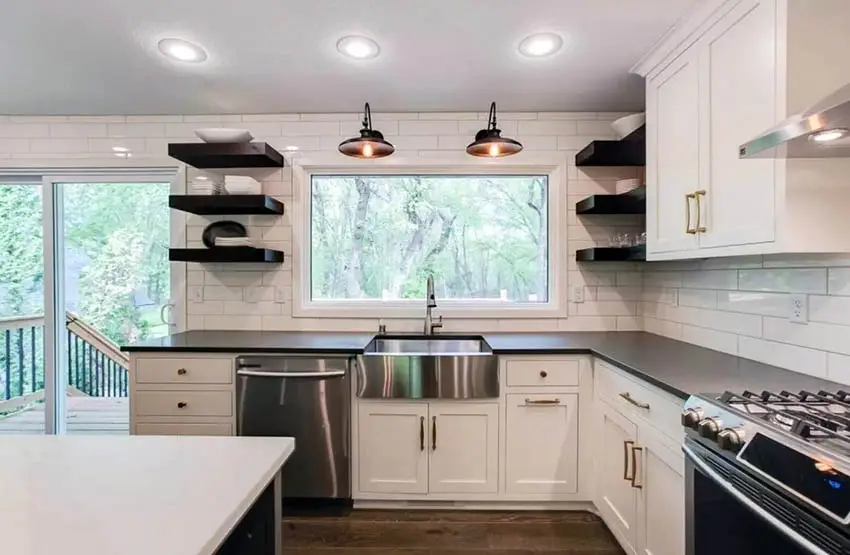 A black and white color scheme is an iconic pairing that can make kitchens and other spaces exude with elegance and sophistication. For this particular kitchen, the black open shelves pair beautifully with the black granite countertop, but contrasts starkly with the classic white cabinetry.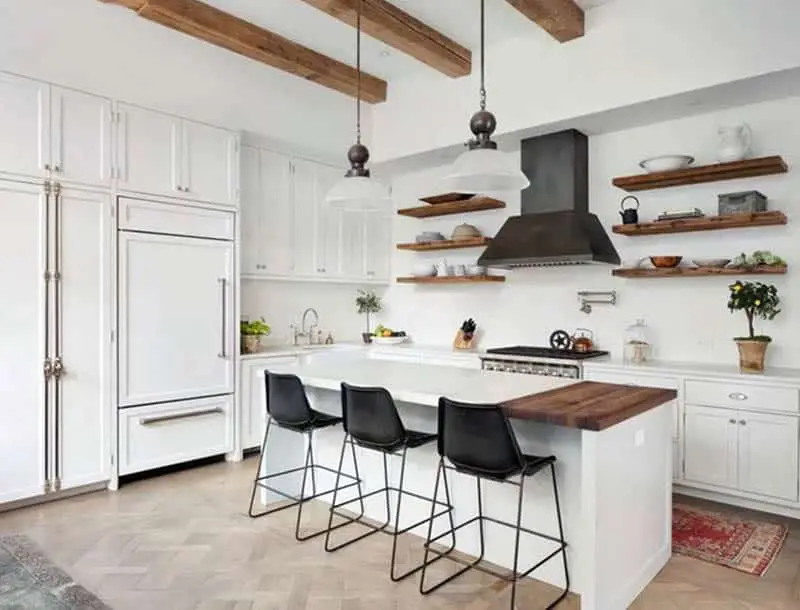 A few wooden open shelves can instantly update a kitchen cabinet design. This classic traditional kitchen introduces a new surface with the use of wall mounted wooden ledges that match the block on the bar island.
DIY Visible Shelving Kitchen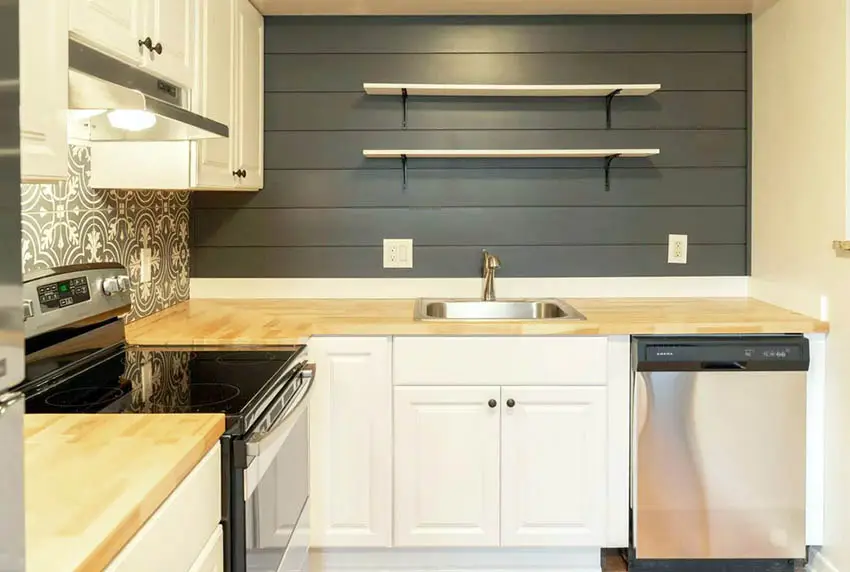 Aside from having an open shelving custom made by a trusted kitchen cabinet maker, you can also opt to make it as a DIY project. Most shelves have fairly simple designs which can be easily constructed and installed, using materials which are readily available on local home improvement stores.
Different materials can be explored such as solid wood, plywood, MDF or metal. There is an option to either build the shelves from scratch using your preferred material, or buy a ready made open shelving that is ready for installation. The material and design of your open shelves will greatly depend on the existing style of the kitchen cabinetry (as they need to be cohesive) and the function that you intend it for — What items do you plan to put on them? How heavy do you think it will be? How much storage do you need?
When it comes to the placement of your diy open shelves, you can hang them at several places, but the obvious choice would be to use them as an overhead storage in replacement for the conventional cabinet with doors. Some other common places to hang open shelving in the kitchen are around a window, in front of an accent wall or tile backsplash, around the range hood or around the sink. Unexpected places such as complex corners or kitchen island are also ideal locations for open shelving since they convert unused space into full functional features of the kitchen.
To help you plan the layout of your space there are a variety of kitchen cabinet design programs available. These can help you visualize the look before doing any actual purchasing of materials or installation.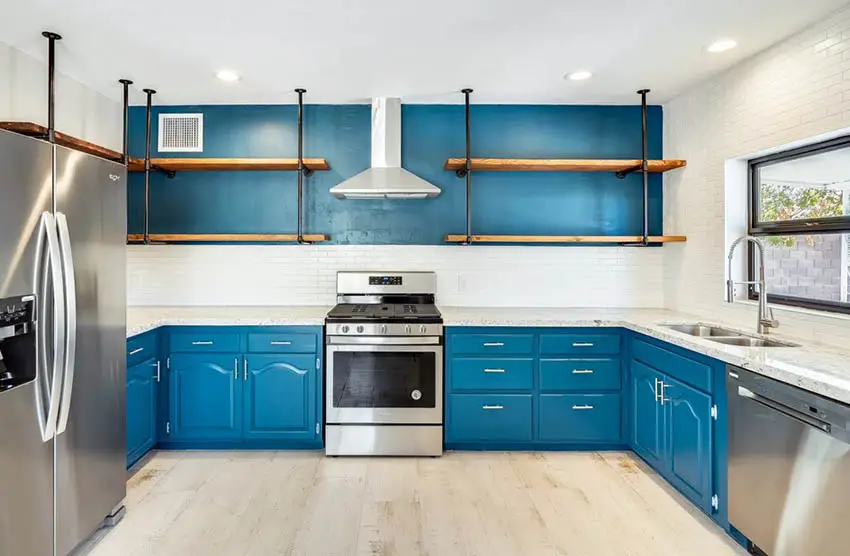 To break from the conventional design of open shelves which is typically a piece of ledge floating on the wall, you can use metal support brackets. The metal brackets will not only support the extra weight of the things you decide to put on the open shelves, but it also serves an accent to the design.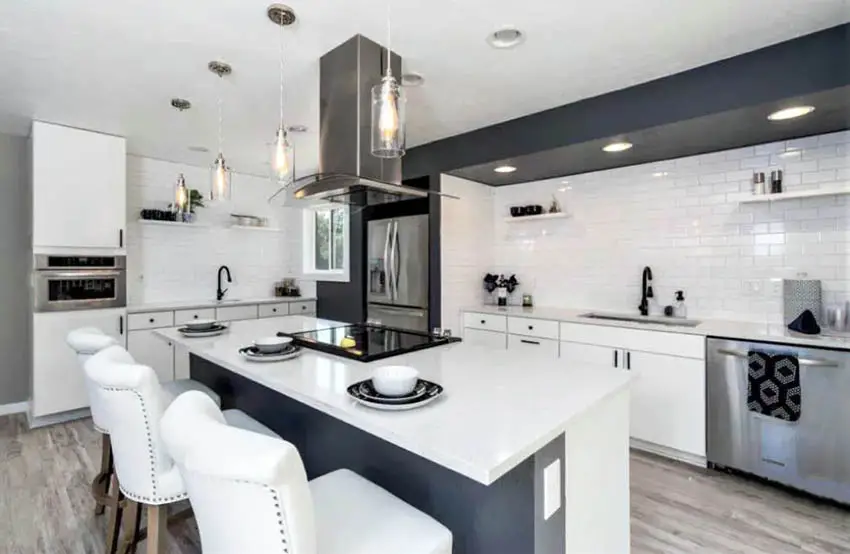 Not all kitchen designs require tiers of open shelves. In some cases, simplicity is the key. This design, for example, makes use of a thin, single piece of ledge in white high gloss finish to match the overall sleek and streamline look of this modern kitchen.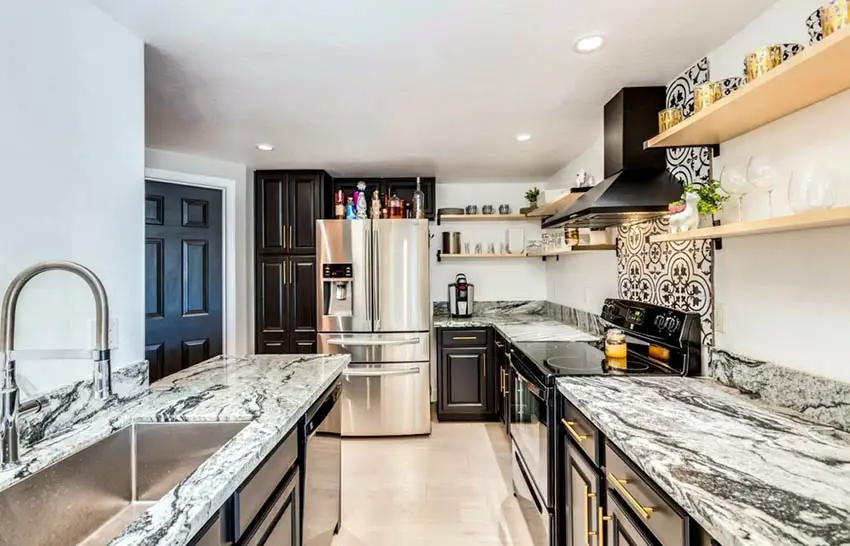 In this contemporary classic kitchen setting, wooden open shelves in a light natural finish contrast beautifully with the exotic pattern of the granite countertop and the printed tile back splash. The open shelves provides a much needed visual break from the busy motif of the kitchen.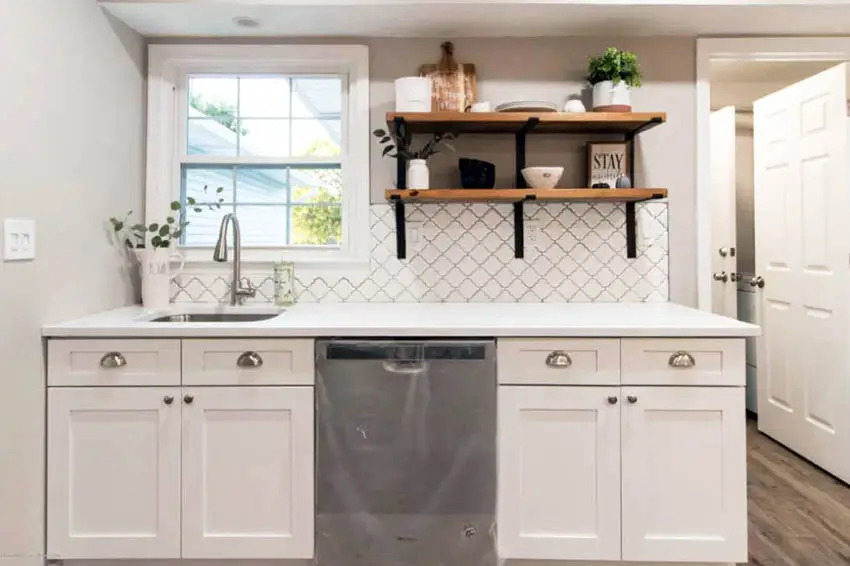 Open shelves are very ideal for small kitchens since they create openness and an illusion of larger space. The wooden open shelves in this kitchen also serves as a tasteful showcase of handcrafted accessories and indoor plants which make the small space feel more homelike and cozy.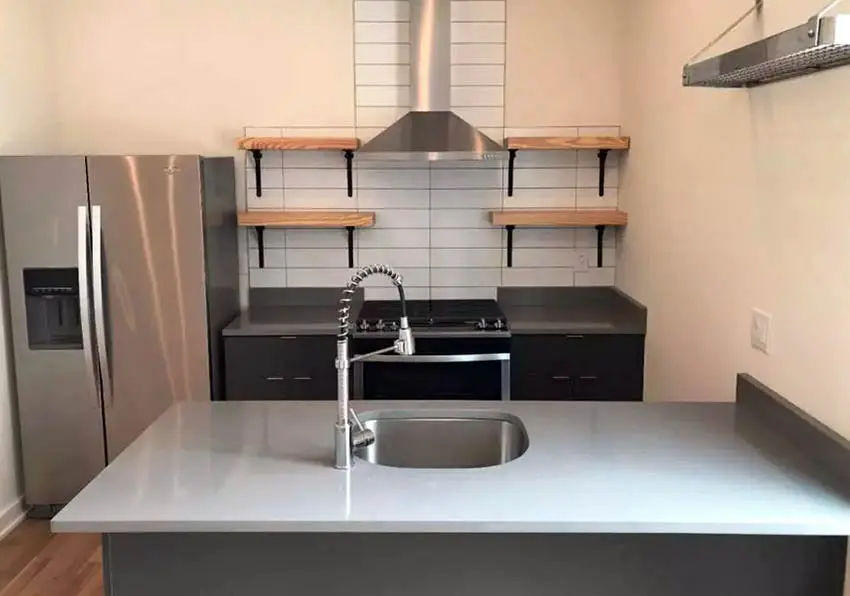 Wooden shelves with metal angle brackets are one of the most common DIY open shelving designs. Despite its simplicity, they are extremely functional and reliable. This open self design makes use of metal angle brackets in black finish to complement the rest of the color scheme of the kitchen.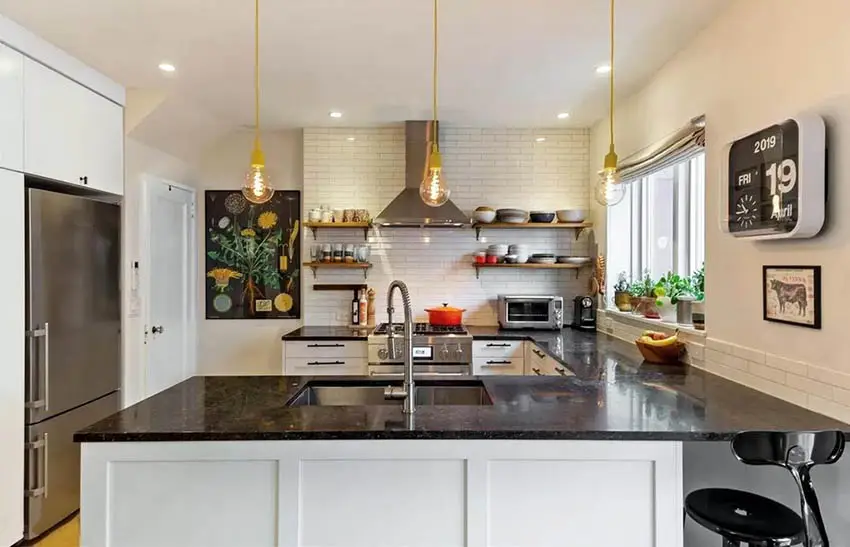 DIY kitchen open shelving can also be used to make a plain accent wall more eye catching and functional. This kitchen, for example, makes use of wooden open shelves which are set against a subway tile accent wall. Notice how the open shelves serves as the focal point of the space.
Corner No-Door Kitchen Shelving
The most common layout that we see for open shelves is one or two tiers running on a single wall. Although this already provides an effective way to add more storage and free up floor and counter space, another way to maximize is by using corner shelves.
Instead of a single straight ledge, deviate from the usual and consider creating a right angle between two walls and make use of the corner space. Not only does it put an unwanted space into good use,but it also doubles your storage and adds an extra character to your space.
It's hard to take your eyes off a stunning wall feature like the open shelving pictured above. Open shelving can easily transform your kitchen into a stunning feature of the house. To deviate form the conventional, you can try installing corner open shelves not only on the overhead part of the wall but also beside the base cabinets and the counter. This creates continuity all throughout the design.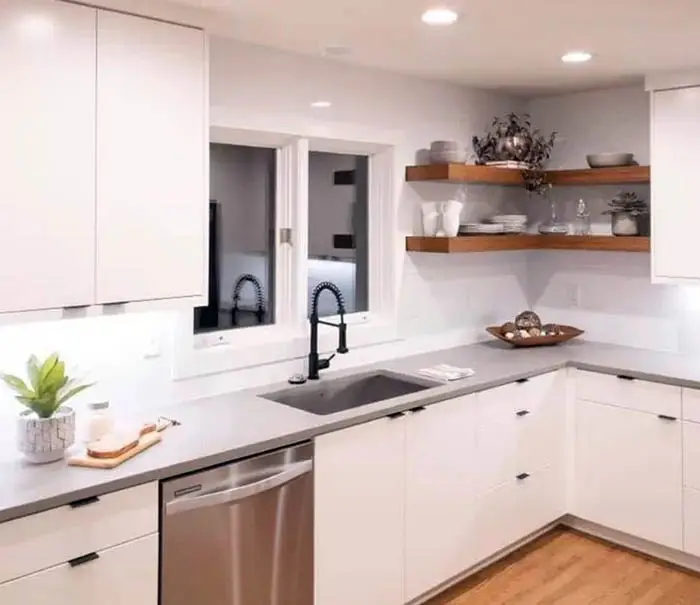 Corner open shelves also provide a practical way to make use of space. Instead of being put to waste, the corner open shleves in this kitchen transform the dull wall corner into a storage for dinnerware.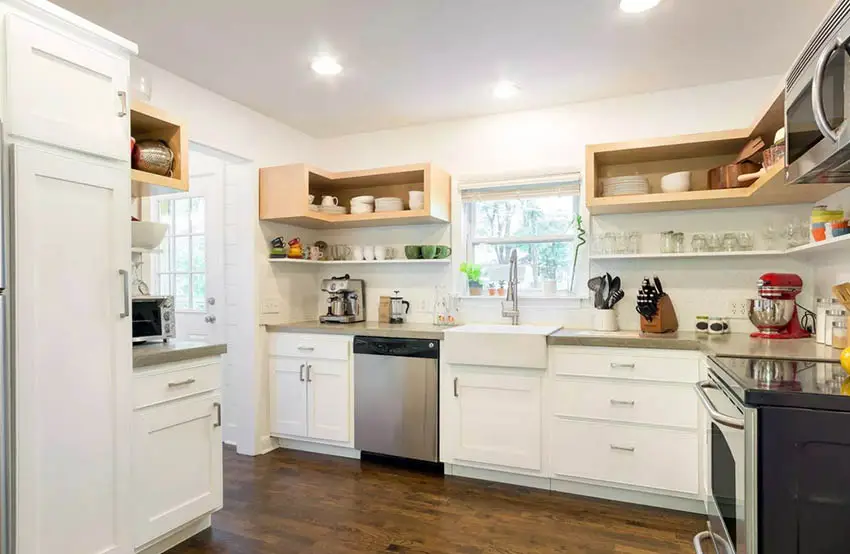 Combing overhead doorless cabinets with corner open shelves maximizes every inch of vertical space in this laid back kitchen. Unlike a span of cabinetry with doors, the corner open shelves makes the space brighter and more airy.
Open Wood Shelves Kitchen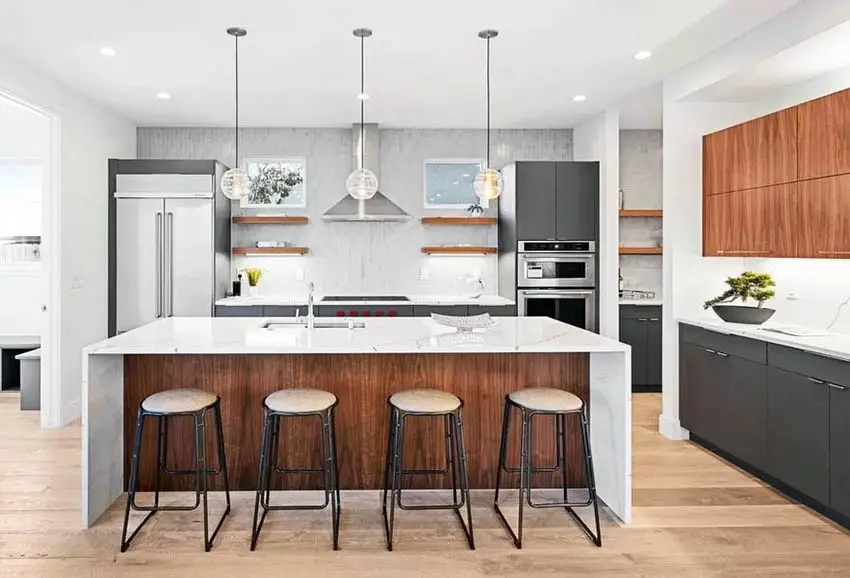 What type of wood can you use for open shelves?
There are a lot of species of wood which can be used in making open shelves for your kitchen, but before you choose the right type of material, you need to know first how the shelves will be used.
If you are planning to use open shelves to display small ornaments and carry lightweight load, aesthetics is the main factor that you have to consider. Design and the color of the wood are also significant attributes that must be considered for making decorative shelves. On the other hand, if you plan to put heavy objects, such as pots and pans, small kitchen appliances, cookbooks and dinnerware, your top priority must be stability, strength and durability. You have to choose a reliable type of wood which can support the load for long periods of time.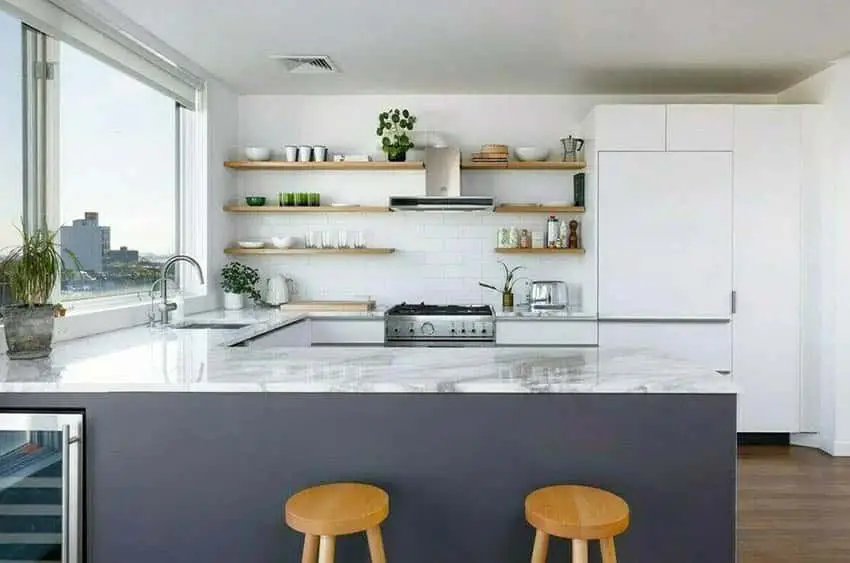 Simple pine wooden open shelves can become more interesting if you curate the accessories on your display tastefully. This kitchen, for example, makes use of green glassware on the open shelves to introduce a pop of color to the neutral color palette of the space.
Best Types of Wood to Make Naked Shelves
Pine – Pine is one of the most popular soft woods in the market. Pine trees are coniferous, meaning these wood species tend to mature very quickly and are very abundant, making them widely available, easy to locally source and very affordable. However, their rapid growth makes them a "soft wood" – a type of wood which is less dense and less durable.
Pine, being a softwood, is suitable for building open shelves which will mainly be used for decorative purposes and for carrying light loads such as kitchen accessories or a few pieces of dinnerware. Since it is less dense, it has the tendency to bend if you store heavy objects on it.
One of the best qualities of pine is its distinct natural beauty. It has a pale yellowish tone and a unique knotted appearance which is unlike any other wood. Pine is easy to use and makes a very ideal material for beginners who want to try their hand at building open shelves. It takes paint well and is best treated with a coat of clear wood stain to make the knots more prominent. However, it is also hard to refinish because of its softness. Sanding can easily cause low spots and it is also more susceptible to scratches and dents as compared to hardwood.
To make sure that your open shelves will last long, go for pine wood that has been pressure treated. Treating wood with pressure reinforces its strength and gives it more durability.
Cherry – Cherry is considered to be the best type of wood for kitchen cabinetry, making it also a highly reliable construction material for open shelves. Its natural beauty is one of the main reasons as to why homeowners are drawn to it. Cherry has a natural rich, warm reddish color, which becomes even more darker in time. As it ages gracefully , the color of cherry wood changes into different tones, thus offering different looks throughout its whole lifespan. Because of rich color, this type of wood is popularly used for traditional styles. Additionally, its fine graining pattern can also add a touch of luxury to a space.
Aside from its stunning natural beauty, cherry is also a very durable and reliable material for making shelves. It is a hardwood and is inherently strong, tough and very solid. It can withstand scratches and does not dent or bend. Due to its aesthetics and durability, cherry is a great choice for shelving meant for displaying both lightweight and heavy accessories. Open shelves made from cherry wood are guaranteed to last not only for years but for decades.
Maple – Another type of wood that can be used for making open shelves is Maple. Maple is characterized by its light color, that is almost predominantly white, and subtle fine graining pattern. There are several variations to the color of this wood, ranging from creamy whites to occasional reddish brown undertones. Maple open shelves are best treated with a coat of clear stain or natural finish as it allows its distinct light color to stand out. Its smooth and uniform appearance makes it a highly suitable material for making decorative open shelves.
Compared to other wood species, maple is more expensive. But it's aesthetics and durability make up for the high cost. Maple is solid and can carry a substantial amount of load, which means you can use it to store not only light knick knacks or accessories but also some dinnerware, cook books and pots. Maple open shelves are well suited for a variety of kitchen design styles, ranging from traditional to contemporary.
Birch – Characterized by a slightly darker color than maple, Birch is another type of wood which can be used in making shelving and cabinets. Appearance wise, Birch has a fine graining pattern and is well suited for making decorative open shelves. But above all, its most prized quality is its ability to take finishes well. Birch wood may treated or stained in any color, in fact, you can pass it off as a more expensive type of wood like cherry or maple by just using the right color of wood stain.
In addition to versatility and design flexibility, birch wood is also very durable and can stand up to the wear and tear of everyday use. So aside from making decorative open shelves, you can actually use it to make open shelves which can store heavy items.
In terms of cost, birch is less expensive compared to other wood species.
Koa – Koa is more popularly used in making stringed musical instruments like the ukulele, but what most people do not know about is that it is one of the most reliable materials which can be used for furniture construction and cabinetry.
Koa is the best type of wood to use if you want wood shelves that will last for a very long time. Despite being lightweight, Koa is considered to be the hardest among commercially available types of wood. In addition, this type of wood has beautiful shellac qualities, an exquisite natural color and a one of a kind graining pattern. Its unique color is a perfect balance of reddish and yellow undertones, making it a real eye catcher.
Koa is well suited for making both decorative and load bearing open shelves as both its aesthetics and strength are dependable.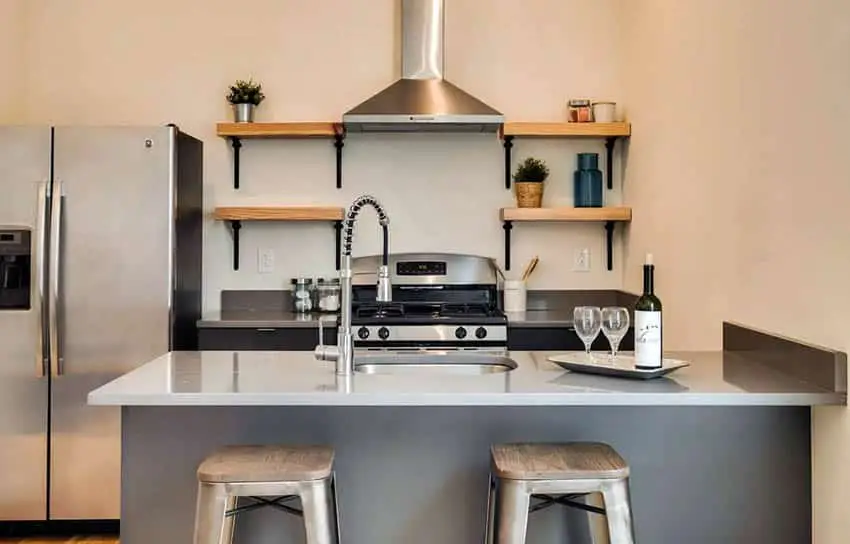 Oak – Oak wood is a staple in kitchen cabinetry and shelf construction. This type of wood has two popular varieties, namely Red Oak and White Oak. In general, oak wood has a very distinct color which ranges from white to reddish, pink tones. Because of the presence of mineral deposits in the wood, its natural color may include occasional streaks of yellow, green and black.
Red oak is a species of the oak wood which has a slightly reddish and yellowish undertone to it. Compared to the other oak varieties, its graining pattern is more pronounced. In addition to its beauty, red oak is also known for its sturdiness, durability and strength. However, what makes it one of the best types of wood for open shelves is it is easy to work with. Even beginners in shelf construction will have less difficulty in handling, cutting, assembling and finishing this particular wood type. Red oak is also less expensive compared to other woods.
White oak , on the other hand, is characterized by a more subtle graining pattern and a more golden color. Compared to Red oak, White Oak is stronger and more durable. Because of its warm undertones, White Oak makes an ideal material for making open shelves for traditional kitchen styles, particularly Craftsman style kitchens.
Padauk – Padauk or African Padauk is less popular compared to Oak, Walnut, Cherry or Maple, but it does not make it less reliable. This type of wood is considered to be rare and is prized for its very stunning reddish orange color. Because of its inherent color, some refer to Padauk as Vermillion.
Padauk wood is very sturdy, durable and has excellent decay resistance. It is also termite resistant and is not susceptible to insect infestation. In general, Padauk wood is very way to work with and can be sawn, glued or finished without much difficulty, making it an ideal material for beginners who want to try their luck at building open shelves at home.
This type of wood can be used to make open shelves for very formal or traditional kitchen settings, but it can also fit seamlessly in more modern and contemporary designs.
Walnut – Walnut also makes it to the list of the best wood to use for making open shelves mainly because of its durability and timelessness. Just like Cherry wood, walnut also ages gracefully. From a muted brown color, the hue of walnut wood transforms into a more mellow earthy shade. It has a fine, even, straight grained pattern that is made up of light reddish gray brown to deep chocolate brown streaks. It is an ideal open shelf material for a variety of design styles, whether it may be traditional, transitional, contemporary or modern.
In terms of reliability, walnut wood is resilient, durable and strong. It won't bend easily and can be used for open shelves that will display and store heavy items.
Plywood or Plyboard – For those working with a more limited budget, one of the best alternatives to solid wood is plywood. Plywood is the most common material used for ready made open shelves you can find in home improvement stores. Plywood is a type of manufactured wooden board that consists of two or more layers of thin sheets of wood glued and pressed together with the direction of the grain alternating. It is typically sold as sheets and come in a standard size of four by eight feet. Plywood is available in different grades which determine the smoothness and thickness of the material.
Plywood is a good material option for making shelves because it is easy to work with. Another reason why this type of wood is ideal for wood shelving is it is readily available and less expensive compared to other types of wood. Even though it is cheaper than solid wood, plywood is relatively strong and durable.
The only downside to using plywood for open shelves is its appearance. Unlike solid wood, plywood lacks knots on the surface. However, it can be treated with different finishes like wood stain, varnish, lacquer or paint to make it more visually appealing and interesting.
For open shelves in the kitchen, the best type of plywood to use is furniture grade plywood. Opt for boards that are ¾ to 1 inch thick. Marine plywood or marine grade plywood is also the best type to use because unlike regular plyboard, this variant has fewer defects as it is made from durable face and core veneers. Marine plywood performs better in wet and humid conditions and resists fungi better.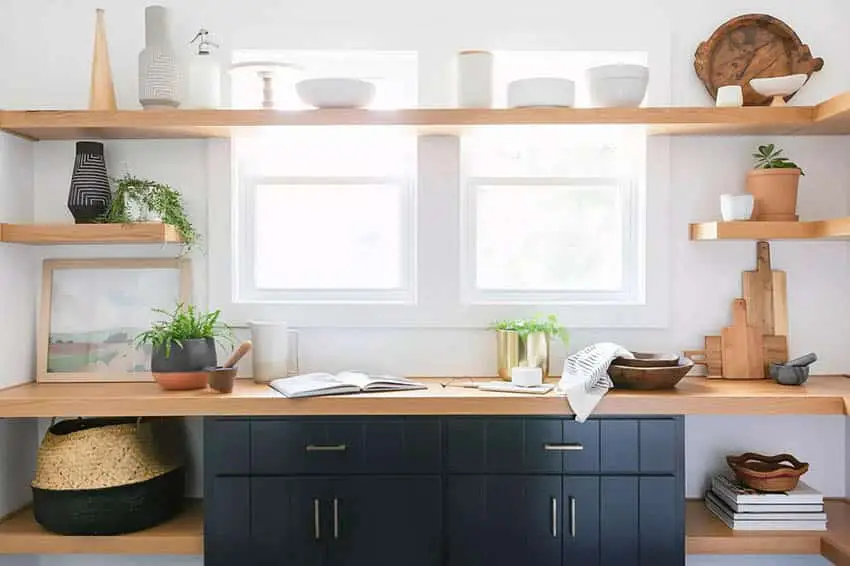 Wooden open shelves bring in warmth and coziness to a space. And choosing wood accessories to complement the finish of the open shelves takes the overall design and warmth of this space up an extra notch. Wooden accessories displayed on wooden open shelves transforms this storage into a stunning wall feat.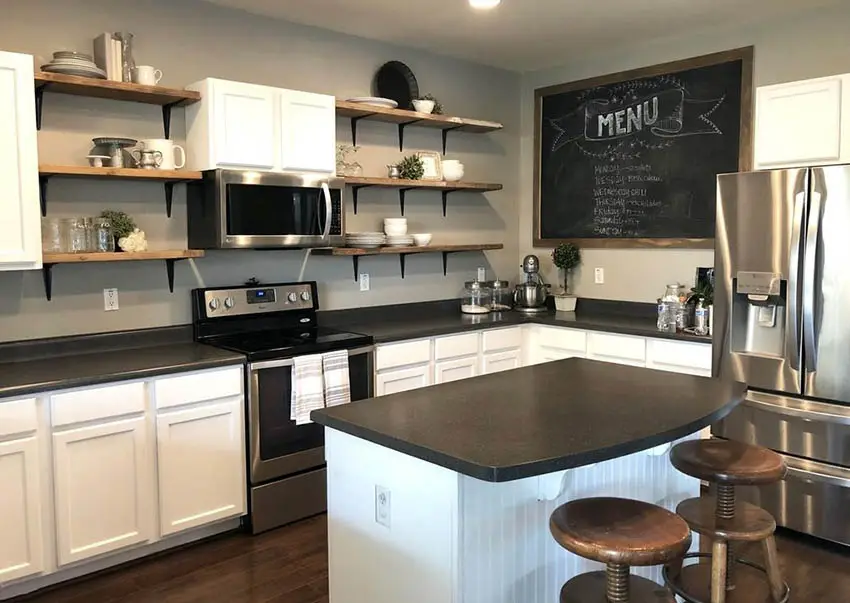 Open shelves can help prevent your kitchen from looking cluttered and frees up counter space. This cozy kitchen has plenty of work space, thanks to overhead open shelves.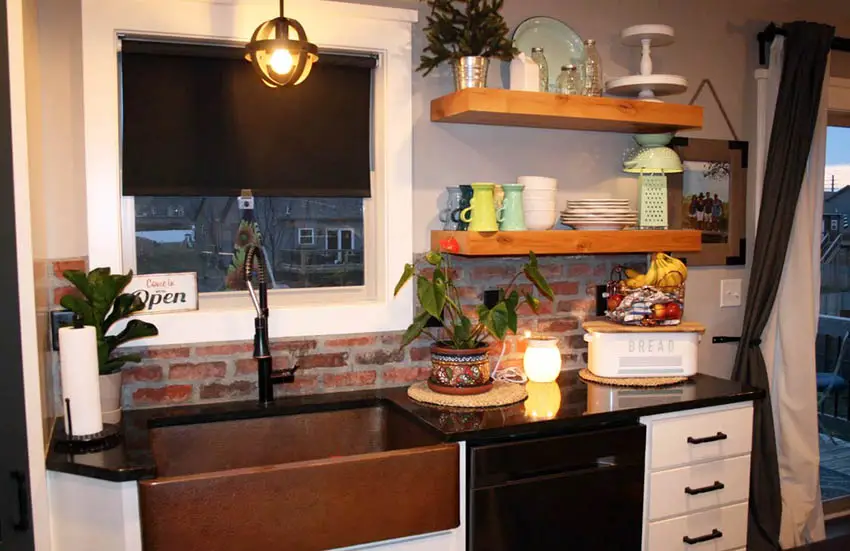 If you have a small kitchen, don't cram it with full cabinetry as it can make the space look heavy. Instead, opt for open shelving function to store dinnerware.
Small Kitchen with Bare Shelving
If you have a small kitchen and is dealing with limited floor space, an effective way to double your storage is to make use of open shelves. Open shelves allow you to take advantage of wall space, frees up your floor and your counter so you have more area to work on.
For small kitchen open shelving, you can try more than two tiers of open shelves to maximize your home. If the layout of your kitchen permits, you can also opt for floor to ceiling open shelves.
Open shelves also offer an effective way to create an illusion of bigger space in small kitchens. Instead of putting a span of closed overhead storage on top of your kitchen counter, incorporate some open shelves. It's amazing how open shelves can keep a space from feeling too closed in. Read more about how to organize a small kitchen here.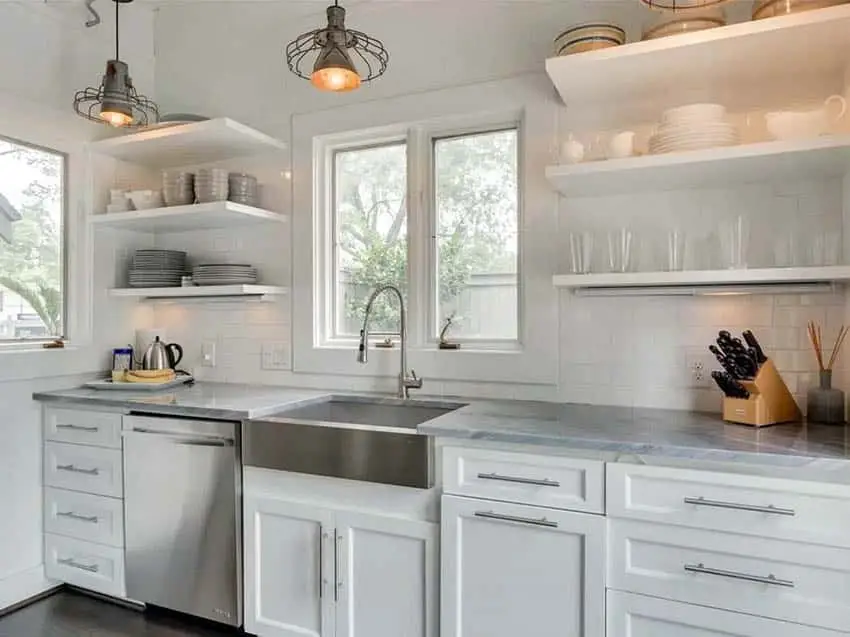 For small kitchens, finishing open shelves with the same color as the rest of the cabinetry and the walls will also significantly make the space look larger. White and light colored dinnerware and glassware are also the most ideal types of accessories to display on open shelves in small kitchens since they reflect light and make the room brighter.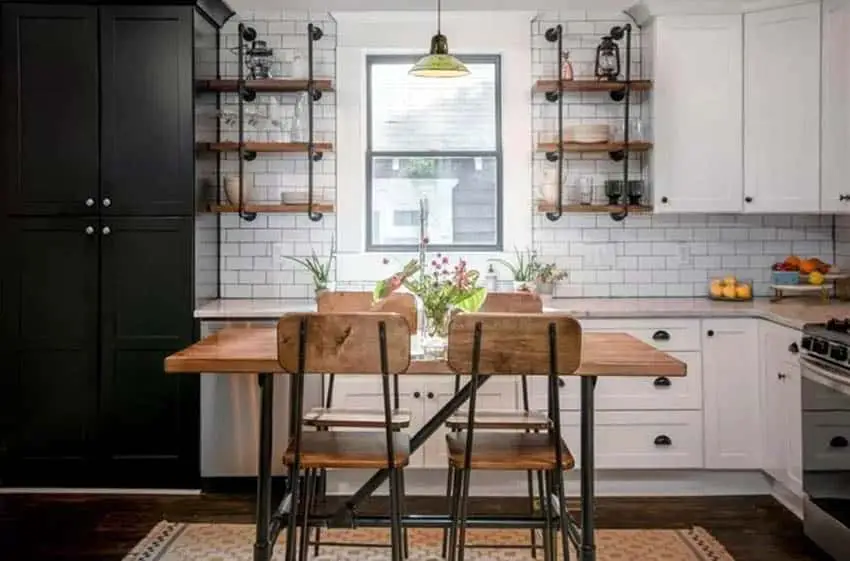 Awkward spaces, like the one beside a window, can be functional with the use of open shelves. This contemporary kitchen makes use of wooden open shelves with black metal accents that tastefully match the rest of the cabinetry's hardware and industrial style bar furniture.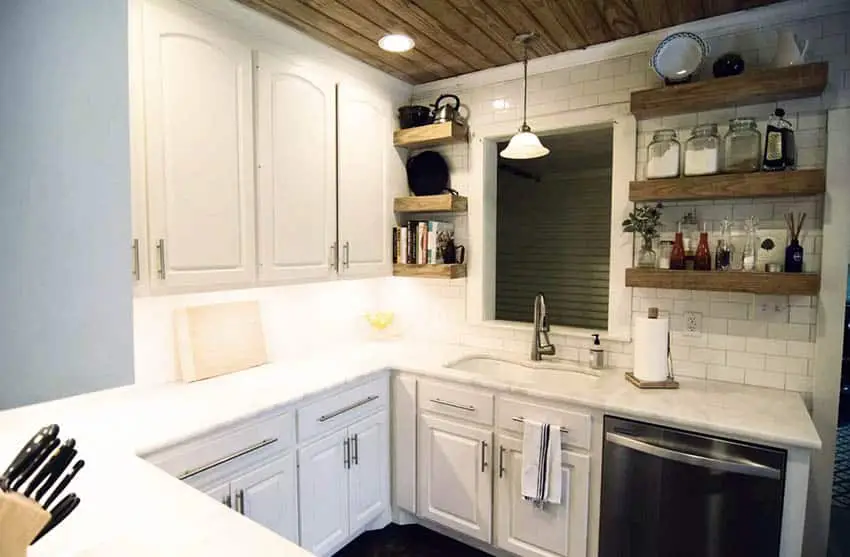 If you have a subway tile accent wall in your small kitchen, don't conceal it behind a full span of wall cabinets. Instead, show it off and make it the focal point of the space with open shelving.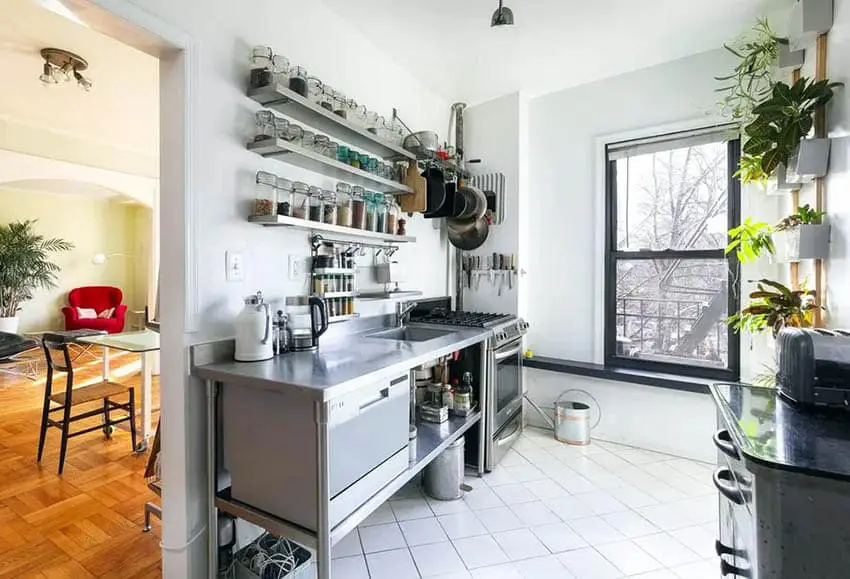 Stainless steel counters have the tendency to make kitchens look more commercial and industrial, but one of the easiest and most effective ways to make them appear more homelike is by putting tiers of open shelving above it. You can turn the open shelves into a spice rack using glass jars and bottles with different seasonings.
Instead of leaving your accent wall as is, make it a more functional feature of your kitchen by incorporating open shelves into the design. This small kitchen has wooden open shelves that match with the wood tile splash board.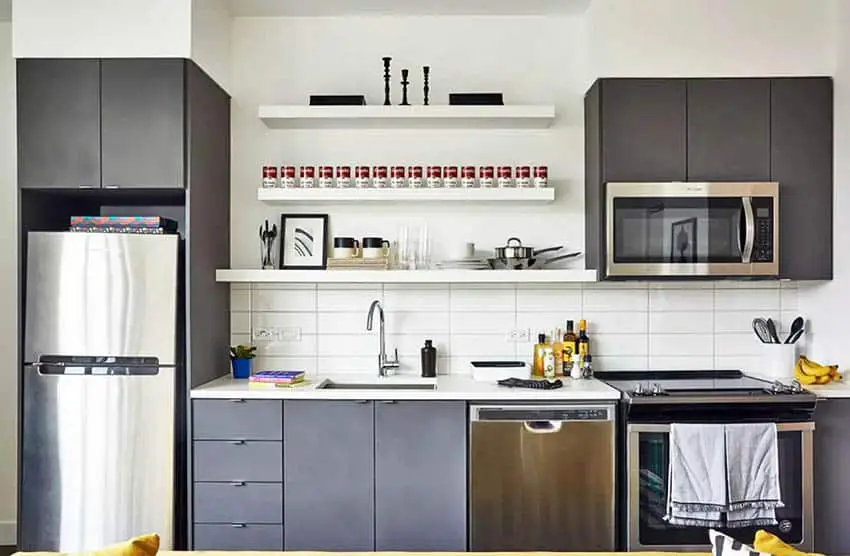 Open shelves are storage and decor all in one. You can be creative with the things you put on them, and it does not always have to be your favorite dishes and dinnerware on display. In this open shelving design, Campbell soup cans serve as the main decor — an unexpected and quirky twist in a formal setting.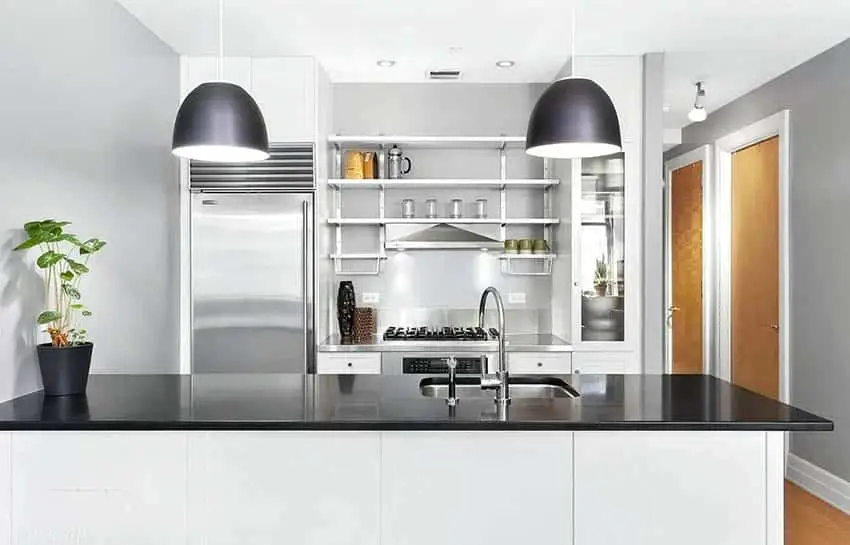 Instead of the usual wooden open shelving, opt for metal racks to add a bit of glam to your kitchen. Metal shelving, such as the one shown above, are a perfect match for stainless steel appliances, hardware and fixtures.
Farmhouse Kitchen with Open Storage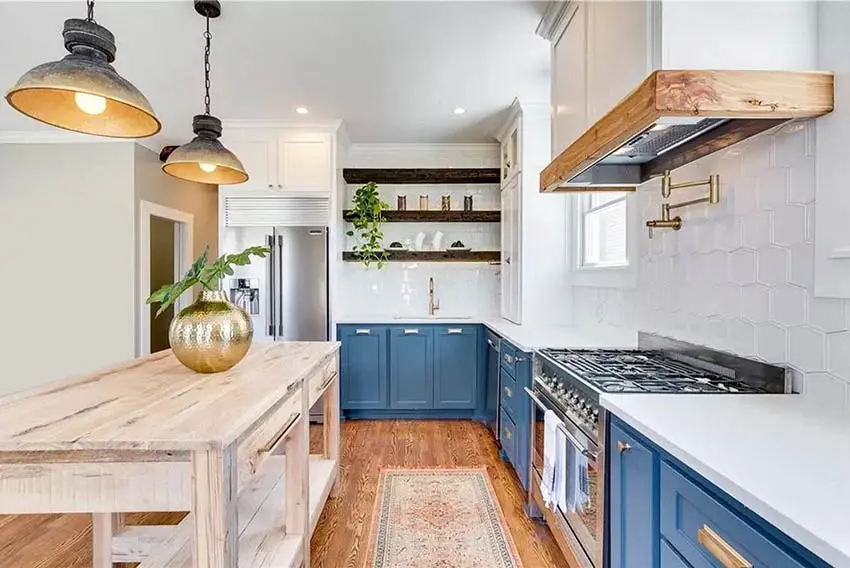 Farmhouse style kitchens are well loved for the simplicity, charm and down home appeal that they project. Despite being one of the simplest and most practical design styles for kitchen, farmhouse style exudes a warm and welcoming feel that is unlike any other.
The design inspiration for farmhouse style cabinets is country comfort. Design elements for this type of kitchen design are governed by distinct characteristics such as a general down home feel, unpretentious and straightforward design, functional and a strong rustic or homespun appeal.
Typically, farmhouse style cabinets make use of natural materials such as wood, as it aims to bring the outdoors. When making farmhouse kitchen open shelves, it is ideal to stick with quality hardwood like cherry, maple and oak. Pine wood is also another suited material for farmhouse kitchen open shelves since its knotty appearance fits the down home aesthetic of this laid back kitchen style. Alternatively, reclaimed wood can also be used to project a more "well lived in" or timeworn appeal.
In terms of styling farmhouse kitchen open shelves, textured touches made of mixed materials like glass inserts, reclaimed wood accessories or re purposed items are perfect. You can also use it to store white plates, dinnerware or glass jars and bottles as this fits the overall signature color palette of farmhouse kitchens which is dominated by white and light colors.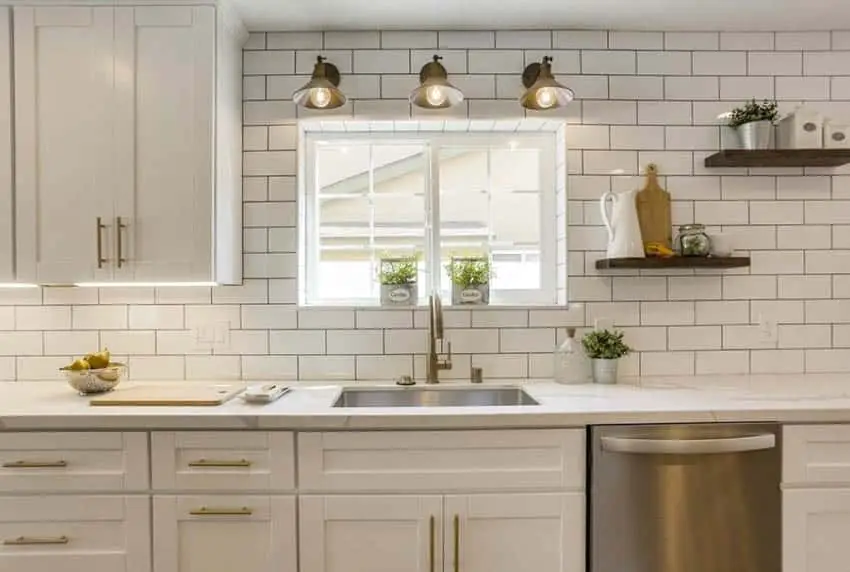 Playing with heights and the layout of open shelving makes this classic subway tile back splash stand out more in the space.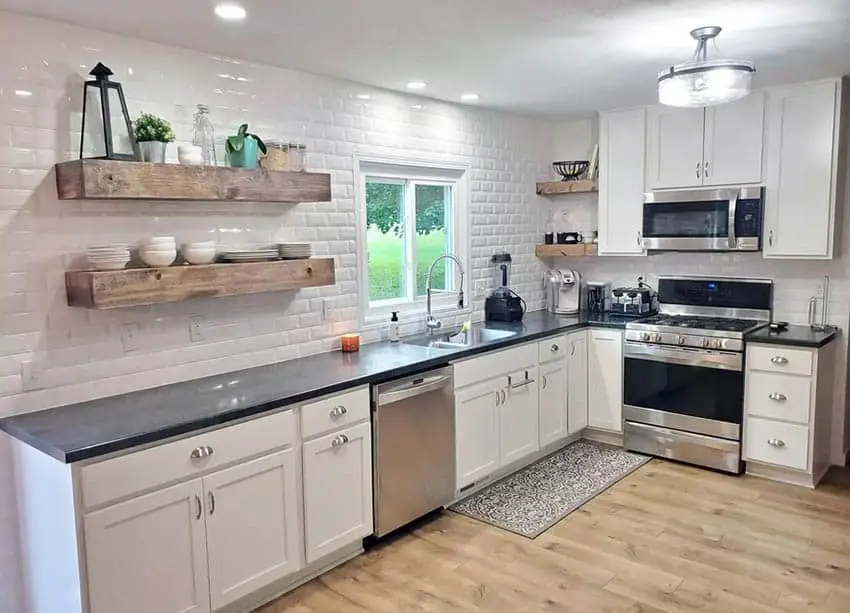 Thick wooden open shelving reflect the resistible charm and down home appeal of this farmhouse style kitchen.
Rustic Open Wall Shelving Kitchen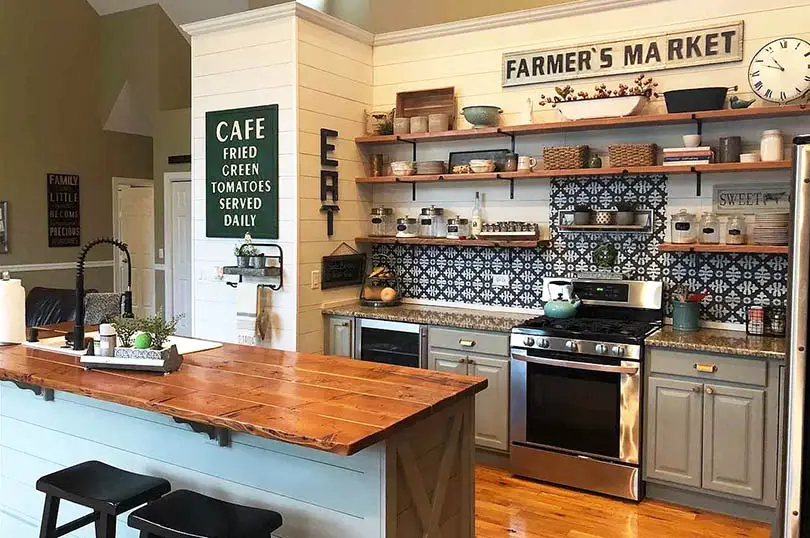 The word rustic is often associated with the words "rugged, timeworn and warm". When it comes to kitchen styles, the rustic design is best known for its down to earth aesthetics, age old charm, warm and relaxed appeal. It has a warm and cozy vibe that is almost similar to the country style, but the difference between the two is that the former is more unrefined.
One of the best features of rustic style kitchens is its stunning natural wooden kitchen cabinetry. Design elements for this type of kitchen design are governed by distinct characteristics such as a rugged aesthetic, natural appearance, rough textures and raw and weathered look.
When it comes to constructing rustic kitchen open shelves, the best material to use are knotty wood and heartwood. Solid hardwood with prominent graining patterns like cherry or knotty softwoods like pine are best suited for this type of open shelves. You can use a clear stain as finish to highlight the wood grains of the wood, but alternatively, it can be treated with a weathered or faded paint finish to give your shelves a more rough aesthetic. However, if you want a more raw look, you can leave it untreated or unfinished.
Some additional design elements which can be included in rustic kitchen open shelves are wood carvings. But take note that one of the most distinct characteristics of rustic kitchens is that it is not heavily ornamented. Small decorative details may be carved out on a wooden ledge just to give your open shelves a more handcrafted character.
When it comes to styling, some of the best items to display on a rustic kitchen open shelf are vintage accessories or decors with a time worn appeal. If planning to display dinnerware or kitchen accessories, stick with a warm color palette that is dominated by rich shades of brown and earth colors like deep reds, greens and yellow.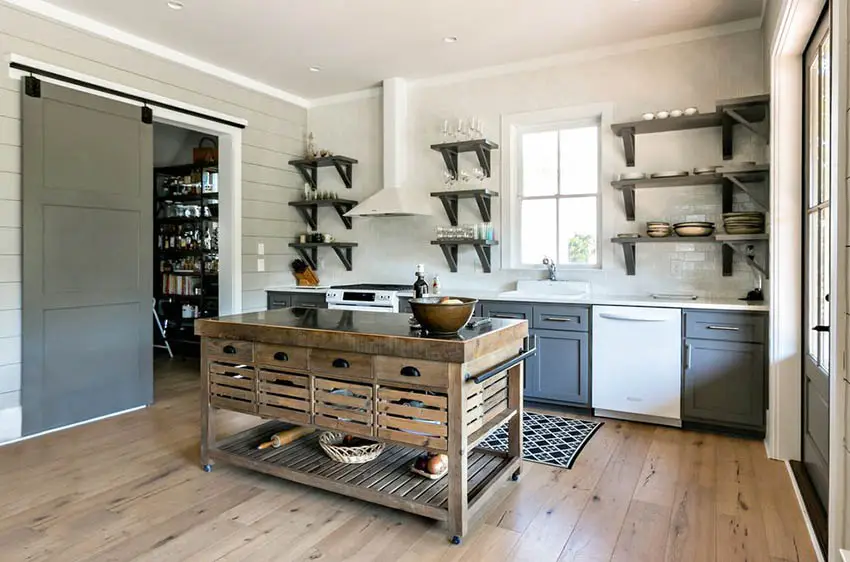 Gray open shelving with thick angle brackets add to the warmth and relaxed vibe of this rustic kitchen. An open, wooden kitchen island in raw finish serves as the centerpiece of the space.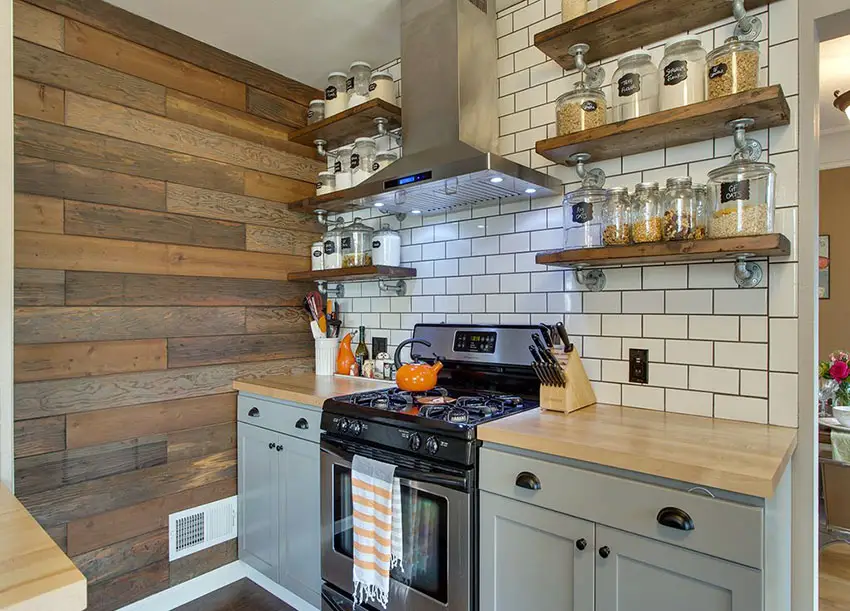 Thick wooden ledges with steel brackets serve both as a storage and decor for this rustic style kitchen. Glass jars with labels, such as the one shown above, are perfect accessories for this style since they can give the space a more homelike and lived in appeal.
Black Kitchen with Exposed Shelf Organization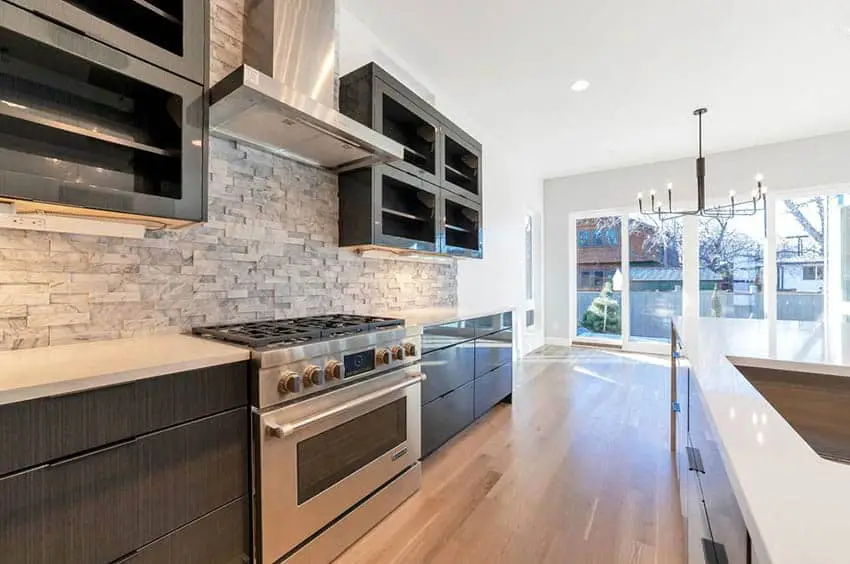 Kitchens that are leaned towards a more modern and contemporary vibe often make use of the color black in their overall palette. This is also a very popular choice among homeowners who want industrial style kitchens, mid century kitchens or ultra sleek minimalist kitchens.
Although not as bright and airy as a white kitchen, black kitchens provide a neutral background which allows you to introduce other colors into the scheme. Black cabinetry, in particular, pairs beautifully with light colored walls, neutral countertops, floor, walls, and stainless steel accessories. This kitchen setting also gives the perfect opportunity to introduce contrast in order to add more depth and dimension to your space.
If you have a black kitchen, the best open shelves to go for are wood shelves in a stain or natural finish, or white shelves – basically anything which will contrast with the dark, rich color of black. You can complement black kitchen open shelves with metal hardware and support brackets just to give it more character. When it comes to styling, opt for white or light colored accessories to display on the open shelves as they can make the room significantly brighter. Glasses or anything made with glass are also perfect items to display on black kitchen open shelves since they provide a visual break in the overall look of the space.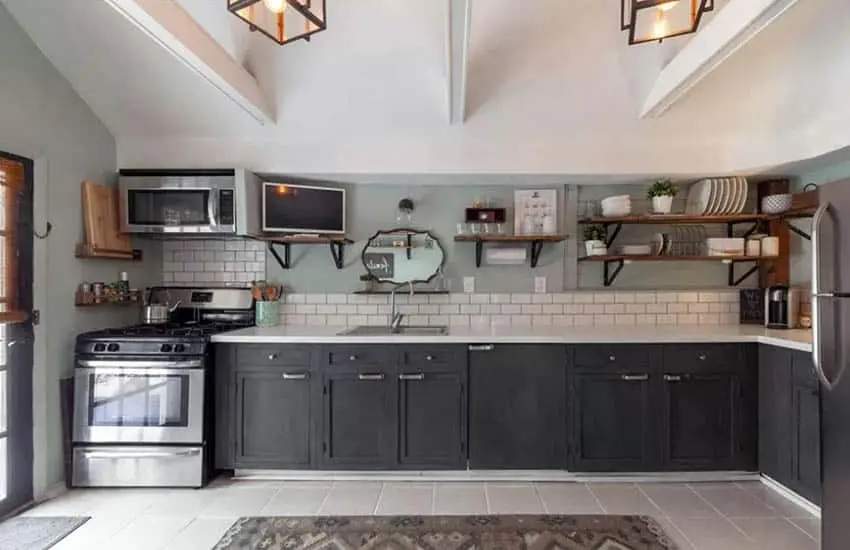 Use your open shelving to introduce a new color to the overall scheme of your black kitchen, This black and white contemporary kitchen gets a warm earthy accent through the use of wooden open shelves.
Galley Kitchen With Doorless Shelves
Most houses with limited spaces make use of a galley kitchen. A galley kitchen, by definition is a kitchen layout that is long and narrow and has base cabinets, wall cabinets and counters located on both sides of a walkway. In other words, its two kitchen counters which run parallel to each other. This type of kitchen is known not only for being ergonomically functional and efficient compared to other kitchen layouts, but also for packing in a lot of storage units into a small amount of space.
Open shelving works best in galley kitchens because they make the workflow of the space more efficient. By keeping the items highly visible, the need to go over each cabinet to find something you need while working is eliminated.
Of all the types of kitchen layouts, the galley kitchen has the greatest tendency to feel claustrophobic because it's sort of like a long corridor between two counter spaces and storage units. Open shelving can make galley kitchens feel less closed in and they can significantly make the space brighter, as compared to putting closed overhead cabinets on both walls.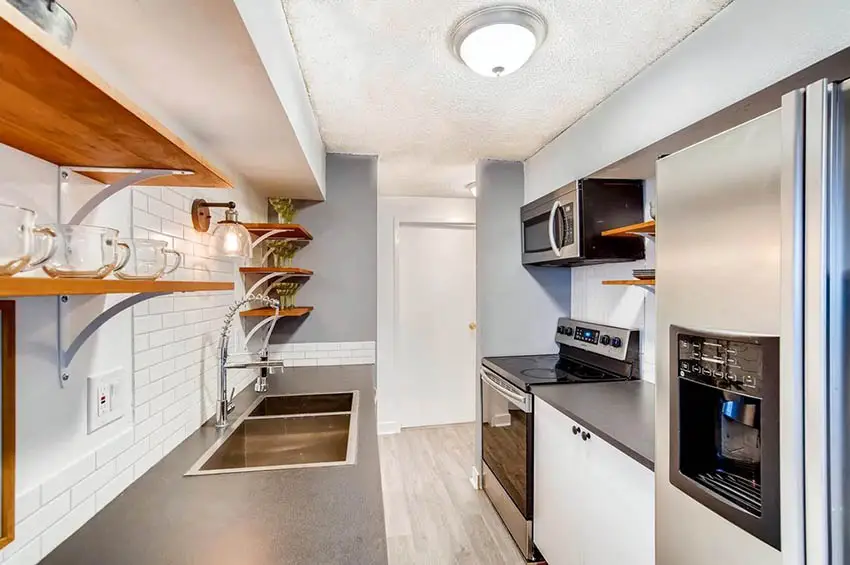 A galley kitchen can easily look too cramped if filled with overhead cabinetry. Keeping the top open, by using shelving can give it a fresh vibe, and also makes it well lighted and well ventilated.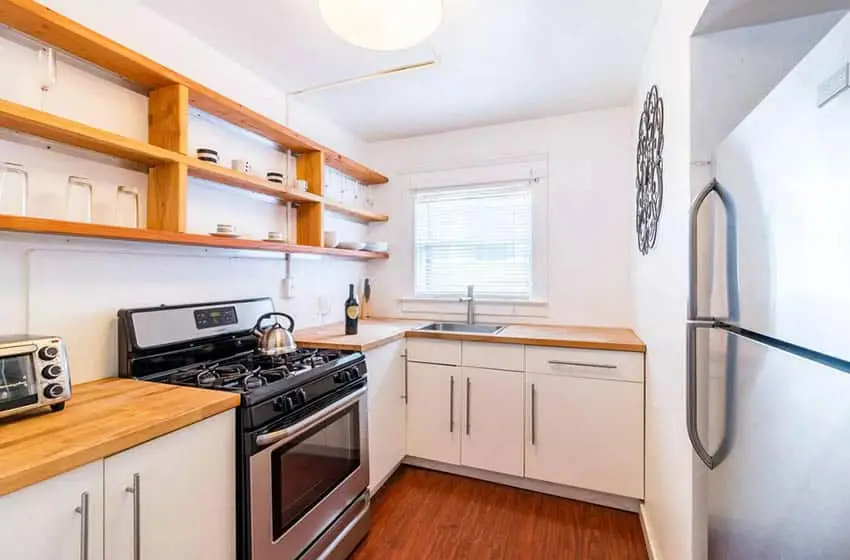 When it comes to accessorizing open shelving on galley kitchens, it is ideal to keep things at a minimum for a more uncluttered, clean and brighter look.
Kitchen Island with Open Shelf Racks
A kitchen island is undeniably functional, but you can maximize its potential by incorporating some open shelves in it. Not only do open shelves transform a kitchen island into a more attractive feature of a home, but it also offers an organized way to store many items, like kitchen supplies, books, decorative items, small appliances — practically anything you can think of.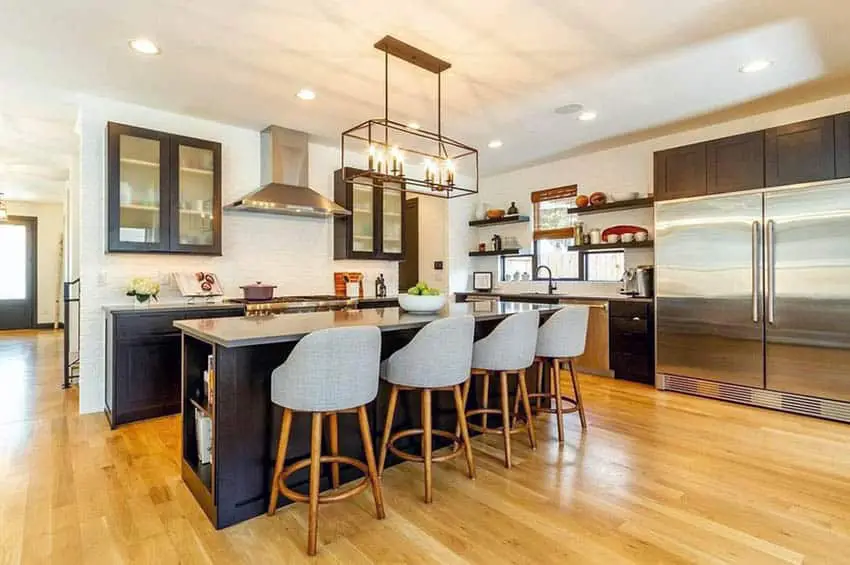 Open shelving are also best juxtaposed to extra large items and appliances because they balance the look of the space. This cozy contemporary kitchen makes use of open shelving beside the large stainless steel refrigerator, making the space less "heavy"to look at.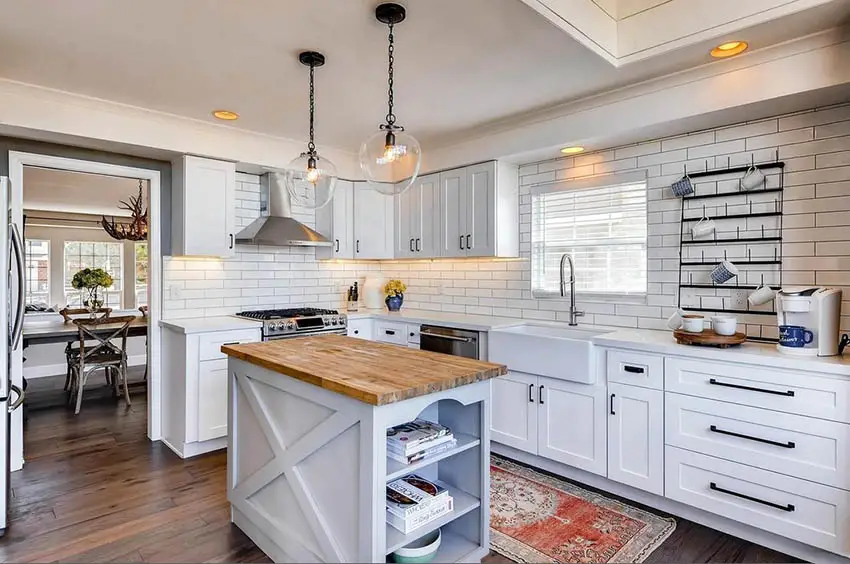 Open shelving provides the perfect venue to display charming mugs. Instead of putting them on rows on a ledge, you can also try hanging them on a metal rack, such as the one used above.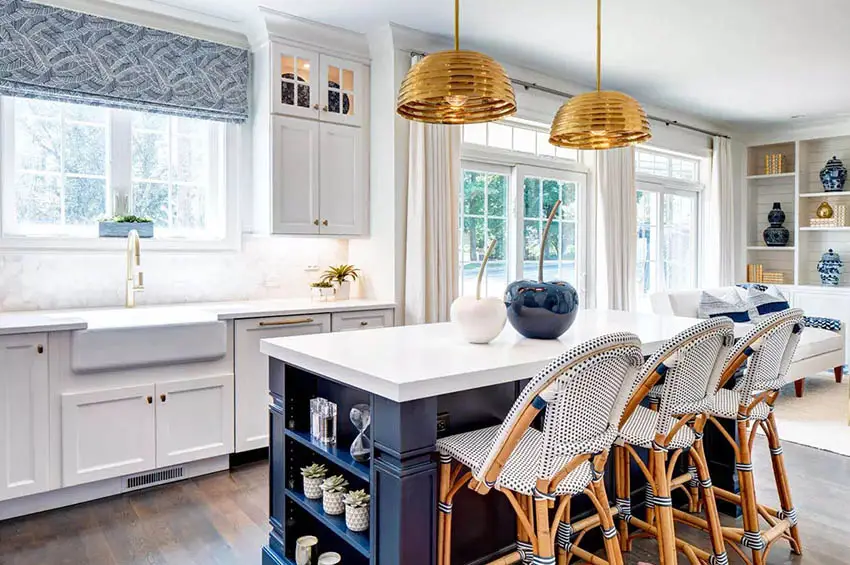 Putting open shelving on unexpected places, like the end of a kitchen island, can bring in more appeal to a space. This sophisticated kitchen looks extra classy with refined glass sculptures and decorative potted plants displayed on the navy open shelves.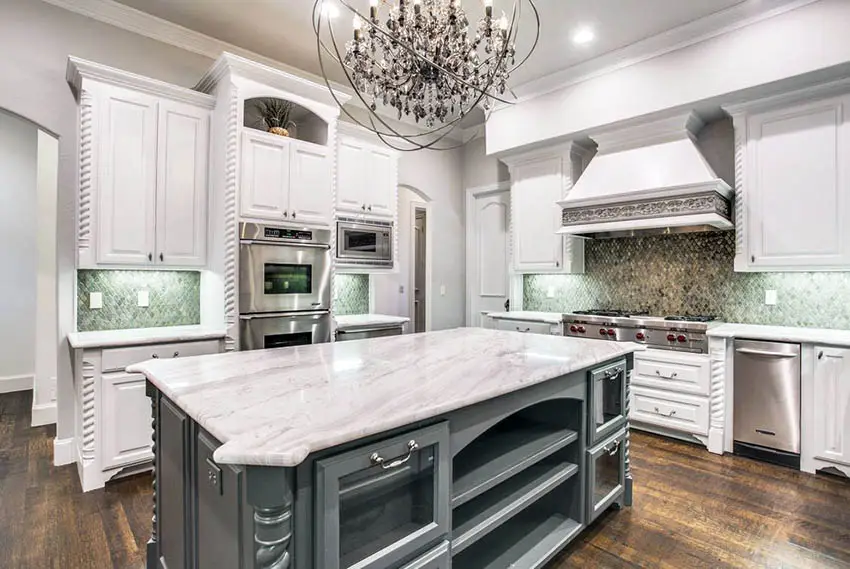 Using open shelving on a kitchen island can significantly create a visual break in a large kitchen that is filled with lots of cabinetry. To create more depth and dimension to the space, try finishing the island in a contrasting color.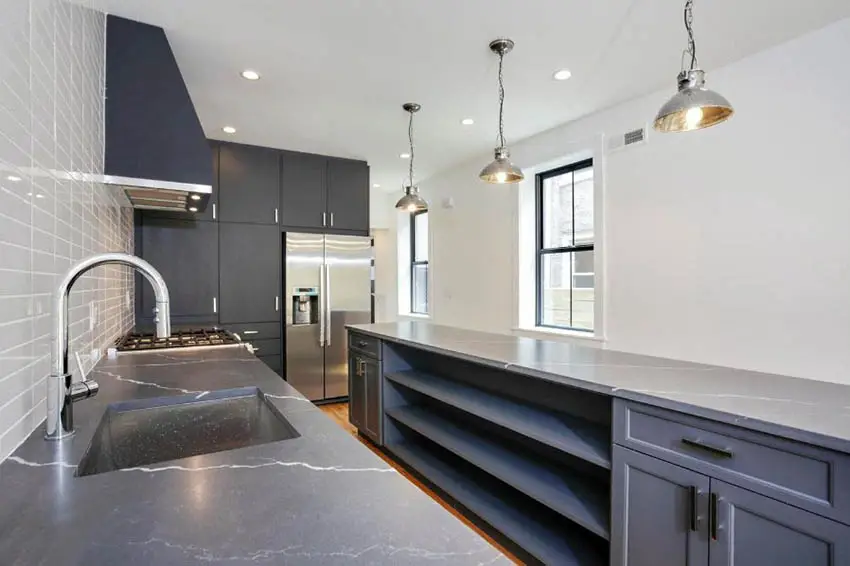 Open shelving on lengthy kitchen islands, such as the one shown above, provide maximum versatility and flexibility since they can be used for storing long items such as baking trays or large items like pots and pans. See more types of kitchen islands here.
Kitchen Cabinets Without Doors
Another growing trend in the kitchen design industry is to use doorless cabinets. Basically these may be considered as open shelves too, but rather than keeping the ends open, there are borders around.
Opting for kitchen cabinets without doors instead of the conventional closed cabinets creates a more spacious, airy and open feel to a kitchen. Door less cabinets are best used for overhead storage systems. Base cabinets are extremely functional as they serve as the counter space or work space, and it is recommended that they have doors since they are nearer to the floor and things stored in them are more prone to getting dirty as compared to those stored up high on a wall. On the other hand, wall cabinets or overhead cabinets, can do without doors
Closed wall cabinets essentially bring the walls of a room forward, so they have the tendency to make a kitchen feel smaller. But by eliminating the door, you can significantly make your kitchen look brighter and feel less cramped.
If you plan on incorporating kitchen cabinets without doors to your home's design, you can convert existing cabinetry by removing the doors and making use of the carcass. Just make sure that you use cabinets that are finished inside.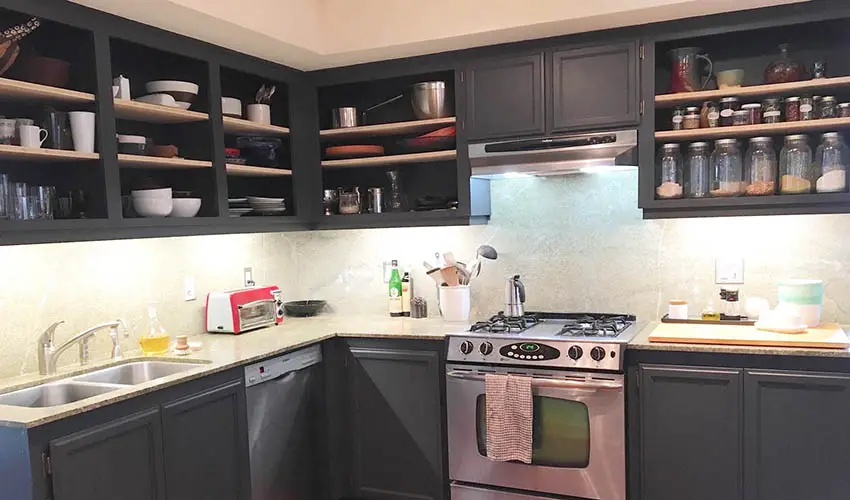 Door less kitchen cabinets are ideal as overhead storage in dark colored kitchens because they prevent the space from looking too dull. The mason jars and dinnerware on display in the door less cabinets give this kitchen a lighter and more laid back vibe.
How to Style Open Kitchen Shelves
There is obviously no hard rule on what you can put on an open shelf. It offers maximum versatility and you can use it in any way you want and need. However, curating the right mix of things to display and store on open shelves can help improve not only the aesthetic part of it but also its function.
Below, we give you some tips on how you can increase the functionality and attractiveness of our open shelves.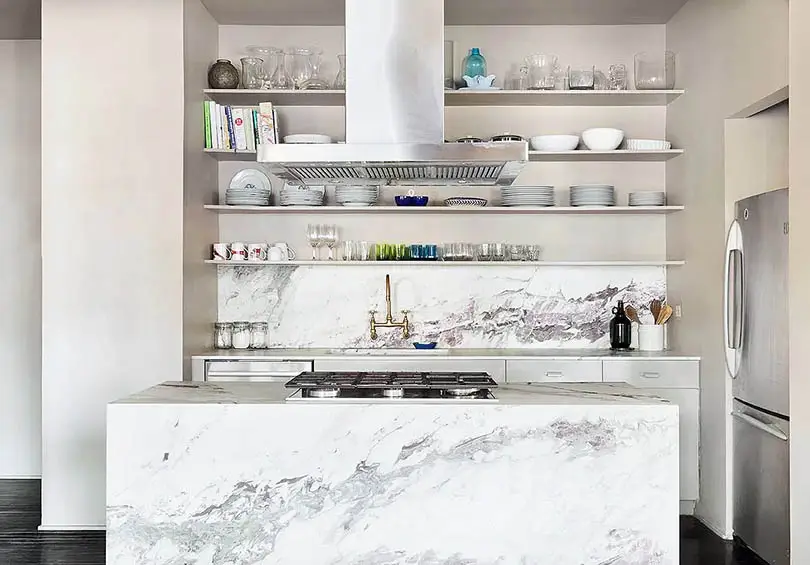 Here are some tips and ideas on how you can style open kitchen shelves:
Explore different color schemes for your display. One of the best ways to make kitchen open shelves look interesting is by following a particular color scheme for the accessories and items that you plan to display. The overall design of your kitchen will also look more cohesive if your open shelf display is coordinated with the rest of the space's color scheme.
If you prefer a more subdued or restrained look, opt for accessories, plates and other objects that have a muted color or pale hue. Another option is to stick with a classic "all white" display by combining contrasting off whites and shades of white. Keeping an all white display is the simplest way to make different objects look uncluttered. It is often a misconception that something all white can look boring, but in fact, it is very timeless. You can easily pull off this color scheme for open shelves by adding a touch of glass to the items.
Conversely, an open shelf is also one of the best ways to add color to an "all white kitchen". If you find your color scheme dull and monotonous, you can add pops of color by including ceramics in varying textures or materials to keep an all white kitchen more interesting. Open shelves offer versatility and can be a good outlet to introduce colorful dinnerware, bowls, mugs and other accessories.
If you are not a fan of an all white display and want more color, it is best to keep a simple color palette. Three colors are enough as opting to go with more can make your open shelf display look overwhelming. You can play around with the limited color palette with adding different textures and materials. If you plan on including dark colors to your display, don't line up the objects horizontally but instead spread them all throughout to create a balanced composition.
Play with heights. Play with your arrangement by mixing different sized objects such as a tall vase, a stack of plates or books or small accessories to create a more dynamic look.
Mix textures. Choose items which have different materials and textures like ceramics, glass, metal as it keeps the overall look more interesting. Occasional metallic accents can be combined with ceramics for a more modern look.
Stick with clear glass accessories if you want to make your kitchen look brighter. Opt for transparent and clear glass accessories for open shelves if you want to make a space appear brighter. Remember, glass reflects light.
Mix practical and decorative pieces. Mixing diverse and eclectic items adds visual interest to an open shelf display. Practical items like plates, dinnerware, bowls, pots and glass ware can be mixed with decorative accessories like framed items, vases or even plants. In additrion, artwork can also be displayed on open shelves.
Use indoor plants to make your kitchen look more refreshing. Displaying indoor plants on kitchen open shelves can instantly make your home feel more cozy, homelike and at the same time, refreshing.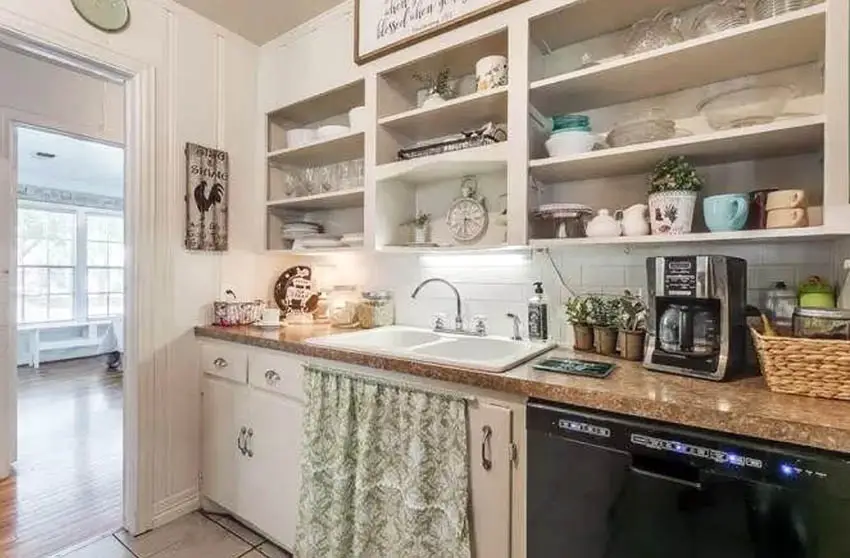 Sometimes it's the contents and accessories, not the shelves, which get the most attention. In this dainty country style kitchen, dainty dinnerware and charming crockery displayed on the open shelves, serve as the focal point of the space.
Here are some more practical tips on how you can arrange open shelves in the kitchen :
Highlight open shelves using lights. The use of lights is the best way to put emphasis on an open shelf. It's amazing how a small lighting fixture can give great impact to a barely noticeable element of a space. Try putting directional lights or a sconce above your open shelf to cast some ambient lights on it.
Mix open shelves or ledges with cabinets. You don't have to put open shelves everywhere. Experts say that the best storage systems is a mix of closed cabinets, open shelves and ledges. The kitchen is one of the best ways to introduce this design principle. Putting two open shelves beside or above kitchen cabinets is the perfect way to break up the "closed feeling" of cabinets and helps open the room significantly.
Keep those everyday items within easy reach by placing them on open shelves. Keeping important things within easy reach improves the workflow and the efficiency of the storage system in your kitchen. An open shelf helps keep most used items not only close at hand but also makes them highly visible not only to the homeowners but to occasional guests as well. It minimizes the need to go through cabinets and take out things before you find what you actually need.
Leave some of your open shelves blank. You don't always have to fill an open shelf with a lot of stuff, sometimes, leaving it open is just enough. Topping an open shelf with a bare upper shelf gives your shelving a more polished and uncluttered look. It can also surprisingly make the whole space feel tidier and more neat.
What to Put on Open Kitchen Shelves
Open shelves in the kitchen can be used to small almost anything – from decorative accessories and knick knacks to functional pieces like small appliances. But what are the best things to put on them so you can maximize their functionality.
In the image above is a kitchen with a dark color scheme. Darker kitchens such as those with charcoal and grays, can benefit best from open shelves. The white dinnerware and mugs on display is a refreshing contrast to the dark cabinetry.
List of the best items to put on open kitchen shelves: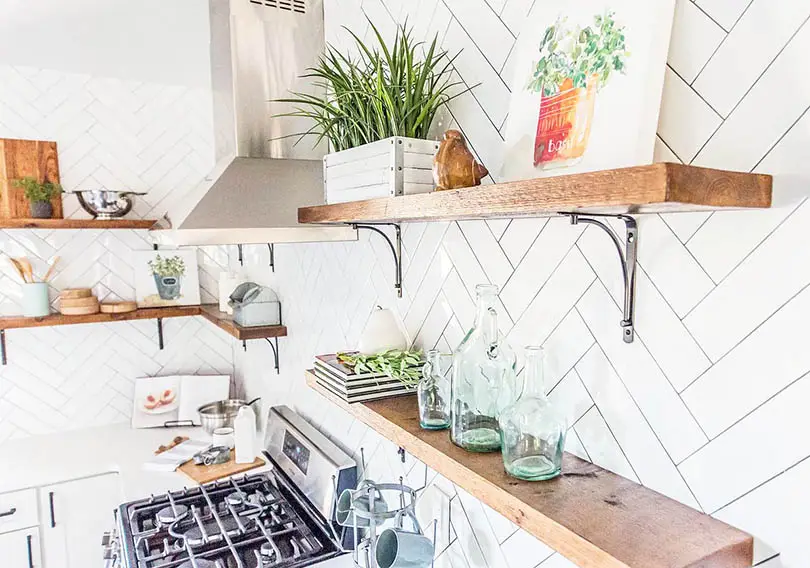 Daily Essentials
As we have mentioned earlier, an open shelf is the best place to store everyday items as it provides easy access and keeps them within reach. Daily essentials like plates, mugs, bowls and glasses are some of the most used items in a kitchen, and if they are in open shelves, they are highly visible and this help minimize the need to search each of your cabinet for what you need. In effect, it speeds up your routine a little bit and makes it also convenient even for guests to grab a glass or a coffee mug when they need it.
Coffee Station
An ingenious way to put open shelves into good use is to convert it into a coffee station. Set up a couple of coffee mugs, teaspoons, supplies such as coffee beans, sugar and everything you need to create a perfect cup of coffee. You can also include a coffee maker or a coffee press to complete your simple setup.
Of course, you do not have to limit it to coffee as you can also stash a couple of tea bags, syrups, some cups and saucers so you maximize the use of your simple station and can cater not only to coffee drinkers.
Mini Home Bar
If you have limited kitchen space, you can convert open shelves into a mini home bar. This would not mess with your precious floor space, but also doubles a display for an array of beautifully bottled liquors. You can also add a few glasses and pair it with classic bar tools for an added sophisticated vibe.
Spices
Turning open shelves into a spice rack does not only increase the functionality of your kitchen but it also gives the space an added interesting visual feature. Spices stored in cute little bottles and jars are simply nice to look at. But if you are someone who really loves to cook, an array of spices displayed on an open shelf makes your work easier. Aside from spices, you can also use open shelves for storing seasonings or condiments which you often use.
Glasses
If you have special glasses like high balls, stemware, goblets, wine glasses, martini glasses or just ordinary drinking glasses, an open shelf offers adequate space to showcase your collection. Glasses can make open shelves more attractive, while at the same time their clear material reflects light and can instantly make a space look breezy and brighter.
The best way to store glasses in an open shelf is to place them upside down to prevent ant dust from entering it. Drinking glasses which are used everyday are ready to grab, but for occasional pieces which are less used, you might still need to do a quick rinse just to be sure that they are clean.
Storage Jars
Storage jars lined up on a shelf are an adorable sight in any kitchen. Whether they may be colored or clear, storage jars can sometimes make a kitchen feel more homelike and charming. Mason jars, specifically are a well loved decorative feature in open shelves on a farmhouse style kitchens. In addition to the aesthetics it brings, storing them in an open shelf helps free up valuable counter space and gives your more space to work. It is also very handy because you can easily reach one when you need it.
White porcelain, white dinnerware, etc.
Another collection which may be displayed on an open shelf is white porcelain. An all white display can help break a busy wall. If you have a colorful splash board or a stone accent wall, simple white pieces provide contrast, while if your kitchen is monochromatic, an all white display makes the space more bright, airy and easy on the eyes. This works well for almost any kitchen style, whether it may be traditional, modern, transitional or contemporary.
Colorful plates, bowls and dinnerware
Conversely, you can also use colorful pieces instead of displaying white porcelain. Colorful items can add character to a dull space. An open shelf also provides one of the best venues to introduce a new accent color to your palette, especially if the overall look of your kitchen is too neutral.
Cookware
Aside from dinnerware, a heavy duty open shelf can also carry a number of pots, pans and specialty cookware. You can stack cake pans, trays, casserole dishes, pasta pots or baking dishes on a shelf as it minimizes the need to look for it at the back of your cabinets. In addition, they work well as a visual feature in kitchens with a rustic vibe or industrial flare.
Cookbooks
A floating shelf with a few good cookbooks containing your favorite go to recipes is very handy for homeowners who love cooking. Aside from cookbooks, you can also include coffee table books or some of your favorite reading materials which you can grab while enjoying a cup of coffee on your bar counter or breakfast nook.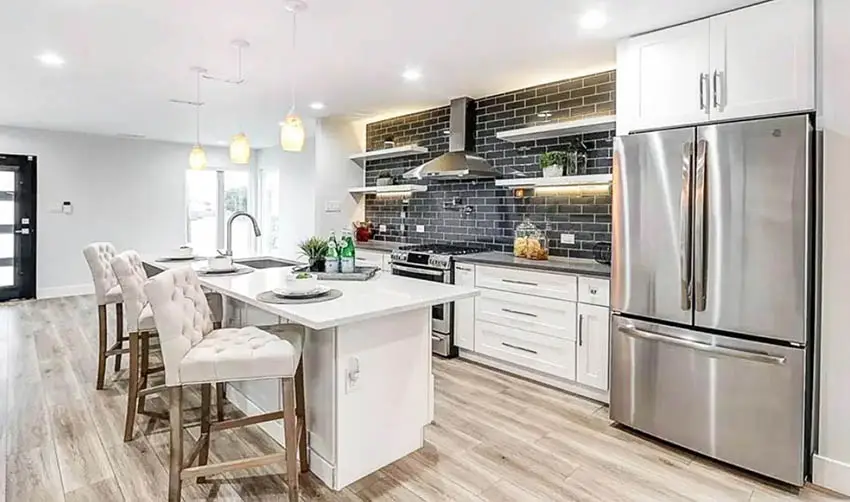 Decorative Pieces : Artwork, Small sculptures and framed items
Small decorative items like sculptures and artwork add extra character to your kitchen. Sometimes, this type of accessories are much needed to complete the overall look of your kitchen. In addition to small decorative pieces, you can use your open shelf as a "photo wall" to display framed family photos or black and white pictures.
Indoor Plants and Succulents
Indoor plants contribute a breath of fresh air and refreshing vibe to a busy space like a kitchen. Use open shelves to display small potted plants and low maintenance plants like succulents.
Open shelving in the kitchen does not always have to be filled with lots of accessories and decor. In some settings, you only need a minimal display, such as a piece of potted indoor plant, to match the streamlined overall look of the space.
For more related information check out this page on how to update kitchen cabinets.