See the most common backsplash mistakes including options to consider for backsplash designs, installation tips, and help avoiding problems with your next DIY kitchen project.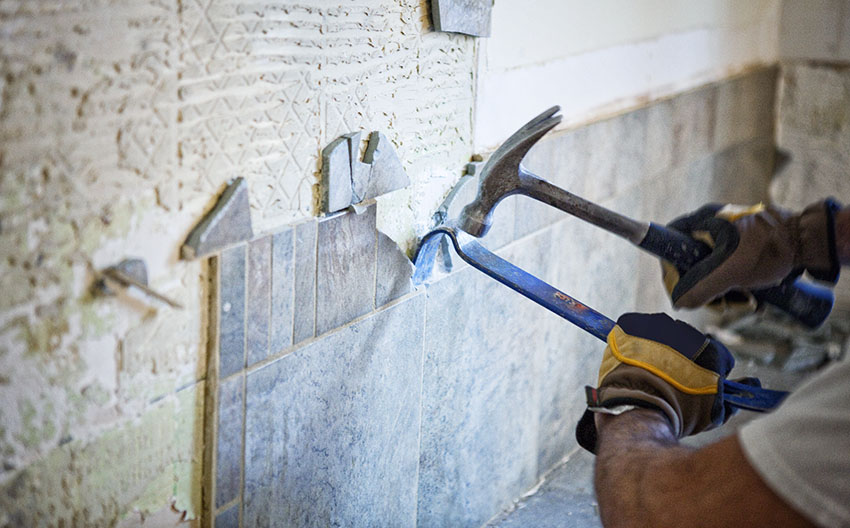 Working on your backsplash and installing it on your home can either run as smoothly as you want it to be or be filled with little mistakes here and there that will frustrate you to no end. Let's face it if it's your first time DIY-ing your backsplash, it won't be a seamless project.
Yes, working on a backsplash may seem easy enough but there will always be room for mistakes. If you want to avoid making these mistakes, you need to familiarize yourself with what you should not do as much as what you should do. Exploring these common backsplash mistakes will help you avoid them.
Disregarding Your Own Budget
While that elegant marble slab may be tempting to have, it can be incredibly expensive and too much for your own budget. You need to avoid impromptu visits to stores for the purchases but instead survey different prices of the materials you need and stick to your plan.
This is particularly difficult if you have a limited budget to spend on this project and the renovation is not only limited to your backsplash but the entire kitchen.
If you want some guidance in handling your budget, here are the elements you would need to spend for and the standard average they cover in kitchen renovation:
• Countertops – 15%
• Backsplashes – 15%
• Kitchen Cabinetry – 48%
These percentages are only average expenditures allotted for the said elements of the kitchen but of course, it will be up to you and what you need to work on and focus on. Some may focus more on countertops and spend more for them because that specific element needs more refurbishing.
Measuring Incorrectly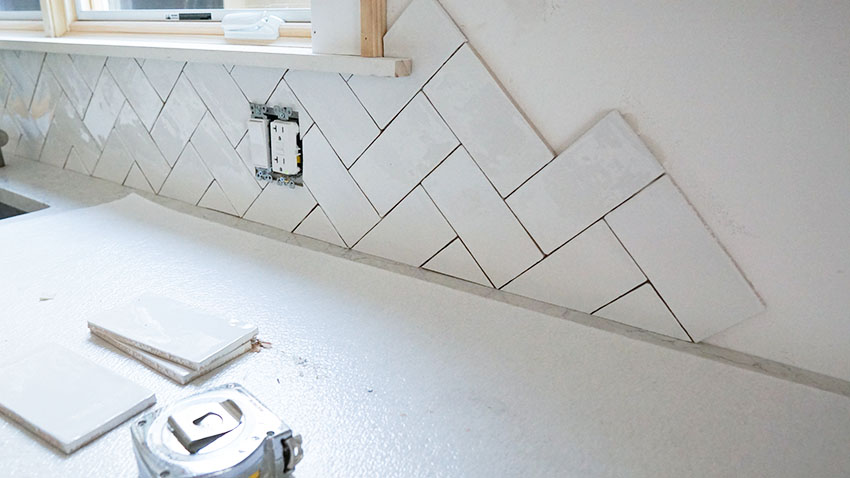 Considered one of the most common backsplash mistakes DIY enthusiasts make, measuring the area needs to be precise and accurate. While it seems like an easy and straightforward task to accomplish, a single mistake in measurement can turn the entire project into a disaster.
In measuring the area of your backsplash, make sure you take into account the following elements:
• Window ledge
• Electrical outlets
• Water tap on top of the stove
• Kitchen cabinets
• Countertops
Meticulously measure the dimension of the wall where the backsplash will be installed and make sure to consider the slab's thickness since it might clash with the countertop you've chosen. Read more about kitchen layout dimensions here.

Choosing The Wrong Grout Color
The grout in your backsplash will be very noticeable considering it's eye-level and so picking the wrong color will also be very evident and cannot easily be hidden. Of course, the choice of whether to install white or darker grout is up to you but make sure to consider the factors that can affect the aesthetics and functionality of your installed backsplash.
The backsplash is meant to protect your kitchen wall from food and liquid splashes. And while the types of backsplash material you choose should be durable and water-resistant, the grout is a different matter entirely since it's porous and can absorb grime and grease.
In the grout lines is most often when grease builds up and you will need to dedicate more time and attention to cleaning it. This is the reason why most prefer darker grouts to hide these imperfections.
However, if you love cleaning and are actually capable of maintaining white grouts then you won't have a problem with this. White grout is timeless and can be elegant to look at, which is also why many prefer white grouts.
Installing The Backsplash At The Wrong Time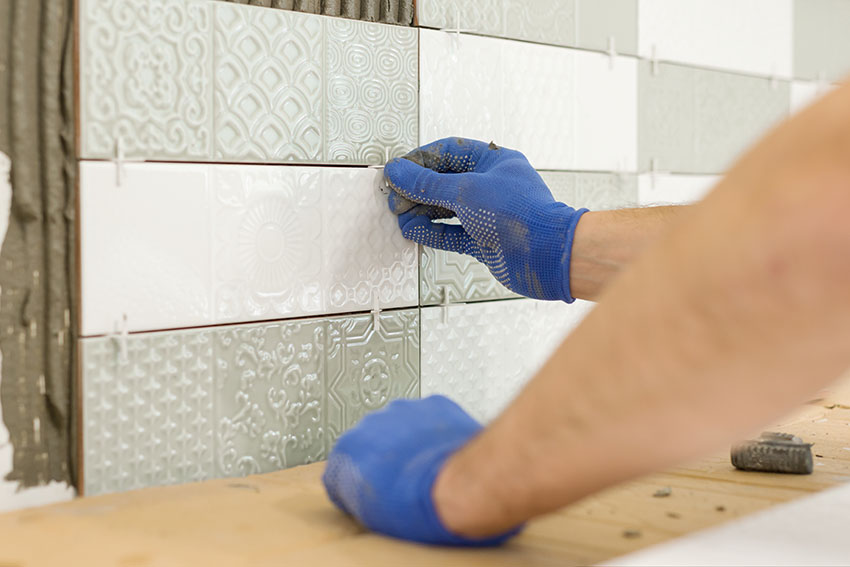 In the entire kitchen remodeling and renovation, you need to follow an order of which elements to install and work on first. Messing up the order can make the task more difficult than it should be. More than that, you will also waste time and money if you follow the wrong order.
Installing countertops and kitchen cabinet design come first before installing the backsplash. You will need to consider the types of countertops and cabinets when you take measurements for your backsplash in the first place. And adjustments in the backsplash would also need to be made once these two elements are installed.
Ignoring Important Details
Not paying attention to details will be detrimental to your task since you will miss small things that may seem irrelevant but can actually ruin the task and actually force you to start from scratch.
Some of the details you have to be meticulous about are the following:
• Match up the lines
• Make sure that the edges of the backsplash cleanly meet the kitchen cabinets and countertops
• Get rid of and clean excess caulk from grout and lines
If the lines and edges don't match and line up, your backsplash will look incomplete and forced. And since it is eye-level, these mistakes will be extremely noticeable and you will be drawing bad attention to them.
Not Knowing Where The Backsplash Starts or Ends
Excellently plan the installation of your backsplash so that you will know when it starts and ends. Whinging it will not be a great option since going for the typical trial and error will be too time-consuming. However, if you've already gotten the necessary measurement and have a layout of where the backsplash starts and ends then this will not be a problem. Visit our guide on how to end backsplash on open wall here.
If you want your kitchen to feel more open and welcoming, let your backsplash extend all throughout the kitchen wall and make sure not to hinder its flow. This will be a good option for small kitchens with limited space.
Not Allocating Enough Time For Installation
Yes, installing a backsplash seems easy enough that you can finish it during your lunch break. Like many DIY projects, backsplash installation looks like it will just take an after but for you to properly install it, you need enough time to work on the project. When deciding how much time to allocate for this project, take into account the following:
• Scope of the project (How big the backsplash you need to work on)
• How much grout will be used
• How many tiles or slabs need to be cut for your backsplash
• Your expertise in completing a DIY project
• How many people will be working on the project (Yes, you can definitely ask for help!)
It would be much better to allocate more time than necessary rather than having limited and not enough time to work. Make sure to clear your schedule on the date you've chosen to work on your backsplash.
You can complete small errands and tasks beforehand like shopping for the materials and preparing all the tools needed for the project. This will lessen the time you have to allocate for the project itself.
Going Overboard With Patterns & Choosing A Busy Backsplash In A Busy Kitchen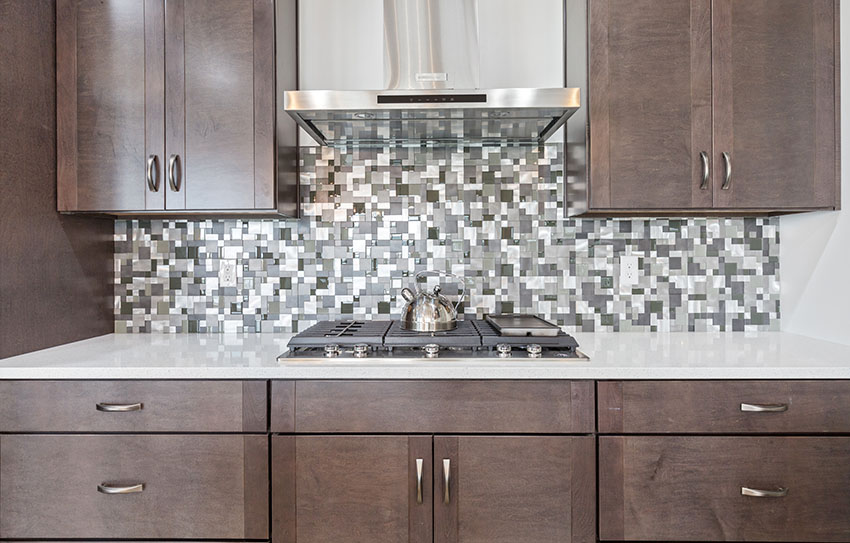 When choosing a pattern for your backsplash make sure to consider the ongoing vibe of your kitchen. If you have a busy kitchen, don't put the pressure up by adding an even busier backsplash.
For a busy kitchen, avoid messy and overboard patterns. This will be a bad idea, especially if you have a small and cluttered kitchen. It will feel even more claustrophobic so choose minimal patterns that will make the kitchen feel bigger than it actually is.
Create a balance between size, patterns, and function. A simple-looking kitchen can benefit from a backsplash that stands out and a busy kitchen can use a minimalist backsplash for balance.
Make sure to take into account the veining of your countertops too and match the design with your backsplash. A heavily-veined countertop will seem too much if you pair it with a backsplash that has a quirky pattern on it.
Not Following Installation Instructions Of Manufacturers
While you may not be a DIY beginner, not following the instructions of manufacturers can still create a big problem for you. There might be particular details about your chosen backsplash that you need to be aware of. And this can waste your time.
Thoroughly read through the manufacturer manual and installation instructions to avoid some of these common backsplash mistakes. You will find out if you have the complete tools necessary for the installation.
It will also help you with the right order to make sure you're installing it properly. After that, you can apply whatever firsthand knowledge you have in working on a DIY project like a backsplash.
Being Afraid To Make Significant Changes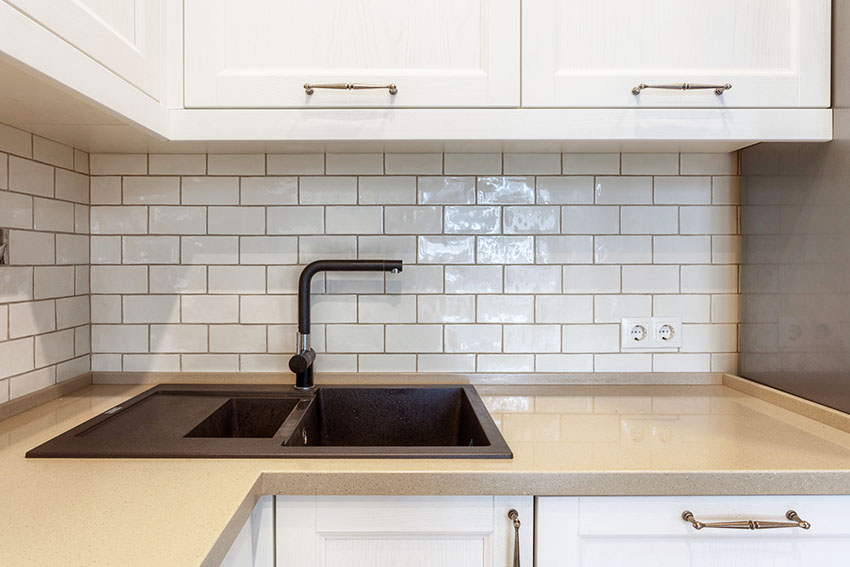 If you're a beginner in DIY projects like working on the renovation and remodeling of your kitchen or even just the countertop, it's only normal for you to hesitate in your choices and decisions. But don't let fear and lack of confidence stop you from making significant changes that can turn your kitchen into a work of art.
For something different that can add a twist to your backsplash, here are some options you can consider:
• Subway tile backsplash for a timeless and unique aesthetics
• Herringbone pattern tiles for a more interesting backsplash that can accent the kitchen
• Grid setting backsplash for a more geographical and modern touch
• Go large with your tiles and not stick with the usual size to make the kitchen appear bigger and more open than it actually is (Perfect for small kitchens)
• Re-organize the orientation of your tiles and you can go diagonal or vertical just to mix things up
DIY-ing the installation of your backsplash will give you more creative freedom rather than just passing the task to someone else and hiring experts to install them for you. Given that you have control over the entirety of the project, it can be quite overwhelming, especially for first-timers and beginners.
Now that you have a list of the common backsplash mistakes made when working on a kitchen design or remodel, you know what to avoid and not to do when completing the project.

Have you replaced your kitchen backsplash and have some tips we missed? Please share your experiences in the comment section below. For more like this, see our guide on how to remove granite backsplash.