Here we share the types of room dividers including the different designs, their uses, styles, materials, features, and the cheapest room divider method available.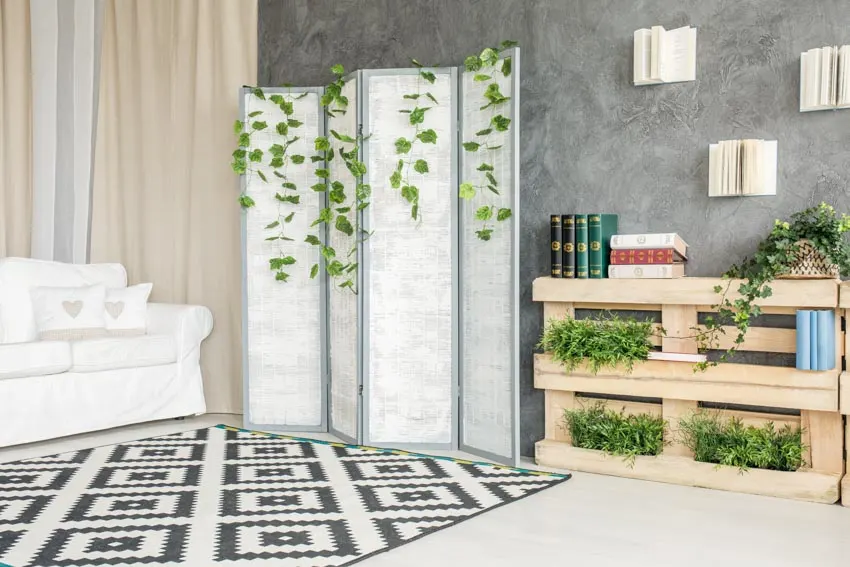 A room divider is a handy, low-cost, stylish, and temporary wall that focuses on providing visual separation between rooms or splits a huge space into smaller parts within your house. It is a wise solution if you want to establish privacy in a specific area but do not want to build a permanent wall.
Furthermore, room dividers are available in a multitude of styles, configurations, materials, and sizes. Some stretch from floor to ceiling, whereas others are basically the same level as the top of your head. In this article, we will discuss the different types of dividers as well as their different styles, materials, and features.
Different Types Of Room Dividers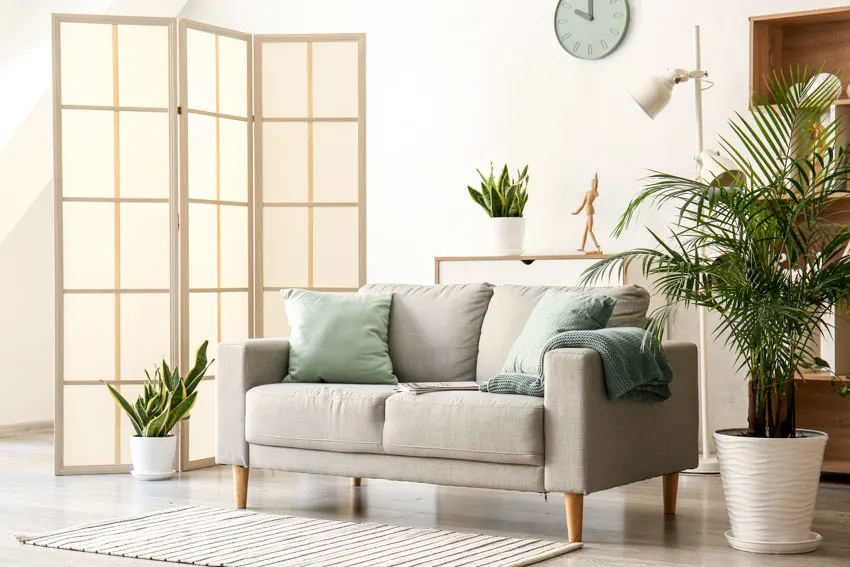 Here we share the different types of room dividers including their materials and design.

Screen Dividers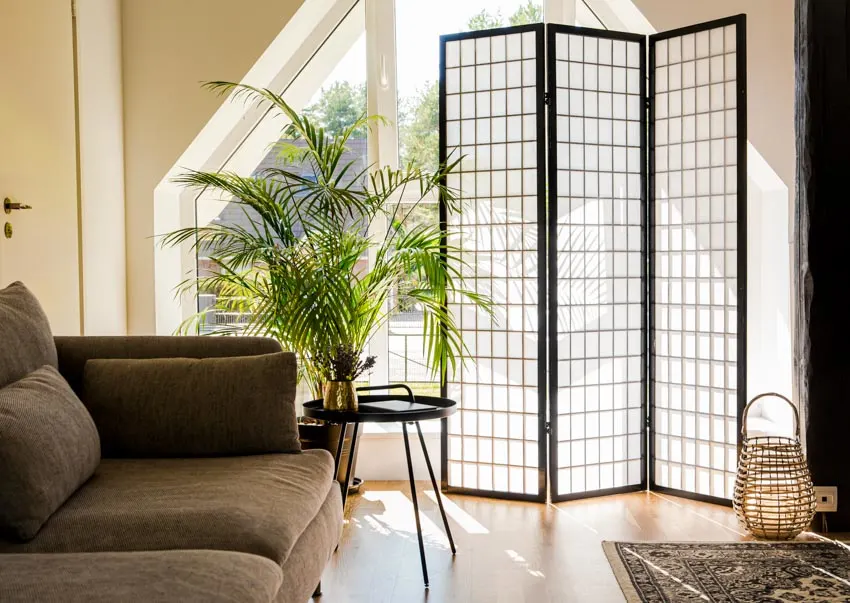 A room divider screen is among the most common types of partitions, which can be used to simply separate interior space or to create a stylish point of focus. It can be used for a variety of purposes, such as room partitioning and clutter masking.
Partition screens are often made up of wood, fabric, framed cotton canvas plexiglass, or pleated fabric. These types of screens are obtainable in a variety of materials, bringing a new level of unique style to the space.
Furthermore, there are so many divider screens on the market that it will be extremely feasible to locate the appropriate one to divide rooms, whether it is a large living room, an unattractive storage space, or a shared area in a studio-type apartment.
Panel Partitions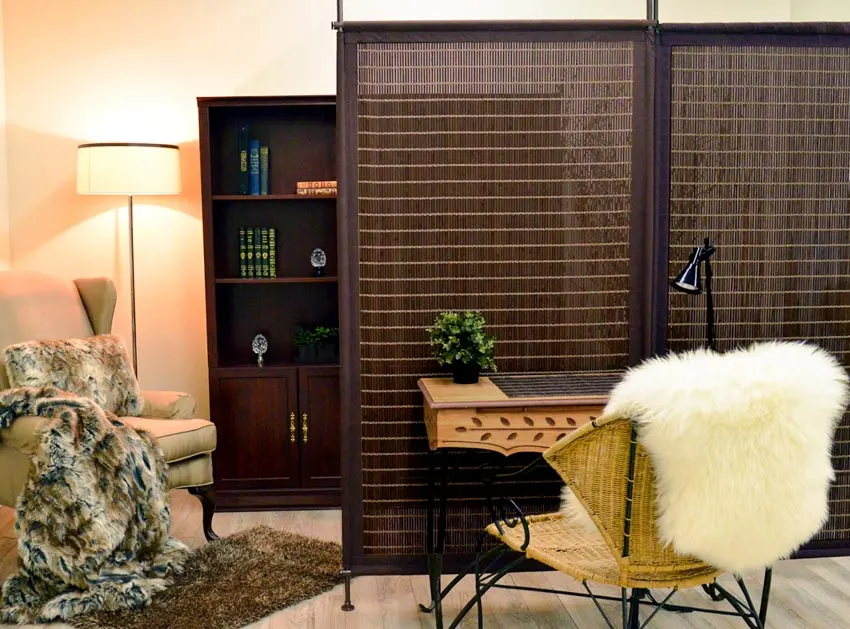 See this room divider panels at Home Depot [sponsored link]
A panel is a rectangular board or among specific types of furniture styles that partitions an enclosure into several sections. Dividing panels, such as cubicle barriers, come in a variety of styles.
These can also be made of a variety of materials, such as wood, glass, or aluminum. Some divider panels are even equipped with wheels for convenient mobility.
A divider panel is so adaptable that you may use it both inside and outdoors of your house or workspace. You can use it to shield out areas of your backyard that you would not want your neighbors to notice.
Maybe you would like a hot tub privacy wall. You can also use them to create a sun shield when you are enjoying the outdoors. These panel dividers are an excellent choice for making portable sound-dampening walls.
Aside from that, these panels are typically foldable and do not require any setup. They arrive completely assembled and ready to use as shortly as you acquire them. The panels may fold in either direction, making it simple to arrange in the manner that best suits your needs. These panels are also very lightweight.
Folding Dividers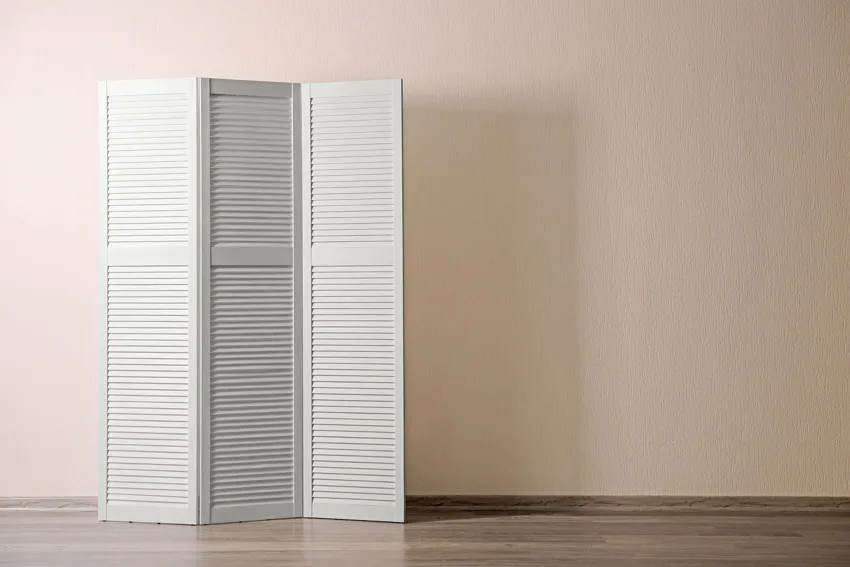 Folding wall parititions are constructed with several vertical panels of fabric or similar materials that are attached by hinges, which allow them to fold to different levels. They do not need to be installed in a complicated way.
You can simply unfold them and you are already good to go. If you are moving to another house, all you have to do is fold up the divider and place it in your truck or van. This divider type is not attached to your home in any manner. Instead, they sit on your floor directly.
Additionally, a foldable divider's dimensions can be wide and long. They are usually thick, often up to 12 inches when unfolded, since they require a stable framework to stand. If you have a small space, a folding divider might not fit.
Furthermore, even a large folding divider can be pushed over by a moderate wind gust or a collision. Keeping the panels straight and decreasing the folding action can assist in increasing the privacy footprint in bigger types of room in a house.
This type of divider would be a terrific do-it-yourself project, and if you decide to purchase one, they are often affordable, contingent on the size and material you pick. No expert installation is needed for these dividers to operate.
Wall Dividers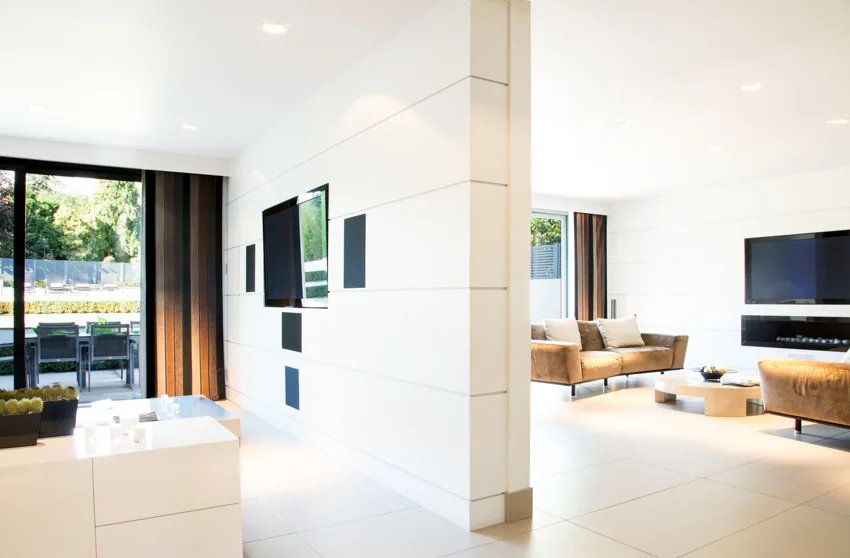 Room divider walls are typically permanent dividers that connect to the ceiling, floor, or walls of a house. They are usually connected with casters or rails or are built into the wall.
These dividers can be hard to change or relocate. Thus, if you want to install divider walls in your home, make sure you will not remove them over time.
Curtain Privacy Screens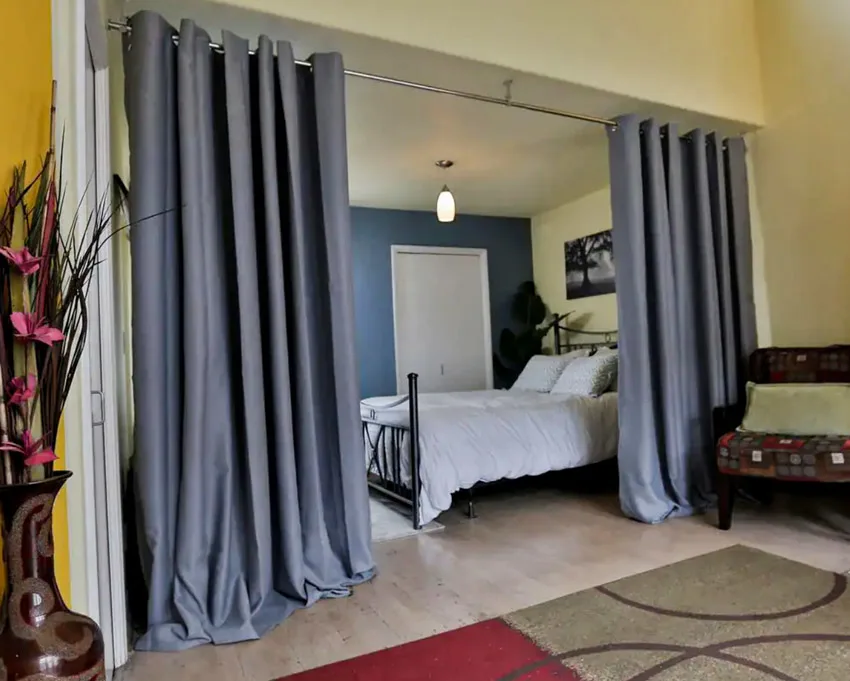 See this room divider curtain at Home Depot [sponsored link]
The function of fabric divider curtains is quite similar to that of traditional curtains but designed for dividing a room. This form of divider might be less materially solid yet more economical at times, but it may also be heavy-duty and expensive depending on the materials used.
The variation of the rod or ceiling rail mechanism required for installation, on the other hand, might increase the cost of the divider curtain. A pricey heavy-duty rod or rail mechanism, for instance, is required to hang a divider curtain made of heavy velvet fabric.
These sorts of room dividers are frequently combined for long stretches of privacy. They may, however, be quickly closed and opened. Divider curtains, the same as window curtains, can be suspended from hanging solutions that can either consist of a ceiling track with hooks or a long rod that connects to adjacent walls.
Shelf Dividers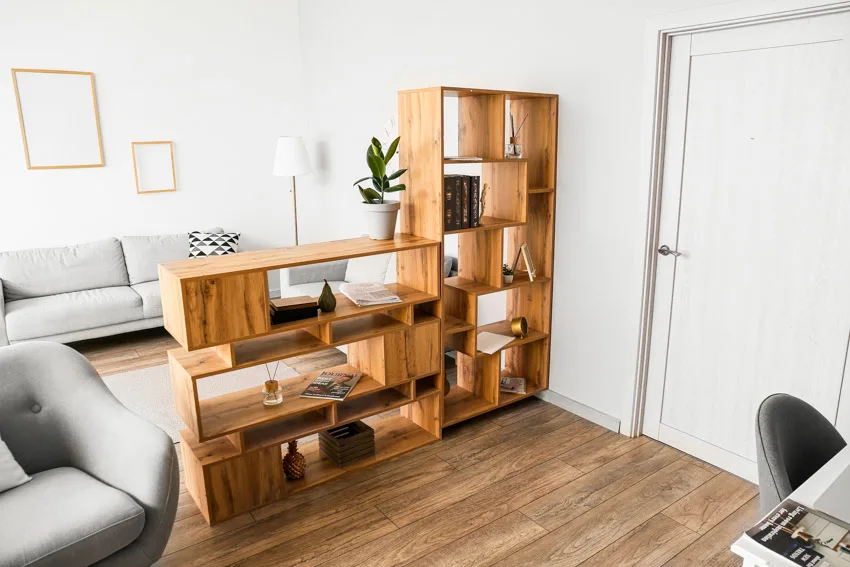 A room divider shelf is an extremely useful component that doubles as furniture. You might already own a towering shelf that you can utilize as a room divider. This form of privacy option works well as a divider as well as a storage element.
It can be used for books, collectibles, photos, artwork, pottery, and other items. If you stack these room divider shelves completely with books, they can also provide some sound-proofing capabilities. Several bookshelf-style dividers will stretch all the way to the ceiling, leaving a wide space at the top unless you occupy it with objects like houseplants.
High, thin room divider types of shelves are susceptible to falling and should be reinforced and attached to an adjoining wall using anchors or hooks if practical. If you decide to purchase this style of a room divider, you can check for secondhand choices or prepare to pay more from a store.
Ceiling Track Dividers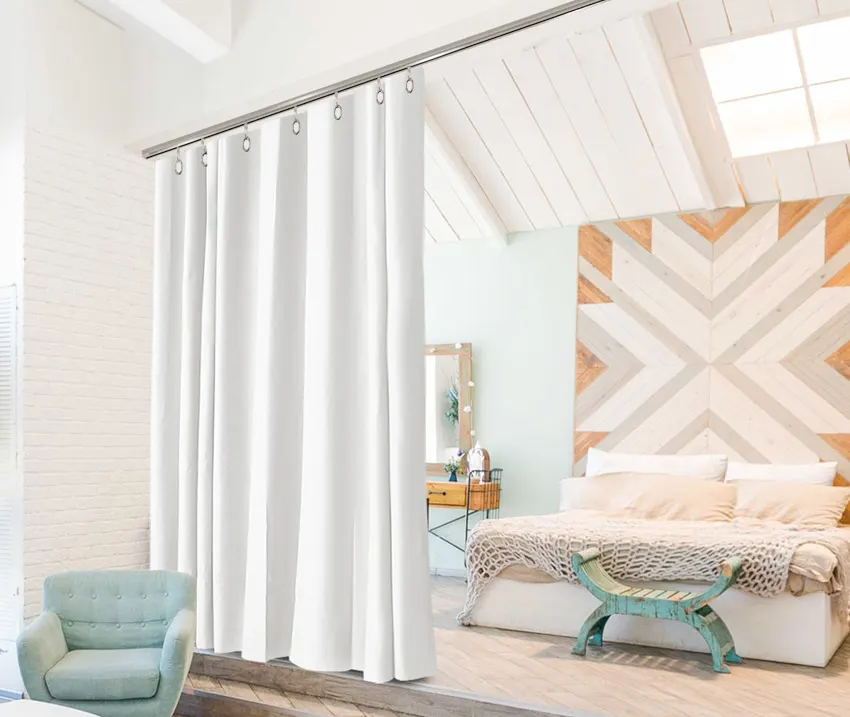 See this ceiling track room divider at Amazon [sponsored link]
Ceiling track room dividers are non- to semi-permanent structures that are attached to the ceiling to divide a space. They can be intractable depending on the component used, or they can be pulled, moved to the side, packed up and rearranged voluntarily, or set as is.
The majority of these dividers can be moved in order to maximize the use of their ceiling tracks. Ceiling track room dividers, as opposed to folding screens, stretch from floor to ceiling and can be extended from one end of the room to the opposite end.
This form of divider is an ideal alternative for separating spaces in a large open-plan environment due to its size and material versatility.
Tension Rod Dividers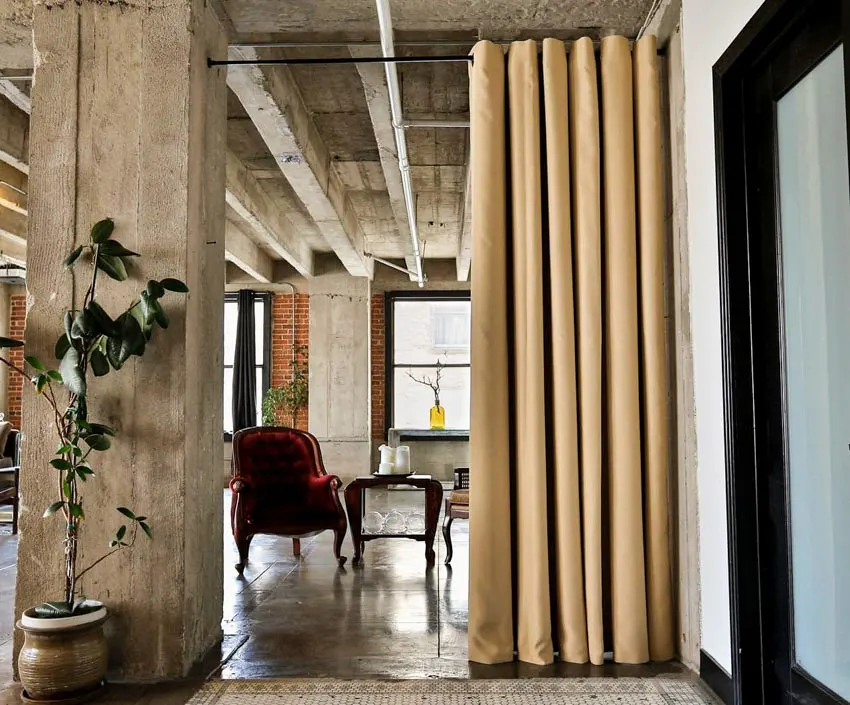 See this tension rod for room dividers at Amazon [sponsored link]
Room dividers are a viable alternative to walls, and you can fully rely on them to split a room into two or generate additional corners such as a study place, private office, closets, or leisure zone using spring tension rods.
Tension rod dividers are simple to set up and remove, which increases their functionality. There is not much to do after installing them. You can simply open and close them whenever necessary and even keep the rods when they are not being used.
In addition, tension rods as partitions are quite useful in leased areas such as dormitories or apartments. Additionally, if you share a condominium with others, they can instantly establish a divide, providing you with your private space.
Sliding Dividers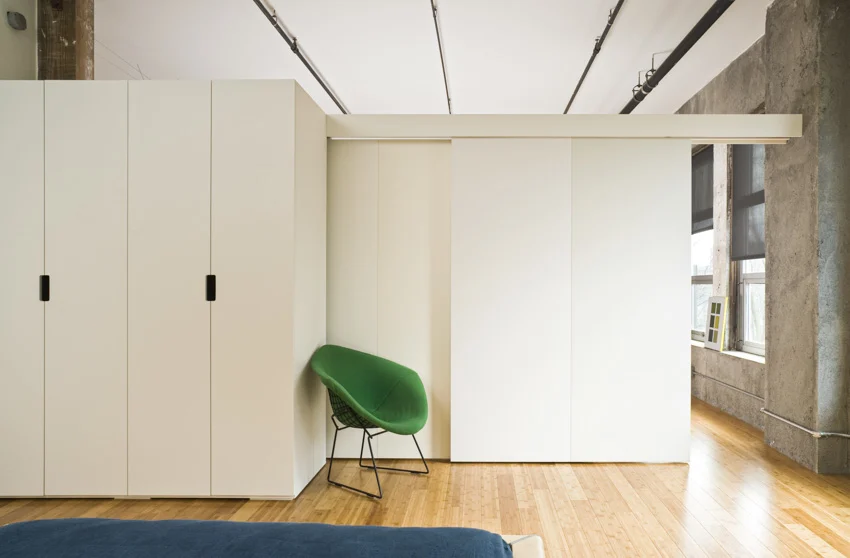 Sliding room dividers are incredibly adaptable when it comes to offering slight or complete privacy. They can function as a stand-in door, efficiently partitioning a space while limiting disruptions.
These dividers are often attached to a rail that enables the dividing panels to slide together or apart. This design is more common in buildings with huge rooms or convention centers.
Accordion Dividers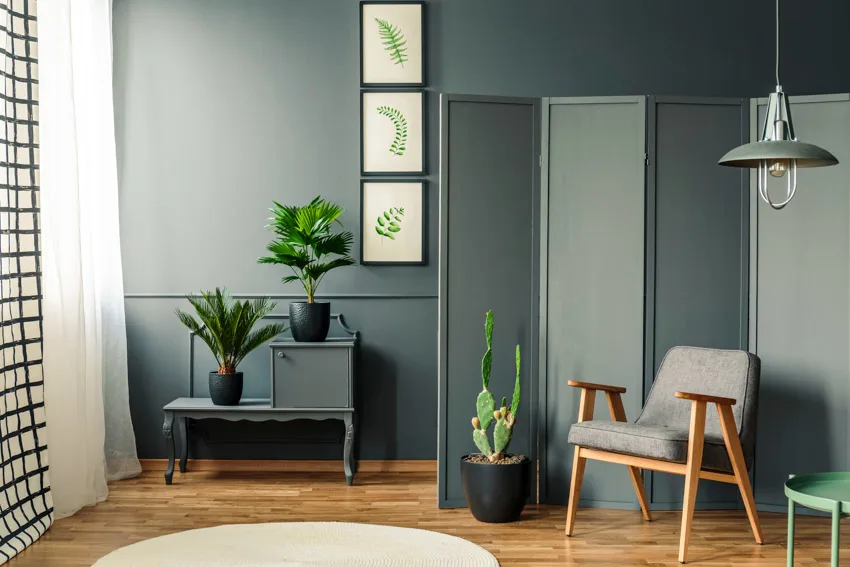 Accordion room dividers do not attach to the wall or the ground. They are among the most convenient techniques for dividing spaces, particularly for rental homes. It is not necessary to perform installation; all you have to do is just open and arrange them.
This type of room divider comes with the added convenience of easily relocating them anywhere and whenever you like. Likewise, when not in use, these accordion room dividers can be folded and stored.
Furthermore, accordion-type partitions add complexity and interest to any area and can be as little as the size of a bookshelf. Nonetheless, individuals can have as many panels in an accordion room divider as they choose. Unfortunately, more than four accordion panels can be difficult to arrange.
DIY Dividers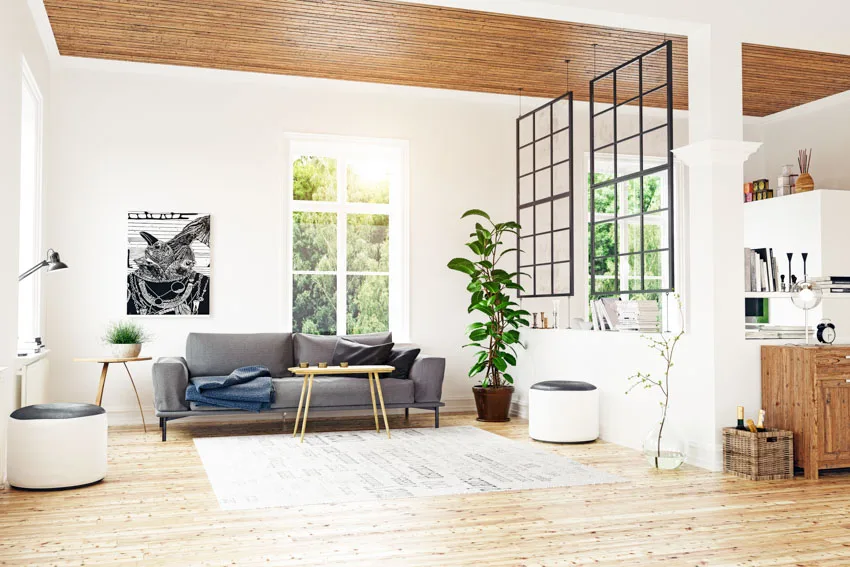 The majority of do-it-yourselfers utilize basic materials that provide some separation without drawing too much attention to a space. Indeed, you can put your carpentry and drywall abilities on hold for the simplest DIY room divider solutions.
Furthermore, you must choose simple equipment and materials that are straightforward to work with to produce a simple yet functional room divider.
Staple guns, heated glue, mallet, and finish nails are common tools. Almost any item can be used to make a DIY room divider, including rope, plastic pipes, chicken wire, reclaimed doors, scrap wood, metal, and more.
Soundproof Dividers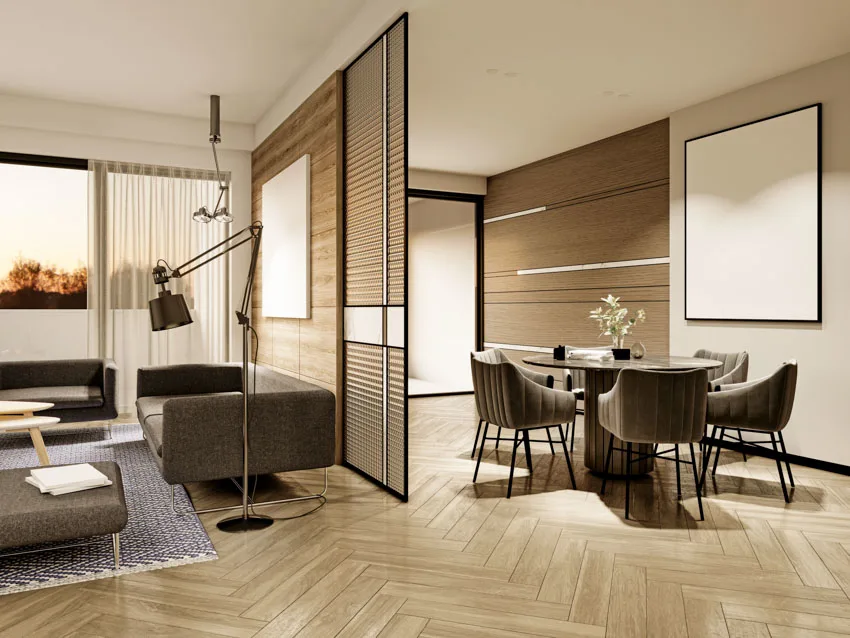 The divider panels used to create soundproof room dividers are often composed of materials comparable to those present in a recording studio.
This material offers insulation, soundproofing, and noise reduction in music studios as well as any private room a divider is installed. These panels are usually made of a lightweight metal frame with solid insulation within them.
Oftentimes, the fabric is wrapped around the whole sound-reducing panel to provide it with a polished aesthetic that does not interfere with its capability to dampen noise. This is an adaptable alternative that comes in a variety of accents.
Although this panel works well in an office setting, it will not withstand harsh conditions. Read more about soundproofing an office here.

Dividers with Doors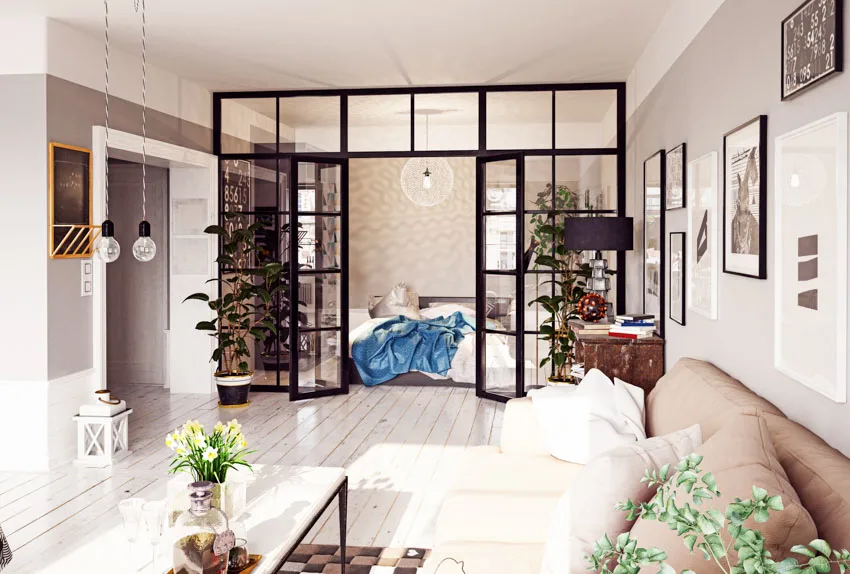 You can find doors for room dividers, but they are usually separate purchases. Several manufacturers produce doors for standard-sized partitions. These are typically door panels that link to either end of your current standard room divider.
It swings smoothly in both directions and constantly returns to the closed state when released. Generally, there is a magnet found at the lower end of the door that allows you to push it open.
Mirror Dividers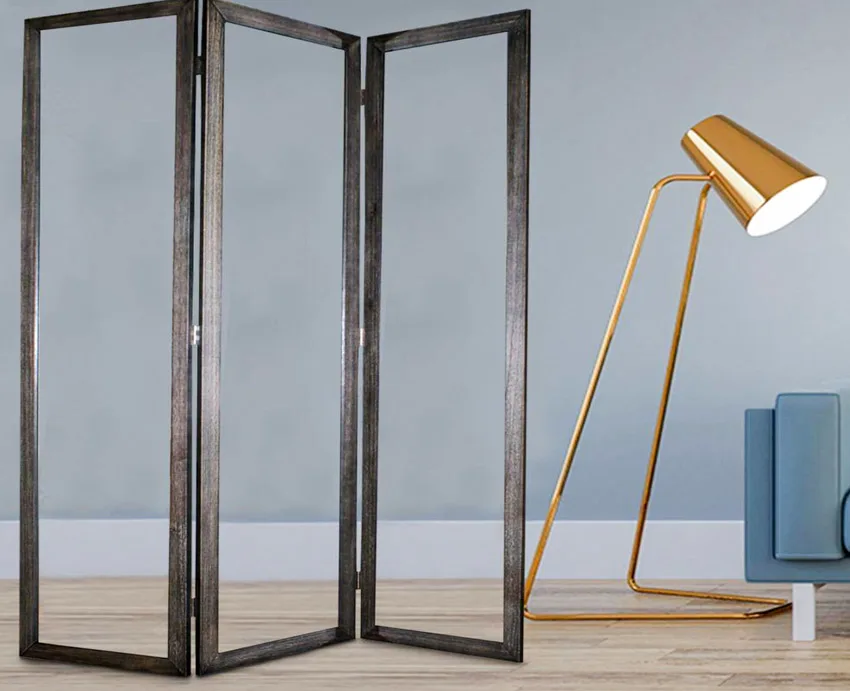 See this mirror room divider at Home Depot [sponsored link]
A mirror room divider is a very useful component. It helps in establishing a defined boundary in a vast open-spaced room while offering privacy and a distinct character.
It also produces illumination and style while creating the appearance of space. They are a fashionable option and a wonderful method to experiment with interior design. For more ideas see our gallery of mirror wall panels here.

Office Dividers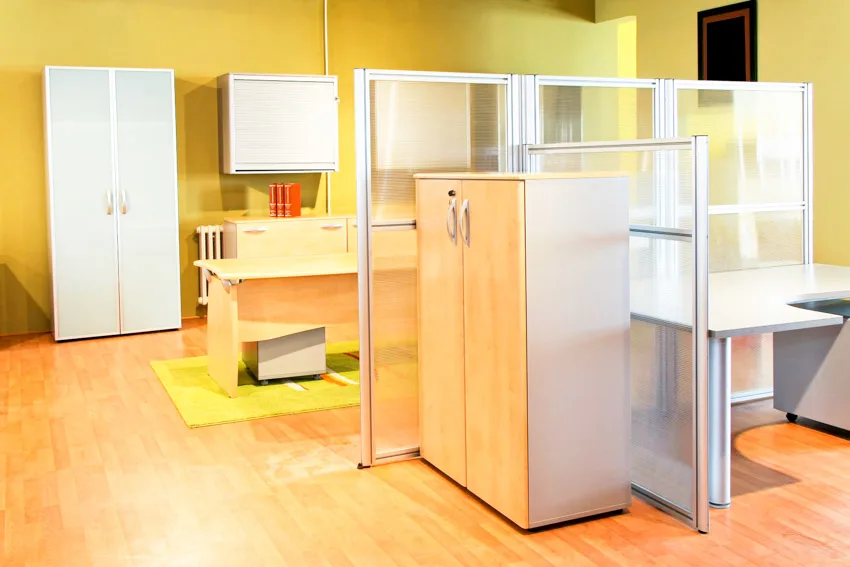 Office room dividers can be utilized in a variety of arrangements and designs that are suited to the function for which they are designed. Privacy solutions can result in entirely separated workspaces or private sections that yet feel like they are part of the corporate culture and design. Office cubicle partitions are normally made out of wood, glass, or aluminum.
Adding office partition walls inside an office layout can have a huge impact on the employees' mood and productivity. Although there are obvious benefits to an open area where cooperation can happen spontaneously, it is also necessary for a dynamic office to create private spaces where employees can work and think, and this is achieved using efficient office room dividers.
Barn Door Divider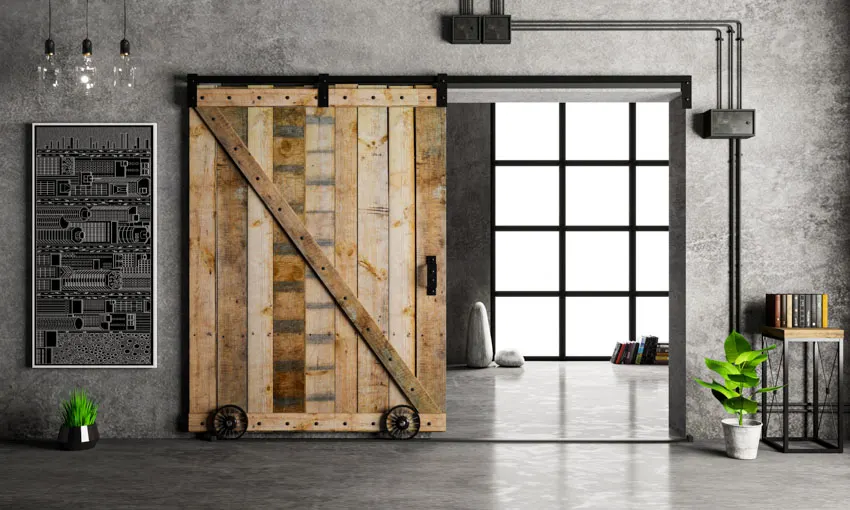 If you prefer the farmhouse look, a barn door room divider could be exactly what your room requires. Barn doors can provide historical complexity and provide a sensational and subtle aesthetic while saving space and adding seclusion.
Barn doors for living rooms come in a variety of styles and are an excellent choice as a room divider. There are numerous barn door kits available that can fit most locations.
You might go for a minimalist rustic layout and cut and stain your wooden boards with this technique. The handles and hinges can then be added.
Beaded Dividers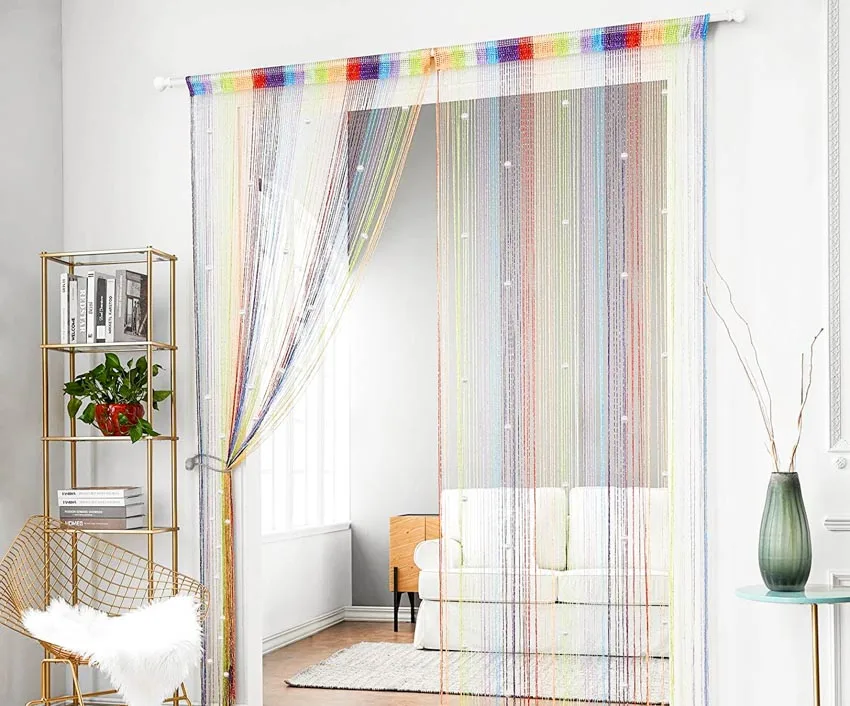 See this beaded room divider at Amazon [sponsored link]
Bead curtains create a visual barrier between functioning areas while not interfering with the transmission of lighting in any way. Installing beaded room dividers is an excellent technique to split visual space without losing brightness or investing significantly in materials.
Many individuals achieve a similar appearance without the framing, and instead, just by hanging the beaded curtains from the ceiling.
Retractable Dividers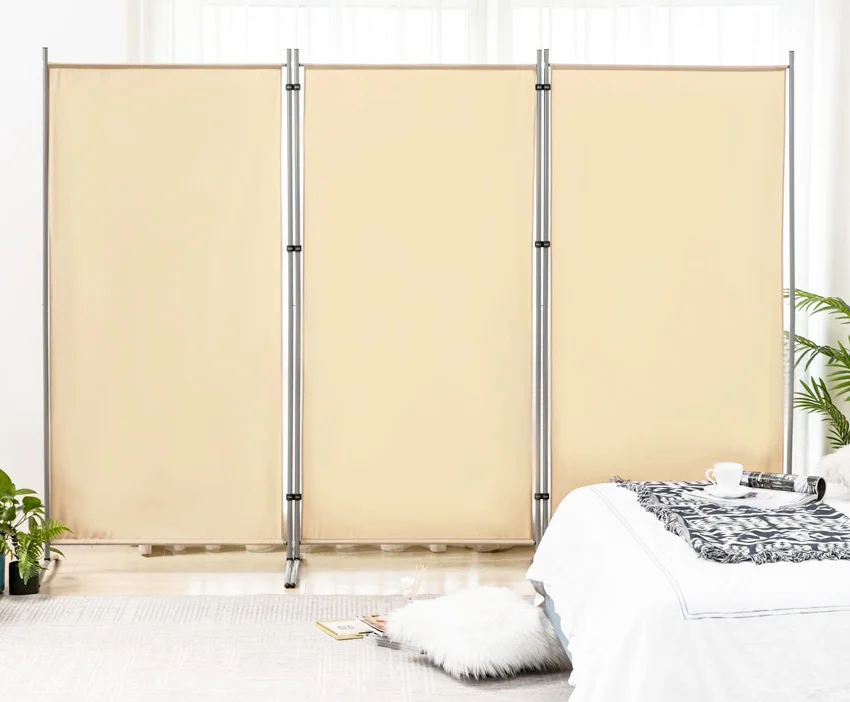 See this retractable room divider at Amazon [sponsored link]
Retractable room dividers are used to offer temporary privacy, decorate, or manage a huge area. Such retractable partitions can be easily removed or reinstalled as needed. They also come in a variety of colors and fabrics that will effortlessly mix into your current décor.
The majority of retractable wall panels have a suitable thickness that will not take up too much space on your floor setup.
These dividers come with simple installation instructions, making them simple to use for any individual. They have simple panels that may be folded if you want to use the entire room space without partitioning.
Headboard Divider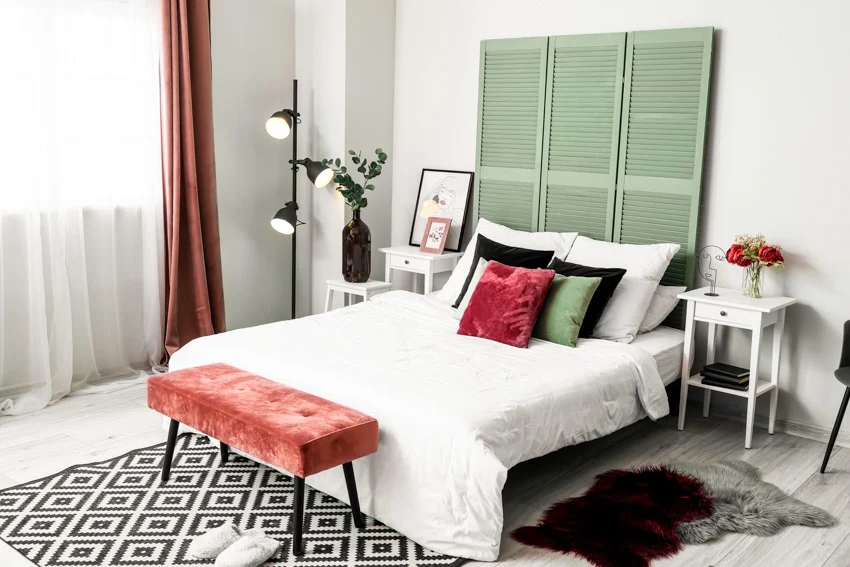 You may use an old bed headboard as a room divider. Although this is not really a common way to use a room divider, it is indeed cool and a highly well-liked approach to making a statement in your room.
However, this can also be the other way around – you can also make your dividing screens as bed headboards. Wood, wicker, plywood, fabric, metal, as well as other materials, can be used to make room divider headboards.
Plant Dividers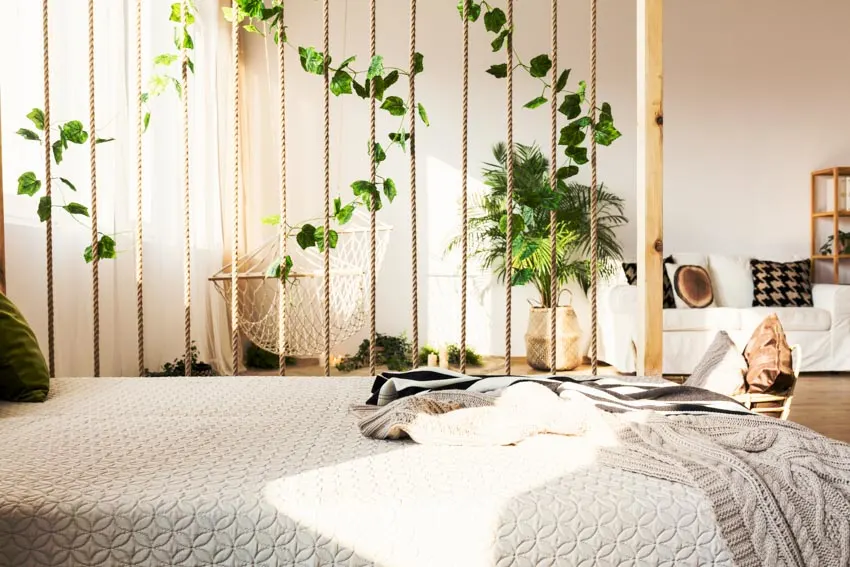 Indoor gardens draw the attention of everybody who comes into your area, and relying heavily on the plants you pick, they can also boost the overall worth and quality of your surroundings.
Therefore, creating a plant room divider is the ideal natural solution for providing privacy indoors and out while also improving the appearance and functionality of your open area.
The options for building a creative and useful privacy screen and plant room divider are infinite with the incorporation of colorful pots and gorgeous plants.
TV Stand Dividers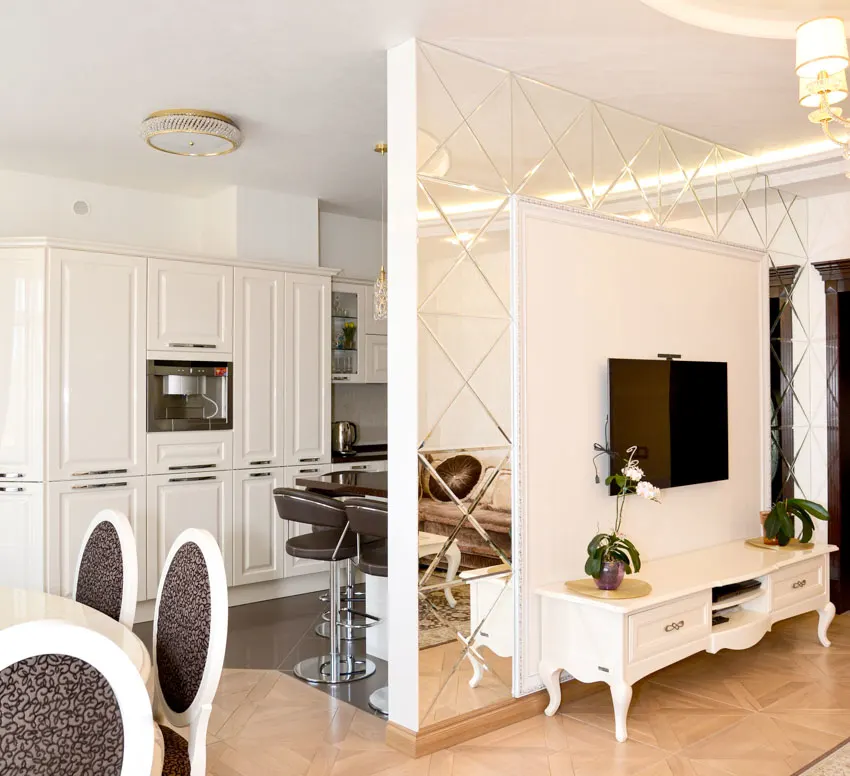 A TV stand room divider is basically a piece of furniture that is pretty useful for containing your TV. If you currently have a tall TV stand, you can move it into position to serve as a room divider.
This type of privacy alternative is an ideal divider and TV stand furniture for storing your TV, books, amplifiers, pictures, and other items.
Pony Wall Divider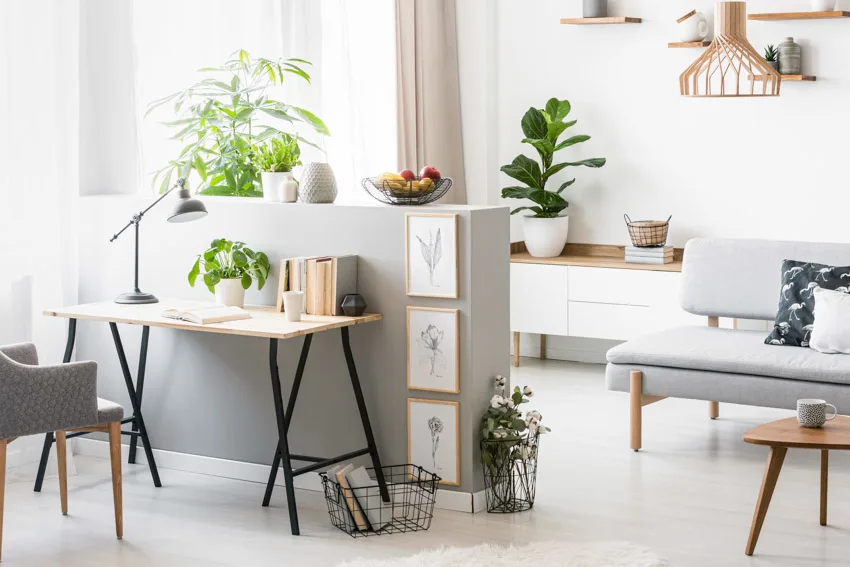 A pony wall room divider is simply a low wall that does not touch the ceiling; it does not need to be any specific height or width, but it commonly stands approximately 3 feet tall.
A pony wall room divider establishes a functional and visual boundary between two portions of a large room or open floor space without completely sealing them off and making either section feel confined. The newly constructed spaces maintain an open aspect and vibe since it does not extend up to the ceiling.
Outdoor Dividers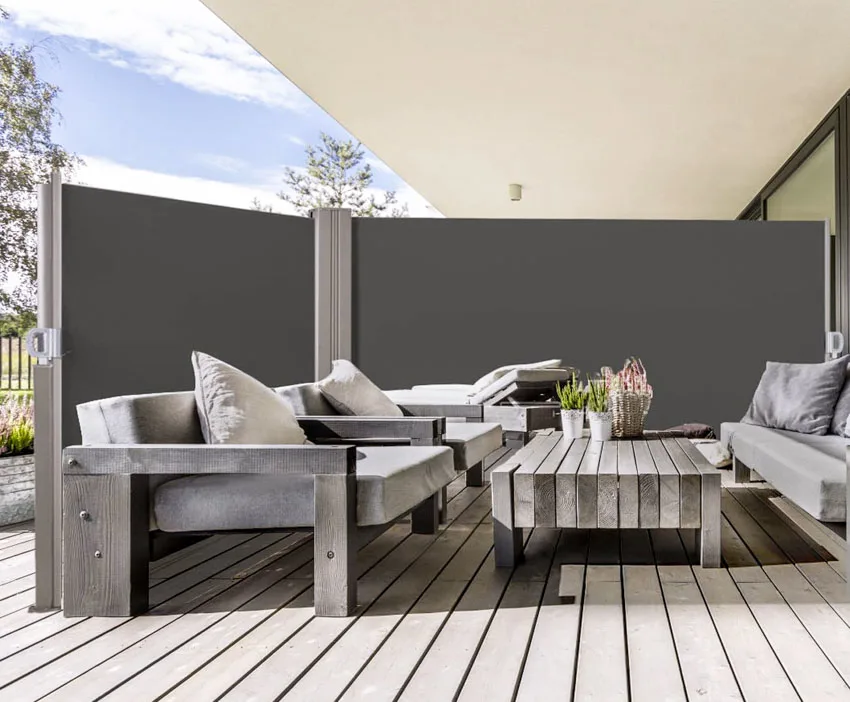 See this outdoor divider at Amazon [sponsored link]
Typically, alfresco seating areas are enclosed with outdoor partition walls. You can utilize this type of divider outside of your house because it is adaptable and waterproof.
Using it, you can screen areas of your property that you do not want neighbors and intruders to observe. You might wish to add this outdoor privacy divider if you have a jacuzzi on your patio. See pergola privacy wall ideas here.

Divider Styles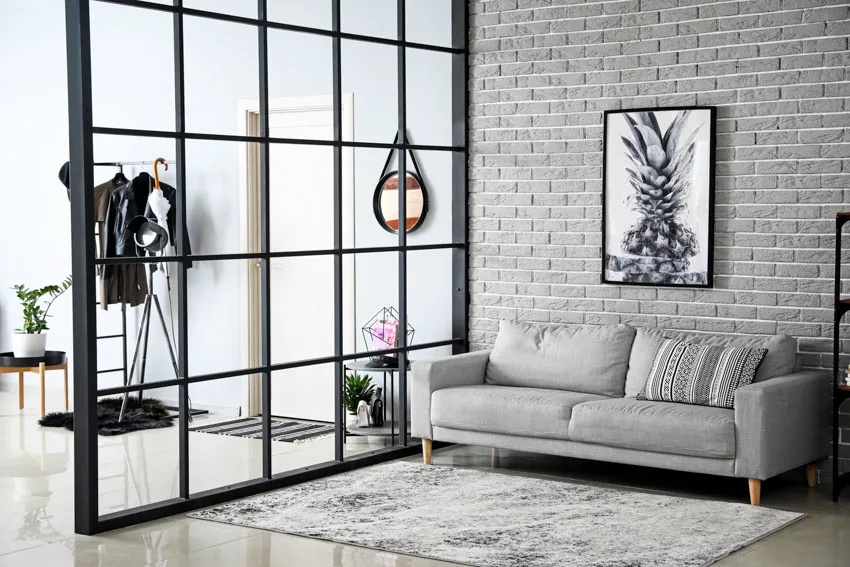 Modern Room Dividers: Partitions with the shine of glass or even the warmth of wood would be a good addition to the sleek, smooth surfaces and touch of metal that are present in most modern living rooms.
Modern homes benefit from the use of a streamlined, minimalist, and fashionable room divider screen or even metallic mesh. The vast majority of modern and contemporary partitions are just under 6 feet tall. However, the lengths vary depending on how many panels are used and how wide each panel is.
Boho Room Divider: Boho-style room dividers are distinguished by their lack of organization, favoring spontaneous layers of pattern, depth, and color. Although there are some common features associated with the boho appearance, there are no fixed rules, unlike modern or minimalist styles.
The boho aesthetic for room dividers is defined by its unique and easygoing nature. A boho-style room divider is typically colored in metallic gold accents along with bold hues like olive green, royal blue, fuchsia, and red.
Vintage Room Divider: You may add a touch of ancient charm to your home by using a vintage room divider. It is often constructed of weathered wood panels with attractively arched tops.
Each component is also adorned with an antiquated elaborate design and stands on two short legs. Vintage dividing panels are not your average dividers. They have a more woody style and will bring timeless sophistication to your room.
Japanese Room Divider (Shoji Doors): A shoji, or Japanese room divider, is a classic Japanese door, window, or space divider made of transparent or translucent sheets on a mesh frame. Shoji is often sliding, but they can also be hanging or hinged, particularly in more rustic forms.
Because these Japanese room dividers are so lightweight, they can be quickly slid aside or removed from their rails and kept in a closet, opening up the space to adjacent rooms or the outside. Shoji, when used as outside walls, diffuses light into the house; when used as interior dividers between rooms, they let natural light penetrate deep into the interiors.
Rustic: Rustic partitions highlight the panel's natural characteristics even after it has been transformed into a well-finished divider. The surfaces are normally imperfect; they might be aged or distressed.
This room divider type is frequently made of wood, particularly cherry, oak, walnut, or maple. The shapes are plain, even rough, and the colors are mostly neutral. Rustic room dividers are often used in farmhouse-style homes.
Divider Materials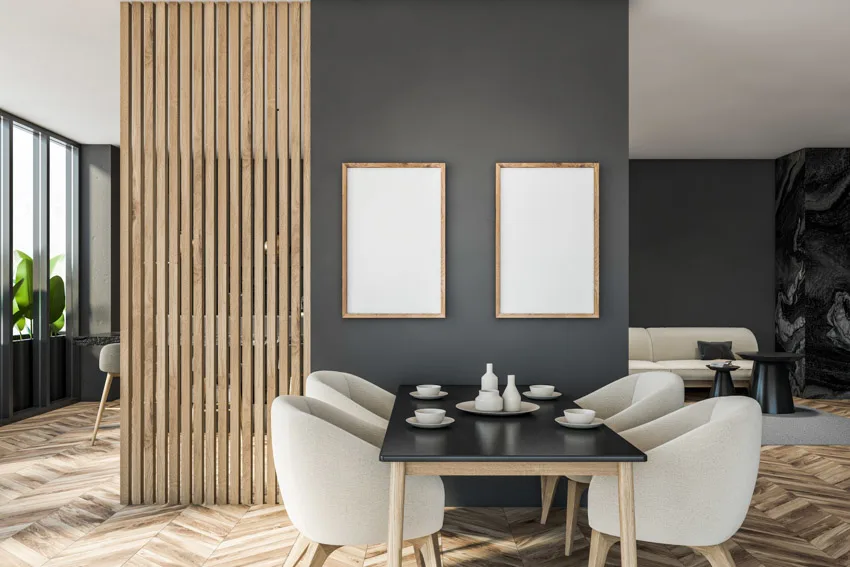 Wood Room Divider: Wood is the most common partition material. The most popular species are oak, cherry, maple, and mahogany. Wood may produce a unique aesthetic while still including a more classic accent. Its quality is exceptional, and it will last for several decades. Wall partitions that are made out of wood are ideal for rustic-style interior design.
Wood Slats: Wood slats are thin strips of wood. Partition wallscomposed of these typically have gaps between each slat. These types of wood slat walls are often made of plywood. They are, however, not a long-term partition wall solution.
Bamboo Room Divider: A bamboo partition wall is a trendy separation alternative that is extremely helpful for those who live in studio apartments or are sharing a room.
Bamboo dividers are most typically found in natural wood colors, but you may also buy them in white, gray, or black. The appearance of bamboo partitions can make you feel like you are in your own little tropical paradise.
Rattan Divider: Typically, rattan partitions are available in handwoven designs and pleasant wood tones. It is a lovely adaptable piece of furniture that can be used to separate the space into several zones. You can position it in the corner of a larger space to observe its ornamental farmhouse-style appeal.
Glass Dividers: A glass partition wall is an excellent sound-dampening dividing solution. This acoustic barrier can also provide good insulation. Glass is thick, with a significant quantity of weight in a finite thickness.
Because glass is not permeable and does not contain any openings, any noise will not pass through it. Glass is a low-cost choice for a partition. See ideas for how to cover glass doors for privacy here.
Metal Divider: Metal is the most durable and long-lasting of the partition materials described above. The metal used for partitions includes brass, copper, and aluminum. Brass has a sophisticated appearance and is easily machined.
Nevertheless, it is susceptible to blackish oxidation, which is difficult to remove. Copper is highly impervious to high temperatures and UV damage, but it is also very expensive. Aluminum, however, is also a great option as it is rustproof and lightweight, making it easy to install.
Fabric Divider: Fabric is one of the most used materials for wall partitions. Using fabric as a wall partition is convenient as it is lightweight, easy to handle, and inexpensive.
When designing your own privacy screens, fabrics are usually a wise option. Curtains, drapes, or even a throwaway fabric you love will provide the space with a relaxed and creative vibe without making too much of a bother.
Plastic: Plastic is also an increasingly popular privacy screen material. However, polycarbonate is the favorite plastic variety for dividers. Polycarbonate is a durable, clear plastic with high durability, rigidity, and shock resistance. Because polycarbonate dividers can handle exterior objects, many restaurants employ them to divide their outdoor seating spaces.
Cardboard: Cardboard-made dividers are not ideal for rooms as they lack strength. They can, however, be used by children who want to play inside a house and use them as mini house dividers. These dividers are only best for dividing lightweight objects inside a box, such as a folding carton box.
Pegboard: A pegboard divider is used to divide tall products from shelves. It works well with long, narrow barrels and boxes. This is not ideally used for dividing rooms.
Room Partition Features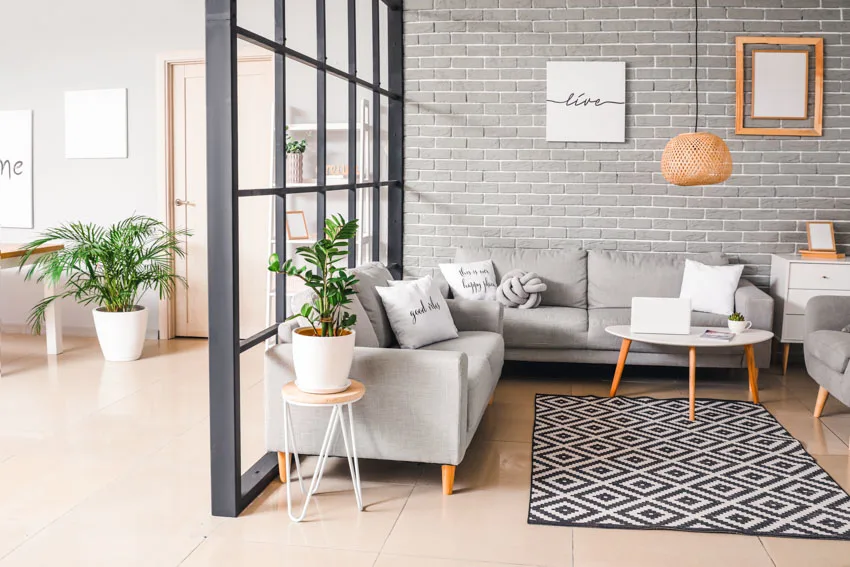 Freestanding: Freestanding straight partition walls work similarly to folding dividers in that they are structured panels of fabric or any other materials that can slide open or unfold to provide complete privacy.
The frames are frequently supported by short legs that help to keep the divider stable. Since they occupy less area than accordion-style dividers, freestanding systems can be quite thin and can readily fit anywhere.
On Wheels: Some dividers feature wheels at the bottom. These are simple to move since you can simply wheel them anywhere you need them to get relocated. They are conveniently rearranged and could fold up for increased practicality.
On Track: The partition walls that are normally on track are sliding dividers. The track helps the dividers to slide easily, which is similar to a sliding door.
Floor to Ceiling: For maximum privacy and concealment, some partitions go from the floor all the way to the ceiling. However, most dividing panels that have this function are permanently installed in a house and cannot be moved easily.
With Storage: Talking about practicality, some homeowners use their bookshelves or TV stands as dividers. The goal is to increase the function of their dividers and use them for storage as well. Some also install racks and hooks to their standard partition to enhance its purpose.
Soundproofing: Some of the most frequent separators on the market are soundproofing partitions. They are frequently plain and in neutral tones. They can enhance the sophistication of any workplace or recording studio. They are normally covered in fabric to improve their soundproofing properties.
Decorative: Not all partitions are mostly for partitioning a space; some are just for increasing the aesthetic appeal of the interiors. You can find partitions that are full of decorative elements. Some of them have beads, colorful fabric elements, or are painted in different colors.
How to Divide a Space with a Temporary Wall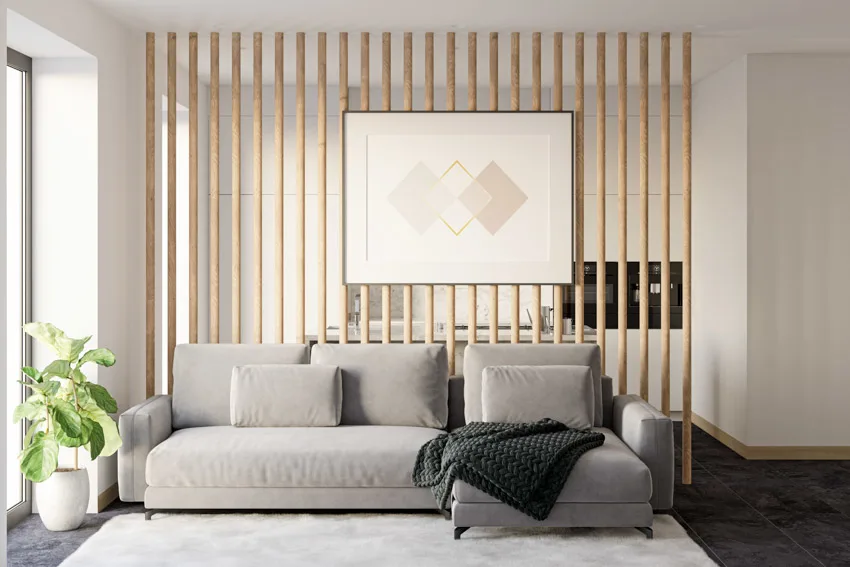 Here we share several tips on how to partition a space with a temporary wall.
• Determine the dividing factors and restrictions for your wall. This information will assist you in determining the tools and supplies to purchase.
• Prepare the necessary tools.
• Decide the area where you want to install the wall, then determine the height of the ceiling.
• Lightly cut off wood panels with a saw.
• Make sure the panels allow for the bottom and top plates.
• Create form spacers out of wood to make installation easier.
• Install the vertical panels after securing the top and bottom plates with a hammer and nails.
• Attach the bottom spacer to prevent it from merging with the floor.
• Finally, screw the connections together before raising the temporary wall with the assistance of an attendant.
What's The Cheapest Method of Dividing a Room?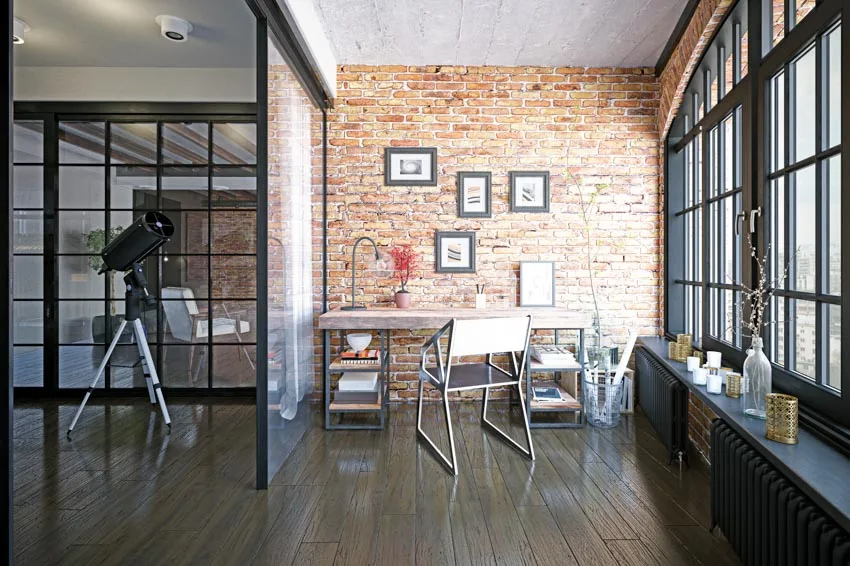 The cheapest method to divide a living space is by using curtains. You can use your existing curtains or create your own out of fabric, sheets, canvas, and curtain liners. With so many affordable rods in various designs and sizes, you can quickly and inexpensively create an aesthetic and functional divider.
​​See more related content in our article about bamboo wall designs on this page.