See the different bath towel sizes for standard, small, large & oversized bath towels, a bath towel size chart, bath sheet dimensions, and beach, hotel & shower towel sizes.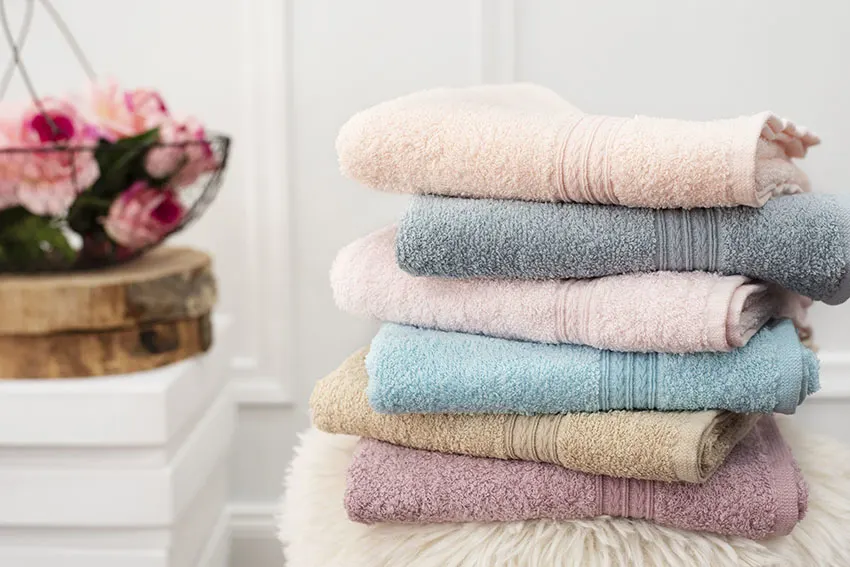 If you have ever spent a night at an upscale hotel, you know that one of the most lavish luxuries in the world is bundling up in a freshly laundered towel after a soak in a tub or a warm shower. For any homeowners, purchasing a new set of towels is a process, and with all the options and sizes available in the market, it can get pretty overwhelming.
Some homeowners might assume that the most enormous towel size they can get is a bath towel, but there are also bath sheets for that purpose. One might not know that there are types of towels that are a size smaller than hand towels. All of these are important to know before purchasing so you get the best towel size for your needs.
Standard Bath Towel Size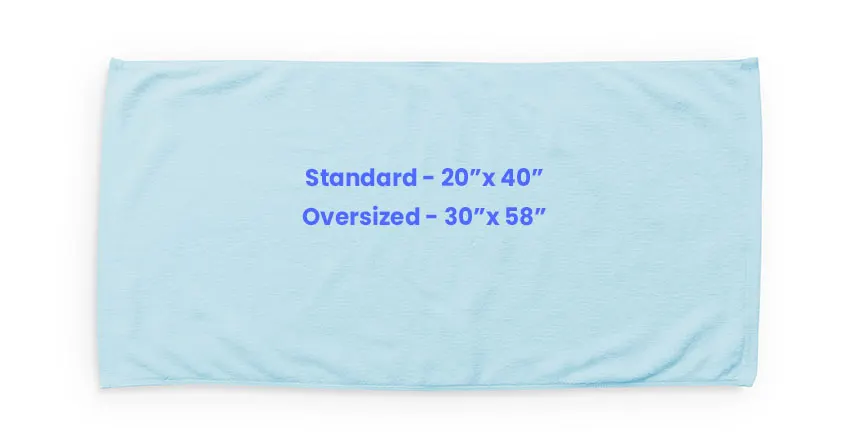 Bath towels are available in many sizes, from the standard 20 by 40 inches or 51 by 102 centimeters bath towels to the more oversized bath towels at 30 by 58 inches or 76 by 147 centimeters.
Bath towels dry the hair and the body after a bath or a shower, and their bigger sizes mean that any person can quickly wrap the towel around them.
Since bath towels are more oversized, it's essential to have a convenient hook or bar to hang them for hygiene purposes since they can be reused for a week before being washed. Read more about how high to hang a towel bar here.

Large Bath Towel Size
A large bath towel any homeowner can get is the standard size with a width of 20 inches or 51 centimeters and a length of 40 inches or 102 centimeters. This size is ideal for the use of children and also a perfect size for hair drying for people with longer and thicker hair.
Oversized bath towels can dry an enormous surface area of the body and are used in coverage after every bath or shower. These are also usually displayed in hotels since they can fit towel bars without being too thick or too big.
Largest Size Bath Towel
A giant bath towel a homeowner can purchase comes with a dimension of 30 inches or 76 centimeters from side to side and a length of 58 inches or 147 centimeters. This size is perfect as an all-around towel and ideal for adults if the standard is too small.
This giant bath towel is also not big enough that it won't fit a washing machine and will also fit in any linen closet without taking up too much space. Many bath towels made of higher quality material are available in these sizes.
Bath Towel Size Chart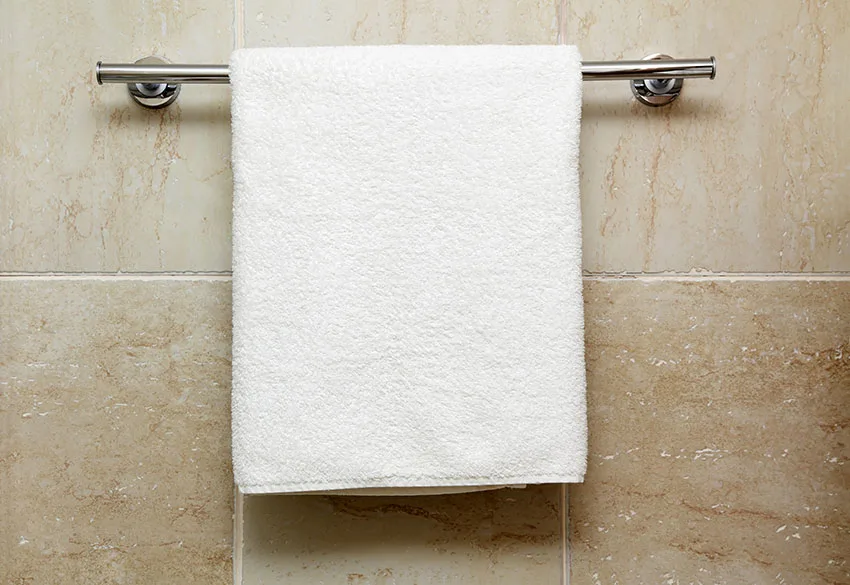 Here is a quick bath towel size cheat sheet to make your purchase more straightforward:
| | | | | |
| --- | --- | --- | --- | --- |
| Towel Type | Width size in Inches | Length size in Inches | Width size in Centimeters | Length size in Centimeters |
| Wash Cloth | 12 inch | 12 inch | 30 cm | 30 cm |
| Fingertip Towel | 12 inch | 20 inch | 30 cm | 51 cm |
| Hand Towel | 17 inch | 30 inch | 43 cm | 76 cm |
| Small Double Bath Mat | 21 inch | 31 inch | 53 cm | 79 cm |
| Medium Double Bath Mat | 23 inch | 39 inch | 58 cm | 99 cm |
| Bath Towel | 28 inch | 54 inch | 71 cm | 137 cm |
| Bath Sheet | 39 inch | 59 inch | 99 cm | 150 cm |
| Large Bath Sheet | 40 inch | 72 inch | 102 cm | 183 cm |
Bath Sheet Dimensions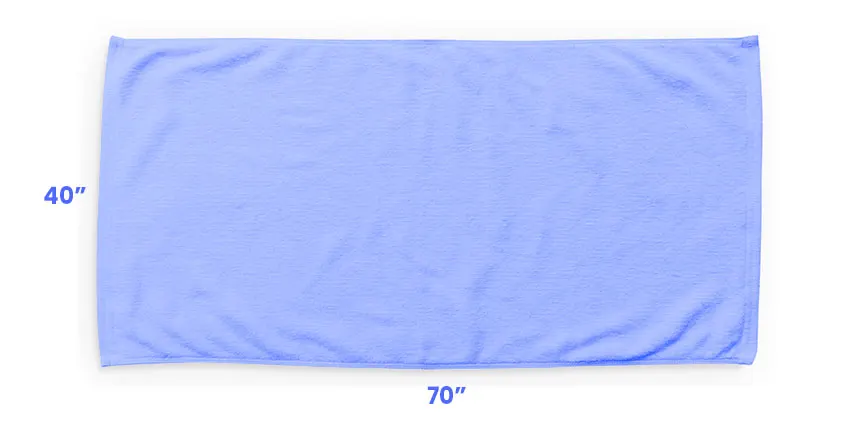 Suppose any homeowner is looking for a towel even more oversized than the largest bath towel dimensions at 30 by 58 inches or 76 by 147 centimeters. In that case, it's good to look at bath sheets with measurements starting at 40 inches or 102 centimeters for width and length of 70 inches or 178 centimeters, and can go larger from there.
Besides being bigger than standard bath towels, bath sheets can also be more absorbent to make drying easier and faster. With that, they often come more expensive than bath towels and are the usual towel variety found in hotels and spas.
Bath Sheet vs. Bath Towel Size
The main difference between a bath towel to a bath sheet involves their size since most bath sheets can have double the dimensions of a bath towel. Children and teenagers can efficiently use a bath towel, but adults will benefit more from a bath sheet's coverage and drying power.
Aside from the size distinction, there is also the fact that bath towels are more prone to be sold in bundles with hand towels, unlike bath sheets which are considered more luxurious both in their function and price.
Bath Sheet vs. Beach Towel Size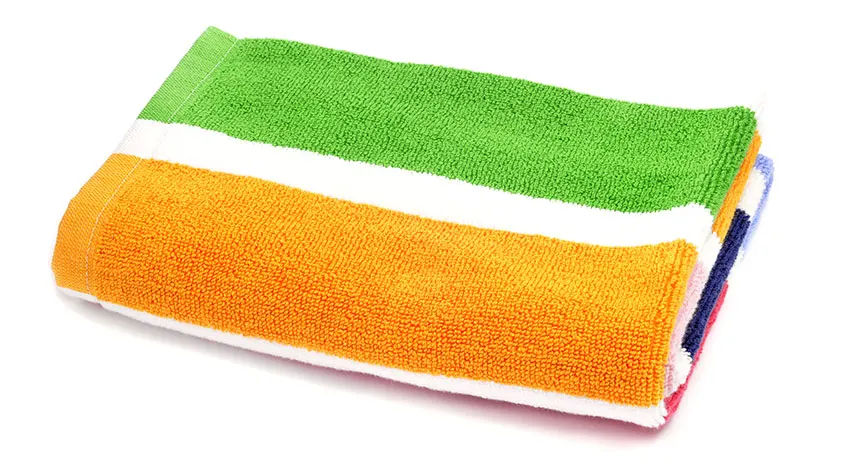 Beach towels offer a lot in design compared to a bath towel or a bath sheet. Aside from that, they can also be more extensive than a bath sheet since they are designed to be big enough to let anyone lie comfortably in them on beach trips when the owner wants to bask in the sun.
Most beach towels will have a width from side to side of 48 to 58 inches or 122 to 147 centimeters and a length from top to bottom of 54 to 70 inches or about 137 to 178 centimeters.
Hotel Bath Towel Size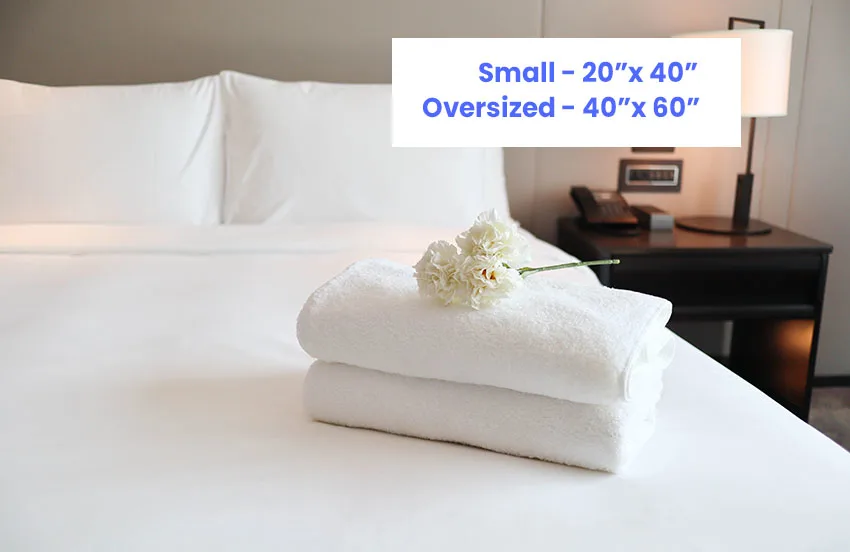 If any homeowner wants the luxurious size that hotel bathroom towels offer, getting one similar to the ones they experience is the key. Most of the sizes available in hotels are bath sheets.
Some hotels will have multiple towel size options for their guests, ranging from the smaller 20 by 30 inches or 51 to 76 centimeters to the more oversized bath sheets at 40 by 60 inches or 102 by 152 centimeters. The towel's weight can range from 5 to even 20 pounds.
Shower Towel Size
An excellent shower towel is a bath towel with a minimum size of 27 inches or 69 centimeters by 52 inches or 132 centimeters and a maximum size of 30 by 58 inches or 76 by 147 centimeters.
They are absorbent enough and are the more economical option for bath towels. Anything more extensive than the maximum size for bath towels is called bath sheets which are ideal for baths because of the added absorbency in their make and thickness.
See more related content in our article about the must have bathroom essentials here.