This gallery of onyx backsplash designs feature what it is, pros and cons, different styles, and if onyx is a good material for kitchen backsplashes.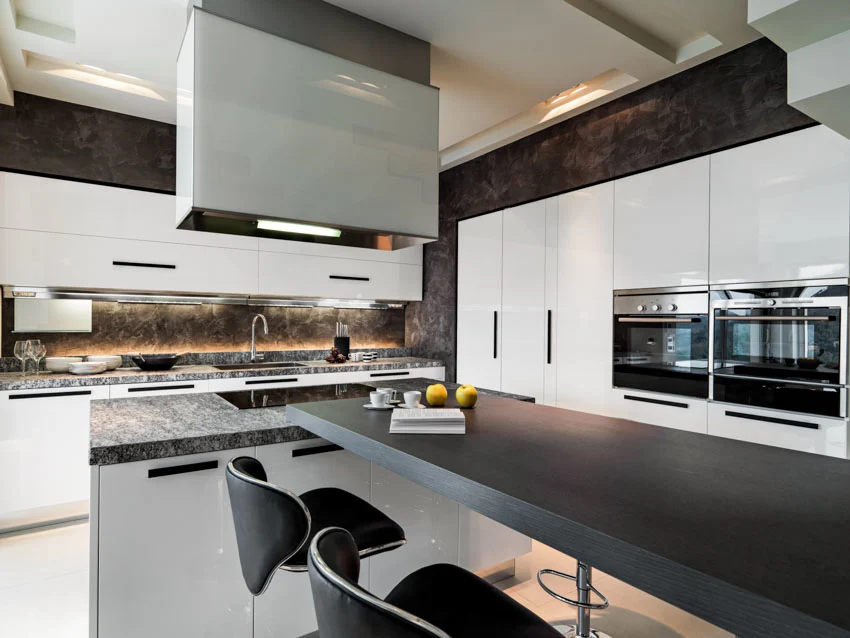 Onyx is considered less used among natural stones when it comes to an interior design setting. It has a soft and brittle consistency which means that it doesn't make a great countertop or flooring material. However, it's perfect as a backsplash, though.
Onyx is formed when limestone is dissolved and then redeposited underground. It is commonly seen in dripstone deposits found in limestone caves. Onyx is an interesting calcareous type of natural stone because it has rich swirling patterns and colorful veins that can easily transform your backsplash into the centerpiece and focal point of the kitchen space that you're installing it in.
The origin of onyx in ancient mythology is that it came from the fingernails of Venus, the goddess of love. It is also a symbol of Saturn's wisdom and stands for aristocracy. The presence of onyx in your kitchen backsplash can carry that sense of mystique and ancient grandiosity that is inherent to it. Here's anything and everything that you need to know about it so far.
What Is An Onyx Backsplash?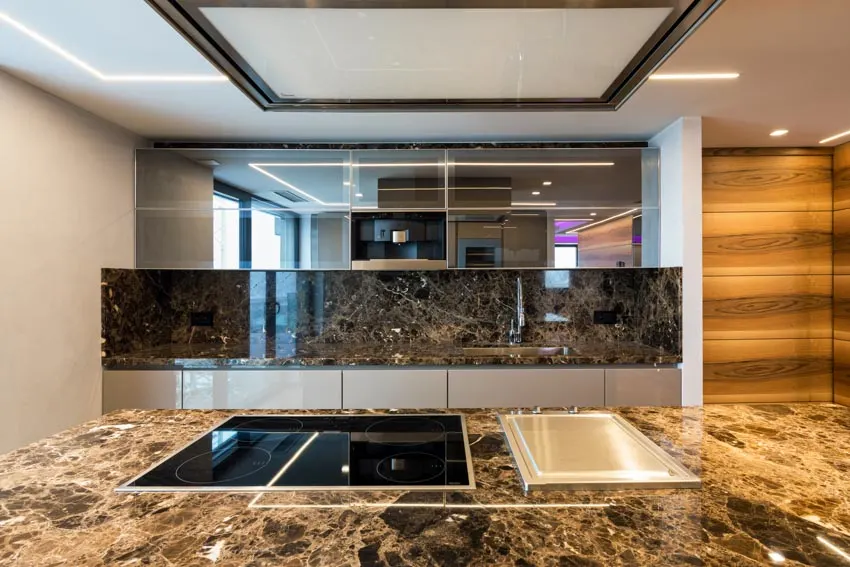 An onyx backsplash is meant and designed to ultimately prevent grease, water, and other substances from damaging the wall that it covers. Technically speaking, an onyx backsplash isn't really that much of a necessity at the end of the day. However, your kitchen wall might end up being exposed in the kitchen.
In turn, this might require a high level of maintenance and in some instances, even repair. This is one thing that you can cross out of your worries if you happen to have an onyx backsplash around though. The dirt, grease, and everything else that may splatter on it will slide right through with nothing more than just a basic wipe-down.
Onyx Backsplash Pros And Cons
Here we share the advantages and disadvantages of onyx backsplashes.
Pros of Onyx Backsplash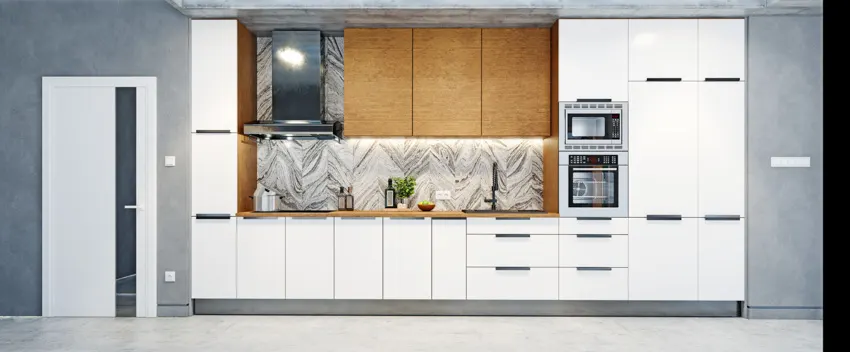 Aesthetics: Right off the bat, onyx is a really gorgeous natural stone. Having it up against your wall as a backsplash is one of the best decisions that you will ever get to make. Natural stones are fairly commonplace these days and although beautiful, there may be instances wherein they may feel common.
This isn't the case with onyx. It looks and feels rare, and it actually is. It has interesting patterns and veins and when set up against other primary colors that you can incorporate in the kitchen, it creates a lovely contrast. It's definitely a unique addition to the home and the finished effect is just incredible.
Long life span: When installed and maintained properly, onyx has an impressive life span. It has been known to last for up to 100 years or more. That's how durable it is so far.
Proper maintenance for your onyx types of kitchen backsplash would mean that any stains or dirt splatters are either wiped down or scrubbed off right away. It also means that it should be sealed to protect its surfaces from etching or scratching at least a couple of times or more per year.
Great with lighting: Onyx is not an opaque material. Instead, it is something translucent. This means that if you install it as a backsplash with some backlighting, it will look like you have a piece of art that's glowing right from your wall. And because it's a backsplash, you can be assured that it's also fully functional.
Real estate value: An onyx backsplash looks great and is functional but on top of all that, if you upgrade your kitchen space to have it, you are also guaranteed added real estate value. Should you decide to get your home appraised further down the line, you can be assured that the onyx backsplash will turn out to be a really great addition to it.
Lightweight: Onyx is a natural stone that is considerably much lighter compared to the others. This means that any creative applications you would like to explore will be done so easily without too many hurdles to consider.
More than that, this stone is typically quarried in very small slabs or pieces. This makes them easy to handle and transport. It's also perfect to hang as a backsplash since you are going to be hanging it vertically and an overly heavy material might have some issues with that. Onyx though, will work perfectly fine.
Cons of Onyx Backsplash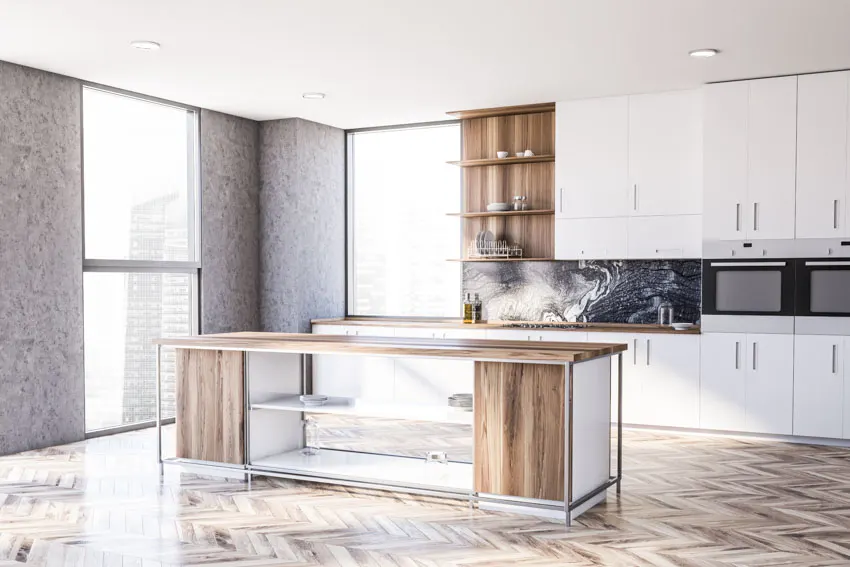 Can be quite fragile: Because onyx is a chalky natural stone, it's naturally soft and brittle. It can be quite fragile and you must handle it with care. Kitchen accidents such as knife etches won't do your onyx backsplash any favors so make sure that you keep an eye out for that as much as you possibly can.
It isn't likely to hold up in functions exposed to high-traffic use, such as most types of kitchen countertops and flooring. Onyx is also usually reinforced with a mesh backing to keep the material together when installed as a backsplash.
It's a soft type of stone: Onyx is a natural stone that's extremely soft and porous. You will need to really be very vigilant when it comes to sealing it. Reapplication of sealant for onyx backsplashes needs to be done at least 3 to 4 times a year.
This is a little more laborious compared to other natural stones that only require around once a year or so. It can be very prone to damage and stains and knife etches might end up being permanent especially when not sealed properly.
It is calcium based: Since your onyx backsplash is calcium based, it can react negatively to acidic substances. The kitchen is rife with those. From vinegar to citrus juices, to acidic home cleaners, and so on. Make sure that any spills are wiped down immediately as they may cause permanent staining or worse, damage.
Has a high cost: Due to its rarity and the fact that it isn't a common natural stone, the law of supply and demand works against your favor when it comes to getting an onyx backsplash.
On top of the main cost of the raw material, you also have to consider the freight, labor, and installation which are all specialized. When it comes to getting your onyx backsplash installed, you might need a contractor to get it done professionally and the material needs to be handled with care. Repairs to any damages can also be costly and not readily available.
Onyx Backsplash Designs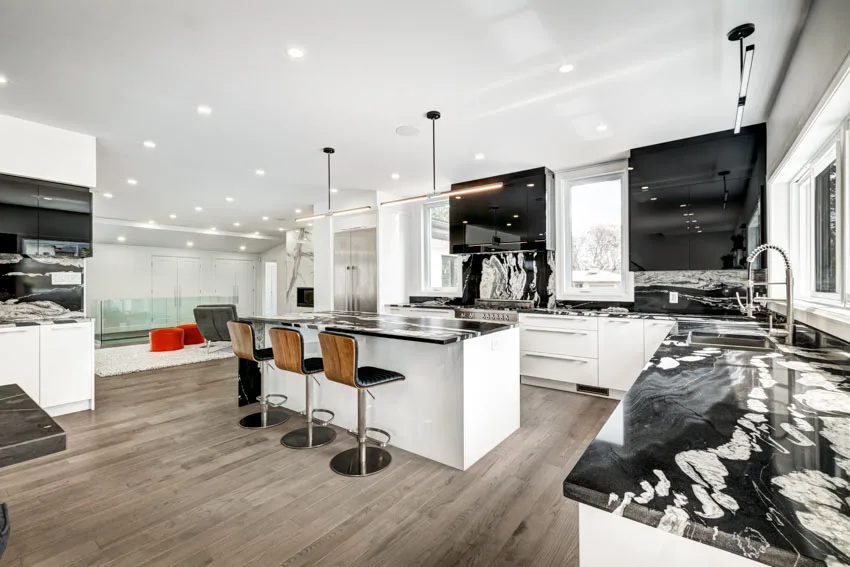 A black onyx slab that has been backlit: This will create a somewhat eerie but also modern glow to your space. The backlighting works great with onyx because of the fact that it lacks opacity. What this means is that the stone quality is translucent.
You will be freed up enough to explore creative projects such as backlighting and the like. This is also great for showcasing the patterns and veining in the natural stone.
Onyx that has pastel shades: Surprisingly, onyx comes in shades other than black. You will be able to get your hands on onyx that's colored in shades of lavenders, pinks, pale blues, greens, or even tangerine.
This widely opens up your design options as you can come up with something light and airy for your backsplash. There's something poignantly art deco about it but at the same time, it is also deliciously clean and contemporary.
Onyx in warm shades of gold and brown: Gold and other equally warm colors are some of the most popular onyx shades out there. Although not exactly considered as neutral, it's fairly versatile as it can easily fit right into any design scheme or color palette.
Onyx in neutrals such as cool greys and beiges: And of course, who can ever do away with the neutrals? They have always been in and they are here to stay and that same principle applies for onyx backsplash designs.
Although clean and understated, a neutral-colored onyx backsplash can still be pretty elegant and interesting because it has unique swirls and veining that add dimensionality and texture to your backsplash area.
Black onyx with white veining: This look can produce a dramatic effect for your backsplash design. The black is dark and moody whereas the white veining can provide high contrast for the overall look. This can make something as simple as a backsplash easily come off looking like a fine piece of art.
Onyx Tile Backsplash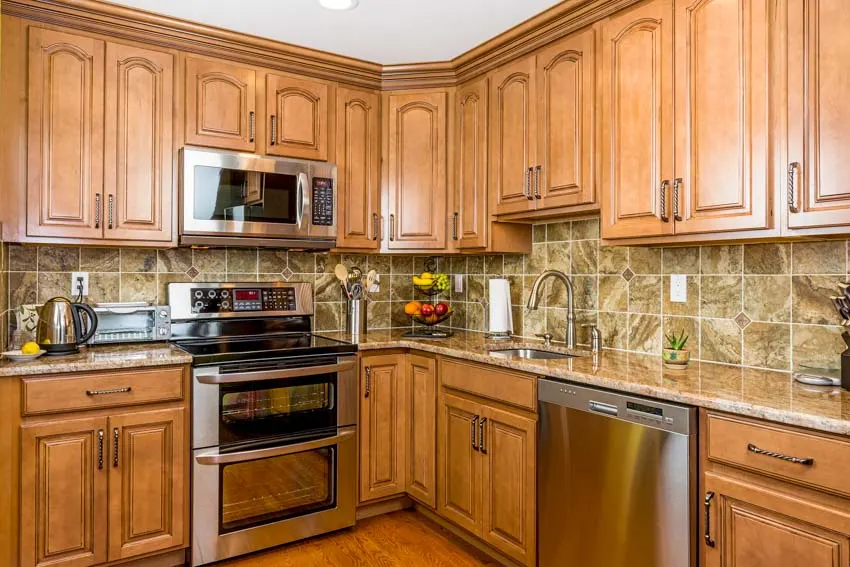 An onyx tile backsplash can really grab attention. It can look very elegant and luxurious and this is mostly due to the natural veins and swirls that run through the stone's patterns. Opting for an onyx tile backsplash would mean that every square inch of your tile will be absolutely unique.
They can also range from black to white and everything else in between. The greatest strength of an onyx tile backsplash is the power of versatility in its design. You can have a lot of different colors all in one setting or even in a single tile.
This isn't something that's readily available in other tiling options. As a backsplash, it's very eye-catching and it can easily stand out. Another major selling point is its luminous glow when you pair it up with the right kind of lighting option.
White Onyx Backsplash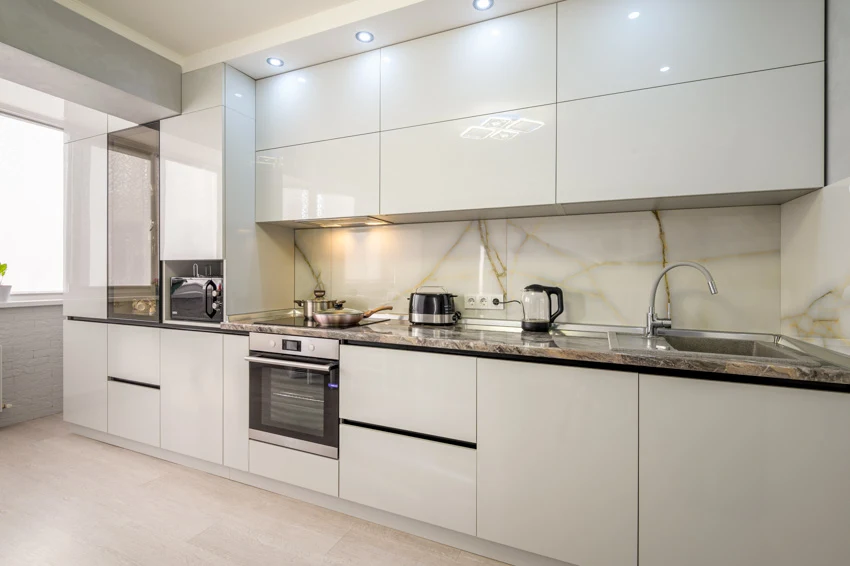 A white onyx backsplash is rare but you are going to love it if you ever get your hands on it. It can give your kitchen space a look that is bright and airy. Even the smallest kitchens can feel bigger and more open with a white onyx backsplash in the background.
This is a different take on a monochromatic approach in interior design because it's broken up by the veining in the tiles. It's a type of backsplash that can really stand out and can offer a bit more visual interest into an otherwise all-white kitchen.
Honey Onyx Backsplash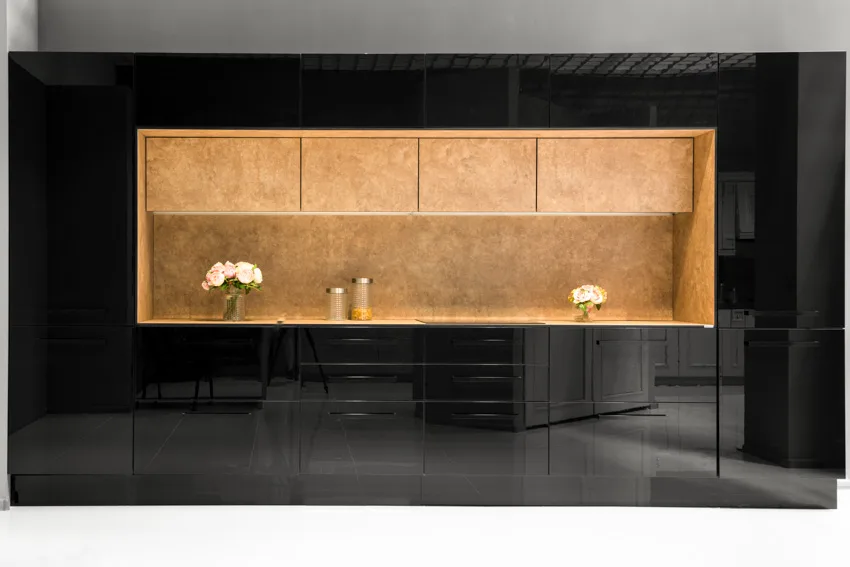 Honey onyx is a popular onyx variant for backsplashes. It usually contains shades of brown, yellow, or golden colors. This particular type of onyx is special as it is quarried only in Iran and is imported from there.
It has a very shiny and smooth surface. And as with all types of onyx, fairly translucent with contrasting colors peppered all throughout. It makes it look very striking and dramatic when you have it backlit.
Green Onyx Backsplash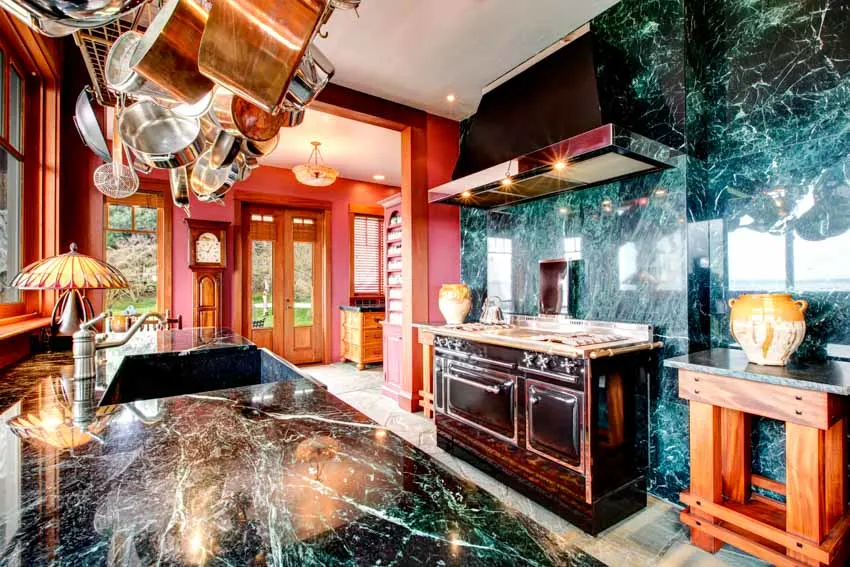 Green onyx has a very rich and deep green color. It typically has cloudy white streaks in it and although the color is bold and dramatic, it also looks subdued enough to be perfect as a background color which will fit right into its function as a backsplash.
When paired with onyx kitchen countertops and the right lighting, it can really set the tone and have a kaleidoscopic effect that's unlike any other. Green is a great color to go with if you want something that seems cool and easy on the eyes. It also has a somewhat organic effect and is definitely perfect for the kitchen.
Onyx Subway Tile Backsplash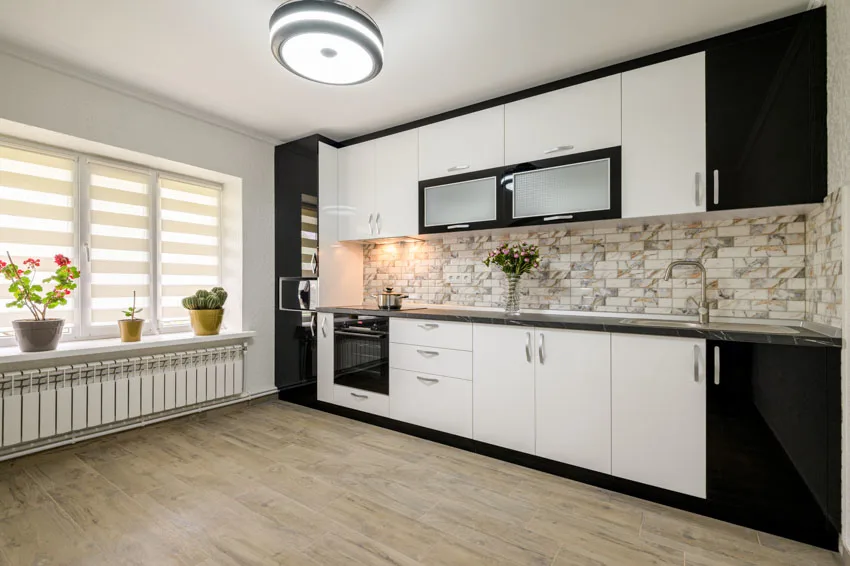 There's something just classic and clean with a subway tile kitchen backsplash. When you turn it up a notch and opt for onyx subway tiles though, it can really jazz your kitchen up a bit. There's a very dreamy, very chic effect to it.
Onyx subway tiles are usually glossier than the typical onyx slab. It's more water resistant. And since it's a backsplash, what this means is that the grease and the dirt will get to slide right off.
Onyx Mosaic Backsplash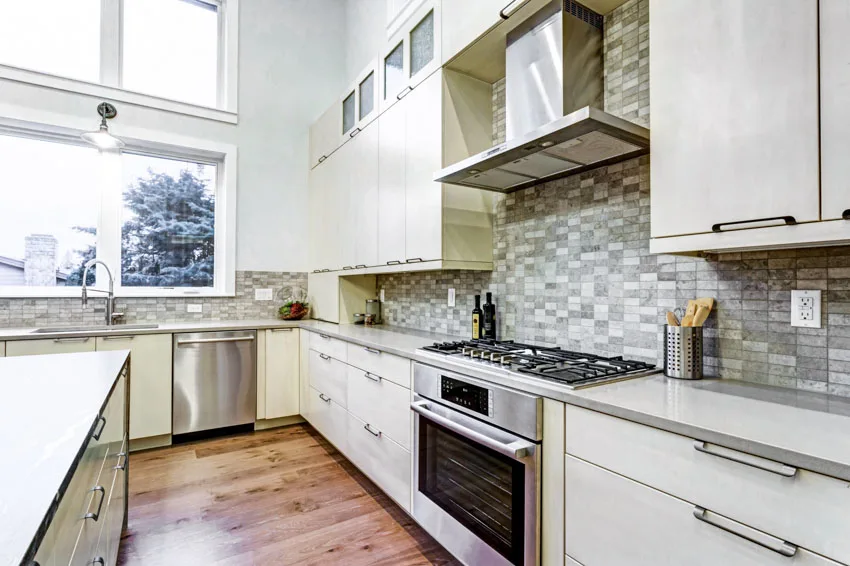 Mosaic tiles that are made out of onyx are both aesthetic and functional. This is a great combination for a kitchen backsplash. You need it to be convenient and practical but at the same time, it certainly wouldn't hurt if it looked nice as well.
It's a great way to incorporate some color into your kitchen aesthetic. You get to choose different colored tiles, and you can even go about it creatively with the colors, should you decide to be a bit experimental.
Backlit Onyx Backsplash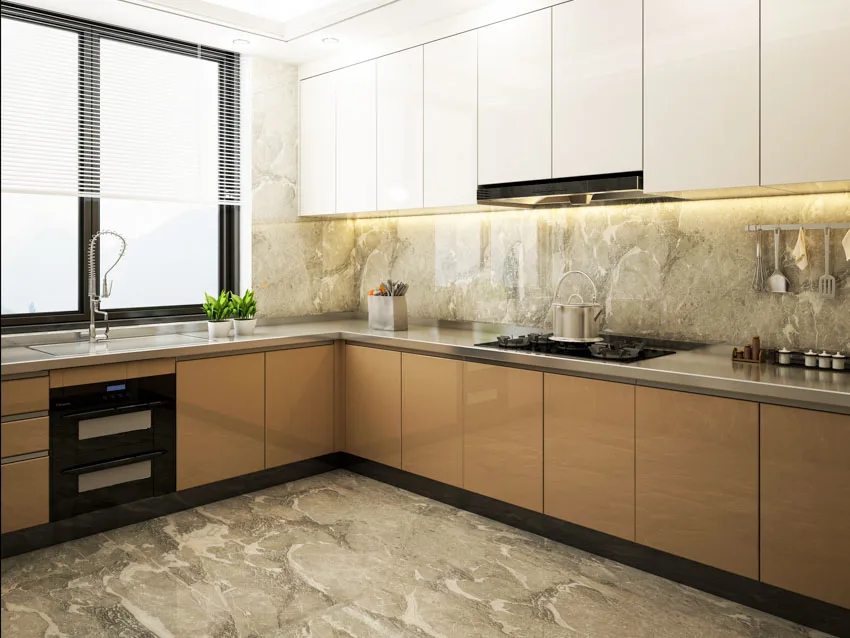 Backlit onyx is a gorgeous backsplash to have. When properly lit its veins and patterns will intensify, along with its color. Depending on how bold or how complex the veins and patterns are, this will ultimately result in something that is so inviting and warm.
It can instantly cozy up any space in your home. And the best part in all of this is that it doesn't even have to take up any amount of floor space at all. It's dramatic and it will definitely be the accent wall in your space.
Is Onyx A Good Backsplash?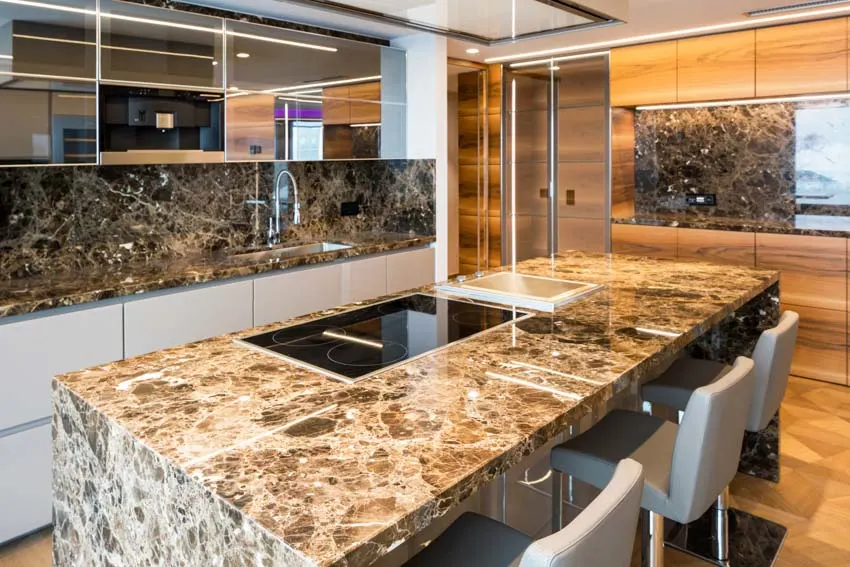 In a nutshell, onyx makes for a really great backsplash material. It's the best midway point between a luxury material and something that wouldn't outrageously burn a hole right into your interior decorating budget. It's a charming natural stone that's bound to be one of your favorite features in your kitchen in no time should you decide to use it as a backsplash material.
It's great especially if you would like to create something that's timeless and elegant. It gives your kitchen a facelift and transforms it into something that's unique and exotic. At the same time, when you take a look at its functionality, it doesn't fade out into the background either.
It is easy to clean and maintain. Apart from the occasional sealing, which is a common requirement for all natural stones as they are intrinsically porous, it doesn't really require anything more.
So yes, it's great as a backsplash. It isn't the cheapest option out there, it can border a little on the higher price ranges but it isn't impossibly expensive either.
​​See more related content in our article about industrial kitchen backsplash on this page.