Here's our dresser dimensions guide including horizontal, double and small dresser sizes and how to measure a dresser.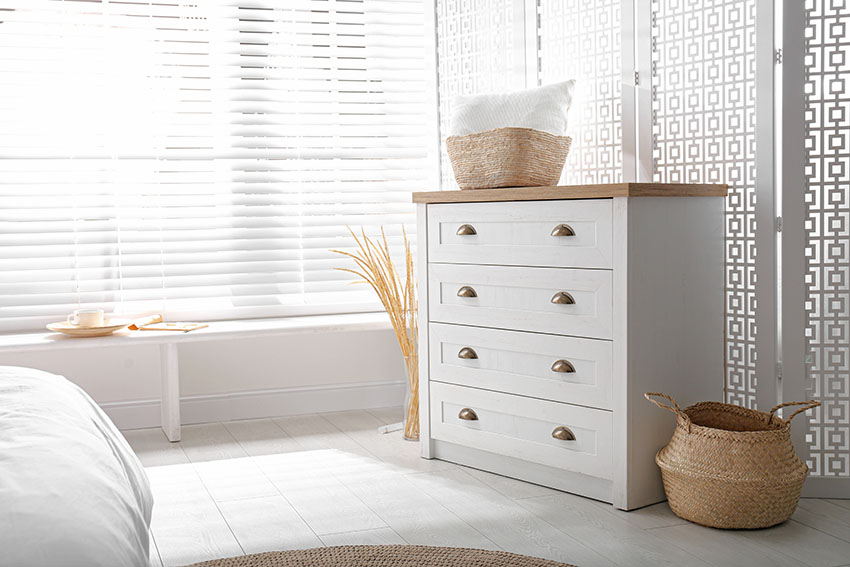 An alternative to a closet is a spacious dresser with drawers. They come in various shapes and sizes and suit whatever interior theme, from traditional to more contemporary. Before anything else, the dresser size should be determined to ensure its the right size for your room.
Standard Dresser Size
Dressers, sometimes called chests, range in different sizes according to various functions. The main difference between the two is that a dresser traditionally has a top mirror attached to it, while chests exclusively only have drawers.
There are many types of dressers, from combo dressers to dressers that have changing tables for nurseries to the standard horizontal dresser that is usually a fixture in most bedrooms.
To provide you with a thorough list of dimensions, we will give you measurements of three of the most common dresser types available in most furniture stores: the standard horizontal dresser, the double dresser, and the small dresser.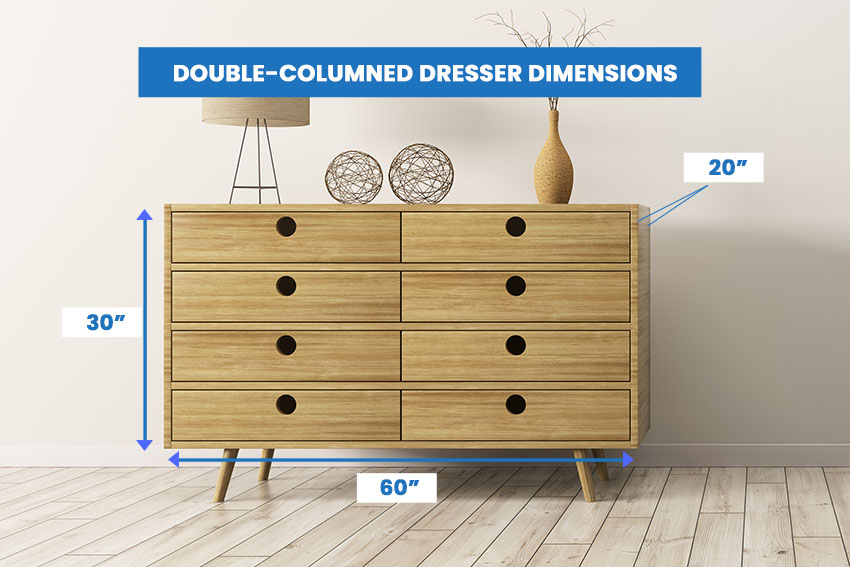 Standard Dresser Depth
One of the essential things to consider when looking for the perfect dresser is the depth or the measurement of the dresser and drawers from front to back. Together with how wide the dresser is, this will determine the drawer space you are provided with.
The depth of a standard horizontal dresser usually ranges between 18 to 24 inches or 46 to 61 centimeters, and they commonly have three to four drawers.
For a double-columned horizontal double dresser, the depth usually extends up to 20 inches or 51 centimeters. Small dressers are generally seen in kid's rooms, and as the standard horizontal dressers, they are 18 to 24 inches or 46 to 61 centimeters deep.
How Deep is a Dresser
No matter what type they are, dressers generally have depths that run between 18 to 24 inches or 46 to 61 centimeters.
This size is the standard, and drawers with more extended depths than these are usually custom-made or made to order.
Standard Dresser Width
The width of a drawer is measured from side to side. Like the depth, the width is an important factor, especially if the storage capacity is one of the main things high on your list of dresser essentials.
For a standard horizontal dresser with three to four drawers, the widths they come in usually measure between 30 to 70 inches or 76 to 178 centimeters.
A double drawer has a fixed width of 60 inches or 152 centimeters, while a small dresser stretches from 30 to 40 inches or 76 to 102 centimeters.
Standard Dresser Height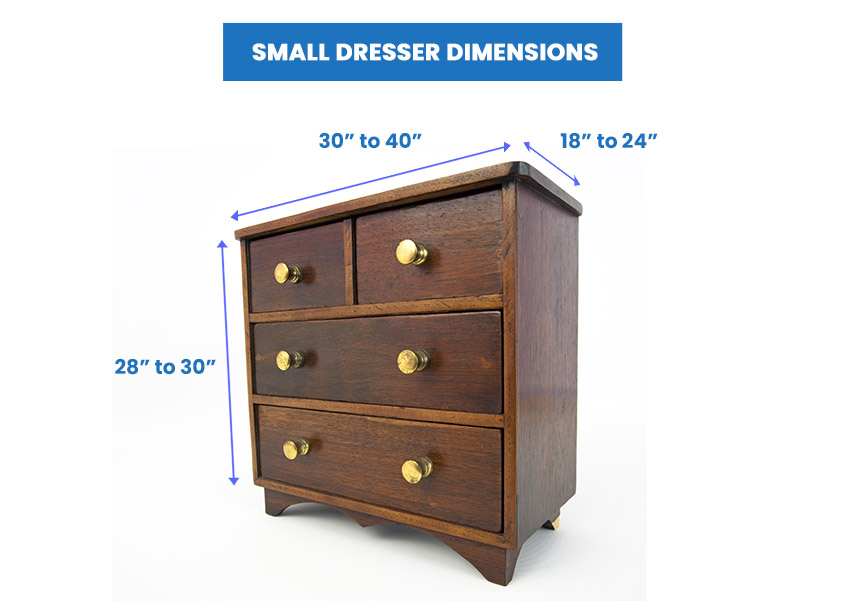 Dressers come in a variety of heights, and some want them a little taller in order to utilize the counter space available ergonomically. Picture frames, a vase of flowers, and sometimes even the television is placed on top of dressers. At the same time, some like the small dressers for kids are smaller for them and smaller to avoid accidents.
A standard horizontal dresser usually has a height that ranges from 30 to 35 inches or 76 to 89 centimeters.
This height falls right at a person's hip with an average height. The height is fixed at 30 inches or 76 centimeters for a double dresser. In contrast, a small dresser can reach from 28 up to 30 inches or 71 to 76 centimeters.
Long Dresser Dimensions
Long dressers are characterized by their more extended widths. This size will provide more than enough space for storage and also have a wide countertop for things an owner wishes to utilize. An example of a longer drawer is the IKEA Malm 6-Drawer Dresser.
The IKEA Malm has a dimension of 63 inches long or 160 centimeters in width, a height of 30 and 3/4 inches or 78 centimeters, and a depth of 19 inches or 48 centimeters. Being longer than it is taller, long dressers will be perfect for rooms that have lower ceilings.
Dresser Drawer Dimensions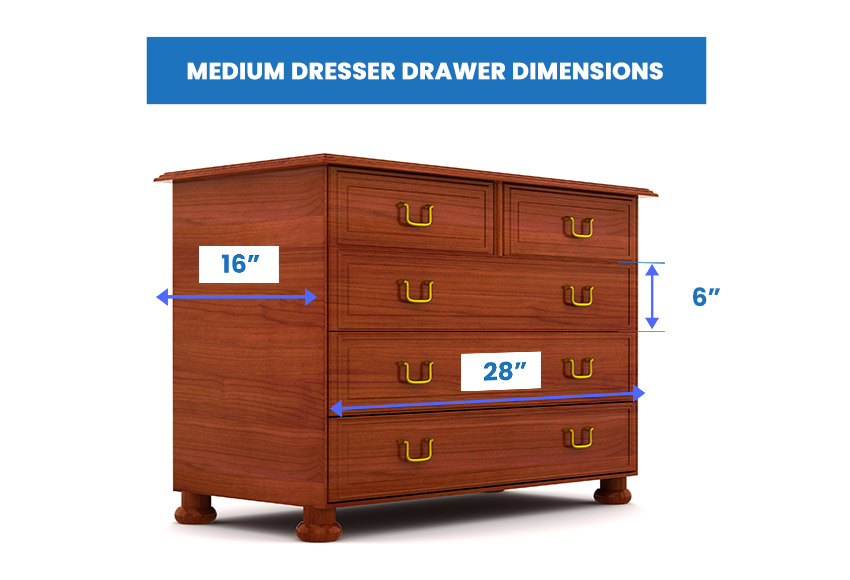 There are no fixed or standard dimensions to a dresser drawer; some will vary from one to the other depending on factors such as design, brands, or even the type of materials used for construction. But for the most common cabinet sizes, here are the drawer dimensions.
For drawers on smaller dressers, they usually come with a width of 12 inches or 30 centimeters with a depth of 14 inches or 36 centimeters and a height of 4 inches or 10 centimeters.
A medium-sized dresser's drawer has 28 inches or 71 centimeters in width, a drawer depth of 16 inches or 41 centimeters, and a height of 6 inches or 15 centimeters.
On the other hand, a large dresser drawer is 30 inches or 76 centimeters in width, with a depth of 18 inches or 46 centimeters, and 8 inches or 20 centimeters in height.
Standard 6 Drawer Dresser Dimensions
The standard six drawer dresser's dimensions differ on many factors, but it generally extends around 36 to 60 inches or 91 to 152 centimeters from side to side.
A six drawer dresser will usually have a height of 26 to 44 inches or 66 to 112 centimeters and be 16 to 18 inches 41 to 46 centimeters deep.
Measuring a Dresser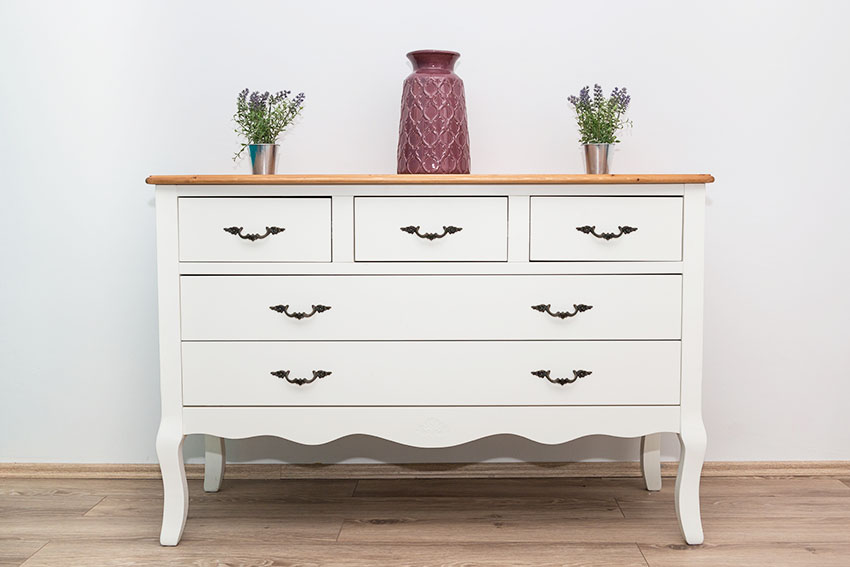 With a wide range of dresser options, how do you choose the one that would perfectly fit your bedroom? Here are some factors to consider.
To decide on the depth of your drawer, calculate the distance between the wall where your prospective drawer will be situated and the furniture your future drawer will be facing.
Once you have that, subtract 36 inches. The difference will determine whether your drawer will have room to open and close.
To determine the ideal width for your dresser, make sure that doors beside it will be able to pivot without hitting the edge or any part of your dresser.
For the height, simply make sure that the bigger stuff that will be utilizing the counter space of the dresser won't be too lofty to fit, whether it be a television or a mirror.
Deciding on a dresser will fall on many factors, but ultimately it will come down in size. Measuring for your ideal dresser is simple and will only require a tape measure, so good luck measuring and happy shopping!
For more related content visit our nightstand dimensions here.