Here's our nightstand dimensions guide including measurements for bedside chest, cabinet and nightstand sizes for queen and king beds.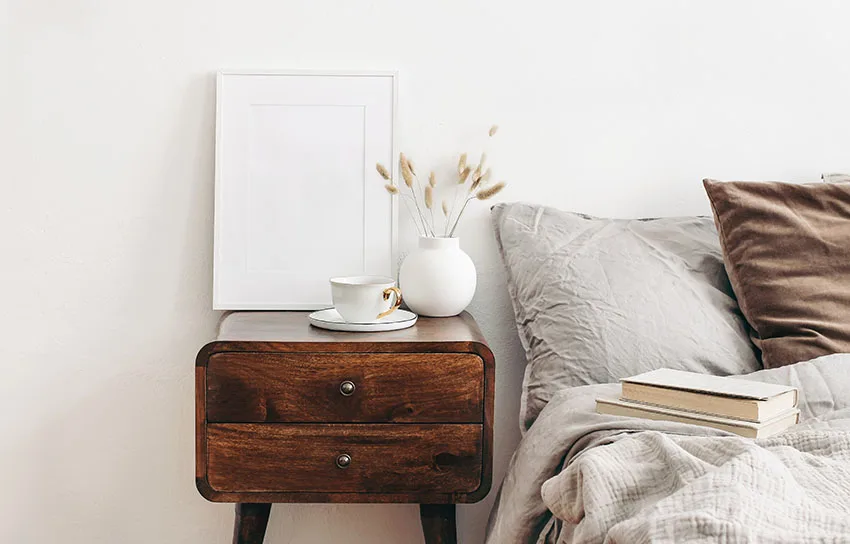 Nightstands are placed on one side or both sides of a bed, and they usually house items that we need through the night, like an alarm clock, a table lamp, some reading materials to help us sleep, our glasses, or even a glass of water for when we get thirsty.
Here, we will provide you with different nightstand dimensions and the basic knowledge to find the perfect bedroom furniture for your needs.
Standard Nightstand Dimensions
The standard nightstand sizes are 28″ to 40″ high and 18″ to 22″ wide.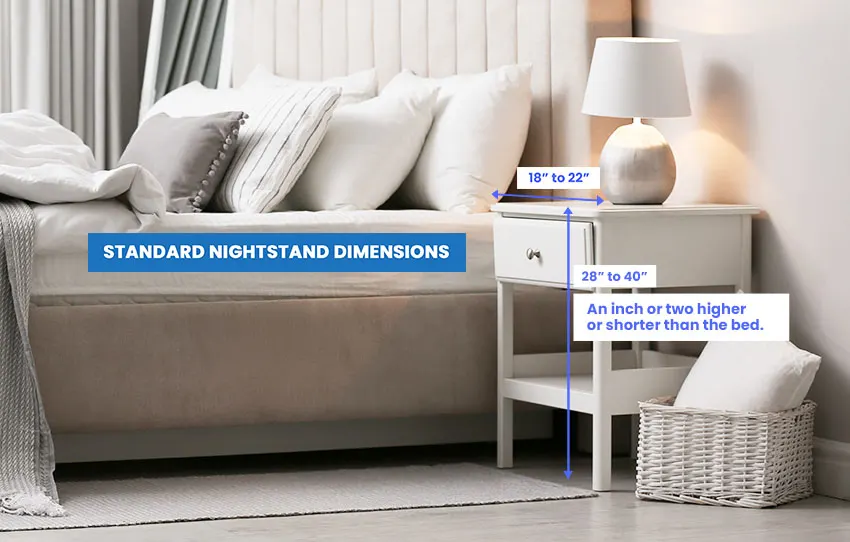 Nightstands are also known as bedside tables, end tables, and even night tables in different parts of the world. There are already manufactured bedside tables made for that purpose, but it is also important to take note that some designs of stools and even small coffee tables can be used as nightstands.
Nightstands can come in a variety of shapes and sizes. Still, the standard or the usual ready-to-use ones have dimensions that are the same across the board.
How Wide is a Standard Nightstand?
Since the standard size for a bed in the world is double or twin beds, we can deduce that a traditional nightstand is made with the size of a double bed in mind. So how wide should a standard nightstand be?
A standard nightstand can have a width between 18 to 22 inches or 45.72 to 55.88 centimeters. The depth with this width is also usually within the same range.
How Tall is a Standard Nightstand?
The height of a standard nightstand made for double or twin beds should be somewhere between 28 to 40 inches tall or 71.12 to 101.6 centimeters.
How Tall Should a Nightstand be?
Standard nightstands can have a height of 23 inches to 28 or 58.43 to 71.12 centimeters. A tall one has a height of 30 to 35 inches or 76.2 to 88.9 centimeters, while an extra tall one can be as high as 35 inches or 88.9 centimeters and over.
Should a Nightstand be Shorter or Taller Than Bed?
There is no actual right size of nightstand design since choosing one is dependent on how tall your bed is. The general rule in picking your nightstand is that it shouldn't be shorter than your bed to make it uncomfortable for you to access whatever you'll be getting from your tabletop.
At the same time, a nightstand should not be taller than your bed. Not only for accessibility purposes, but taller furniture pieces can cause accidents such as head bumping or what have you.
The best way to know what option you need your nightstand height to be is by measuring the height of your bed from the floor to the top of the mattress.
Once you have that measurement, an inch or two higher or shorter top surface edge would be the perfect addition to both sides of your bed. Just remember that ease of accessibility for you is what you are looking for with bedroom furniture.
Small Nightstand Dimensions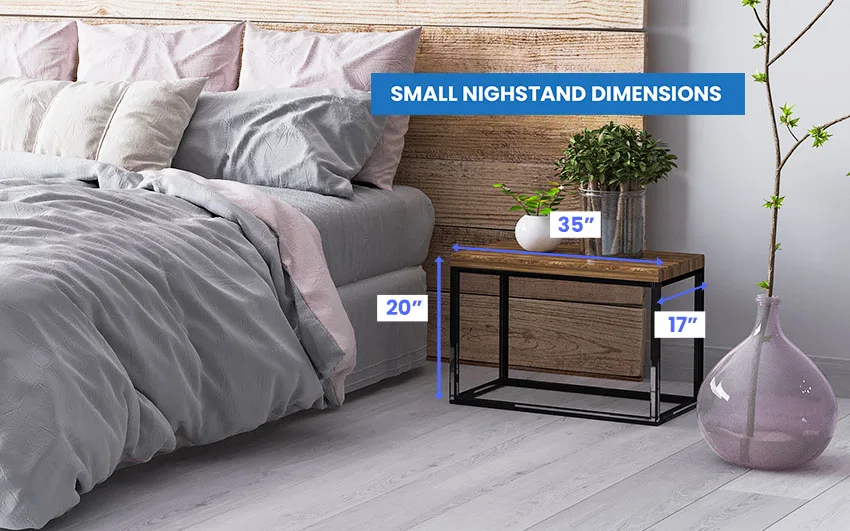 Small nightstands would be perfect for modern platform beds that do not need a box spring, thus making them closer to the floor.
If you have a platform bed and are looking for a smaller piece to complement it, these are the dimensions for smaller nightstands to look out for.
Low-profile nightstands usually have a height of 20 inches or 50.8 centimeters, and they can be 30 to 35 inches wide or 76.2 to 88.9 centimeters. They have a depth of 17 inches or 43.2 centimeters. This depth size is perfect, especially for a lower bed.
A more narrow one will range from 12″ to 17″ wide for those looking for a wall-hugging, space-saving option.
Bedside Table Dimensions
A bedside table could be one of the three: a bedside chest, bedside cabinet, or nightstand. They are essentially the same in function but differ in the way some of them are used.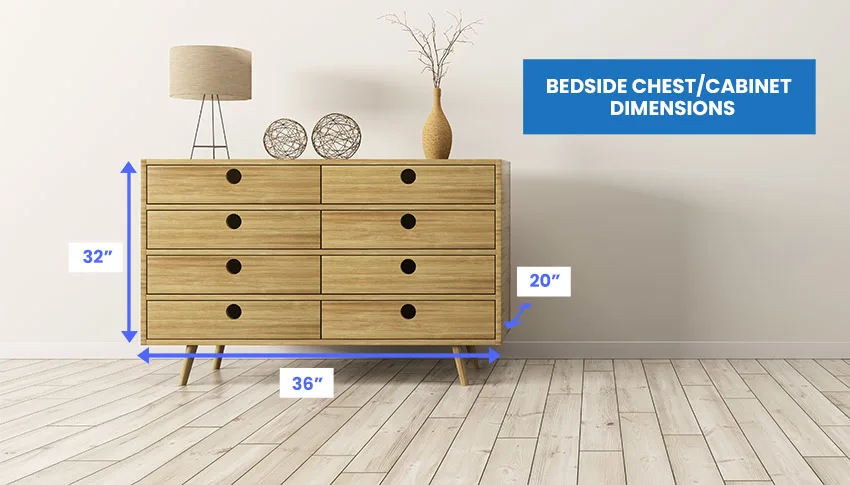 The first is a bedside chest with two to three drawers that provide you with added storage units. The second is a bedside cabinet with both a drawer and a cabinet included in them.
Both usually have the exact dimensions, with taller ones having a height of 32 inches or 81.28 centimeters, a width of 36 inches or 91.5 cm, and a cabinet depth of 20 inches or 51 centimeters.
The medium size for this type of table can have 30 inches in length, a width of 22 inches, and a depth of 20 inches. If you are more partial to the metric system, that is 76.2, 55.88, and 50.8 centimeters, respectively.
In comparison, the smaller-sized bedside chest or cabinet furniture has the standard dimensions of 18 inches or 46 centimeters in length, a width of 20 inches or 51 centimeters, and a depth of 17 inches or 43 centimeters.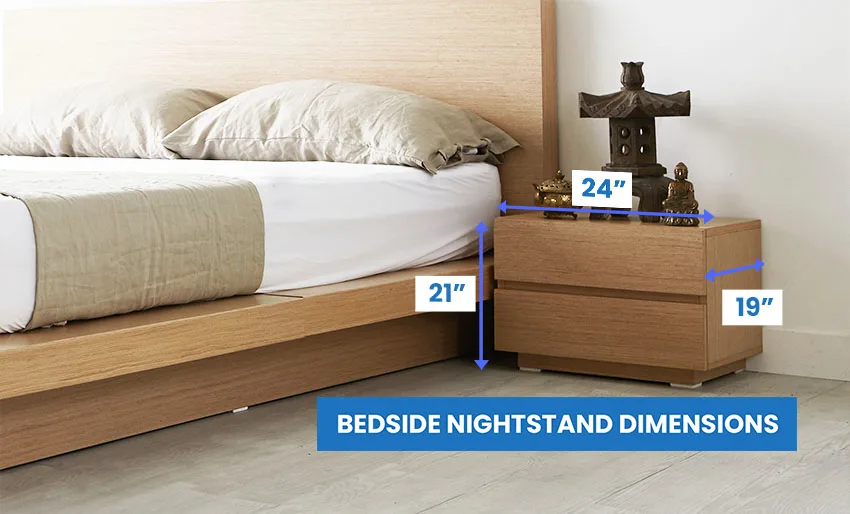 The third kind of bedside table is the nightstand, and the usual measurements they come in vary in what you are looking for. If you are looking for a nightstand with more depth, there are ones available in these dimensions: 21 inches for height, 24 inches for width, and a depth of 19 inches.
There are also smaller ones with a size of 18″, a width of 22″, and a depth of 18." In contrast, a taller one can go as tall as 29 inches, with a width of 20 inches and a depth of 15 inches.
Nightstand Width for Queen Bed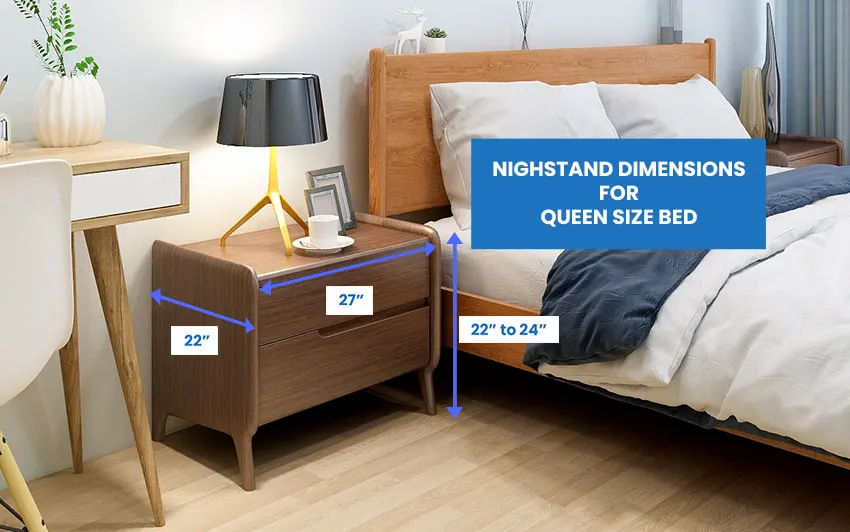 If you have a bigger Queen bed, it's important to look for a nightstand that would complement it; a nightstand that is too small would get eaten up by your huge bed, while a bigger one will make it look unproportioned.
On average, a queen bed has a height of 24 inches, so a bedside table with 22 to 24 inches, a width of 27 inches, and a depth of 22 inches would be perfect. See our article about bed sizes here for more details.

Nightstand Size for King Bed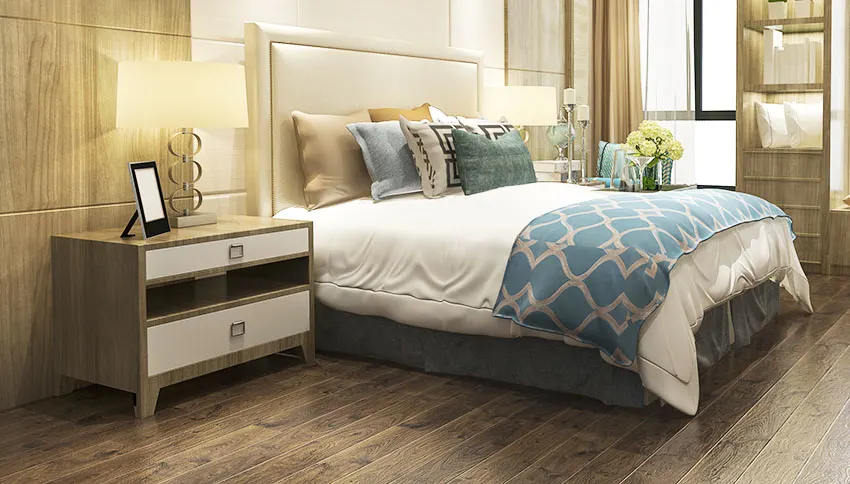 A nightstand with a width of 25 inches and above would be perfect for a king bed, but if you have a larger room, a wider surface would cover wall space and make your room look less bare.
All in all, the size of your nightstand and style choice is up to you, especially if you are more partial to vintage pieces that are often unique and are not available in the right size for your bed. The only key is accessibility, matching your colors, accessories, the room's interior decor, and what is essential for you. Happy shopping!
Did we miss any important information or leave you with unanswered questions regarding furniture products, measuring, or making the right choice? Share your thoughts, tips and experience in the comment section found below. For more related content, visit our article about nightstand essentials here.