Here's our ironing board sizes guide including standard, small, medium, large, how tall a board is, closed measurements & in-wall ironing board dimensions.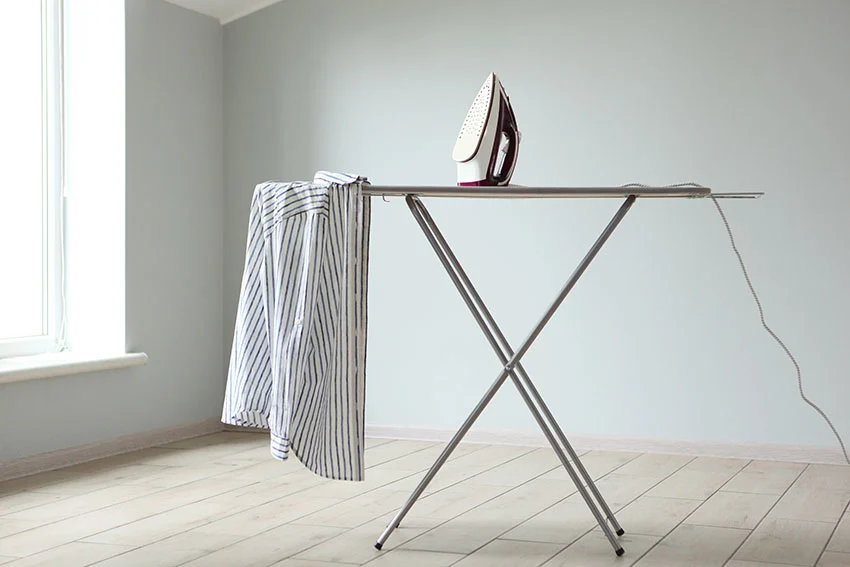 To look presentable, especially on many formal events and occasions, ironing any creases on clothes is in order. Contrary to popular belief, ironing is not dead, and many people still rank this chore one of their favorites, especially in colder climates where heat is always welcome.
To make sure that you are ironing clothes the best and safest way possible is to get an ironing board for your household laundry room. An ironing board will help you reach hard-to-iron edges, and it will give you the surface area you need so your clothes will stay crease-free.
Most ironing boards will have adjustable heights to fit what's best for you, and they will also be foldable to save precious floor space for smaller homes.
Standard Ironing Board Size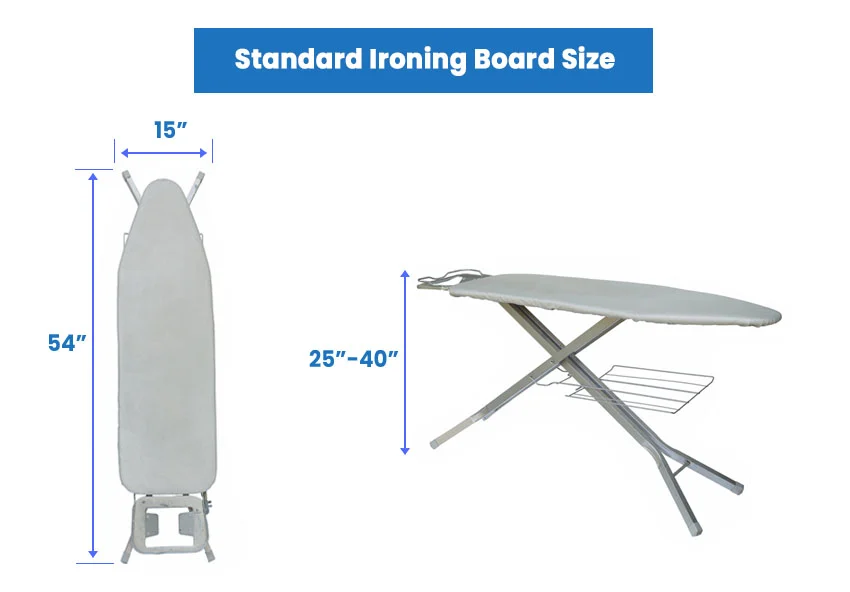 One of the most bought ironing boards available widely is the regular or standard ironing board. This type of ironing board will usually have a width of 15 inches or 38 centimeters side to side and will run the length of 54 inches or about 137 centimeters.
The height for standard ironing boards is highly adjustable and will mostly range from 27 up to 39 inches or 69 to 99 centimeters from the floor up to the board.
If folded and in storage, this board will be no thicker than 10 inches or about 25 centimeters, giving you the option to store it even behind the sliver of space between your cabinets.
How Tall Is A Standard Ironing Board?
There are many ironing boards to choose from, and these types are dictated by their sizes. There's the tabletop ironing board which is the smallest kind, and there are even specialized ones you can have made that are sometimes known as "quilting boards" or "extra-wide" ironing boards.
Most ironing boards with legs will have the same height, and the height for ironing boards can be fully adjusted to accommodate your size and ergonomic requirement when using the board. It will usually range from 25 to 40 inches or about 64 to 102 centimeters.
Ironing Board Dimensions Closed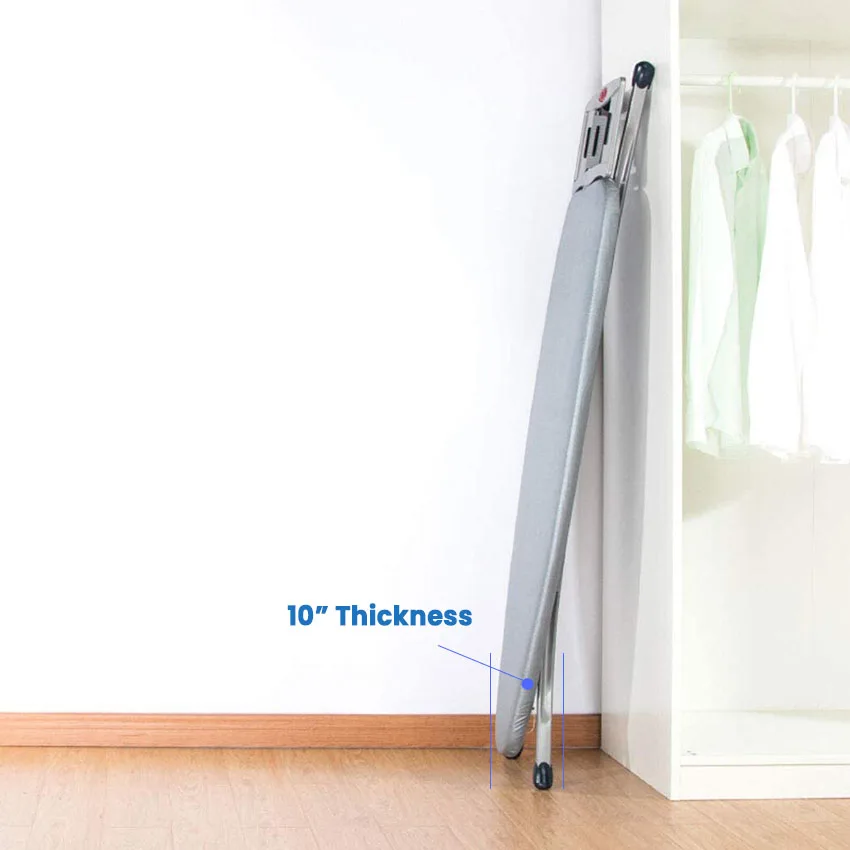 See this ironing board at Amazon [sponsored link]
The collapsed frame of an ironing board can sometimes reach 10 inches or about 25 centimeters, with bigger iron boards reaching 18 inches or about 46 centimeters. Knowing the thickness when folded is very important to some because it will dictate how easily it will be stored in your laundry room or closet.
How Tall Is An Ironing Board When Folded?
To gauge how tall an ironing board will be folded, take the entire length of the ironing board itself and maybe add the increment size of 10 inches or 25 centimeters for the legs and iron tray, which will surely stick out.
Small Ironing Board Size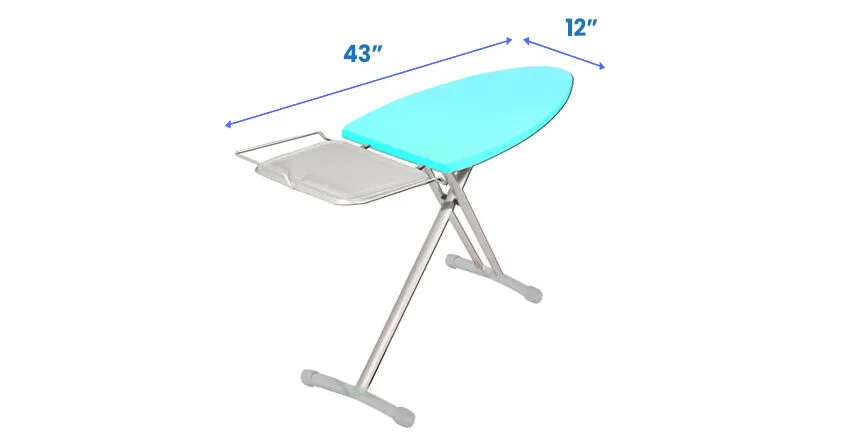 The mini and tabletop ironing boards are under the heading for small ironing boards. These ironing boards will be quick to set up, portable, and lightweight. If you are not prone to ironing all your clothes and would only need to iron occasionally, this is the best size for you.
Most mini and tabletop boards will have a minimum width of 12 inches or 30 centimeters and a length of 32 inches or 81 centimeters.
Most of the ironing boards in this size will not have legs but will require a surface high enough so that ironing can be comfortable for the user.
There are also small ironing boards with legs available with a width of 12 inches or 30 centimeters from side to side and a length of 43 inches or 109 centimeters. These ironing boards are lightweight enough at only 7.5 pounds, to be portable and easy to store.
Medium Ironing Board Size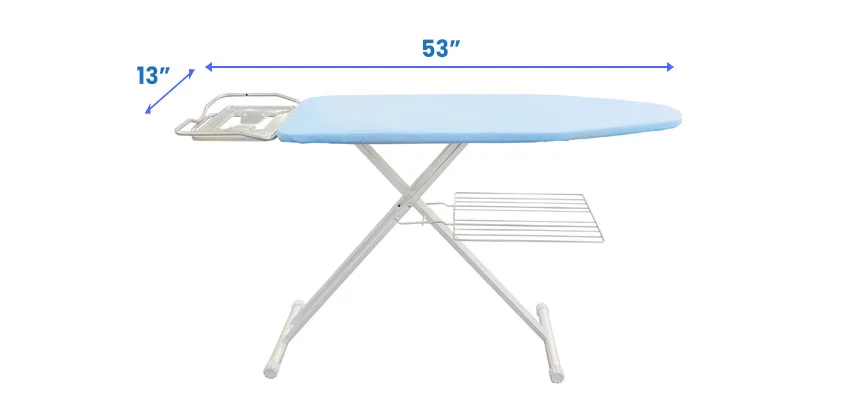 The medium ironing boards will be the regular ironing board with a width of 13 inches or 33 centimeters and a length that runs at 53 inches or approximately 135 centimeters.
These ironing boards will still be small and light enough to easily be stored on top of your cabinets or even on small flat crevices like under your bed.
This variety will also have an adjustable height ranging from 25 to 27 inches and 39 to 40 inches or 64 to 102 centimeters, ensuring that everyone will be comfortable when ironing their clothes.
Large Ironing Board Size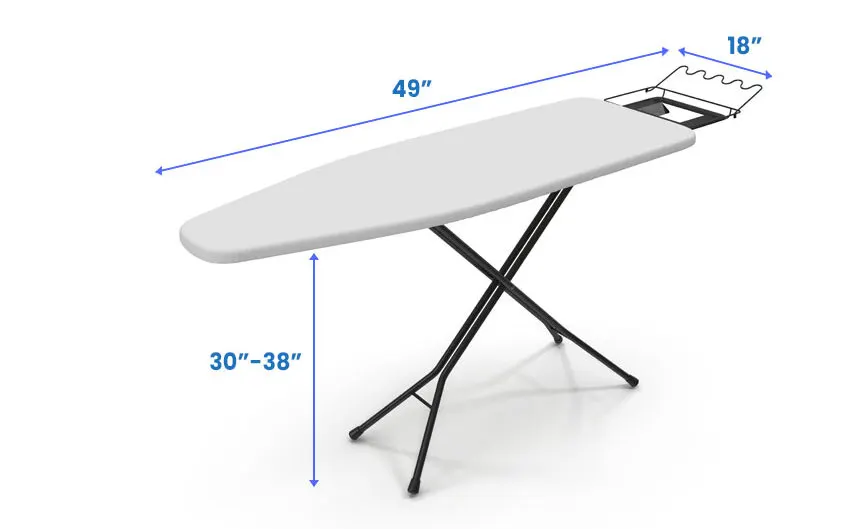 There are broader and larger ironing board sizes if the tabletop or medium ironing boards are still too small for you. This variety is for larger households and businesses that do heavy-duty ironing more than once a week.
This will give them the stability and the larger surface area they need to iron every clothing article, from shirts to bed sheets.
Wider and longer ironing boards will come with a width of 18 inches or 46 centimeters with a length of 49 inches or 124 centimeters. It can weigh up to 10 pounds or more with a thickness of 3 to 4.5 inches or 8 to 11 centimeters.
Another size of a larger ironing board is the specialized quilting ironing board with a width of 19 inches or 48 centimeters and a length of 55 inches or 140 centimeters with extension.
These boards will have an adjustable height ranging from 30 to 38 inches or 76 to 97 centimeters while weighing 20 to 29 pounds each.
In Wall Ironing Board Dimensions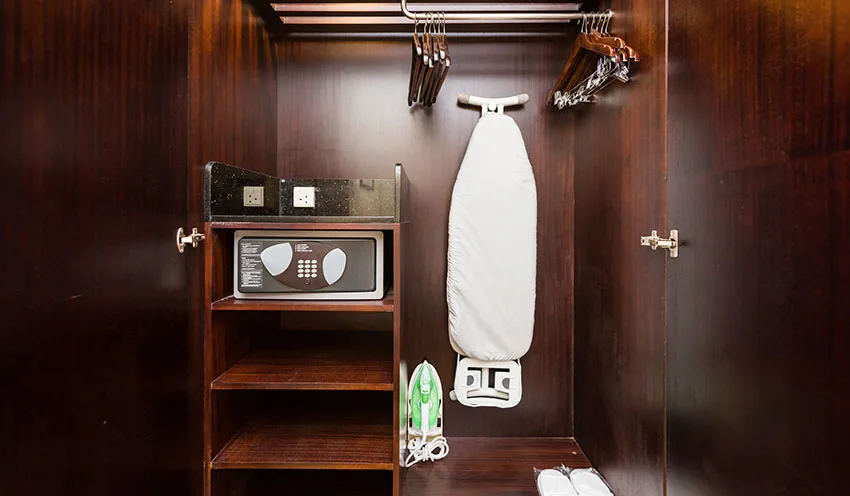 A wall-mounted ironing board is an excellent solution to keep everything in your laundry room neat and organized.
All you require to do is push it up when not in use and pull it down when ironing needs to be done, and the best part about it is you can easily mount it to your desired and optimum height to make ironing comfortable.
For example, in wall ironing boards will have a length of 38 inches and a width of 12 inches, depending on the manufacturer. Read more about typical laundry room dimensions here.

Brabantia Ironing Board Sizes
Brabantia is a manufacturer of home furnishing and other needs. They also have a wide variety of ironing boards you can choose from, and their sizes are usually indicated via letters from A to D.
The first available is size A at 43 by 12 inches or 110 by 30 centimeters. The second is size B at 49 by 15 inches or 124 by 38 centimeters.
There is size C at 49 by 18 inches or 124 by 45 centimeters, and size D at 53 by 18 or 135 by 45 centimeters.
Visit our laundry basket dimensions guide for more related content.